The following list contains 24 DIY rocking chair plans that might help you make one for yourself. You can choose any design that matches your tastes and adjust it according to your needs.
tep into a realm of relaxation and rejuvenation with the magical allure of rocking chairs! These enchanting seats, renowned for their unrivaled comfort and current popularity, hold the secret to a treasure trove of incredible health benefits waiting to be unveiled.
Rocking chairs are more than just cozy havens for weary souls; they are potent elixirs brimming with the power to enhance your well-being. From bolstering mental health to shedding pounds, banishing insomnia, and providing solace for those with arthritis or post-surgery discomfort, the right rocker is a true guardian of wellness.
DIY Rocking Chair Plans: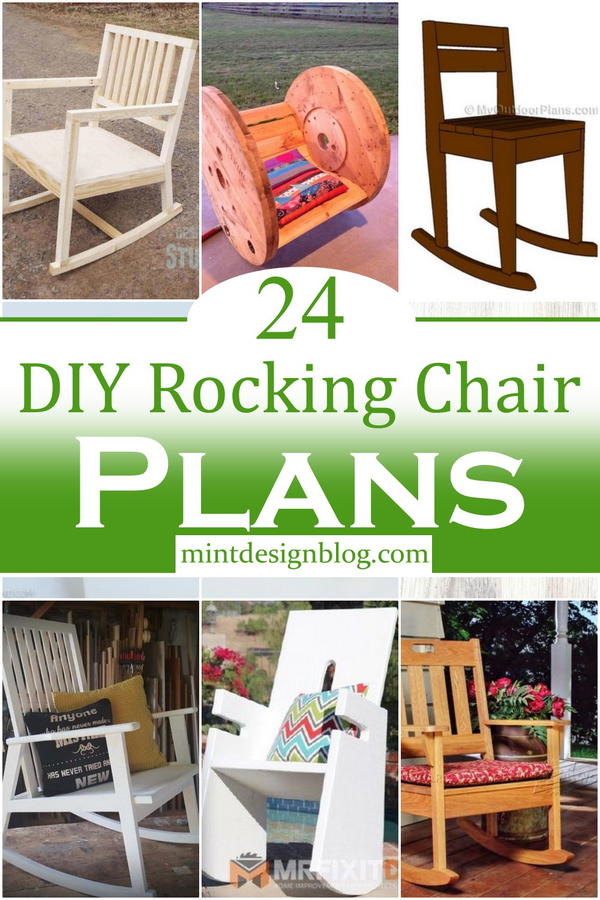 Discover the captivating charm of these rocking wonders, available in myriad designs and styles; all united in their mission to cradle you in comfort and wash away the stresses of daily life. Embrace the enchanting embrace of a rocking chair and unlock the secrets to a happier, healthier existence.
More Projects
Rocking Chair Plans By My Outdoor Plans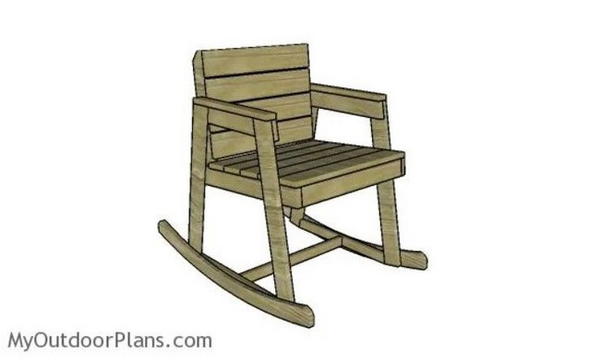 This chair is perfect to place in your patio or backyard so that you can relax, stretch your legs and think about life. The great thing about this rocking chair is that it has a very functional base frame. Made out of wooden boards, this frame keeps the seat from tilting too much and protects the user from flipping the chair over.
The rocking chair is often a popular piece of furniture on a porch. Whether you are making this chair for lounging or out of love, you will have fun making this chair and see the joy your family has after spending time rocking at the porch with it.
Project details: myoutdoorplans.com
A Rocking Chair From Design By Studio C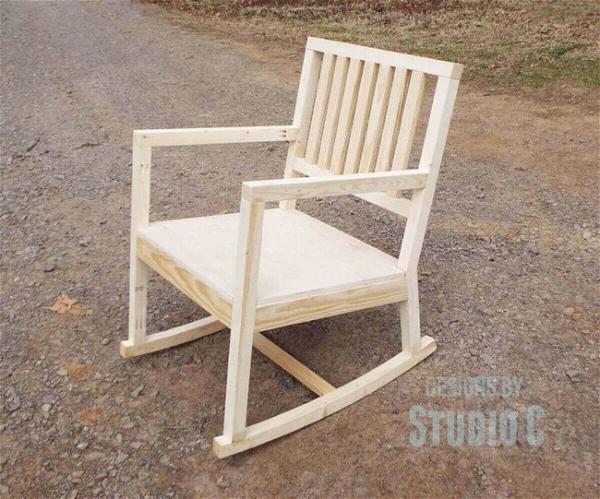 Do you need a rocking chair that can withstand your child's antics? Well, then DIY design by Studio C's Rocking Chair is just right for you. It is strong enough to accommodate both you and your kid at the same time. This design doesn't have any loose spots so opening it will not cause wear and tear. The rocking chair is easy and inexpensive to construct. The instructions are easy to follow, making the whole process quite smooth. Aside from the fact that it is made of sustainable and recycled materials, it has a stable build that will definitely last for a long.
Project details: designsbystudioc.com
Plywood Rocking Chair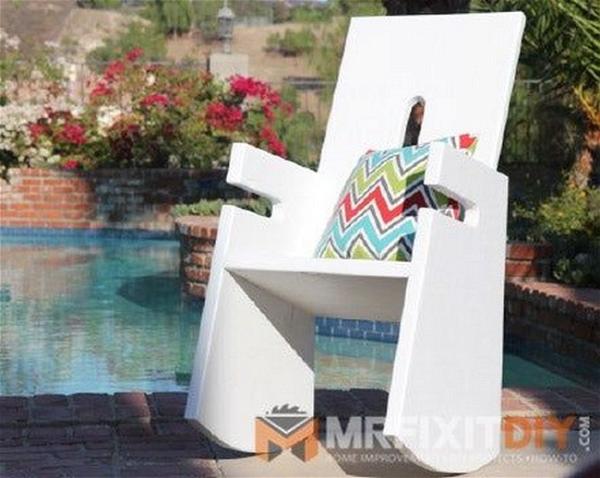 Complete the porch of your grandfather's home with a rocking chair. Crafted from ash wood and finished in off-white, this rocking chair is wide enough to spend quality time with loved ones while enjoying the great outdoors. Use elsewhere in your home, like next to a window, or on an indoor porch to enjoy the view.
The plan is for a rocking chair that has the back made from a sheet of plywood. This makes it easy to carve, and eliminates the need for splinter-inducing vertical slats, which can be problematic when leaning back. The seat and front legs are made from pine boards, while the rear legs are made from larger two by lumber or an additional sheet of plywood screwed together in layers to make it thicker. Complete instructions are given in both computer-drafted and diagram forms.
Project details: instructables.com
Geeks Wood Shop's Rocking Chair
Geeks Wood Shop's Rocking Chair is the result of a lot of experimentation, effort, and hard work. This rocking chair plan makes it easy to build a high-quality yet inexpensive wooden rocking chair. This rocker is easy to build and comfortable as anything, with an updated, comfortable design. We decided to invest in a slatless seat after finding that many people were put off by it. This decision made our rocking chair unique, comfortable, and timeless all at once. Our rocker is far more than just an attractive piece of furniture. It brings joy to the user with every use.
The Design Confidential's Rocking Chair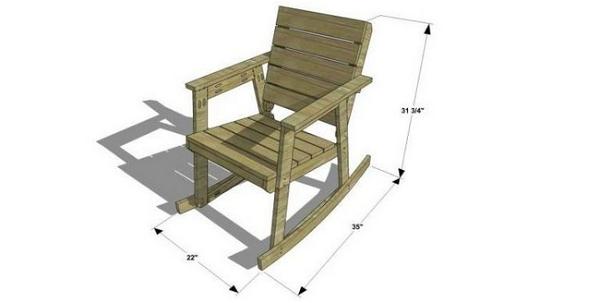 This wooden rocking chair is designed to make the most use of materials possible. All angles were cut with precision and all pieces have been milled to perfection. Every part of this chair was planned out with great care in order to leave as little wood waste as possible and reduce the cost of producing it. The rocking chair has a very attractive and unique design, which will make it the ideal furniture piece for your porch, balcony, or even in your home if you feel like rocking yourself to sleep. Show everyone what a great designer you are by building this superb rocking chair!
Project details: thedesignconfidential.com
DIY Modern Plywood Rocking Chair
Do you want to know how to build an attractive and comfortable plywood rocking chair? What if the design is modern? The chair was designed by the authors themselves and optimized according to the latest ergonomic standards. This project is a set of building plans for making a modern plywood rocking chair, a type of furniture that is much more innovative and fashionable than the existing rocking chairs in the market. To make this chair, the designer makes MDF templates for every single part of it. This way, all parts can be made from plywood by cutting off the excess from each template. After making a prototype, we applied a protective lacquer, and now our rocking chair looks awesome!
Wooden Rocking Chair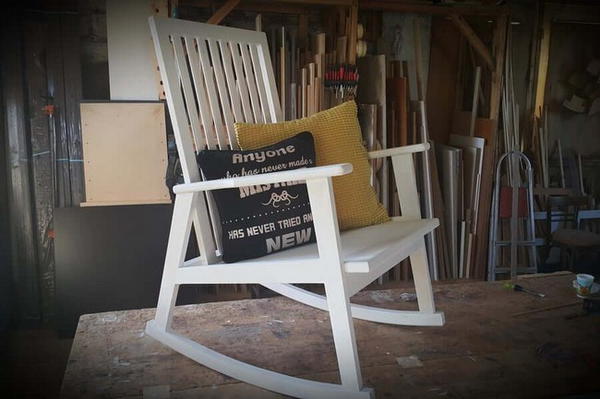 Do-it-yourself furniture can cost a fortune, but with this rocking chair, you can construct a sturdy and comfortable piece of furniture for a very low price. The DIY, wooden rocking chair is perfect for all people who wish to move on with their skillsets without breaking a single bank. It's a two-person job, so make sure you have someone to help you along the way. All of the pieces need to be cut according to the dimensions written on the plans and then assembled accordingly to either lift it up or sit in it comfortably.
This DIY chair is without a doubt one of the most popularly accessible designs available on the market. The reason for this popularity is that it provides the type of comfort you would not only wish for yourself but share with your loved ones as well. Making use of cheap yet durable materials like pine, this chair can be built in as little as eight hours by any first-timer with no prior experience in furniture construction. The plans are laid out properly through easily understandable and accessible steps. This makes them easy to understand and follow through.
Project details: instructables.com
Outdoor Rocking Chair Plans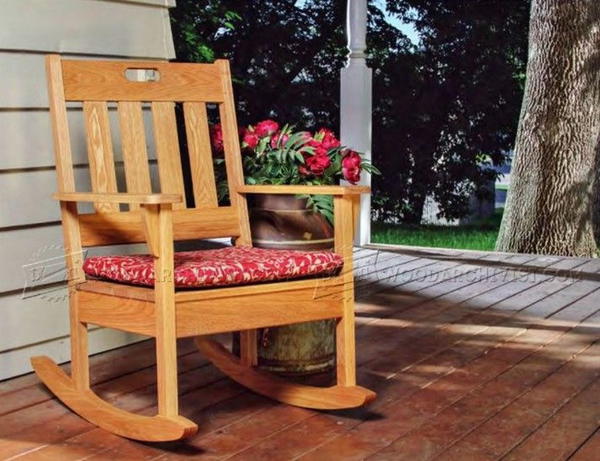 Ever wanted to make an upholstered rocking chair? An upholstered rocking chair is not only eye-catching but also a fun project. Nonetheless, some of us don't have enough time or resources to build an upholstered rocking chair from scratch. Fortunately, there are ways to get it done with an accent chair you already have around your house. With this package, you will have the chance to repurpose an old accent chair that you aren't using anymore. The only thing you need to do is to take apart the accent chair's base and replace it with a custom base. We'll go through step-by-step instructions and measurements, in case you don't want a DIY project and just want to buy one ready for use.
Project details: woodarchivist.com
French River Springs' Wooden Rocking Chair
If you are planning to buy a wooden rocker, we have good news for you. French River Springs sells customized rocking chairs that are built to order and built to a buyer's specifications a  rocking chair is one of the nicest additions to any home. By that, it makes for a good mind-clearing workstation or a place to talk about certain topics or share heartfelt stories with your loved ones. The nice thing about building a rocking chair from scratch is that you are able to design it in any way you want. It also allows you to build a rocker that meets all the comfort requirements. These hand-built rockers are made with time-tested hardwood, and each one is finely sanded and shined to give it a most dignified look. Built from sturdy materials, these wooden rocking chairs can serve the intended purpose for years.
Upholstered Rocking Chair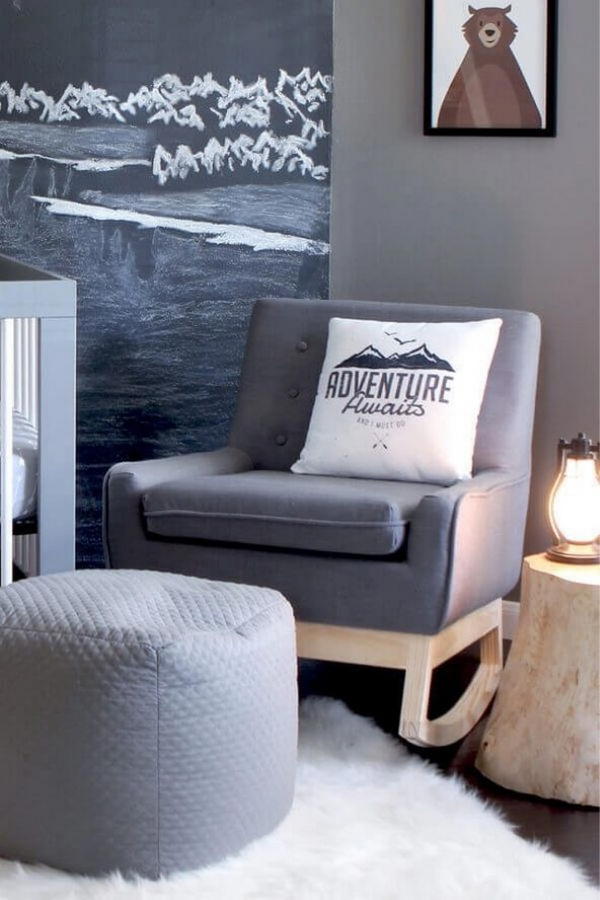 Ever wanted to make an upholstered rocking chair? An upholstered rocking chair is not only eye-catching but also a fun project. Nonetheless, some of us don't have enough time or resources to build an upholstered rocking chair from scratch. Fortunately, there are ways to get it done with an accent chair you already have around your house. With this package, you will have the chance to repurpose an old accent chair that you aren't using anymore. The only thing you need to do is to take apart the accent chair's base and replace it with a custom base. We'll go through step-by-step instructions and measurements, in case you don't want a DIY project and just want to buy one ready for use.
Project details: grayhousestudio.com
Kid Rocking Chair Plans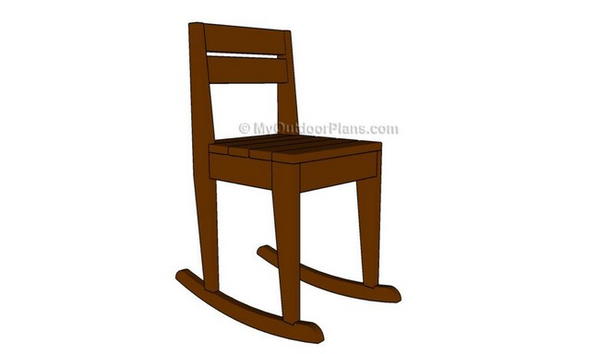 The DIY Kid's Rocking Chair Plans is a detailed guide on how to make a child's rocking chair. They are popular with kids, but they can often be too big for them because adult rocking chairs are not constructed in an appropriate manner. This guide will enable you to build a smaller rocker that can be used by kids, but also adults as an extra chair.
If you are looking for an active project to make with your kids, then these DIY rocking chairs are a perfect solution. Take a look at the instructions presented in this article and build your own rocking chairs. These DIY rockers are not only a fun activity for kids but also safe furniture that will provide them comfortable relief after a long day of playing!
Project details: myoutdoorplans.com
Jonny Builds' Outdoor Rocking Chair
Are you tired of your uncomfortable rocking chair? Feel like a young man again with the DIY Kid Rocking Chair Plans. The plan includes full-size drawings with dimensions of all parts. All pieces are labeled and drawn in different views to simplify understanding of the project. There is an attached bench so mom, dad, and kids can all relax together and enjoy the beautiful outdoors.
The DIY kid rocking chair plans are a must-have for any DIY enthusiast. Named after a Japanese method of preserving wood through charring, this process requires an initial burning at a high temperature, using only very little ventilation to carbonize the surface of the wood. The charred layer is then sealed with a sealant, like paint or varnish.
Cable Drum Rocking Chair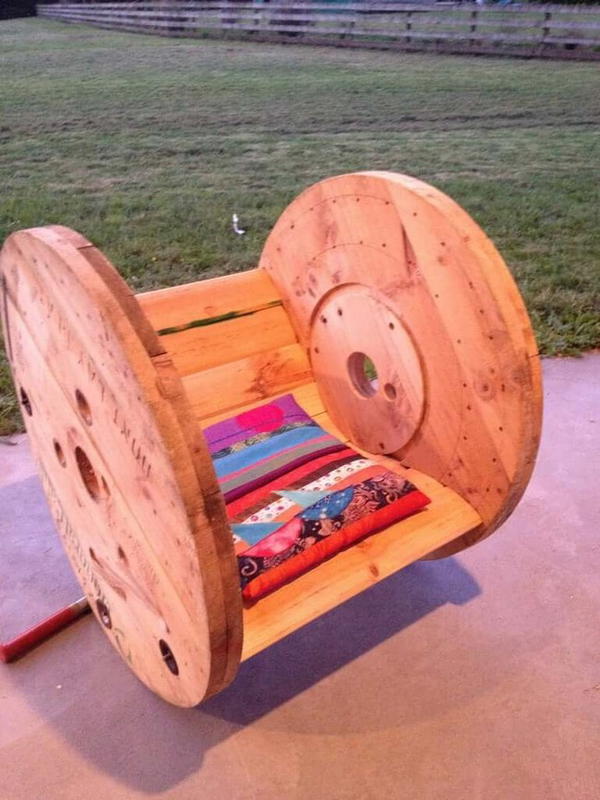 If you love to work with your hands, this exquisite DIY project will be the perfect job for you. Its very unique and charming appearance is an icebreaker even before you start your conversation. A rocking chair that is simple to make and exudes classic appeal. It all starts with the cable drums you can find by simply doing a thorough check on your neighborhood. Next, all you need are the basic tools like saws and drills and some other accessories. Lastly, you have yourself a relaxing chair sure to make any garden a great place to be in.
Project details: instructables.com
DIY Pallet Rocking Chair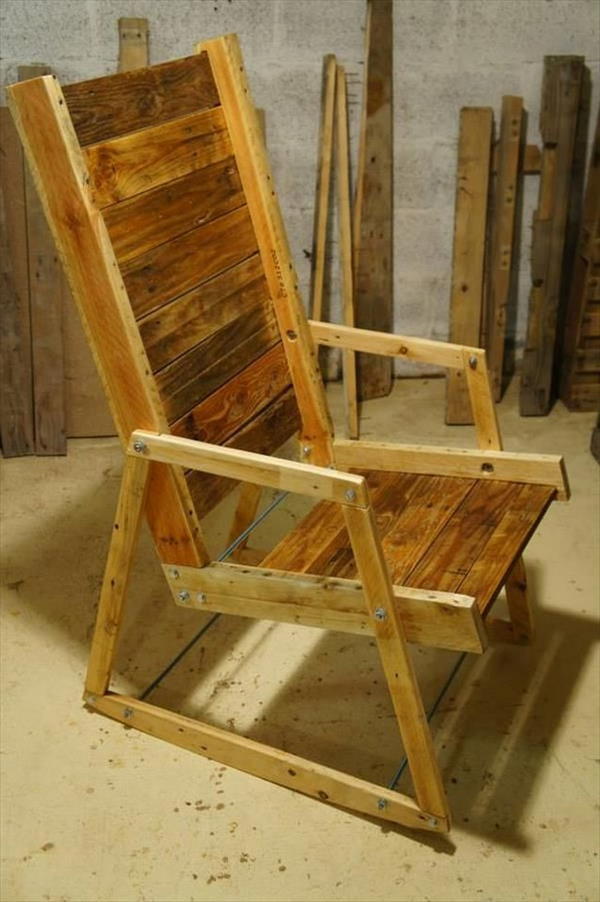 DIYers, we have an awesome project for you! Whether you're a beginner or an expert, this pallet rocker has everything that you need to create a comfortable seat that will make it effortless to take naps and watch movies. Enjoy the fun of building while having a character piece in your own home that oozes style and personality. You might even find yourself lounging around on this charming design this project is not some sort of design revolution, but rather a simple approach to turning pallets into something more beautiful than just a pile of wood leftovers. It is an effective and funny way to re-use the common materials you probably have at home.
Project details: palletfurnitureplans.com
April Wilkerson's Classic Rocking Chair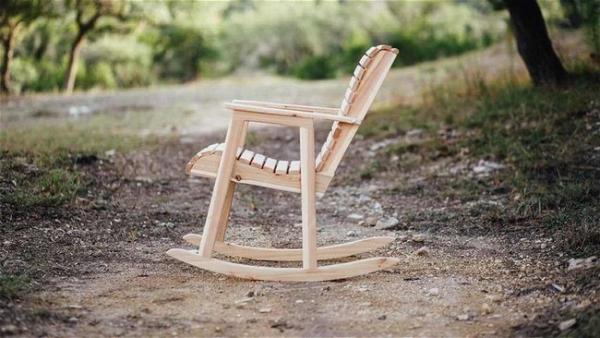 Are you looking for a great rocking chair plan? Turn heads at the next picnic or campout with this plan. It is unbelievably easy to move around yet it is still extremely durable. You can easily bring it along for a picnic or camping trip. April Wilkerson's Classic Rocking Chair is built for the great outdoors. This chair design is a straightforward project that you can easily build out in the open in a weekend or two. It doesn't require complicated lengths of lumber, so there are no special materials or tools to buy. This plan results in an unbelievably easy to move around yet still extremely durable rocking chair. You can easily bring it along for a picnic or camping. This lumber is famous for its incredibly lightweight and surprisingly strong structure. It uses stainless steel screws rather than the usual blind dowels.
.Project details: realcedar.com
16. Modern Rocking Chair By Chris Salomone
Make your living room a statement of modern living by adding this rocking chair by Chris Salomone. Based on an upholstered rocking chair, it features a contoured seat with chamfered edges and a number of other stylish features that are sure to attract attention. Its footprint means that it can fit into most standard-sized rooms. Most rocking chairs use a slat as the primary beam for the seat. This chair is no different. However, one unique feature of this chair compared to other examples is the chamfers cut into the inner edge of each slat. This creates a small upside-down triangle into which you can then butt each slat together and glue them at the tips.
Wooden Rocking Chair Using Cardboard Tubes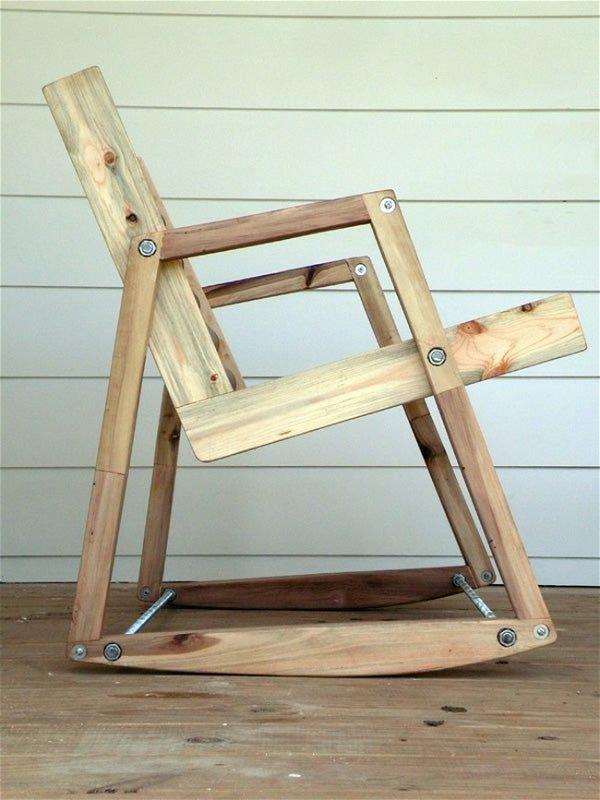 A rocking chair is a relaxing piece of furniture that also looks good on its own. A DIY Wooden Rocking Chair Using Cardboard Tubes is a great option for anybody on a budget, especially those working with limited tools at home. Of course, you'll need some spare cardboard tubes, the appropriate measuring tools, and a drill and different bits to get started. Some of you may have seen larger, more padded rocking chairs, but for smaller people, the original rocking chair design is just fine. Of course, if that's the case, then what do you do with your large frame? If you place it onto a smaller seat, you run the risk of a toppling chair or a chair that has a slide toward the floor. But if you double up on the tubes and become concerned with their strength and durability, then this is something to talk about.
Project details: instructables.com
Fine Woodworking's Shaker Rocker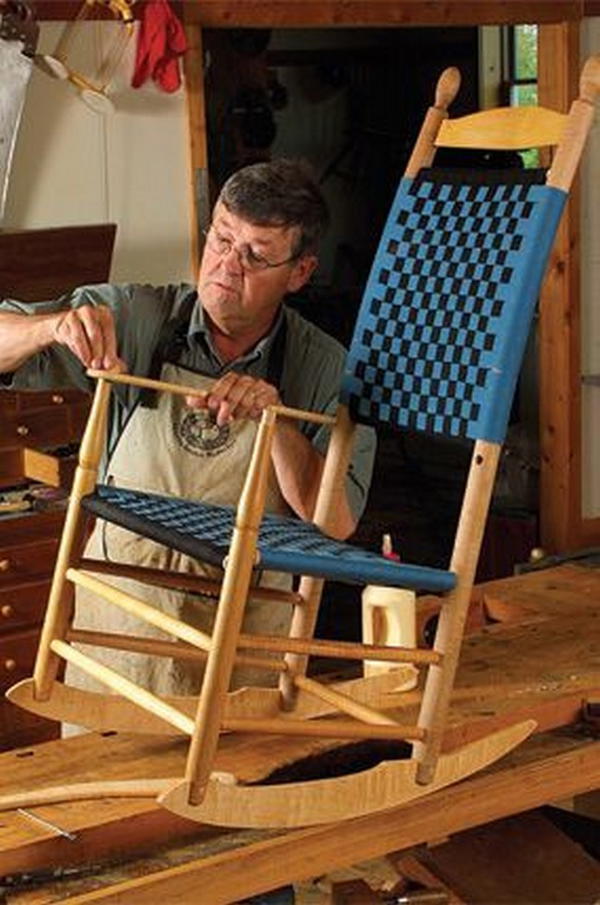 This project serves as an amazingly well-rounded introduction to numerous advanced woodworking techniques, despite its simple design. You will be able to familiarize yourself with shaker weaving, as both the back and seat are made from shaker tape. Another technique that you can habituate to is spindle turning. After all, most parts, aside from the curved back slats, arms, and rockers, require lathe turning. Also, you get to try out steam-bending without having to invest in professional-grade equipment. Have you ever had an idea for a project and later realized that it was beyond your capabilities? Do you wish you had been able to create the type of furniture that you've seen others craft, but without all of the fancy tools? Well, wish no more. Now all of your woodworking dreams can come true with the addition of this fine woodworking.
Project details: finewoodworking.com
 Rocking Chair Crib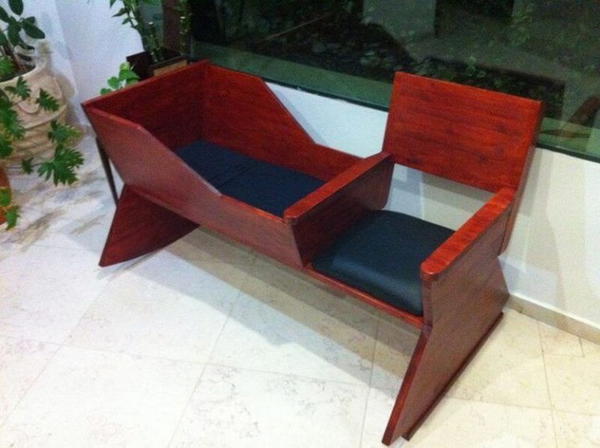 A rocking chair made from wood can be a comfortable, relaxing place to rest your tired bones at the end of the day. But what if this comfortable rocker could double as a crib for your baby? This rocking chair is the perfect addition to any nursery. The one side (the side with the armrest) can act as a crib. This is especially handy for when your baby becomes a toddler, or you just want to cuddle. This plan comes with detailed instructions and is relatively simple, so you'll be able to build it in a few weekends, even if this is your first project. you'll have to make this amazing piece of furniture for yourself.
The Rocking Chair Crib is very easy to build since all you need is wood glue and wood screws. You need to take a circular saw in order to cut the rocks into small, similar parts, and some sandpaper to smooth the parts you don't want to look too rough – but the rest of the work can be done with your bare hands.
Project details: project.theownerbuildernetwork.co
Kid Rocking Chair Plans By How To Specialist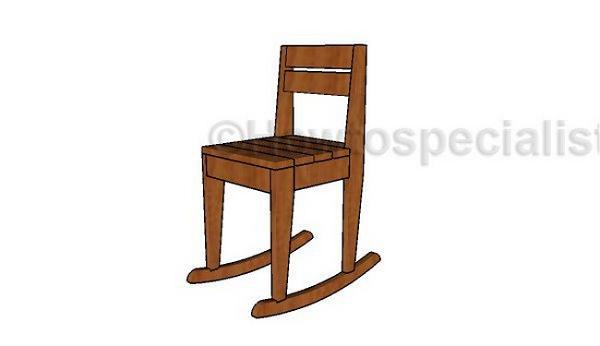 If you love comfort, then you must know a rocking chair will never go out of style. It is the kind that can give you warm feelings when reading a book or watching your baby sleep. Building a rocking chair can be a fun project for the whole family. The overall process is quite simple, but it takes time and effort to ensure that each step of the project goes as smoothly as possible. Here, we recommend using pine wood for it is soft, but also sturdy enough to hold up to a lot of weight. The good news is, it is actually not hard to build one by yourself. It's quite simple, actually. All you need to do is to find a comfortable spot in your backyard, next to trees as these will be your "wood lovers" for this rocking chair.
Project details: howtospecialist.com
DIY Rocking Wooden Lounge Chair
This rocking chair is all you need to relax on your porch or backyard while watching scenes from a blockbuster movie. It has a sturdy build to withstand tough outdoor elements, yet it has comfortable padding to lie on comfortably. It also features a flexible Rocking mechanism that lets you lie flat on it while ensuring that you still enjoy a rocking motion. The best feature of the rocking chair is that it does not need any assembly at all, so you can just start enjoying it right away without making any extra effort for its assembly.DIY Rocking Wooden Lounge Chair is a unique & fun design of a chair that literally rocks under your body. It involves multiple panels of wood & metal. Each has its own role in achieving stability and comfort for the user.
DIY Rocking Chair By Stan's Plans
This DIY Rocking Chair by Stan's Plans is furniture that you can assemble at home using basic tools. This rocking chair is one that you would want to keep in mind if you ever decide to create an elaborate and truly fancy chair for your garden or living room. For this project, you need an ample amount of lumber, which will include oak and birch. You would need to cut out the pieces first, and then chamfer them so that the curved ends will be of equal length and shape. Other than that, the back needs to have some angular cuts into the edges and rounded corners. The arms are also not like the traditional ones.
Rocking chairs give you a lot of happy chemicals in your brain, so they make perfect accessories for those who want to get rid of the blues and replace them with happiness. It requires very few parts and it is perfect for the patio of your garden, the porch of your home, or the front yard. The shape of this chair can be modified easily
Project details: stansplans.com
Wooden Pallet Rocking Chair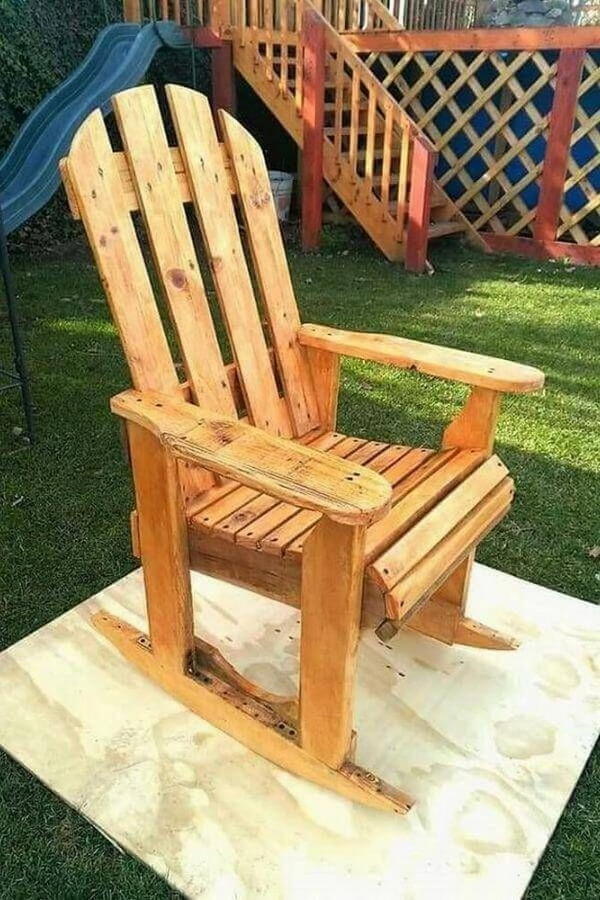 Are you interested in DIY furniture but haven't gotten down to actually making one yet? Don't worry! This DIY wooden pallet rocking chair plan is right at the top of your list. Well, now's the time to start your own Pallet Furniture! All you need is a screwdriver and an angle grinder. Pallet planks are easier than you think: as long as you have the right information, anyone can make a piece of furniture out of them!
This is a DIY (Do it yourself) wooden rocker made entirely of pallet boards. Pallets are very accessible materials that can be found around the streets where you live, like in any yard, near construction sites and yards, etc. Nowadays also, pallets are sold in most hardware supplies stores as well. If you don't want to buy them, then all you need to do is gather some friends to get your hands on a truckload of pallets.
Project details: palletswoodenprojects.com
Home-Dzine's Custom Rocking Chair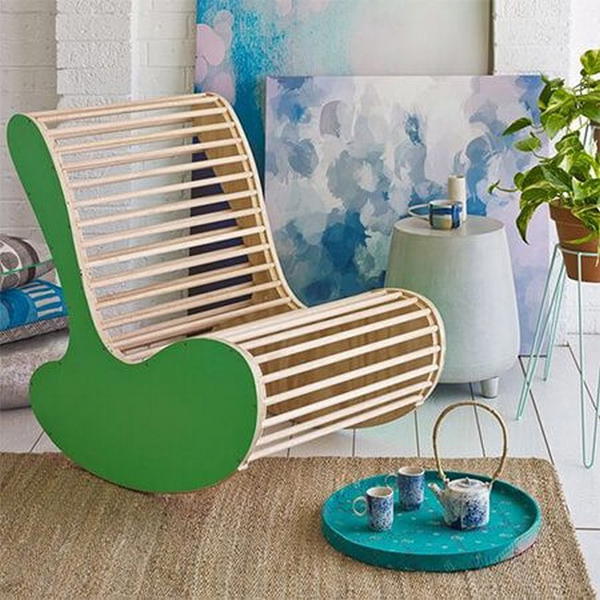 We thought of the perfect accessory for the Rocker. It was a revolutionary design that finally took off when the world market accepted it as an extremely attractive product. Also, it is a good opportunity to experience how easy it is to construct this exciting design by just following a set of instructions. The Home-Dzine's Custom Rocking Chair is available in two versions; one wagtail version and the other rocking version. Whichever you like, building them should be quite fun!
When you are considering designing a rocking chair, you will probably need to decide between the old-fashioned style, which requires separate parts to be assembled, and the modern design, which is constructed as one piece. Here we present a way to produce a rocking chair with a simple but stylish look by simply using dowels to hold the entire structure together. Use this idea to create a comfortable and fully functional rocking chair for your kids or your living room.
Project details: home-dzine.co.za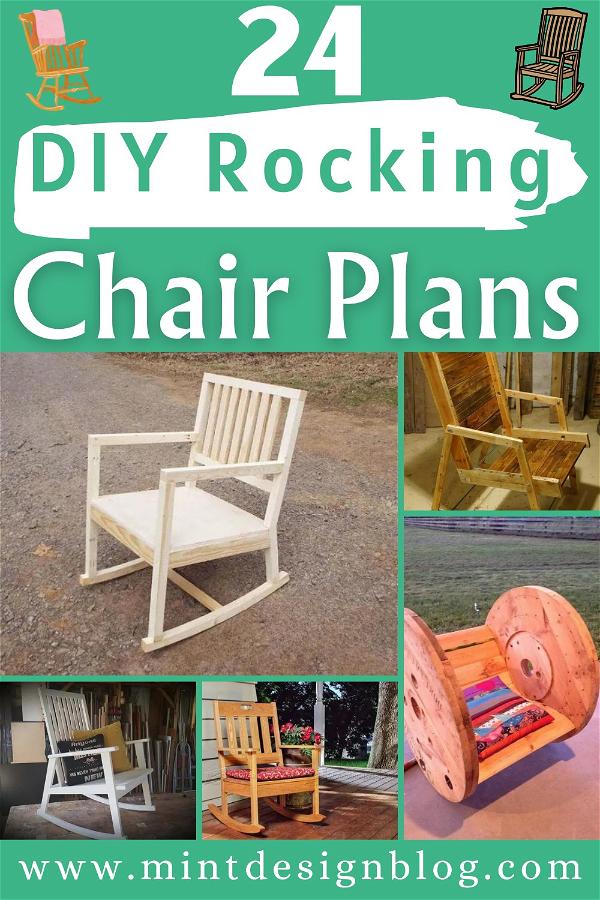 See Other Projects