Now you can build a stylish, yet functional nightstand to complete your bedroom! These free DIY nightstand plans have everything you need to build a complete bedside table including cut lists and simple-to-follow instructions. DIY Nightstands are the best choice for you to place your books, magazines, a glass of water, alarm clock, phone, or other items on them. This piece of furniture is located at the side of your bed and it is always the first thing you see in your bedroom when you wake up in the morning. Its purpose is to give support to the things that you need during the night while you sleep. The fact that they are mostly placed at the end of your bed might make people consider them unimportant elements of their bedroom design, but it does not mean that they are less significant than any other element in your bedroom.
DIY Nightstand Plans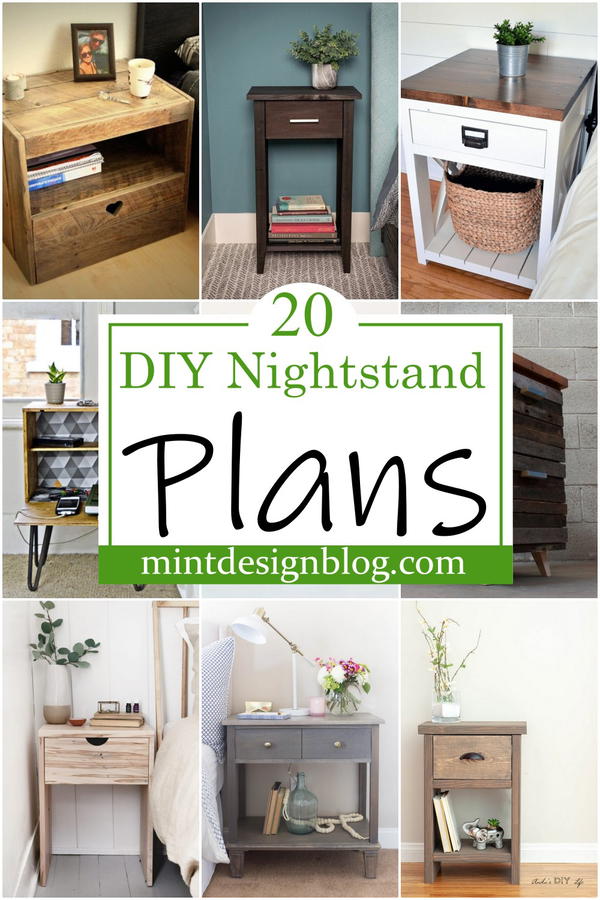 Here is a collection of informational posts with the best DIY Nightstand plans and ideas for your home. These tutorials will give you the ability to build stylish and functional nightstands that will match your modern or contemporary bedroom interior design.
The author has done his best to provide you with a wide range of nightstand and end table building ideas and projects, from the simplest to more complex ones, but still easy to follow and without any special skill required. All of these DIY Nightstand Plans are bright, attractive, and functional. You can also add some personal touches to make them even more unique and special.
Planked Wood Nightstand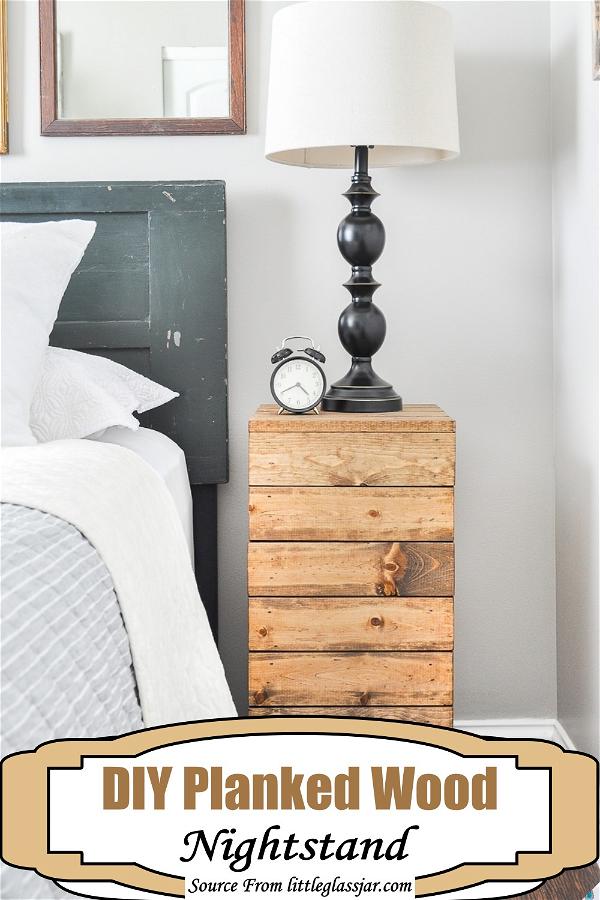 You'll love how much easier it is to reach your reading materials or watch your favorite shows in bed with this DIY planked wood nightstand. Not only does it look amazing, this piece, built with pallets, provides extra storage space for all your bedside needs.
Build your own DIY Planked Wood Nightstand for extra storage of your ironing board, laptop or just to put some of the keys and candies that you really like. You need to know how to use power tools or electric saws for wood painting and attaching accessories. This project would be the main decoration of the bedroom if you are planning some major overhaul in bedroom decors.
Free Wooden Nightstand Plan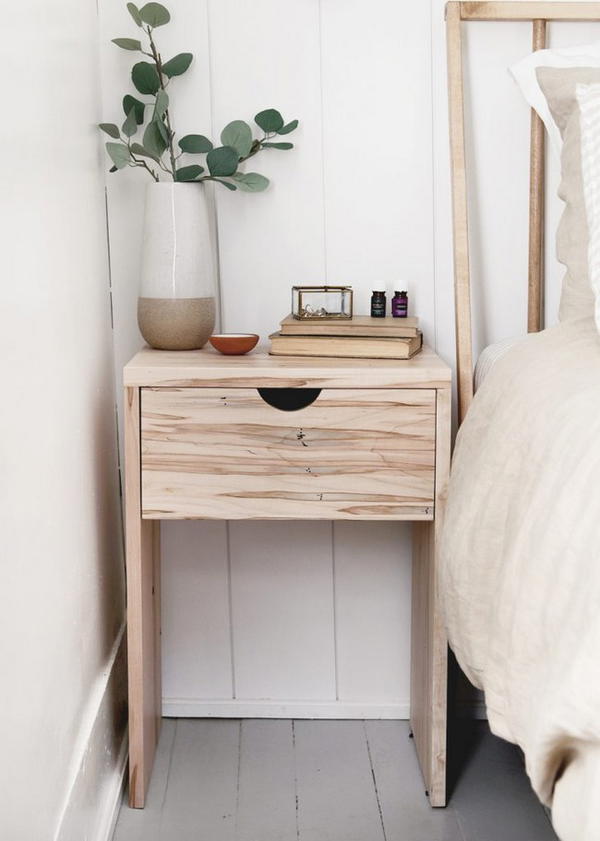 This nightstand has a functional design with storage space for extra essentials and a drawer. The unit is made from plywood and is strong, while the top becomes an attractive blank canvas due to the use of solid plywood. The top of the unit is rounded off at corners for a more appealing look.
The design for this piece is simple and it uses basic construction techniques. The construction itself is very straightforward, as you will use pocket holes and screws to hold everything together. The drawer is not the only built-in storage in this DIY nightstand though. There is also the shelving unit with two drawers located on the bottom of the design. You are sure to have enough storage space for all of your items on this bedside table.
How To Build A Scrap Nightstand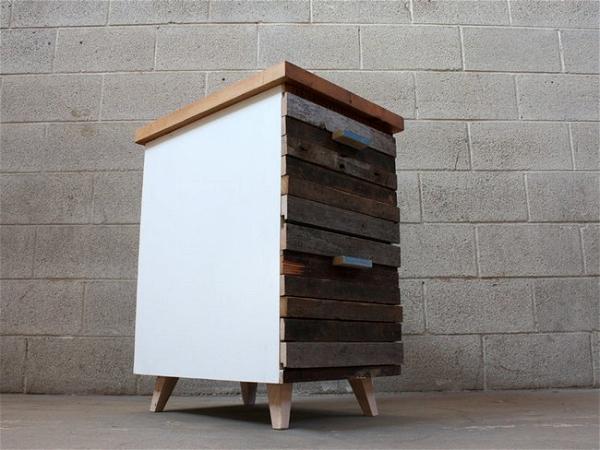 A nightstand is a table that is typically put next to the bed. It can also be called a "bedside table" or "night table". A nightstand can be made of various materials like wood, metal, or glass. Some nightstands are free-standing while others are attached to the bed frame or the floor. They come in different styles too. Some are simple while others are ornate with carvings and other accessories. Besides this, they are available in different sizes as well. For example, there are large ones that accommodate books and magazines along with smaller ones that hold only an alarm clock and a glass of water
Trash Can Nightstand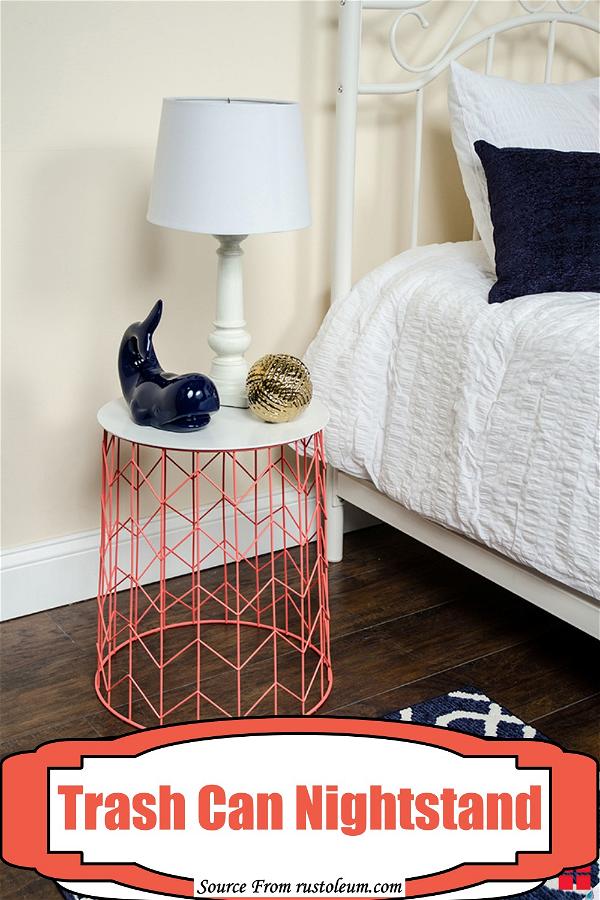 Build your own DIY Planked Wood Nightstand for extra storage of your ironing board, laptop or just to put some of the keys and candies that you really like. You need to know how to use power tools or electric saws for wood painting and attaching accessories. This project would be the main decoration of the bedroom if you are planning some major overhaul in bedroom decors.
You'll love how much easier it is to reach your reading materials or watch your favorite shows in bed with this DIY planked wood nightstand. Not only does it look amazing, this piece, built with pallets, provides extra storage space for all your bedside needs.
Reclaimed Pallet Wood Nightstand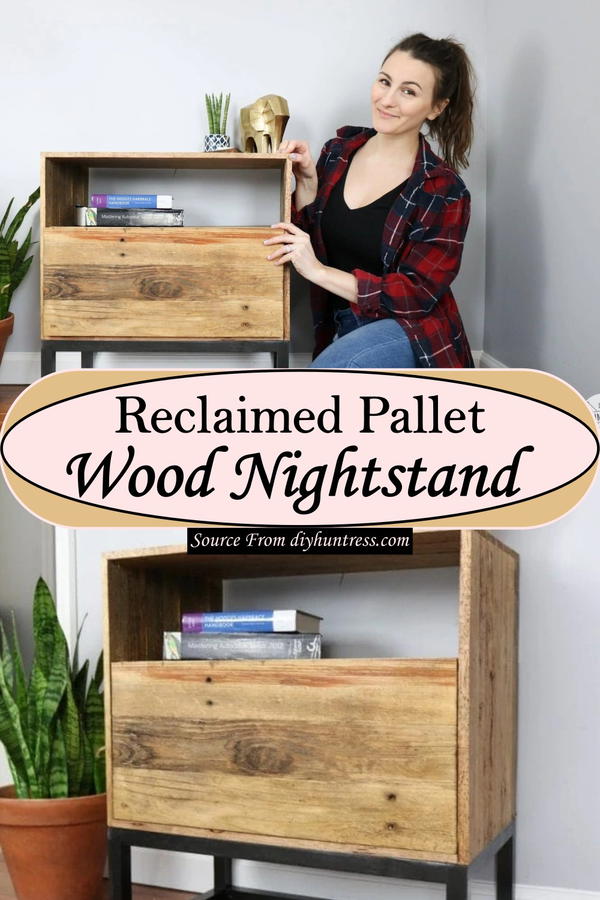 The West furniture has many fans, but not all the fans can afford it. So, it will be better to make the cheap West furniture knockoffs at home. Bring the West vibes to your bedroom by adding this nightstand knockoff, made of pallets. You need pallet wood, 2x4s, ½ sheet of ¾" plywood, 12" drawer slides, ½" sheet of ¼" plywood, and some pocket hole screws to build this nightstand easily.
The pallet wood comes in a lot of shapes and sizes and you have to choose which ones you want for your project. This is a simple DIY job so you can get all the materials from any hardware store near your place.
Nightstand With Drawer And Hidden Storage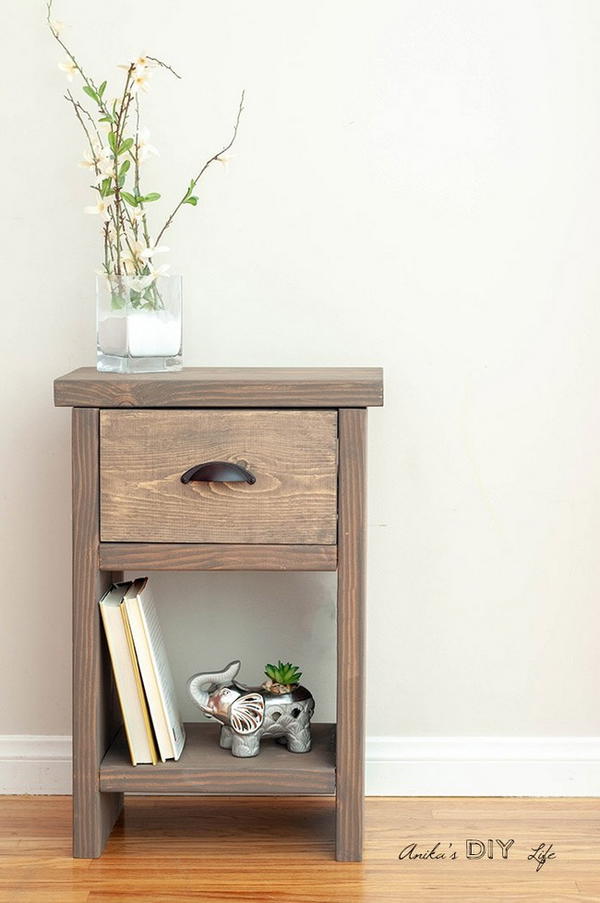 This nightstand with drawer and hidden storage is one of the most elegant designs we have ever seen. It is made of solid wood with a natural finish and has the most amazing lines and curves. The top comes off revealing a hidden compartment inside, ideal for storing your valuables, jewels, or even your handgun for quick access in case of an emergency. It has a lower shelf for books and magazines, which can be neatly stacked up on top of each other. The nightstand has two drawers to hold all your personal belongings within easy reach. You can put it anywhere in your bedroom or living room, but it will look best against the wall. It is an easy assembly job, as long as you follow the instructions carefully. The material is solid wood, so there are no worries about this item breaking during shipping.
Build Your Own Custom Nightstand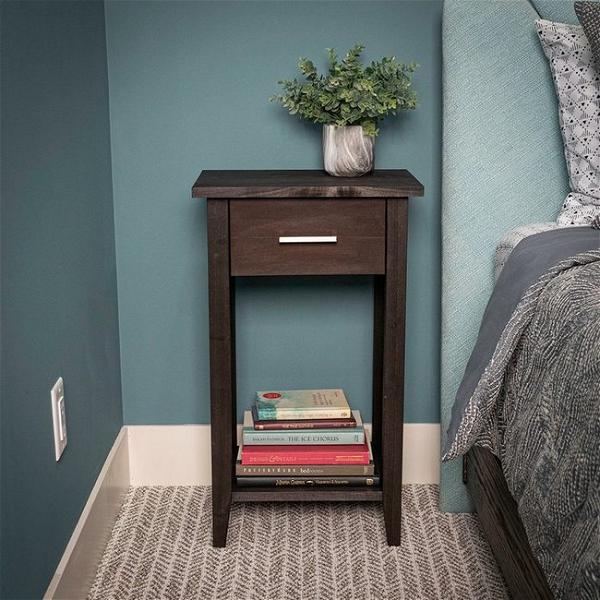 Nightstands are multipurpose furniture pieces, they can store your belongings, keep your alarm clocks and cell phones, serve as side tables for your bed, and so much more. Your nightstand is probably the last piece of furniture you think about building yourself. However, you should consider building one for many reasons:
You can choose the right size, height, and design to fit your needs. It will cost you a fraction of the price of a ready-made one. Plus if you build it yourself, you can customize it to fit any style or budget. You will learn a new skill that will come in handy down the road on many other projects.
Pottery Barn Inspired Nightstand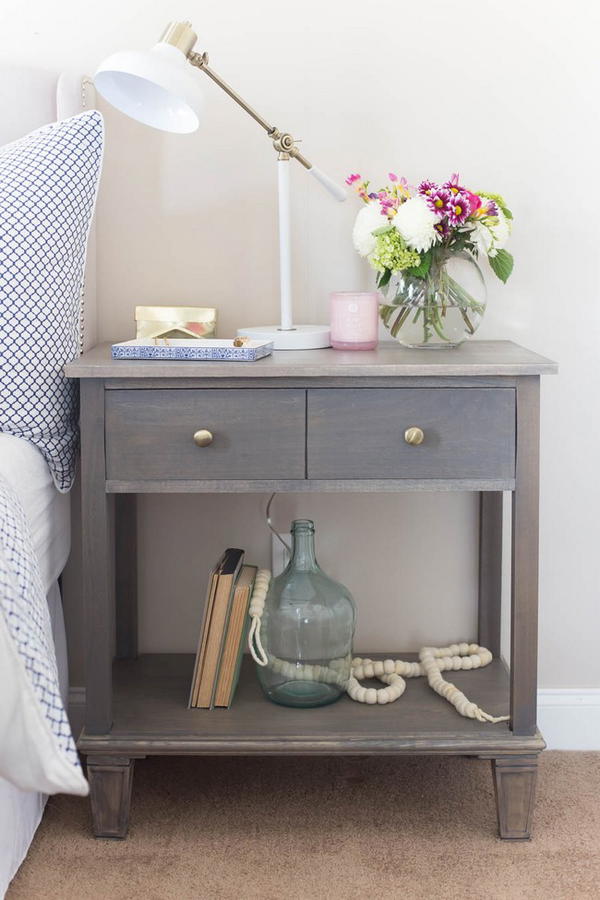 This plan produces a beautiful Pottery Barn-inspired nightstand that is highly gorgeous to look at. It is a 2 drawer design that has a lower shelf to hold all your extras and essentials. This plan is an easy build for anyone even with limited woodworking skills so don't be afraid to give this a try. It's part of the "Build it" series of free woodworking plans from WoodworkersWorkshop.com. All the plans have been designed by us here at the workshop, and we have made them as detailed and easy-to-follow as possible.
These plans are intended for both amateur woodworkers and professionals alike. There are no fancy joinery techniques or hardware required for this project, just straightforward building using basic tools like a circular saw, tape measure, drill, clamps, sandpaper, etc All the measurements have been provided in both metric and imperial so no matter what system you use, everything will be easy to follow.
Build A Pallet Nightstand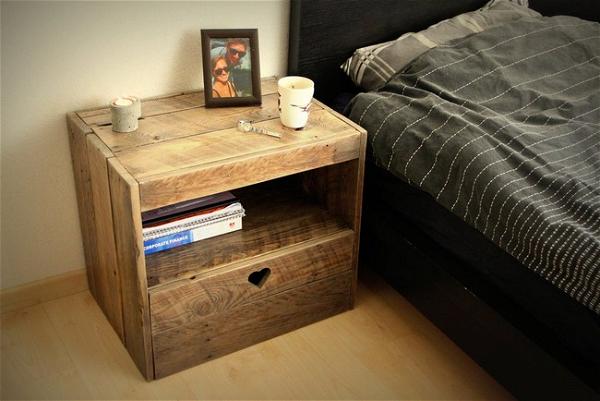 There's nothing better than a nice, cozy nightstand by your bedside. And if you're one of those people who has been dreaming of building a customized nightstand from scratch, then get ready to build this pallet nightstand project today! This wooden nightstand is what you need if you want to make your bedroom look more elegant and appealing while still being functional. It makes use of a small amount of free pallet wood to create a durable, rustic yet stylish nightstand that will last for years to come. There's a bottom drawer which you can store anything in and a sliding top shelf that can be used to place a lamp, alarm clock, or picture frame on it.
Farmhouse Nightstand Plan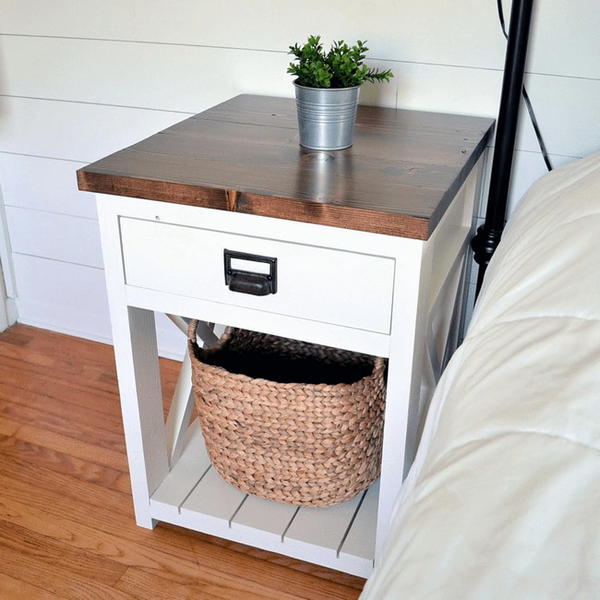 It is a great addition to your bedroom or guest room. You can even add a modern touch by using it in your living room to store magazines and other small items. This detailed plan will help you create an awesome nightstand that will become the focal point of your bedroom.
This DIY project is a perfect addition to your home decor. It will provide a rustic touch to your bedroom, and you can easily place it next to your bed or use it as a shoe rack. It is a little bit difficult, but if you have the right tools, then there is no reason why you cannot build this nightstand yourself.
Nightstand From An Old Wine Crate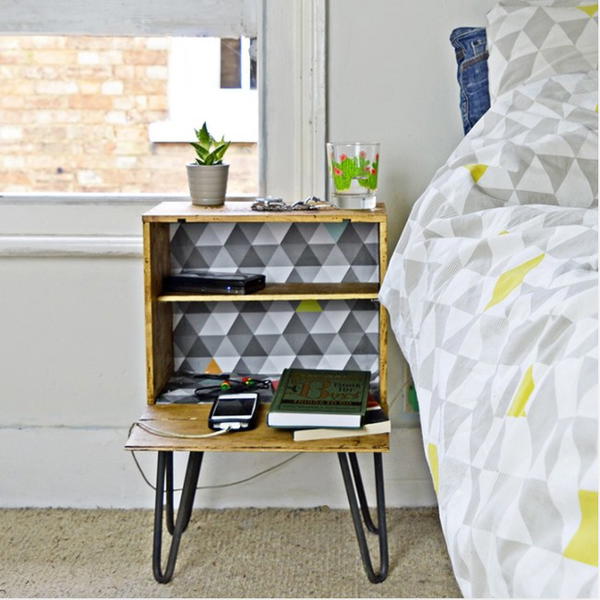 A beautiful and functional nightstand made from a wooden crate is a very useful thing. It will help you to store things that you need during the night, such as a glass of water or a phone. You can even leave your reading book there.
The wooden crates are very easy to find at home. The best thing about them is that you can do whatever you want with them. Add some paint in the color that you like; it will make the furniture more fun and interesting in appearance. You can also think about how to arrange your room if you want to use the crate in combination with other decor elements like pillows, rugs, etc.
How To Make A Hanging Nightstand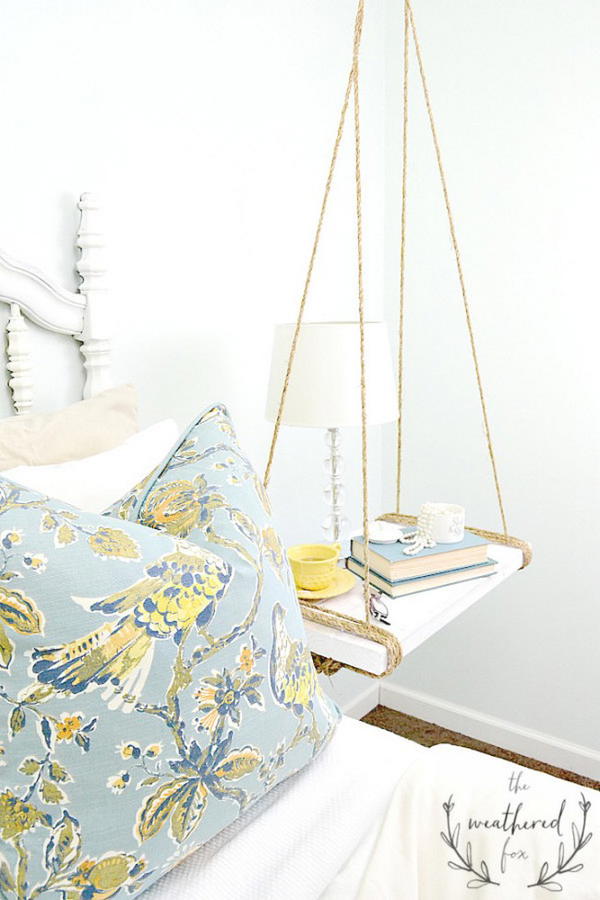 A hanging nightstand comes in handy in so many ways. It provides you with extra storage space for your needs. This design is inventive and simple to make, and all you need are the right materials that are easily available in the market. For making this hanging nightstand, you need to cut two wooden boards of the same width and length; then use the old rustic rope to tie them together on each side by tying knots. It will be hanged on the wall with the help of large nails. Then use it as per your needs for keeping stationery items like books, magazines, alarm clock or mobile phone etc.
You can also hide away some of your things like jewelry inside it for better security. This hanging nightstand is a very useful item especially during parties where more space is required for placing drinks and other food items on the table. Not just this, it can also be used as a decorative piece in your home décor item using its creative appearance.
Rustic Floating Nightstand Plan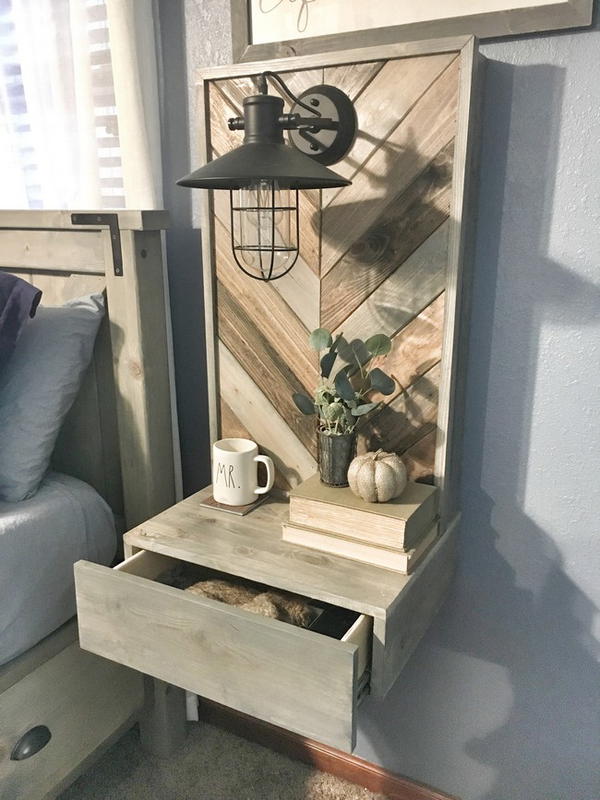 The floating nightstand features a simple and convenient design. To install it on the wall, you can use either toggle bolts or wall anchors. This gives you a lot of flexibility when mounting the nightstand.
In addition, this floating nightstand is designed using top-quality timber. In fact, its top portion is made from reclaimed wood making the product eco-friendly. With this floating nightstand, you can organize your books, magazines, and other items easily. Its design is perfect for an elegant bedroom.
Cane Nightstand Ikea Rast Hack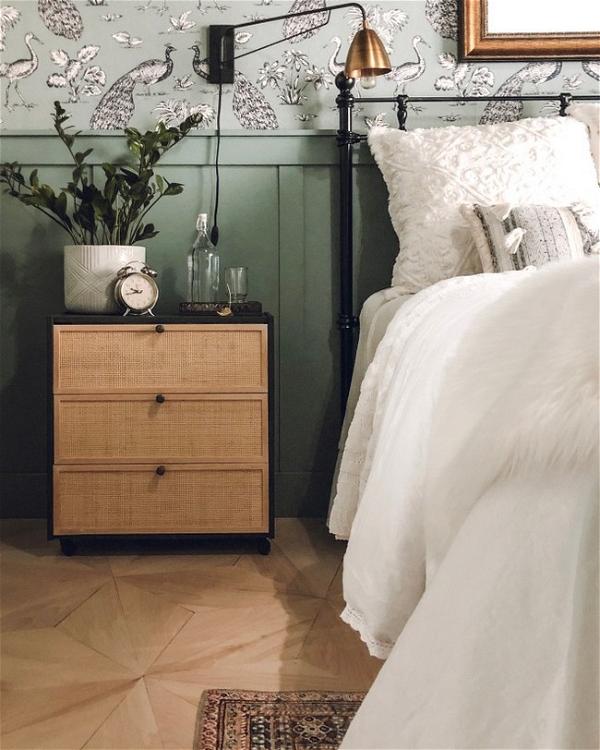 The construction process is very easy. First, you need to make the frame for the nightstand using wood putty and an appropriate plate. Check out the video tutorial below to learn how to build a nightstand from a Rast chest of drawers.
The next step is to add a small metal frame for the screen and hammer it into place. Then, you need to attach a small metal frame for the bottom of the nightstand and hammer it in place. In order to fill up all holes and cover all rough edges, you can use caning material, which will not only improve the appearance but also strengthen the structure of the nightstand. Then, you have to attach two 2x4s at both ends in order to support your screen and finally add a finishing touch by attaching a pine mullion molding on top of the screen.
Modern Farmhouse Nightstand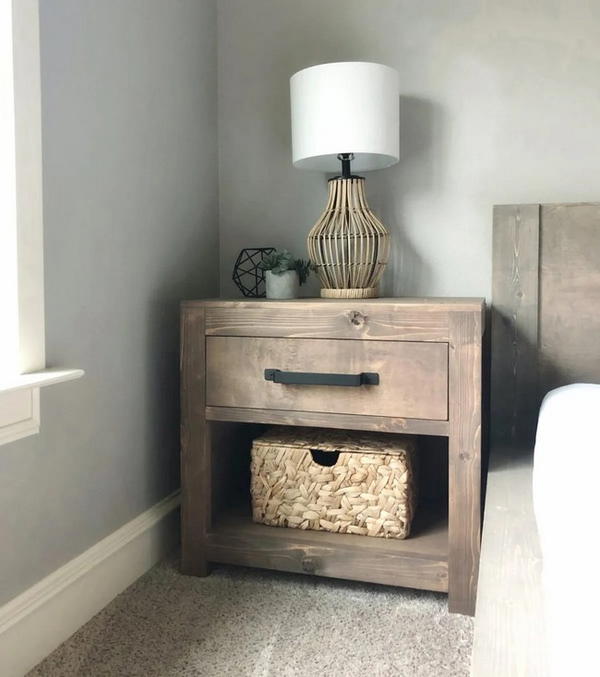 This farmhouse nightstand is a great addition to your rustic or farmhouse theme bedroom. It features a large drawer for extra storage and a smaller drawer for more storage. This project also has a removable top, so you can store your books and magazines underneath. This is a very simple, easy, and quick project to build, so it will not take that long to have this nightstand in your bedroom. The nightstand is rated as an intermediate-level project as you need to have a few woodworking skills to complete this project. The materials required to build the nightstand are easily available from your local hardware store.
The plans come with complete details on how to build this modern farmhouse nightstand including a step-by-step guide along with a detailed explanation of each step involved. It also contains a cut list, material list, tools requirements, and hardware requirements.
Mid Century Modern Nightstand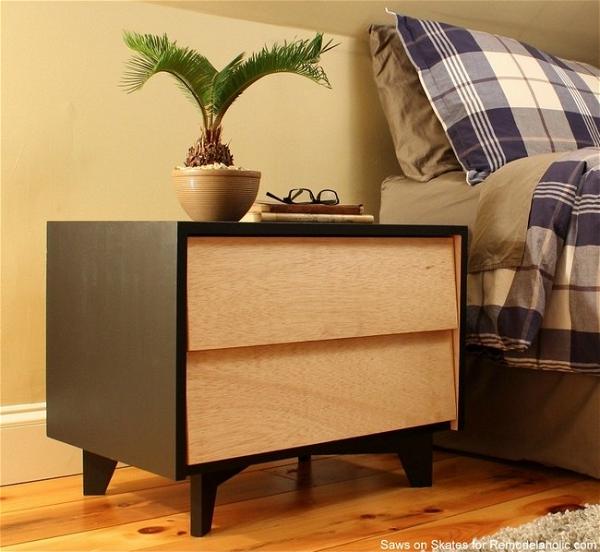 This is another of the Scandinavian designs for your home decor. It provides ample space to be used as a nightstand or storage and also keeps your room clean with a simplistic design. It has 2 drawers that are supported by short wooden legs, and it will fit in any modern or retro setting. The legs are made of wood, the drawers are made of wood that has been painted black.
To add a sense of flexibility and beauty to your bedroom, this nightstand will provide you with a sound sleep at night. Its black wooden legs with metal knobbed accents will complement any modern interior design. Its two drawers with metal knobs are the perfect place to keep your things organized.
DIY Bedside Table
The tutorial is simple and the steps are easy to follow. It would be great for any skill level, even beginners. By following these instructions you will be able to build your own rustic bedside table. The best part about this project is that it can easily be customized in any way that suits you. You can use different wood types, stain colors, paint colors or just leave it unfinished if you prefer a natural look.
You can also add a drawer to the base of the table if needed. The secret of this design is that there is a hidden compartment under the top of the table where you can hide your valuables. All in all this is a beautiful and functional piece of furniture that will make a nice addition to your home décor.
Crate Side Table With Hairpin Leg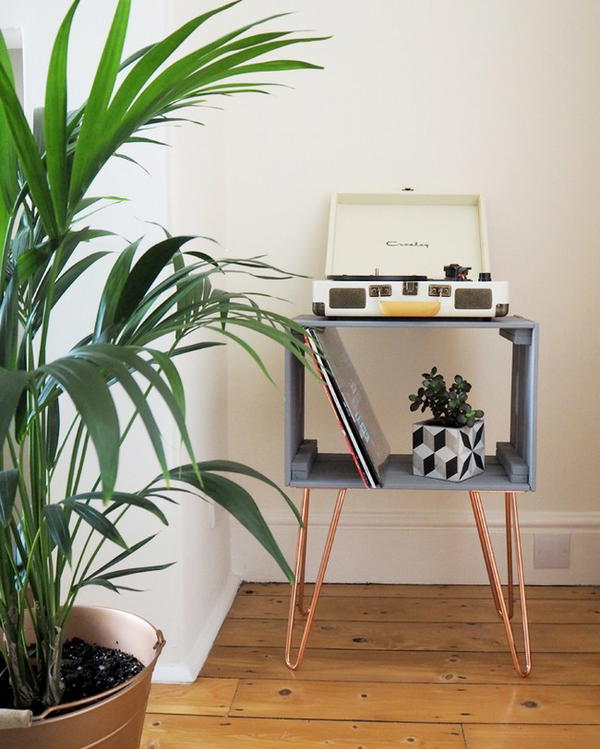 The hairpin legs are made up of two parts, the straight leg, and the curve. For the straight leg, you will need to cut a piece of ¾" x 1 ½" wood. You can either use a miter saw or a hand saw to do this. Mark out the curve of the hairpin legs on one side of the wood using a protractor. A simple compass will work just fine for this purpose. Cut along the curve using a jigsaw to get your first half of the hairpin leg ready. Repeat this process for all of your remaining wood pieces.
To get your second half of the hairpin leg ready, you need to mark it with another curve on its other side. This curve should be similar but not identical to that on the first half of the leg. Cut along this new curved line using the same method mentioned above. Once you have all your pieces cut out, set them aside for now and make sure you have all your other supplies ready before continuing with the assembly process.
Build Your Own Nightstand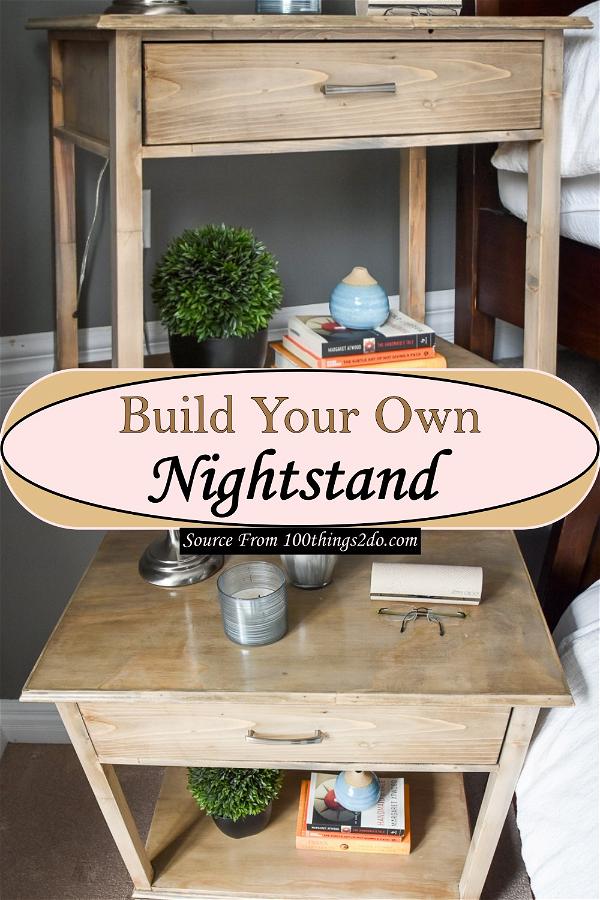 Making a nightstand out of recycled wood is an art as making other furniture. The main idea behind this project is to reuse old wood and make something new. It will be vital for you to make the nightstand as though you are going to use it frequently and you need something that can support your items and the regular stuff that you need every day. You should not just go for any stand, but one that will last longer and look good at the same time.
As we all know, we need to have a place where we can place our belongings such as books, magazines, glasses, pens, clocks and so on. This makes it important for you to always have a stand or table where you can rest your regular magazines and books so that they do not fall down on the floor. This project will help you attain this by recycling old wood and making a beautiful nightstand out of it.
DIY Nightstand With Three Drawers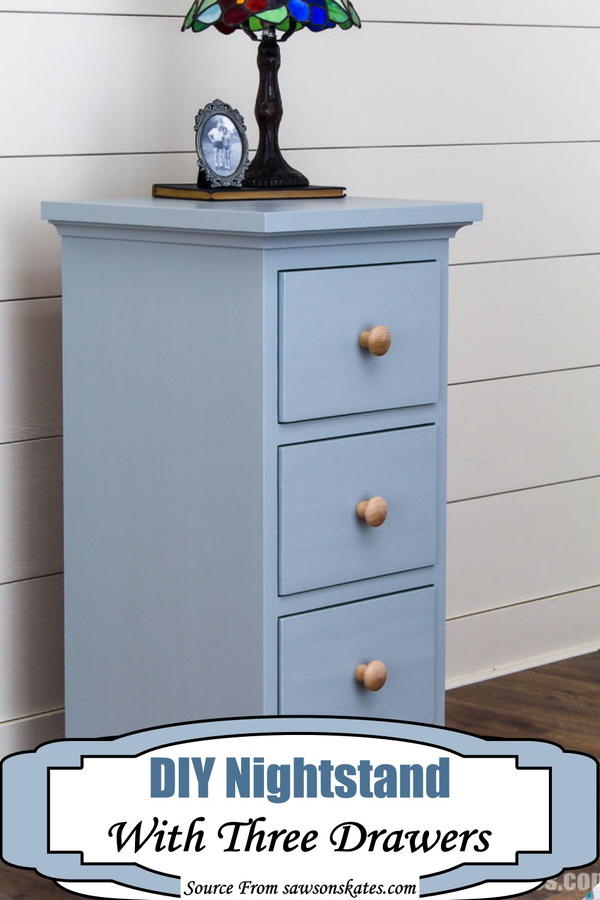 Some people are so busy during the day, they barely have time to do anything in their homes. Worse still are those nights when they are too tired to get up, so they spend the entire night sitting on the floor watching TV. To avoid this, do not hesitate to save money and buy this DIY modern nightstand with 3 drawers. It will save you a lot of trouble in the end.
The DIY Nightstand With Three Drawers is a part of our furniture collections that have been more improved and offers better quality service of the similar kind of the others. The amiable style of this nightstand can be helpful in making an effective bedroom theme more efficient.
See Other Projects