We take pride in our ability to provide professional quality, DIY guitar stand plans that are simple and easy to build, while still looking the part of a professional. Many guitar players know that it is important to keep a guitar off of the floor. Damage can happen to an instrument very easily when it is not given proper care and attention. Having a guitar stand is a great way to prevent damage, but if you don't have one, you can quickly create one. The best wood for building a stand is alder because it is strong, durable, and inexpensive. If you do want to use another type of wood be sure that it is sealed with polyurethane to protect.
Free DIY Guitar Stand Plans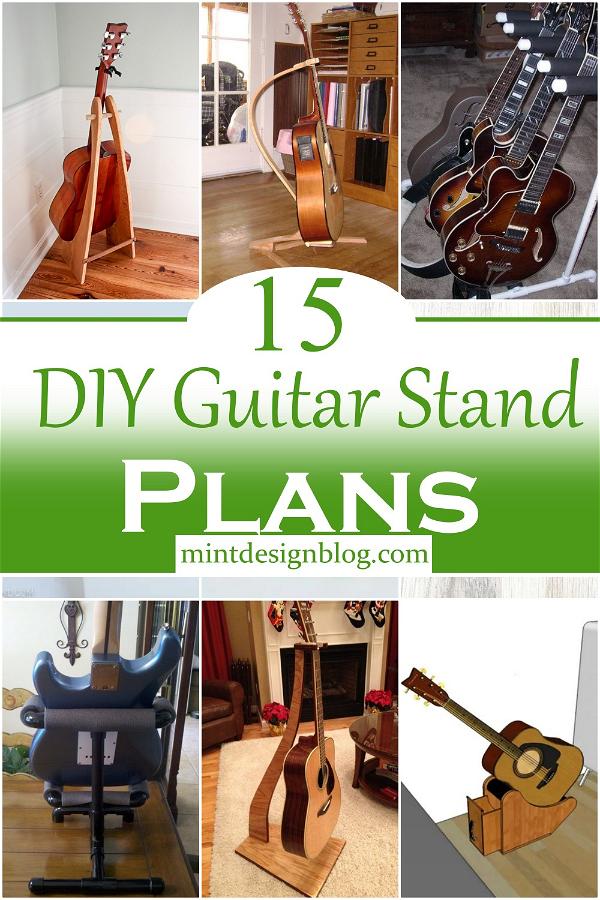 An excellent guitar stand will make it easy for you to comfortably play your instrument while also keeping it safe from harm. As such, we recommend that you choose a DIY guitar stand that is sturdy and durable so that it will last you a long time. There are many different kinds of guitar that stand out there to choose from. Some are quite basic, while others are more complex. The great thing about having such a wide variety of guitar stands to choose from is that there is something out there for everyone! There are 15 different plans that will teach you simple to follow yet highly effective techniques for making a guitar stand. If you have some time and the skills necessary, then let the building begin!
DIY Folding Guitar Stand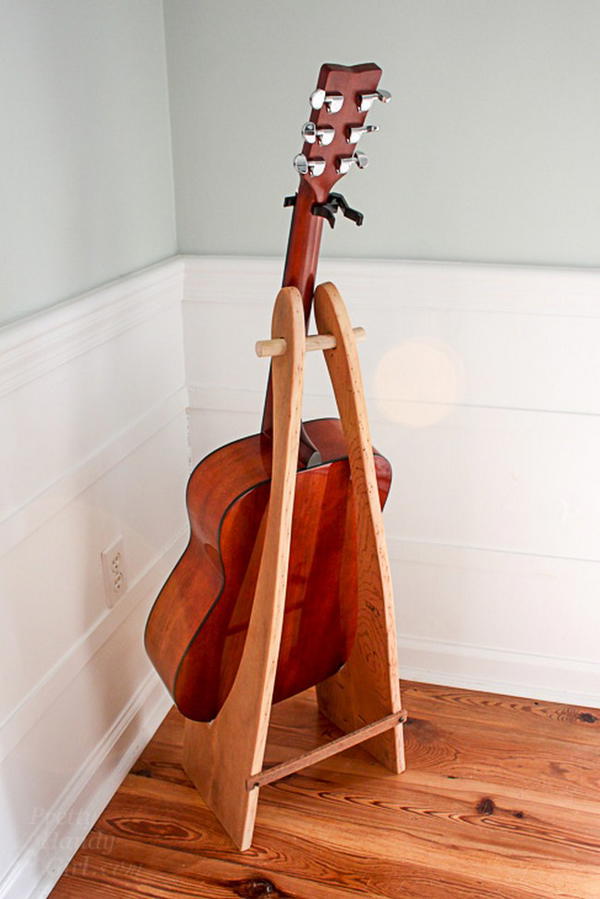 If you're looking for a quick-to-make guitar stand, this easy featureless DIY Folding Guitar Stand is for you. For anyone who has ever been on the hunt for a guitar stand at a gig, only to find half of them being used by fellow guitarists, this project is a dream come true. The simplicity of this design is attractive and the fact that it folds up makes it ideal as a gigging musician's friend. Build this with your favorite hardwood, including plywood if you like. It makes a great gift for anyone who loves playing guitar and for anyone who is looking for cool guitar display ideas. You will have a nice piece of wood on which to rest your guitar after using it, and it's compact enough so that you can move it from room to room as needed.
Skill Level: Intermediate
Tools: Saw, Screws, Drill, Sander
Supplies: Wood (possibly an old ironing board), Glue, Sandpaper, Screws, Hinge
PVC Multi Guitar Rack by NickRehm
If you have a few guitars lying around, then you may want to check out this PVC Multi Guitar Rack. This is such a simple idea, and the whole build can be done in one day. In addition, you can theoretically take this rack anywhere you need it and set it up quickly. With PVC at the forefront of so many products, you can now enjoy this great PVC guitar rack system that is built to last. It was designed not only to be inexpensive but also easy to maintain. This is a simple model and easy to build and provides valuable benefits that you will really enjoy. You can add it to any room in your house and keep all of your guitars neat, clean, and at arm's length, ready for when you want to play them!
Skill Level: Beginner To Intermediate
Tools: Saw
Supplies: Glue, PVC Pipe, Paint
Small Folding Guitar Stand by I Like To Make Stuff
This Small Folding Guitar Stand can be the perfect solution when your guitar really needs to get up off the ground. While it does use some wood, it is not very much and it does not require any special tools or building skill-just simple household tools. This small folding guitar stand is extremely easy to make. There are a few plans that require you to build this stand out of a block of wood and paint it. All of those results in a very expensive result. This stand is built using just some basic hand tools, and plywood so that even a novice builder can build this with ease. All you need to do is watch the video and follow the easy instructions to create your own portable guitar stand.
Skill Level: Beginner
Tools: Saw, Drill
Supplies: Wood, Screws, Hinge, Brass
Hanging Guitar Holder by Crafted Workshop
The Hanging Guitar Holder is a piece of art that you can hang on the wall. The curved lines resemble the sound waves of a guitar, while the woodwork and craftsmanship are great examples of handcrafted work. This holder features a separate space for your guitar's body, as well as its neck. This guitar holder that you can build is pretty cool looking. This design would be great for someone who doesn't have a lot of space but wants to be able to show off their guitars proudly. The building process is a little different than some of the other built table or stands methods we have found because it uses a bentwood lamination method.
Skill Level: Intermediate
Tools: Jigsaw, Sander, Exacto Knife
Supplies: Plywood, Glue, Brad Nails

DIY Wooden Guitar Stand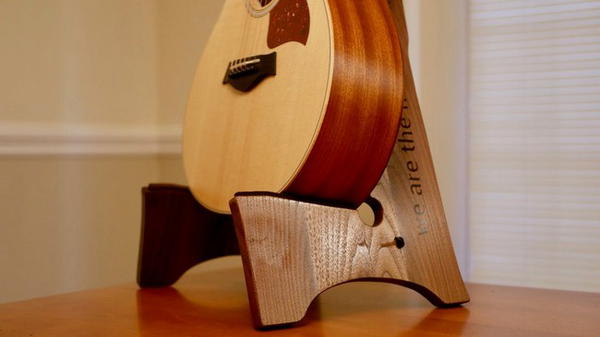 If you are a passionate guitarist and love to play your guitar often, then you should build this simple and attractive guitar stand for your daily practice. A little cost and time will be able to construct a durable, eye-catching guitar stand at home. This project is easy enough that the novice woodworker can complete it with confidence! This stand is easy to make and portable, lightweight guitar stand made from a wooden clothespin. You can make your own guitar stands very easily, and you may need a smaller one to go with a baritone or other large-scale acoustic. The guitar stand is amazingly strong and sturdy, and all it takes is some plywood and glue to put together. The template is sized to hold most guitars, ukuleles, and violins.
Skill Level: Intermediate
Tools:
Dewalt Impact Driver
SawStop
Professional Cabinet Saw
Laguna
Bandsaw
Shapeoko
Supplies:
Brass hinge
Felt strips
Leather cord
DIY Guitar Stand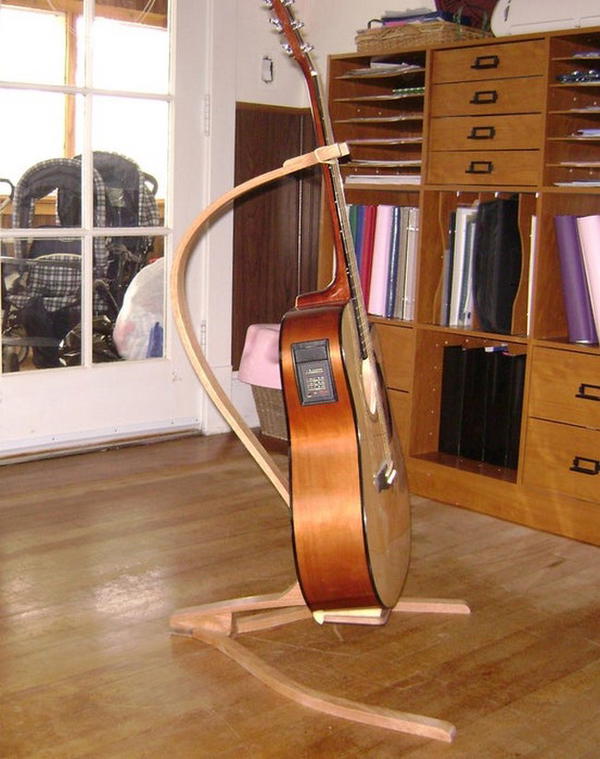 If you have a guitar you keep taking to band practice, meetings, and wherever else you may go with it, getting a stand for it is a good idea. It looks professional, it keeps your guitar safe and sounds while not in use and it keeps your instrument close at hand - safe from accidents. This guitar stand is designed to disassemble and has done so from the start. It's not in the plan to disappoint, but quite the opposite, to please your everyday needs and wants. Built of wood by wood, it will last for years to come if given proper care.
It's inexpensive, simple to make and you can use the wood you have in your shop to build it and get started making stands for your instruments or gear. No metal parts were used during the construction of this guitar stand. The curves are done by laminating smaller pieces of wood together.
Skill Level: Intermediate
Tools: Jigsaw, Sander, Exacto Knife
Supplies: Plywood, Glue, Brad Nails
DIY Pvc Multiple Guitar Stand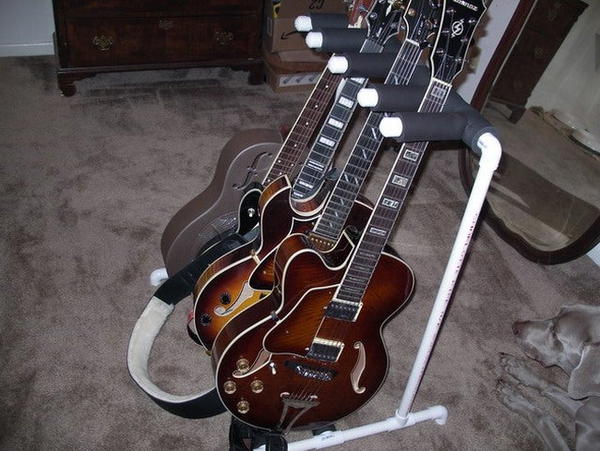 It's a fun way to combine your original music with the music of other bands and artists. This DIY Folding Pvc Multiple Guitar Stand would be a great gift for the guitarist. It can hold four electric guitars and is very sturdy, it has many heavy-duty hinges and a lock that ensures its safety. The durable material it is made of makes sure it will last a long time, with proper care. you will never regret having this guitar holder in your bedroom or practicing room. You can play as much as you want, anytime you want ­ just pick a stand and strum away! This stand is easy to build, you don't need anything special or extra just some basic cabinet-making skills and hardware store products.
Skill Level: Intermediate
Tools:
Supplies:  laminated red oak,  Stain, Screws
DIY PVC Single Guitar Stand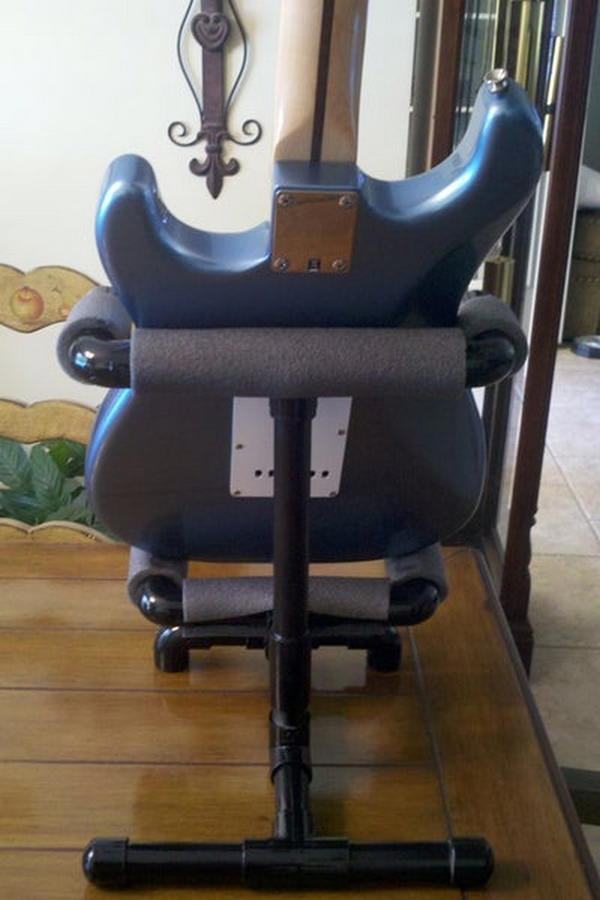 If you are a beginner or even a veteran guitar player, then you'd want to get this DIY PVC single guitar stand for a wonderful addition to your home. It will keep your guitar safe and sound, and it can also be used for plectrums and other small items that you may need handy. It's easy to build, inexpensive, and when compared to the store-bought guitar stands, it is much more efficient. This stand has a thin layer of nylon inside the joints to make it smooth and prevent squeaks. It is also prettier and it is sturdier than any other PVC stands you have seen.
Skill Level: Intermediate
Tools: Saw, Drill, Sander
Supplies: Wood, Stain, Screws
Hanging Guitar Stand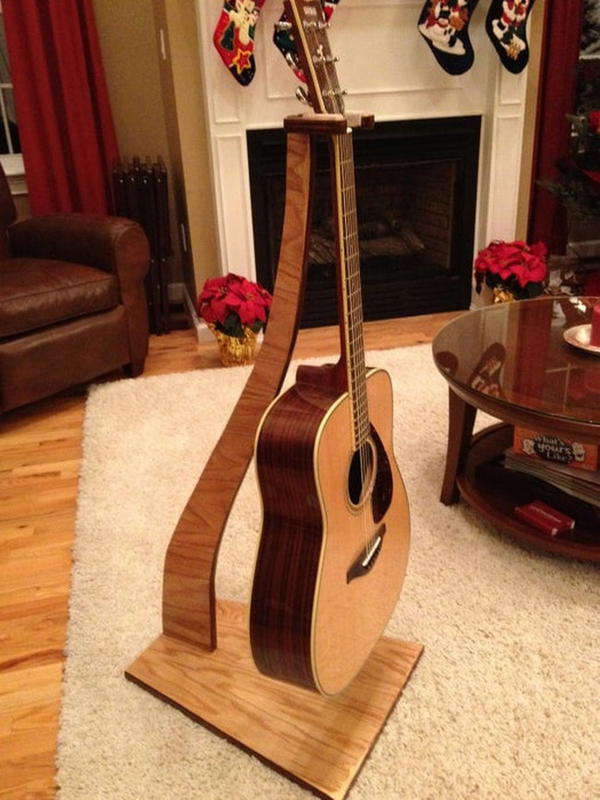 Display your guitars proudly while protecting them from unwanted dust, smudges, and scratches when not being played with the Hanging Guitar Stand. This Stand is a rapid and dependable guitar stand for the home, office, or studio. The mountable and portable design provides sturdy support for any acoustic or electric guitar without damaging the wall. The instrument stand makes it easy to put your guitar away after you've put in some great shredding time. Keeps your guitar in perfect playing position so it will be in tune every time you pick it up. This innovative new guitar stand is the perfect solution to storing and displaying your guitar. The stand features a space-saving slanted design and a decorative, attractive matte black finish, making it the perfect home or practice room accessory.
Skill Level: Intermediate
Tools: Saw, Drill, Sander
Supplies: Wood, Stain, Screws
Guitar Plan from Instructables Living
If you love guitars and want to design your own stand, this plan will show you how. There is a little bit of woodworking involved, but nothing that can't be done out in the garage. The end result is a display case that will house your guitar perfectly. If you have never worked with wood, this may not be the best choice for you if you don't have some experience or if you aren't willing to learn something new. This sturdy wooden guitar stand features quotes etched into the top and side of the stand. It will showcase your guitar while they are stored safely.
Skill Level: Expert
Tools: Saw, Drill, Sander
Supplies: Felt Strips, Screws, Sandpaper, Wood
2. Guitar Stand Plans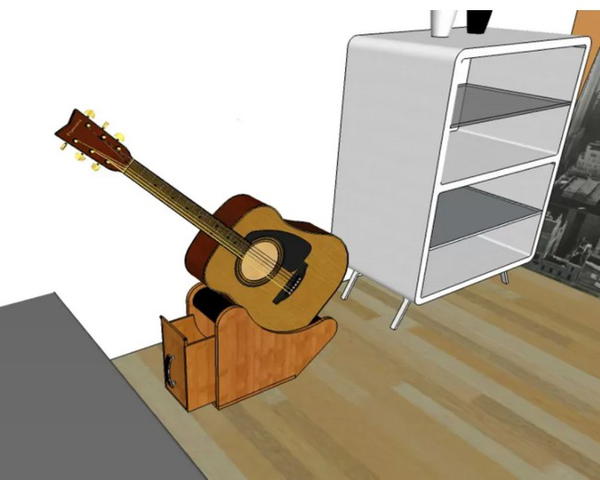 Tired of your guitar hanging on its neck or sitting on just its bottom? This design will help you to take care of your instrument. The basic stand guarantees the safe and easy storage of your acoustic guitar. This guitar stand is perfect for anyone who owns a guitar and wants to store it in the best way possible. This simple stand can be made in just an evening and built from easily accessible supplies with minimal tools. Make this guitar stand yourself to ensure your instrument is secure and in the exact position you want it to be in.
Skill Level: Intermediate
Tools: Saw, Drill, Sander
Supplies: Wood, Handle, Felt
Guitar Stand Plan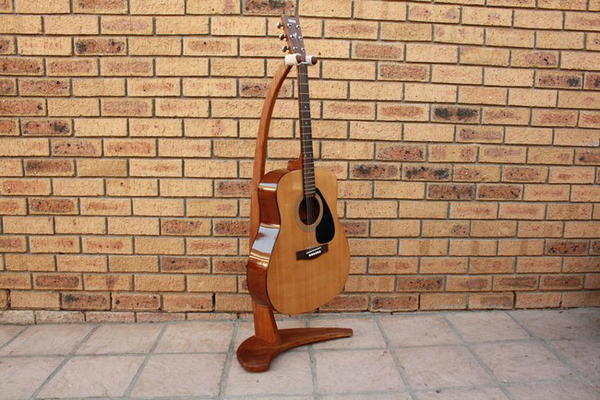 If you love to play your guitar but plan on going away for a few days, what do you do with it? This foldable, compact guitar stand that is made from wood may be the ideal solution for you. The wooden plan will allow you to build this sturdy stand easily if you have skill and patience.  Most guitarists want to hang their guitar on the wall, but it's actually pretty difficult to do. This plan shows you how to make a stand that holds any acoustic or electric guitar in an upright position so you can play the guitar without having to hold it. The stand is easy to build, yet sturdy enough to hold your favorite ax.
Skill Level: Intermediate
Tools: Saw, Drill, Sander
Supplies: Wood, Stain, Screws
Simple Guitar Stand Play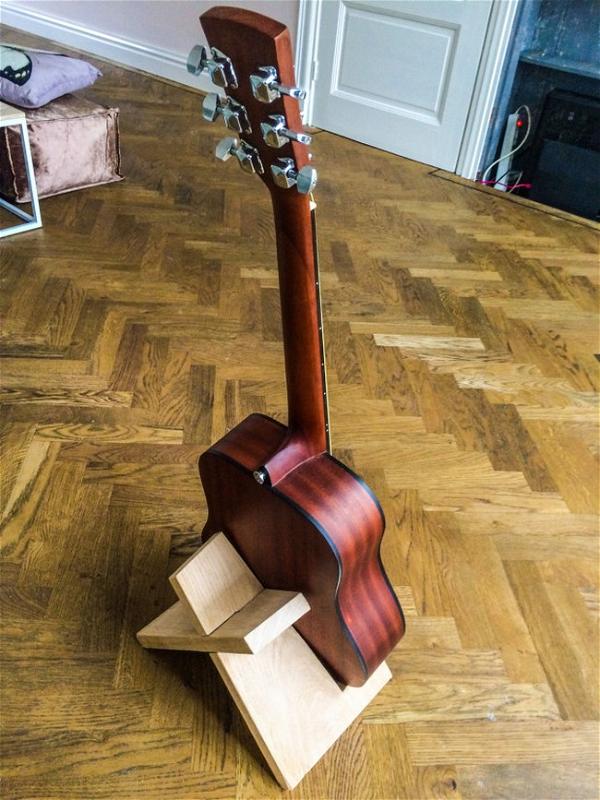 This guitar stand is a simple design that folds up easily and can be placed in any size space. You will love the simplicity of this design and may end up having to make a few extra for your guitar-playing friends. The simple design allows you to quickly build one for yourself. While the plans may seem a bit difficult at first, most intermediate woodworkers should be able to handle them with ease. Just be sure to place the bottom of your guitar in a piece of felt so it doesn't scratch the finish while it is resting on the stand. It doesn't get any easier than this.
Skill Level: Beginner to Intermediate
Tools: Saw, Sander, Glue
Materials: Wood, Felt Strips (optional)
DIY 6 Guitar Stand Plan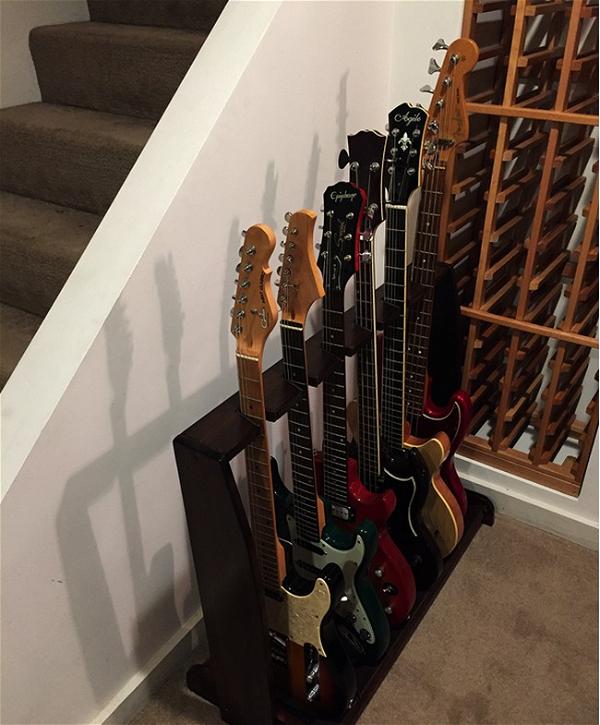 This guitar stand is a beautiful addition to any room of the house. This is an easy and inexpensive project that is perfect for anyone who plays guitar. It will provide some character and ambiance to your music room. The construction is simple and requires only basic woodworking skills. With the DIY 6 Guitar Stand Plan, you will be playing the tunes in no time. This plan will help you build this beautiful stand that comfortably houses six guitars of varying sizes. This is a downloadable plan that is not difficult to follow. If you have some woodworking skills, you will easily be able to get this project completed in a short period of time.
Skill Level: Intermediate
Tools: Saw, Drill, Hammer, Tape Measure
Supplies: Wood, Paint, Felt, Screws, Nails, Sandpaper
Modern Guitar Stand by DIY Modern
Here's the plan for a simple, one-size-fits-all guitar stand that's designed to accommodate lots of different body styles. By changing the dimensions, you can convert this into a bass or acoustic guitar stand or another position that may be more suited to your needs. The piece looks great on display with a guitar while it also keeps it safely off the floor. The Modern Guitar Stand makes an easy addition to your home decor and is an ideal gift for musicians. Based on a classic boomerang design, this guitar stand is perfect for displaying guitars of any size. It offers a sleek and compact solution for guitar off-season storage or even as a functional decorative piece.
Skill Level: Intermediate
Tools: Saw, Screws, Drill, Sander
Supplies: Wood, Glue, Foam, Screws
Conclusion
Hopefully, some of these plans will help get you inspired or get your project started. We have put these guitar stand plans together to help you learn how to build your own guitar stand. Make your guitar stand match your guitar, or match your living room décor. This is the beauty of making one yourself. You get to decide what it looks like inside and out! You can build a stand that looks just like an instrument, or you can create a simple and elegant stand that incorporates striking woods. The choice is yours!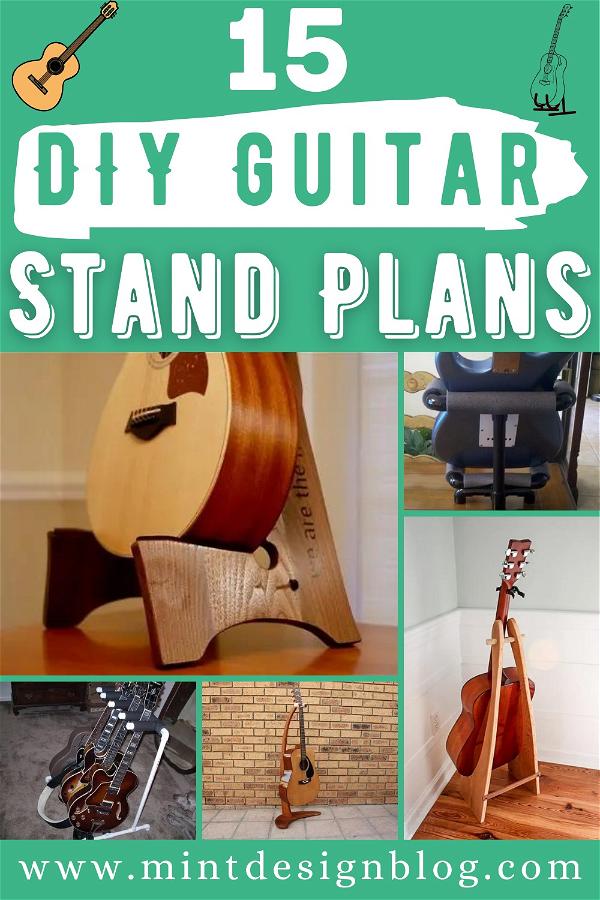 See Other Projects