If you're a musician who has ever struggled with where to store your instrument, you'll appreciate this list of clever options for hanging your guitar on the wall. Some even involve upcycling old things and gathering dust in your attic or garage. These guitar hangers will keep your guitars and basses organized, making great decor for any music lover's room—whether it's a bedroom, studio, or band practice space. From vintage-inspired coat racks to simple blocks of wood, these 25 DIY Guitar Hanger Ideas are an affordable way to hang your guitars on the wall and keep them within easy reach.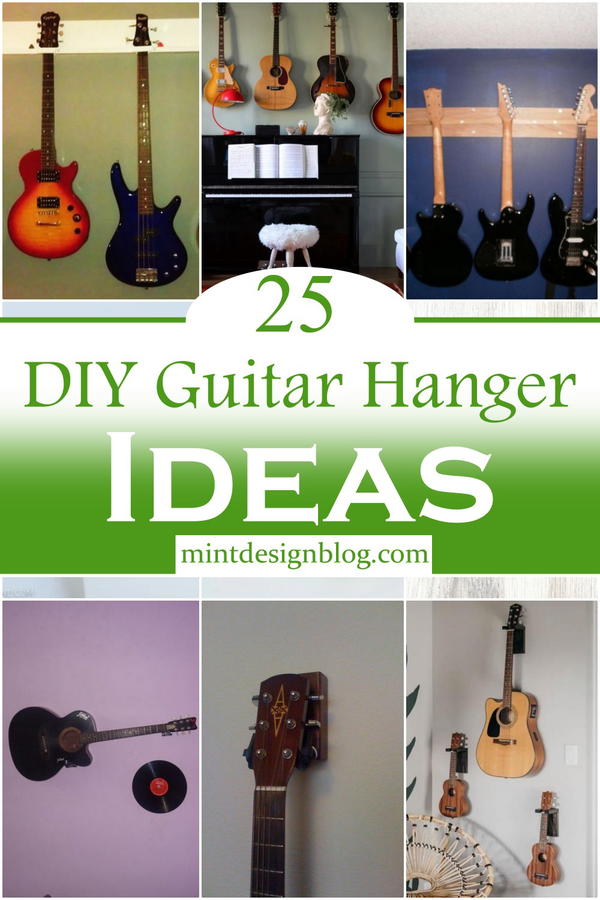 You should look at these 25 DIY guitar hanger ideas if you are a guitarist! They are all effortless to make and relatively cheap too. You can put them together in no time, but they will save you lots of space and make your guitars more accessible. There are so many different ways to go about it, and there are even some creative projects in this compilation. You can make something out of just about anything: old pallets, pieces of wood, wire hangers, pipes, you name it! Just be sure to look at all the photos of each project below before deciding which one(s) to make to get an idea of what materials and tools you'll need.
Here is a list of 25 DIY guitar hanger ideas to help you organize your space and keep your guitars safe you'll find some fantastic ideas here.
Importance Of DIY Guitar Hanger Ideas
It is inexpensive: The DIY Guitar Hanger Ideas are inexpensive, and this is because you will not require purchasing it from the store but instead make it yourself at home. This will help you save money and still get a beautiful-looking guitar hanger.
It is convenient: The DIY Guitar Hanger Ideas are convenient since you will be making it yourself at home, and that means that you can make it anytime you want and anywhere. This gives you the freedom to choose how to make your guitar hanger and hang it on the wall or somewhere else.
It is safe to use: The DIY Guitar Hanger Ideas are safe since they do not have any chemicals.
You can easily remove them when done with them: The DIY Guitar Hanger Ideas are easy to remove when done with them because they are made of solid material that does not damage the furniture in your house or even break when trying to remove them from the wall or wherever you have placed them on.
Types Of DIY Guitar Hangers
There are two main types of DIY guitar hangers: those that hang off a wall and those that hang off a ceiling. The first one works by hanging your guitar on a hanger which is usually attached to a wall with screws or nails. This hanger will keep your instrument safe while you're practicing or performing. It also keeps it out of reach from children or pets who might accidentally knock it down when playing with their toys.
The second type hangs from the ceiling and works just like the previous one, except instead of being mounted on a wall, this kind is mounted on a ceiling using hooks or brackets. Both types have pros and cons, but they do their job well when used correctly.
Quick Guitar Hanger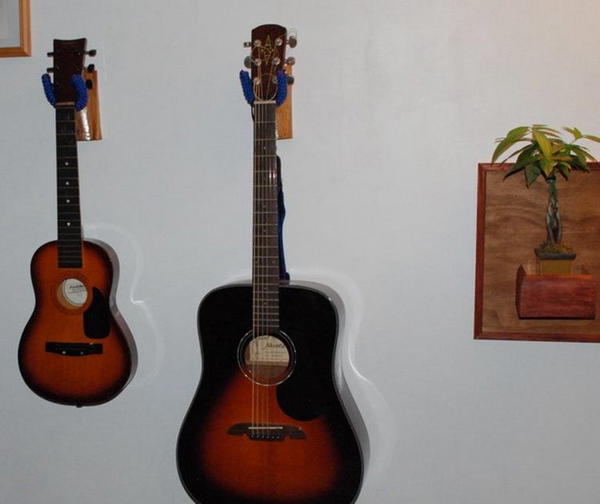 Guitar hangers are one of the essentials in a player's life when it comes to caring for and storing guitars. This is one of the most accessible accessories where you can pretty much make your guitar hanger. It is cheaper and easier compared to buying in electrical stores. After all, you will never go wrong by having DIY tools that you made yourself. You'll be sure that you're unique and an artist playing your tunes like a guitar player. This is a great gift idea for beginners, families, and anyone you know who loves guitars.
Floating Acoustic Guitar Mount
The floating Acoustic Guitar Mount guitar stand is compatible with all acoustic guitars. Whether it's a fancy one or just an ordinary acoustic guitar for the kids, this floating guitar stand will support it. It is a custom design, functional and straightforward. You can use it almost anywhere. You can clip the strings to the bridge on the mount, and it will keep them in place so they don't dangle down and get caught on things. It stabilizes your guitar while you play it, clips your strings to the two posts, and your guitar will stay balanced without having to lean it against something else.
Easy Guitar Hanger DIY
Do it yourself and make a wood guitar hanger to store your guitars. It is safe, simple, and cheap. Shop for nails and paint at your local home improvement shop. This guitar hanger project can quickly be completed in less than an hour, even by beginners. You can easily make an easy guitar hanger with essential tools. There are a lot of other designs, but this one is easy. It only has one wood hanger that rests on the two nails placed in two holes on the wall. The stake that holds the strings have to be hand-made by using nails.
Wall Mount Guitar Holder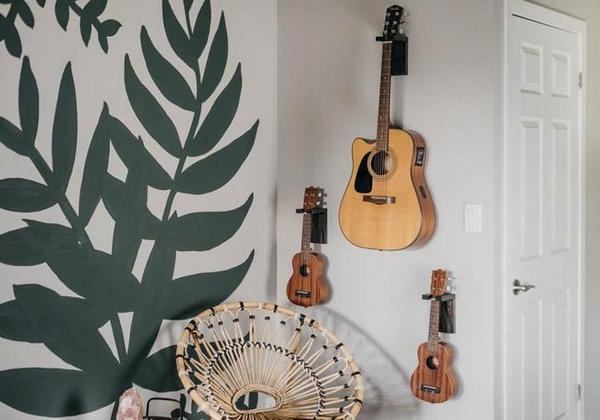 Every good guitar player needs a guitar stand. It is imperative to keep your guitar in good condition. Not only to make your guitar look fantastic but also to keep dust and other tiny things from the electronics and hardware. This guitar stand will make your life easier because it requires no clamping or gluing, or taping like other guitar stands. You need a scroll saw, miter saw, and a Dremel for drilling holes for the musical notes, solder for soldering wires, and drill bits for drilling pilot holes for the little bolts to go through. It has a unique design to help you keep your guitars safe while complementing the decor in your home.
DIY Guitar Hooks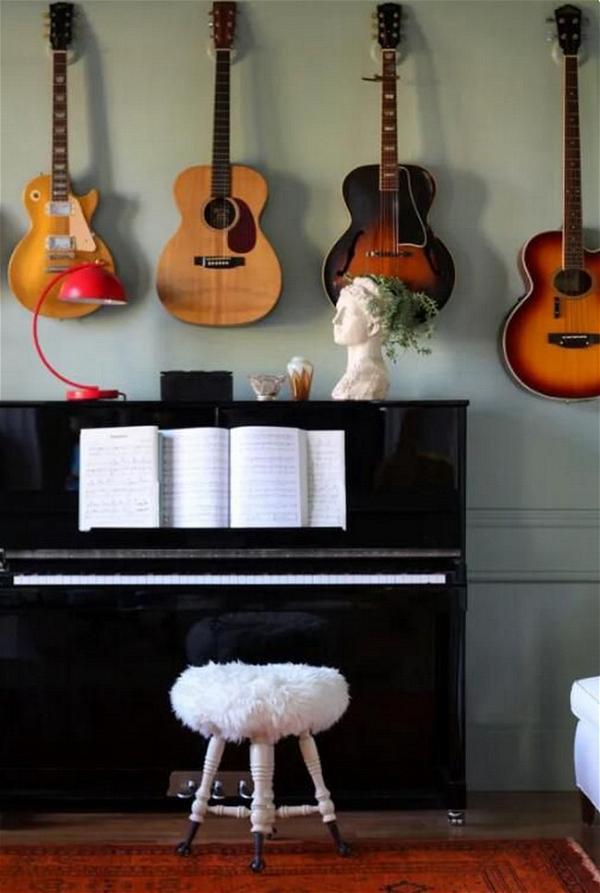 These guitar hooks give you quality wood and a fair price on your wallet. The wood is smooth and natural; the innovative plaques allow you to hook up your guitars to any wall. This wooden plaque holds your guitar safely and securely. Easy to make at home, using only a drill, wooden plaque, and two pieces of wood, you can create something spectacular looking in your home. Teach yourself how to play the guitar and make it fun with some of these clever ideas for making a guitar part of your decor. These are very cheap and easy to do; you can make this for under $15.
Guitar Wall Hanger With Leather And Pipe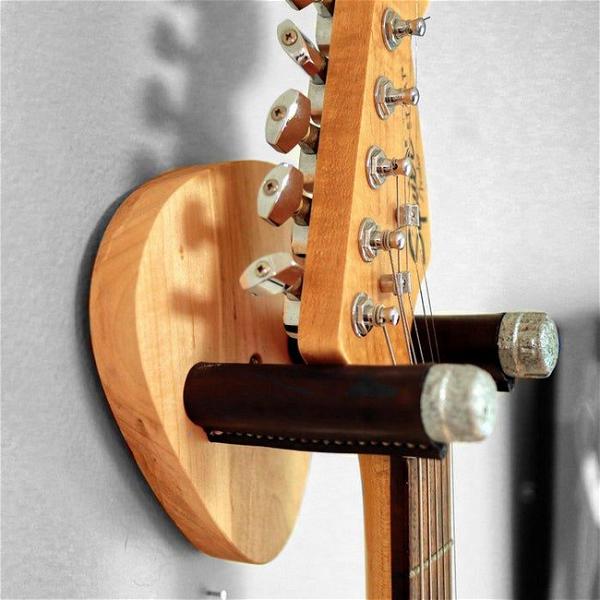 If you are looking for a cool and unique place to hang your guitar with a little bit of style, why not consider building a guitar wall hanger like the one shown here. This project is easy to build and only requires a few materials, including wood, leather, pipe, and finish. You can build it quickly with a few boards and some screws on your own and mount it on your wall. This project can be completed in under an hour, so it is excellent for beginners. This guitar wall hanger looks better and is more sturdy than the ordinary flimsy one you find at the store.
DIY Guitar Hanger For Small Spaces
This DIY project is straightforward and friendly on the pocket! You can make a guitar hanger even if you have the smallest room. You don't have to be a carpenter to make your custom wall hangers. This guitar hanger does the trick for small, cramped spaces. This could serve as an alternative to those expensive wall hangers sold to boost a company's brand image. It can stand on a wall, mantle, or desk. Simple and economical to make, you will save over 50% of the cost compared to getting a pre-made guitar hanger or wall mount. Let's create one now and keep your guitars safe and sound everywhere.
Guitar Wall Mount
Guitar Wall Mount is a project designed to hang and store your guitar; it can be easily adjusted to suit the size of your guitar. You can play with your hand by just putting one hand on the guitar's strings without touching the walls or other objects around it. It will give you confidence in placing your guitar as there are no screws that might scratch your walls, and you can also pop it off if you want to hang it elsewhere in your house!
How To Hang Guitar On The Wall
This guitar wall hanger is a fantastic DIY project that will allow you to store your guitars on the wall without much fuss. Storing a guitar is never a big deal for most people who own more than one guitar. But, it can get a little tricky for beginners. The problem is you love to have your guitar hanging around you when you are at home, but on the other hand, you also don't want them to collect dust. So hanging your guitar will be an ideal solution for you.
How To Make Cheap Guitar Hangers
The project is effortless, and you can get your hands on the materials for less than $10. While some of the supplies and tools are optional, there are some materials that you must have, such as the metal hanger that acts as a holder for your guitar's headstock. This metal hanger comes in a rectangular shape and features two holes where it's connected. The distance between these two holes determines how far apart your guitar will be held while it hangs on the wall.
4-Guitar Hanger DIY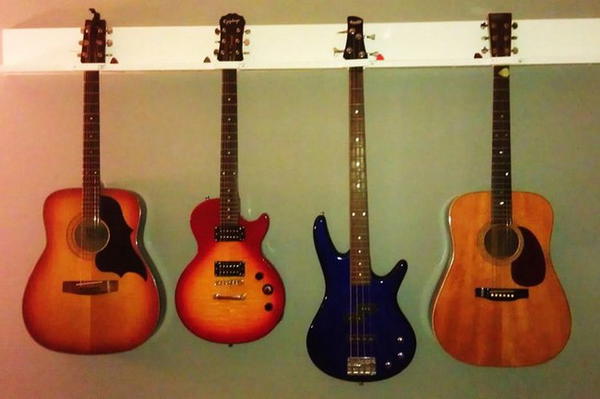 This 4-guitar hanger is perfect for the guitar lover. It's a well-made 4-piece guitar rack system, with all the tools needed to be included. Enjoy the convenience of having your instruments hanging on a wall instead of sitting around on the ground. This guitar hanger is designed to hang guitars vertically, which is an excellent idea for saving space and making the guitars out of the reach of children. Save your place at the wall with some nails and screws, and you are done.
Electric Guitar Hanger Using Magnet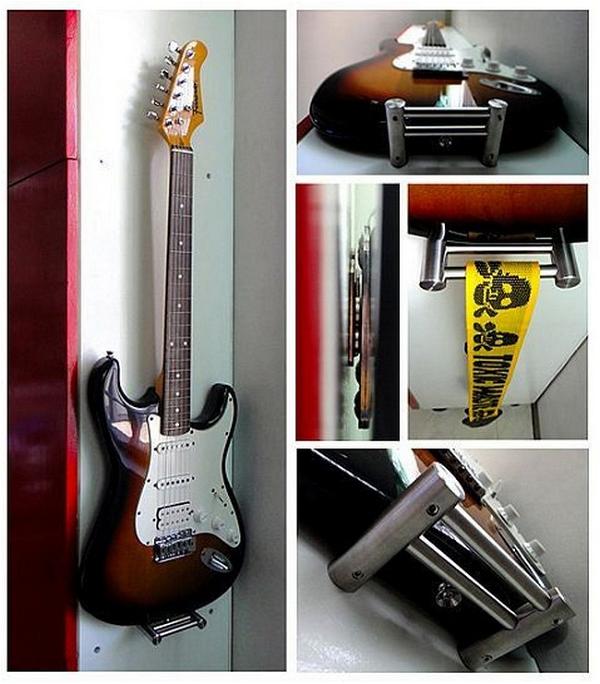 This simple garage storage idea will save up space. This is an efficient storage solution with its super-fast installation that you can make in under 2 minutes. It's pretty easy to build, and the materials are very cheap and readily available in your house. So come and try this if you want to free up space in your garage or storage room or even if you only have one guitar and a small room; this DIY garage storage idea might help. To decorate your room or give your guitar a place to stay in style, you can use a guitar hanger that can hold up to 4kgs of weight while looking good. Using magnets, an electric guitar hanger is a great way to show off your best guitar.
Guitar Wall Hanger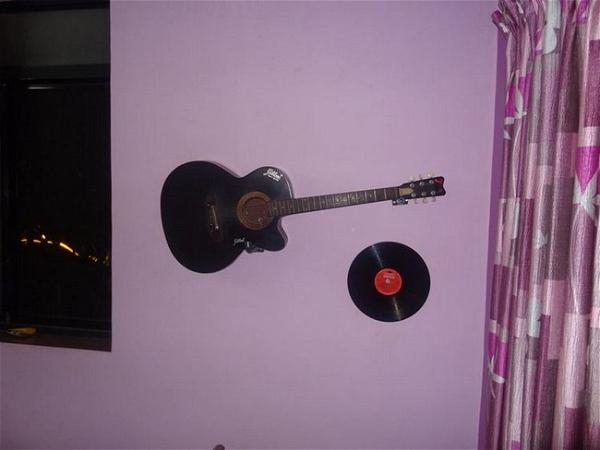 Now you can save your place in the instrument covers by hanging the guitar on the wall hanger. The wall guitar hanger serves as a hook to hang your guitar on the wall. This is a straightforward and cheap solution. The only materials needed are wood and screw that you can get at any hardware shop. This is specially designed for guitars but can also be used for other musical instruments. Its structure is straightforward, and it's the perfect place to hang your instrument when you don't need them.
Wood And Metal Guitar Hanger
There are several different points to take into account when hanging your guitar. The location you choose to display your guitar should be where it won't get wet, out in the direct sunlight, and somewhere safe from potential damage. Additionally, it is essential to have a hanger that allows the guitar's neck to remain straight over time. The wood and metal guitar hanger is an easy project using some basic woodworking skills and tools; once built, this is a great way to show off your handmade acoustic or electric guitar!
Five Guitar Wall Hanger
Do you own a guitar? Do you keep your collection in a cabinet but still want to show them off? The above product comes into play; it is designed to hang 5 of your guitars on any wall to ensure safety. It secures them with screws, wood, and plaster placed behind the studs. You can build it all by yourself in a few simple steps without any prior experience. Take your time to make sure these are sturdy and will not fall while carrying your guitars on them because those things are expensive.
How To Make A Guitar Hanger
Find lots of usage for your loose wires! With this Wine Stave Guitar Hanger, you can display them as rustic decor. These simple designs are perfect for displaying those extra cables and electric wires hiding away under your desk drawer. This is a simple and easy project that anyone with basic woodworking skills can do themselves. You need two wine staves, a drill, and some screws. It will take about 30 minutes to complete, which means it's a quick project in your arsenal when you need it.
10 Minutes Guitar Hanger
Guitar hangers are an excellent solution for making the most of space. Don't you hate when a beautiful guitar sits there in its case collecting dust when you can be enjoying it? The simple 10-minutes guitar hanger will save the neck from damage and the body from scuffs and scratches. This project is simple, easy to follow, and does not require much experience. Now you can have all the guitars you want in one place in your home, playing room, or studio and also include them within your artworks if you like to collect guitars as a hobby.
Easiest Guitar Hanger
If you are tired of your guitar hanging around, tangling at the neck, or falling between the wall and the bed, then it is time to learn how to make an easy guitar hanger. The first step is to cut a base piece of wood long enough so you can tapered pieces onto that base. Next, drill holes in the tapers and the main base piece. After that, attach some felt with spray adhesive. Add your guitar hangers on top of each other using this simple device built by somebody who had fun making something useful for their house. This guitar hanger DIY project will show you how to build a simple, inexpensive hanger to hang your guitars on.
$3 Guitar Wall Mount
Save your guitars from the dust and possibly some unwanted knocks by attaching a guitar hanger to the wall. The $3 Guitar Wall Mount is a great way to display your guitar. You should try out this project as a guitar lover looking for an affordable solution to protect your guitar. It is easy to mount, can fit any type or size of the guitar, and requires no significant tools. You will only need a few materials such as a hook, a length of string or wire, a screw, and some glue. It is also easy to remove from the wall when guitars are not in use.
Beginner Guitar Hanger
Does your guitar ever end up on the floor? Do you want it to be safe when you leave it there? Then try this little project! Using a brace, some wood, and a small number of steel rods, this hanger will keep your guitar from falling and breaking, but it also looks great to boot. Give this quick build a whirl, and feel good about knowing that your instrument is protected in any homeroom. This project works perfectly well and makes a perfect gift for family members, friends, kids, and co-workers.
Wooden Guitar Hanger
If you are looking for a way to easily organize your guitars and other musical equipment, you will love this. This is a beautiful way to display your guitars and other musical instruments proudly. Follow this short tutorial to learn how to build the wood guitar hanger shown here. Wood bends laminates are a great alternative to more conventional types of laminates. They are lighter in weight and are rigid enough to support loads but soft enough to be cut and shaped easily. This project is usually completed in just a weekend, making it easy for beginners to craft one for themselves.
DIY Guitar Holder From Scrap Wood
If you are willing to put in a little effort, you can have this beautiful DIY Guitar Holder for yourself and anyone who wants to learn the guitar or loves playing it. You need not even buy all the accessories and instruments as they will be yours as soon as you make them on your own. This is an effortless skill to build a guitar from scratch. You can do it in less than one hour with only a few materials available at home or any hardware shop.
Custom Guitar Hangers Out Of Wood
If you have many guitars at home and no more space for them, try this custom guitar hanger made of scrap wood. Here is a DIY project that will add a great charm to your home. It is one of the many decorative pieces you can make with your scrap woods, even from useless wooden parts. Saving up money to buy those expensive guitars but having a hard time keeping them on the wall is a problem for many people. But do not fret because now you can have them at all times and have your guitars themselves become the guitar hangers with just a few tools and some scrap wood.
Guitar Hanger DIY
Visit this project to learn and make an elegant guitar hanger. Because the cherry wood has an excellent natural finish, it will look shiny and unique in your room. This is one of the best and easiest DIY that you can try, especially if you love guitars. The guitar hanger will keep your guitar safe against the wall and let you use it anytime. You can use this design to make a hanger for any guitar since they all differ in shape but still have the same basic structure.
DIY Simple Guitar Holder
The secret to making a piece of furniture look classy is to do it yourself. This guitar holder is the perfect way to store your guitar and make it stand out simultaneously. Its design will take you back in time, giving your favorite guitar a vintage look that can be compared with some wooden guitars that you would see hanging in an old music shop. There's nothing more special than creating something unique by yourself like this guitar holder, which also has an exceptional vintage appeal and personality.