Add a touch of glimmer to your kitchen by attaching gold hardware to your cabinets. It will sparkle from the light fixtures and make your entire kitchen look elegant. The color of your kitchen cabinets can completely change how your kitchen looks without going through a total remodel. Dark cabinets, for example, can make it feel like a cave, while white ones can seem too sterile. If you have wood cabinets that you want to brighten up, white paint is an easy choice. But if you're more interested in making a statement with bold colors, black is another option that is becoming increasingly popular.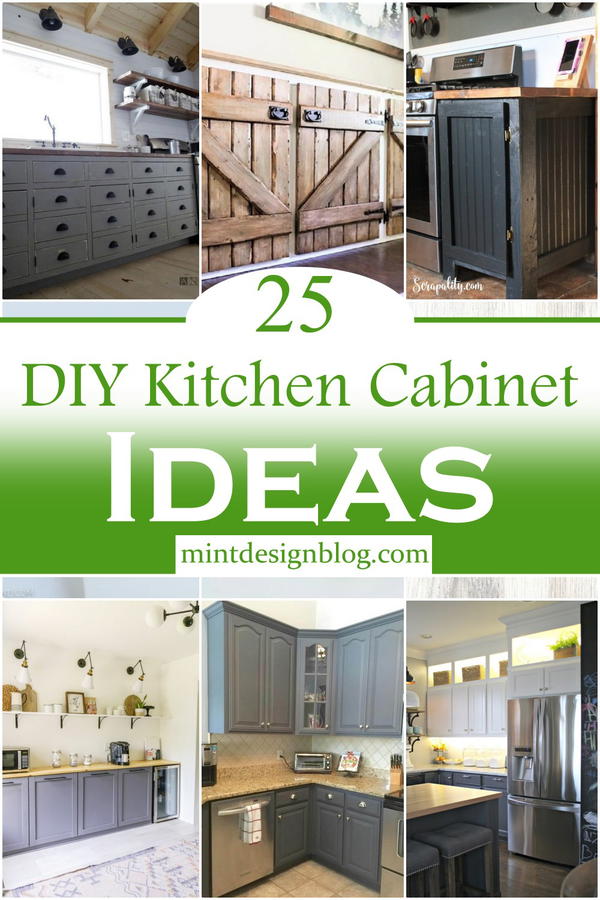 The kitchen is one of the hardest-working spots in any home. It's also a high-traffic area that tends to accumulate clutter, making it feel smaller than it is. Do your kitchen cabinets look tired? The problem might be simpler to fix than you think. One of the easiest ways to spruce up your kitchen is with new cabinet doors. Many homeowners get new doors and paint the rest of the cabinet to create a brand new look. You can even find ways to add more storage space to your existing cabinets using these 25 DIY Kitchen Cabinet Ideas.
These 25 DIY kitchen cabinet ideas will give you some much-needed inspiration to start the project that can help you bring new life into an old space.
Importance Of DIY Kitchen Cabinet Ideas
Cabinets are a focal point of any kitchen. So if you're looking to update your kitchen on a budget, DIY kitchen cabinet ideas are the way to go. You will save money, but you'll also get the satisfaction of knowing that you've improved your home yourself.
Kitchen cabinets are a vital part of every kitchen. They are very functional, and they can create a friendly atmosphere. If you have a small kitchen, you need to choose every piece of furniture carefully. The same rule applies to kitchen cabinets. There is a wide range of kitchen cabinets available, but finding the right one for your kitchen isn't always easy. It would be best to look for something that fits your requirements perfectly.
If you are looking for a solution to save some money on building your kitchen cabinets, you need to try the DIY concept. The DIY concept might be difficult at first, but once you get used to it, it will become effortless, and it can also be fun.
Tips to DIY Kitchen Cabinets
Cut back on the amount of your kitchen storage and give yourself a design challenge. If you have a small kitchen that you're dying to make look more extensive, introducing fewer cabinets will open up the space and make it feel less cramped.
Use a white or light-colored paint color to make a small space feel more open. White cabinets can open up your space without making it seem cold or sterile.
Go for an all-beadboard look for a rustic, farmhouse vibe that doesn't cost as much as wood cabinetry. Pair beadboard with an island painted in a separate but coordinating color, and you'll have a kitchen with tons of style without the high price tag of custom cabinets.
Give yourself extra storage by adding open shelving to your existing cabinets. The addition of shelves above your existing cupboards will give you extra storage without the cost and installation hassle of installing new cabinets.
Easy DIY Kitchen Cabinet Lighting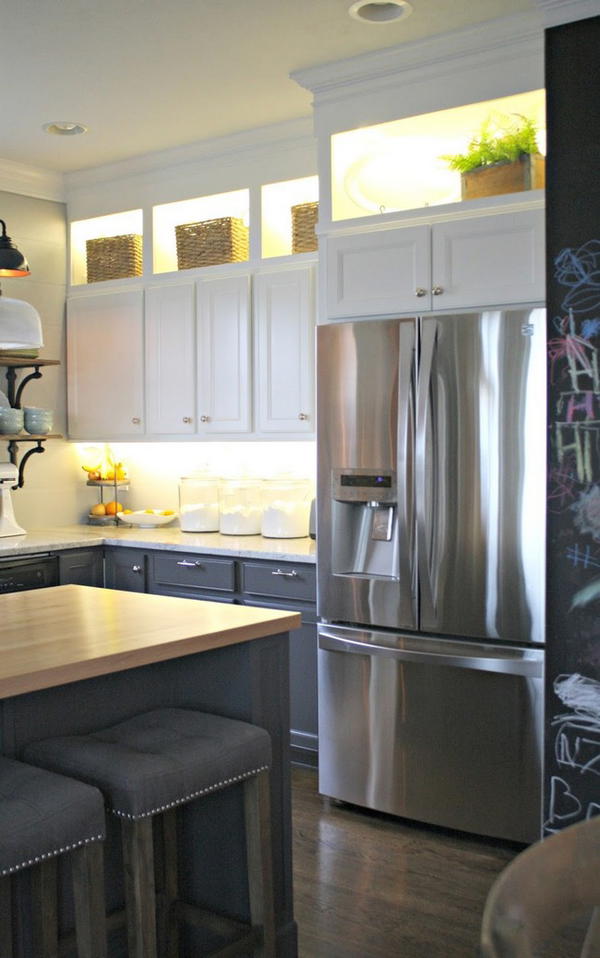 If your kitchen cabinet looks lackluster or challenging to see inside, you can easily upgrade the lighting with a few simple tools. This is most effective with lights that have a flexible neck to direct the light where you need it. Add some life to your kitchen cabinets with this easy project. You can use recessed lighting, or even better yet, a piece of plexiglass can be used in place of the light fixture. The kitchen cabinet, plexiglass, an on/off switch or plug, a cord concealer, exterior-grade caulk, or silicone sealer will be required. You can use them in any room of your house for a unique appearance.
Magnetic Storage Jar Holder
Here's a perfect DIY storage solution for your small kitchen spaces or cabinets. This magnetic storage jar holder helps a lot if you're working with limited space. The storage jar is an ingenious way to store treasures inside the kitchen cabinet away from baby hands or small friends. Using those old jars and lids and canisters in your cabinet, this DIY project is a great way to keep things off the countertops yet within reach when you need them. It's one of the best things you'll do for your home; you won't believe how easy it is to clear up tons of clutter from your cabinets!. It's a magnetic organizer for little jars and bottles that you can keep in the fridge, so it is functional and eye-catching!
DIY Open Kitchen Cabinet
This DIY Open Kitchen Cabinet can be a great addition to any kitchen. An open kitchen cabinet is a great solution to display ceramics, glass, or china plates. You don't have to switch on the light and open the door every time you want to get something from inside the cabinet. It is easy to make. It can help you save space and improve kitchen aesthetics simultaneously. Make one for yourself and start enjoying it today!
Floating Shelves With No Brackets
If you want to install your kitchen countertop right after the cabinets without any brackets, it would be better to choose a floating shelf. What is the reason why use these types of kitchen countertops? Floating kitchen countertops are excellent since they give more storage space than regular kitchen cabinets. They can also add value and make a room look elegant. Floating shelves are the ones that are placed above the countertop of a kitchen or some sink. This will allow you to get easy access to your kitchen supplies and will be able to help you with doing your job.
DIY Cabinet Plate Rack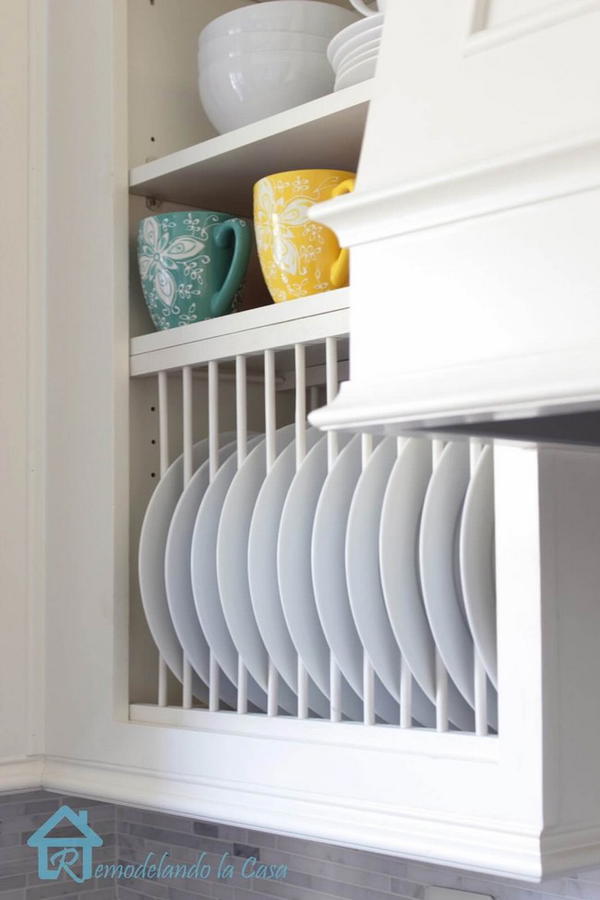 Most of us love to keep our dishes neatly displayed. It makes our kitchen look neat and organized. If you have a small space for your plates in your kitchen, this DIY cabinet plate rack is the best option. Whether you love to cook or aren't much of a chef, this DIY plate rack is perfect for storing your plates orderly. You know how a messy kitchen can get when you need to grab a particular plate out of the cabinets. This easy-to-make DIY plate rack might be just what you need to add beauty yet practicality to your kitchen. Using readily available wooden slat, you can create this cabinet plate rack that will save space and add beauty to your kitchen.
Mixture Of Floating Shelves & Upper Cabinets
To increase the functionality of your kitchen, replace your upper cabinets with floating shelves. Use breakfront cabinets to separate your kitchen from the living room, and add an island in your kitchen if you have an extra hundred square feet. Floating shelves along with upper cabinets will give your kitchen a bold touch. You can use the space between your cabinets and the floating shelves effectively; this space can hold items such as vases or bottles. You could also add a mirror to make the space feel roomier.
Well Finished Grey Kitchen Cabinet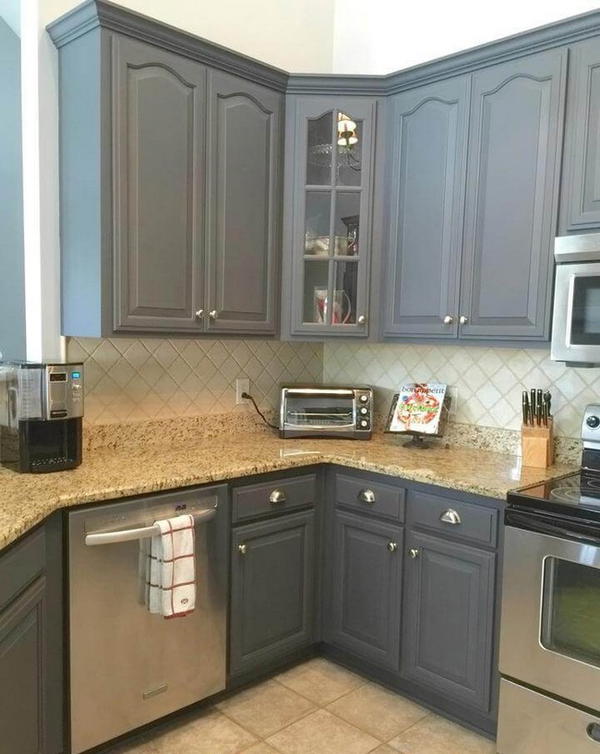 If you want a stylish look for your kitchen, this Well Finished Kitchen Cabinet is the must-have kitchen addition. It's versatile enough to work with an existing Country Style kitchen but will also complement a sleek and contemporary look. This successful combination of clean-cut lines and soft curves would pair well with wooden flooring and pendant lighting. If you are serious about the look of your kitchen, then this cabinet is a perfect pick for you.
Add Uniqueness With Skirted Cabinets
If you have a kitchen with cabinets that are a light wood color or another color, it can make your kitchen seem dull. There is a way to fix this problem by simply adding color to the corners and sides of the cabinet doors. Adding to the natural light in your kitchen is another way of making it more inviting. When you have a skirted cabinet, you can choose to add curtains yourself. Better yet, if you choose to pair up a matching curtain with a matching table runner, floor runner, and other accessories such as vases or flowers, you will be able to enhance the ambiance even further.
Artificial Barnwood Style Kitchen Cabinet Door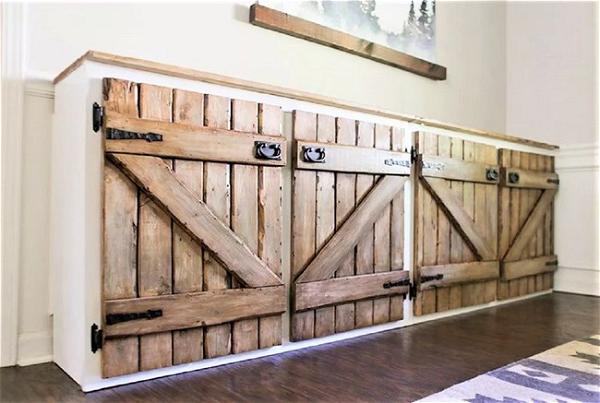 Create a rustic look in your kitchen by putting up Barnwood-style cabinet doors. Bring the vintage-looking Barnwood interior to your kitchen. There is no need to replace your existing cabinet anymore as you can get this high-quality kitchen cabinet door with an exclusive style and at a low price. You can save a lot of money on your kitchen remodel if you can build your cabinet doors and enhance the look of your kitchen by choosing the right style. It can create an extraordinary atmosphere for your kitchen. And the excellent major about this cabinet is you do not have to spend a fortune to get the one magazine quality look and feel.
Floating Cube Cabinets For Storage
A fantastic way to utilize the space below the upper cabinet is to install floating cubes. This DIY kitchen cabinet using floating cubes is a clever way to give your kitchen a modern design and a practical one. You can use this same idea in your kitchen but with any color. The advantage of this kitchen organization style and design is that it is pretty affordable, mainly if you're working with open shelving. You can paint the floating cubes any color of your choice to match the wall or go with a white on its own. You could also use this idea in an organized office. The floating cube tables provide enough storage space for stationery and books.
Painter Interior Kitchen Cabinet
White cabinets look fresh and clean but can feel a little clinical. Try this Painter Interior Kitchen Cabinet to add warmth, using bright orange paint behind the baking trays. The kitchen is finished with a practical combination of wood and underfloor lighting. This cabinet is fantastic in that the cabinet's inner walls are painted orange to match the carpet on the floor. That improved its look esteem by so much. It brings the kitchen to life. You get to see the inside of the cupboard and its contents – plus, it's so much easier to find things when you can see what you're looking for!
Amazing Chicken Wire Cabinet Door
This chicken wire cabinet looks great and is an inexpensive and easy DIY project that is an excellent addition to any kitchen. You will love the modern twist this door adds to the room and the unique items displayed on the door. If you are looking for a kitchen remodeling idea, this might be a perfect solution. Whether you have an extensive collection of kitchen gadgets filling up your cabinet and you want to showcase it all or simply want to give your kitchen a new style, this chicken wire cabinet door is the best way to achieve it.
DIY Cabinet With Glass Door
For the manual version of the DIY cabinet with a glass door, you will need to start by drawing a sketch using any drawing tool. You can use a pencil, colored pencils or markers. Then, build the frame of your kitchen cabinet by cutting wood into size. You can apply some coat of paint and add a fake mold to make your kitchen cabinet look more elegant. When the painting process is done, you will have to install the glass door in your kitchen cabinet. If you are not good at carpentry and building stuff for your home, you will have to pay somebody else to complete this job for you.
DIY Sliding Kitchen Cabinet
This sliding cabinet door is an excellent idea for saving space in a small or odd-shaped kitchen. Using sliding doors is a fantastic way to save space when you have a small kitchen. The standard doors would create an issue when opened because of space, but it is an excellent solution if this is used. The slider gives you easy access to the things inside the cabinets, and you can easily remove doors for cleaning. The door is creative and intelligent, allowing you to switch the doors around when one is needed open and the other closed. Great idea to save space!
All White Painted Kitchen Cabinet
Have you been thinking about a change to your kitchen? Why not look into painting your kitchen cabinets white. White cabinets are the best when doing so, as seen with our project; along with the paint comes the bonus of making your kitchen appear brighter and more prominent. It is a fabulous makeover that will have you coming back for more. All white painted kitchen cabinet is one of the most favorite designs of home decorating projects. If you love warm colors or your kitchen needs warmth, do not hesitate to paint them with wooden color paints and have a complete designer look in your kitchen.
Glossy Paint Kitchen Cabinet
Transform your kitchen with a glossy finish. Follow these steps to add a glossy finish to your kitchen cabinets and give them new life. You can make your cabinetry look slick and new again without having to replace them – and best of all, it's affordable! It is the best way to revamp the look of dingy cabinets. This new treatment helps protect your cabinets from spills and dirt with its durable properties. Because of their glossy finish, these cabinets are easier to clean, too. And with just a few steps, you can have a great-looking kitchen in no time!
Black DIY Cabinet Door Makeover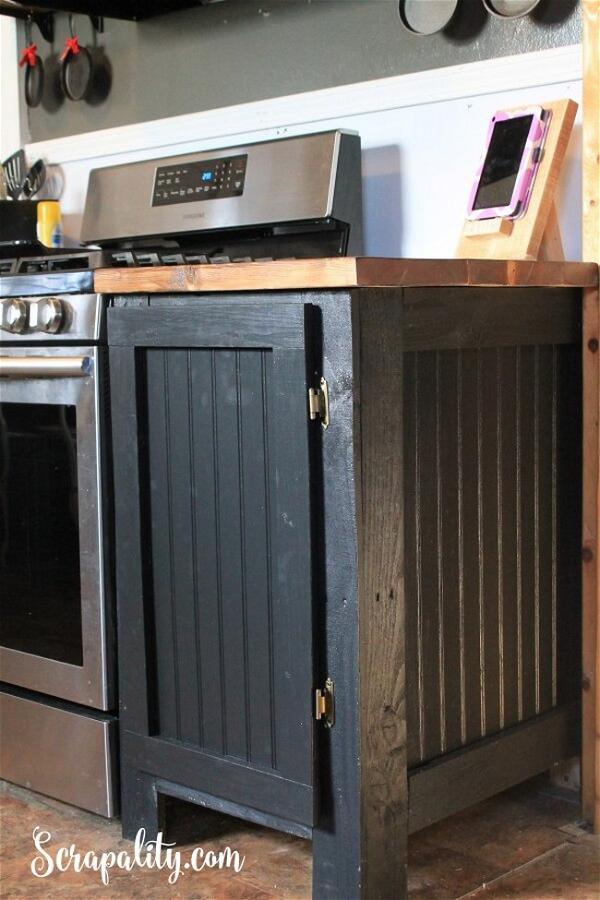 Add an old-world style to your kitchen and save a few bucks. Revamping a cabinet door on the cheap is much faster and easier than you might think! The kitchen cabinet doors can be easily painted and give a new look. Many colors are available, so choosing the right color won't be a problem. The painting instructions are easy to follow, and you get to change the kitchen's entire look in a short time. This tutorial shows you how to transform your cabinets and make them look brand new. Never spend money on expensive cabinet refacing or replacement when you can do it yourself.
Budget-Friendly Kitchen Cabinet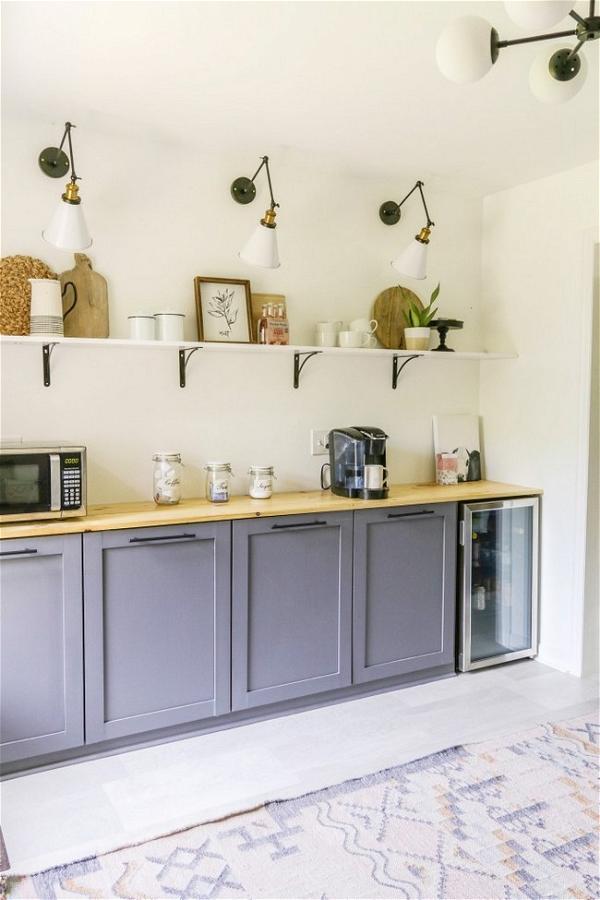 Many people will say that to give your kitchen a completely new look with a budget-friendly option, you should buy all new pieces or cabinets. This is where this DIY kitchen cabinet will come in handy. This range and durable material will last longer compared to other cabinets. It is a relatively simple construction but will cost less than $200 to assemble. This kitchen cabinet is constructed primarily with plywood and pine wood, which means this kitchen cabinet is highly budget-friendly.
DIY Plywood Kitchen Cabinet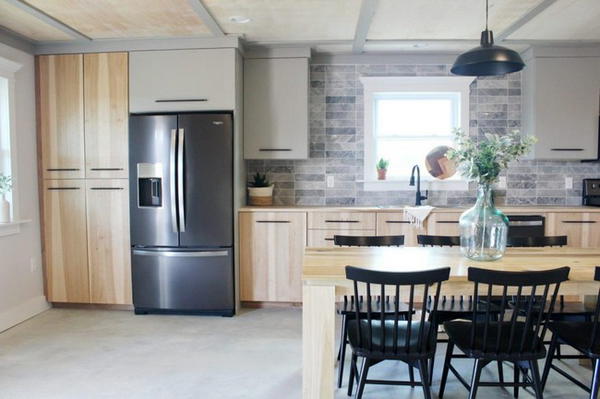 Coming up with a beautiful new kitchen cabinet can cost a lot. But this plywood kitchen cabinet is something that you can make yourself and save a lot of money. This very versatile kitchen cabinet is simple to build, and you don't even need to use power tools. It has one large lower cupboard and two sleek doors at the top so you can easily store your cookware. This cabinet is small enough to get it in your car and bring it right into your home.
Plywood Kitchen Cabinet With White Paint
Looking for a budget solution to your kitchen storage problem? Do you want to own a kitchen cabinet without spending a fortune on it? This plywood kitchen cabinet is the answer. You can build it as your ideal kitchen storage unit. The dimension of this plywood kitchen cabinet can fit in any corner of your house and even in an apartment. Better yet, this plywood kitchen cabinet will enhance the look of your kitchen by using an easy-to-match color.
Apothecary Style Kitchen Cabinet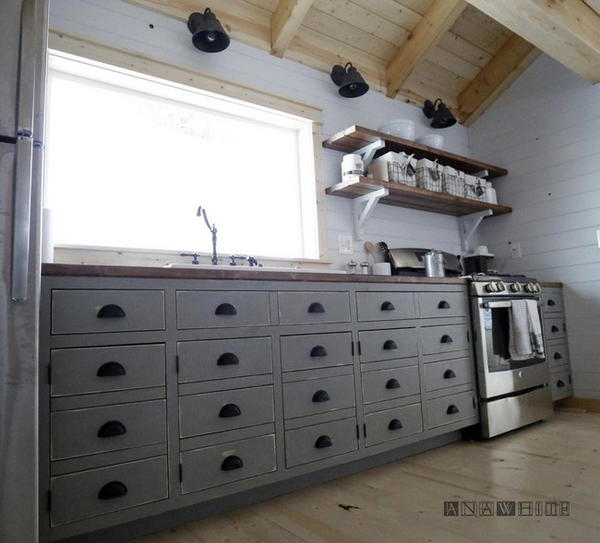 This kitchen cabinet is fantastic because most people don't have time to build it themselves, but you can build it yourself. This Apothecary Style Kitchen Cabinet is made from wood, plywood, and MDF. You can use this cabinet in your kitchen or garage to keep your tools organized and yourself more organized. Because of the way it was built and the parts it was built with, you will be able to fit all sorts of stuff in this cabinet. This kitchen cabinet has a lovely design that will look great in any home!
DIY Kitchen Island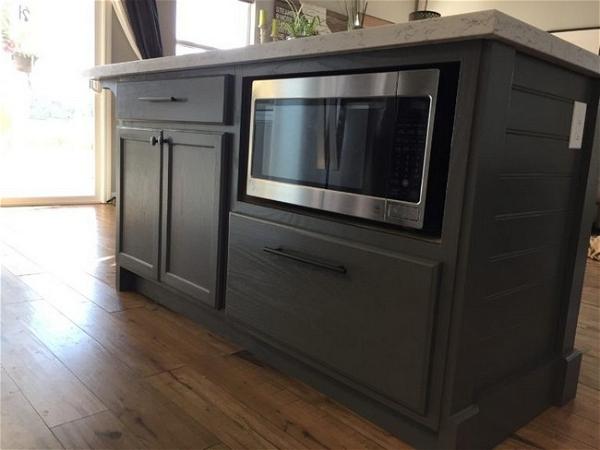 A kitchen island cabinet is a great way to add additional counter space when you need it the most. This DIY kitchen island was created out of cabinet parts to create storage for the necessary items for your kitchen. You'll love the DIY Kitchen Island. Being a DIY, you can build it yourself. It can be assembled in just 1-2 hours and taking the measurement below; the project requires one person with essential tools. Before doing the assembly, make sure you have the correct size lumber and hardware. You will also need to paint the cabinet before assembly for a professional finish.
Roll-out Style Kitchen Cabinet Idea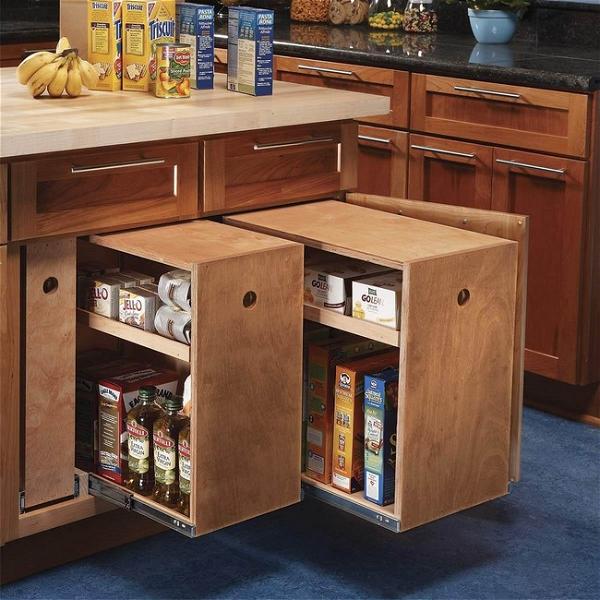 Some people never say no to the use of gadgets in their kitchen. But some of them rarely take the time to do the hard work and enjoy the simple things. This type of kitchen cabinet is perfect for storing cereal boxes, jars, and other things inside. It is also convenient enough for you to find what you need inside. You can have this at a meager cost if you agree to make it yourself. The side drawer creates a consumer-friendly way of getting easy access to those cereal boxes and your favorite jars. Some tools you will need for this project include a Drill, hammer, saw, nails, and basic carpentry skills.
Blue DIY Kitchen Island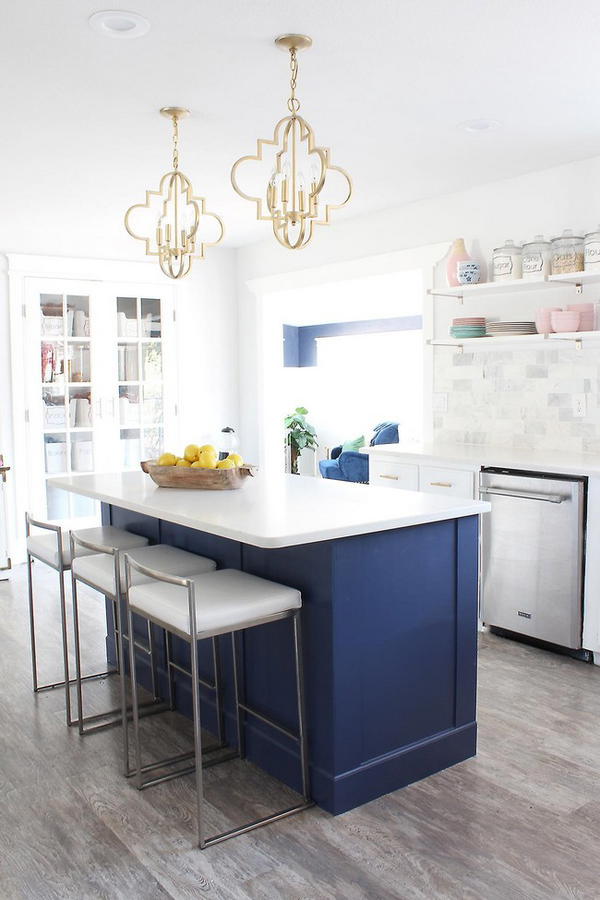 If you love to cook but are tired of crowded kitchens, see why the DIY Kitchen Island is suitable for your home. With two cubbies on each side and a large shelf underneath, it's perfect for storing cooking supplies or pots and pans. Plus, its most fantastic feature is that you can easily repaint it to match your kitchen décor if you change your mind about the color later on. This is the perfect addition to your dream kitchen!
DIY Glass Kitchen Cabinet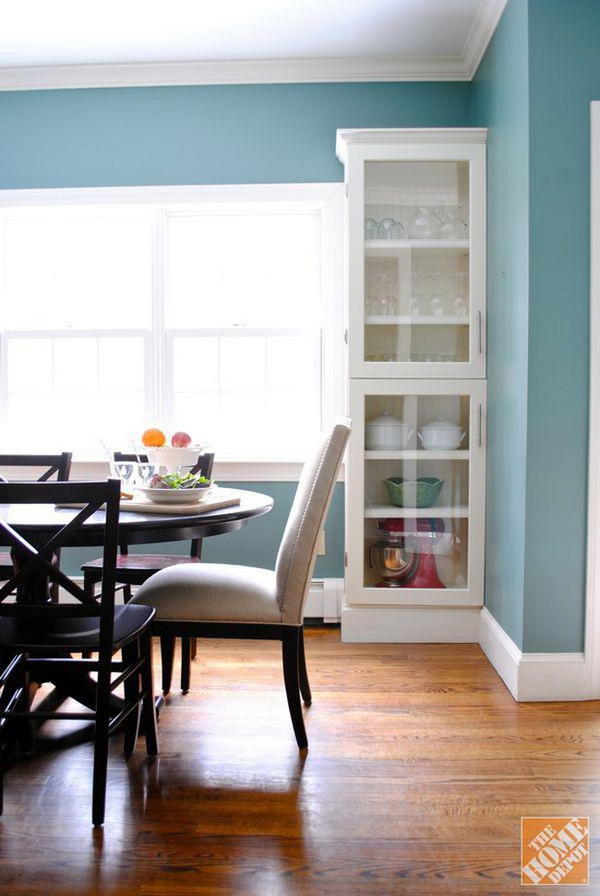 Looking for a kitchen solution that would not give you space problems? The glass kitchen cabinet by DIY will make your kitchen look attractive and offer you extra storage space without too much damage to your kitchen decoration. With its height, it is also a convenient place to store smaller utensils and cookware that you do not need at the moment. It is straightforward to install itself. It does not require a lot of work to install, and you do not have to worry about it if you are going to install it yourself.