DIY Window Plant Shelf Ideas – Indoor plants are the best way to add a beautiful touch of nature to your home. Some plants are just too fragile or demanding for outdoor life and need a permanent indoor home in order to thrive. But, not all plants are suitable for a dark room or corner of the house. Creating a window plant shelf is the perfect solution for those who lack enough space on their floor or furniture! If you love plants and you would like to have them all over your apartment, but don't know where to put them or how to display them, then these 25 DIY window plant shelf ideas are just the thing you need. You can use any of these ideas to create your own window plant shelf. They are easy to make, and they will fill your home with life.
DIY Window Plant shelves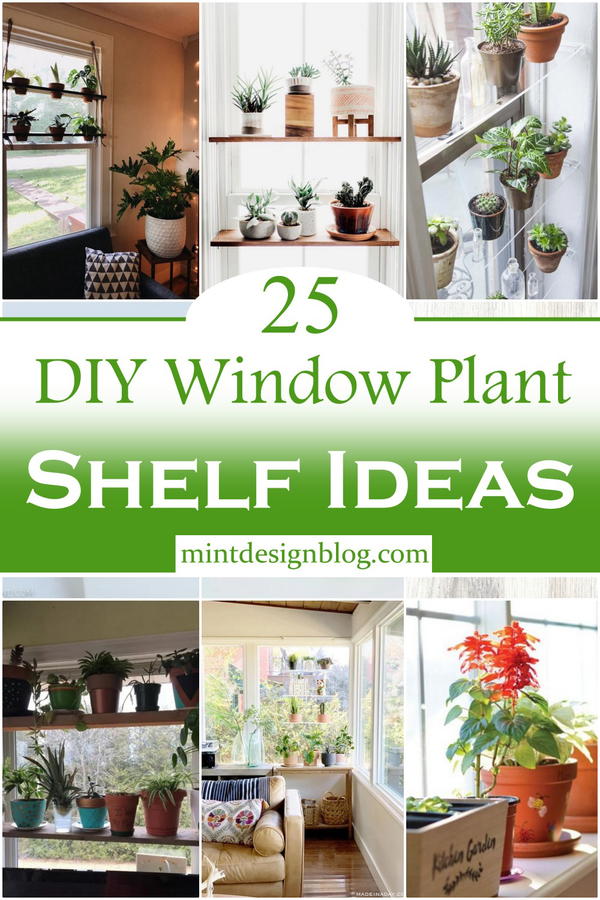 Window plant shelves are the perfect solution for a lack of flat space in small apartments, dorm rooms, and tiny homes, plus, they're ideal for people who are looking to add some greenery to their home but don't want to deal with the commitment of full-sized houseplants or trees. You can easily spend $30 or more at your local garden center for something as simple as a wooden planter box. But did you know that it's simple to make your own window plant shelf? Even if you don't have any woodworking experience, these easy-to-follow DIY window plant shelf ideas will show you how to create a stylish new home for your indoor plants in no time.
Here are 25 DIY window plant shelf ideas that will transform your windows into a garden paradise.
Hanging Window Plant Shelf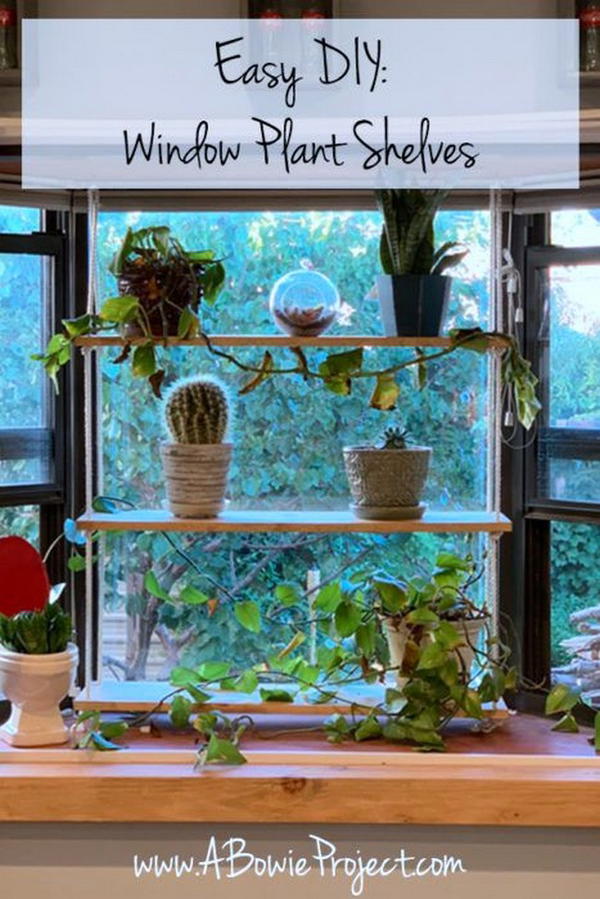 Love plants but have limited space? This hanging window plant shelf is a simple DIY project that adds style and purpose to the area outside your windows. With simple materials (all of which you probably already have) and some elbow grease, you can enjoy an extra bit of greenery. This DIY hanging window plant shelf provides easy access to your plants and saves you valuable floor space. This shelf will please the fussiest of green thumbs with its classic, open design and ample space to fit larger plants!
Here are the things you need:
Wood
Rope
Hooks
Stain
Rag for stain
Tools
Miter saw or circular saw
Measuring tape
Drill
Drill bits (1-inch for the holes in the wood where the rope will go through and ¼ inch for the holes for the hooks in the ceiling).
DIY Hanging Plant Shelf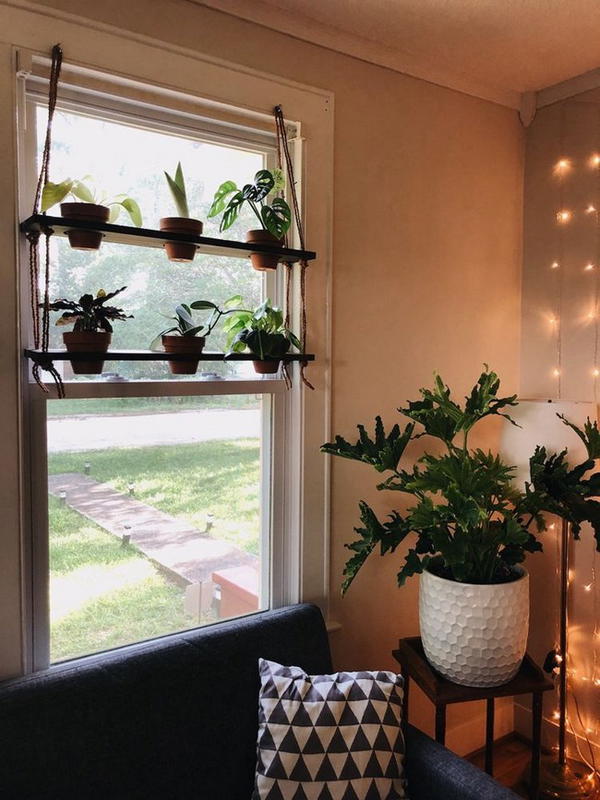 Plants bring life to a space and help purify the air around you.  Hanging plants are perfect for places where there's not enough natural sunlight, like a bathroom or a bedroom. You can do this project in any room of your house. The shelf frame is made from reclaimed wood from pallets as a base to give it that extra rustic look. You just have to paint the plant stands and then figure out what will be the best material for the roof so that it doesn't get damaged if it gets wet, or whatever, if it rains.
How To Make A Window Shelf
Are you looking for a way to display your greenery? Whether you're a plant lover or have multiples of those succulents and other small plants, you can create the perfect place for them to live with a window shelf. Here's how to make one that won't break the bank using your favorite materials, like sisal rope, wood, and a drill. This easy-to-build project is eye-catching and functional, but it also makes for a great DIY project for beginners.
Easy Plant Shelf DIY
Are you bored of having your potted plants sitting on the ground? Make up this elegant DIY Hanging Plant Shelf using rope and wood! This stylish hanging ledge can be used indoors and outdoors effectively. This is an easy plant shelf DIY that you can make at home. If you are someone who owns a lot of plants, then this is undoubtedly a hack you should learn. How to make a plant shelf using rope and wood staining. Follow the steps in the video above, and you'll have your very own homemade plant shelf in no time. You'll be able to take care of your plants and create a nice shelf that can be used as decoration in your home.
DIY Under Window Plant Shelf
Having a window shelf is easy to add natural decor to any room and give your plants home. Don't waste space under your windows. Learn to make this simple DIY hack for an under window plant shelf and free up extra space in your room for plants. This hack uses a few simple tools, including a drill and level. Drill the shelf legs into the wood you've cut to size, and stain or paint them as desired. It is one of the easiest projects you can do. With some essential tools and materials, you'll create a wooden shelf that can be inserted under your window or right above it. You can use the shelf to keep potted plants and add greenery to your home.
DIY Window Plant Shelf
This easy DIY window plant shelf will make your home look a lot better, but it will give your home some much-needed warmth and life. It is a simple DIY project that you can do in an afternoon. It may look complicated, but it's not hard at all. As long as you have some basic cutting and drilling experience, you will be as successful as others have been. When it's done, and the plant comes home, your family and friends will think you're a master carpenter!
How To Make A Window Plant Shelf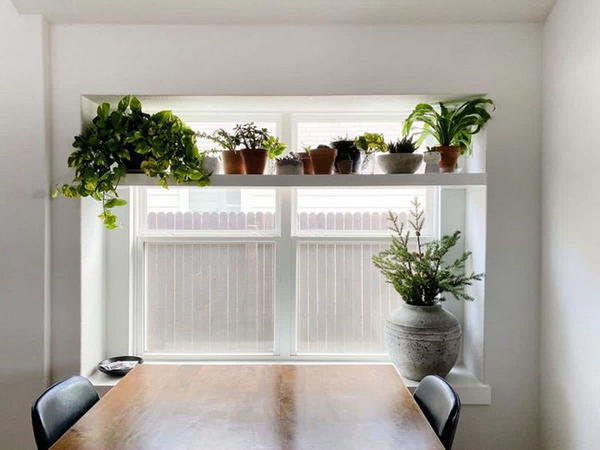 You can add incredible beauty to your home with this window plant shelf. There are many quick and easy ideas for creating a place to keep houseplants or display potted plants along with the windows or walls of your home. You can make your own window plant shelf with just a few things – a window box, some caulking, and either an old picture frame or else just some scrap wood. Is your plant on the floor? Never fear. Getting your plant off the floor and up on the wall will instantly give your home that cool "forest cabin" look – perfect for this spring!
DIY Floating Window Plant Shelf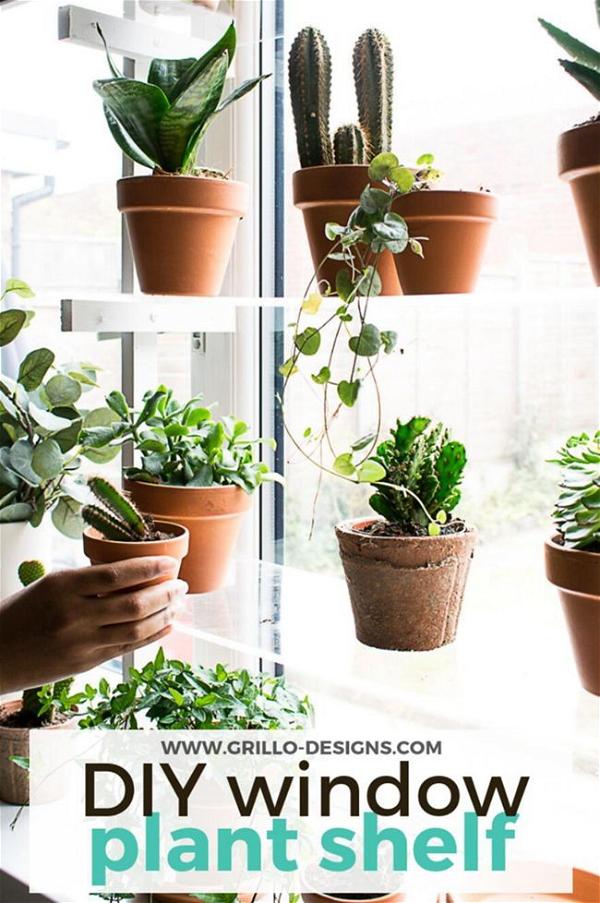 If you have a lot of plants, but not a lot of space, then it can be tough to grow them. However, there is an easy little trick you can do that will allow you to provide all of the sunlight your plants need and keep them warm in the winter while making it look like they're floating in the middle of your window. Great for keeping live Christmas trees or greenery and flowers from the garden alive through the long winter!
Indoor Window Shelf For Plants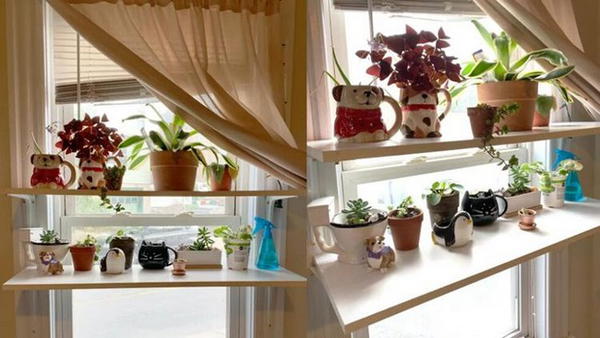 You're not lost if you've got an indoor garden but don't have the space for different plants! Check out this simple indoor window shelf for plants. Your plants will love you for making this DIY indoor window shelf! It gives your plants a place to live; it also saves space and allows all of your plants to get some sunlight during the day. You can keep your favorite houseplants for much longer in the winter if you build a DIY indoor window shelf. You won't have to throw them out or go without them until spring.
What You Need:
Tape measure
Pencils
Drill
Set of drill bits
4 shelf brackets
2 wooden shelves
Package of wood screws
Level (or the Measure app on an iPhone)
Window Plant Shelves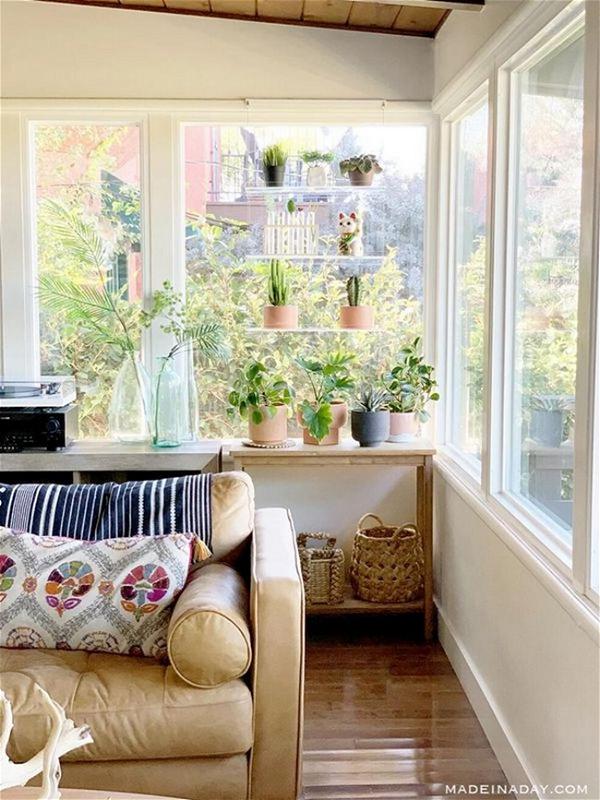 A window plant shelf is perfect for those large display windows built into many homes. They're sturdy, easy to make, and can be moved around as much as possible. With their top-notch materials and size big enough for most plants, these shelves are a great way to show off all of your plants. These window plant shelves will allow you to use those empty window sills for your plants to display and enjoy the sun or plant them on any other surface to make them an eye-catcher in no time. This is the perfect plant shelf idea for both indoors and outdoors; follow these steps and build your plant shelf with ease!
Building A Window Plant Shelf
This quick and easy DIY project will take less than an hour to make and will only cost around $20. It's a perfect project to add decorative style to your home or apartment windows. Building a window plant shelf is simple with suitable materials and tools. If the options don't seem like they fit your home, it may be time to build one. It doesn't take much to create an alternative that you can use to add a window planter above your window sill. This DIY aims to make it a quick solution without spending too much on purchases. With the suitable materials and tools, you'll have it built in no time.
Hanging Shelves For Plants
If you love to spend time in your garden, you would have something - either a lily or a house plant - growing in one of the pretty ceramic pots that adorn your garden, ready to make that place more lively. There's no need to break the bank for a fancy hanging shelf for plants. With this DIY hack, you'll find that it's easy to create something that you can use repeatedly. In fact, you can have this project done in just two hours and with just $35 of materials. It's a beautiful addition to any kitchen or bathroom, regardless of the decorating style.
Window Plant Shelf DIY
Having plants at home is a sign of prosperity. And what makes a house look beautiful and alive is having potted plants in various places around the home. Are you looking for a way to bring the outside in? A Window Plant Shelf may be just what you are looking for. This DIY is a great place to start if you have never built furniture before and have no idea about it. All you need is a few supplies that should be readily accessible at your local hardware store.
IKEA Window Plant Shelf
Window planters are one of the best ways to pop plants in your house. Why? Because they're not only beautiful and practical, they give you a great sense of accomplishment. They might sound difficult to make, but actually, they're pretty straightforward. Add some greenery to your home with the IKEA moss land picture ledge. This floating shelf has a white stain finish and comes with two supporting wood stands. To customize, choose a color that suits you and glue moss on the surface—it'll instantly transform right in front of you. The moss also works to freshen the air as it collects humidity around it and emits oxygen during the day.
DIY Window Floating Shelves
DIY Window Floating Shelves are an innovative and easy-to-install solution to display your favorite plants. Always in view, these shelves don't take up kitchen space, allowing you to use your entire real estate for cooking and eating. With the same designs you see in top stores and magazines, this project will enable you to be creative, making it a fun weekend project for the whole family! The best thing about DIY Window Floating Shelves is that it is also very affordable.
Cat Proof Window Plant Shelf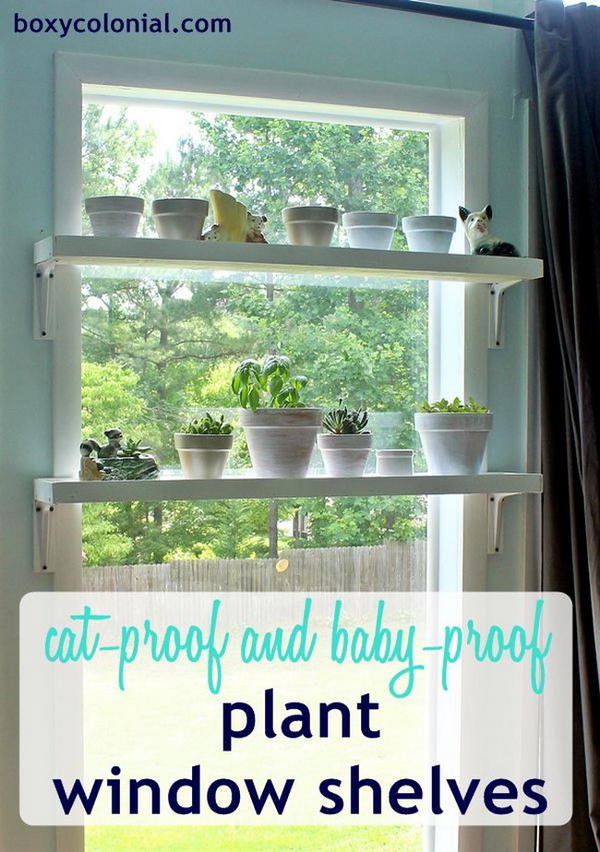 No more blown over houseplants! These cat-proof window planters are a great new way to add greenery to your home. Their broad base and weight will prevent cats from knocking them over, while the look of the simple lines and attractive design will blend into any room. You can protect your plants and still have a view with the cat-proof window plant shelf. This DIY project will allow you to enjoy the view, add to the decor, and protect your plants from pestering cats.
Window Ledge Plant Shelf
Are you looking to find a good spot for your plants? Conventional windowsills are often not deep enough to hold pots, and other places like porches can get too hot or too wet. But a DIY ledge shelf is the perfect solution—it is wide enough to fit most pots and keep them safely out of doors. This is an affordable and accessible project to add additional plant shelf space in a window. It adds an immediate "wow" factor to any room. This shelf can quickly be built in any size and can hold heavy or porous plants, such as succulents, cactus, aloe, or even ferns! The best part of this shelf is that it has multiple uses.
Window Plant Rope Shelf
Not everyone can have plants hanging from their ceilings. It can be pretty expensive to get a custom one made. So, why not create one yourself that only requires a rope and some strong screws. It is an easy, fun, and creative way to help you grow plants. Plants left in pots and apartment windowsill can be very demanding and fickle. This rope shelf is an ideal solution for your plant's needs. This makes a great gift that is functional and adds a bit of joy.
How To Make A Window Plant Hanger
The easiest way to steal some greenery from Mother Nature, and bring it into your home, is with a Window Planter. With a window planter, plants from outside can be brought inside. It does not take much effort to make one, especially for beginners. Whether it's the kitchen sink or your desk, make sure you know how to choose the best place for your new tiny green friend. Plus, see how to create a DIY window plant hanger – with only three supplies and a trip to your local hardware store!
DIY Plant Shelf
Plants are a great way to add color and life to your home. Want to spruce up your home with some fresh greenery? DIY Plant Shelves provide the perfect spot for all your plants and flowers. Easy to make and completely customizable, you can put them anywhere in your home - above your bed, bathroom, even hanging from the ceiling! This DIY Shelf is designed to help you display all of your favorite plants, no matter where you decide to put them.
DIY Window Plant Shelf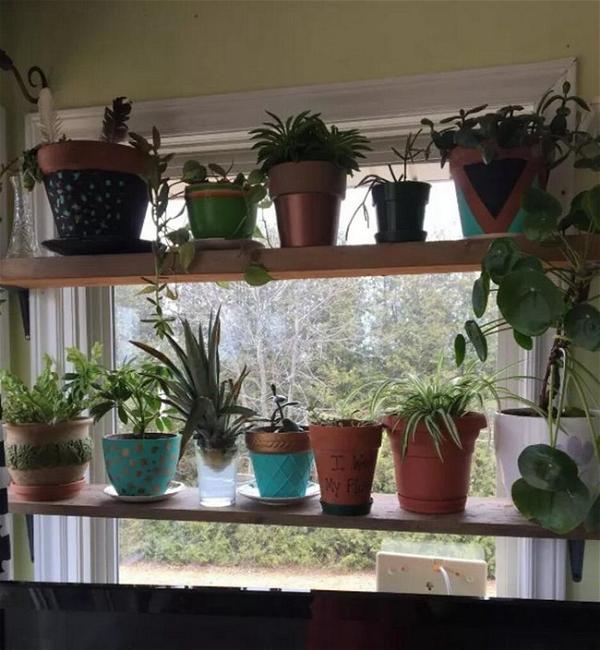 Are you in need of some severe plant therapy? Whether you have children or pets at home or are just one of those people who somehow can't keep plants alive for very long, these DIY window plant shelves may be the perfect solution. They are an excellent project for you and your children. Indoors or out, these shelves are easy to make and create a dramatic presentation in any room. It's time to harness the power of curiosity, keep your children and pests at bay, and set up a DIY window plant shelf by following these easy step-by-step instructions.
Removable Window Shelf For Plants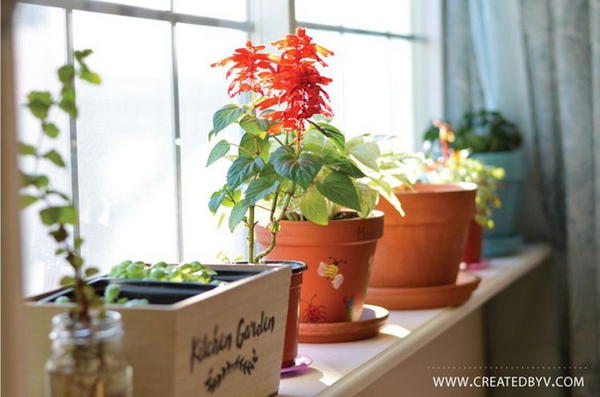 Why put this on your window in the first place? You can free up space and create a home for your plants out of reach from curious pets. Plus, you'll bring the beauty of nature into your living room! Take your small apartment space from dreary to dreamy with a plant-lined shelf that hangs directly in your window. It is preferably high enough for your pets or quickly moved out of their reach. Go ahead and create your own window wall planter shelf and make this summer a great season for you, your plants, and your pet.
DIY Hanging Plant Shelf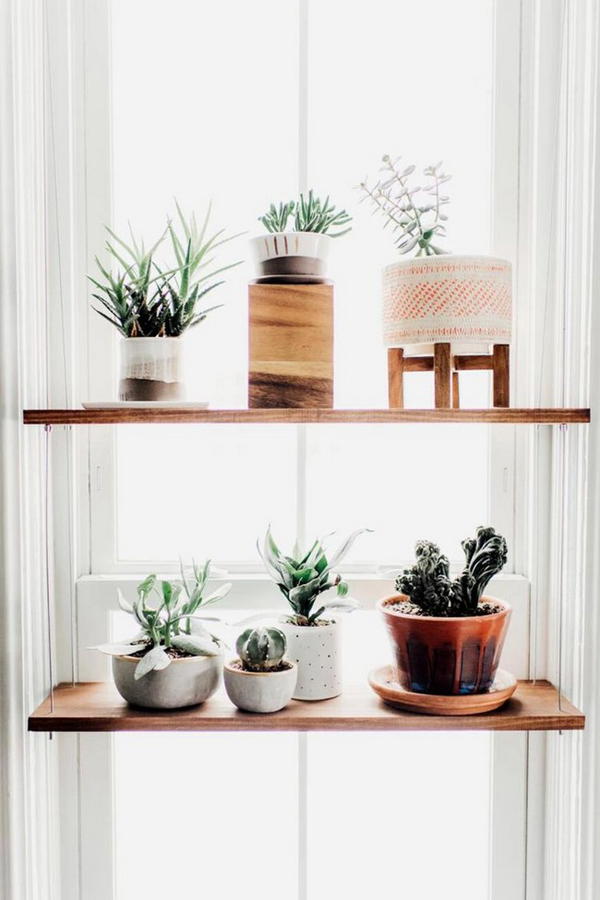 DIY Hanging Plant Shelf. It's all about being green and bringing some nature into your home and garden. With this elegant hanging plant shelf, you can grow your own plants anywhere you like and enjoy the beauty of nature from your window. This hanging plant shelf is a bit of a DIY but straightforward. You can use the shelves precisely as they are, or you can adjust the size by simply screwing more wood onto the existing wood. They're big enough to hold larger plants and decorative items and very sturdy!
Easy Window Plant Shelf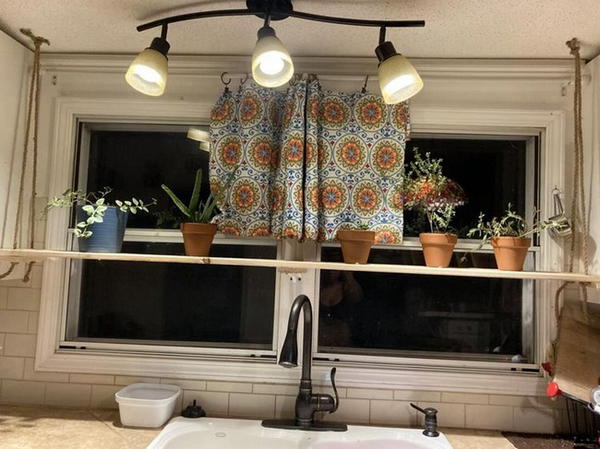 If you ever want to add greenery to your home but don't have the space for a large bookshelf or stand, window ledges are the perfect place to set potted plants. This shelf is ideal for a kitchen sink or windows looking over your garden and looks great with multiple frames. As it sits on just one bracket, there is easy access from all sides so that you can tend to your plants without hassle. Easy DIY window plant shelves to show off your plant babies. Sure to be a head-turner and an inexpensive way to add another frame to your home decor.
How To Build A Window Plant Shelf
Does your living room need more green? Learn how to build a simple window shelf to display your air plants. This shelf is perfect for displaying small potted plants, succulents, or mounted terrariums. The secret here is to build this window planter box well and make sure it will secure your home's side. Also, look out above your window and make sure you can push the excess front section of the planter box that fits over the window back. Finally, you may want to paint your wood a dark color to help keep unwanted sunlight from getting in.