Wall planters are a great way to bring the lush beauty of plants into any room—no matter how small or narrow your space. And if you don't have a yard or garden, hanging planters on your wall may be the only way to grow flowers or herbs. These DIY wall planter projects are fun decorating ideas that add personality to your home. You can transform an old toolbox, hang up a vintage ladder or repurpose a metal tea cart into an eye-catching wall planter. There are 25 DIY Wall Planter Projects for creating your living wall art with empty picture frames and pallet boards. There's something for everyone here!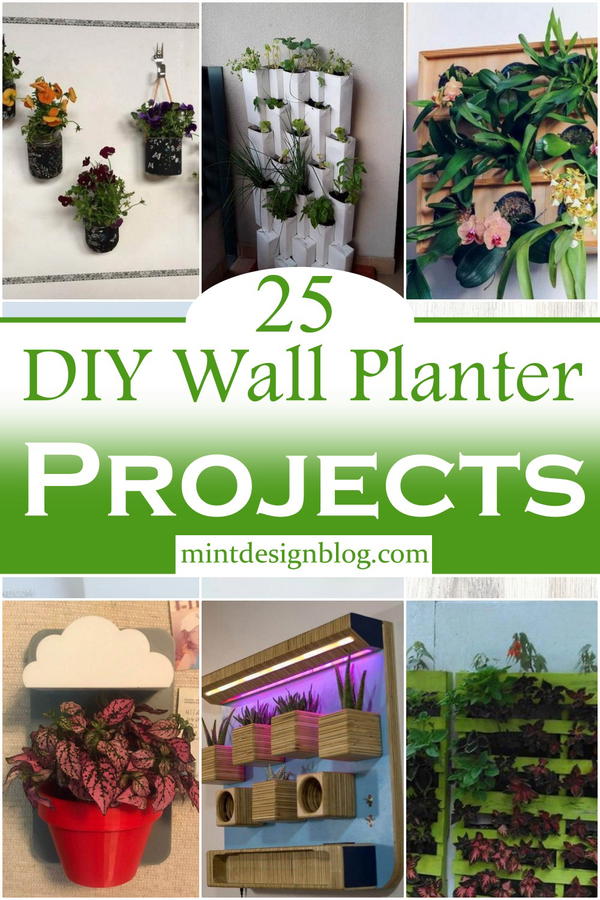 These wall planter projects will show you how to make your own. This will help save space, but it also looks great and adds some interest to your walls. Even if you don't have a green thumb, several ideas in this collection are entirely DIY and would be perfect for adding some greenery indoors. This collection has many easy ideas for displaying houseplants on your walls without any significant construction. There are also plenty of hanging planters that can easily be mounted using hardware from the hardware store. The possibilities here are truly endless! Here are 25 ideas for DIY wall planters that will turn your walls green with envy! We hope these ideas inspire you to create one or many of these beauties for your home, patio, or garden.
These 25 DIY wall planters are attractive, easy to make and provide instant gardening space with no digging or weeding required.
Importance Of DIY Wall Planter Projects
Wall planters are fantastic because they're cheaper than a giant pot, and you can fit so many more plants into a small space.
They are great because they're not just for plants—you can also store lots of other things in them!
Wall planters are perfect because they make great gifts! Just fill the pots with healthy, organic soil, then add your favorite seeds. It's easy to care for and makes a thoughtful gift that keeps on giving!
They are the perfect way to display your plants uniquely that will stand out from other homes around town.
Wall planters are a great way to hang plants off the ground, which can be helpful if you live in an apartment or have a cat who likes to chew on your greenery all day long!
Wall planters are easy to make yourself, so you can create your custom look without spending too much money or time!
You'll never be bored with wall planters because there's always something new and exciting coming out of these creative minds at DIY Network - we've got everything from simple projects like making flower vases out of glass jars (perfect for spring!)
Wall-Mounted Planter DIY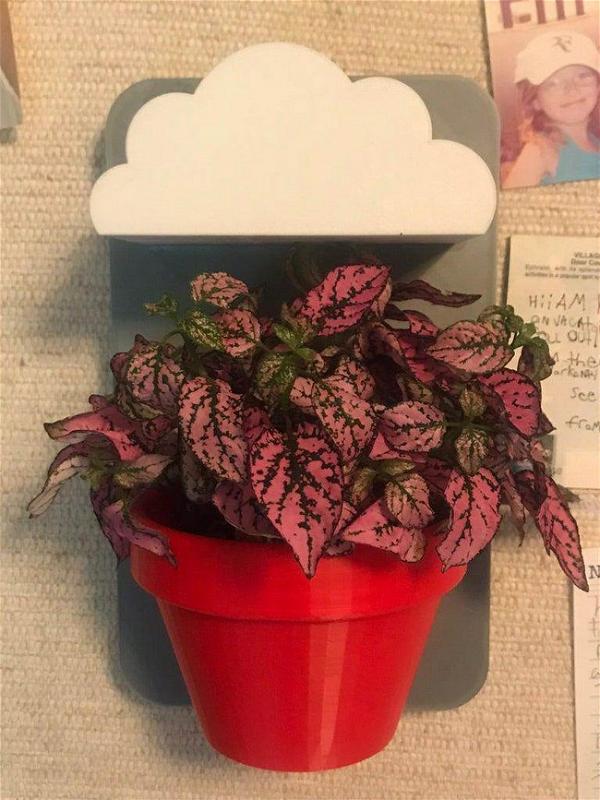 Looking for a distinctive way to display your beautiful plants? This DIY wall-mounted indoor planter lets you create an eye-catching vertical garden in any room of your home. Bring plants to your walls with the Wall-Mounted Planter. Make the most of your indoor garden with a wall planter that mounts to any surface using our custom mounting bracket. A modern planter that bridges the gap between indoors and out, this self-watering wall planter is perfect for plants like succulents, air plants, herbs, and more.
Concrete Geometric Wall Planters
Do you need an old-world hermeticity for your home? Do you want a modern-looking planter that is ideal for a very contemporary look? Are they useful? Yes, they are. These concrete geometric planters will make your indoor or outdoor space the envy. These wall planters are tremendous and can be made in less than an hour. They display the geometric shapes in a way that looks symmetrical. They can be made with different colors, which create figures simultaneously. These plants will look stunning on your walls. Give your children a fun activity by designing their planters and creating the perfect organic wall for your home.
DIY Dollar Tree Wall Planter
Whether you are decorating your walls for the first time or just trying to add a pop of color to your walls, you can use this DIY planter idea to help spruce up your space. This unique wall planter will provide you with a whimsical way to catch everyone's eye without breaking the bank! The best part about making this planter is that you can customize them to fit your space and match your decor while saving money and being eco-friendly.
How To Build A Wall Garden
Planning to enrich your kitchen? Then say goodbye to the plastic pots and flower vases, use a reclaimed pallet board, and make a wall planter yourself. It's an easy project to follow. You can make this wall planter with wood pallet boards. If you are not good at woodworking, have no fear! There's more than one way to build this unique wall garden. This unique creative DIY project turns a pallet into a vertical garden. The creator used an old pallet board and made wood frames, making the entire plant like a bookshelf floating in the air. He painted the pallet board after he was done with construction to look all smooth and shiny.
How To Build A Vertical Planter Garden
You can make this beautiful vertical wall planter yourself. It's a cheap, easy woodworking project that creates an excellent decoration for your home. This functional piece of art is a trendy addition to any room in your house, an office, or a commercial area. It helps you use your empty wall space and keeps your plants off the floor. This idea is best suited for small spaces and those who may want to try and grow something that stands out so all your friends and family can see the progress.
How To Make A Living Plant Wall
Pocket landscapes are the perfect solution for adding greenery to your home without occupying much floor space. Aquariums take up lots of room, and unless you can attach them to the wall or have a wide window sill on which you can install them, they don't always work for every space. With this guide, you'll be able to make a green wall similar to the garden pocket-based ones used by professionals. It's more straightforward than it seems and doesn't need any special skills that would allow you to create an art installation that is functional and beautiful.
Tetra Brik Modular Wall Planter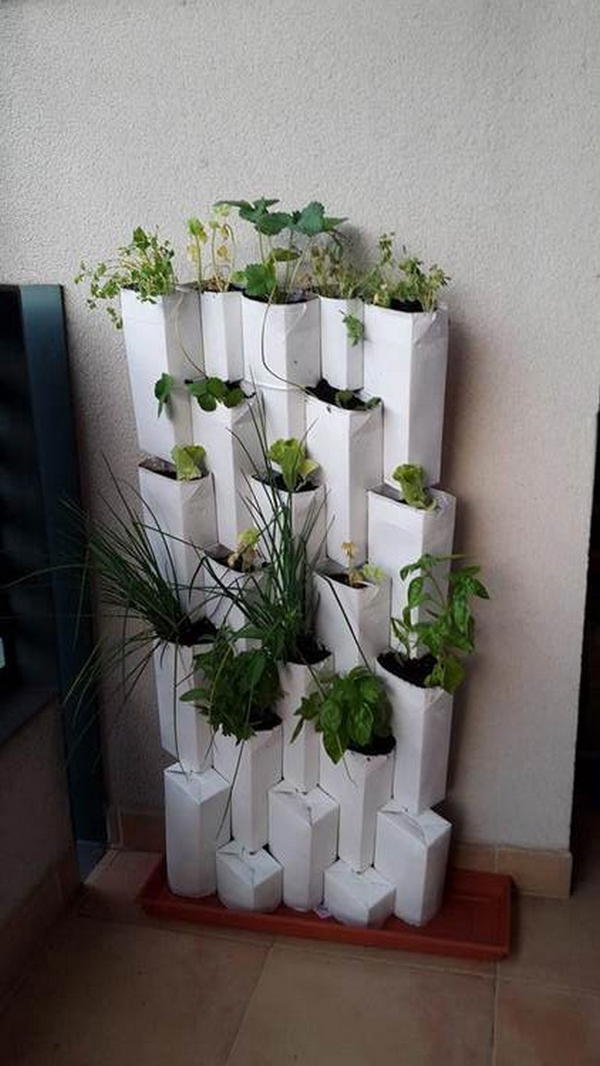 This is the perfect project if you're a gardener and want to start a productive hobby but don't have the ground space necessary for a conventional garden. Modular wall planters can be used to create beautiful living sculptures in indoor or outdoor spaces that reduce waste while also beautifying your environment! This planter is designed to utilize the space in between your walls. It allows you to have multiple, small planters (perfect for succulents and cacti) without too much space.
Vertical Orchid Planter DIY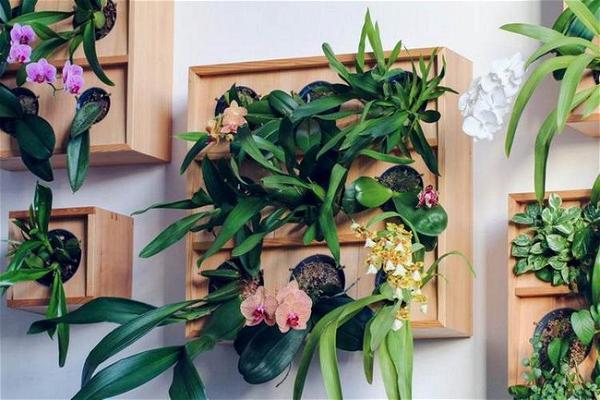 Planning to add a little bit of green to your home? Let's get started with these easy-to-follow planter plans. This vertical orchid planter is a simple woodworking project. Perfect for a living room, family room, entryway, or bedroom, this planter adds color and style to your home. The wooden wall planter mounts vertically and offers a unique opportunity for personalization. Simply paint or stain the board to match the decor of your space, mount it on the wall and then fill your planter with potting soil and orchids. It is a great solution for adding houseplants to a small apartment and makes a thoughtful gift idea for any occasion. You'd be amazed at how easy it is to make, too.
Indoor DIY Wall Planter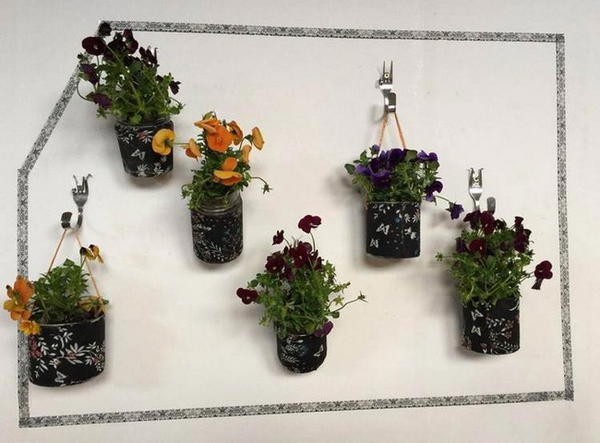 Indoor DIY Wall Planter is a unique handmade wall-mounted planter with a professional design. Styled with a 3D metal planter and Washi tape, it offers a unique design to beautify your home. Different fUnlikeher wall planters on the market, it is beneficial for people who want to start their tiny garden but are living in small houses. You don't need to be a DIY lover or have advanced crafting skills to make it. It's high quality and easy to make at home. Everything you need to know will be included on this page, so try!
DIY Vertical Wall Planter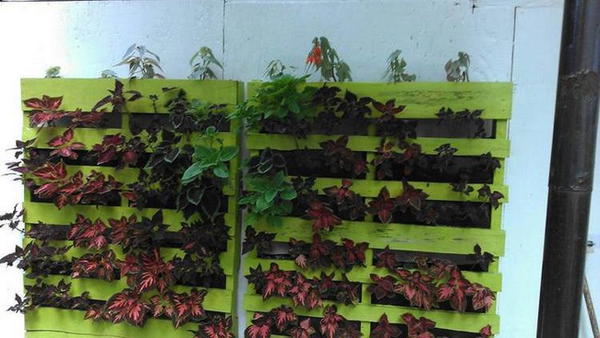 This vertical pallet wall planter is perfect for indoor and outdoor use, specifically if you have a small garden or limited space. This vertical planter won't take up much floor space, while it holds plenty of soil, water, and plants. It can be mounted on the wall or kept to lean against the wall. You'll need to paint the pallets your favorite color and also attach a landscaping cloth on the back so you can put whatever type of plants you like. Use water-resistant polyurethane paint to keep the wood protected for more extended use. This is an easy do-it-yourself project that anyone can almost do.
Bamboo Wall Planters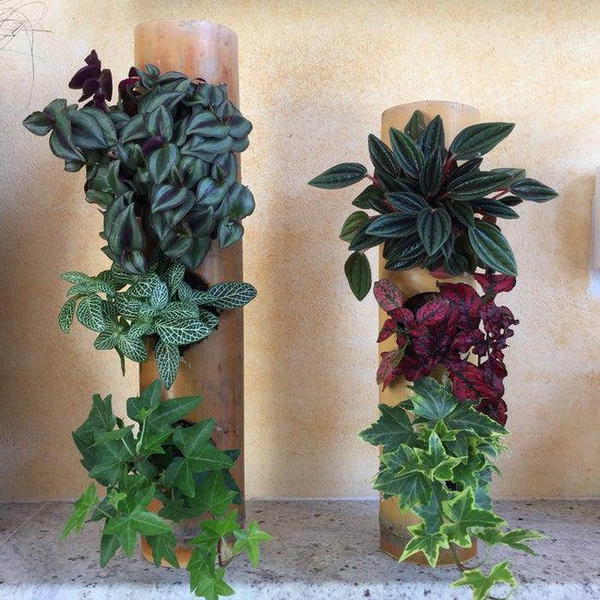 Bamboo is an attractive shelled plant, but it's too fragile to be used as a large-scale building material. This process will fabricate an attractive and durable wall planter with the look of bamboo without the fragile nature. The materials needed are bamboo, lamp frames, caps, and fit everything into place with finials. It's a brilliant idea that can turn a day of leisure into a messy endeavor. It can turn something ugly, like that unused corner space on your wall, and create an item that gives your home life and energy!
DIY Wall Garden
Grow your wall garden with this step-by-step guide! This planter is inexpensive and easy to build, and looks like a piece of art. The gardening space for your favorite herb, salad greens, or salad tong is surprisingly large, considering the small number of materials used. Its combination of wood planters and an LED light strip create a visually exciting structure that will uplift and inspire you daily. Build a colorful, modern, and functional wall garden with this planter box kit. Made of high-quality plywood, it's pretty easy to set up and looks great in any modern home.
DIY Succulent Plant Wall
Here is a perfect guide for those who want to make an easy succulent plant wall panel. It's adorable because it resembles a triangle shape. The most challenging part is to drill small holes through each section (piece) and hang it on the chalkboard. If you settle with this idea, decorate your home with other creative ideas such as using bricks, pallets, bike wheels, etc. If you're creative and completely bored, then it's time for you to make a diagonal planter wall. You will enjoy making it alone or with someone else. You will find that you can use this design on your living room and kitchen walls.
DIY Wooden Wall Planter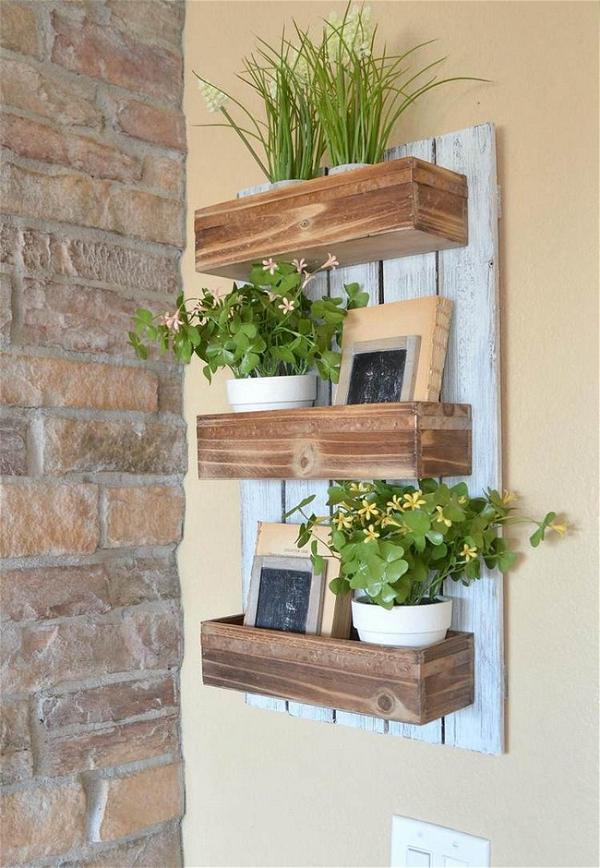 You can build this DIY wall planter yourself with just a few tools. After you've got your materials, the actual creation process is super-simple and easy. The wall planter is excellent because you can use it to add greenery and a little pizazz to a dull, bland wall section. You can refresh the look of your plain wall by adding this DIY wooden wall planter. Pallet wood is all the rage these days, so why not combine that with a bottomless planter pot to create this charming arrangement? The best part about this project is that you could easily switch up the planter pots each season to match your decor!
Green DIY Wall Planter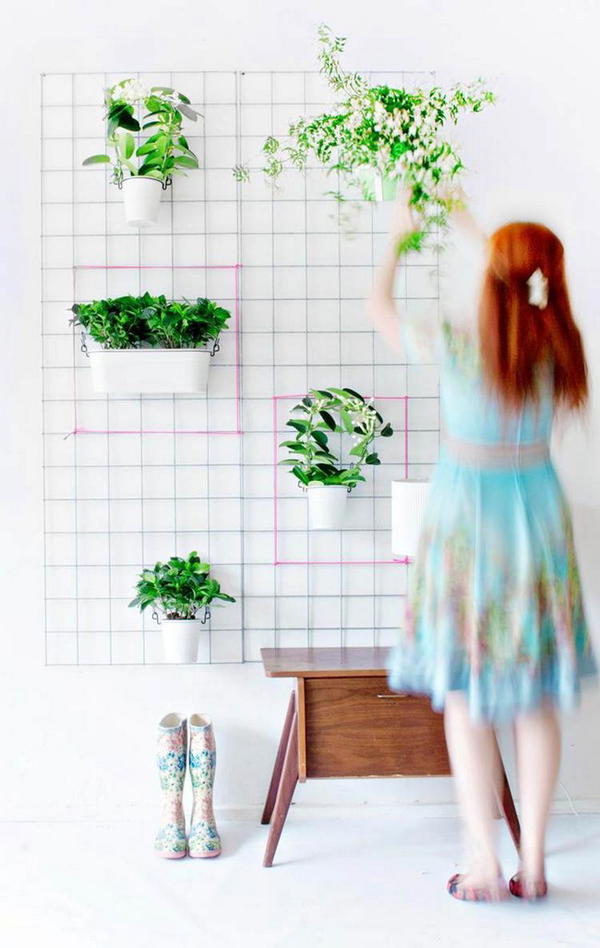 Are you looking for a simple but unique way to decorate your living room or garden? This wall planter is the perfect idea to bring a minor nature to every house corner. It adds a pop of color to any space and only requires a few materials. Just grab two cups and make your planters. Install it on the wall and hang your plants with added ambiance. You won't need tools or special skills. Just grab the necessary materials and start mounting them on the wall. Good luck with the project!
DIY Vertical Wall Planter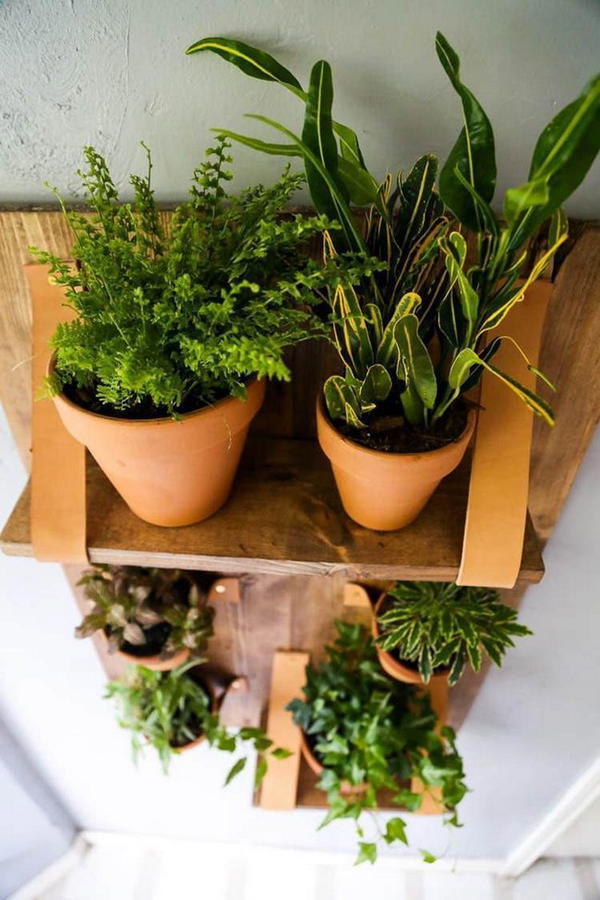 Grow your vegetables while decorating and bringing a bit of nature inside with these DIY vertical wall planters. Vertical gardening is becoming more and more popular as gardeners discover how easy it is to get great results with few tools and little effort. This DIY planter is perfect for those who lack outdoor space and want to grow a few flowers and veggies. It should take less than an hour to make, and you need to show some tender loving care. This is an effortless project to get started with and requires about five tools in total. This planter works great for all plant types and will be a nice, decorative piece in your home. This is also an excellent idea for housewarming or wedding gifts!
DIY Mason Jar Wall Planter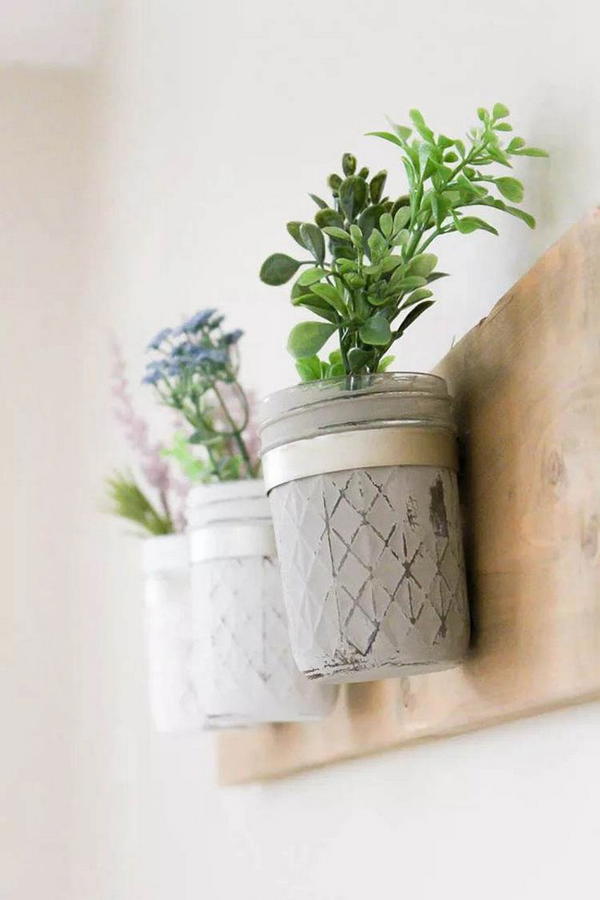 This wall planter is a fantastic idea to add to your home's decor. We have found an excellent DIY version that works perfectly on any wall. It is an easy DIY project that requires few tools and supplies you can easily find around the house, such as jars, cloth, wooden board, and nails. This project is easy to make and looks very good on the wall. A DIY Mason jar wall planter is perfect for those living in small spaces who want to hang their greens from walls. If you don't mind drilling holes into your wall, this project is for you. If there's no one handy to help you, but you want a hanging planter, it is the perfect time for a DIY project!
DIY Succulent Wall Planter
Wood planter box is popular for home decoration, but did you know you can build a DIY succulent wall planter with wood? Yes, you can, and this guide will show you how to make a nice one. This DIY succulent wall planter is a large succulent container perfect for indoor and outdoor use. This project uses wood boards, wood putty, wood glue, a staple gun, and many plants. It's a simple project that will add charm to your home! If you love gardening or succulents, this DIY wall planter is pretty cool. It's easy to build and looks good too.
DIY Wall Planter
This is a DIY Wall Planter kit meant to be installed on a wall vertically. It is a great way to add some greenery to your space! This planter is large and versatile. Use it for plants, herb gardens, flowers, and more! The wood and metal used are powder coated for extra durability and rust resistance. It features an interlocking design that allows for easy assembly without any tools! This planter can fit most plants and flowers with multiple layers for depth, giving you more space for more beautiful colors!
23. DIY Plant Wall Under $20
Do-it-yourself plant wall with succulents is a unique, inexpensive project that you can use to decorate your home and make everyone envious of the fun, new piece of furniture. You can use this plant wall to decorate the corner of your room or make your garden with it. It is perfect for the novice that needs a quick guide to build a planter and, used with enough imagination, can also serve as a hanger for clothes or anything you can think of. The total cost for this DIY project is about $20 for the materials.
How To Make Indoor Wall Planters
Are you feeling exhausted by the same old interior design? Do you feel it's time for a change but don't want to spend a fortune on a professional designer or don't know how to decorate effectively? Do you enjoy gardening but are not interested in keeping organic soil or growing organic plants? (There are better options!) You can refresh your indoor design and fill your home with beautiful & colorful wall planters quickly & within hours. And with this video guide, you'll learn how to make a wall planter with simple homemade materials and tools that won't cost a dime. You'll need cardboard, a needle, thread, scissors, a thick cloth, and a few other supplies at home. The making process is quick and easy, which was meant to be displayed indoors.
DIY Wall Hanging Planters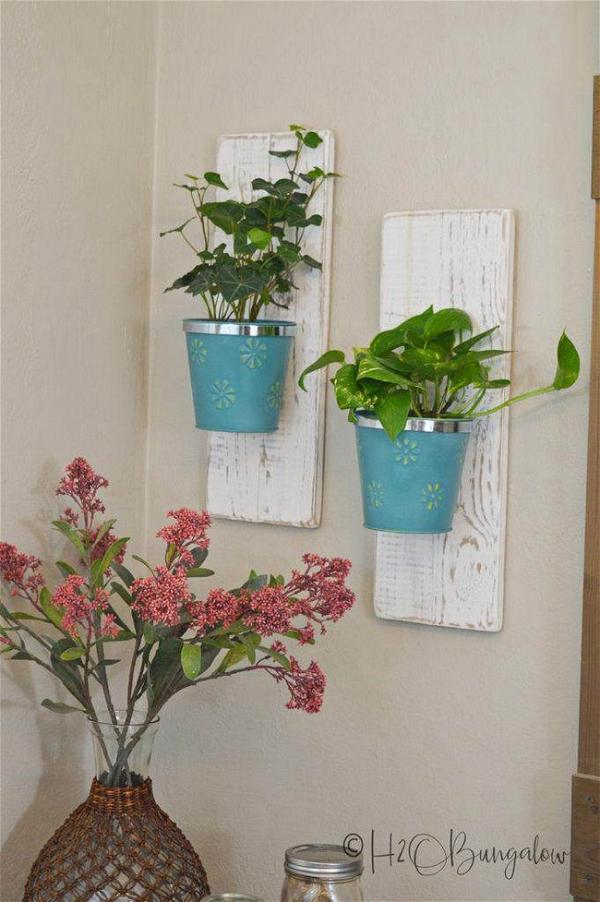 Do it yourself and make a planter box with buckets. Consider it an unusual and original idea, especially if you are bored with classic flower pots. Such planters will serve not only for decoration but also for crops. The most accessible wall hanging planters require a few materials, such as buckets, D-rings, screws, hose clamps, etc. You have everything, and now it is time for the finishing touches to decorate your garden or balcony - that's where we come in handy.
You can also see our list of DIY retaining wall projects
DIY Cheap Easy Vertical Garden
If you love gardening but worry about not having enough space, why not build yourself a DIY vertical garden? This DIY vertical garden is effortless and cheap to make. It's made with iron rods, so you can use those that you may have in your garage or yard. The premise of this idea is to grow plants vertically to save space and get the most yield from a small area. This whole thing cost me about $30 and took a few hours to make. There is nothing more satisfying than making something extraordinary out of nothing.
DIY Wall Planter For Succulents
Succulents are an excellent choice for indoor garden decoration. Some people use these varieties as houseplants, but some like to place them in the garden. You can easily make a succulent wall planter using a wooden frame and additional accessories. This DIY wall planter frame is suitable for succulent plants, and it's great for small space living. Because it comes with rope moldings, you can hang it anywhere in the house, like your home kitchen, indoor garden, or entryway. It's beautiful and functional!