You don't have to spend hundreds of dollars buying a Bow and Arrows. Instead, you can easily make one at home using materials you probably already have at home. This article will tell you about the best DIY bow and arrows ideas that we have come across. Each project has a clear set of instructions, and I'm sure you can find something for yourself.
Whether it is hunting, camping, or gaming, you would always want to enjoy the process of arrow shooting. These DIY guides will give you all the ideas you need to build a perfect bow and arrow. This can be done using woods and other materials found/available at home. Hunting bows are usually not expensive, but they give you the satisfaction of self-sufficiency and independence.
DIY Bow And Arrows Ideas For Survival And To Have Fun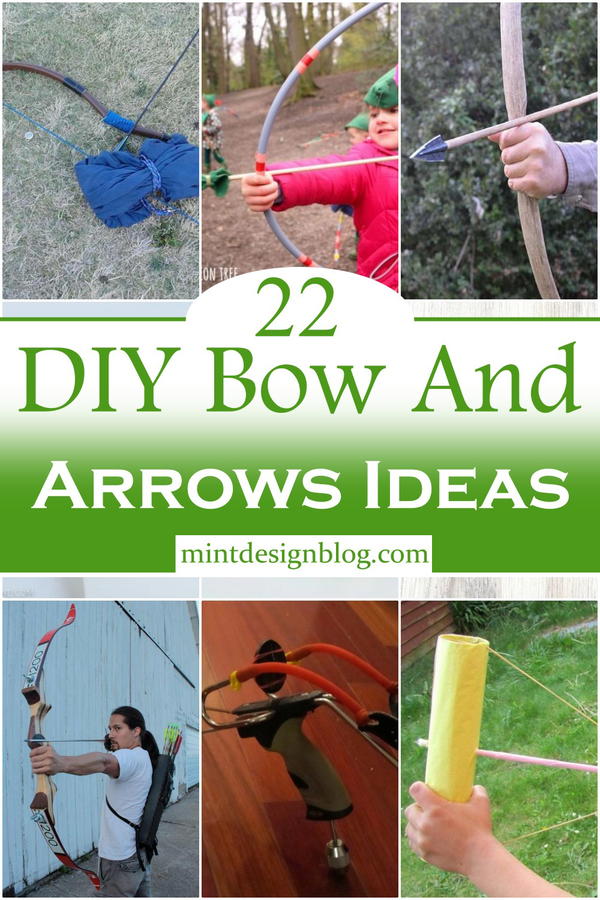 If you are looking for DIY Bow And Arrows ideas, this article is for you. In it, we will provide you with ideas for building your DIY Bow and Arrows by making your plan. We'll also help you save money on supplies and tell you about some of the best bow designs available. The first thing you need to do is gather all necessary items before you begin. Secondly, you should wear gloves when working with wood because this material is not durable enough for cutting and sanding by hand. When building any project from scratch, it's always good to have some background knowledge about the subject before attempting it yourself.
There are several kinds of homemade bows, each having its characteristics and benefits. Some bows make it easier to launch an arrow with speed, while others make it easier to shoot an accurate shot. The fact is that archery has always been a sport enjoyed by people worldwide. It's fun, challenging, and exciting. However, some have taken this far beyond the traditional sense of it. In this article, we'll look at some DIY Bow and Arrows ideas that you may try out!
DIY Powerful Bow And Arrow
This Powerful Bow And Arrow is the first DIY project on this list, and it's a doozy. Using a metal pipe and other materials like fasteners, screws, and so on to build an actual bow and arrow may require a bit of experiential knowledge to pull off. It also requires some advanced tools used correctly to cut, prepare and set up the bow and arrow. The whole process of making a DIY powerful Bow and Arrow requires advanced knowledge, so only try it if you're an experienced bow maker.
DIY Cheap And Easy Bow
The bow and arrow are one of the oldest weapons in the world. This DIY guide will teach you how to make a bow and arrow with PVC pipes, no heat, and it's super cheap. The creator used PVC pipes as the major material for the bow and arrow setup, it may have been cheap, but it's pretty powerful. This is a cheap and easy guide on making a bow and arrow setup that's as powerful as your bow and arrow would be in the game. This is a complete step-by-step video guide with detailed explanations and pictures of each step. Videos show every single detail needed to create this awesome weapon.
How To Build A Survival Bow
The bow is made of bamboo and can be easily carved. Hand string it with some cordage, and you are good to go. This one will feel familiar if you know how to shoot a traditional arrow. The main advantages are silence and power; even without special bowstrings or extra accessories like sights, there is quite a punch in the shot from this thing. The arrows are made of wood. This project is not as easy as it looks and needs some skill. But once you learn how to make it, you will have a great chance of surviving in wild nature without any equipment.
Bow And Arrow DIY
The survival bow and arrow tutorial teach you how to make a crude hunting weapon, the materials are very simple and easy to find, but the result has great force. You can use this tool to survive in the wilderness, and it will help you hunt animals. These are the real survival bows made with stones and wood. You can also use this guide if you are lost in the wild or feel like having fun with friends.
Homemade Bow And Arrow For Children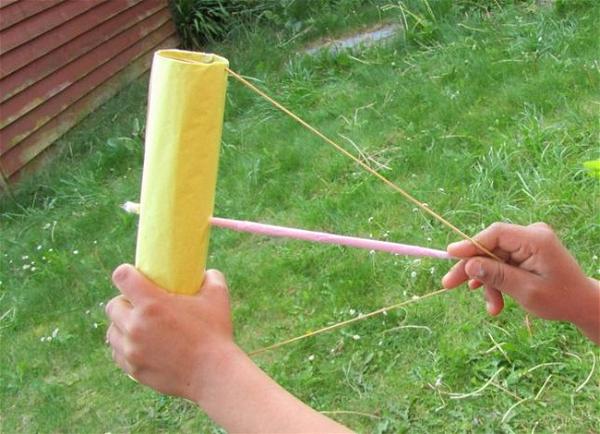 This homemade bow and arrow is a great project for children to make. Using only a few supplies, you can help your child create an activity that is fun and educational at the same time. This project will improve motor skills, hand-eye coordination, problem-solving skills, and fine motor development. This bow and arrow are perfect for your kid to play with or as a gift for their friends. Your kid will have fun making this bow and arrow and playing with it!
Homemade Bow And Arrow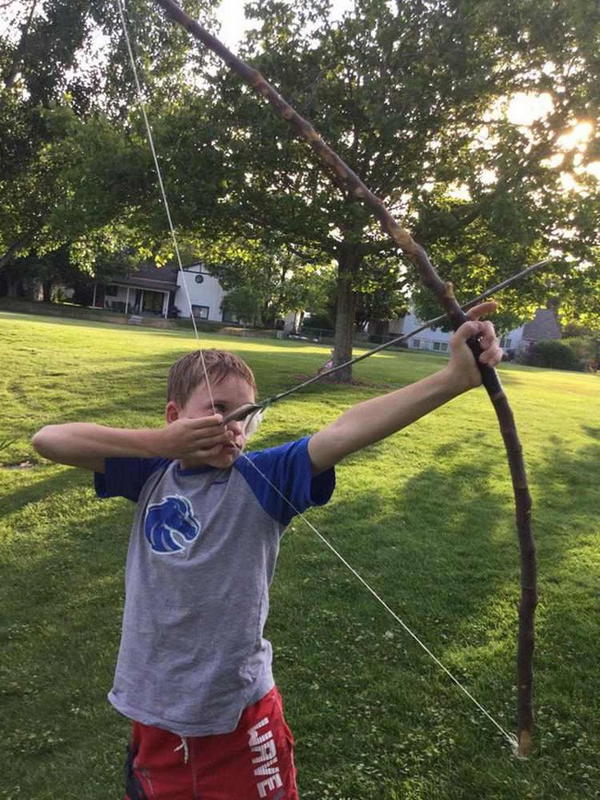 The bow and arrow are among the most ancient tools used to hunt. It's an essential weapon and activity for anyone who likes to be outside, whether hiking, golfing, camping, or just target shooting. If you are looking for a fun activity to teach your child how to work with their hands while creating something they can use in the real world, then look no further than making a wooden bow and arrow! This homemade bow can vary depending on its size and strength, but it's safe enough for kids to use with supervision. The homemade bow is a fun tool to teach kids how to use archery and improve hand-eye coordination while having fun at the same time.
Homemade Sling Bow
So you're ready for archery but don't want to spend a lot of money on an expensive slingshot and arrows? This Homemade Sling Bow is just what you're looking for. Using an O-ring from a hardware store and duct tape, this project is simple and cheap! It's a great way to get outside and have some fun. If you're an outdoorsy person, you'll love practicing with it. And if you hunt or want the experience of hunting, this is a fun and easy way to practice.
DIY Bow And Arrow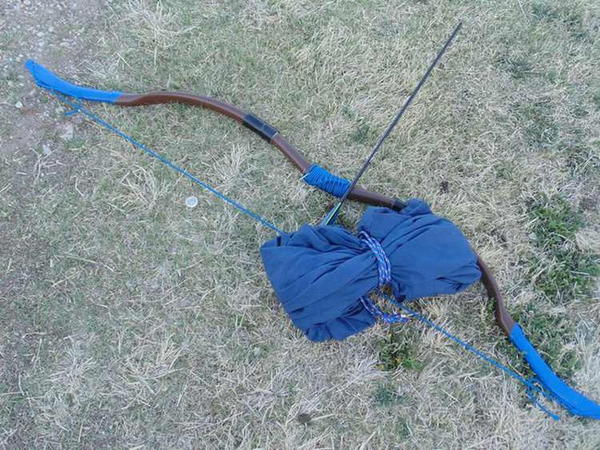 This DIY Bow And Arrow is a great way to keep your kids occupied during the summer. With just six easy-going tools and some PVC primer, aluminum foil, and PVC cement, you'll be ready to get started on this fun craft. With the right materials, you can make this fun bow and arrow even better by adding a few lights to be used as a nightlight in your little one's room. The DIY Bow And Arrow is a great project to enhance your skill and knowledge while creating wonderful archery to hang on the wall. This bow is 3 feet long and strong enough to shoot an arrow through wood at 10 feet!
How To Make A Homemade Bow And Arrow
This is a bow and arrow made out of available homemade supplies. Its draw can be built up to about 30 pounds, and it has a 12-foot draw length (on an average man's height). The bow is made from long straight flexible branches, strung with an old shoelace through holes drilled in the ends of each branch. The string is wrapped flatly around the limbs, making it adjustable to fit perfectly in your hand when holding it. It also allows more consistency with accuracy and range by using laminated materials that can help dampen vibrations after being shot. Added feather fletchings on each end help add more stability to the arrow's direction of travel even at longer distances. Still, one should never overstrain their strength when drawing this bow upon release.
How To Make A Bow And Arrow
Let's get started on this fun and easy bow and arrow project. It's a simple build that uses no power tools, but it does require some patience when sanding down your wooden skewers. The materials for this project cost less than $15, so if you don't have any of the materials lying around, it shouldn't cost you anything extra to make this bow and arrow set. The best part about this design is that it's made entirely from wood, so there won't be any worries about using lead or other potentially dangerous materials like those found in store-bought options.
DIY Survival Bow And Arrows
This is an instructional video on making a bow and arrows using natural materials. The creator used only things that could be found in the wilds; for example, he used sinew instead of string for the bow. All you need besides the materials is determination and persistence. He made the bow stave from hardwood and shaped it down to fit perfectly into his hands, then added other natural materials such as twine and pine sap or pitch to give it more strength so that it would work properly when releasing an arrow from it.
DIY Bow And Arrow For Survival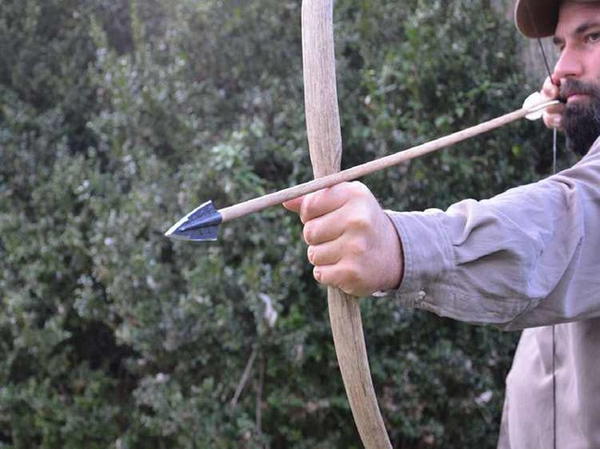 If you're in a survival situation and don't have a weapon, this bow and arrow would be perfect since it could help you hunt for food or protect yourself from wild animals. This DIY Bow And Arrow For Survival will help you stay alive when there aren't any other means to survive. It provides safety, helps hunting, and you can use it for sport. This DIY guide will teach you how to make your bow and arrow with step-by-step instructions that are easy to follow even if you have no experience with this subject.
DIY Bow And Arrow For Kids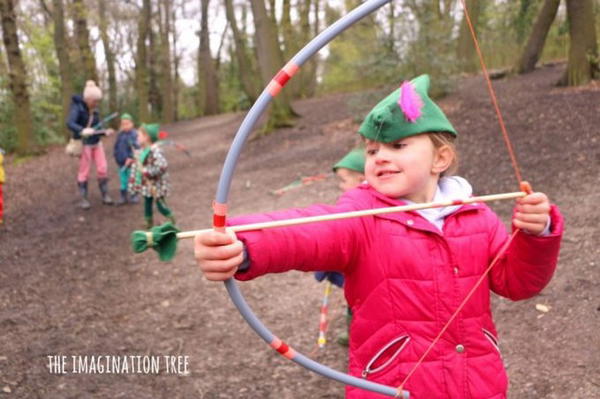 Enhance your kid's imagination with this DIY bow and arrow. This is a great kids bow and arrow, it's super easy to make, and your kids will love it.  The package contains two bows (one) with two arrows each and one target. It's equipped with a spring steel wire strings, so you do not need to pre-tension them before shooting. This product is made of bamboo canes ,which is environmentally friendly and safe for children as it does not splinter when broken or cracked.
How To Make Traditional Bamboo Bow
In this video, the creator gives step-by-step instructions on how to make a bow and arrow using bamboo sticks. The first part of making the bow requires only two bamboo sticks, which will open up after being tied tightly together. The creator also includes a few tips on shooting an arrow from a homemade bow and arrow. This process requires traditional knowledge and skill; however, it is still efficient and effective for hunting wild game such as rabbits and squirrels.
How To Make Survival Bow And Arrow From Bamboo
Construct a survival bow and arrow from natural materials. This video shows step-by-step instructions for making an easy, sustainable bow and arrow. Bamboo is preferred due to its long life cycle and strength, but any long pieces of wood or other plant material will work. The bow is made out of bamboo, and the string can be made from many natural sources. Arrows are just as simple to make out of bamboo, wood, or other material that you can find in the wilderness.
Homemade Bow And Arrow Game
This bow and arrow set with simple materials but still works very well. The main piece is a catapult-style bow with just a lower handle and no top or wide-spread limbs. It uses a thick rope as its string, stretching across most of the courtyard to give it more power and accuracy. Arrows are made from sticks that have been sharpened on both ends. They aren't going to fly very far due to their small size, but they can do some damage if an enemy player steps in front of them!
How To Make A Bow From Bicycle Wheel
Making a bow from a bicycle wheel is an easy project, and you can knock it out in under an hour. The process is simple to follow and will only take some tools for filling, cutting, and screwing the parts together. This means that you'll have saved yourself a lot of money by doing this yourself, rather than buying one from the store. This guide will show you how to make a bow and arrow out of common household items. The materials are cheap and readily available, allowing you to make a basic bow for under $5.
DIY Bow From Skis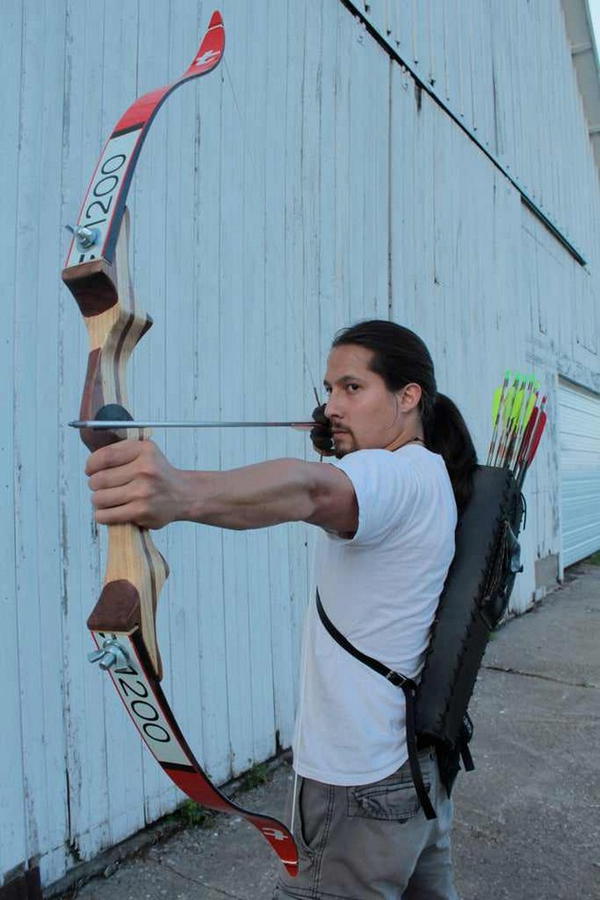 For this project, you'll need a bow and arrow skis and lumber wood carved down to take the shape he wanted, a nylon twine, a bowstring, and a couple of other supplies. The cost for these materials is $17. This bow and arrow is a great survival tool. In addition to being used for hunting and other recreational purposes, it can be a great way to discipline your kids or an effective backup weapon if you are out in the middle of nowhere and have nothing else on hand.
DIY Cheap Bow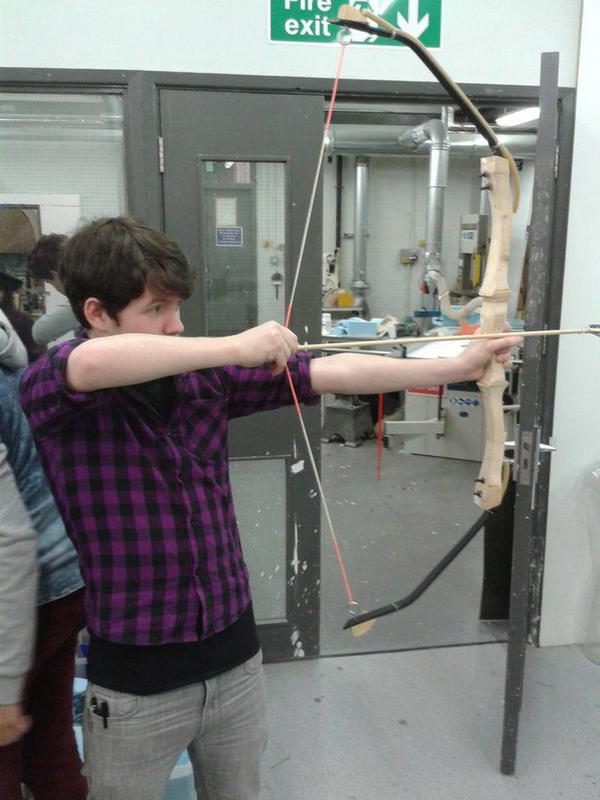 There are many bows, but the one you will see here is the most simple and cheap bow. This bow is constructs of wood and metal. The hand-held area is made of wood, which is easy to carve and the limbs are made of metal slightly curved into an arc shape. This bow can be made using wood and metal; the hand-held area is made of wood. Which is pretty easy to carve into a comfortable shape, and the Limbs are made of metal, so you need some welding skills.
DIY Bamboo Bow And Arrow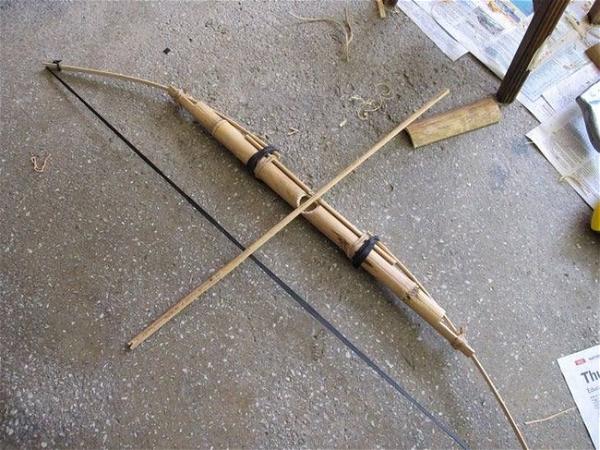 This DIY Bamboo Bow And Arrow set is one of the most fun projects you can make. This bamboo archery equipment constructs from bamboo, and by using this tutorial. You'll understand the process of making it yourself. In addition to building this project, have some fun sanding and painting these bows! The process is simple: you need a few simple tools, some bamboo, and patience. With this tutorial, anybody can learn how to make one!
How To Make A Simple Bow And Arrow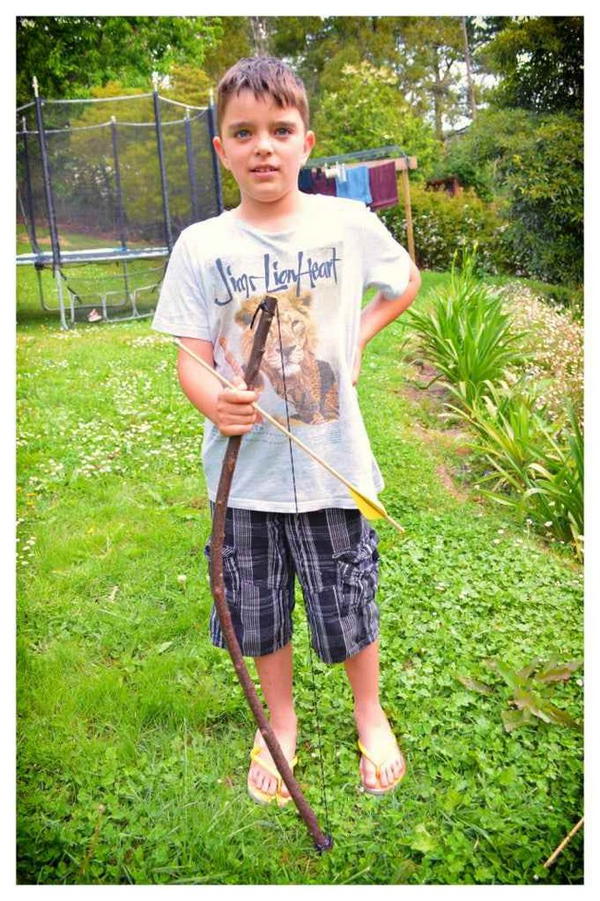 This video is a guide and demonstration on making a simple bow and arrow; the creator made that for his kid. He started by cutting a straight branch stick from a tree. Preparing it, inserting the rope, and the rest of the steps to finish the bow. The creator notes that this can also use by adults if they decide to use it. The creator shows how it will work by cutting the stick from a tree, preparing it, and inserting rope with a loop at the end. Then follow-up directions tell you exactly how to complete this project - making it easy for anyone!
How To Make Survival Bow And Arrow
This is one of the best DIY projects ever, introducing how to make a survival bow and arrow. This guide contains step-by-step diagrams that show you how to create the bow and arrow and other things. Everything needed for this project can find in your local store or online. It's perfect for the beginner, with easy-to-follow instructions on putting everything together. You'll also learn how to craft arrows capable of taking down animals and even people if needed.