Planning to build a gazebo at your home? Planning to build a gazebo at your business premises? The best and most ideal thing you can do is get some free plans. These plans are prepared professionally, and the dimension of materials and the visuals are given so that anyone can build one in their backyards or even their front yards. Here are 25 DIY Gazebo Plans to check out! Now it's time to get out there and start building that ​gazebo. Don't sit around thinking this could be a difficult task, take action today and start building your very own gazebo with these helpful guides!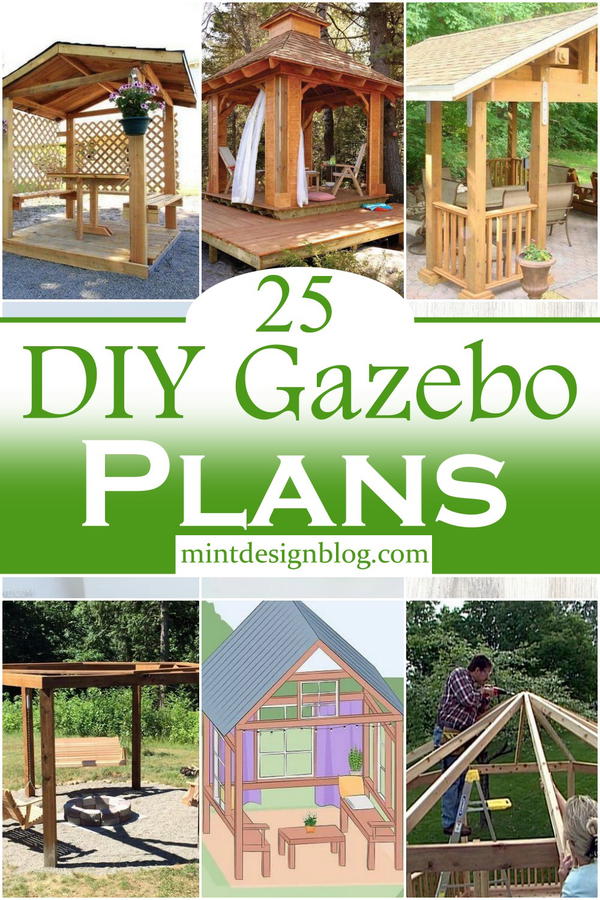 Gazebos are a stylish way to enjoy the outdoors. These structures can be used as entrances to your property, additions to larger outdoor rooms, and even small retreats all on their own. Gazebos are generally used by homeowners who enjoy spending time outside on a hot summer day. They provide a cozy and private shelter where you can relax with your friends and family and indulge in some good old-fashioned relaxation while enjoying the nature around you. Whether you're looking for a place to sit and enjoy some privacy, somewhere to relax away from the kids, or need somewhere to set up a hot tub, these 25 DIY gazebo plans will have something for you.
These 25 DIY gazebo plans will be the perfect reference point, leaving you in a position of confidence when it comes time to embark on your next project.
Materials and Tools:
Angle grinder
Chalk line
Circular saw
Cordless drill
Drill bit set
Framing square
Hammer
Jigsaw
Miter saw
How To Build A Gazebo From A Kit
This project is quite complex, but what's impressive is that you can quickly do it in a couple of days with the Gazebo Gazebo/ Pool Covers Kit. You can use this kit to build a gazebo or a pool enclosure. It includes all the pieces and hardware you need to complete your installation. The great thing about it is that you don't have to worry about the wood because they also supply that. You won't have to go out and purchase all the hardware required for this project and the wood of your choice because it is all included in one kit!
Skill level: Intermediate
How To Make A Gazebo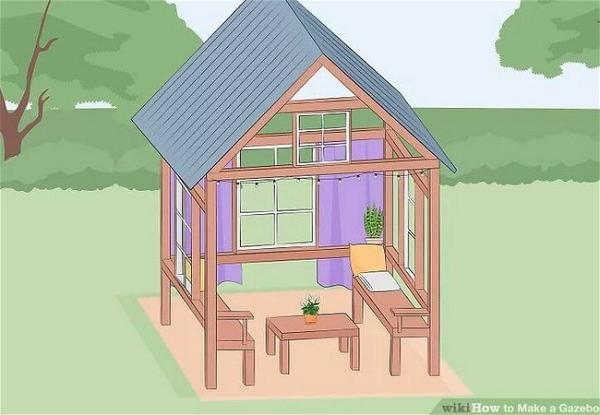 Gazebos are becoming increasingly popular in people's backyards because they add a lot to the look and design of any area but also provide a functional purpose. If you want to know how to make a gazebo and want to build your own for about $300, follow this step-by-step guide, including materials you'll need lists of tools and more. These instructions will teach you how to build a gazebo from scratch that will last for years. One of the best things about having a backyard is that you can do many things there. A backyard gazebo is excellent for hosting barbeques with friends and family, relaxing after work, and enjoying the warm weather.
Skill level: Easy
DIY Gazebo
This DIY rectangular gazebo plan doesn't require a lot of tools or materials. You can do it at home when there is some time, yet it will make your user experience at home more comfortable and enjoyable. The material is a durable polycarbonate hard shell, and the tools are a hacksaw, pencil, tape measure, and framing square. Building a gazebo is not difficult if you follow the plans that are easy to understand and the materials are affordable. This specific gazebo plan can aid you in your building process, or you can use it as one of your references in creating a gazebo for your backyard or backyard. You will take the same materials and size based on your design.
Skill level: Simple
DIY Backyard Gazebo For $500
Build your DIY backyard gazebo in one weekend. The cost to build this gazebo is $500, which is a fair price compared to the amount you can spend on the exact size when buying it online. It costs more than $10,000 for a square or rectangular-shaped gazebo. It took eight different tools to complete this project, yet the outcome was better than expected. Here is a complete DIY guide on building this beautiful yet straightforward DIY backyard gazebo. This one has a wooden roof and lattice walls, making it look like a wooden structure. It's simple and easy to build.
Skill level: Beginner
DIY Square Gazebo Plans
A gazebo is a freestanding wooden structure built on the ground, providing an overhead covering or canopy. The roof is usually supported by concrete, metal, or timber posts. There are many ways to enjoy the comfort of a pavilion. Whether you use it as a beautiful arbor or planter, or whether you use it as an extension of your home and surrounding gardens, you can have all of this with this DIY Square Gazebo plan. Here are the best DIY Square Gazebo Plans that will assist you in making your gazebo. You can build a gazebo to match your backyard's atmosphere with the right tools, materials, and knowledge! This is the best place to be if you want to find the right woodworking plan for the pavilion.
Skill level: Beginner
You can also see: DIY Pergola Plans 
Free Gazebo Plans
Everybody can not afford to pay for a gazebo build, so some decide to come up with their designs. They tend to make a mistake that they only try it themselves, as they are unaware that it requires a great deal of hard work and time. If you are also one of them, worry no more because here's a free step-by-step gazebo building plan that will help you build your gazebo. These plans are unique because the pavilion is large enough for a picnic table and other outdoor seating arrangements depending on the number of people you want to seat. Building this simple picnic pavilion is an easy project that most …
Skill level: Beginner
DIY Gazebo Fire Pit Swingset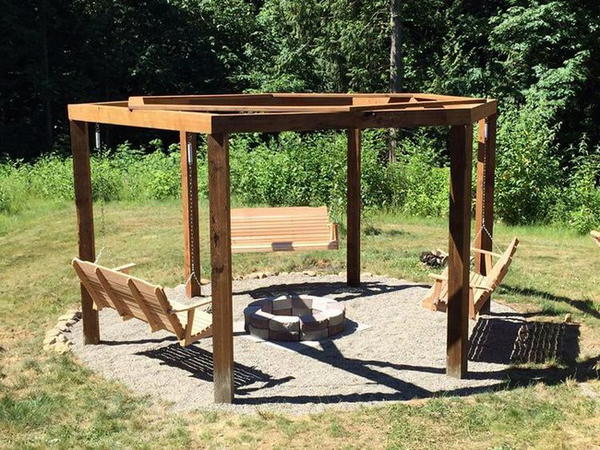 Adults can use this DIY gazebo build for a cozy night by the fire or for children as a swing set. The creator used about 16 bags of quickset concrete to reinforce the wood frames onto the ground, and they make sure you know how much they paid for it! Enough space for some adults to fit and have a small gathering, or if you choose to use it as a swing set, place exterior grade rope between the top of the pavilion and the tree branch above. This project can be built quickly and comes with an awesome fire pit if you need to stay warm on those chilly nights. It is a great project and can be built on a weekend; remember to build it with friends and family.
Skill level: Easy
DIY Rectangular Gazebo Plans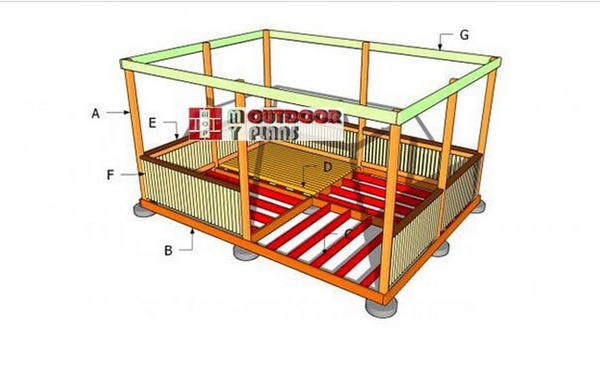 DIY Rectangular Gazebo Plans is one of the simplest and straightforward ways to build an inexpensive canopy. It took us a total of 38 minutes to finish the process of putting together the whole project, which includes a design you can use for a wide range of purposes that are comfortable and easy on your budget. DIY Gazebo plan is an easy way to add covered outdoor living space to your home. The plans to build this rectangular gazebo are perfect for anyone looking to provide additional living space outdoors. With new construction in mind, you can choose to follow the instructions included with this plan and create a solid wood rectangle or even purchase premade wood cutouts to create a fabulous rectangular gazebo.
Skill level: Simple
See also:  DIY Outdoor Kitchen Plans
How To Build A Gazebo
Garden gazebos make for a comfortable place to relax in the shade with a good book and a cooling drink. This project is a fundamental build. However, the creator makes it an exciting and easy process to follow. If you like, you can place some colored glass or plastic sheeting over each of the gaps in the wood. This DIY project is an excellent guide to building an outdoor pavilion out of wood. The primary purpose of the pavilion is to provide a quiet and peaceful retreat outside of your home. Once you learn how to build one, you will be able to have a nice relaxing place on your patio.
Skill level: Beginner
DIY Garden Gazebo
Are you looking to build your gazebo? Could you do it now with this excellent guide? The DIY garden gazebo is one of the best buildings in the world. You can quickly build your DIY garden gazebo with a few simple materials. Save thousands of dollars on materials and bring the joys of building, furniture making, and home improvement to your life. This project took about a few days to complete and looks fantastic, but consider adding even more comfort and wiring for string lights if you have more time! This project will become a favorite place for reading, relaxing, or eating lunch. Here, you can watch the sunset and stars and read a book. It's like your own backyard oasis!
Skill level: Simple
DIY Screened Gazebo Plans
If you've ever dreamt of having a screened gazebo in your backyard, this DIY gazebo tutorial is not something to miss. This particular pavilion has a frame made entirely from wood, and it's straightforward to build. Screened gazebo plans look simple to build, and the materials for this project are very affordable. If you are looking for an outdoor living space, the screened pavilion would be an excellent addition to your property. You can plan this project on the weekend or on a holiday or vacation. It is a great project to do with your family, and it will protect you from the sun and bugs.
Skill level: Beginner
13. DIY Gazebo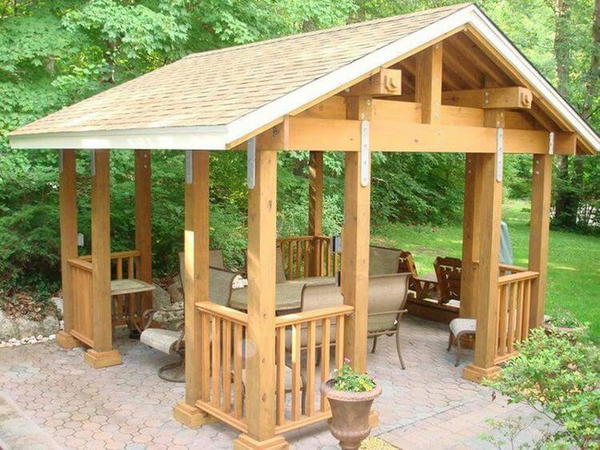 Are you ready to build a screened gazebo with privacy walls and matching window panels? This one differs from others you may have seen because it has no center post. It has no exterior or interior posts whatsoever! The primary support for the roof comes from the corner rafters, which are joined to the outside wallboards. The rest of the rafters are cut loose and do not touch the inside walls. The roof boards are hung from the rafters on brackets making this a light and simple structure. This is a trendy design in Italy, where space is premium in many areas. There will be a lot of cutting and drilling.
Skill level: Excellent
See also: 25 DIY Outdoor Chair Plans
DIY Steel Gazebo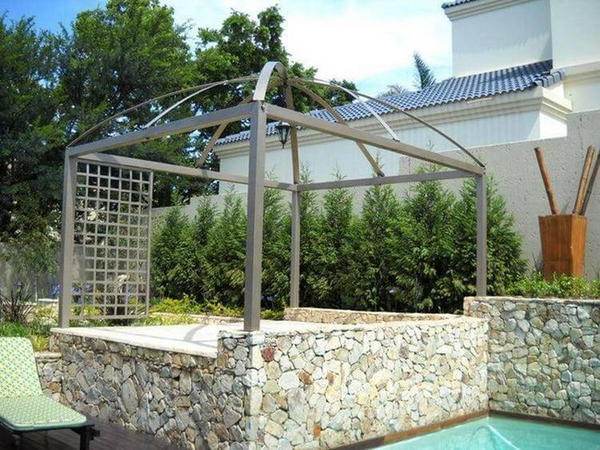 The concept of the project is that your steel pavilion is supported by a small pool, which makes it unique because you will easily be able to adjust its height to fit the water level. Perhaps you wish to enjoy it by drinking a glass at night, or when you have your private party on the weekends. You will need a helping hand from someone who knows carpentry works and a sturdy measurement. After that, you need to follow the steps to get started on the DIY of your steel gazebo kit. What is fantastic about this project is that it was completed on a tight budget, and the DIYer used readily available materials.
Skill level: Easy
DIY Backyard Gazebo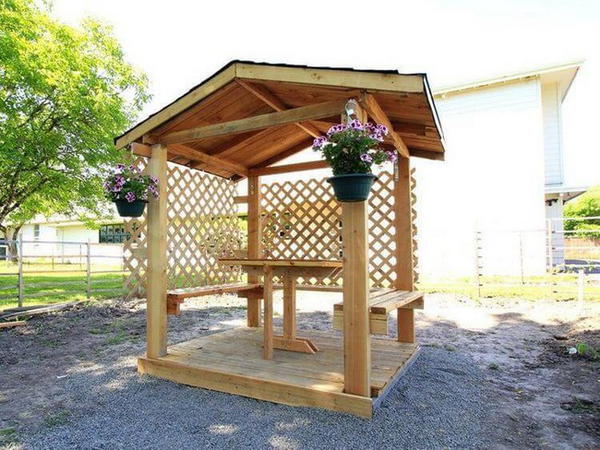 This DIY How to build a backyard gazebo is perfect for any homeowner looking to spruce up their backyard. This design and concept build is intelligent but straightforward, as you can use scrap wood already on hand to build this project. The DIY gazebo build is an excellent way to update your backyard without spending thousands of dollars. The first step is deciding on the perfect place for your gazebo, so it will be a focal point and have optimal sun exposure. Then you are left with gathering your tools and materials to begin building one of the most relaxing spots in your backyard. It's not hard to do at all, and it even if you don't have any experience, it's not hard to make one.
Skill level: Simple
DIY Free Gazebo Plans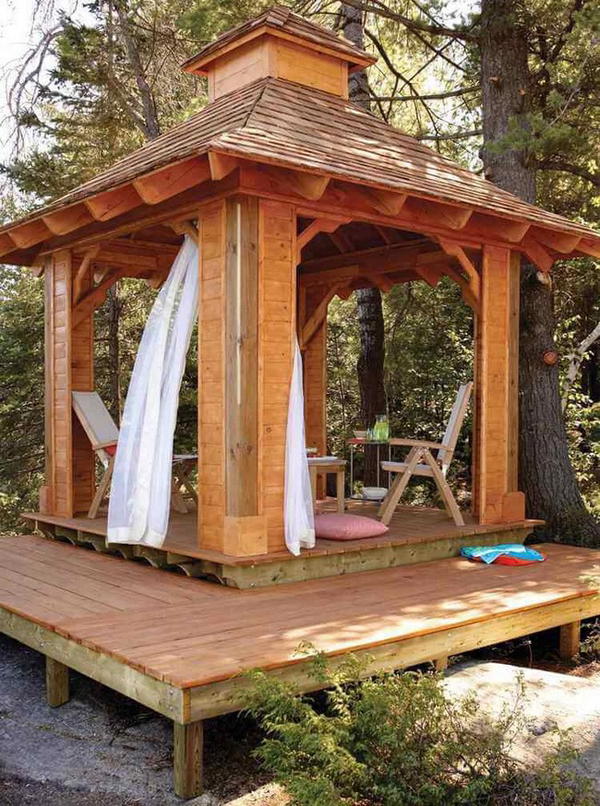 Enjoy your private backyard retreat with the DIY free gazebo plans. The plans explain building an open-air gazebo using cedar fence pickets for a cage-like exterior, making it perfect for outdoor gatherings and family fun. This FREE woodworking project is about gazebo plans. If you want to add a summer room in your yard to enjoy your meals outside or catch up on some fresh air, then this project is just for you. Follow the instructions and build your own DIY free gazebo plans to enjoy your summer days. This DIY project will allow you to build your very own gazebo. This gazebo will be ideal if you need a place to relax, read and watch TV, or even have a small party outdoors.
Skill level: Attractive
DIY Gazebo Plans Free
If you are looking for a way to get the most relaxing time at your home, then build a gazebo! It doesn't cost much, and you can complete it in about three hours with just a few simple materials. It's simple to build and doesn't cost much money at all. It's perfect if you are an amateur who has had no experience in carpentry. There are free plans for building a gazebo and inexpensive and straightforward construction with step-by-step instructions. A gazebo is a classical garden structure that consists of a roofed structure supported by columns or pillars. It can be used for relaxation time outdoors or protection from the sun, rai,n, and wind. Build your backyard gazebo today!
Skill level: Beginner
Flat Roof Gazebo DIY
If you want to make a waterproof gazebo, this project is just for you. Gazebos are good additions to the garden, but they are good to use even during bad weather; you can always make a pavilion out of wood or even with hardened concrete, but this is quite difficult and costly. It's better to build one with a roof made of wood, and this way, if it rains for a few days, the roof will not get wet. With a flat roof type, you might need some extra hands to help you make it. It provides shade from the sun and rain, making it a nice place to relax. The Flat Roof Gazebo DIY gives homeowners easy access to building their gazebo.
Skill level: Easy
12
x

14 Gazebo Installation

This DIY project is about installing a gazebo, it's for the beginners, but it's not just for beginners! This is the perfect gazebo installation, whether you are a beginner or an expert. Gazebos are fun and practical; who doesn't love a nice shaded spot to relax in on those hot sunny days? This tutorial will show you to build a gazebo in a day or two if you're not too hurry. The pavilion can fit nicely in just about any space, but these helpful tips & tricks. With only a few tools needed, you can complete your DIY gazebo on the weekend!

Skill level: Beginner
Gazebo Build DIY
You need a medium-sized chainsaw with good battery life, and you need to do some work out in the yard. You can use tools such as green works 80 volts chainsaw or similar things. You're going to cut some trees, mount them to something like pallets and construct a gazebo. You can use it not just for shade but also for other activities that you may have planned in your backyard. This project is straightforward at home, but it could be a disaster if done wrong. Gazebos are different from other small cabins and are placed in a slightly elevated position so that the view can be breathtaking.
Skill level: Intermediate
DIY Gazebo From Satellite Dish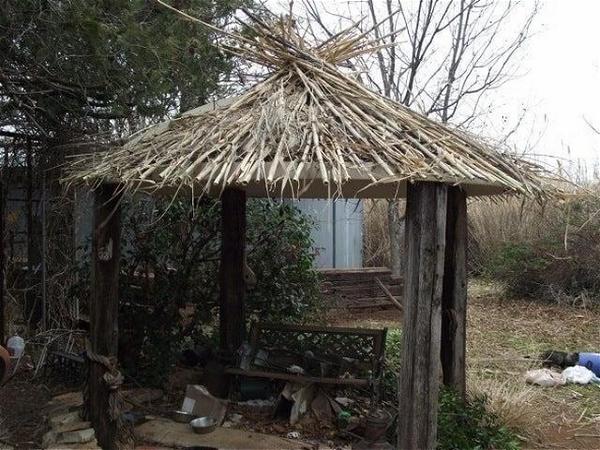 A gazebo is a welcome addition to any home. It's a place to gather, an extra room to escape the sun or rain, or even an art project. Here is a step-by-step video tutorial on how you can be made your gazebo, which requires no expertise.    The best part is that you can leave your gazebo rough or smooth the surface to paint it. Suppose you are on a lake, or somewhere like that, where there are excessive bugs and whatnot, that you sprayed the dish with repellent and let it sit for a few days. It might look hard, but it is straightforward to build.
Skill level: Easy
How To Build A Gazebo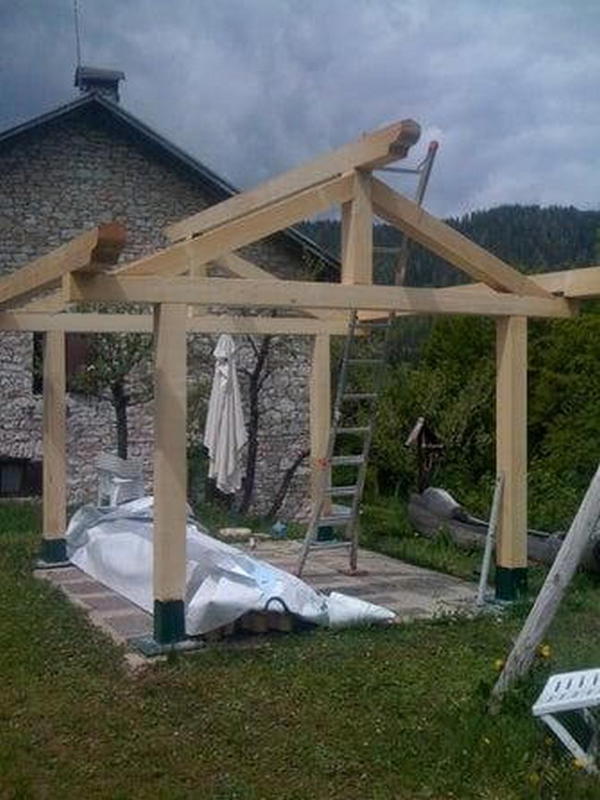 The gazebo is a small pavilion that you build on the side of the building or in the courtyard. Usually, this kind of structure supports with wood and is surrounded by wood planks. You can use it to place tables and chairs, shelter plants like flowers or trees, or as a sunshade when there is much sunshine. You can also use it as your secret point in hiding and seeking with your kids. The main parts of the pavilion are four sidewalls, a roof, and a base. This construction includes all the essential components, so if you want to put up a canopy, you can build this frame and add on those components in your leisure time.
Skill level: Simple
DIY Gazebo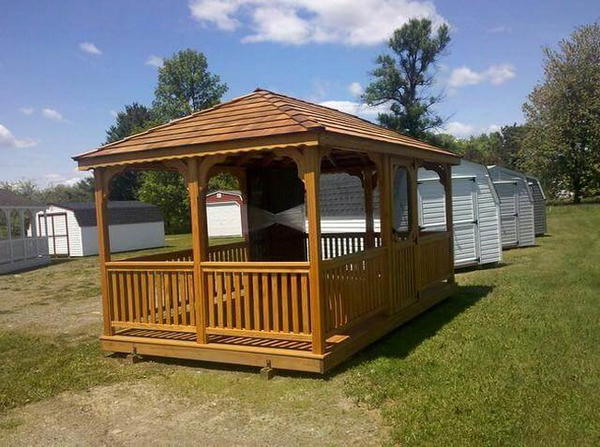 A gazebo is an excellent building for any backyard, offering shade and a space for relaxation. Use this build as a starting point for your design. The size is perfect for a small family or four couples who want to spend the weekend in the yard together. There's plenty of space between each post, so they won't have any trouble taking cover behind a post when they're not playing, even if you have kids running around. It's also not so expensive to build, you can do this on your budget, but it takes time and may require more than one day for assembly + painting.
Skill level: Excellent
DIY Gazebo Plans
This pavilion is grand for small spaces in your backyard, patio, or pool area. The design makes it perfect as an addition to any home at a fraction of the cost of purchasing an expensive pre-made structure. The instructions are designed with a basic knowledge of tools and building skills. It comes complete with a detailed set of plans to make it easy to build and save you money on labor costs. These DIY Gazebo Plans are easy to understand and can be an excellent project for beginners. With this set of plans, you will get detailed instructions on building this gazebo structure that you can use as an outdoor eating area or even a small backyard office.
Skill level: Beginners
DIY Pallet Gazebo
Build a pallet gazebo and enjoy the comfort of your backyard. Gazebos are a great way to add outdoor living space and make the most of the available space in your yard. A pallet gazebo is stylish and convenient for any backyard and takes less than one day to build. The pavilion is made from pallets, which you can easily customize to suit your needs. For example, if you want to place an outdoor shower in the center, you can change it. Building a pallet gazebo is very simple and easy. You only need to use a few tools like an ax, hammer, saw, nails, and screwdriver.
Skill level: Easy
Conclusion:
Backyard gazebos are an excellent idea for a relaxing spot in your backyard. Many people turn to above-ground pool gazebos because they offer luxury and flexibility without high costs. Gazebos can be placed anywhere in your yard, including near the pool or not. The design is up to you and depends on your needs and wants for the space. Plans for gazebos are challenging to find, though people need them all the time. One of the reasons it is hard to find free plans for them is that there are hundreds of different designs. There is no one way to build a gazebo, just like there is no one way to build a room in your house.