A DIY grill table is an answer for putting your outdoor grill on a pedestal or just wanting to work near it conveniently. A grill table offers you a stable space for preparing food and a place to store tools and other grilling accessories. If you're handy with woodworking and basic carpentry skills, you can build a grill table yourself rather than buy one. It's an easy project that uses off-the-shelf lumber and basic hardware. Here are 20 DIY grill table ideas to help get you inspired to make one of your own. These tables are great for serving and entertaining guests, keeping your grill tools close by, and freeing up your backyard space by combining two valuable items.

Grilled food is one of the most versatile foods you can cook during the summertime. There are so many different things that you can prepare by using this cooking technique, and the great thing about it is that it allows you to gather your family and friends around your table for a nice dinner party. To ensure that your dinner will be perfect, you should consider building a grill table for your backyard. These 20 DIY Grill Table Projects are easy to assemble and relatively affordable, as they use wood and other readily available materials. Moreover, you can use these tables to place a grill, store your cooking and grilling utensils, and have a comfortable dining area for your friends and family. These grill tables are also portable to carry all your grilling essentials anywhere you go quickly.
These 20 DIY Grill Table Projects grill table provides all the space you need to keep everything in one place, making your party efficient and fun.
Why You Need a Grill Table
The design of the grill table can be in any form, but its purpose is to give you enough space on which to place your grilling tools and ingredients. Apart from this apparent reason, there are tons of other reasons you need a grill table.
A grill table is an essential addition to your backyard. This is because it comes with the added advantage of having storage space for all those grilling tools that would otherwise be scattered all around your backyard. There are many other reasons why a grill table is a fantastic addition to your backyard, but it's up to you to decide if you want one or not.
It's easy to build a grill table because the instructions are simple. There are many tutorials online that most people use to make grill tables for their homes. However, you have to check out the best construction materials that won't get damaged by fire or smoke from the grill before doing this.
How To Make A DIY Grill Table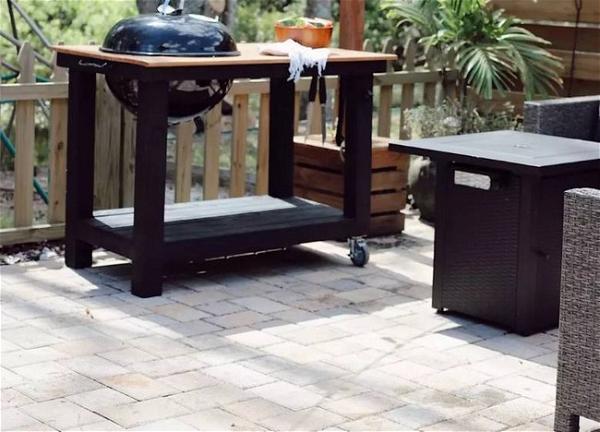 Here's a quick-and-dirty guide to building a DIY Grill Table. This multi-purpose grill table is perfect for the BBQ Chef who wants their tools and food handy. This DIY grill table is designed to keep both front legs the same length and height. This helps add style to your grill table and gives an excellent stylish look to your backyard. Using wheels at the rear legs makes it easy to move them around, even when covered in sand, grass, or snow. This challenging project requires patience, hard work, and attention to detail; you will be proud of the results. The project looks great and has fantastic features.
DIY Kamado Grill Table
The kamado table is an excellent idea for those who love to picnic, barbecue, or enjoy a family dinner outside. This DIY-inspired table is built to withstand daily use, made of lumber, and finished with a Kamado grill. This handy outdoor woodworking project can be used as a barbeque, smoke pit, and smoker out in the yard or as a picnic table when entertaining guests. Grab all the materials you need to make your own and create a functional and visually appealing table. It doesn't take much of your time, and it's a great way to keep your food warm and, at the same time, provide enough space for your friends and family to gather around.
DIY Weber Grill Table
Do you know what the advantages of owning a Weber grill only mean? The grill must have a table to be put on top. If you want to get the most out of your Weber grill, you need to have this DIY table. With minimal effort and cheap materials found in hardware stores and home improvement centers, a new table for your kitchen will never be so easy again! You can use the DIY project to customize it to your personal preference. When building the table, the most important thing is to make sure the grill is stable enough to be positioned close to the tabletop's surface.
Bring the outdoor kitchen right inside your backyard with this awesome DIY picnic table with a grill. This kit is easy to assemble and convenient to install. With the DIY picnic table with a built-in grill, you can add versatility to your outdoor area with a picnic table and a working grill. So you can enjoy grilling food for your entire family or friends. It has two large grilling surfaces to help you want more grilled food and have more fun. You will not regret that bit of money allocated for this table.
How To Build A Grill Table
A wooden grill table is an excellent addition to any patio or backyard. It makes it easy to cook food on your grill, and if you have a small space for grilling, this table can be the perfect solution. This outdoor grill table is entirely customizable. Add a storage drawer for cutlery and tools, or leave the space empty for an easy surface to set things on. After building your basic grill table, you can add features such as a shelf to store cooking supplies and a bin for hot coals. This table is made from natural pine, so it's sturdy yet inexpensive and beginner-friendly.
How To Build A 22' Weber Kettle Grill Table
Brilliance in design and simplicity in its appearance makes the Weber kettle grill one of the favorites for grillers. If you are looking to build a table to place your kettle grill, this video tutorial will guide you with step-by-step instructions on creating a Weber kettle grill table. With it, you can enjoy your outdoor space year-round. It's an excellent choice for high-use areas like backyards and patios. The hose leg stand is perfect for keeping it off the ground while giving you easy access to add fuel to the bowl or move it.
DIY Grill Table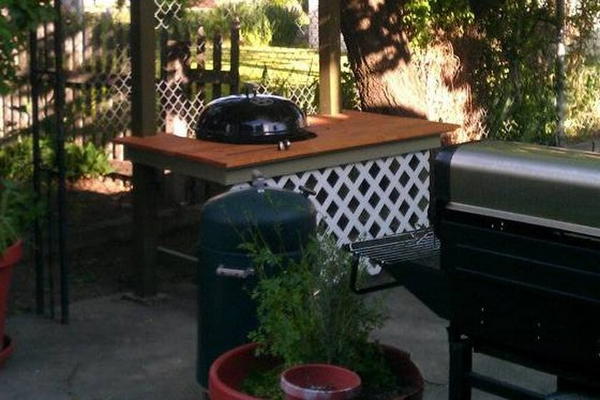 Even though the design is simple, it does not underrate the actual value and allure a DIY grill table brings. And it's so easy to build. You can get started on your DIY grill table project if you have all the necessary materials and tools. And by doing it yourself, you will be able to save quite a lot of money. The design and build of the grill table will create a sense of accomplishment and provide you with a better understanding of how furniture can be made.
DIY Weber Grill Table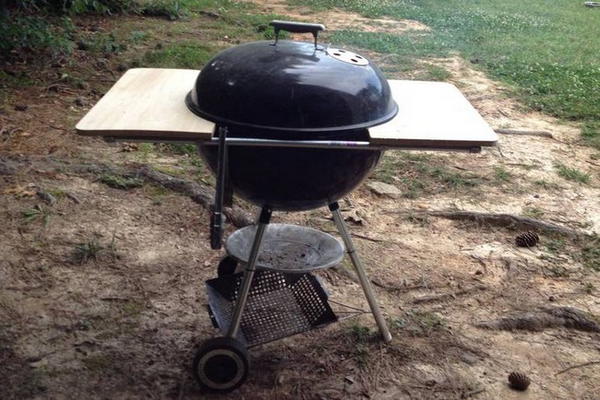 Weber's Grill Table is a classic that has withstood the test of time. It's easy to build and makes grilling for large groups a breeze. In just a few steps, you'll have assembled your grill table from simple materials that can be found at any hardware store. Use this great indoor or outdoor table as a serving area or extra counter space. You can even roll it into your garage or shed when the weather is terrible or you're done grilling for the season. You will also love its appearance since the wood gives it a fancy finish.
DIY Grill Side Tables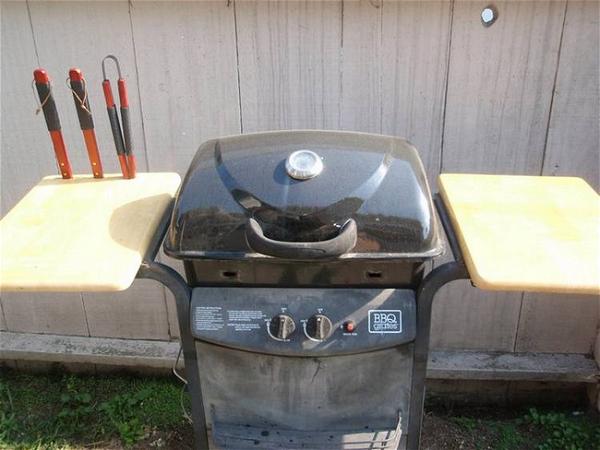 Grills are great for barbecuing and cooking ribs, burgers, hot dogs, and other favorites. After grilling, the side tables make it easy to stack your food in preparation for serving. You can even design these side tables to match your home's existing decor. Make a segue from the kitchen to your backyard with these DIY Grill Side Tables. Made from wood from a broken grill, with a few tools and some paint, they're simple to make and sturdy enough to hold the likes of veggies and condiments.
Big Green Egg And Gas Grill Table DIY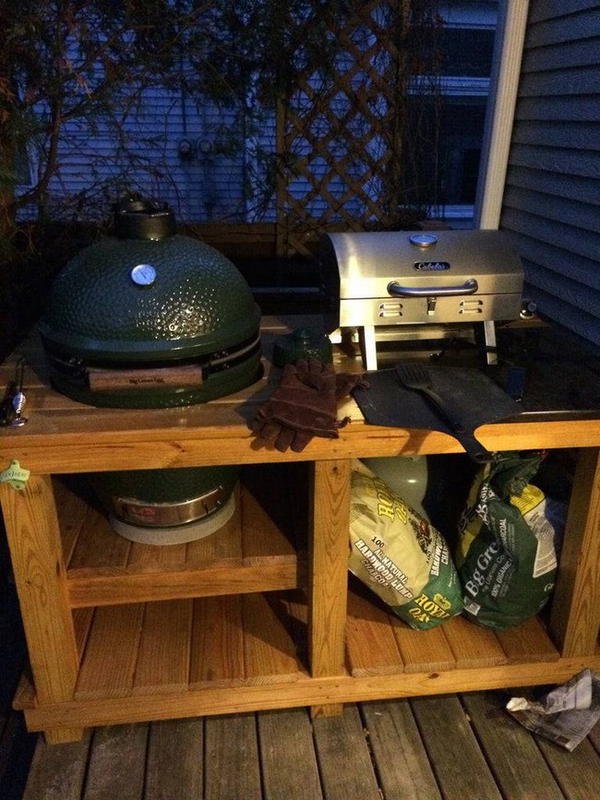 A beautiful cast iron and wood table that sits in front of your Big Green Egg or any other propane-driven grill. This table will look great at your next cookout with the family and friends by providing a nice surface to set food, drinks, and condiments. The table can also hold other types of grills or cooking equipment. It also has built-in propane tanks and shelves for tools, grilling accessories, and much-needed utensils. There is not too much to make this table, but you should be familiar with a few woodworking techniques before starting, such as mortise and tenon joints.
DIY Outdoor Grill Table
Do you love to have an outdoor grill table but have no idea how to build it? This DIY outdoor grill table is handmade using high-grade materials. It is perfect for your kitchen or patio. This DIY project helps you create the right place to make you feel comfortable and will impress others easily. This video will show you a step-by-step process of designing and building this simple outdoor grill table. It only takes less than 10 minutes.
How To Make A Rollable Outdoor Grill Table
Protect your floor or patio from grease and residue that grilled foods can produce with this rollable grill table. Its surface makes cleanup easy by directing the juices to an attached drip tray. The portable grill table is well ventilated and provides plenty of working room, making it ideal for outdoor cooking while also freeing up space in the kitchen. This grill table is also great as a serving table, prep table, and barbecue station. They're made of high-quality materials that ensure durability and long-lasting use. This outdoor grill table is convenient and easy to use.
DIY BBQ Table
A DIY barbecue table is easily created from everyday items you would find around your home, plus one special ingredient! It's a great project that can be completed in less than a day. Before you begin any woodworking project, think about your safety. If you are working with tools while creating the DIY woodworking table, learn their proper use, techniques, and safety precautions. To keep injury at bay and get the best results on your DIY project, wear safety goggles and make sure you have a properly lit workspace with adequate ventilation. Always wear ear protection when creating your DIY barbecue table as well. Lastly, have fun and enjoy your free time!
DIY BBQ Table From Wood And Concrete
This DIY project depicts how to build an inexpensive grill table from wood and concrete. This DIY barbecue table is one of the best and most convenient tables that you can have. It has a lot of benefits that you will enjoy. It is easy to clean and maintain because it does not cost much. You do not need to spend a lot of money on this project. Just ensure that you use all the necessary tools available in your workshop, materials from the local store, and get all the required skills from the internet. Inspirational Wooden Barbecue Table
DIY Grill Table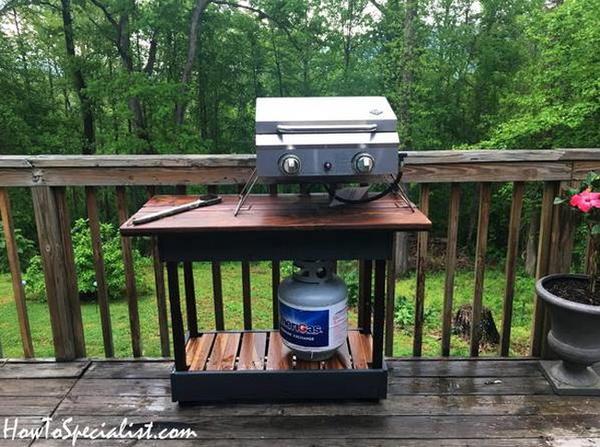 DIY to your heart's content. This attention-getting grill table is the perfect backyard makeover project for any aspiring DIY enthusiasts. Built with steel brackets on the sides and lumber as the tabletop, bottom decking, and legs, this adjustable grill table is sturdy, efficient, and built to last. This excellent grill table is specially made for those who have a tiny patio, balcony, or backyard. It has all the significant aspects of any large grill table while small enough to fit on your porch, balcony, or garage.
DIY Grill Table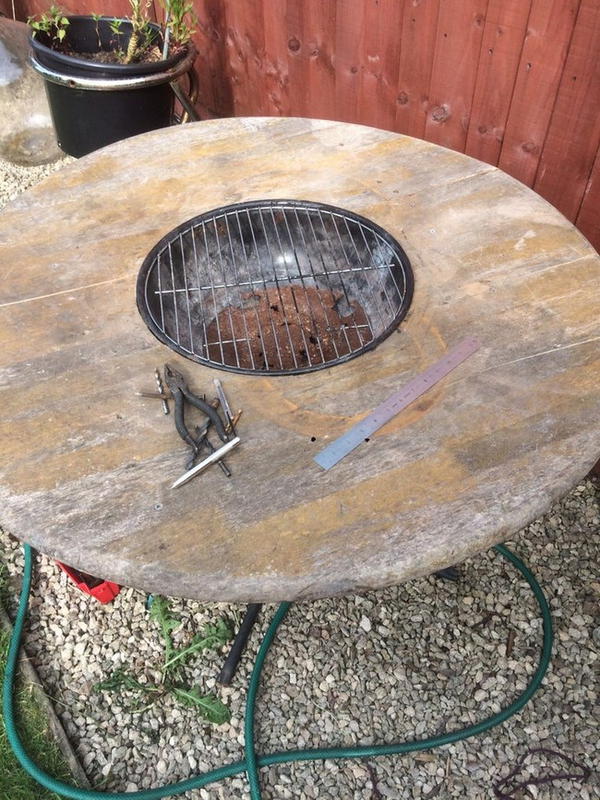 If you have a tabletop in good shape, this project is ideal for getting a new use of it with simple, easy, and fast steps. Making your BBQ table was no easier than making your grill using a DIY grill table. And, you won't find a cozy and more durable place to spend your family BBQ moments than on a DIY grill table. With little work, you get a DIY grill table and a place to cook outside while enjoying the sun or the company of your family. It's straightforward to make and doesn't require a lot of skills. The final product looks fantastic, and it would look great in any outdoor space.
BBQ Table DIY
Looking for a way to host fancy barbecues or plan community events? Then building your barbecue table made of wood would be the right idea. This is also an excellent DIY project that you can do with your family. The good thing about this idea is that it's not expensive and you don't need a professional to build it. It is handy whether you're firing up the grill on the patio or at a friend's house. This DIY project is easy to make, and it's durable to stand up to years of use.
How To Build A Grill And BBQ Table
Are you bored with grilling on the ground or on an old grill? Make a simple table from wood that can be used to grill in between more enormous barbecues. It is designed to hold daily items that are needed for a barbecue. Sturdy and straightforward, this barbecue table compliments my outdoor bar area. This project uses fancy woods like ash and bird's eye maple but can quickly be done in various wood types depending on your tastes, budget, and availability. Whether sunny or cold outside, you can enjoy your meal with friends in warm weather!
Kettle BBQ Pallet Side Table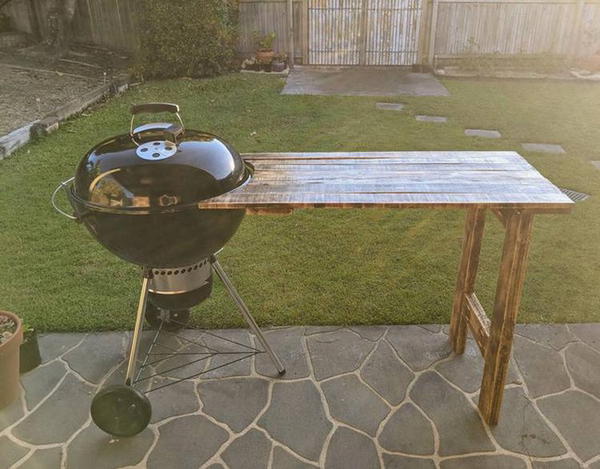 Now's your chance to repurpose that old grill you've got kicking around. Turn your backyard into the ultimate patio perfect for year-round grilling! Take your grill's convenience and style to the next level with a Kettle BBQ Pallet Side Table. The simple design makes this a straightforward build, especially considering the significant impact on your grilling setup. This project is built from wood scraps and leftover hinges that would have otherwise been thrown away. The resulting piece looks incredible, but it's also totally functional—perfect for outdoor cooking.
DIY Grilling Table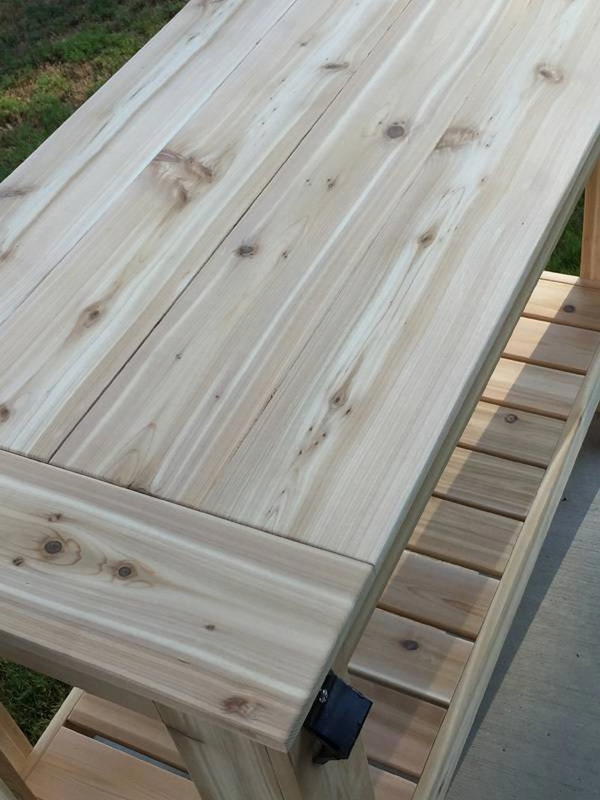 This DIY grill table is an excellent way to keep your food from falling into the coals, from messy grease spattering across the top of the grill, or drippings falling onto the ground. This grill table is not difficult to make. The tabletop consists of one side with a single hole for a gas line and another side with multiple holes for grilling utensils. This table will serve as your outdoor decoration and grill station simultaneously. The best part of it all is that you can customize your table the way you want it to.