Are you tired of sifting through your cabinets whenever it is time to get something? Are you sick and tired of having to buy overpriced storage cabinets? If so, then why not try making one on your own? Below are some nifty storage cabinets that will have you marveling at their craftsmanship. Building your storage cabinet will not just be easy but also cost-effective. The best thing is that you can easily customize the design according to how you want it. I'm excited to present 25 DIY storage cabinet plans. They can offer just the solution you need for a stuffy closet, storeroom, basement, shed or garage.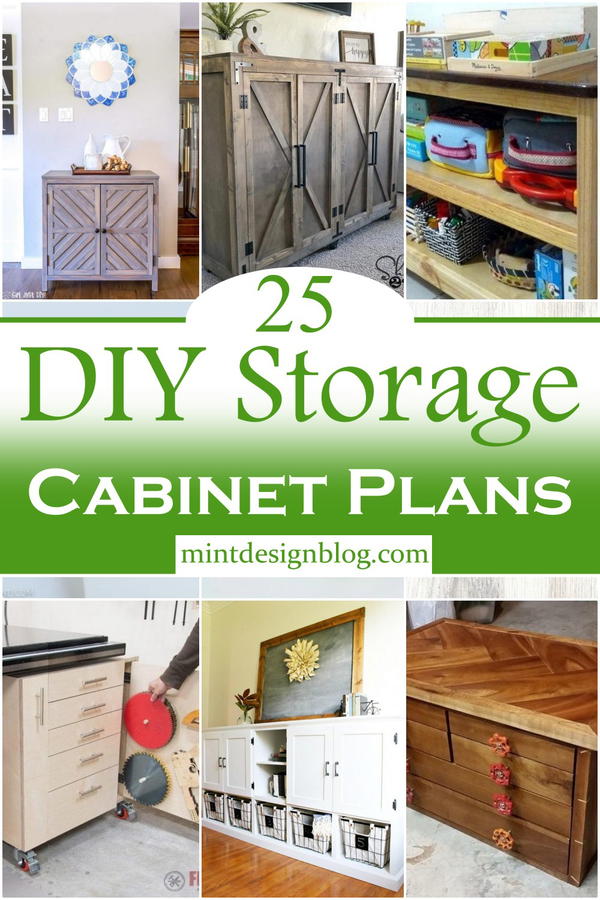 Having the right storage cabinet in your room will keep your messy look to a minimum. These 25 DIY plans are easy to make and come in various sizes and shapes. They include pull-out drawers, shelves, a printer stand, and even a six-door mini cabinet with all modern features on the top. Each drawer has its dividers to make every inch of this cabinet functional. These storage ideas are well-thought-out and represent items that will last through many years of use. When it comes to creating storage or shelving areas in your home, being creative is key to finding the perfect solution for your space.
These 25 DIY Storage Cabinet Plans are to build unique storage cabinets that will help you easily organize your home, garage, basement, or shed.
You Can See; 25 DIY Kitchen Cabinet Ideas
Materials and Tools:
Plywood
Table saw
circular saw
straight edge guide
Jigsaw
Drill
screwdriver bit
Paintbrush
paint or stain
DIY Wood Storage Cabinet
A DIY storage cabinet is an excellent addition to any small to medium-sized space. It doesn't take up too much room with a broad base and open design. Once assembled, you'll have a beautiful piece of furniture that will last for years. All the necessary materials and instructions are included; there's no need for professional assistance or expensive tools. This wood storage cabinet is ideal for storing your tools and other necessities. It is so easy to make, and it is a great gift idea since you can customize it any way you like. Choose the best pieces of wood for the job, and then let your imagination take over.
DIY Garage Cabinet
The DIY Garage Cabinet is one of those Storage Cabinets that is a gem for people who like to do projects. Mounted on the wall, it has a sliding door. The frame is built from plywood, wood glue, pocket hole screws, and a drill. It also has several drawers and shelves that you can use to keep your tools organized. This storage cabinet will also give an additional work surface in the garage or workshop room where you installed it. This DIY garage cabinet project is perfect for a beginner. It is easy to do and budget-friendly too! The tutorial will teach you valuable tips and tricks on making your cabinet step-by-step. The project has simple measurements that anyone can follow.
How To Make A Tall Storage Cabinet
The DIY Garage Cabinet is one of those Storage Cabinets that is a gem for people who like to do projects. Mounted on the wall, it has a sliding door. The frame is built from plywood, wood glue, pocket hole screws, and a drill. It also has several drawers and shelves that you can use to keep your tools organized. This storage cabinet will also give an additional work surface in the garage or workshop room where you installed it. This DIY garage cabinet project is perfect for a beginner. It is easy to do and budget-friendly too! The tutorial will teach you valuable tips and tricks on making your cabinet step-by-step. The project has simple measurements that anyone can follow.
DIY Rolling Storage Cabinet
This DIY cabinet is fast and easy to make using pre-cut materials and looks great when it's finished. Although it looks complex, the project only involves essential woodworking tools. The final result is a sturdy storage solution with an attractive sliding door.No matter how many things you need to organize, this DIY rolling storage cabinet will help keep them neat, and tidyThe DIY rolling storage cabinet is the perfect storage solution for any workshop, garage, basement or playroom. Its simple design requires no instructions (although some are provided if you're stumped) and can be built with a collection of supplies mostly found around your home. The many customization options allow you to build your dream piece, making this cabinet the customizable storage solution for you!
How To Build A Storage Cabinet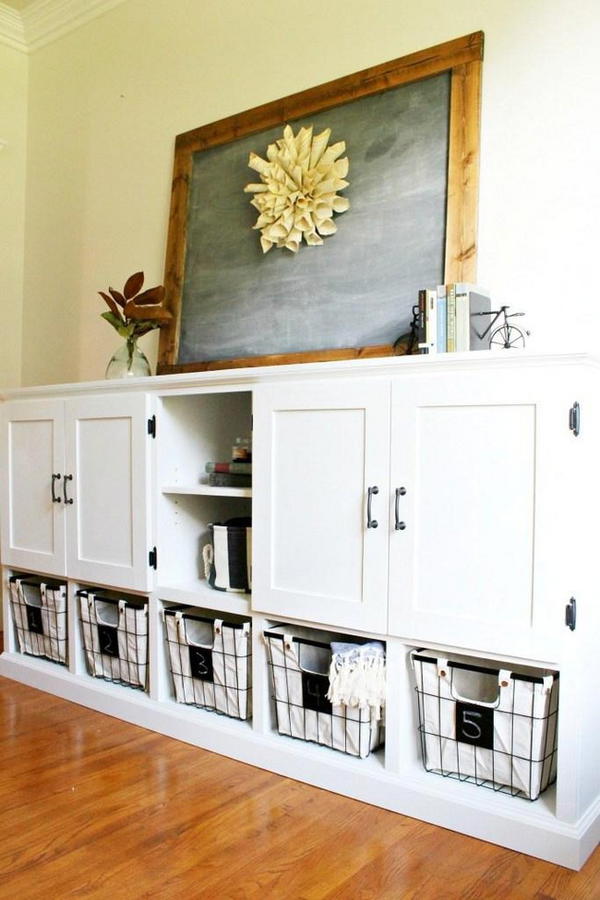 You have items that you can keep in one space under a single name when you have a storage cabinet. This project saves a lot of time as you won't need to go through your whole house to find something. When you build a storage cabinet, you will need some materials and hardware. This guide to building a storage cabinet includes the materials you will need and an explanation of how to make this storage unit. A storage cabinet can make a big difference in a garage. It offers a home for all your tools, allowing you to keep them organized and accessible. Build one today and get it done in just a few hours.
DIY Storage Cabinet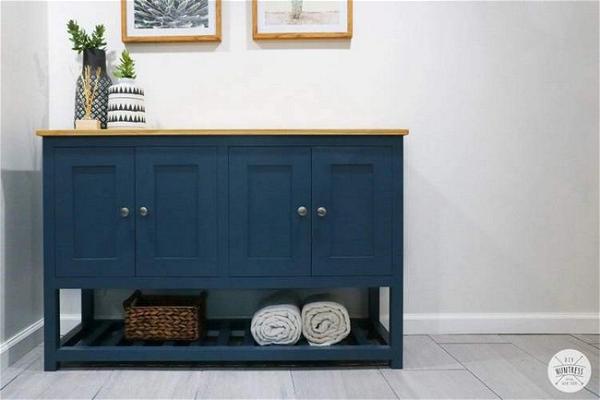 This DIY storage cabinet is made with pocket hole joints hidden inside. It isn't always necessary to build with "proper" joinery. And for some projects, the best method is to keep things simple and robust by using suitable old pocket screws. The features of this project are endless. It can be placed anywhere, used in any room, and you can change the boxes to fit your own needs. If you want taller cube-corner cabinets, those are easy to find at a yard sale or any storage store. You can even find personalized labels with pre-cut holes for screwing into the plywood for labeling.
DIY Farmhouse X Storage Cabinet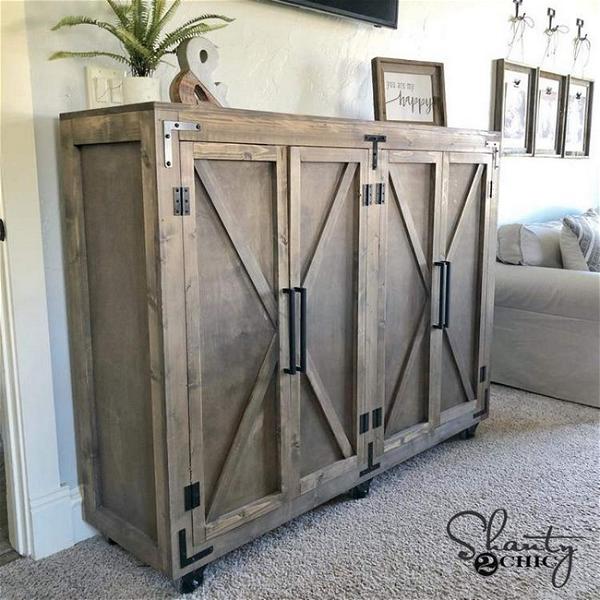 This cabinet will be a great addition to your home.  It has a beautiful rustic look and can be used for any purpose.  It is ideal for storing blankets or towels or even holding towels. This cabinet makes a beautiful DIY farmhouse storage piece. With it being so versatile, it could also be used as a hall table or bathroom vanity and hold toothbrush holders and other accessories. You learn how easy it is to build this project! You can make your very own DIY farmhouse storage cabinet! Building the door requires cutting and sanding a few pieces of wood. Build the door frame, attach the hinges, and do many other steps. You can even choose your paint color for the exterior!
8. DIY Wine Storage Cabinet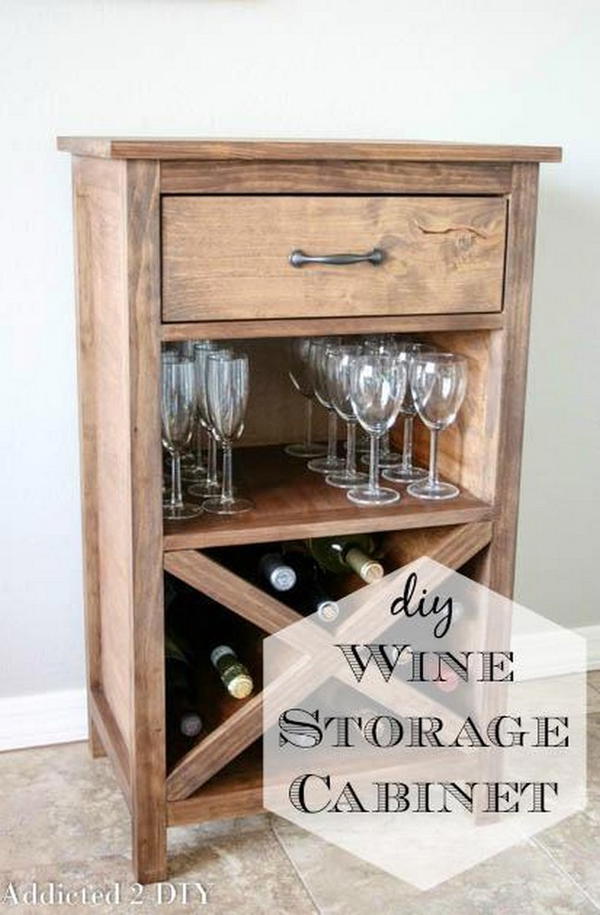 This DIY wine storage cabinet is perfect for any wine enthusiast. A well-made cabinet shows your interest in wine and tells about your attention to detail and creativity. . Use this DIY storage cabinet plan and project to build a wine storage cabinet for your home. It requires few materials, and it is an easy project for the weekend. It is a project that you can do yourself. Whether you're hosting a party or just chilling at home with your friends, popping open a bottle of wine will never be more enjoyable than from this handmade cabinet. Stain the DIY Wine Storage Cabinet and place it in the corner of your home. This cabinet is best for keeping all your bottles and other chicken wares in one place.
DIY Simple Storage Cabinet
This storage cabinet is a unique addition to any home. It's built from wood and pre-assembled, so it's easy to follow the steps and create your own. The design is simple yet elegant, and the result is a functional storage space that you can put anywhere in your home. Even You can decorate it with your favorite color to give an additional personal touch or leave it as is. This storage cabinet is so easy and fun to build! It's perfect for a craft room, toy room, or garage! Use it to store your crafting supplies or as a media stand for your TV. Add wheels for convenience, or keep it still.
DIY Pine Cabinet For Storage
Do you have an extra space in your home that could use some storage space? Why not try building your DIY pine cabinet for storage as a simple solution. All you need to do is cut out the side panel and assemble it with screws, add interiors to divide up the cabinet into shelves, then you can install and hang it on the wall. This DIY pine cabinet is elegant and straightforward, plus easy to build. Build this do-it-yourself pine cabinet for storage. It's simple to make with basic woodworking skills. You'll complete this project in a day and add extra shelf space to any room. Build this DIY pine cabinet for storage in your garage, just the right size for most gardening tools.
How To Build A Wardrobe Storage Cabinet
A wardrobe storage cabinet is a quick project that is great for neatly storing clothes and other household items. Building a wardrobe storage cabinet is a significant project, but the result is a valuable piece of furniture. Make this free-standing wardrobe cabinet that adds valuable storage to any room, whether in your bedroom, a spare room, or the laundry. It features ample storage space with a large hanging rod and shelves on the sides and bottom. It has doors you can close when there aren't any items hanging up, and it still provides extra storage if needed.
DIY Storage Cabinet For Clothes
This  DIY storage cabinet for clothes includes an easy-to-follow free plan. It has lots of heavy-duty shelves that will store alot of stuff, and since it's refrigerated, it will help keep the items from spoiling. The free plan also contains detailed step-by-step instructions on making this cabinet inexpensively. The DIY storage cabinet for clothes is a project that anyone can do. The plans need to be drawn to achieve the desired look. To make your life simple, you can use standard tools and simple materials to build the cabinet. This Free DIY Project idea will help you make a budget-friendly storage cabinet for storing clothes at home. You can use it in a few different ways.
DIY Mobile Storage Cabinet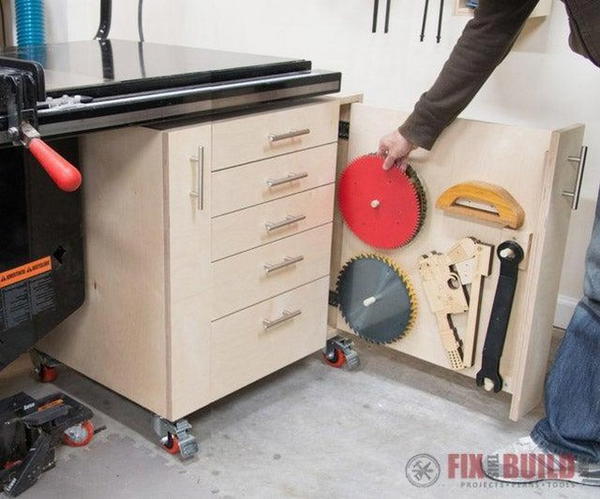 This DIY mobile storage cabinet is best for you if you love to create things. Although it's not complicated to build, the outcome will amaze you. This storage cabinet includes vertical sliding panels and drawers and can be moved conveniently because of its wheels. The finish of this storage cabinet is walnut, so it looks fantastic in any room or space. You can't miss a chance to try your hands at making it. Doing a DIY project on your own does not need to be tedious or difficult. You can build your storage cabinet from scratch with a few tools and ideas. This DIY mobile storage cabinet is highly customizable and is designed to be built according to your specifications. Using a few simple tools and a little effort, you could have your very own customized cabinet that is mobile at the same time.
14. DIY Rolling Storage Cabinet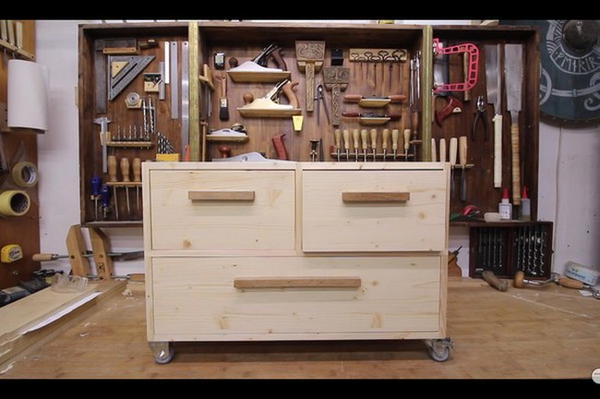 If you have a stack of tools, storing them with the DIY Rolling Storage Cabinet can come in handy. It would help if you had some wood and a screwdriver, which you can modify according to your interest. This DIY Rolling Storage Cabinet is almost like a blank canvas. Its straightforward design allows you to cut wood to your specifications and customize it to your taste. It has three drawers for storing more oversized items, with dovetail joinery providing a sturdier solution that won't wobble or fall off the tracks as much as you open and close them. This DIY woodworking project is so simple that it is perfect for high school students and amateurs. You have to glue and join the wood pieces to make it work. A straightforward design and one you can modify to suit your taste or usage.
DIY Tool Storage Cabinet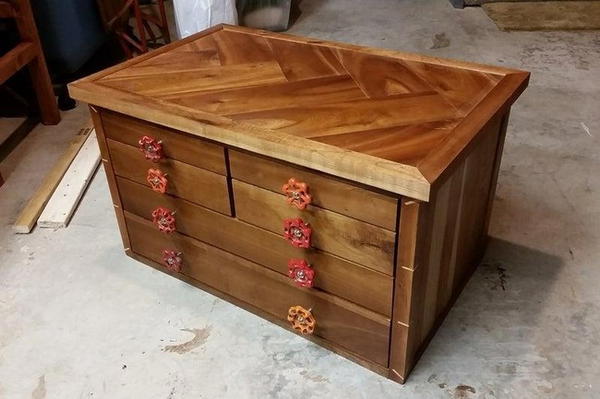 This DIY tool cabinet project is a great, inexpensive way to store your tools and keep them organized. First, check to make sure your tools are in good condition before you begin and figure out what type of storage system will work best for your needs. Finally, follow the step-by-step instructions to build the cabinet yourself and be proud of your DIY project. Every other month check your tool storage for any wear on the tools or changes in the wood and make any necessary adjustments. This tool storage cabinet will help keep your garage space organized and keep your tools handy when you need them most. Choose a design that works for your space, and gather your tools, materials, and wood pieces together to get started.
DIY Kids Storage Cabinet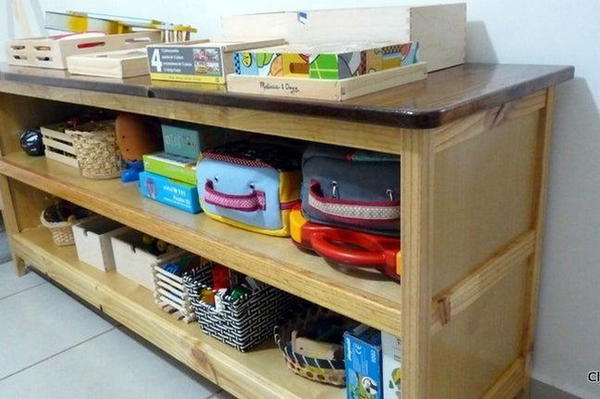 Make your furniture with this DIY kids storage cabinet. It's easy and fun, and you'll feel extra proud of your handmade furniture! It is a beautiful and cute addition to your baby or kids' room. This table is easy to put together in just under an hour and is available in different colors for you to pick from. With this DIY kids storage cabinet, you can revamp any room and put extra keepsakes, small decorative pieces, etc. Your toddler, preschooler, or/and kindergartener would love to keep their toys organized in this DIY project. This storage cabinet is lightweight, easy to assemble, and looks great with any setting. This piece can also double as a place to sit or a small table for storage.
DIY Storage Cabinet
This storage cabinet is perfect for your home or workshop. It can store heavy tools, gardening supplies, or practically anything you need to store in a safe space. It's easy to assemble with reliable screws and glue. The door storage cabinet is a functional and easy solution for storing extra items in small spaces. The best part of this project is that you can build it yourself. When you have a lot of stuff to store but little space to do it in, it's time to build your DIY storage cabinet. This set will give you everything you need to make one for your garage, craft room, or basement. All you need are the materials at your local hardware store. It is a do-it-yourself cabinet project that you can quickly finish in a weekend.
How To Build A Cabinet Box
A cabinet box is a great way to store your closet, bathroom, or kitchen essentials. Building a cabinet is easier than you would think. Cabinet boxes allow for a minimal amount of counter space and keep shelves easy to access. It is often easier to assemble a cabinet with the frame first before adding doors and drawers. Use these step-by-step instructions for building a cabinet box that'll last for years. A cabinet box will help you create your library of books, account ledger, or another project that involves keeping essential documents in a safe place. The box foot provides a means to stack the cabinet boxes vertically, further making a small cabinetry capital expenditure.
DIY Under Stairs Storage Cabinet
Are you looking for some spare storage space in your basement, finished wall area, or foyer? This DIY under the stairs storage cabinet is unique because it doesn't just look amazing - it's also highly functional. It can double as the perfect home for blankets, toys, linens, clean-up supplies, and laundry detergent. To make this DIY understairs storage cabinet, Cut the piece for the drawer divider and cabinet door to fit it into place. This DIY is a relatively easy project that will take you modest time. With the right tools and a little effort, you can create your own storage space under the stairs.
DIY Shoe Storage Bench
With this easy-to-build DIY shoe storage bench, you'll have a new and stylish place to store your footwear. Ideal for the mudroom or entryway, this bench is a beautiful way to organize and store your shoes. This bench is built with sturdy materials for years of functionality. This DIY is a project to make your shoe storage bench. The top of the bench is used to hold shoes. If you run out of room on the bench, you can add another top to give you an extra shelf. There is no need to buy expensive shoe storage furniture when you can make one yourself. This bench is simple to assemble and includes all the instructions you'll need.
DIY Basket Storage Cabinet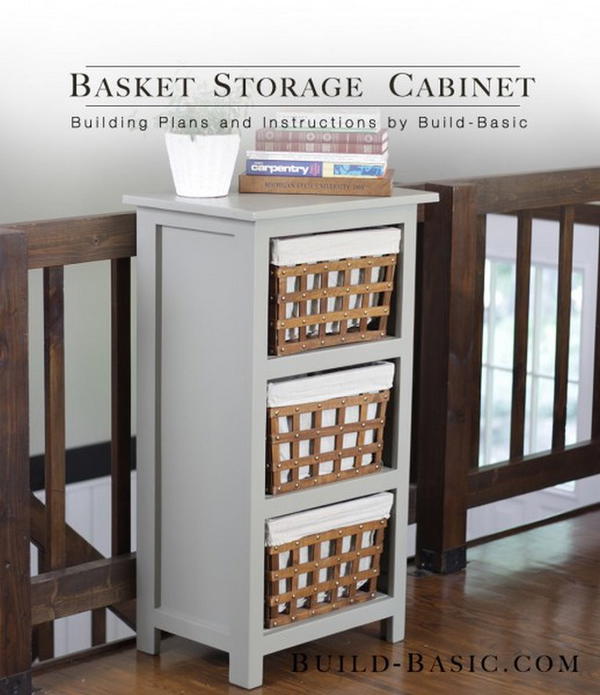 If you need a storage cabinet, then this one is for you. This DIY basket storage cabinet can be built using a simple design and a few tools. Just cut the side panels to the exact size needed, put braces on where you plan to place the baskets, and finally, place your baskets on them. This project is a folding storage cabinet built to fit baskets, which will hold against the wall. This cabinet has a classically designed door, making it an easy match for any country decor. The large baskets that come with it will make this a particular storage area for your child's toys or books.
DIY Tool Storage Cabinets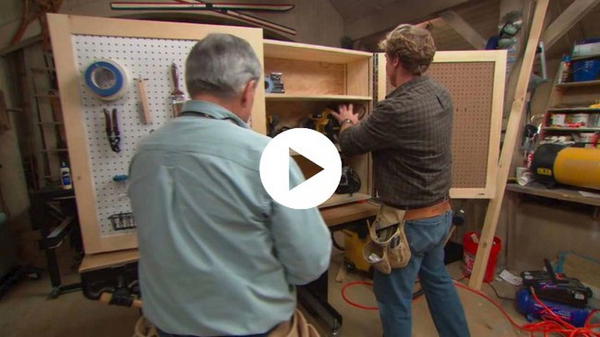 The DIY tool storage cabinets are easy to make if you know the basics of carpentry. This guide is not just about assembling the cabinet, but it also tells you when and how to use each tool, where to find them (if they don't come with your cabinet), and what materials to use during construction. Building this DIY tool storage cabinet is a great way to save the space under your workbench while keeping all of your tools in one place. Making DIY tool storage cabinets can be pretty satisfying, especially if you have adequate knowledge of carpentry. But, before you start building, ensure that you have the right tools and materials for the job.
DIY Chevron Storage Cabinet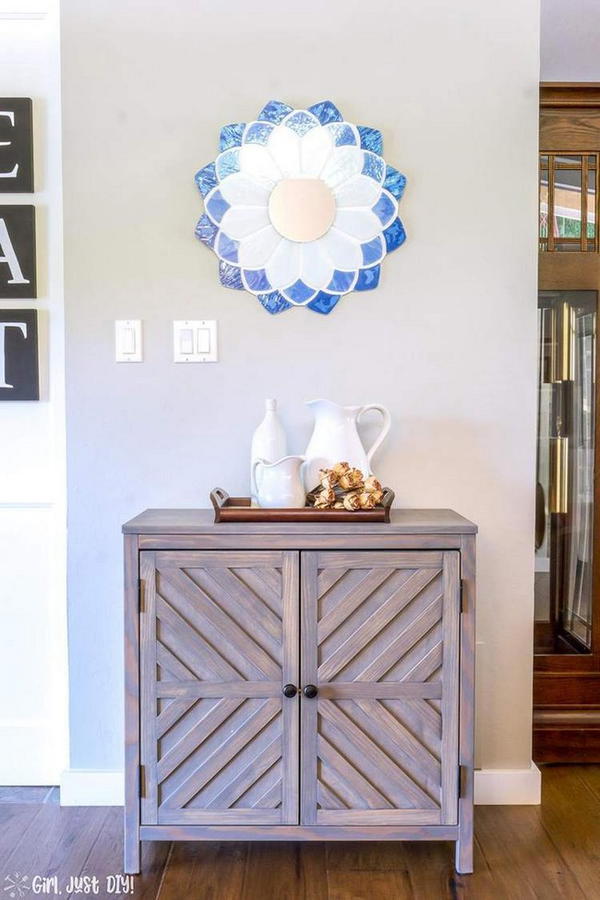 It's time to organize your home with this DIY Chevron Storage Cabinet. It is a great inspiration to create a statement piece. You can paint this storage cabinet any color you like if you like.  You will also need to stain the wood or paint it a solid color before assembling the pieces. It is a fun DIY project that doesn't take long to do, and you get a one-of-a-kind piece to store your things. This storage cabinet is a great DIY project for anyone who wants an easygoing project for their home. You can use essential tools and materials, but you can easily modify them if you have an expensive tool at home.
DIY Storage Cabinet Using Cheap Cubes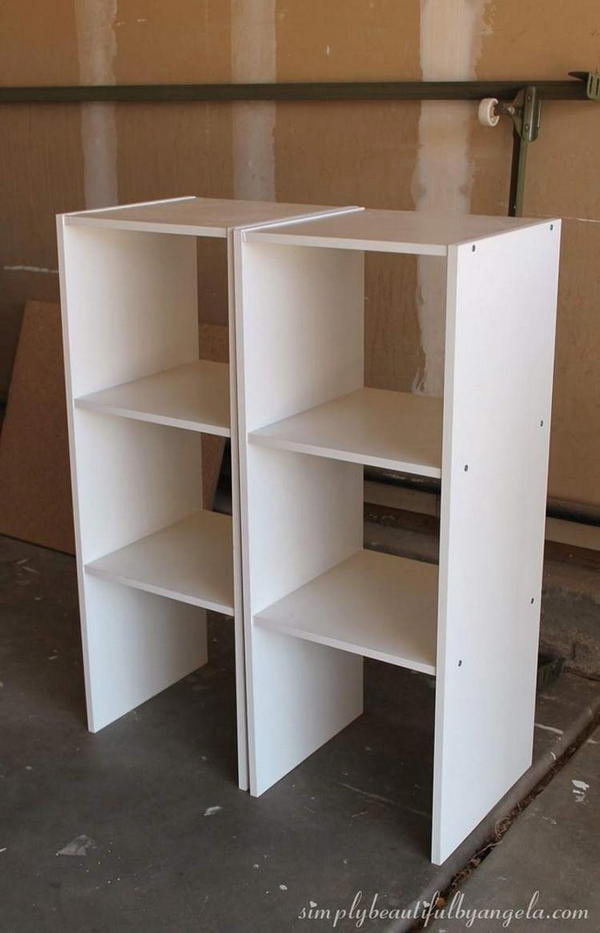 A cabinet is an essential item in your house since it houses the tv and other electronic gadgets. But due to a lack of money to buy a costly storage cabinet, only buy cheap storage cubes and make your storage cabinet. This project is a cheap way to add cabinets to your storage room. It is easy to do, and the parts are not that expensive. This DIY storage cabinet uses inexpensive cubes. This DIY storage cabinet will be a great addition to your home. You can use this for a variety of things, and it is so easy to build that even those who have never tried making anything like this before will be able to do it with ease.
DIY Wall Mounted Storage Cabinet
Making a wall storage unit has never been easier. This storage cabinet makes efficient use of space. It features open shelving, gallon-sized bins, and a separate toolbox. It can be painted to match your decor to add the finishing touches. It's better to plan when you're working in a tight space. Use these simple wall-mounted storage cabinets to create an intelligent, eco-friendly organization that works hard and looks great. With this cabinet, all of your necessities can be neatly hidden, perfectly accessible, and incredibly easy to maintain! It's the best thing that's ever happened to you. This DIY project is not tricky, so that an amateur can do it without hassle.
Conclusion:
These plans for DIY storage cabinets are a great way to save space and add storage to any room. The storage cabinets can be made in various sizes, shapes, and configurations so you can customize them to your specific needs. These woodworking plans are designed to be built by someone with a typical set of tools and the skills of an entry-level woodworker. These storage cabinets feature doors, shelves, and boxes that you can customize to fit nearly any space. Great for garages, basements, sheds, closets, and more.