Whether you're a parent looking for a classic and functional solution or want to make your changing table from scratch, we've got the perfect tutorial. These DIY changing table plans are different and creative, so there's something for everyone. But they can be beneficial for storing diapers, receiving blankets, and other baby essentials. Changing tables is no longer just for the nursery. If you're looking for a unique piece of furniture, consider building your own changing table. There are many different styles and sizes to choose from. You can make it as simple or complex as you'd like, so it fits the needs of your space and family perfectly.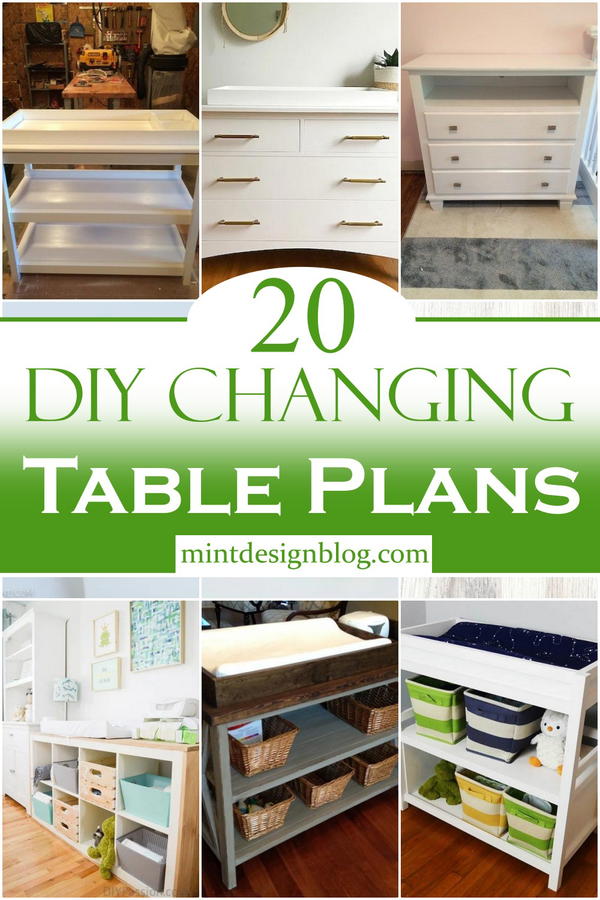 Changing tables is one of the most valuable items in any nursery. A changing table is a great place to keep diapers, wipes, and other supplies you need to change your baby. It's also a great spot to keep a baby when doing other things around the house. Changing tables is also a safe place for babies to play after being changed. The problem with changing tables is that they can be expensive if purchased from a store. They can also be challenging to find in all styles and colors you want. Luckily, plenty of DIY plans will help you save money and make your own custom changing table that perfectly fits your home's decor and style.
Here we've gathered tips and instructions for building various DIY changing table plans that should make the changing process just a little easier.
How To Make A Modern Dresser
If you want to dress up your nursery with a modern changing table station, this tutorial is for you. With the right tools and some DIY skills, you can build this stylish and functional project for your baby's room on the weekend. The DIY Nursery Changing Table Station is a modern baby dresser. This project is a two-in-one crib that can also be converted into a changing table. This designer piece will grow with the baby and look great in any nursery setting. It has three deep drawers and four shallow drawers that are perfect for keeping diapers, clothes, and other baby items organized.
DIY Changing Table With Storage
You can build this DIY changing table with storage in a day or just a weekend. This tutorial is how you'll learn how to create one. Use your imagination and creativity when making your own furniture because it's the best way to make something exactly the way you want it. You don't have to spend too much money on fancy tools or hardwood lumber because these changes won't be noticeable when done on a budget. Besides, home projects are great ways to save money and cut back on spending habits that may not be good for you in the long run.
Modern Changing Table
This DIY modern changing table is perfect for any bedroom with a modern design. The sleek design will add beauty and value to any room while doubling as a console table. Create a custom modern changing table using simple DIY techniques and materials that make you want to build it forever. The minimalist design is stylish and functional, making this piece an excellent addition to any modern nursery. Create a beautiful modern changing table with this DIY Modern Changing Table tutorial. It's minimalistic, one of the times when less is more! This project doubles as a console table with compartments that can efficiently be utilized to give aesthetic value.
DIY Dresser Table Build
This DIY dresser table is an absolute favorite on this list of DIYs. It is a beauty that rivals many store-bought dresser tables, and the best part about it is that you can customize the color, paint, and drawer knobs to suit your interior decor and personal taste by simply painting it. Building this DIY dresser table requires a lot of steps and materials, but in the end, you'll be glad you did it. Making your own dresser table is a fun project that can quickly turn into a weekend project. You can create one as long as you have basic carpentry skills, some time, and furniture materials. If you have drawers or cabinets that are not in use anymore, think about repurposing them into this DIY dresser table.
Modern Nursery Changing Table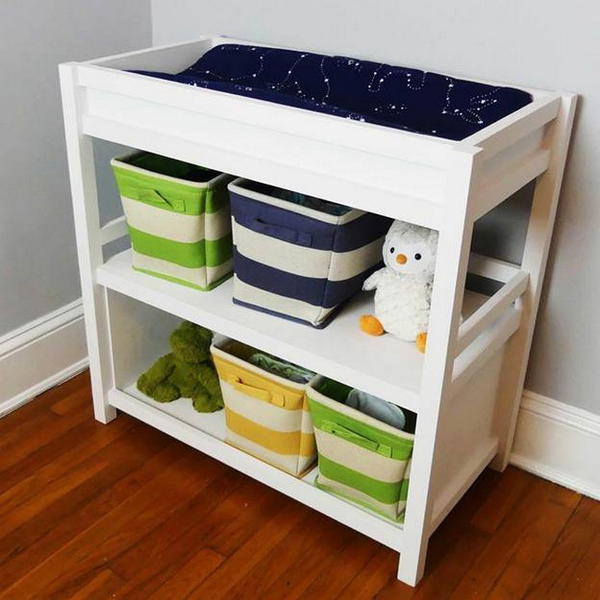 This DIY nursery changing table is a unique way to add storage and style to your nursery! The top of the table is completely flat and can be used just like any other changing table or desk surface. The clothes hanger rod and cubby space underneath are also great for storing diapers, wipes, blankets, or whatever you need close by. This project does require some power tools, but you should be comfortable with them before attempting this build. The dimensions given are for building it with cherry wood; however, it could be done with any wood like oak or pine.
Repurposed Changing Table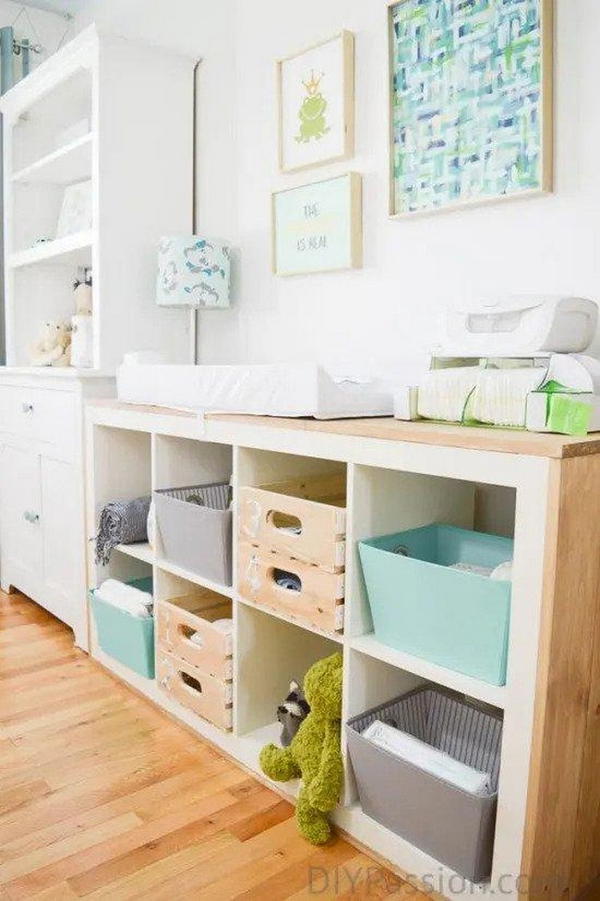 With just a little bit of woodworking and some elbow grease, this project requires no power tools and will come together in hours. If you're looking for a stylish way to change your baby, this table is a great option. It can be used as a changing table with just a few modifications. You will need some woodworking skills, but the result is a very cheap and effective DIY changing table. The dimensions and materials used for this project can easily be altered to suit your needs.
DIY Dresser To Changing Table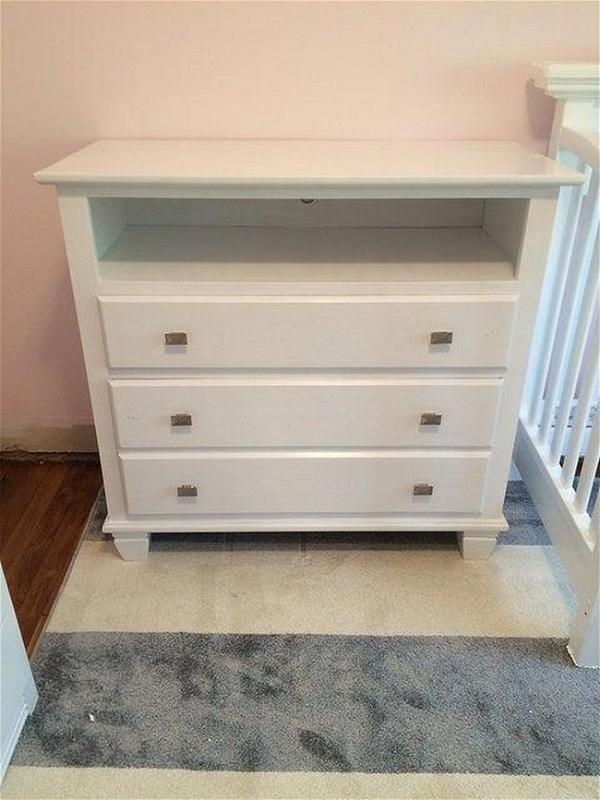 Check out this DIY to transform your dresser into a perfect changing table. Transform your old dresser into a stylish, functional, and affordable changing table in about an hour. This easy and inexpensive project is ideal for anyone who needs a changing table fast but doesn't have the budget to buy one from the store. With just a few supplies and some elbow grease, you can create a custom piece that fits your nursery. This is an easy DIY project that will take less than an hour to complete!
DIY Baby Changing Table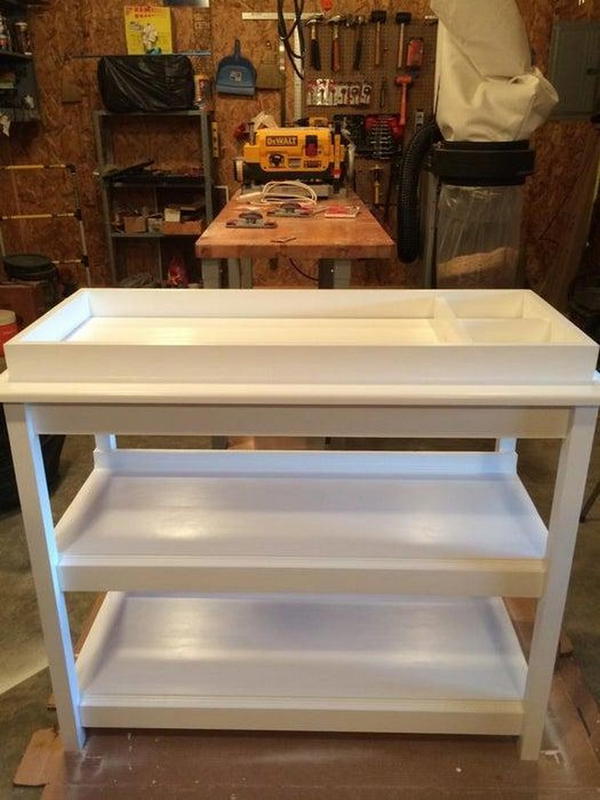 You need to think about those items that will last for however many years, but you also need to think about those expenses that can be replaced as they wear out. One of the most practical pieces of equipment you can buy is a changing station, which is essentially just a table with a padded top where you can lay your child down while changing their diaper or clothing. This DIY baby changing table is designed to give you both a solid top surface and one that opens up to hold a standard-sized changing pad.
Hideaway Baby Changing Table DIY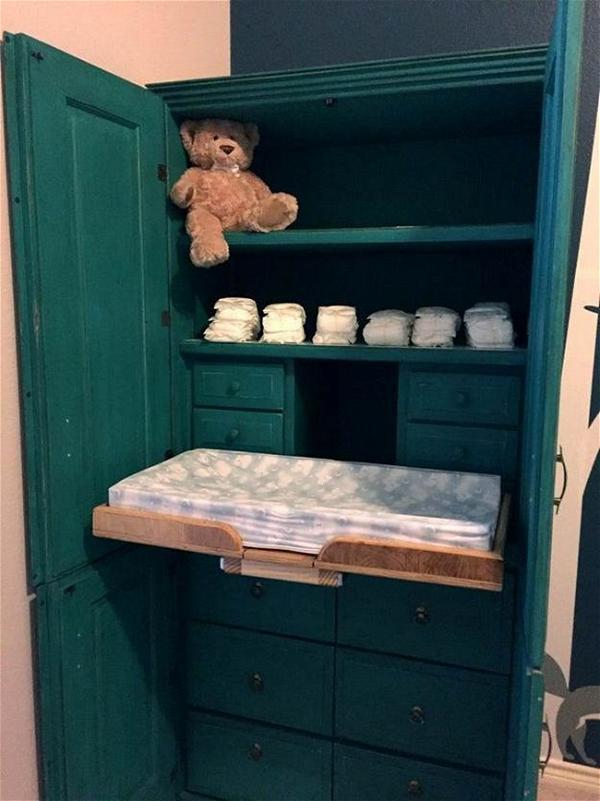 Wouldn't it be great to have a hideaway changing table? This DIY changing table is an idea that brings functionality and design together in one product, and it could be just what you need. Drawing up your plan before you start will ensure that you get the most out of your new addition, so look around your house for inspiration to create a distinctive piece of furniture with plenty of storage space. This DIY changing table is excellent in your place, especially if you have a young child. Whether traveling or at home, it's easy to pull out and put away.
Rustic X Changing Table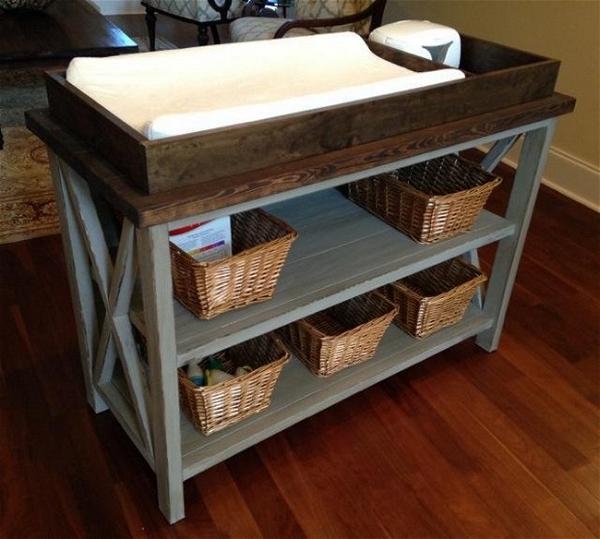 This X-shaped DIY changing table features a rustic design and can double as a bunk bed for the little ones. The DIY changing table has an elegant appeal with beautiful frames and a highly sturdy design. Add a charming, rustic touch to your nursery with this DIY changing table. This X-shaped changing table features the natural beauty of weathered pine reclaimed from an old barn to create a one-of-a-kind piece that's as unique as to how it was made. It offers ample storage for the baby's clothing and diapers, making it easy to change him. This diy changing table is also perfect for your kids to sleep on it when they're sick.
IKEA Changing Table Hack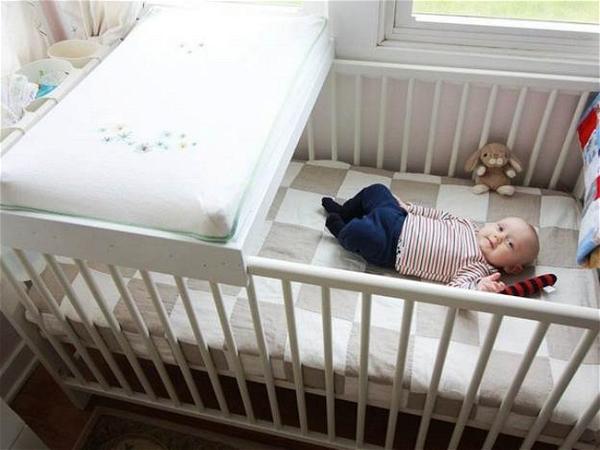 Do you have a little one but do not have a traditional changing table? This hack provides you with a way to fix that problem and customize it to fit your baby's crib. The IKEA changing table hack is a genius idea that enables you to make the most of what you have. This hack uses that beautiful crib that you have spent so much on and will make your little one's diaper changes a breeze. It is essential to measure your crib first before designing this DIY project, as it will not fit on all types of cribs.
DIY Changing Table
A DIY changing table is an excellent alternative to a store-bought piece of furniture. Keep in mind that this project is short and more of an overview than a step-by-step tutorial. While the video demonstrates how the entire project is done, it focuses more on what supplies you will need and special techniques like using pocket holes for attaching the top to the legs. This video is a brief behind-the-scenes look at how to make a DIY changing table. It's easy to follow and understand, plus it has more information than an instructional video would generally have.
How To Make A Changing Table
This DIY project will turn an outdated changing table into an elegant piece of modern furniture. This DIY project is simple and can be done quickly, even with little or no experience with DIY. This video will teach you how to make a changing table from an old one that you might have lying around in your house. It is a straightforward and inexpensive way to completely change your nursery's look. This can be an excellent project for those looking to change their old changing tables or re-decorate their baby room in a new, colorful way!
DIY Changing Table Dresser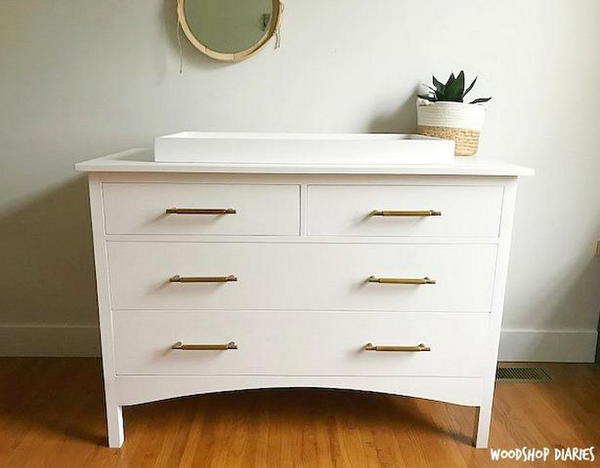 If you want to change your kid's diaper, but don't have the space for a full-size changing table, consider building a DIY changing table dresser. The DIY changing table dresser is a cheap, simple, and easy-to-make addition to the household. The dresser is made from a preexisting one that is primed and painted with any color of your choice. It serves as storage for diapers, wipes, clothes, etc. It can function as their first bedside drawer unit when your child is older. This project is cheap and straightforward to build, and it can work for you as more than just a place to change diapers. It even stores baby toys without taking up too much space.
You Can See: 40 DIY Vanity Table Ideas
DIY Nursery Changing Table Station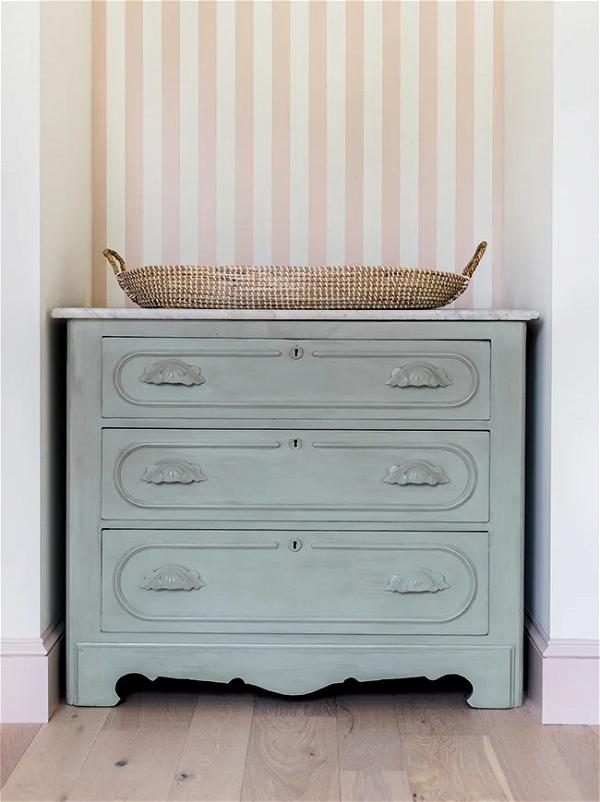 Do you want to save space but still want to be organized? This DIY changing table station offers a simple, elegant design that can help you maximize your space. Made of pine board and woodwork tools, this working station can help you keep diapers and other supplies within reach so that you do not have to struggle to look for them when the baby is about to be changed. This DIY changing table station is the perfect addition to any nursery. It is large enough to be practical and comes with a drawer for diaper storage. A built-in rail allows you to store things like diapers and wipes at arm's reach, so you don't have to lean precariously over your baby to find what you need. The best part? It's entirely customizable!
DIY Baby Changing Station
This DIY baby changing station will take your baby's room from looking like a nursery to outright charming. With a few tools and materials, you can have this fantastic piece of furniture in just a few hours. You can have a beautiful piece of furniture that matches all the other décor in your nursery, and it will be beneficial for your family as well. The baby changing station is a DIY project that can be accomplished with simple carpentry skills and basic building supplies. You can paint or stint the baby changing station for a customized look.
How To Build A Baby Changing Table
This DIY baby changing table has a mid-century modern style that can fit in any room, regardless of the theme you want to go with. This easy-to-follow tutorial will teach you how to build your baby changing table. This baby changing table is made in a mid-century modern style and can be used in any house room. Its visually appealing design is sure to please while being functional and safe for babies. The cabinet includes two shelves and extra storage space below the shelf on both sides. With an entire top surface that is open and accessible, it's easy to keep items within reach for quick access.
DIY Changing Table Makeover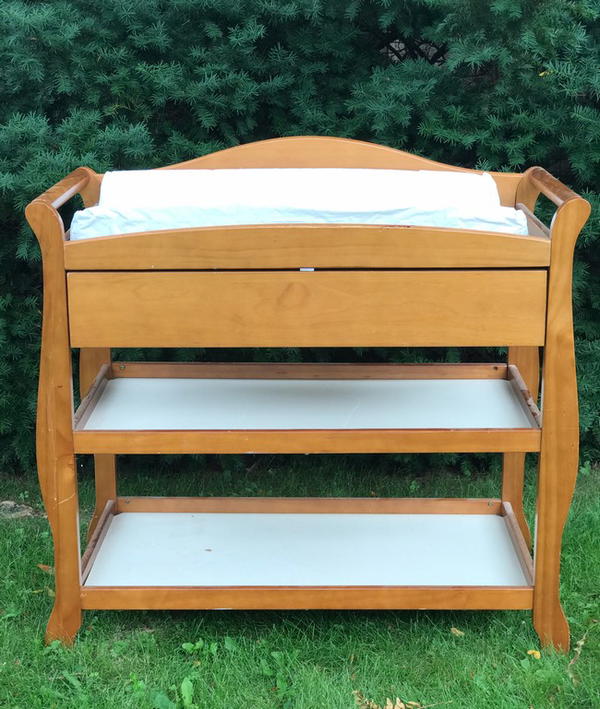 Turning an old hand-me-down changing table into a beautiful piece of furniture is easy and fun. With this tutorial, you'll learn the basics of woodworking, like staining and painting, building a new drawer, adding a decorative knob, and even replacing the hardware on the baby safety straps and brackets. You could also apply what you learned here to other household furniture items that may need a little makeover. The process is straightforward and can be done in just a few steps without spending hundreds of dollars at an expensive store for the same pieces.
Easiest Changing Table DIY
Need a storage and diaper changing table? Then you have to DIY this simple yet effective changing table. It's convenient, stylish, and other than being highly functional, it is quite space-saving. Perfect for new parents, this DIY changing table is a unique and easy way to store diapers conveniently without taking up too much space. It can also be used as your child grows, becoming their first dresser when they move out. Change over time is inevitable, and this DIY changing table will make the process easier for you. It has a nappy bin to contain disposals, making it easy to clean.
DIY Changing Table Makeover
Do you have an old, damaged changing table that could use a revamp? Transform an old furniture piece into something completely new and fabulous with a DIY changing table makeover. This charming piece is the perfect addition to your nursery or kid's room decor. All you need for this project is your paint or stain of choice, sandpaper, drawer handles, and tons of creativity! This DIY changing table makeover is the perfect way to transform it into something extraordinary. This project is super simple and easy to do, plus it only takes a few hours.