Do you spend too much time sitting at your desk? Is it hurting your health and well-being in the long run? Then you need an adjustable standing desk or a desk converter! A standing desk is a great option for anyone with back, knee, or neck pain who would like to work with greater ergonomic comfort. Save money by creating your own adjustable standing desk instead of purchasing one from a manufacturer. Deciding to the right one when it comes to the job of building adjustable desks can be a challenge but we are always happy to provide some DIY Adjustable Standing Desk projects that will help you build your own.
How To Make A Standing Desk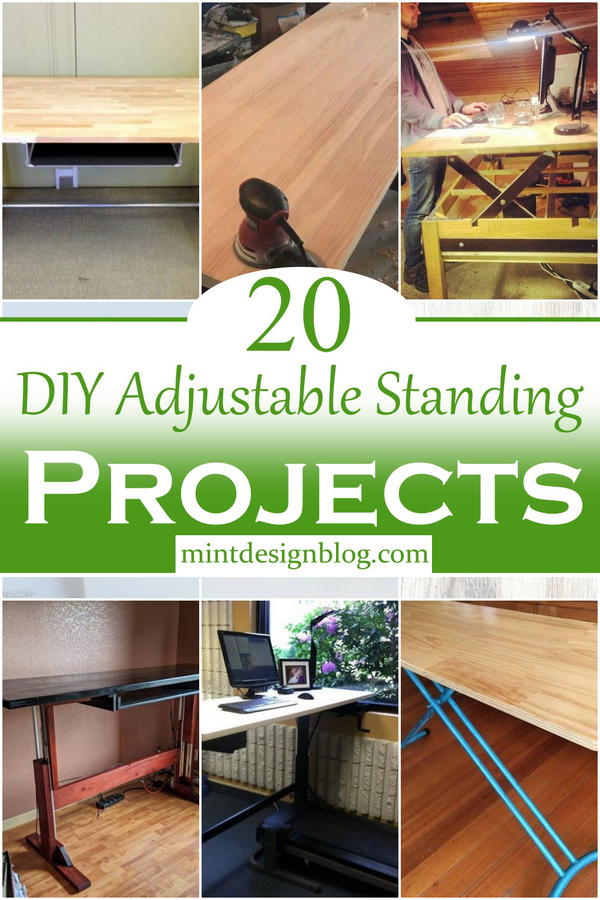 Creating a DIY adjustable standing desk is something everyone should consider. The reasons are pretty basic. First, they tend to be less expensive than some of the other options out there. Second, they give you the freedom to personalize your workspace and make it easier for you to focus on your work. Truly, some of the best standing desks are the ones that you make yourself. Make sure you do your homework and find plans that include a plan for standing desks for your specific needs and wants before starting your project. These DIY adjustable standing desk plans allow you to create an ergonomic workstation that suits your needs and lifestyle. Here, you can find 20 unique DIY plans for adjustable desk plans that will help you to build your own desk at home. All these plans are very easy to follow.
How To Make An Adjustable Standing Desk
Many people want adjustable desks that they can use both sitting and standing. It's proven that standing is better for your health than just sitting, but you can't easily do them all day at work. This project has been made to be easily replicated. You can use some sets of used wood or new wood. Attached to the wood will be your sliders and then your tabletop. The work is simple and can be done by anyone with some woodworking knowledge. This is a set of instructions on how to make an adjustable standing desk. The reason some people like these are they know they're getting their exercise while they work. Most materials can be obtained from your local hardware store and the cost is next to nothing to work with.
How To Build A Standing Desk That Can Be Adjusted
This project was created for an instructable contest based on the theme "Healthier Living". Using the instructable, it is easy to build your own standing desk. The design of this desk is quite innovative because of its automatic adjustment system by using two 12v actuators. With the use of these 12v actuators as well as the essential components; a large stainless steel table, an adjustable height standing keyboard shelf, and a small shelf for a computer tower, you will be able to increase productivity at your workstation while reducing discomfort caused by sitting in an unnatural position all day long.
How To Build Adjustable Tables At Home
Do you find table saws hard to work with? Sad, because they are the best way to cut a board along with their incredible precision. But what if you want a table that can be adjusted at will? There is an easy solution for that. Learn how to build a simple, but effective adjustable table. The choice of material for one's work table is very important in order to achieve the highest efficiency. A manual metal, adjustable work table gives you perfect utility at a high level of comfort. Make this unique adjustable work table at home right now! This plan walkthrough will show you how to do it without any prior experience. The convenient feature of the table is that it is manually operated and is ideal for any work situation. Build a really practical and creative item by using your imagination.
DIY Adjustable Height Desk Legs Out Of Wood
Are you having a hard time sitting at your desk because of the pain in the lower back? Workspace posture is important that it can lead to chronic health problems and you will surely not want it. With this plan, you can make your own adjustable legs that won't break the bank. This plan is to make DIY adjustable height desk legs out of wood. Woodworking is always handy, especially if you want a safer workspace. You will be happy to know that if you are tired of being found sitting all day, then you can do something about it by following these plans to build an adjustable desk of your own for your computer. The job is not only easy to accomplish but also a fun project to complete. They're also pretty easy to make and take less than 2 hours to do so..
DIY Adjustable Standing Desk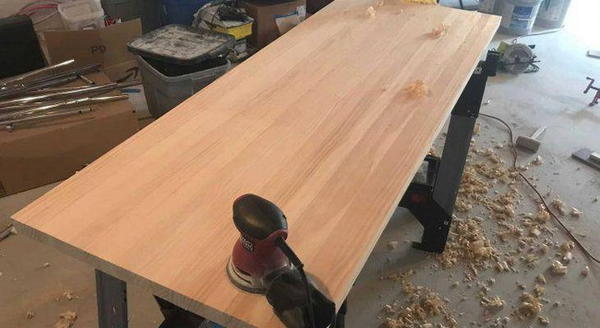 Planning to build an adjustable tabletop? It's a cost-effective, eco-friendly way to make the most of your workspace and avoid health problems associated with long hours sitting at a computer. Follow this guide and use the customizable platform to create a computer desk or dining table in your space! Build this adjustable table using a metal frame, wooden tabletop, and control unit. Don't hesitate to modify the design to produce the looks that work best for you. It's simple, fun, and affordable. As you follow along in this DIY project, you will come away with everything you need to know about how to make an adjustable desk! This is a DIY product; all you need is a table saw, sandpaper, clamps, and glue which are all available in any hardware store or home improvement center.
DIY Electric Standing Desk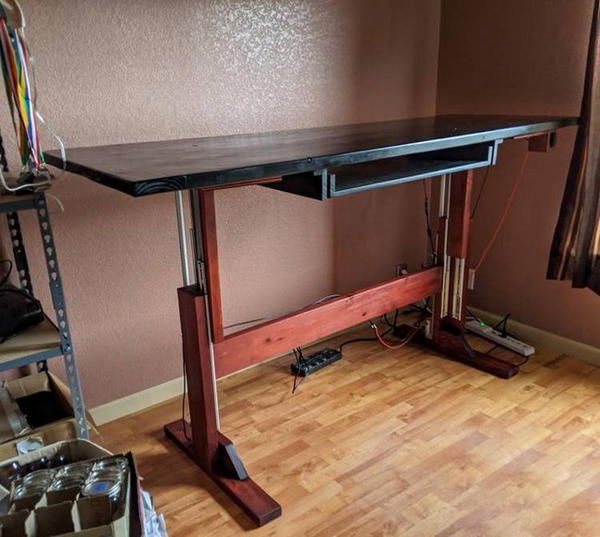 What you need is simple - Any table, the standard folding desk will do. But if you want a DIY experience and have the budget for an upgraded one, here's a link for the materials I bought. You'll also need a drill, screws, nuts and bolts. Don't forget the power wood glue! It will be a great help in keeping everything together longer! The DIY adjustable standing desk with Arduino was made to make working while standing a bit easier. It helps programmers and engineers like me who sit 8-10 hours a day get some fresh air in their work style. This desk is a great alternative to those expensive standing desks you see while searching online. Especially if you are on a budget, or a professional looking for a long-term solution!
DIY Adjustable Height Standing & Sitting Desk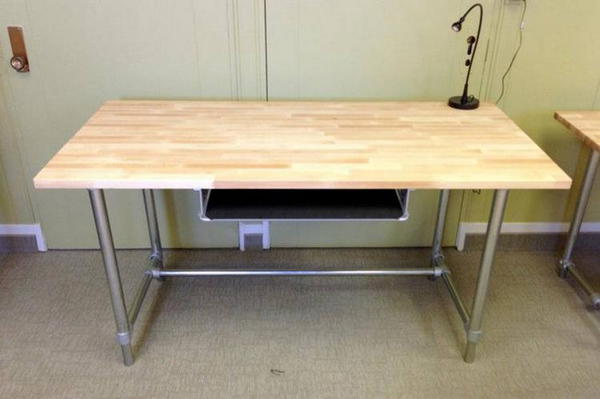 This adjustable height desk can adjust from standard sitting desk height to standing desk height with a few simple adjustments. This DIY adjustable height standing desk is the solution to all of your sitting and standing posture problems. The perfect desk for those who want to try a standing or leaning desk and stick with it, this adjustable height desk can adjust from standard sitting desk height to standing desk height with a few simple adjustments. Additionally, it has a durable solid top and industrial base, making it the perfect addition to your home or office. This gorgeous piece goes from standard sitting desk height to standing desk height in just a few simple movements. With a solid top, industrial base, and easy-to-adjust mechanisms you won't have to worry about sacrificing form for function anymore!
DIY Foldable Standing Desk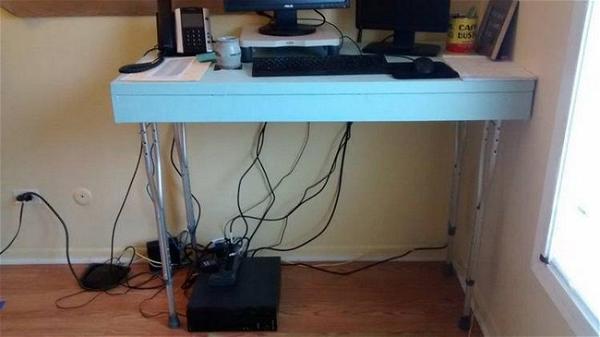 Make a change up your setup. This foldable standing desk is perfect for anyone who is looking for a simple and portable solution to their workstation problems. Many people have been using this for hours each and every day without any issues. So far, everyone has really enjoyed using it helping them transform the way they get work done. This Desk is an innovative take on the typical sit-down desk. Constructed out of bamboo, it allows you to stand while you work — a good way to promote better posture and keep your body in motion. Most standing desks that you've seen are kind of clunky, taking up most of my desk's real estate. But Molnar keeps it simple with a pair of adjustable crutches. It easily folds away when not in use.
DIY Adjustable Standing Desk
Need to make some changes in your workspace? Building this DIY standing desk is a great way to start. Save a few bucks and get more comfortable by assembling your own customized standing desk. This is the desk for all us millennials with busy lifestyles and disorganized homes who want to be as organized as possible. This Adjustable Standing Desk is perfect for people of any size to use in a variety of situations. The desk includes an electrical outlet and a USB port so you can plug in your computer, monitor, and peripherals and forget about it. This is highly adjustable, the perfect height for your body type, and the only standing desk that moves with you. Now you can work more comfortably, whether sitting or standing.
DIY Adjustable Height Desk
Do you have extra table space lying around that you don't know what to do with? This DIY adjustable height desk will add more users to that extra space by converting it into a workstation for your laptop, books, papers, and/or other things. You can use this design right at home or go with a different approach like adding casters to create a mobile desk that can follow you wherever you need it. Either way, it shouldn't take more than a few hours' worth of time This DIY adjustable desk DIY project features a crank mechanism that makes the flip table height adjustment very easy. If you have "always wanted" a DIY and crank mechanism style adjustable height desk, this is for you. It is quite simple to do and would cost you significantly less than the ergonomic height-adjustable desks at the shops!
DIY Adjustable Standing Desk
Remember when you were young, your desk was much lower than it is now! Adjustable tables aren't specific to adults alone. Your kids too can also have an adjustable table to fit their height even in their growing process. It helps restrict the need to change a table while they grow much faster. So this table is designed with three sets of legs that are easily exchanged. This DIY Adjustable Standing Desk provides a more flexible solution to people who need comfortable and adjustable tables. The table frame is now made from MDF and coated with a layer of melamine-coated fiberboard for durable laminated support. Not only does it save your storage space, but also gives you the chance to be creative with different length options. Just adjust the height by simply exchanging the legs.
DIY Standing Desk
The DIY Standing Desk will help you eliminate your backaches and improve your posture at home. The desk can be adjusted to three heights by using the hand crank handle that is attached to the body of the desk. Turn the handle in one direction to raise or lower the little shelf while it can turn a full 360 degrees due to its wheels. Easy to assemble, no need for any power tools. No screws are needed for assembly. You can even build this standing desk in an hour. The upper board will rest on the two linear actuators and the legs will be screwed onto the board. The fun part is then to come up with your own design and just add some of the DIY components you already have in your home. It is easy to adjust!
Standing and Treadmill Desk DIY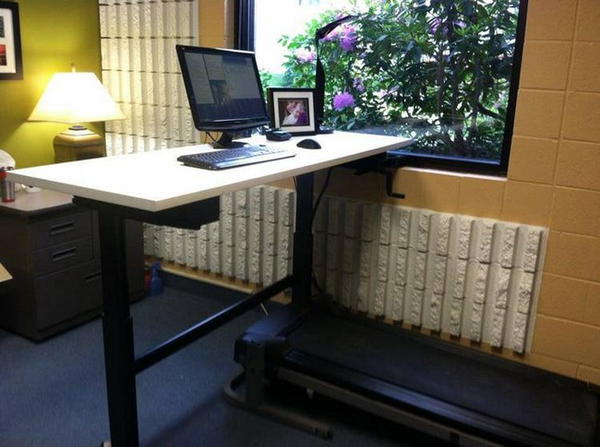 Do you want to stay fit even while working? Or Would you like to be more productive by double? You'll surely get it with a standing and treadmill desk that you can craft yourself. This standing and treadmill desk is eliminating all the excuses that are stopping you from doing so. No more finding excuses to not exercise. Even if you sit the whole day, why not get the best of both worlds by getting active and fit on your own time? Worst case scenario, you can keep changing speed and incline on the treadmill for a different workout every time.
Using a standing and treadmill desk is an excellent way to stay fit and be productive throughout the day. Most treadmills have unnecessary parts that can be removed to make room for a standing platform, and their control panel can be moved from the front of the machine to the side. This provides easy access when in use, and allows the user to walk or run without hitting buttons.
Scaffold Board Electric Standing Desk
This Desk makes for an excellent, modern and minimalist workstation. Scaffold Board Electric Standing Desk does not just promise you the height-adjustable desk that allows you to stand for hours a day but also helps you to healthily spend more time working. With the installation of the Scaffold Board Electric Standing Desk and other items in this package, you can do your work better and healthily. It secures with a frame, which is the centerpiece of this piece of furniture. The frame is made from thick, steel tubing, and it comes in a glossy white color scheme. The Scaffold Board Standing Desk is created to upgrade your ergonomic workspace height. Simply screw on the desktop to get a portable standing desk. It can be used as a laptop, dinner table, etc. Focus on health, focus on happiness!
DIY Adjustable Standing Desk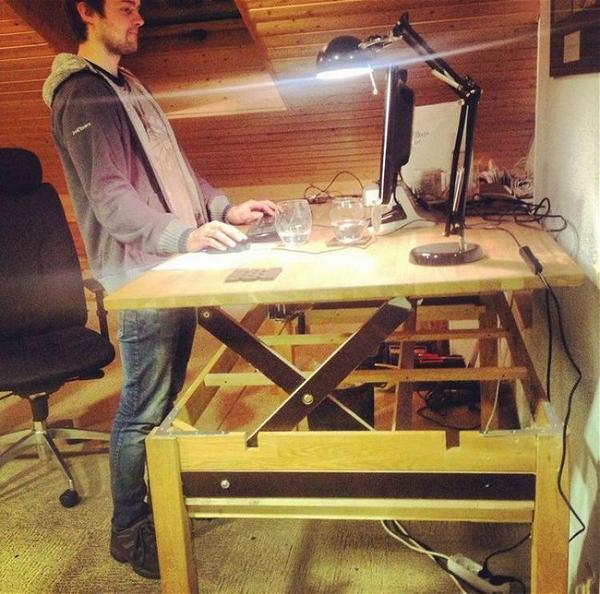 The DIY adjustable standing desk project is a good way to save your hard-earned money. It is made of relatively inexpensive and easily skatable material which is the reason why it can be transported to most corners of the world. The guide won't break your bank as it cost pennies in comparison to a typical cost of an electric or gas-operated standing desk with similar quality. Although the project requires a considerable amount of time invested, the guide's author guarantees that you will soon enjoy the comfort it brings as soon as you get adjusted to this brand-new kind of working posture. It is a very versatile design that can be customized pretty much the way you like.
DIY Portable Height Adjustable Desk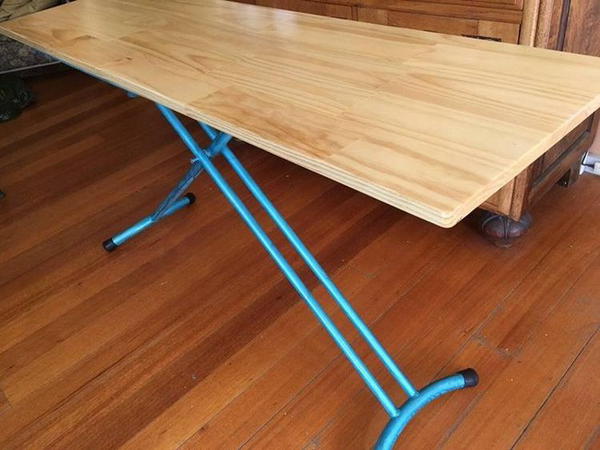 This is a useful height adjustable desk that's nice for anyone who likes to freelance or is studying. It can be set up as a standing desk for the laptop and/or as a sitting desk. It's also great for students when you need to study or take a break out of your dorm or apartment. This table is made from old materials such as an old ironing board, dowels, and plexiglass. Create your own DIY Portable Height Adjustable Desk that can be assembled in less than 2 hours. If you change up your workspace a lot. Sometimes you lay on the couch to read and write but need a desk for drawing. And sometimes you just want a standing desk instead of sitting all day! This adjustable table is perfect for any use.
Portable Height Adjustable Laptop Table DIY
How to build a portable height adjustable laptop table is definitely one of the better hacks. In fact, the table can be used for all-purpose, including reading, study desk, sewing, writing, laptop usage, and so on. The idea is simple but ingenious. With only PVC pipe and hinges, you can create a laptop/computer table that has infinite size adjustment, while convenient in its fully closed state. Grab a couple of screws and get started! This is a very easy build, yet sturdy and flexible DIY laptop table that can be used as a study desk, laptop/computer table, writing, reading, drawing, board games, gardening, puzzles, and so many others. Its cost is close to free since the PVC pipes are relatively cheap. Also, the material is plentiful and portable so it can be carried around easily in case of changing rooms or living spaces.
Motorized Standing Desk DIY
This DIY standing desk uses linear actuators and remote control to raise and lower the top platform. The simplicity of this design makes for a desk that can be raised and lowered easily and quickly by the user, without any effort. This design is also useful for people with limited mobility since it allows the user to activate the desk with remote control. It may not solve all issues, but it definitely raises your hips above your knee level, which most experts agree helps. Using a linear actuator, this desk raises and lowers smoothly with the press of a button. Note that this project is more of a hack than an outright invention. Regardless, it works really well and actually looks pretty nice in your office.
How To Build An Adjustable Standing Desk
Building a standing desk is easier than you might think and can be a great addition to your workspace. This DIY project gives you the opportunity to create a desk that will fit your needs, one that is capable of increasing or decreasing in height. This adjustable standing desk made out of the iron pipe is extremely adaptable and sturdier than a regular desk. This adjustable standing desk is just great for its use. It does not require any heavy equipment to build this, and for the rest, it works perfectly. This can also treat as a space saver. It is easily portable too, so whenever you go somewhere, you can just fold down the table and bring it with you anywhere you want. What are you waiting for? Design this adjustable standing desk from scratch and customize it to fit multiple spaces.
DIY Adjustable Standing or Sitting Desk
A lot of employees are getting more health-conscious and spending most of the hours of their office days sitting at their desktops. This is a great option, allowing you to remain productive while doing more than sitting. The DIY adjustable desk is a great option for an adjustable standing or sitting desk. It has a metal leg and wooden top and is fully adjustable to any height regarding your position. This desk will work without expensive furniture modifications.
It's easy to assemble and requires no tools, it's adjustable for a sitting or standing position and made of the highest grade materials available. This DIY Adjustable Standing or Sitting Desk is so easy to adjust to your needs - just tilt it and you're there. For example, if you want to use a standing desk for the day, the desk easily converts back to sitting for those long conference calls. This creates a healthier lifestyle!
See Other Projects