Are you looking for a fun, easy way to add storage space to your home? Corner shelves are the perfect solution! With a bit of creativity and some patience, you can build shelf one yourself. Tackling this project is a great way to save money. Making your own requires minimal tools and won't cost nearly as much as purchasing one from the store. Once you make one corner shelf, you'll be itching to make more! The options are truly endless when it comes to these versatile pieces. They're perfect for the kitchen or bathroom and look great in bedrooms and living rooms too! We've rounded up 17 DIY corner shelf plans for you, so read on for all the details.
DIY Corner
Shelves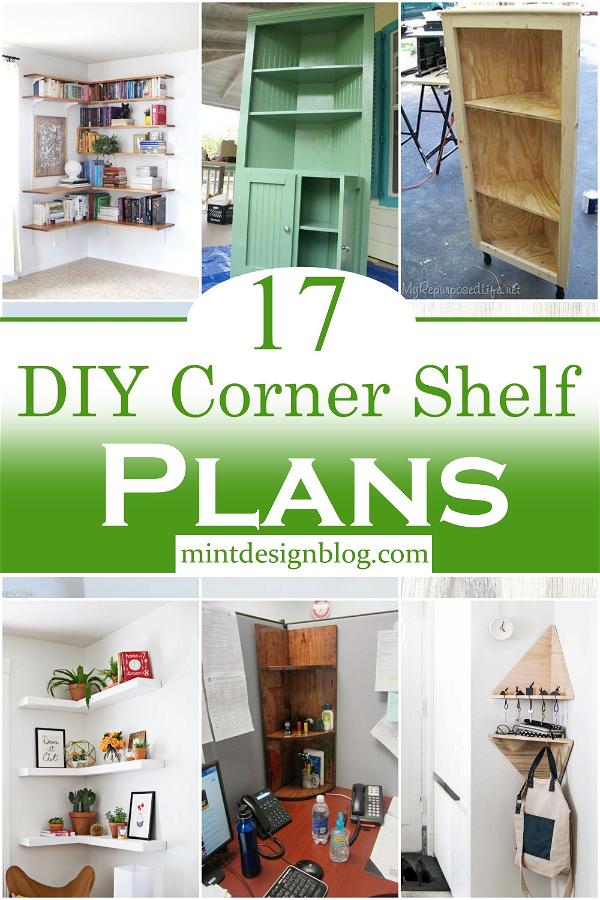 Tons of different kinds of shelves are available for you to choose from, but it is always best to make your own. Not only will it save you money, but it will also give you an opportunity to customize the design and style of the shelf. Once you make your own shelves, you can place them anywhere in the house that works best for you. These DIY Corner Shelf Plans will work in any room, as they can blend into the wall, giving a seamless look. You may be looking to add a little extra storage space to your home, office, or any other living space that could use some shelves. If you want some excellent outdoor corner shelf ideas then our list of garage shelving plans will be a great option for you.
Stylish Corner Shelves
The stylish corner shelves are a great spot for your keys or phone. The funky design will look great in any room in your home. Give your home a stylish modern look with the corner shelves. With its open shelves, it is ideal for displaying home accessories. This multi-purpose shelf can also be used in other areas where its open design makes it useful to display items such as books and photo frames. Made from strong wood, with a high-gloss finish, this corner shelf has a sturdy build quality and great attention to detail, giving it a look of elegance that will blend in perfectly with your existing decor products.
Open Shelves In The Kitchen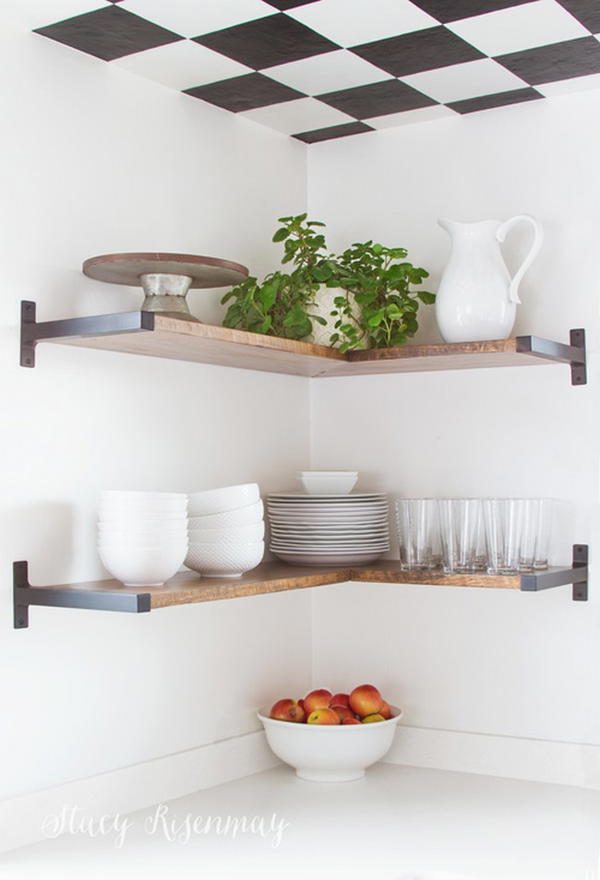 Would you like to make your kitchen more tidy, beautiful? This set of corner shelves would be a good choice. The perfect combination of simple and practical design. These corner shelves are designed to fit in any kitchen corner, you can use them to decorate and put your kitchenware on. The corner shelves are designed to create a minimalist style with Wood handcrafted and also designed to see everything in your kitchen wall. With these shelves, you can place plates, cups, and cooking utensils on the left shelf, such as mugs; put fruit, vegetables, or flowers on the right one. Also, you can place it in the living room or your bedroom as a decoration.
Floating Corner Shelves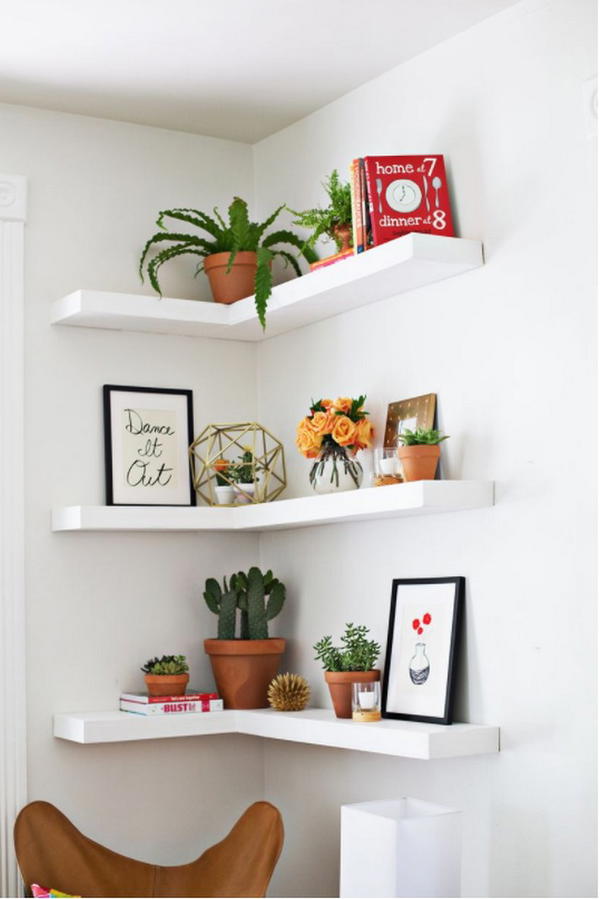 These elegant floating shelf plans are beautiful and functional, with no unsightly elbow brackets holding them up, giving them a "floating" appearance. Brilliant idea for adding a unique shelf without taking up too much room in your home. If you want to build your own DIY corner shelves, first select your material, then go over measurements and cut your shelf parts according to plan. These floating corner shelf plans are simple to make with the right tools and the perfect solution for any space. These floating corner shelf plans are simple to make with the right tools and the perfect solution for any space. The floating shelves look great when used alone, or you can use several to create a stunning bookcase display.
You can also see: DIY Shelf Bracket Ideas 
Corner "Door" Shelf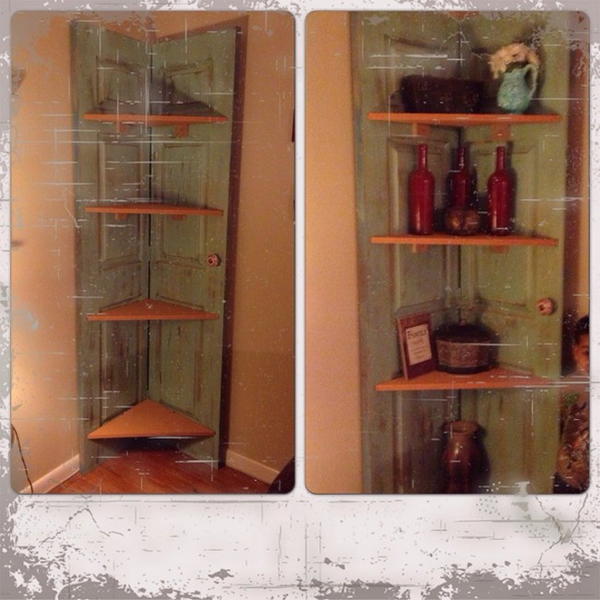 The corner door shelf is a great way to add storage in the corner of any room. This cabinet can be used for storing items that would normally be out of sight and save you space in your room, or be used as a bookshelf or display shelf. The possibilities are endless! Most shelves are designed to go in the middle of a wall and out at the same angle of the wall. This Shelf is made from an old door and is designed to fit in the corner. You can make a corner shelf out of any kind of wood, old or new.
Corner Book Shelf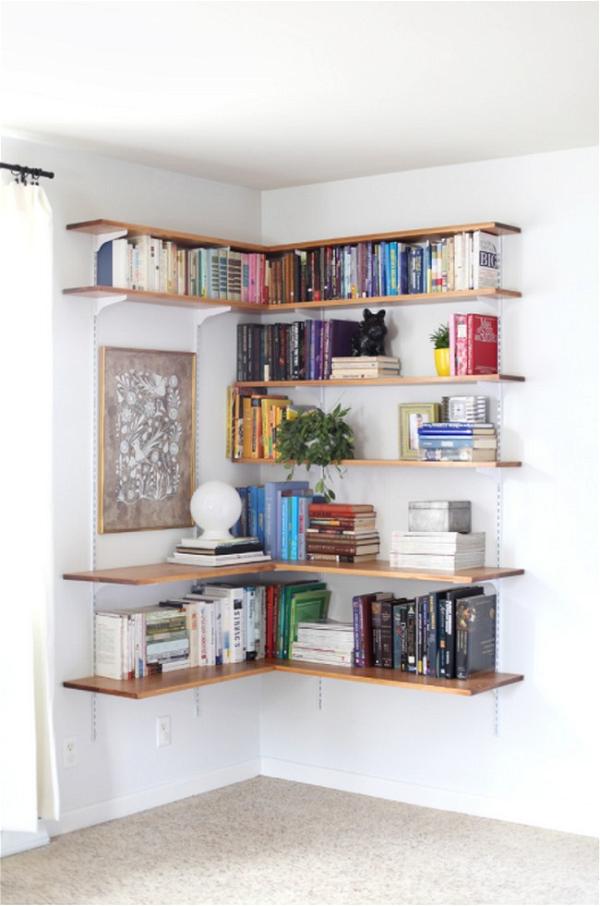 This corner bookshelf is perfect for storing your books and decorating the walls in your home. It's very inexpensive to make and can be sized according to the number of books you have. This shelf lets you arrange your books in a way that makes sense for you- horizontally for one long line of books or vertically for a few stacked rows. It's also a great way to add a little color and character to your living room, family room, entryway, or bedroom. Customizable with different-size shelves and tapered legs for a unique alternative to the standard square table. This bookshelf is the perfect way to add storage space and character to any room.
DIY Corner Cabinet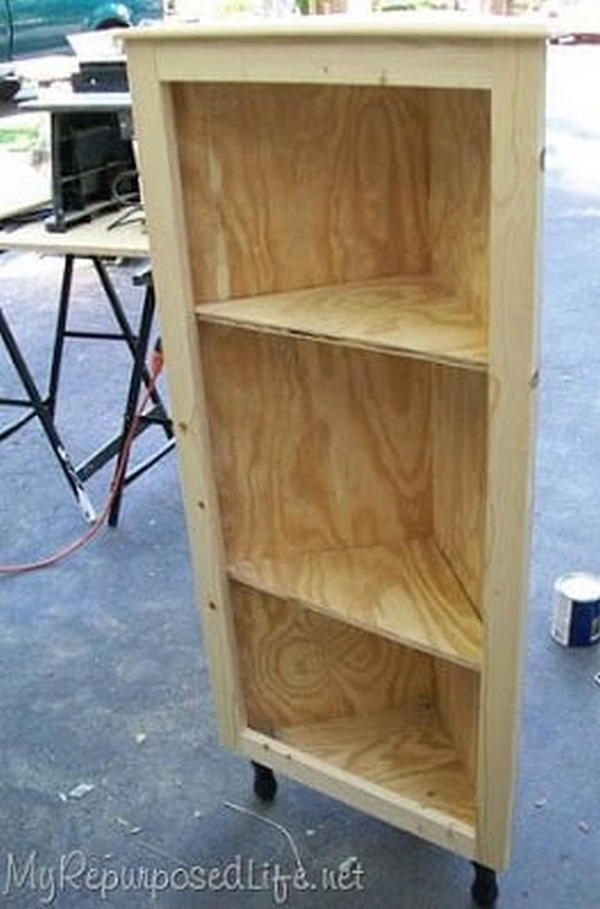 Building a corner shelf is a fun project for the beginner woodworker. All you need are some basic carpentry tools like a saw and a drill, and you're on your way. This sturdy shelf will add storage space to any room in your home, from the garage to the mudroom, and it can be easily customized to fit any decor.
Create this DIY corner cabinet using basic building materials to create a storage solution that can be placed close to the wall. A strong, sturdy built-in storage solution for any room in your home. The DIY Corner Shelf is perfect for the corner of an office, entertainment center, bathroom, or as an accent shelf in a bedroom. Use it to hold books, crafting supplies, and simple decorations.
Rotating Corner Shelves
How many times do you need to get to your drill, saw, or other tools during a project? This corner cabinet provides a revolving shelf that lets you access your most frequently used tools without moving out of the way. Built from inexpensive and readily available plywood, this DIY project doesn't call for any special skills.
Rotating corner shelves let you store tools and equipment in a tidy, out-of-the-way space, then bring everything within reach when you need it. Build this rotating corner shelf and position it perpendicular to a workbench or wall. Each shelf of the corner rack rotates, allowing you to discreetly store your most used tools or supplies.
Herb Garden Corner Shelf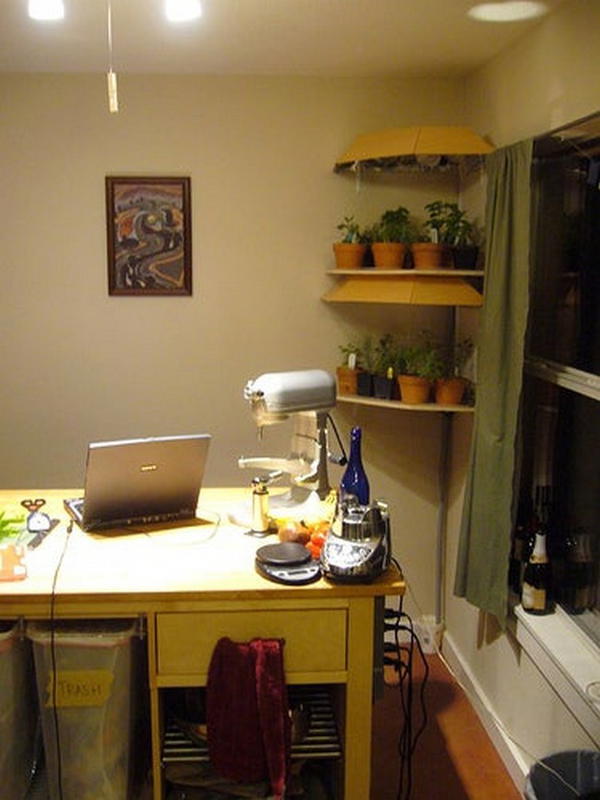 Gardening with fresh herbs is a great way to add some flavor and nutrients to your meals. It also catches the eye when mixed with other house plants. You can make a self-watering shelf perfect for holding small pots of herbs, ready to harvest and use. This project is simple, inexpensive, easy to build, and convenient.
The Herb Garden Corner Shelf is the best place to grow your herbs. And not only will it look great in your kitchen, but you can also fill it with your favorite herbs and smell them while you cook. The Herb Garden has drainage holes at the bottom, so you can water the garden directly instead of having to water each individual plant.
Floating Corner Shelves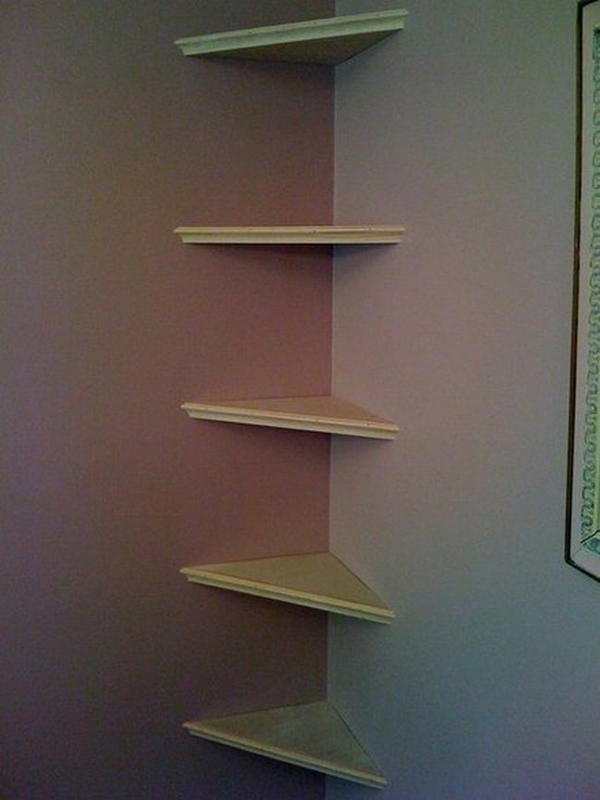 The floating corner shelf is an easy DIY project that anyone can do. The simplicity of this design makes it a great beginner woodworking project or a quick way to maximize your storage space. These corner shelves are built in just one weekend and start with a plain piece of laminated lumber that you can get right at the hardware store.
Creating this corner shelf is so easy you can do it on a weekend, no complicated tools are required. The result is a completely custom and practical addition to your home that can be at the same time beautiful and entertaining - the perfect place for storing drinks, setting a television set, book, or displaying personal objects.
Corner Shelves And Cabinet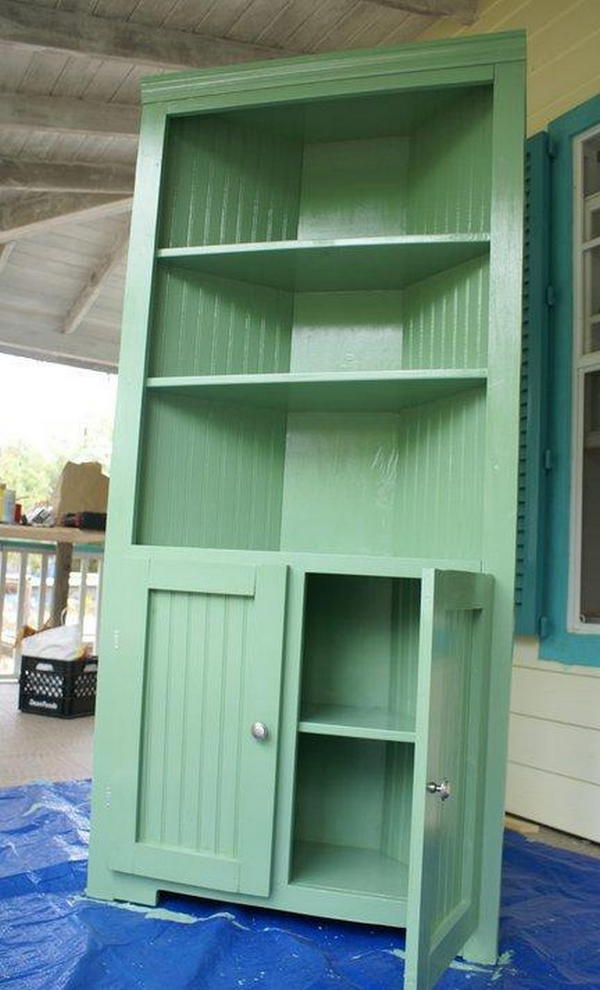 Whether you are looking for additional pantry storage or a beautiful way to display dishes, this corner shelf is just the thing you need. if you have a corner free next to your bathroom sink, that's prime real estate for a shelf cabinet. This corner shelf-cabinet combination has a lot to offer. On each side, there are three shelves, so you'll have plenty of space for display pieces or knickknacks. Plus, with two separate storage compartments, you can keep all of your odds and ends organized. The daisy latches on the door keep everything closed up and safe when not in use.
 The Bat-shelf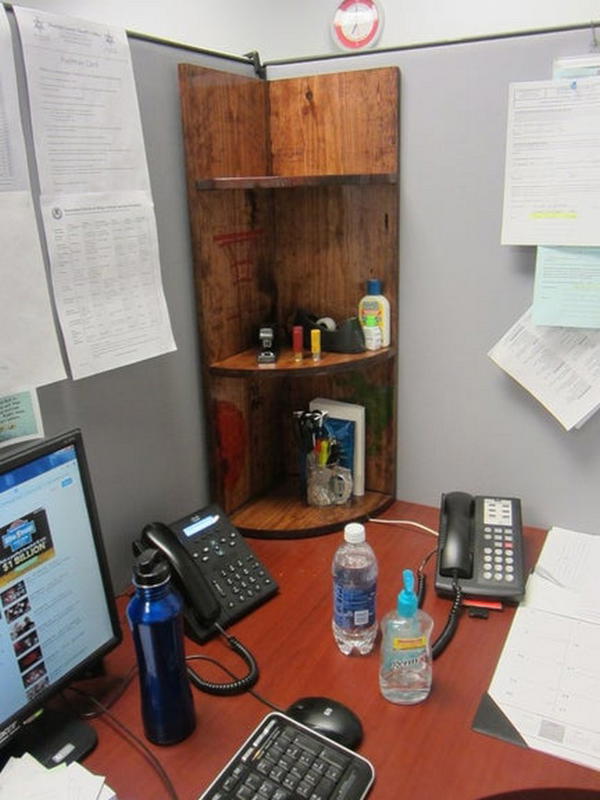 The Bat-shelf is inexpensive and easy to build bookshelf sized especially for those with a smaller apartment or bedroom. The wing-like spines support the top shelf, and hold up the sides, giving the whole thing a bat-wing shape. The construction is simple which makes it easy to complete even if you're new to woodworking. The best part is that once you make one, everyone you know will have a convenient place to store their books. This little shelf is the kind of thing that you should be able to put together in a couple of hours, tops, even if it's your first woodworking project.
Corner Bathroom Shelf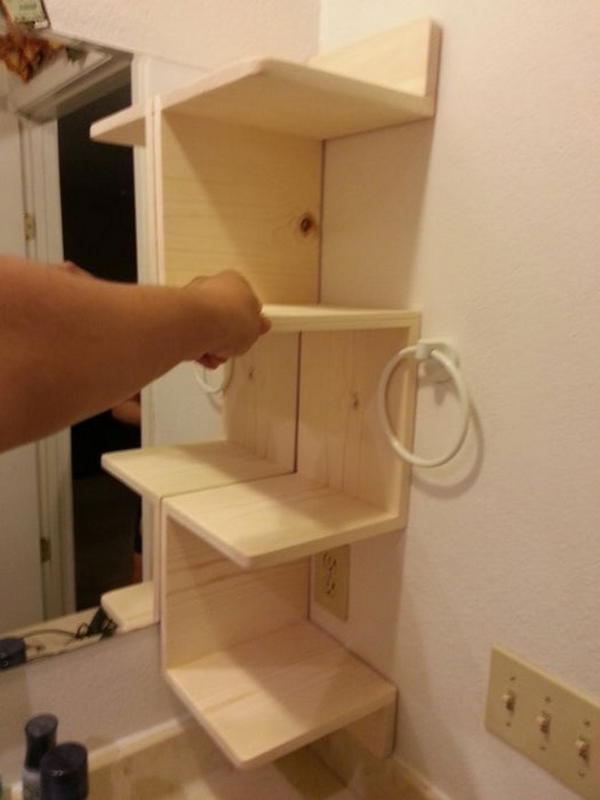 The idea behind this corner shelf is that a shelf can be tall enough to fit larger bottles of lotion and shampoo, but thin enough to place in the corner. This corner shelf is great for clearing up the clutter that can easily collect on your bathroom or kitchen sink. It's lightweight and a great way to clear off your countertop so you can do your makeup. This is a very simple way to gain extra storage space in any corner of a bathroom or kitchen. An inexpensive shelf and some hooks add new utility to an otherwise wasted space. It's also great because it is completely customizable! The box will fit over any size sink, but you can always alter the size of the box to adjust for your needs.
Stylish Corner Bookshelf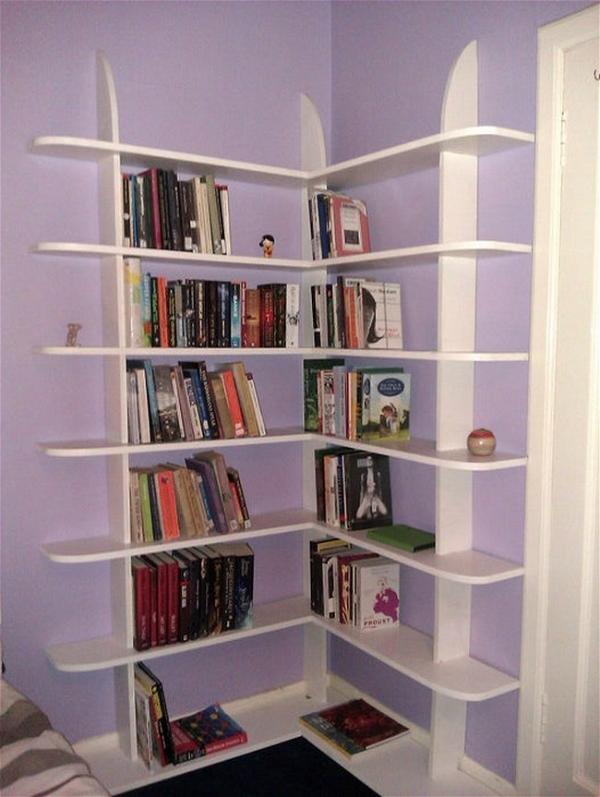 Having a lot of books stored away, yet lacking the space to store them all? This stunning corner bookshelf is not only decorative but it's designed with book lovers in mind. Not only should you be able to store hundreds of titles that were previously collecting dust, but the bookshelf also adds visual appeal to any room. This DIY corner bookshelf is not only a great way to keep books organized, but it's also an eye-pleasing addition to any home.
With an easy build and unlimited possibilities for decorating, your small space will be covered in style. Build this corner bookshelf and let your love of reading be known. Whether you're storing your favorite novels, joke books, or poetry anthologies, this bookshelf will keep your titles neatly in order while adding a stylish element to your room
DIY Floating Corner Shelves
Building a corner shelf is a fantastic and inexpensive way to add storage space to your home. Even if you've never built something from wood before, this DIY project is simple enough for anyone to tackle! All it takes is some basic carpentry knowledge and access to the right tools and corner shelf plans. With so many DIY corner shelves floating it can be hard to know where to start! Here's a tutorial video of simple and creative corner shelf plans. This diy project is not as difficult as it seems, especially if you have the right tools and parts. You will need a jig-saw to cut the wood and a drill with driver bits to make holes.  You will also need wood glue and some screws or nails to put it all together.
DIY Corner Rope Shelves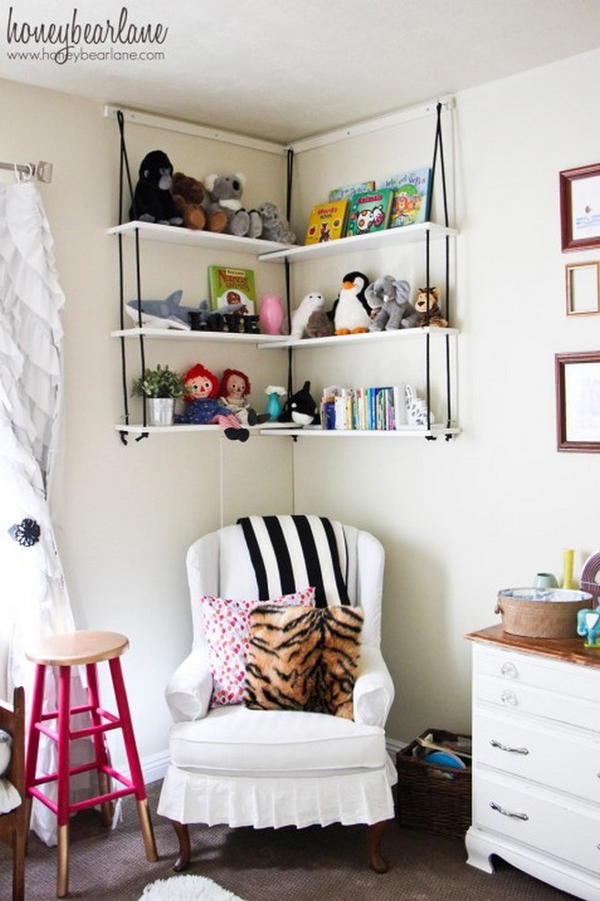 If you have been looking to store your things on the walls, then look no more. The DIY Corner Rope Shelves will work for exactly that. This can be mounted on the corner of the walls and will allow you to put any kind of your favorite lampshade or even some plaques at that wall where this rope shelf is fixed onto. Also, you can easily move it from one place to another on any section of the wall with much ease. Corner shelves are the perfect way to finish off a bare spot on any wall. This DIY corner shelves project is easy to do. All you need is a few tools and some time to apply them.
DIY Floating Corner Shelves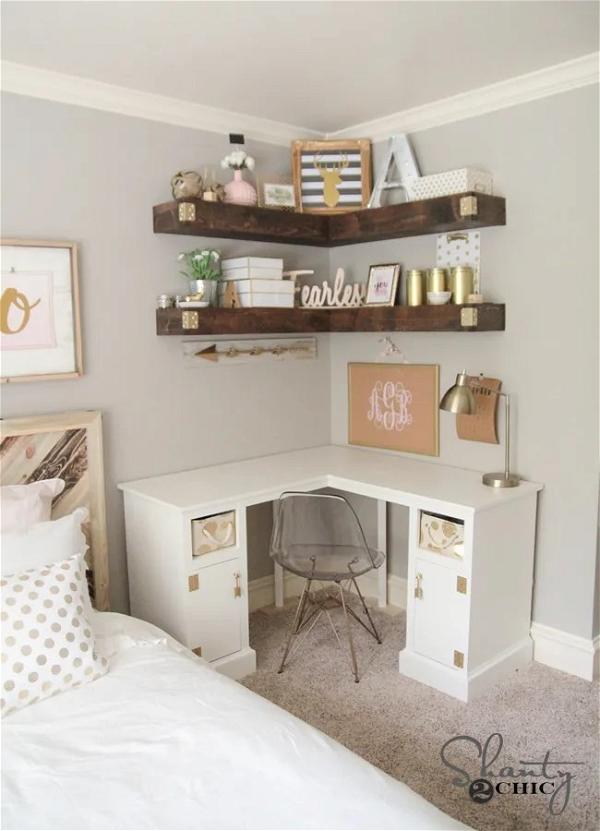 These DIY floating corner shelves are an easy way to update your space, and the best part is that everyone will think you hired a professional! Whether you are looking for some extra storage or just to add a decorative accent to the room, these corner shelves are a great project for any DIY'er. Built with inexpensive materials, these shelves look stylish and are very easy to make. They will take you less than a day to build and can be finished with either paint or stain. Floating shelves look great above a bed, sofa, or anywhere else that needs a customized look. These floating corner shelves are very easy to make with items you probably have on hand.
A Rustic Corner Shelf Unit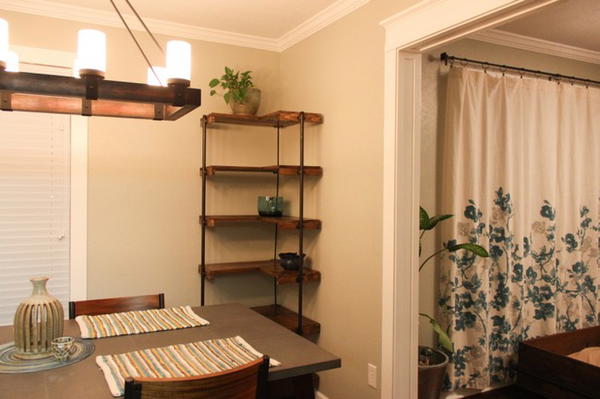 The Rustic Corner Shelf Unit is a great way to organize your living room and add some storage space for books and accessories. This simple contemporary shelf display features five shelves attached to a square-shaped unit, allowing you to fit in plenty of books, photos, and other items, while still leaving room for some decorative accents.
A beautiful way to create an old-world effect, this rustic shelf unit combines the sleek lines of modern design with the romantic look of wrought iron, creating a gift that is both charming and practical. Its unique geometric shape allows you to form whatever room configuration you desire, making it easy to display your most treasured items and create a cozy corner for quiet reading.
See Other Projects