Floating desks can be used as a workstation, meeting area, or even for your kids' homework. They work as a space-saving solution for any room and wall that you want to utilize. They can also create an open area where family members collaborate on projects. This DIY post included some DIY Floating Desk ideas that offer flexible spaces with various finishes and effects. These models range from simple, cool, and easy to build to complex ornaments made from materials such as wood, steel, glass, and even marble. Whether you are looking to make your own floating desk for an artistic project or you want to find the perfect desk for your child's bedroom, these projects can help. Pick the one that best fits your home decor or needs!
DIY Floating Desk Ideas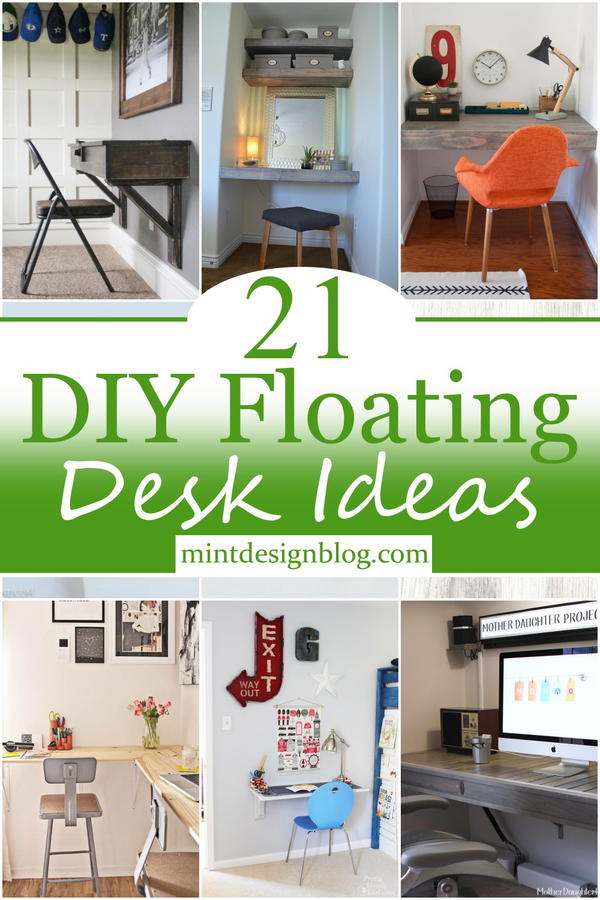 The following DIY Floating Desk plans an excellent gift idea for friends and loved ones who love to tinker with DIY furniture. They are easy to make, sturdy, and long-lasting once built. Most importantly, they are relatively inexpensive compared to buying one from stores. The design can be customized to fit your needs with different storage compartments, shelving, and drawer storage areas. Many of our given DIY floating desk tutorials feature easy instructions to follow so you can make your own.
Uses And Benefits:
Floating desks are versatile pieces of furniture that can be used as an artist's workspace, architect's workstation, or kid's desk. These DIY Floating Desk designs are functional and offer ample storage areas for all your office essentials. Many of these DIY floating desk plans go beyond the traditional one- or two-tier desktop configurations, making them great for specific uses such as writing and drawing boards, display stands, and storage units. These designs are stylish and practical and give your room extra storage space while they're built-in.
DIY Floating Desk Brackets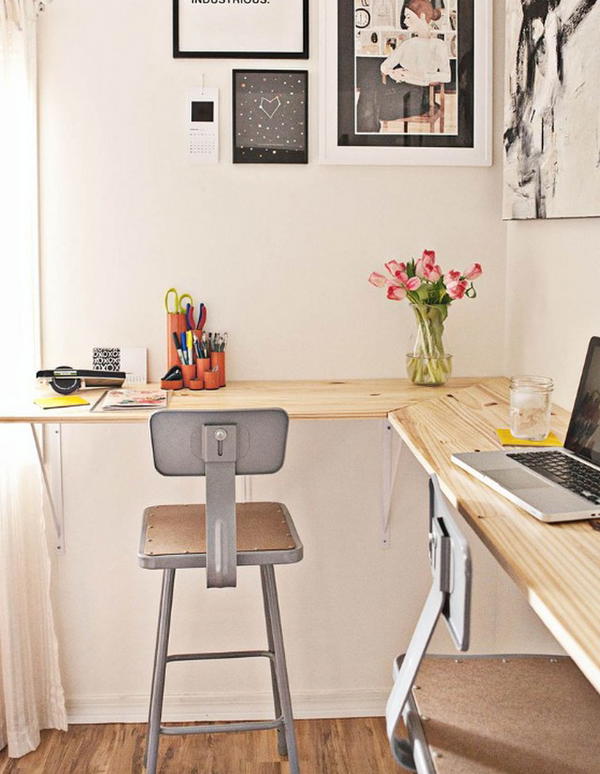 Get crafty with this DIY L-shaped corner desk. If you have an empty corner of your house, this is an excellent way to use the space and create a more exciting look. Alternatively, turn it into a corner desk if your home office is up against a wall! To build it all, you need to cut out an L-shape from your wooden boards and attach it to a corner of the room using hooks. This design is ideal for keeping your work area mess-free and gives it a unique and wholesome finish.
DIY Space-Saving Foldable Table
One of the worst things about going to school is having a lot of things to carry and not enough space for storage. One of these problems can be solved using this Space-Saving Foldable Table. As a matter of fact, you would not need any tools for this project since it's pretty straightforward - all you need to do is make sure you have some basic woodworking skills before starting this project. So what are you waiting for? Let's get started!
3-minute floating Desk (Ikea Hack)
This video has you covered if you are looking for an easy and inexpensive way to create a floating desk. Justin, the creator, shows you how he built this from Ikea desks, 1 x 4 pieces of lumber, and some L-brackets. All in all, he spent about $30 on this project. This is not an instructional video, but it is still very easy to understand and gives great clarity about what needs to be done. It covers all the basics you need to know about the project, and further information can be found on the Instructables page.
Plywood Floating Desk Idea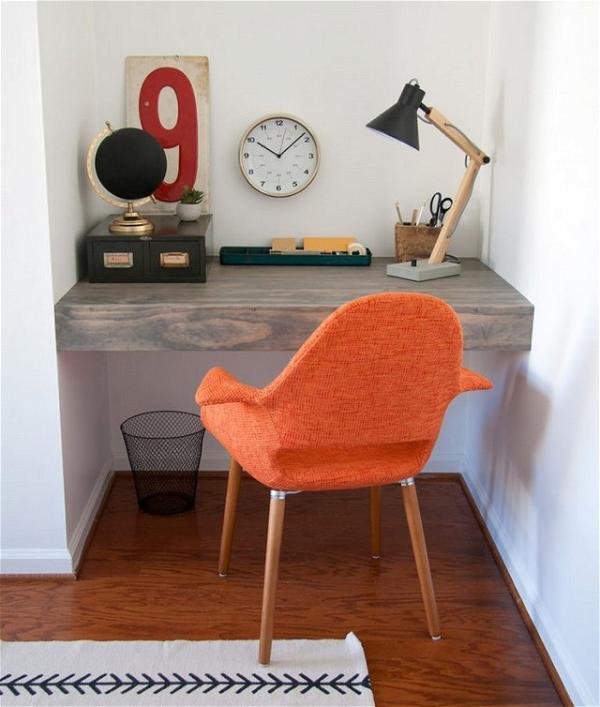 If you want a DIY floating desk, the piece of mind that comes from knowing you built it yourself is a priceless reward. It will be much cheaper than going out to buy one, and it will also be much more satisfying to make than buying one. You only need 9 steps and a few tools to complete this building project. It's a fairly straightforward build that can just about be accomplished with the aid of your bare hands and some essential tools. Our resource includes a shopping list, as well as measurements for cutting.
Curved DIY Floating Desk
The desk was made to complement a floating shelf already in place. It's made of 12mm MDF and 20mm x 20mmm battens, giving it a sturdy and stable build with plenty of room for storage. The video is on YouTube; you can also download it to your device by selecting the download button. Once downloaded, there are two PDFs included. One walk-through is a 3D diagram of the project and how it was constructed, while the other lists the tools needed, materials and dimensions.
Make Floating Desk With Storage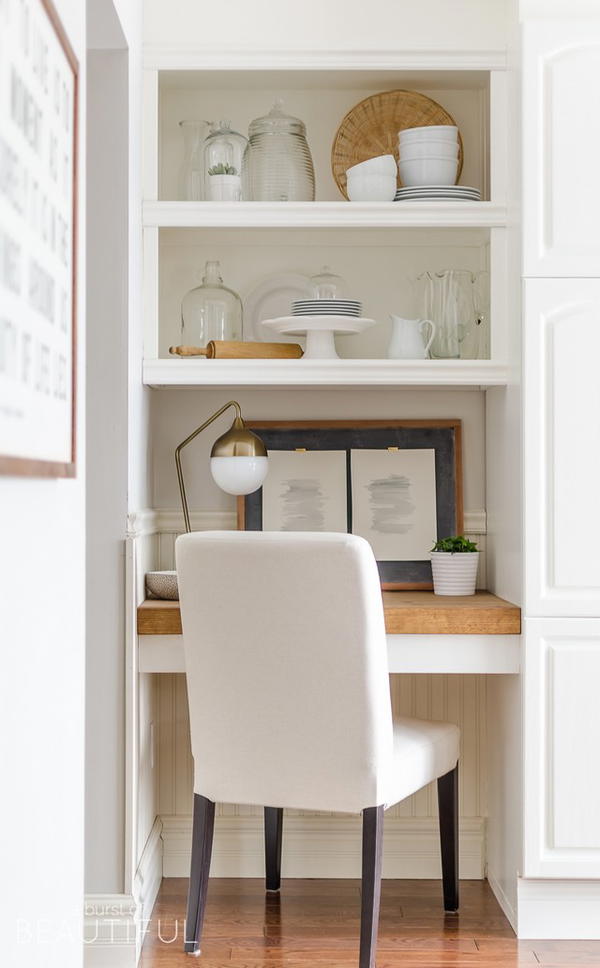 This cute DIY project is perfect for you if you want to make your home office a little cozier. It features a large work surface that makes the best use of space while storing everything you need around it. This floating desk has a shelf underneath that can be used for storage or as another work surface if required. The entire project will take less than three hours, not including drying time between painting, and requires only a few simple tools: circular saw, jigsaw, drill/driver with drill bit attachment, straightedge for a drawboring, tape measure, and clamps. Another great thing about this design is that the measurements are scalable, so you can adapt it to any size workstation you might have!
$11 DIY Floating Desk (10ft long)
With this DIY floating desk, you can get a professional-looking design at a very affordable price. In this tutorial, we take you through the steps of creating a 10-foot-long floating desk with any pieces of wood you have lying around your home. The dimensions given in this tutorial are very easy to follow and can be taken and applied to different dimensions and designs of your own. Check out this easy tutorial to see how it is done and make your own!
Floating Desk DIY Idea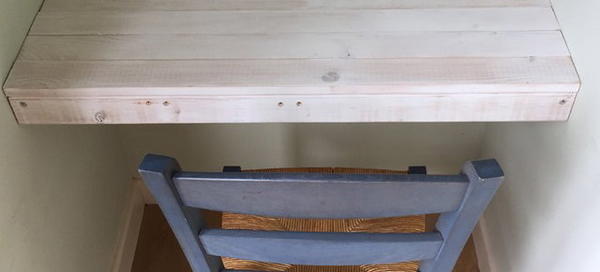 The ultimate desk accessory, this floating desk can be quickly built within two hours and costs $25 to make. The minimalistic design is great for small and awkward spaces but also can be modified for large spaces. With in approximate 2 hours, you can have this desk up and running in no time. This design is excellent for a small space, but with just a few tweaks, you could quickly adapt it to fit your home perfectly. If you want to be sure everything is accurate, double-check your measurements before cutting any lumber.
Cheap DIY Wall-Mounted Desk
Costing only $15, this DIY Wall-mounted desk is an excellent deal for the price. In the video, the designer listed all the materials and tools she used before she began building. This DIY desk is easy to make and is made from plyboard and other objects. It's lightweight and simple enough for any student or professional who needs a small place to put their laptop or textbook while studying or at work. It's also a more eco-friendly choice than buying an off-the-shelf desk.
Floating Desk Office Towers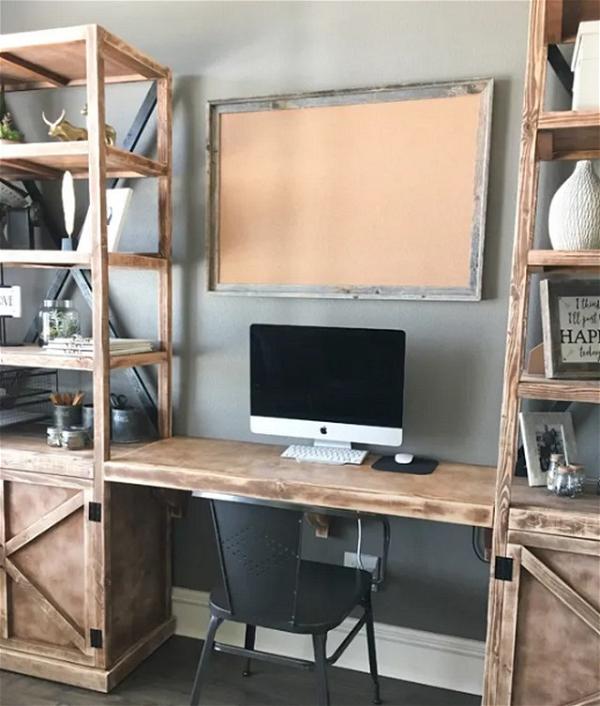 Are you ready to renovate your office space? Do you want to create unique storage units that are also practical? If so, then the DIY Office Towers Floating Desk is just the project you're looking for. Not just an ordinary floating desk, this one will make a statement in your home office. Don't worry; it is not too complicated and takes little time to build. This floating desk is quite easy-to-do with minimal tools needed and basic skills required. Get started on creating your perfect home office today!
DIY Wall-Mounted Computer Desk
Are you fed up with your traditional computer desk? Then this tutorial is suitable for you. Other than space-saving, this DIY computer table has many other advantages that will change your world. It can be built quickly with stuff that you probably have at home. The video tutorial on how to make this desk has everything covered, so it's not just impossible but also effortless. The process takes around 8 hours and produces a durable desk that will last for years.
DIY Floating Desk With Storage Plan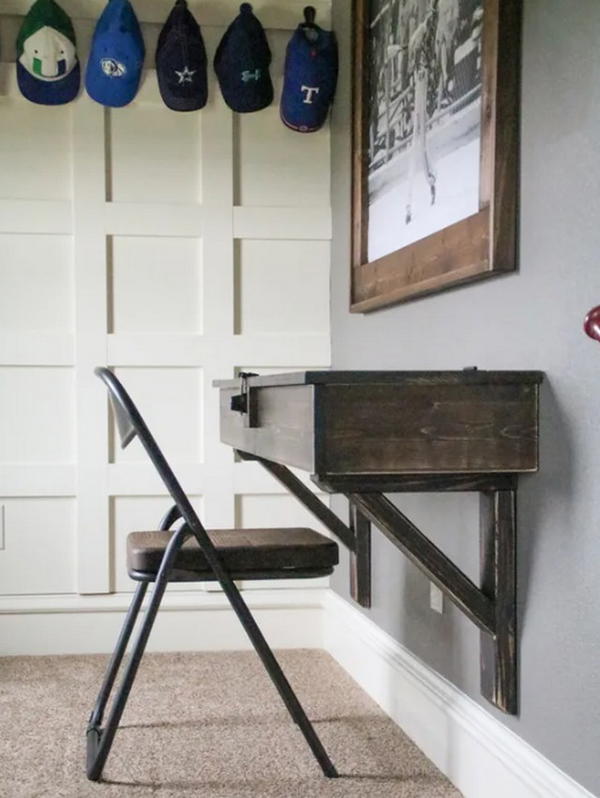 This Floating Desk is the perfect way to get comfortable, free space in your home. This rustic-looking floating desk is a great addition to a guy's room or office. It's simple to build, and it's also cheap too! It was made for under $30 and is 5ft. long. Building this floating desk will be a rewarding experience and add value to your home, whether for you or as a gift idea. Check out the tutorial and see how you can get this great-looking piece of furniture done in no time!
Super Affordable DIY Floating Desk
Don't you sometimes feel like there isn't enough space for a desk in your studio apartment? This is the project for you, then! Instead of buying a new table, why don't you just convert that corner that has been out of use for a long? This budget-friendly floating desk is simple to assemble and will fit into any space. Whether you're looking for an office, work area, or even a side table, it's easy to customize with your own personal style. This desk is DIY-friendly so that it won't break the bank simultaneously.
Space Saving Floating Desk Plan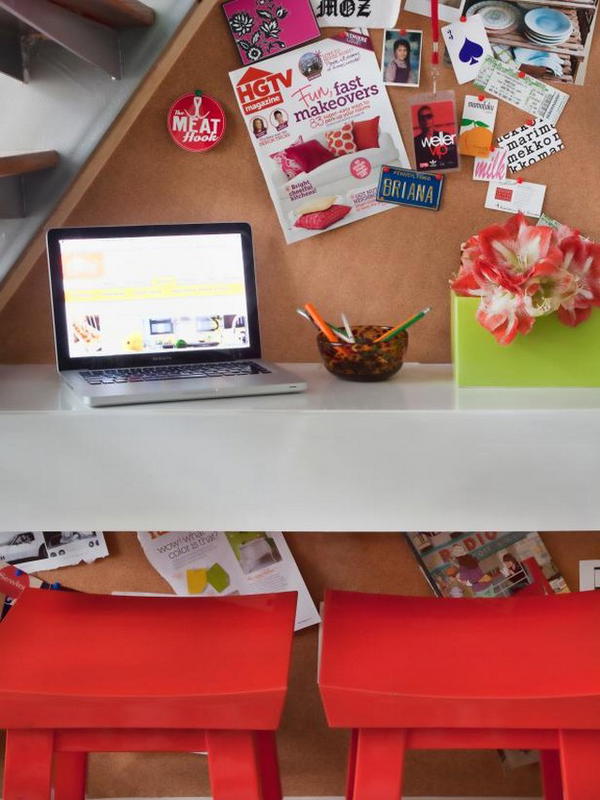 We have just the right solution when you want to create sections in a small room or are looking for a fantastic new way to display your wall art. This DIY floating desk is simple and convenient to create, using reclaimed lumber. Its design offers an illusion that there is more space in your tiny workspace while giving you the freedom of moving around without having to worry about bumping into furniture. Your laptop, scannable documents, and other items will have a home on this stylish floating desk.
DIY Folding Desk
With the help of a few screws, joints, and other materials, you can easily make your own foldable table that you can use at home. In this video, Siddharth Broad Vids shows how easy it is by taking us through the process of making one. The benefits are clear—you save money and have more space in your room without needing a separate desk to accommodate a computer. By not having to assemble it every time you want to use it, a lot of furniture space can be conserved by keeping this table folded against the wall. It can also be used in other places that need tables on hand but don't have enough space for a permanent one.
DIY Floating Desk And Shelves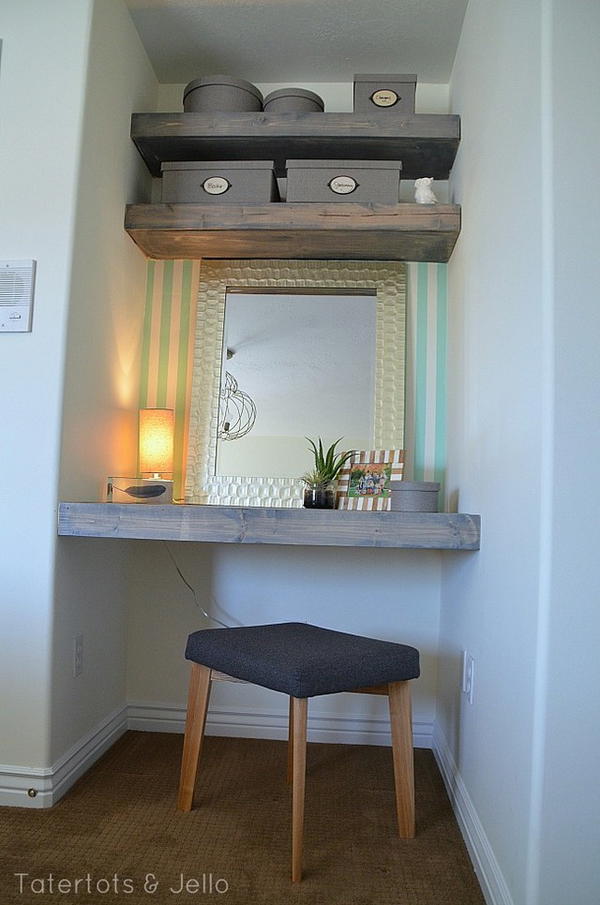 We have the perfect project for those looking to add a classy touch to their home decor. This floating desk design will change the entire look of your bedroom, and you don't need to spend a lot of money on it! In just a few steps, you can make this beautiful piece. The desk comprises two units that can be moved around according to your needs, and it comes with matching shelves. This step-by-step tutorial will help you figure out how to make a stylish floating desk with matching floating shelves.
Wall Mounted Floating Desk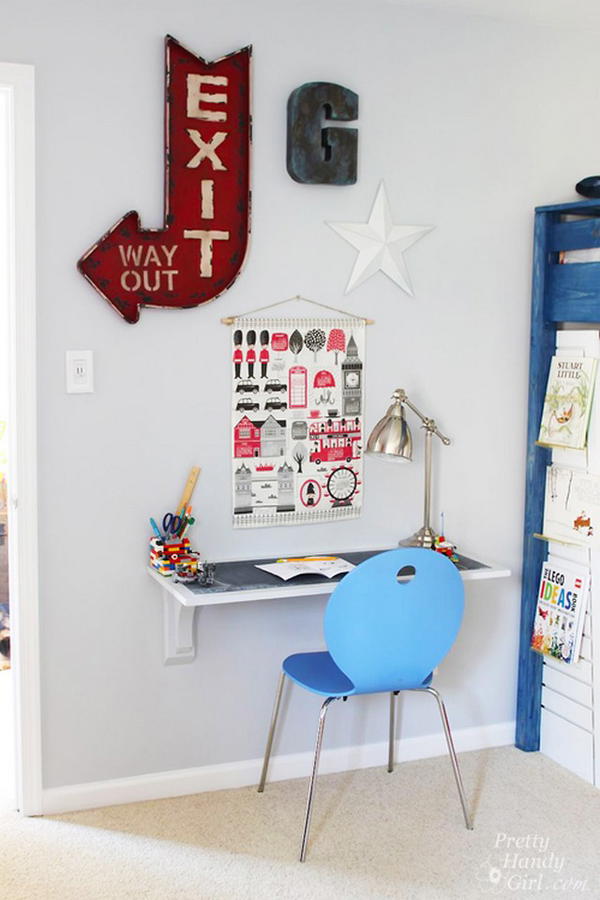 This floating desk was designed for kids! It makes them feel like they are in the big leagues, even if it's smaller than their parents' desks. But don't kid yourself — this is a desk that can be personalized and customized to look exactly how you want it to look. The plan includes a detailed materials list and step-by-step instructions. All you need are basic building skills, some standard tools, and supplies such as wood glue or screws.
DIY Floating Desk with Secret Compartment
After months of searching for a floating desk that didn't take up too much space, we found what we were looking for. This clever design with the pull-out drawer makes it a perfect design for any workspace or living room. This hidden compartment can store your business items or hide away personal things you don't want others to see. If you want to create one, this DIY project is perfect because it has a secret compartment. It also looks great with a modern design—just make sure to use suitable materials when building it.
Build Floating Desk Plan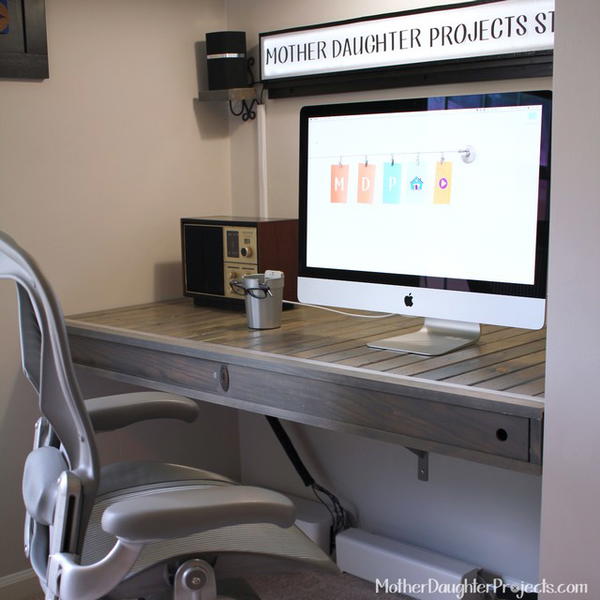 This DIY floating desk is perfect for a workspace. It sits flush with the edge of your table or desk, so it won't take up extra space while giving you plenty of room to store things like books and laptops. Get this project started by getting studs, metal brackets, pine boards, tray sliders, and other materials via the tutorial prepped and ready to begin building this desk. With 18 steps to follow, this build is easy enough for anyone – even if they have little experience without the help of our step-by-step instructions.
DIY Wall-Mounted Floating Dream Desk
The DIY floating desk is one of the most popular projects on our website. It is mobile and sturdy, with a heavy-duty look that won't sit out of place in any room. The tutorial explains how to build a simple and elegant floating desk with handy storage space underneath so you can keep all your equipment close at hand. It's built into a wall, so it won't take up floor space as an ordinary desk would. You can also choose the materials and colors that suit your needs best. This design is perfect for DIY lovers with simple instructions and easy-to-find materials.
DIY Curved Floating Desktop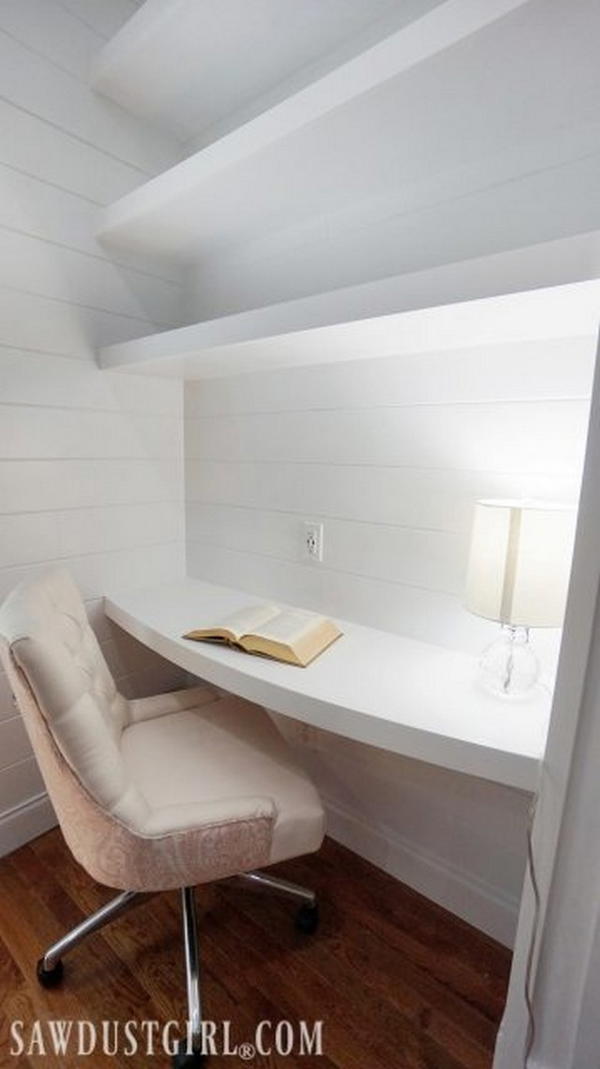 This floating desk was built for the bedroom and is an absolute beauty. It pairs perfectly with the matching floating shelves, and with a coat of white paint, it makes a dashing addition to a modern-styled room. The DIY curved floating desk is a brilliantly simple design that can be built in just two days from readily available materials. The floating desk is created by bending a single sheet of plywood and securing it to the wall with brackets. With the plans available in this tutorial, you can build it up in no time.