The throne chair is a symbol of power and royalty, which is why it's specially designed for weddings, birthday parties, and other occasions to match the theme of that event. It's also a stunning stool to have in your home. It has many uses, including being a good centerpiece for photos when having guests over on special occasions or just hanging out with family and friends. Many people today are cutting down on costs by making their own throne chair instead of purchasing a new one. The internet offers millions of options for DIY Throne Chair ideas, so we've compiled some of the best ones for you to choose from! If you want your special event, like a wedding or a photo shoot, to stand out from the rest, you can use these DIY Throne Chair ideas to make one for your next party!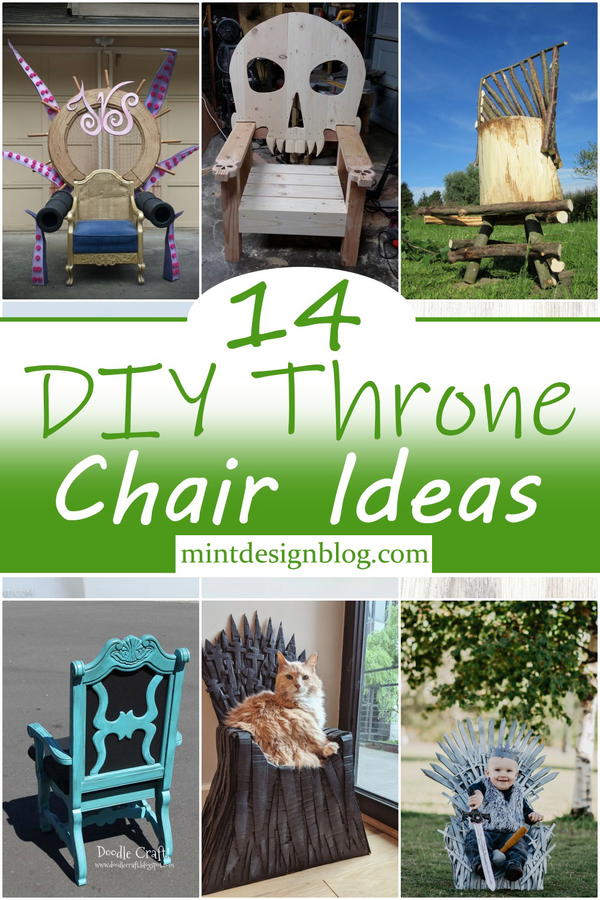 DIY Throne Chair Ideas
The DIY Throne Chair ideas are perfect for building your own throne chair. You don't have to be a professional carpenter or have crazy skills with tools. Even if you are new to DIY and carpentry, these DIY Throne Chair projects will show you how easy it is to build your own throne chair at home. It does not matter what size your living space is—they can fit into any room or apartment because they are so versatile and cleverly designed. These ideas look impressive yet simple and elegant at the same time. You should start working on the aesthetic part of the chairs before beginning the construction process and mindlessly follow our steps below!
Uses and Benefits:
DIY Throne Chairs do not just look good in pictures or on your Instagram account but also prove to be very versatile. You can use them at home, while traveling or while working. It depends on the purpose of your life and the occasion at hand. As artists, we always try to keep up with the ongoing trends. We try to bring out the new ideas that will undoubtedly help bring more people together with these chairs in their homes. Treat yourself to a DIY Throne Chair and personalize it to fit your style. With these easy-to-follow instructions, you can create your own masterpiece from scratch. Have fun building your new chair, and enjoy using it for all your special events!
DIY Pirate Throne Chair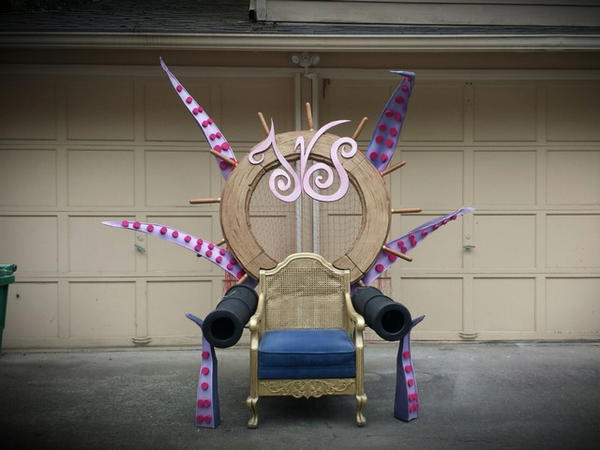 This project is for beginner and advanced woodworkers alike. It's a great way to use up small or scrap wood, but nothing has to be wasted if you have some larger pieces of wood from another project that can't be used, no worries. This throne assembly will show you how to refit them and make them functional again. This DIY project is perfect for a stage play or any pirate-themed party. You can learn to make this throne chair easily. You'll have a good time building this throne chair over the weekend or a few evenings, and then be ready for your next pirate play!
How To Make A Throne Chair
This inexpensive and super sophisticated DIY throne chair can fit into any function, from a modeling photo shoot, birthday party, or any special event. The significant component of this project is carved out from an old repurposed rocking chair as its platform. You will also need a few other standard household supplies and materials. This is an easy project to pull off in your own home and sits comfortably at only $20. Follow these steps, and you'll be well on your way to having a stunning DIY throne chair.
Reupholstered Throne Chair Idea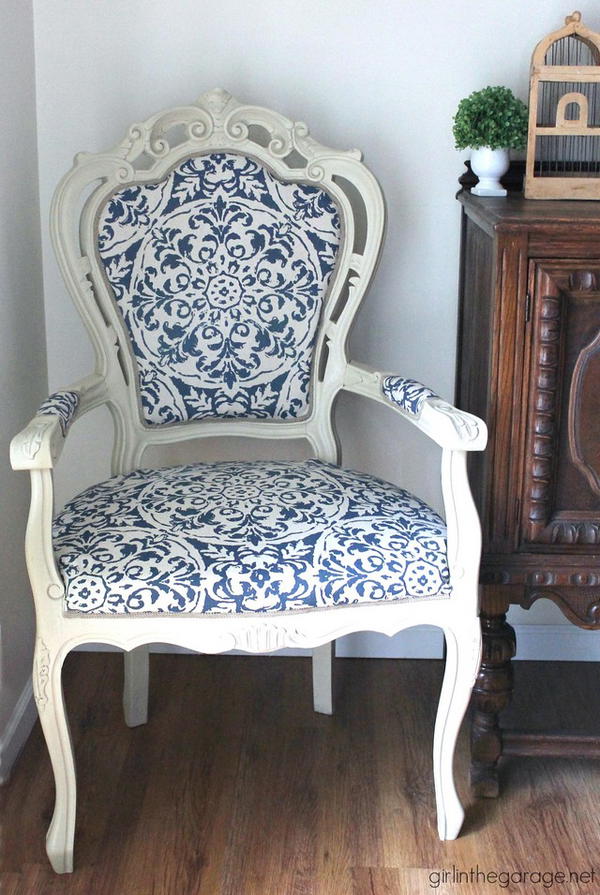 You are in charge of your own home, so you should have a say on what it looks like. This means you should have good furnishings and upholstered items to make it look cozy and functional. But sometimes, you may realize that some of your furniture needs a makeover because of wear and tear. When this happens, the correct solution is to repair it with the help of reupholstery projects. This tutorial is an excellent example of how easy it can be to reupholster an old chair and make it look brand new. The project itself is relatively easy, but you need to remember that crafting requires some skills and talents.
How To Build A Throne
Anyone who has ever built a throne can tell you that it's hard to get the proportions just right. To get the shape of this chair right, you'll need first to build a rudimentary form with a simple notch cut out of it. Next, take dimensions from the "box" and transfer them onto plywood sheets. Use clamps and weights for added stability when cutting them out beforehand. Remember that once you bend your frame too much, it will become challenging to resume working with – so only turn as much as necessary!
Stump Wooden Throne Chair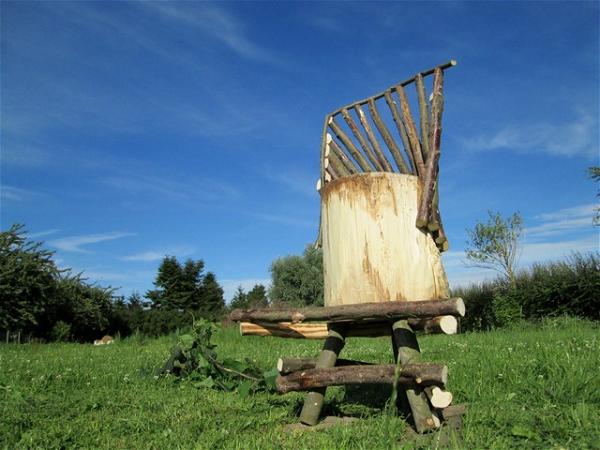 A throne chair is a creative way to bring beauty and interest to your lawn or garden. It's also a fun DIY project that will allow you to learn how to do some wood cutting and painting, so it's a great piece of furniture for kids and adults. The process requires several steps, but they are relatively easy and straightforward. You can pick up all the supplies at your local hardware store or home improvement center. Grab your woodworking tools and start building!
DIY Throne Chair Makeover
When finding a seat for your baby shower or other events, nothing is better than having a cute throne chair. This DIY throne chair makeover tutorial is perfect for making the chair match your party theme. This is a simple DIY project that can be done quickly and beautifully. The end product is a throne chair makeover with elegant grace. This throne chair tutorial makes a statement to any shower event or indoor child birthday photoshoot. You only need a few materials like gold paint, a paintbrush, fur, and a chair.
DIY Barbie Doll Throne Idea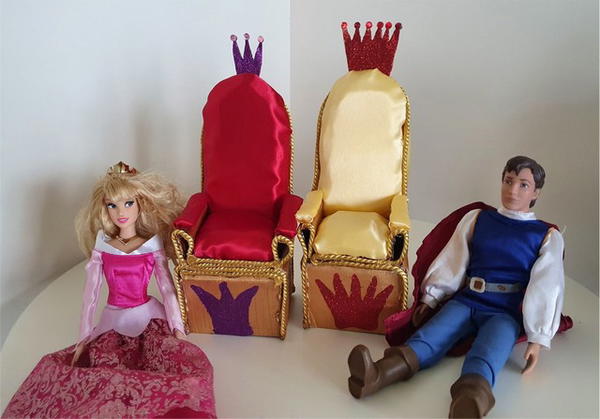 It is more than a DIY project; it is a good way to engage your kids in making something out of nothing. With these countless activities you can do with your children, they will be happy and entertained as you create them. This Barbie throne chair tutorial will give you the best results after working on it for some time. It is easy to follow the instructions and finish with a beautiful glass shelf that would look perfect in your living room or bedroom. The materials needed are very cheap and easy to find, but the end result, once completed, is something that makes your kid happy and proud of their achievement.
Skull Throne Chair to DIY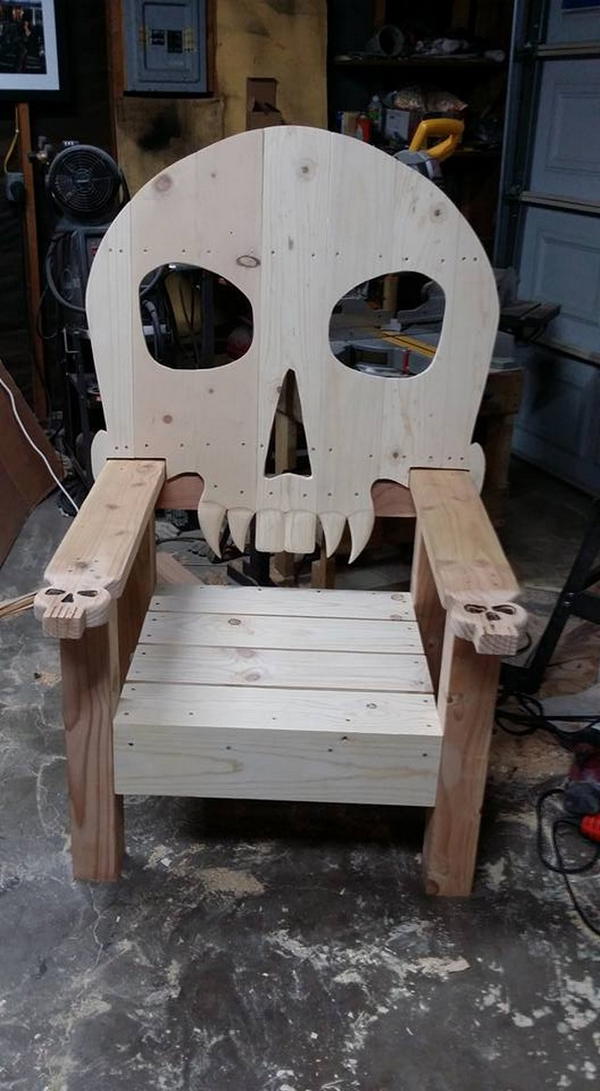 Our hand-carved skull throne is an excellent addition to any living room or patio. The large removable skull sits atop the chair, and the small horns and skull details are perfect for someone who loves gothic or dark-themed inspired arts or crafts. Follow through with this creative craft project, and create a stunning throne or chair that would look perfect in your room. Do not be scared of the tutorial; it does not add much time or skill to achieve.
Baby Sized Iron Throne Chair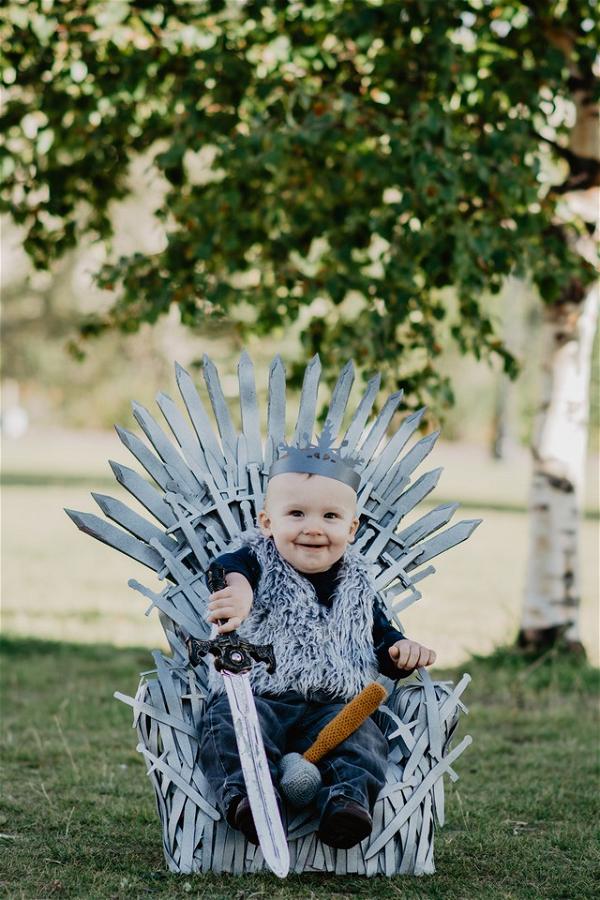 This DIY project is fun to show off your creative side and craft skills. To create your own baby-sized Iron Throne, you must use at least three boxes of foam floor mats, a baby-sized lawn chair, craft foam sheets, cardboard or cardstock for the sword template, zip ties, and gray and silver paint. After you have gathered all the materials needed, completing it will only take a day or two. The inspiration for this project was the Game of Thrones tv series, but you can use this project to build your child's own version of any throne they love. This is also an excellent project for teaching children about working together and following instructions.
DIY Wedding Throne Chairs
Planning a wedding may require you to spend a lot of money on this happy day. But you don't have to break the bank – you can make your Throne Chairs and save money. This DIY video tutorial will help you understand how to make them so that you can send them out with friends and family members as their favor instead of buying expensive favors in the market. Whether you are looking for an affordable accent chair to bring out the theme, or a beautiful piece of decor for your bridal party to use during their walk into the reception, this throne chair represents luxury and class.
How To Make A Throne Chair Out Of Cardboard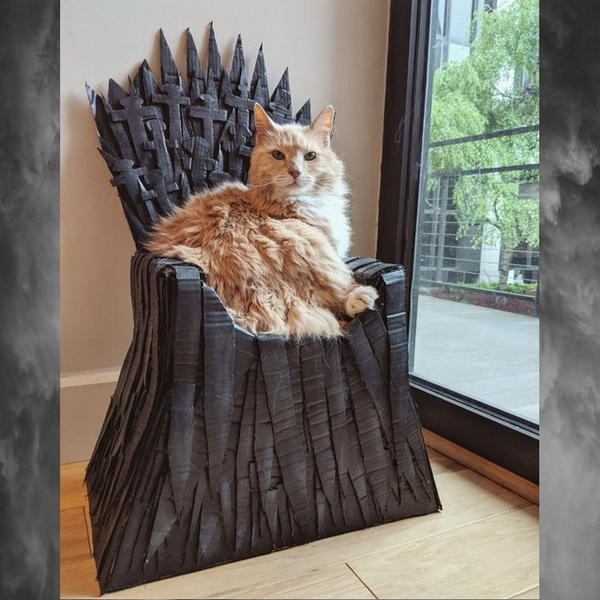 Why not make your cat feel like a king by building this throne for them to rule over your house? You can show them how special they are by crafting a throne they only have access to. It is made out of cardboard and a hot glue gun; the paint used on it makes the complete project come together in a very pleasing way and ends with sensory appeal. Your cat will love this throne because it is made to be comfortable and safe while being very decorative at the same time.
DIY Throne Chair
Here is a fun and easy project you can do at home to make your throne chair. The materials needed to complete this project are available at any home improvement store or even on Amazon. You can create this beautiful throne chair even with minimum woodworking skills in less than 3 hours. You can treat yourself as a King or Queen on this throne chair and relax in style after a long day at work or after a hard workout at the gym. Once you make one, you will want to make another for yourself or as a nice gift for a friend, family member, or even your favorite teacher or neighbor.
Make Throne Chair With Wings
This throne chair with wings is not just a powerful piece of art; it is also a soul gym armchair used for specific power poses like the Superman pose. This may sound confusing initially, but this DIY guide will make it easy to understand and follow. It's great for inspiration, practice, and meditation. This chair is made from solid wood material. The surface makes the chair durable, easy to clean, and has a smooth finish that prevents splinters. With this simplified step-by-step guide, you can make it yourself and enjoy it at home!
Vintage Style Queen Throne Chair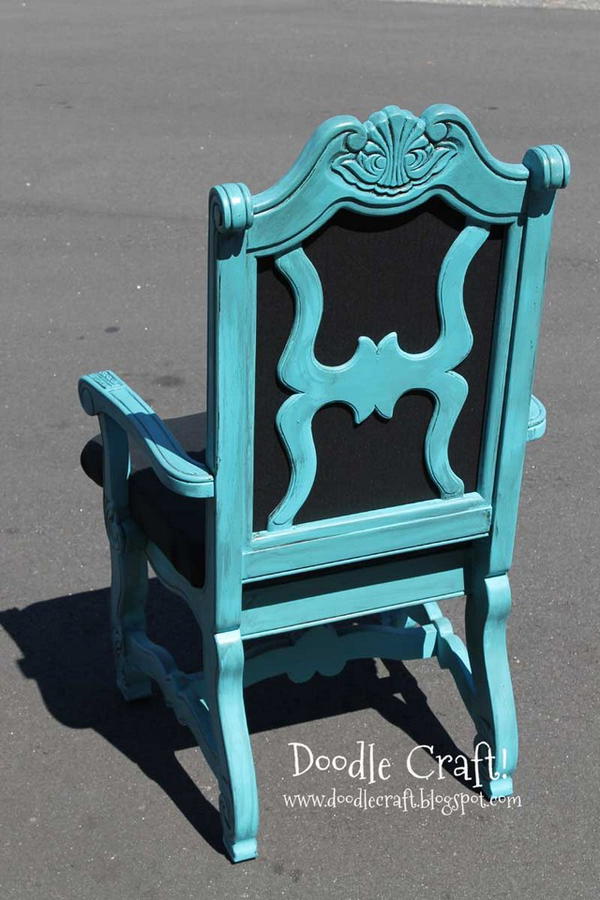 This is a fun reupholstery project to give you an excellent vintage-look throne chair that you can use as a photo prop. The easy-to-follow steps will lead you to a beautiful result. The design was made to fit their taste, but you can also make it work for yours. This perfect bench or pouf for your living room, nursery, or bedroom. The material used is durable cotton that can stand up to lots of love and use! This is a great DIY idea for anyone who likes to reupholster furniture themselves.