Reception desks are a great way to upgrade the look of your office. They can also give you space to store your mail and important documents and make a reception cabinet. They're usually expensive to buy new, but you don't have to pay full price to create one yourself. Instead, use one of the following DIY Reception Desk Plans and instructions on building your modern reception desk in just a few hours. Making your own reception desk is a great way to save money. In this article, we show you how to build a frame for your desk and the lumber requirements for the project. We'll also show you what supplies are needed to complete the project and where you can buy them if you don't already have them around your home or office!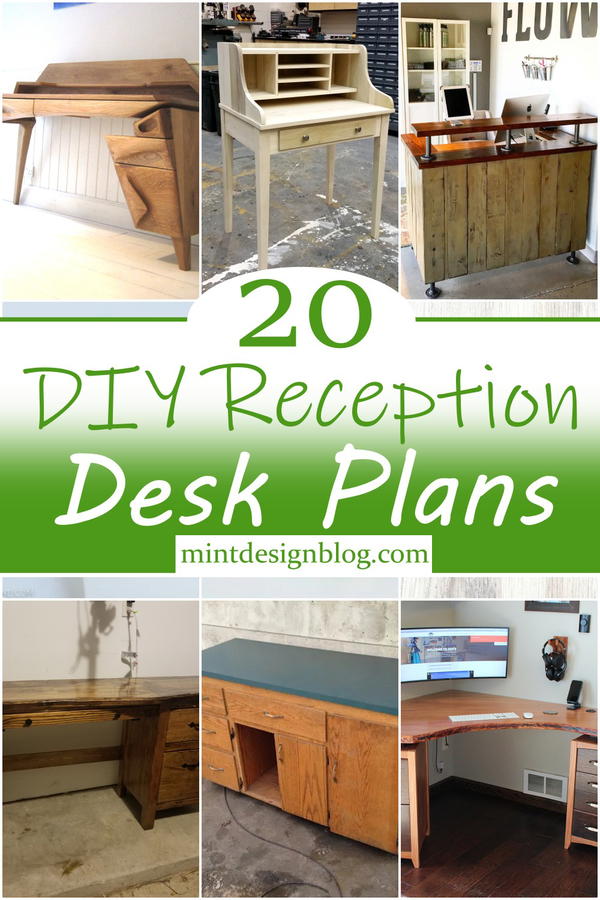 DIY Reception Desk Plans
The first thing you need to know about this DIY project is that it can be done in various ways, including with wood or metal as the base. The second thing you need to know is how long it will take to build your reception desk. There are several factors that make up the time it takes, but generally speaking, it should only take a few weekends. If these things sound good and you are ready to begin making your own DIY Reception Desk, then keep reading below for all the great ideas on doing just that!
Easy To Follow Guides:
It's important to know that you don't have to spend much money on construction and furniture to create a great space. There are many great ways you can save money and get great results. To help you out, below is a roundup of some of the best DIY Reception Desk ideas and plans online. These easy-to-follow tutorials will show you how to use cheap materials, salvaged items, and even repurpose old furniture. Whether you have a limited budget or are looking to build one, you'll find a project here to fit your needs.
Uses And Scope:
DIY Reception Desks have been used in the home or workplace for years. You may be aware of the labour-saving benefits of utilizing a reception desk. If you're not, here are some reasons they are so helpful: No more lost time searching for files and documents or looking for a significant phone number. Your staff will no longer waste time searching cabinets and shelves to find what they need. Instead, they can simply ask the person at the desk, which will be provided immediately. Having a dedicated reception desk and a receptionist or administrative assistant is a great way to run your office efficiently and calmly in any situation.
How To Build A Large Two-Level Desk
This large two-level desk uses pocket hole joinery to put together. This guide will show you the exact size of lumber required and the cutting instructions. The first step is to measure your workspace and choose the desired dimensions. You can add additional drawers if you wish using this same design method. The technical drawing shows how every cut should be made with a circular or table saw. Using pocket hole joinery and adding the feet makes the assembly process very simple, even for novice woodworkers.
Flow Cycle Modern Reception Desk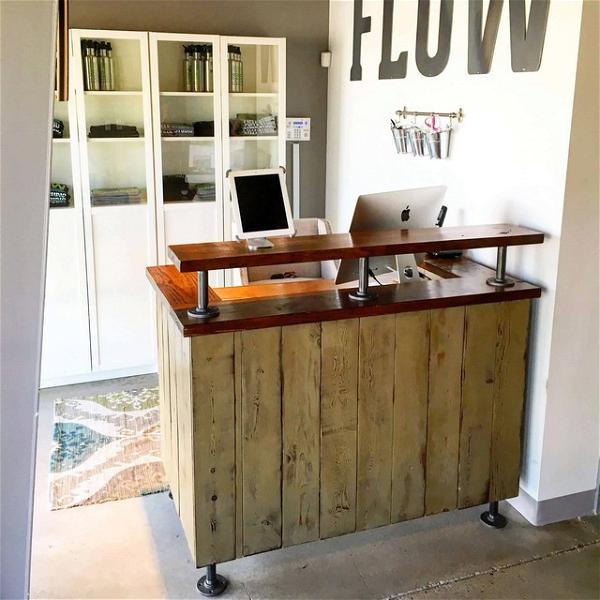 This studio reception desk is an excellent addition to your home office, serving room, or art studio. The desk is made from cedar wood, clamps, and floor flange, which makes it durable and strong. The legs are made with solid wood and have been stained to match the rest of the desk's color. Its beautiful design will be highly appreciated by anyone who comes into contact with it. It has a lot of space. Enough space is provided for putting books and other necessary items like pen, paper, and mobile.
How To Make A Custom Wood Reception Desk
A custom wood receptionist desk is an excellent addition to a studio, gallery, or corporate office space. It adds a natural and modern style to any room without compromising on the utility of the reception desk. This is made from real concrete overlay countertops, which gives the desk its unique look and feel. Our Countertop Process allows us to create special material for our functional pieces like this custom wood receptionist desk because we can recreate any material, such as concrete, hardwood, stucco, glass, etc., into something entirely new by overlaying it on top of existing surfaces.
Pallets Wood Reception Desk Idea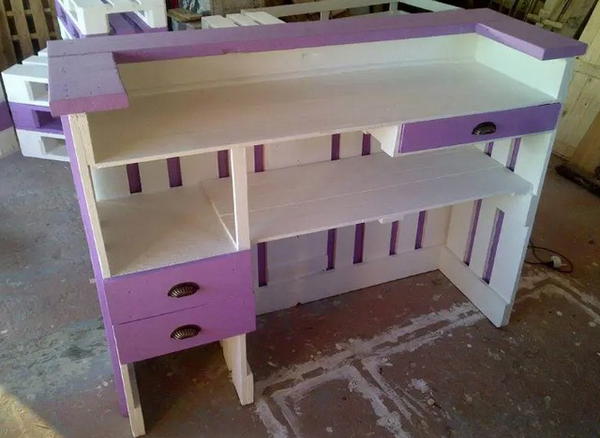 Pallets are usually discarded, but they can be transformed into various items such as desks and chairs. Pallet wood makes a good material in furniture making because it is sturdy, versatile, and inexpensive. Here is a modern reception desk made from pallet wood that you will surely like. This project is simple to do and requires only essential tools. It is ideal for a reception desk, office space, etc. You can check the link below for more information about the studio reception desk made from pallet wood.
Low Budget Reception Desk
The reception desk is one of the most important things to a business owner. It is the first impression you give your customers, so it must be attractive and professional. A suitable reception desk should be sturdy and last a few years. We will show you how to make a reception desk with some low-cost materials using only home depot and IKEA. The materials used in this tutorial are only from those two stores, so all you need is an hour of your time and know-how to make this. The custom design of the desk allows you to cut out unnecessary pieces and create a unique design that fits your home perfectly.
Industrial Reception Desk
Receive your clients in style with this reception desk. The industrial look and feel will add elegance to any office or business. This desk has a sleek and modern design that can fit well into modern, contemporary, and traditional large and small spaces. It features significant storage space – two drawers and two shelves – allowing you to store your papers, stationery items, files, and other supplies neatly below the countertop. With all these features, this desk can accommodate more than one person.
DIY Custom Reception Desk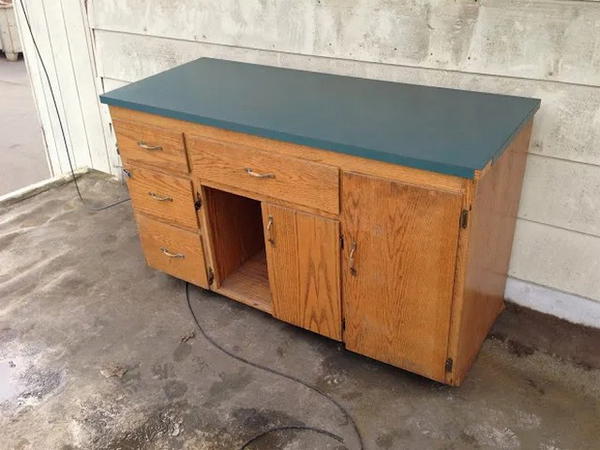 You will find this plan helpful if you need to create a reception counter. It explains how to build a desk using durable materials that will last for years and look great. A successful reception counter is a layout that balances economy, efficiency, and aesthetics. This handy guide shows how to modify or customize a reception desk. This DIY guide has all the step-by-step instructions you'll need, along with plenty of photos to help clarify any questions.
Plywood Reception Desk
A plywood receptionist desk is an essential piece of furniture for any business. It offers a simple and elegant design, which is easy to clean. There are several designs for this desk according to its purpose. We have prepared some plans for you if you want the most versatile and stylish reception desk. The first plan is how to make a DIY receptionist desk using ¾" thick plywood. If you are worried about insufficient storage space, this desk plan is for you because it has a lot of storage space.
How To DIY Pinewood Desk Plan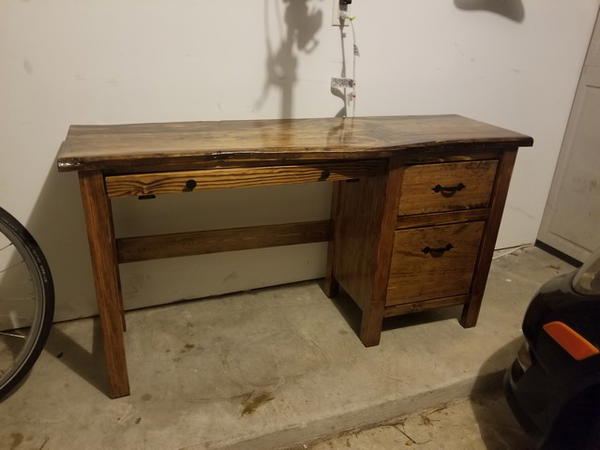 The pinewood reception desk is the ideal workstation for any home office with a clean, minimal design. This pine desk has a live edge slab used to make the top of the desk. It was left outside for quite some time, so it is no longer clean and smooth. Luckily, this just makes it even more unique and even more attractive. In addition, you can personalize this desk by adding your favorite color to make it even better.
DIY Glam Reception Desk
For this project, you will need an old beat-up table, wood glue, foam and batting fabric, a sheet of plywood, satin fabric, and a staple gun.

1. Start by adding a piece of foam and batting fabric on a plywood board. Then poke holes through the batting to the foam. You can measure and mark your measurements or make them randomly as long as they are straight.

2. Lay down a piece of satin fabric on top of the batting and love all those holes by driving screws through them into the plywood board!

3. Repeat this step for both sides of the desk.

4. Now attach the bottom shelf to the other two pieces.

5. Measure your drawer size & cut out some extra plywood for drawer tops

6. Stain & paint your desk.
DIY Reception Counter
If you're tired of your beat-up counter, or if you just want to upgrade it to something more modern, here's a guide showing how to do it yourself. The reception counter is made from marine plywood, liquid nails, and paint. You can pick up all the materials at your local hardware store or order them online. If you prefer the look, you may also use molding from a local hardware store instead of cabinet trim. The design is simple yet modern, offering extra storage space for storing various beverages.
Reception Desk For Gym
If you love working out and always want to keep track of your training or other fitness-related information, you will be able to record all these things by building a simple desk. A reception desk is an essential part of a gym. It makes guests feel welcomed and comfortable when they enter your place. To work on this project, you must buy some wood pieces and gather the tools needed for the build. The building process is simple, as shown in the video guide. After putting everything together, your gym will be ready to welcome anyone who walks in through its door.
Sculpted Oak Small Reception Desk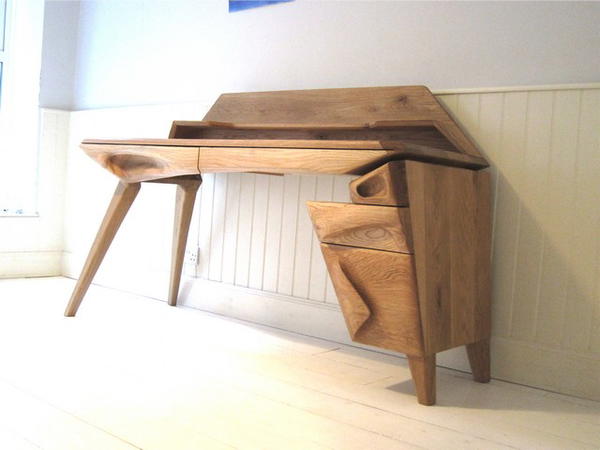 Craft a desk to suit your design and style with this project. This sculpture is the perfect project to get your creative juices flowing. Start by sketching out the designs and details you want to include on your desk, such as its size and shape, where you want doors/drawers, and how many surfaces you want. Once you have a clear picture of what you wish to do, gather the necessary materials and tools, follow the instructions in this guide, and you'll be sitting behind a beautiful oak sculpted desk in no time!
DIY High Boy Table
This handcrafted table is made from two pallets of wood screwed together. It makes an attractive outdoor desk paired with a chair or bench. The tabletop is long enough to use as a tabletop for a laptop computer, while the bench can be used as seating or as extra surface space when placed against another wall in the room. The finished product makes a great addition to any home or office, as it folds up and easily stores when not in use.
Reception Desk For Secretary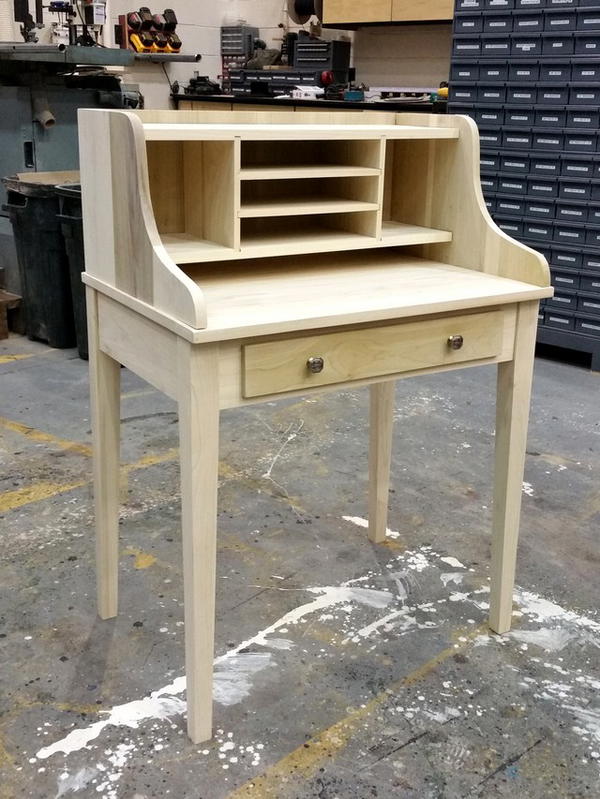 If you want to build a desk with your hands, here is a DIY tutorial for making a secretary desk. Get the detailed instructions on how to do this project right now and start building your own unique furniture piece. You can start with a sketch or design in mind and work out every detail you want before building it. This is helpful because it will save you time during the building process and allows you to think about all possible designs before deciding on one that suits your needs.
DIY Cashier Desk
A cashier table is the center of operations for all servers, so it should be at a height that makes it easy for them to reach and see over but also lets customers interact with their order without climbing on a stool. You don't need many materials, but you need sturdy boards that are easy to move around. If your store or restaurant is in a historic building, you might be limited by what type of hardware you can use: rounded pegs instead of screws or plastic plugs instead of metal ones.
Corner Office Reception Desk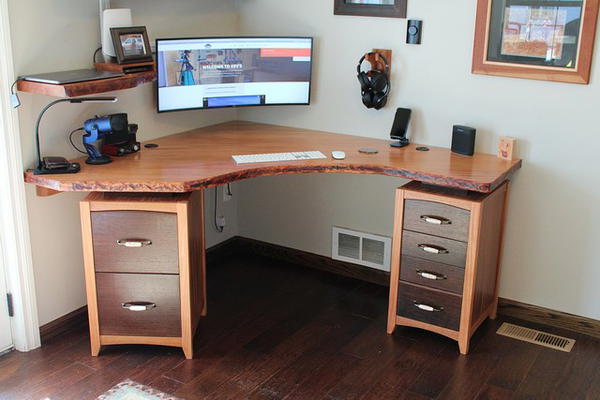 If you're looking at this project as a weekend project, we'll try to make your life easier by having everything ready in advance. This guide provides all the information required to build a corner office desk, including a list of necessary tools, materials, and an estimated effort. Although the plans have been drawn for these specific dimensions, you can modify them according to your own preferences or needs. First, crosscut the wood into rough sizes using the miter saw, followed by planning and other processes described in the guide.
How To Build A Modern Reception Desk
A modern receptionist desk is a multi-functioning piece that keeps employees, customers, and clients in mind. You can use this piece for making calls and welcoming guests. You can also put other things like computers, printers, and drawers. It should be made from lightweight but hardy materials to ensure its long life. The size of the desk allows plenty of space for your computer monitor, phones, and other gadgets, so you don't have to keep looking for things every time a client comes in or leaves the place.
Minimalistic Reception Desk Dimensions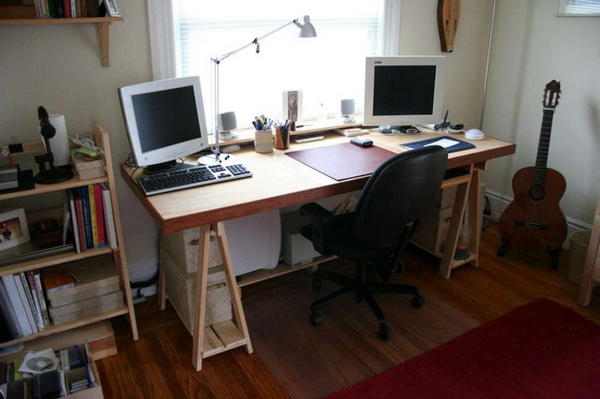 This minimalist desk is an easy-to-follow build that's inexpensive and can be completed using just seven pieces of the pallet. The design of this desk makes it unique yet still allows for plenty of area for working or displaying books and knickknacks. The design for this simple minimalist desk will fit almost any room, especially living rooms and bedrooms, where space is often limited. The DIY wood desk takes advantage of space in a small room, and when placed next to each other, they look like a more significant piece that can divide the room into multiple zones.
You can also see: DIY wall mount table ideas 
DIY Reception Desk
This DIY reception desk is an ideal office workstation that will ensure you have everything you need at your fingertips. It features a large desktop, upper keyboard tray, storage spaces for your office accessories and audio gadgets, a space for the widescreen monitor and CPU tower, and a mouse hole. Furthermore, a hidden drawer also sits comfortably underneath the central shelf. This giant studio desk will surely make their workday easier because the features make it easy to see where everything is and whether they have enough area to access it.