If you have a corner or tucked away space of your home that you're not sure what to do with, why not turn it into a beautiful wall-mounted desk? DIY Wall Mounted Desk Plans will teach you how to build this simple and stylish piece. There are lots of well-drafted plans that allow even amateurs to build their own wall-mounted desk. The DIY wall-mounted desk may look difficult but they are not at all. If you have tools and hardware readily available, you can easily get the job done within a few hours. Just follow these instructions and you will have a wall-mounted desk in no time. A wall-mounted desk is a perfect idea for a small space. It saves you a lot of money with no need to buy a desk, as you build it yourself with wood.
DIY Wall Mounted Desk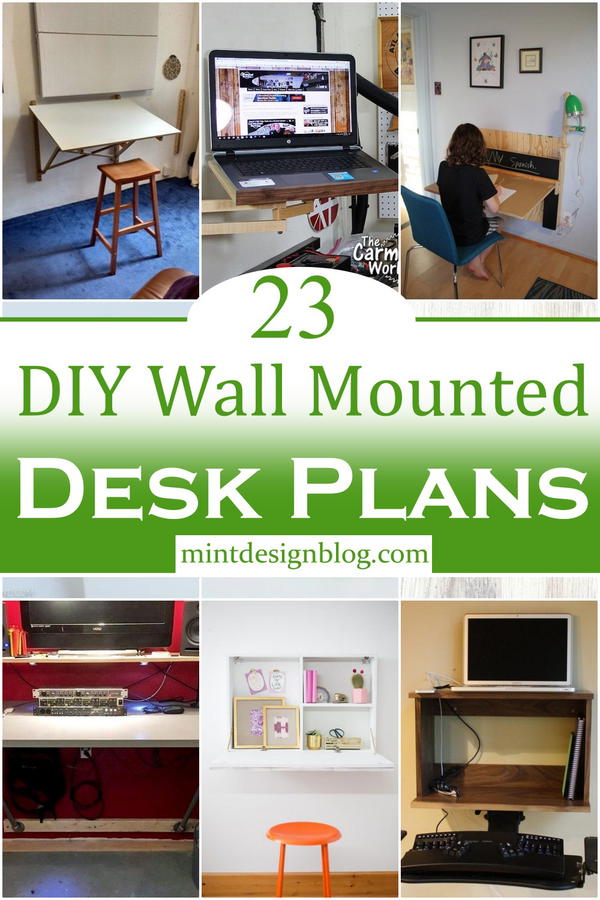 Wall-mounted desks are a great idea if you don't have much space, or if you are looking for a new way to display your desk. The wall-mounted desk is practical and more space-saving than normal desks. They are also very easy to build. You will not need any special tools or skills, so anyone can find the instructions easy to follow. The most important advantage of the wall-mounted desk is that it frees up valuable floor space, which is in high demand in small homes or when combining work with home life. Another benefit of the desk is that it allows you to create a comfortable working environment without having to compromise on style. You can choose from a functional but unobtrusive design, or opt for one that appeals to your personal taste with a chic or vintage touch.
We've created 23 unique DIY wall-mounted desk plans for you to choose from, in hopes of giving you a better idea of what you would like to create.
How To Build A Wall Mounted Fold Down Desk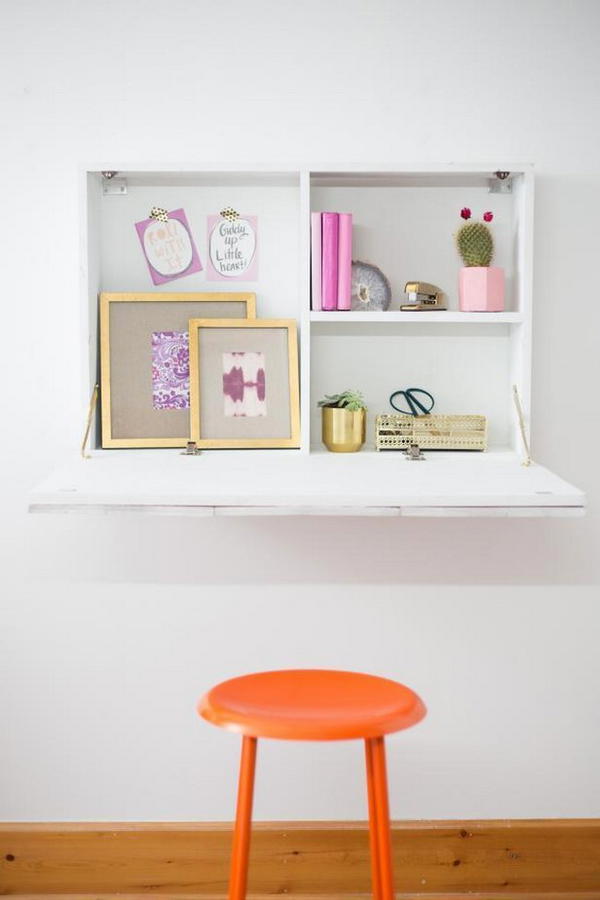 You need a wall-mounted work table or a desk in your garage but there is no place to put it. This custom wall-mounted desk is a great DIY project that can transform an empty space. Made from pieces of wood, decorative panels, cabinet hinges, and screws, this DIY wall-mounted desk is an excellent addition to any kids' room or study. The materials you will need are plywood, hardwood, decorative panels, cabinet hinges and screws, wood glue, wood filler, paint, and a drill. The desk is assembled easily with four frame pieces, decorative panels, and a paint finish. It folds up when not in use so it's easy to store.
DIY Wall Mounted Standing Desk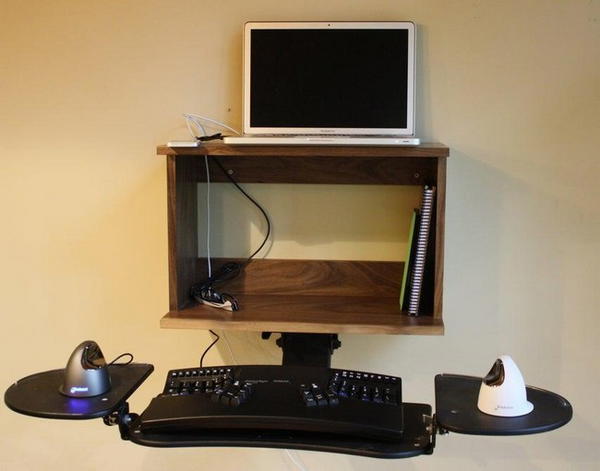 Update your space with a modern wall desk that gives you more freedom in setting up your workplace. The DIY standing desk is made from walnut wood which feels warm and sturdy to the touch, and it comes into its own when mounted on the wall. The rustic finish of the wood provides a beautiful contrast to sleek and modern office furniture. It's an easy project that will add elegance and functionality to any room. This desk was made from pieces of walnut wood that were cut, drilled, and assembled. The desk was then mounted on the wall with command strips. This is a DIY desk that can be made from pieces of wood. It has a fantastic design and will stand out from the rest of your furniture, giving your room a more modern look.
DIY CNC Wall Mounted Desk
This DIY wall-mounted desk is a simple, yet fascinating build. The desktop and side are cut from plywood and mounted using screws. This project may look hard, but it really is quite easy to make. All you need are basic tools and supplies. The first step is to draw the template for your desk and cut all the pieces according to proper measurements. Perhaps it is best to use a CNC router for this because large pieces of plywood and MDF require large spaces that regular jigsaw cannot fit into. However, if you don't own a CNC router, you can still make this project using hand tools. After sanding the pieces of wood and assembling the desk, you can install a drawer to park pens, pencils, or other stuff you might need while working on the computer.
DIY Wall Mounted Desk
This DIY wall-mounted desk is easy to build, and homemade, and it's going to look amazing on your wall. This desk is one of the coolest furniture ideas you've ever seen. It folds down into a table that can fit anywhere and when you need more room, just pull it off the wall! Building a DIY wall-mounted desk is a great way to add some organization and workspace to your home office. This project requires only basic tools and simple supplies from the home improvement store. This table is super simple and it can be a nice gift for anyone.
How To Make A Wall Mounted Desk With Secret Compartments
Think of having a desk where you can keep your secret things without making them obvious. Here's the perfect wall-mounted desk with space to keep your things and yet have a secret compartment that you might love. It is made from materials such as wood glue, screws, plywood, dowels, miter saw, table saw, tape measure, and drill. Although it may look very simple in design, it can be worth your money. It has several features, including three separate compartments that can be locked separately. This allows you to keep your valuables locking in out of sight of others. It has a storage space right under the book rack that can hold your books or any things you need to have hidden.
DIY Floating Wall Desk
This DIY project will allow you to make a floating wall desk for your office or room. With this floating desk, you will be able to free up your space by mounting the desk on the wall. This way you can reclaim the space under the desk for other items. The instructions in this project do highlight how to build the floating wall desk easily and painlessly. Create a DIY floating wall desk for your home. This project requires a circular saw, drill driver bits, chisel, speed square, stud finder, oscillating tools, birch plywood, edge band, LED strip kits, and wood screws. Start by cutting all the pieces of plywood needed then assemble them and secure them together with glue and wood screws.
DIY Wall Mounted Desk Plan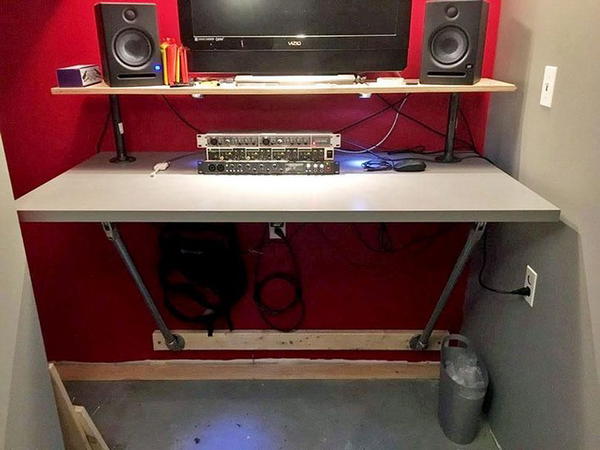 This DIY project is a great way to upgrade a messy desk without spending too much money. This DIY wall-mounted desk is perfect for small apartments, and can easily be built in a weekend. You can do it yourself in just one day and results in a desk that looks like a professional made it. The desk will be easy to maintain and will generally fit any room decor. This DIY wall-mounted desk is an easy and inexpensive project! With some wood, a bit of hardware, and a few tools, you can have a movable desk that can easily be adjusted as your sheet or floor needs. Afterward, just fill out the top with your favorite office supplies and enjoy your new office space!
DIY Wall Mounted Fold Out Desk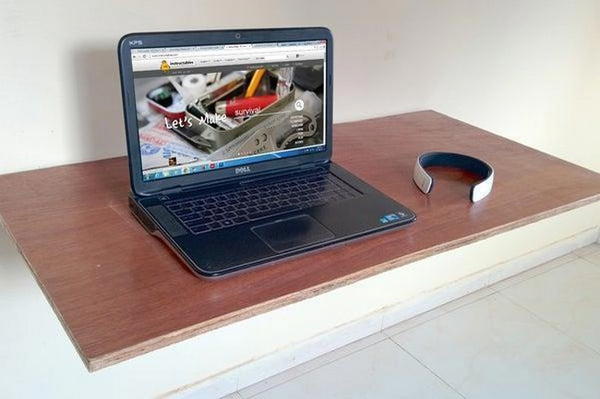 DIY Wall-Mounted Fold-Out Desk will help you transform a chaotic corner of your house into an organized, wonderfully quirky workspace. Get this desk developed anyplace, anytime by simply opening a wall mount in a couple of seconds. The desk offers enough room for the laptop, computer screen, and other things. Open it up and show it to others. It will be the envy of your buddies. With lots of work to do, you'll certainly value its convenience and construction. It is versatile for any space in the house, whether it's at work, study or workroom! The materials needed for this fold-out desk include a folding bracket, plywood, paintbrush, wood screws, and hammer drill. Fix to fold the ding bracket to the wall then drill holes on the plywood where the bracket will fit into.
DIY Wall Desk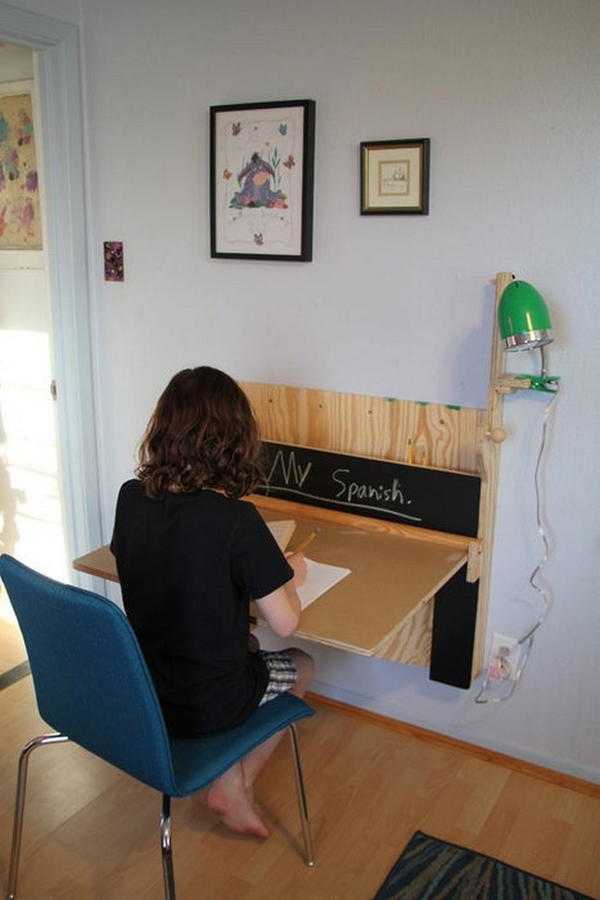 Keep your kids entertained with this DIY wall desk. It can be used as a study table and can also be converted into a multipurpose desk by using the panels to make a drawer or anything you want to keep hidden. It's perfect for a small room without too much space, yet it has all the useful features. It comes in handy for studying and drawing with great features that let your children easily use it. This desk can fold up and store away for another time. It's very durable and a multifunctional piece of furniture, making it a wise investment. It doesn't take up too much space and it can split the area into a study table and play space. The material is easy to get, some wood and some small pieces for the mechanism that makes the desk come up and down.
DIY Floating L Desk
This DIY floating desk is a great project for those looking for a new desk or something unique. The steps are easy and it does not require a lot of tools. This floating desk is the perfect upgrade for your work or home office. The stylish, L-shaped desk is made from laminate countertops, brackets, stains, abrasive pads, and steel wool. The DIY aspect of this project means that you can easily customize the color or shape. Creating your own desk is not just a cheap way to create furniture, you can make it as beautiful as you like. Your new DIY floating L desk will look professional and amazing, plus you will be proud of what you have accomplished. It's built to last and can grow with your working space.
DIY Wall Mounted Desk
A small desk for your office nook or an apartment can look large and feel spacious when strategically mounted on the wall. It lets you adjust the height to your liking, and it takes up very little floor space. This project is easy enough for anyone to do and doesn't require any complicated measurements or sawing techniques. The woodworking enthusiast will be able to build this desktop in just one session, while the beginner shouldn't take more than 1-2 hours. This project is suitable for intermediate DIYers who have previous experience with woodwork. You only need a few tools to complete it so it is not time-consuming. The desktop is practical and you can use your space as you wish.
How To Make A Floating Desk
You can make a floating desk inspired by this DIY project. This convenient and unique desk offers plenty of workspace in a small space. It can be made or the right style and color to blend in with the décor of any office space. This floating desk is very easy to make, you just have to follow the steps and you're going to have a stylish place where you can work while having some items on display. You can make a floating desk or table by collecting different size wood pieces and woodworking hardware. You need to install the wooden bracket on your wall, mount the desktop on it using screws, then fill in all the gaps with wood glue. And you're done!
DIY Laptop Wall Mount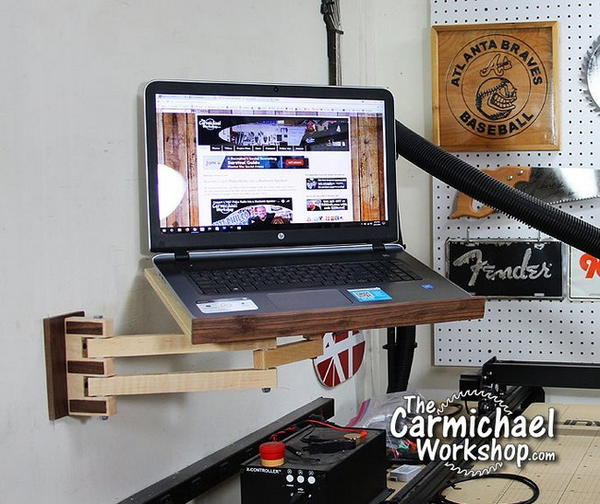 DIY Laptop Wall Mount is the perfect DIY project for those with a love of woodworking. Think of it as a sophisticated piece of furniture that uses a unique system to display your laptop. By pairing hardwood, plywood, and boots with washers, nuts, and wood screws, you can create a very sturdy product that will look great in any home or office. Using a circular saw and measuring tape, cut the wood to the size outlined in the blueprint provided with this plan. Do not worry if some of the pieces are slightly shorter or longer than the stated measurements--this is quite normal. Place all of the boards where they need to go, and then assemble them using nails, screws, glue, and washers. Apply a wood finish over your desk and it is ready to be used as a laptop or computer workstation.
DIY Wall Mounted Folding Work Desk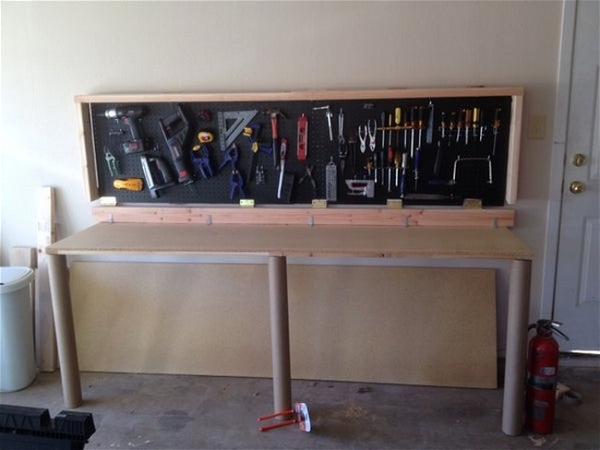 Installing a wall-mounted folding desk is a great way to add extra storage and workspace in a small basement or office. A foldable work table makes storage more organized and clutter-free. The workstation can be set up whenever you need it and folded away out of sight when not in use. Pegboard work desk; a great solution for any room in your house. This workbench is perfect for the kitchen, den, office, or garage. It can be set up in about two hours and will require a little extra TLC when it's used. Do not mount the tabletop too high off the ground or on a heat-sensitive surface.
DIY Wall Mounted Desk Tutorial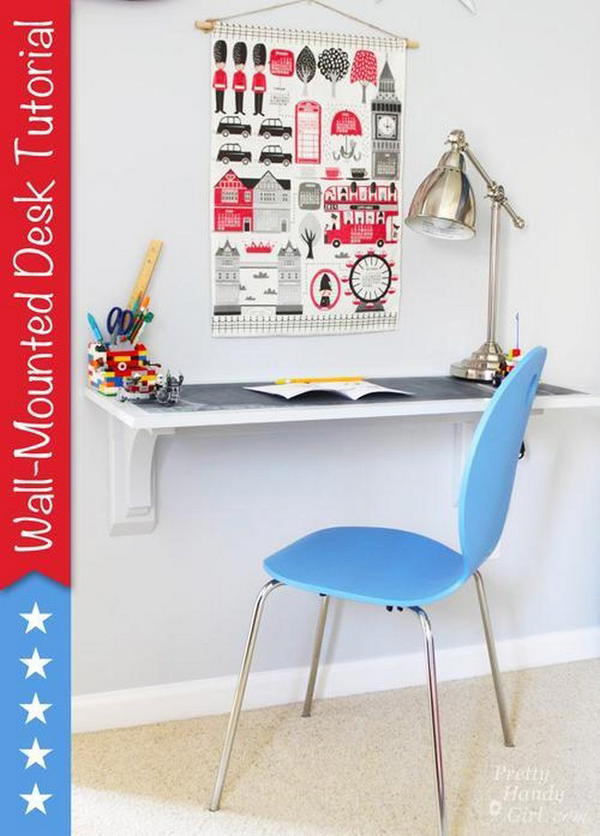 Would you like to create a wall-mounted desk in your Room? It will be a great space saver. Assemble this mounted wall-desk using wood and painter's tape, which provides good adhesion on all surfaces. For this DIY project, you will need at least 6 hours of time depending on the size of the mounting board and the number of supplies needed. It's easy to make, and there are many ways to use it. Mounting it on a wall gives you the space you need, and it adds a dose of creativity and style to your home or studio.
DIY Wall Mounted Dream Desk
Dreaming of the best desk for you? We have all the tools you need, from start to finish. Whether you are a commuter or just used to stretching your feet, resting them on a place is a must. The previous job table plans talk about building a target-style desk that perfectly suits you and it's great but you will love doing something different. This is not just because of the features. It is more because of the things that would lead to creating such kind of a dream desk. Like proper planning and details about materials required for making it etc. The main features of the dream desk include an integrated cup holder, flush-mounted outlets with a couple of USB ports, and a wireless charging spot.
How To Build A Wall Mounted Desk
If you're looking for a wall-mounted desk with a classic look, then look no further. Instead of buying one, it's possible to create one with just a few tools and some spare wood that's handy around the house. Take measurements of the wall and cut wood to size as accurately as possible. Using a Kreg Jig, join two pieces of wood at an angle of 90°, join another two at the same angle before attaching them to the wall. Add supports for each 'L' shaped piece of wood and attach them to the top of the desk. Stain it in any color you prefer and leave it out in the open for all to see!
You can also see: DIY TV Mount Ideas
DIY Cheap Wall Mounted Floating Desk
DIY Cheap Wall Mounted Floating Desk DIY Cheap Wall Mounted Floating Desk This is made from a stud finder, screwdriver, scissors, brackets, nails, and contact paper. Start by finding the stud around your wall so that nailing will be easy. Then mount the wood to the position on hold it there with brackets. DIY Cheap Wall Mounted Floating Desk is great for storing items and keeping things off the floor. Contact is still movable so if you have to quickly grab an item, you can easily move it out of the way. This DIY wall-mounted floating desk is just the thing you need. You can upcycle old shelving into a functional computer desk in no time by using brackets and contact paper. This could be built in a garage, or workshop or would also look good in a kid's room.
DIY Floating Desk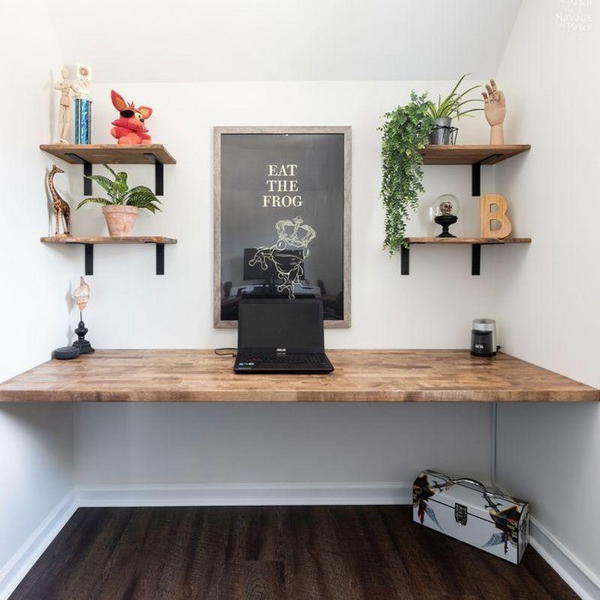 A DIY floating desk is a fun and creative project that everyone can take part in. All you need is the right materials and a screwdriver to get started. It's not just a great conversation starter, it's also a space-saver. Its design utilizes butcher block countertops, enabling its sturdiness and also making it more cost-friendly. With polyurethane as a protective coating, you can be sure that it won't scratch easily, yet will protect against everyday wear and tear. Make your workspace your own with an added touch of modern flair. With this DIY project, the sky (or in this case, your wall) is the limit! A floating deck is a great way to bring a personal touch to an area that otherwise might look boring or generic.
Simple Wall Desk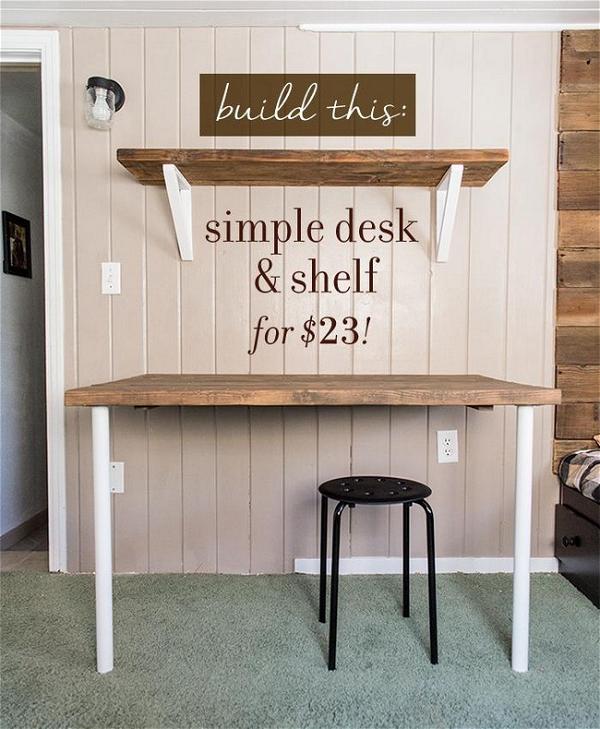 For the DIY and craftsman at heart, the wall desk is a one-of-a-kind design. If you love the idea of a floating desk but want something more basic, this DIY simple wall desk might be the project for you. Building it requires only two legs, a desktop, and two support panels. This DIY simple wall desk will help keep you organized when you need it! From office supplies to crafting materials, this desktop is ready to work with your schedule. The DIY instructions will keep you on task and when everything is set, mount it to the wall with just a few screws. Don't be afraid to try this floating table! This is the type of furniture that gives your home that extra touch while saving space. The floating desk allows you to utilize corner spaces of your home or office while looking great.
How To Build A Fold Down Wall Desk
The simplest wall desk in the market right now. A fold-down desk with a foldable desktop mounted on the wall. This DIY project is a perfect combination of simplicity and design. The desk can be attached to any wall (even a concrete one), and it can be folded up as the shelf door when not in use. To build this DIY desk you will need the following: A mitre saw, drill, brand nails, pocket hole jig, tape measure, dowelling Jig, and Carpenter Square. First, set up the desk shelf, which will be mounted on the wall. Once that is done you can install the foldable desktop to the bottom of the shelf with metal hinges (make sure it is suitable to mount a PC). The remaining steps are simple and don't require many tools or skills so anyone should be able to complete this task in no time.
DIY Wall Mounted Desk
There's no more appealing way to add a spot to study or work than with this DIY wall-mounted desk. Achieve it by fitting two folding shelf brackets on the wall, then measuring the height needed for your desktop and tracing each of the bracket holes on either side of the spot.
Cut two pieces of wood to the size of your desk, making sure that the wood is sturdy and that it can hold the weight of the computer. After cutting the wood, drill holes in the wood for attaching it to the brackets. Measure each of the bracket holes to each side of your desktop area; this will help you locate where to put them. Pre-drill the holes and attach them to the wall and to the wood deck with screws. After this is done, place sheets of plywood on top of your desk and clamp them down firmly with nails.
DIY Space Saving Murphy Desk
Do you need a desk but you have limited space? Then this is what you are looking for. This is a great idea for saving space by transforming a bookshelf into a Murphy desk. This DIY Murphy desk can be made with a few tools and hardware you may have at home. It's easy to do and it will look good in any room, not just the office. The Murphy desk is a portable and multifunctional desk that can be folded away and hidden when not in use. You'll never have to feel like there's not enough room for everything you need again because this tabletop can be put up against the wall with a couple of simple hand movements. And, once it's happy in its stored position, it can still be used to store items, because thanks to its innovative bookcase-style design, the tabletop acts as a bookshelf.