A TV mount is a perfect solution for the lazy cable TV user. With the proper mounting hardware, you can adjust the location of your TV along an interior wall or hang it from the ceiling. If you're a DIY type, you'll love these quick and easy ideas for how to hang a TV or monitor on the wall. Most of them can be done with little more than a few tools and hand tools. You don't need any special skills, and there's no need to hire an electrician or contractor. These ideas are tested and proven, so they're safe and sure-fire ways to do it yourself. If you've got a little woodworking skill and are looking for a new project, these 15 TV mount ideas could make good use of your skills.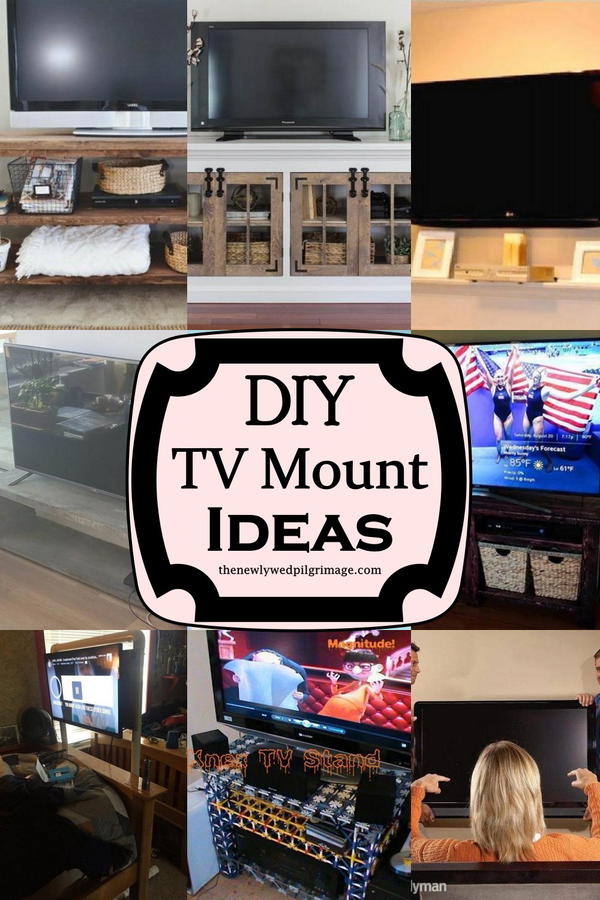 Whether you're trying to create a home entertainment center or want to display your TV in a more optimal position, it can be challenging to determine how you want to mount the television. It's essential to find a suitable TV wall mount, and even more critical than it's appropriately mounted so you can enjoy your shows. There are many options for TV mounts, whether you're looking for something simple or more complex. You may also consider opting for a custom DIY TV mount if you have something specific. It's a rare family that doesn't have a television these days. But just because the TV is ordinary doesn't mean it has to be an eyesore. Use one of these DIY TV mount ideas to incorporate your television into your decorating scheme while keeping it at the ideal viewing angle.
With these DIY TV mount ideas and a little time, you might have yourself a new TV mount in no time and at a much low price.
Advantages Of DIY TV Mount Ideas
TV mount ideas can add a lot of style and personality to your living room. If you are looking for an inexpensive way to redecorate a room, this is the way to go. The best part about it is that you will be able to do it yourself, so you will not have to worry about hiring anyone else to do it for you.
DIY TV mount ideas are great for keeping your home updated while on a budget. It is also good to know what you are doing before you try to mount a television.
You can find many different ideas on the internet and in magazines about how to do this. You will find many ways to get this done that you can use without paying an arm and a leg for it.
Some of the things that you can do yourself include:
Placing the television in an area where it will not be visible from other rooms in the house. This will give it a more minimalistic look.

Adding shelves or furniture designed to hold televisions on top of it. This can help keep them out of sight when they are not being used.

Mount the television using brackets that you purchase at your local hardware store. This is a very inexpensive way to get your television mounted and allows you to adjust the angle of view quickly.

These are just some DIY TV mount ideas that you can use when trying to find ways to make your home more modern. You will have no problem finding one that works best for your needs and will save money simultaneously!
Basic Materials Required For DIY TV Mount Ideas
The basic materials required for TV mount ideas are:
Handyman tools, such as a screwdriver, a power drill, and a level
A TV wall mount bracket
TV wall plates (depending on the type of mount selected)
Screws that fit the wall plate and the TV mount
A stud finder and an anchor kit (if attaching to drywall)
How To Wall Mount A TV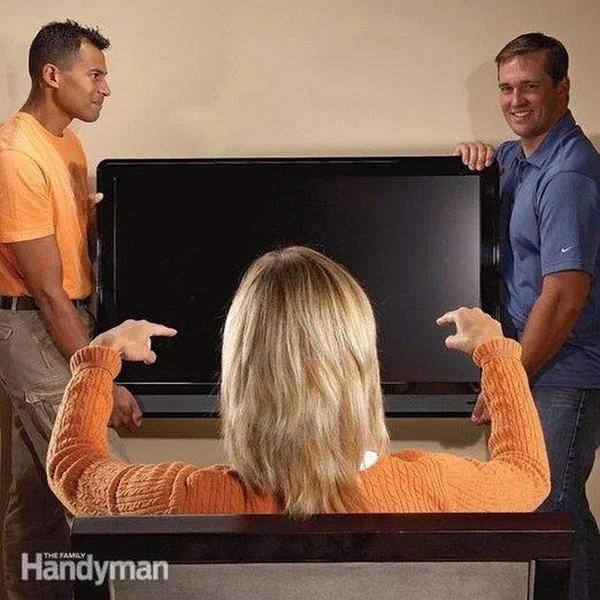 If you have made a DIY TV wall mount and are wondering how to mount a tv on the wall, look no further! This super-easy guide shows you how to install your tv mount, along with tips and tricks that can help you get your television mounted safely and securely. !" It's simple, straightforward, and easy to understand. If you are searching for a new TV mount or already have one and need help mounting it, this guide is for you.
Rustic TV Stand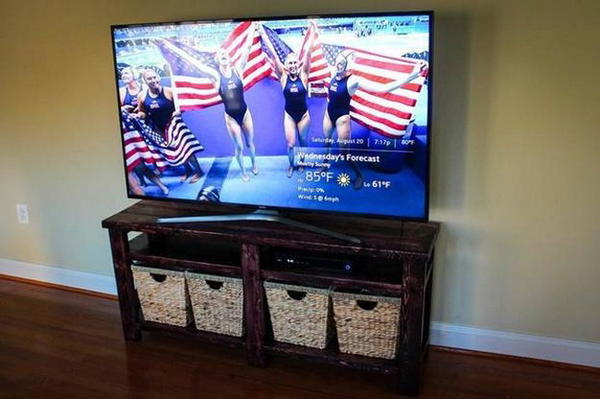 This is a tutorial on building a Rustic TV stand from pallet wood. This design has a wide shelf to accommodate many items and a small shelf in front to place magazines, remote controls, and other miscellaneous things. It also features legs fixed with bolts to ensure its stability. You can also use it as cabinet storage to organize your stuff. This simple-looking yet stylish TV stand has a sporadic feature since it combines rustic and contemporary furniture styles.
PVC Pipe TV Stand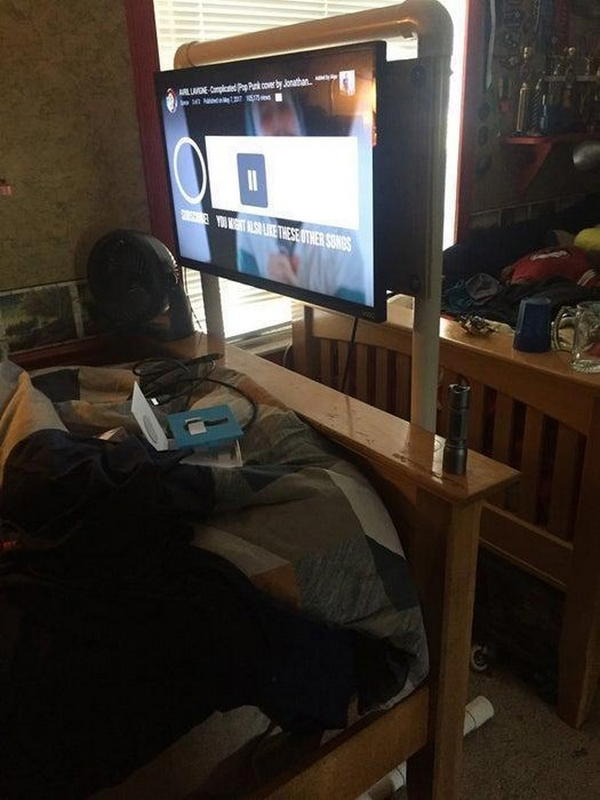 Here is a unique design using the standard and inexpensive PVC pipes. This handmade stand was designed to be a simple, affordable, sturdy TV stand. You can use it to put your TV in your bedroom or living room. It can become a fully functional stand for your television with unique cuts. This stand will remain sturdy and robust as long as you assemble it with the appropriate cuts. It is a beautiful way to display your television and media components with style. This minimalist stand boasts an industrial look that works in various spaces, from bare windows to living rooms.
$30 DIY TV Console
You can't go past the $30 DIY TV console for a quick, easy, budget-friendly project! With a bit of creativity and elbow grease, anyone can design their TV console using household tools. This particular console is best suited to smaller spaces as it is a tabletop unit. If you love living somewhere for a long time, you will want to get your TV console set up in your house. It reduces the bulkiness of the room and looks very modern and fashionable. The room looks clean and open, which is suitable for family gatherings.
DIY TV Stand Design For $4
These DIY stands are better than any other expensive ones you can buy! This is a very detailed and easy-to-follow tutorial that will guide you step by step about making the perfect mount for your television at home. This awesomely designed TV stand does not require tools, screws, ladders, or anything else, just sandpaper and a table saw. This cute little stand is made from plywood, sanded and painted white, then would add walnut to make it look more luxurious. The setup is effortless, and you can follow the steps and instructions to put it together.
DIY Cardboard TV Stand
This DIY cardboard TV stand adds a decorative touch to your living room while being budget-friendly. It will cost only 40$ to make one and inspires you to recycle cardboard whenever possible. You only need a few supplies and time to plan your design to create a nice TV stand for your flat-panel TV. Consider adding some of your touches like cells, buttons, or even a favorite artwork picture to the surface. The shelf can be adjusted as needed to fit the room better.
DIY TV Console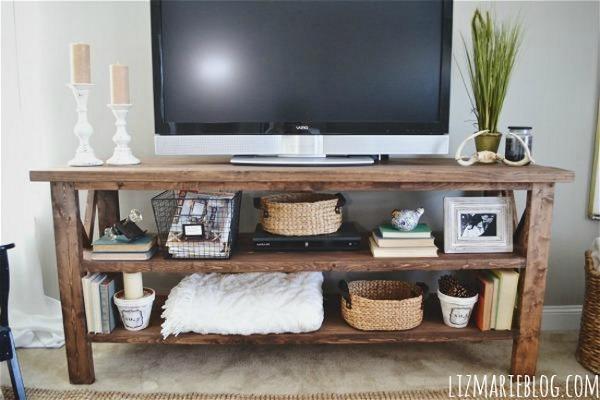 Here is an easy DIY project that will inspire you to make your TV console. DIY your TV console using these easy-to-follow steps. Add your touches and fill the space with accessories that fit your style. This project is a great way to get started on a DIY makeover without breaking the bank. Cut out the legs, cross members and assemble everything in the form of a table and screw it together with sturdy glue. Add additional decorations like flowers or other decorations for your TV area. No matter what your taste is, the combination of the three pieces of wood makes up this piece of furniture.
Knex TV Stand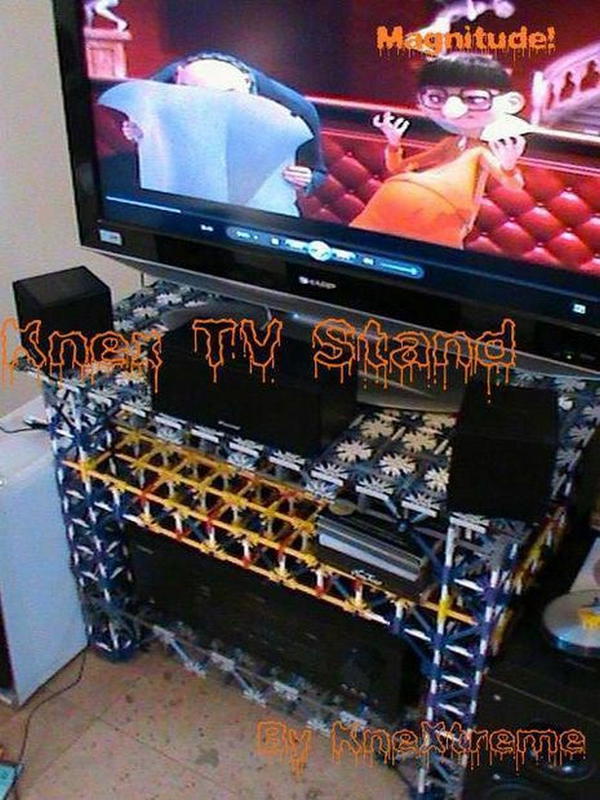 Are you looking for a unique TV stand that can accommodate your TV gadgets? Look no further. This Knex TV stand is the one! It is time to replace that old wooden TV stand with a strong TV mount. Knex television stand will be the right one for you. This mount will fit any room or living space with solid construction and a stylish design. The shelves are created in a way that makes them accommodate most televisions, from antique to modern ones. The kit is easy to assemble. It is ready to be installed on any flat wall or cabinet."
DIY Modern TV Stand Console
If you love the modern look but aren't willing to give up your old couch, consider this DIY TV stand a solution! All you need are essential tools and minimal skills to create this DIY TV stand. Find the right-sized table and create your wooden brackets on the backside with hinges that will allow you to lift or lower the tabletop according to your needs. You can even add a shelf in the middle for added functionality! Plus, it's easy enough to store under a bed or couch when not in use.
How To Make A Mid Century Modern TV Stand
This fantastic Mid Century Modern TV stand is exciting to make. It comes with unique features such as sturdy, firm, and dark colors. It also has impressive details. The best part about this TV stand is its simple assembly. This piece of furniture will give you more than what you expect. This is a perfect project for a beginner woodworker or anyone looking to spice up their man cave. The design is simple, but you'll be proud of your beautiful new media console when you're done.
Easy TV Stand DIY
Easy TV Stand DIY Project is suitable for any room with a flat surface to stand your TV on. This project does not require a lot of tools, and it is an easy concept for all woodworkers. The design is simple yet very functional, and it will stand the test of time. The stand is quite long and creates a lot of storage space for your media collection. It's perfect for watching Netflix and other online streaming services on your favorite device or watching sports on your big screen TV. Enjoy the video guide below to learn more about this project and what you need for this DIY woodworking project.
Floating Concrete TV Stand DIY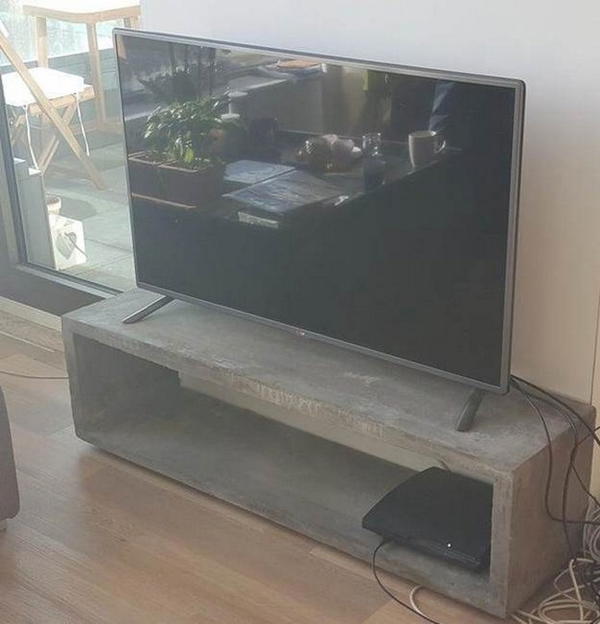 Who needs a concrete tv stand? Your home interior design experience does not need to be limited to mundane shopping routines. You could use your imagination skills instead. You could try building one for yourself, a fantastic and straightforward task. All you need is to have these tools readily available in the hardware stores. With these tools and the instruction, it becomes a child's play for anybody to create this TV stand. You won't find any difficulty getting the materials to make this stunning DIY product as they are readily available in most places.
DIY TV Mount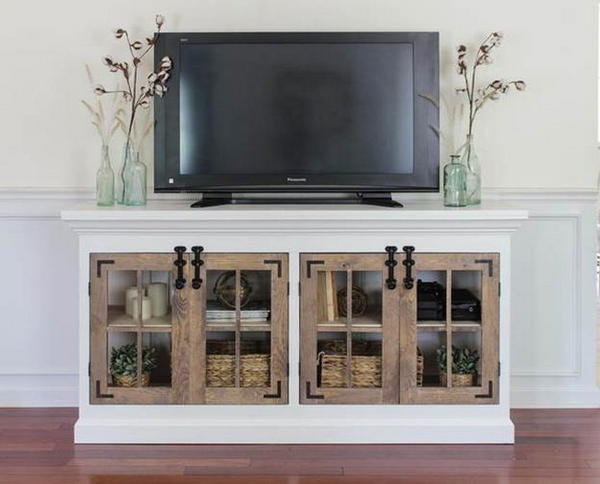 DIY TV Mount is designed for houses that have a cable box. Doors, cabinets, and drawers are superbly designed with the help of this product. It is a beautiful home accessory in your living room. The time and effort that you'll spend in building DIY TV Mount will be worth it when you see the finished product with your own eyes. This TV mount is a great project to increase the value of your home and add more function to your living room area.
DIY Floating TV Wall Unit
You can build this beautiful DIY floating entertainment centre from scratch. This is what you will need to build the mount; MDF board, screws, and dowels to support the TV and hole saw for cutting out the attachment hole for the TV, and a drill for drilling the rectangular holes on the board. The DIY TV mount featured here has been made from MDF board and wood for strength so that you can feel confident about the raw materials. The design helps keep your TV safe from falls or impact, giving you added peace of mind. We've used an easy-to-follow template and tutorial to get you started to create this chic wall mount.
DIY TV Wall Mount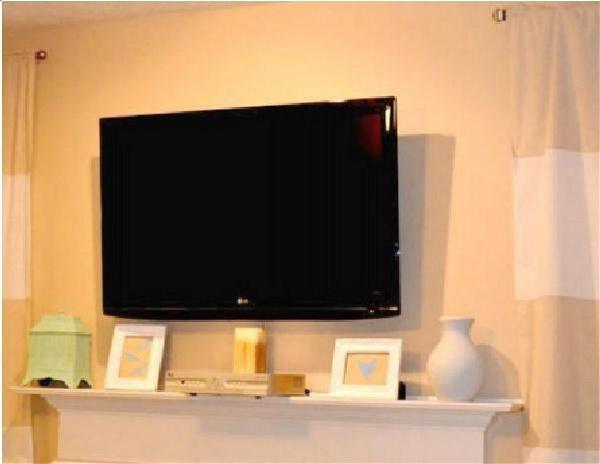 Mounting a TV onto the wall is essential to save space. It is not done because we want a giant TV, but the most common reason people mount the TV onto the walls is that they do not have enough space on the table, coffee table, etc. You surely don't want bulky furniture to block your view from certain parts if you plan to watch something. This device is cheaper and more convenient to assemble than other devices. It will save time and money for you!