Built-in shelves can be used for storage or decoration. They are a great way to add a unique look to your home, mainly if you are limited on space. Built-in shelves save space and cost less than regular shelving and cabinetry. You can make them as straightforward or as elaborate as you want. The nice thing about built-ins is that they can be designed to fit any space, so you don't have to worry about finding shelves with the proper length or depth. Below are listed 25 DIY Built-in shelves that you can make.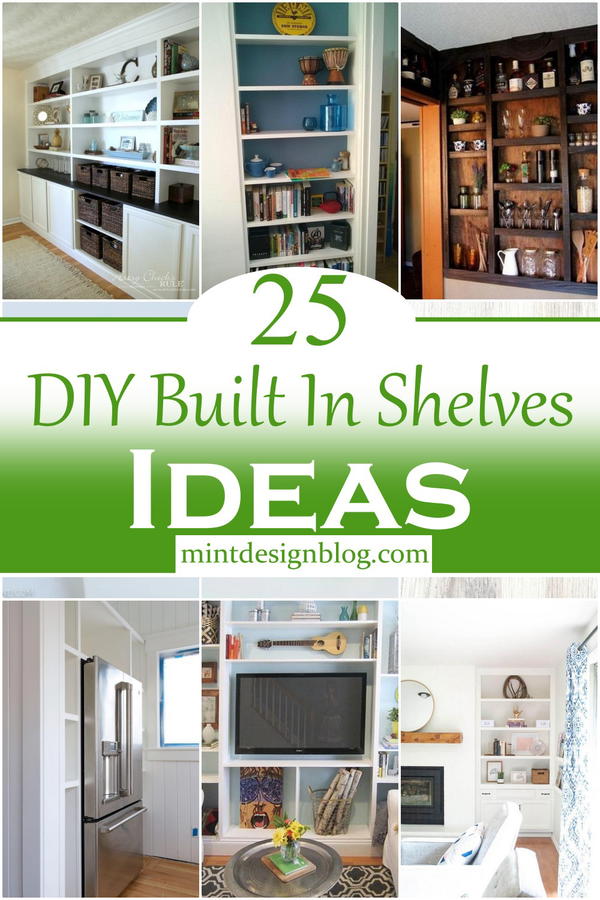 DIY built-in shelves can be a fun way to add some uniqueness to your home. It is also a great way to save money! Building your own shelves will usually cost you less than half the price you would pay for something similar in a store. These DIY built-in shelves range from more accessible projects that won't take much time to longer ones requiring more dedication and more tools (like building floor-to-ceiling shelving units). You have to remember that they need to be structurally sound and safe.
Here are 25 Built In Shelves Ideas that will make your life a lot easier and help you to save money by adding storage space.
DIY Built In Kitchen Shelves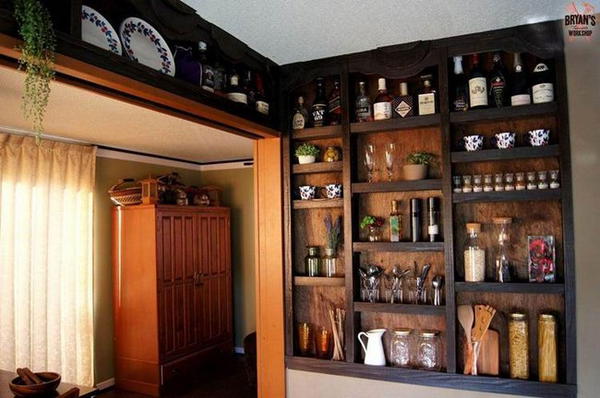 Are you looking for a great way to show off your favorite kitchen accessories? Then a built-in shelf might be just what you need to get the look you want. Building custom shelves in your kitchen is a great way to add more storage and aesthetics to your kitchen. If you have some basic home projects skills, there is no reason why you cannot install them yourself. Here's a guide that helps you build some inexpensive kitchen shelves for your home.
Simple DIY Built In Shelves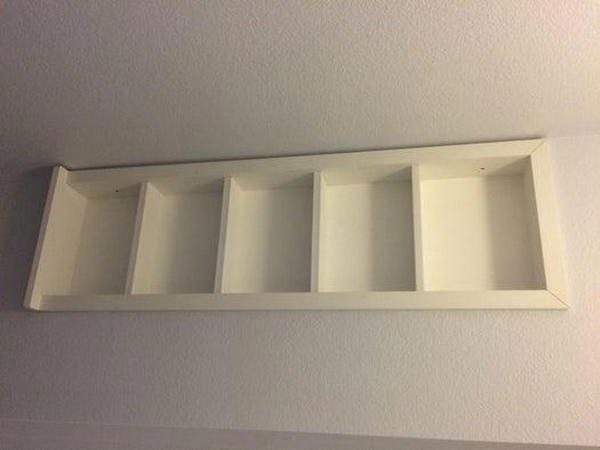 The perfect shelf for your home, this DIY built-in shelves project is easy to complete in a day. With supplies from your local hardware store and the detailed steps below, you can have this custom shelf installed in no time. This inexpensive DIY built-in shelves project adds tons of storage space to any room, and you can easily customize it to suit your needs and style. This project will also add value to your home. Use this guide to learn more!
DIY Built In Bookcases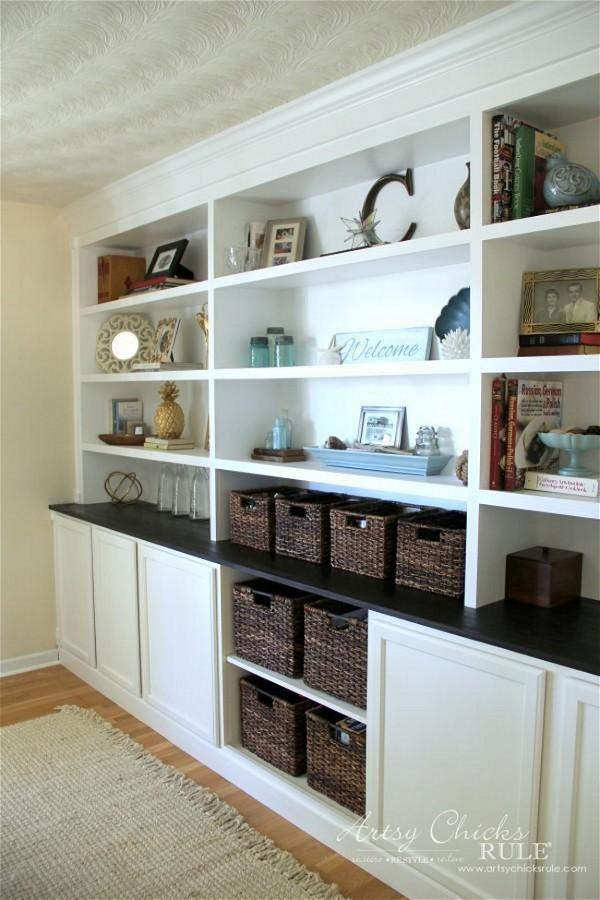 DIY built-in bookshelves are a great way to gain storage space in small areas. Bookcases with cabinets store and display your books, collectibles, and memorabilia in one place. The DIY Built-In Bookcase uses budget materials and tools. You can buy these materials at any home improvement store. These DIY projects are a great way to add built-in shelving to any office, bedroom, or dorm room. Go through this guide to see the complete process and step-by-step instructions.
DIY Built In Shelving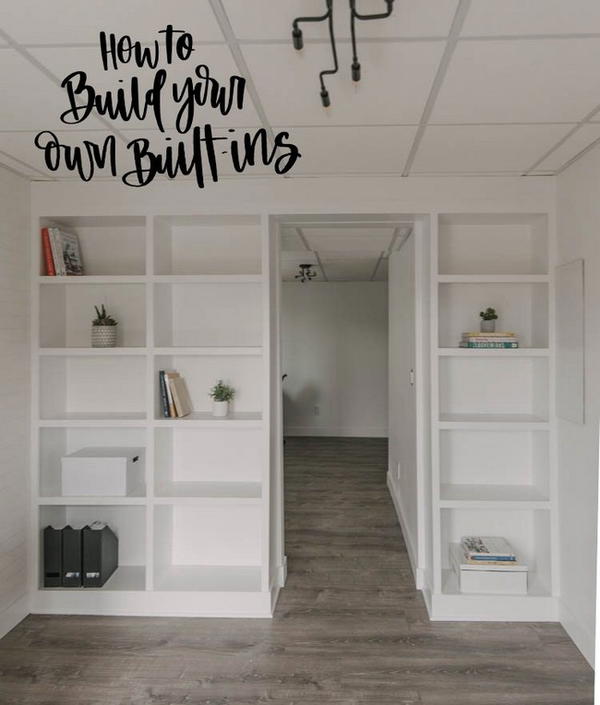 DIY Built-in shelving allows you to create your own custom storage space in almost any homeroom. It would be best if you had a couple of essential tools and some lumber, and you can build this DIY built-in shelving unit. It's easy to do and very simple; take the time, and you can do it! It looks great, is functional, and you can store books, games, and photos on the shelves. Step-by-step instructions and pictures will guide you through the process.
Easy Built In Cabinets
Building a cabinet is one of the most common woodworking projects, and it can be one of the simplest ones to accomplish. This project uses a workbench that acts as both storage space and offers extra workspace. The items needed include plywood, pine boards, and joining materials such as wood glue. You can also make it into a kitchen, office, or cabinet you may need. Follow this video guide to get step-by-step instructions for building cabinets and shelving.
How To Make A Built In Shelving
This project is easy, fun, and very rewarding. And more importantly, it's cheap! Instead of spending a fortune to buy built-in shelves for your kitchen, you can make them yourself. You just need some shelving units, wood glue, screws, and paint. It's a great video tutorial that shows you how to make built-in shelving from scratch. This tutorial is handy for those with a limited budget to redecorate your house, apartment, or old space.
Custom DIY Built In Bookcase
Are you looking for Custom DIY Built-In Bookcase? Here are present DIY plans to build a simple cabinet perfect for storing and displaying items. This sort of storage unit can be constructed in any size or style. This drum shade bookcase took fewer than 20 hours to finish the construction. The materials required were only MDF board, plywood, and a few screws. This video has detailed instructions on constructing this sort of cabinetry with simple tools.
DIY Built In Bookcases
Building a bookcase is a classic DIY project that any handy Do-It-Yourselfer can tackle. Since you can include the cabinet and shelves in this project, you'll be able to put them anywhere you like in the room. Use bookshelves as built-in storage for hardcover books or with room for board games, too! The DIY Bookcase is an excellent addition to any home. It has two sections, the mainframe, and the upper shelves. Here is a video tutorial on how you put together the built-in bookcase:
DIY Wall With Built In Shelves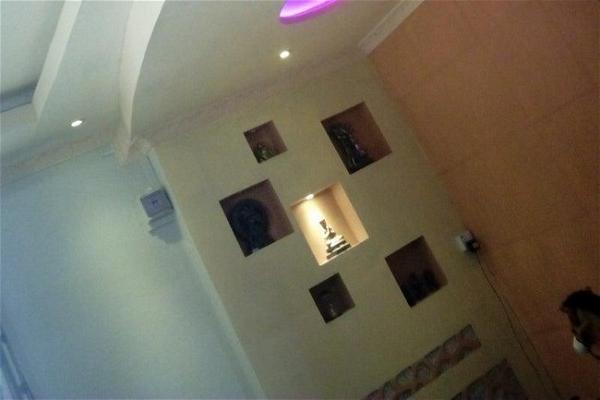 Building shelves on a wall is a great project to beautify your house, save more space, and add value. Materials needed for this project include nails, screws, wood filler, wood glue, stone pebbles, drill, and paint. Materials such as stone pebbles are used for decoration. A DIY wall with built-in shelves is a must-have addition to any home. All the tools needed are easily accessible and can be fixed by anyone. You can Go through this guide to learn more about it.
How To Make Built In Shelves
Building shelves is a fun and easy weekend DIY project; every household has to have some convenient ways to store stuff. Many methods can be used, but building some custom-made shelves is always the best choice. It can be used to add storage to any room in your house, making it the perfect project for home improvement beginners. The best part of building these shelves is that they are completely removable if you change your mind about where it's going. Check out the step-by-step instructions given in this video to build a set of shelves in your bedroom or closet! that adds a decorative touch and saves some space.
How To DIY Built In Shelves
Build yourself some great DIY built-in shelves. If you have time to work on this project, you will be surprised that it's so easy to make; the cost is much lower than expensive bookcases or wall cabinets. It's a shame that many people purchase these things when they could build them at home. Here is a step-by-step video guide, which shows you the complete making process. It is simple enough that anyone can do it, but it really makes a difference in the house's feel.
DIY Built In Bookshelf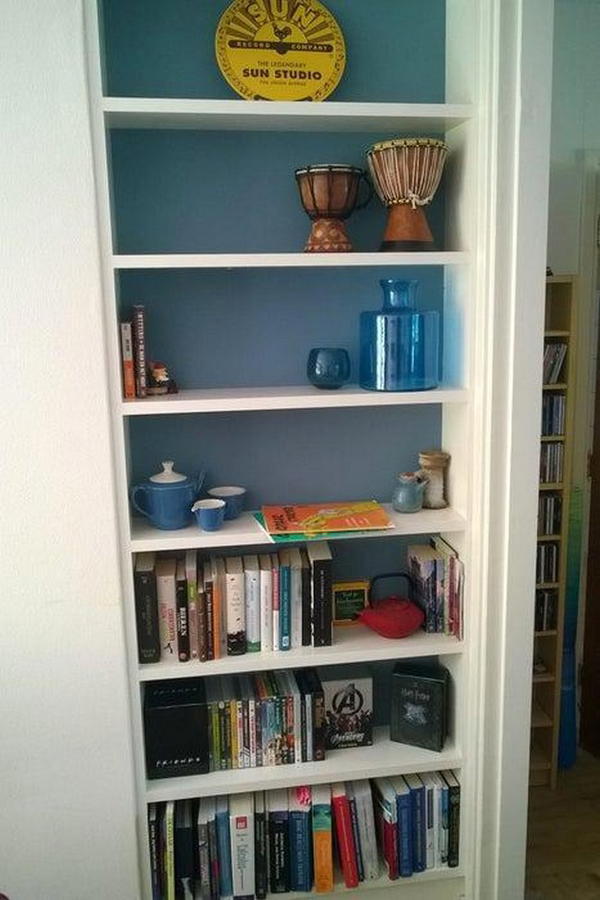 You can create your own DIY built-in bookshelf and display your favorite books. A genuinely functional bookshelf that blends well into the room's décor, this bookshelf is an excellent addition to any home. It has many shelves, a smooth finish, and a sleek design. The shelves are adjustable so that you can fit them to your preference. Each shelf can hold up to 50 pounds. Here in this guide, you will learn how to build a built-in bookshelf into your home or apartment, then fill it with your favorite books and photos to personalise it.
DIY Built In Shelving Unit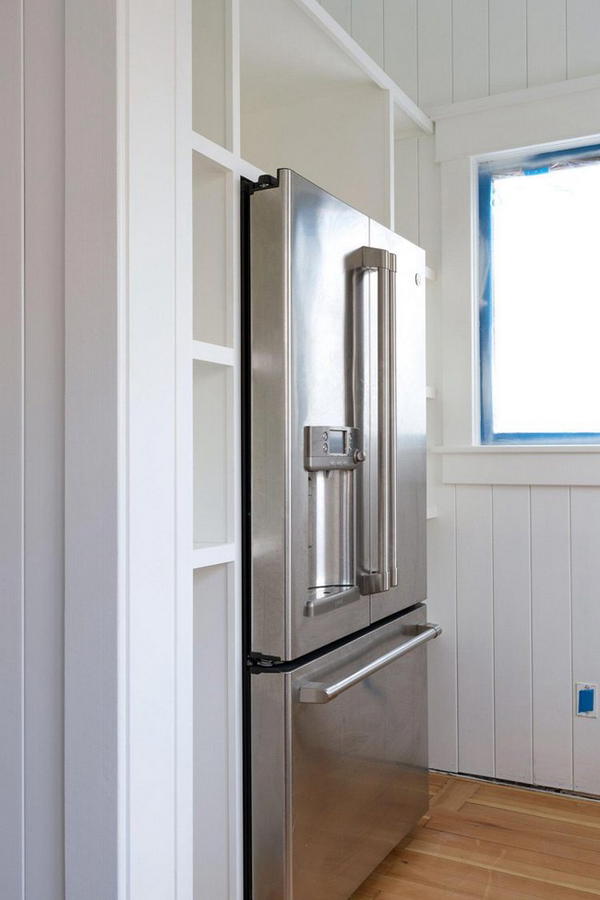 DIY Built-In Shelving Unit is made from Eco-friendly materials. It is sturdy and can be moved easily. The materials used are durable, paintable, and perfect for the warehouse, garage, or basement. The shelving unit is easy to put together following simple instructions. A power drill is needed, but all other tools are included. A built-in shelving unit is a great way to maximize the space and organisation of a room. Follow this step-by-step guide on how to build your own wall-to-wall storage.
DIY Built In Shelves
A DIY built-in shelf is a great way to add storage space and style to a home, this project can be completed in just a few hours using standard tools. Keeping the design simple will keep costs low, but it won't be limited to simple materials. Shelving brackets can be installed on either side of the bottom of the shelf unit, providing extra support for heavier items placed on the shelves. Here is a DIY video and tutorial on how to build shelves even at home; follow the instructions to make it easy.
DIY Built In Shelving For Less Than $175
Do you want a great shelving unit but don't want to spend hundreds of dollars? This DIY built-in shelving project is perfect for you. You need essential tools, materials, and skills to build this cheap bookcase. You can do it by yourself. This shelving unit is so inexpensive that it will not burn a hole in your pocket. This project will cost you around $175 to complete. This is a fabulous DIY; You can make your own custom built-in shelves that match the size and shape of your room. The total project will only take 4 hours or less, with the help of two friends.
How To Build Built In Shelves
Here is a simple technique to build built-in shelves. First, decide on a location for the shelves and the distance you want between every shelf. Next, build braces that attach to the wall and the shelf assembly and shelves themselves. These shelves are easy to make and cost less than you might think. This tutorial will help you build a beautiful yet straightforward and sturdy shelving unit. This video will walk you through everything: from how to determine the location for the shelving unit to all of the steps involved in putting it together.
DIY Built In Shelves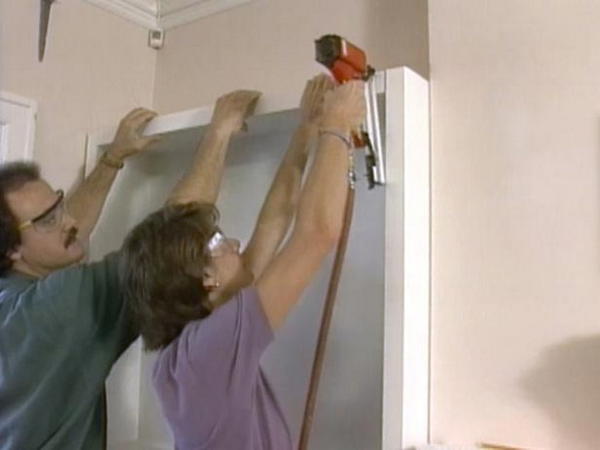 This DIY built-in shelving is the perfect solution for storing your things, whether it be in a library, bathroom, or dining room. With just a few tools and inexpensive materials, you can create beautiful shelving to fit any room size. And since it's custom-made and tailor to fit your space perfectly. This DIY project can take your space to the next level, but only if they are attractive and functional. This easy step-by-step tutorial on creating built-in shelves can help save you time and money.
DIY Custom Built-In Shelves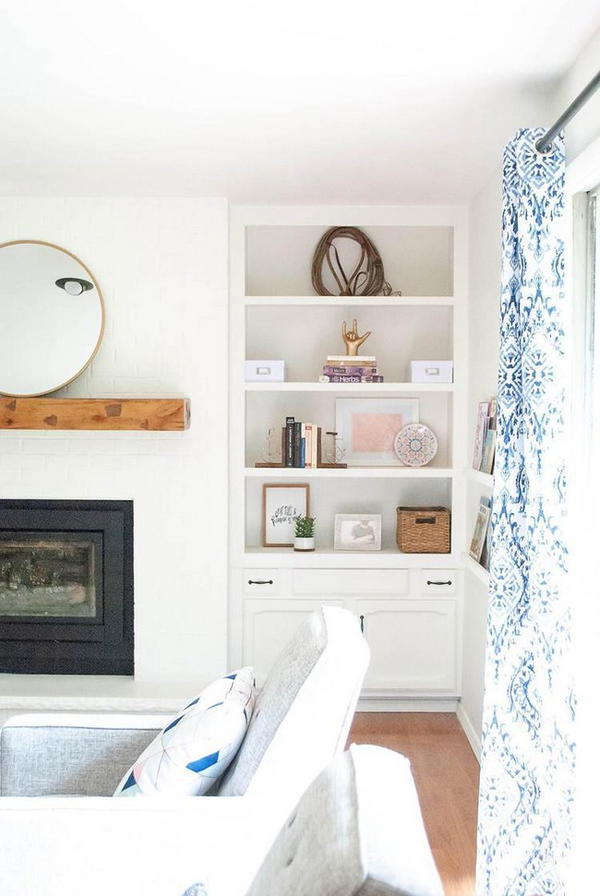 These DIY custom built-in shelves are perfect for a closet or storage space; this is easy enough for novice woodworkers and can be made with essential tools. Make MDF boxes and customize them with moldings, paint, and hardware according to your decor. This project is suitable for beginners and those who don't have much experience in carpentry. Your new home office looks more professional and elegant with the DIY custom built-in shelves to store books, files, equipment, etc. These simple steps in this guide will walk you through the process of installation and building.
You can also see: DIY Closet Shelves Ideas
DIY Built In With Bench Seat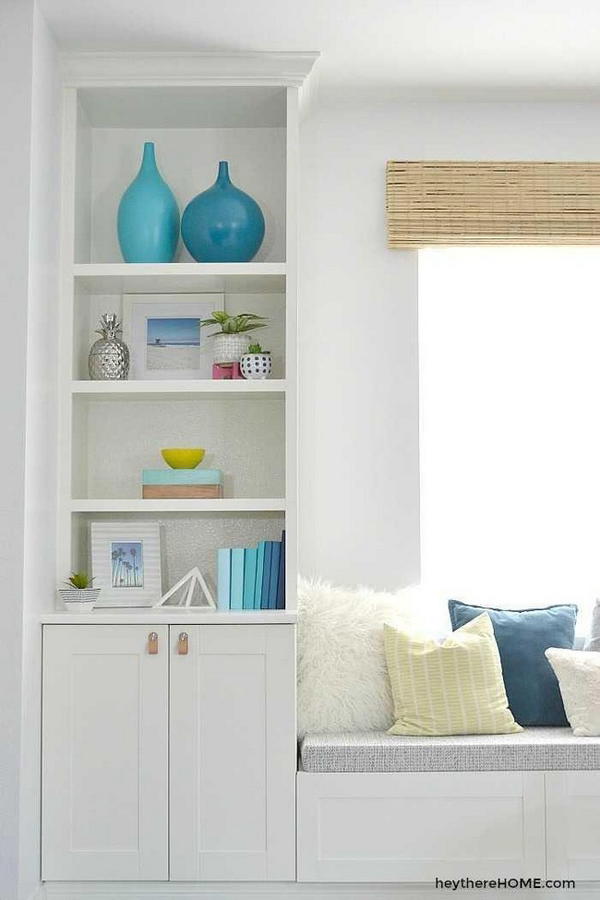 The DIY built-in bench seat is a great storage space for your house to keep things organized; with this DIY bench seat, you can create a comfortable and stylish seating area right in your kitchen. Plus, it's great to utilize that unused space above the cabinets. The materials are easy to find in any hardware store, but the finished product is unique and robust. Follow along with the detailed instructions in this free tutorial to learn everything you need to know about this project.
DIY Custom Built In Shelves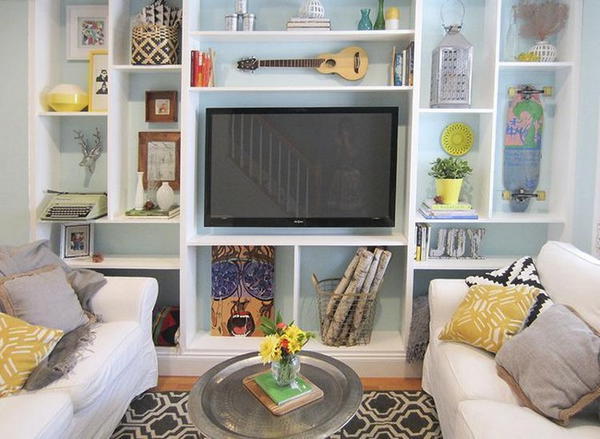 DIY Custom Built In Shelves are a cost-effective way to add additional storage space. It is possible to turn your DIY shelving dreams into a reality with the suitable materials - and with ease! Customising your shelves gives you the chance to match their size and style with your space perfectly, plus you can paint or stain them any color. This easy-to-follow guide will walk you through the process step by step.
DIY Built In Bookshelf
This DIY bookshelf project is a great way to add inexpensive storage to any room. The end product looks clean and professional and can tailor to your preferable look. All you need is some essential tools, wood, and paint. This easy-to-follow step-by-step guide will teach you how to make your own bookshelf in one weekend. It provides you with all the materials and tools you need and makes it simple with detailed steps.
DIY Built In Shelves
DIY shelves can help make your home more organized. But if you don't have a lot of experience with woodworking, building your own can be tricky. This project is a fun and affordable way to add much-needed storage to your kitchen or dining room. A step-by-step DIY video shows you how to build your own built-in shelves. You'll need a table saw, speed square, level laser, stud finder, and measuring tape!
DIY Built-in Bookcase
Throwing away your old books or letting them gather dust on a shelf is not an option anymore. Storing your books on a bookshelf not only helps you keep your room cluttered-free, but it also adds beauty to its surroundings. You can choose to either build one yourself or get one manufactured. This bookshelf video guide is best to help you make a DIY built-in bookcase for your home. While it will take some hard work, how great would it be to have your own bookshelves? Plus, this project will allow you to practice your craftsmanship skills and show off your pride in the end.
DIY Built-In Wardrobe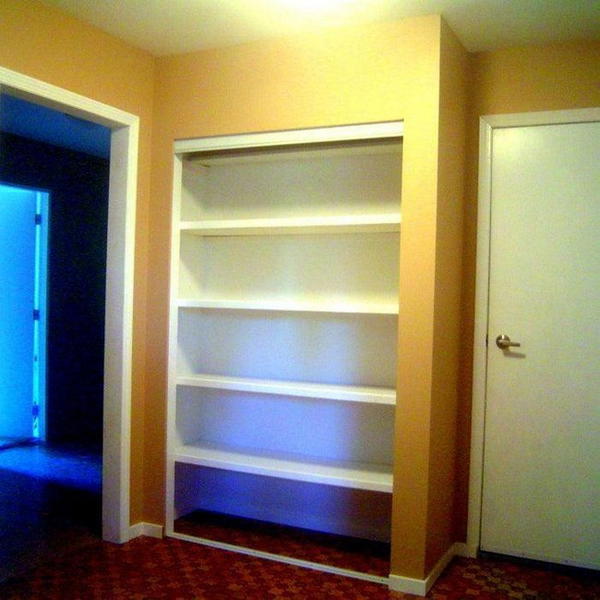 DIY Built-In Wardrobe is a good project for anyone looking to create storage that does not take up space in their room. This spacious cabinet can construct without hiring a carpenter; you don't have to go to the store for additional materials. You can also increase or decrease the bench seat height according to your preference. The plans included in this guide will surely help you create a custom-made, handcrafted furniture piece at home.
See Other Projects