DIY pipe shelves ideas can be a great addition to your home, and they are not only decorative items but also functional ones. You can use them for many different things: to store books, magazines, collectibles, and other things that you want to display. You can also use them as a storage unit for towels or other accessories in the bathroom. The best thing about these DIY projects is that they can be easily made at home using inexpensive materials such as wood and pipes. There are many possibilities for using the given pipe shelves ideas and decluttering the mess created by unmanageable things.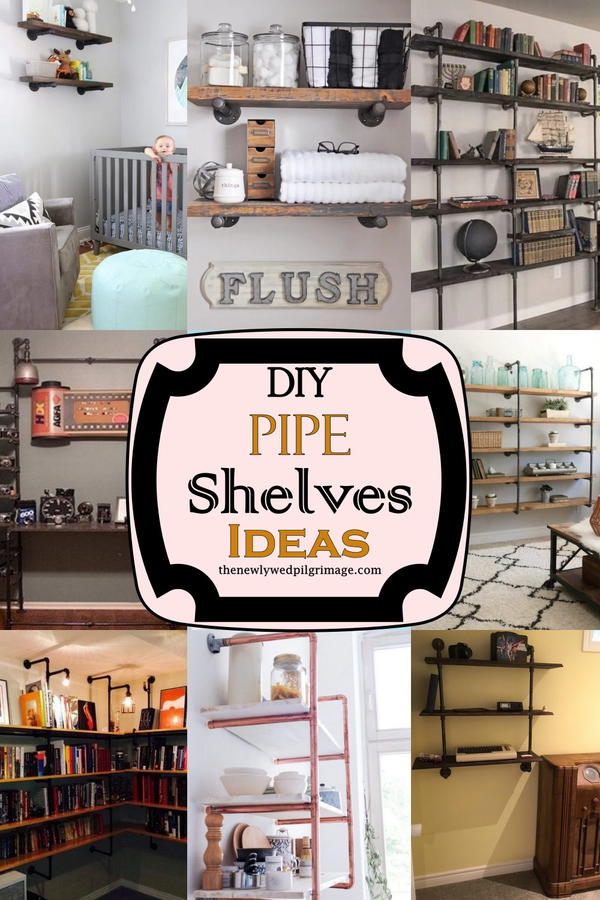 We have gathered the most trending and useful plus easier-to-make DIY Pipe Shelves ideas. They are perfect for any room in the house, whether to use them as a decoration shelve in the living room or keep your belongings near you in the bedroom. You can make these pipe shelves in any shape and size concerning your need like to be hung on walls, placed on the floor, or even fixed to the ceiling. The best part about these pipe shelves ideas is that they're easy to make and don't take much space. Most people think that building something out of pipes is difficult, but your opinion will get change, and your creative spirit will explode after following this unique series of DIY pipe shelves. Given below are the written instructions and some video guides to help you know how to create DIY pipe shelf ideas at home?
How To Build DIY Industrial Pipe Shelves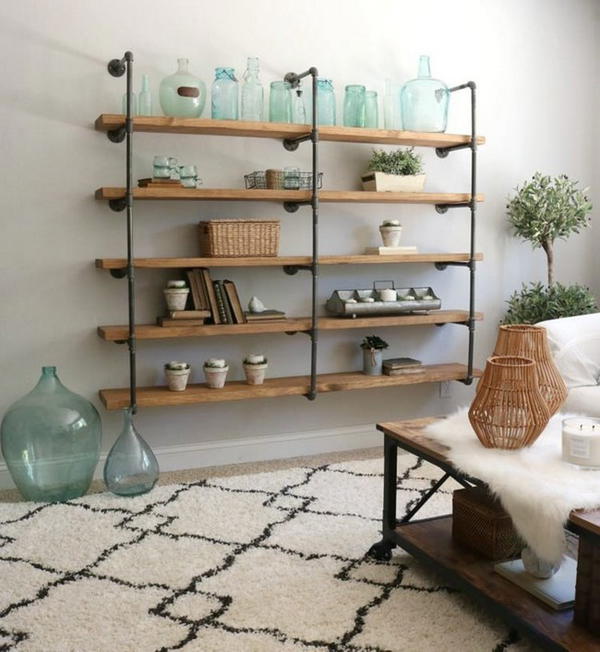 An industrial pipe shelf would look great and be functional in any room you want. You can use it to organize your personal belongings or items for your workplace. The simple design of the shelf is quite easy to follow and build, but there are many tips and tricks available on the internet. All you need to do is choose the plans given in this guide to build your own DIY industrial pipe shelf. We will teach you how to make one in this article with a step-by-step instructional video below. Have fun!
DIY Pipe Shelves From Scratch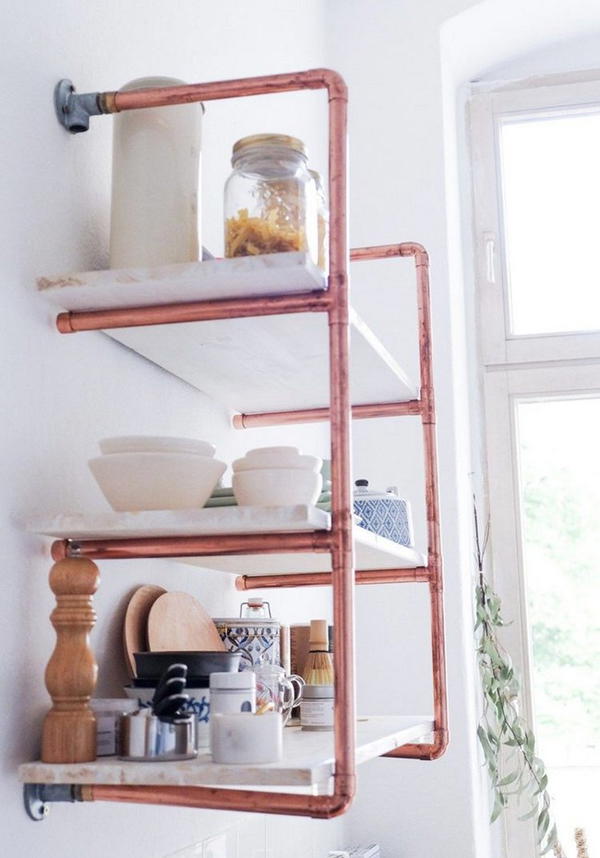 This DIY pipe shelve from scratch is made from hardwood boards and galvanized metal pipes to meet your storage space need. It's pretty simple to construct, attractive and sturdy. This DIY pipe shelf is minimal and portable. It's small, doesn't take up space, and can be hung on a wall or in the corner of a room. The boards and the pipe were cut with essential tools (a miter saw and a manual jigsaw). It takes you less than 3-4 hours to build. This guide shows you the step-by-step instructions and follows the steps.
DIY Industrial Pipe Shelves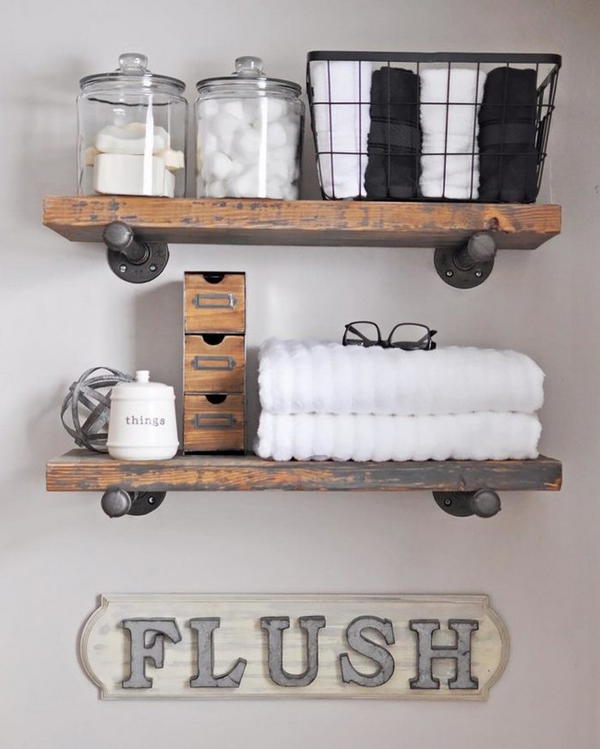 These shelves look great in a bathroom or all around the house. They feature two rows to create space, are made of industrial pipes, and are great to set on the walls with just two rows, making them very simple to install. You can put anything you want on these rusitc-themed shelves! They will also serve as the actual shelf, which is super worthy and straightforward if you're interested in getting this hanging shelf done. Let's get started! Go through this guide to learn more!
DIY Industrial Galvanized Pipe Shelves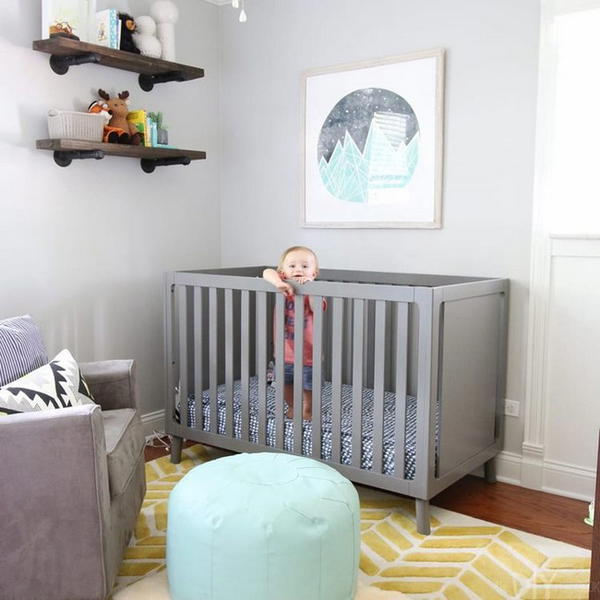 This industrial pipe shelf is an excellent decorative shelf, and it's pretty easier to make. This shelf can match your industrial style furniture and many kinds of materials. You can make DIY Industrial Galvanized Pipe Shelves with just a couple of metal pipes and some metal fittings; by following the instructions, DIYers with any skill level can do it easily. This is a guide to help you build some rustic and industrial pipe shelves with a simple design to have something fashionable in your house.
Making Pipe Shelving
Do it Yourself pipe shelving is a simple way to create the storage or display shelves you need - without the expense of buying prefabricated solutions. By using essential tools and readily available materials, anyone can make their own. Here's how to start building the corner frame for your shelving unit. Take your garage's storage game to the next level with this easy DIY pipe shelving tutorial. Watch this video to learn how to make a corner shelf in close to no time.
DIY Farmhouse Pipe Shelving
These DIY Farmhouse Shelves are such a great project. It is quick to make, easy to follow, and looks fantastic in any room. You can easily use old reclaimed pipes, metal rods, or whatever tickles your fancy. It will be the most inexpensive and straightforward method of adding storage space to the kitchen and making DIY farmhouse shelves on the wall. This wood pipe shelf can be made using plumbing pipes instead of screws, nuts, and metal brackets. The detailed instructions are given below, and follow-up steps are present in this video.
Small DIY Industrial Pipe Shelves
This shelf is a quick and easy way to add industrial style to your space. It's pretty simple to do as well as inexpensive. This is easily scalable and can construct at any length you need! You only need some screws of your choice and some black iron pipe. They can be found at any hardware store, and they come in many sizes, so pick whatever suits the space you want the best. This video shows the complete process; watch this to learn more!
DIY Industrial Open Shelves
This shelf is made from simple materials and tools; it is easy to make but takes time to complete. The materials used for this DIY Industrial open shelf are dried wood pipes, pipe fittings, wall fittings, and other pieces of metal. Before you try to make one, you should consider the size of your shelf. Use it to display your favorite collections or books, or utilize every inch of space for storage. It will add a cool and unique touch to your home.
DIY Industrial Pipe Shelving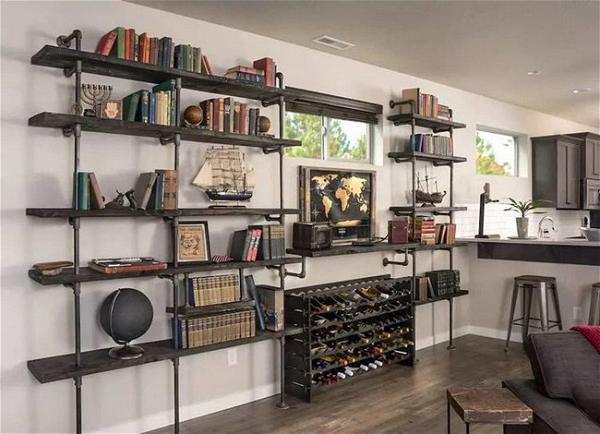 This DIY industrial pipe shelf is for the person with excellent crafting skills, a lot of space, and a love of pipes. You can put all of your crafty goods on display in a chic, artsy way with this shelf. This tremendous DIY industrial pipe shelf is not for the faint at heart! It requires a bit of working with metal and a lot of patience. The resulting industrial pipe shelf with beautiful concrete boards is worth the effort! You can make your own with the help of this guide.
DIY Pipe Shelves With Light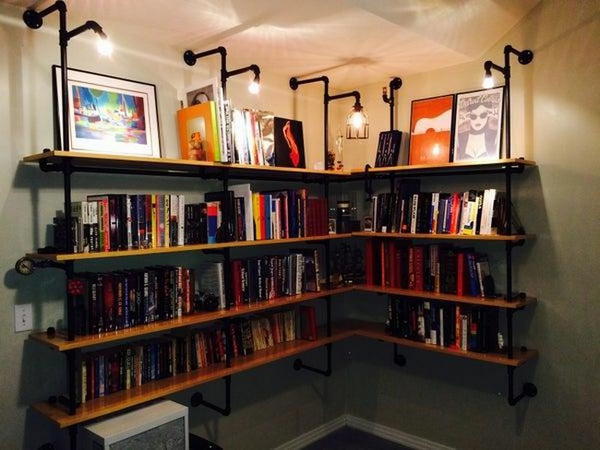 This is a unique, fun, and fantastic way to get a custom-looking shelf on the wall! These DIY pipe shelves come with light to create a significant lighting effect that can be mounted on any wall. The floor has been laid out with a plan to install the pipe shelf easily so that anyone can do it. This DIY project is not only a fantastic concept but very easy to follow. Make your own by using this guide.
DIY Farmhouse Pipe Shelves
Farmhouse Pipe Shelves are great additions to any home. Whether they're in your kitchen, a small craft room, or your living room, they will accentuate the farmhouse style and look of the room. Pipe shelves are also one of the most popular farmhouse decor trends, and if you want to make some for your home, here's how. Materials needed include wood boards, galvanized metal piping, metal straps, pipe elbows, pipe tees, etc. Stain the wood to make it look finished and presentable. Create your own unique shelves with these easy DIY plans.
DIY Iron Pipe Shelves
The DIY Iron Pipe Shelves are beautiful and functional. This project benefits from using the live edge slab from a hardwood tree. The end product is a gorgeous shelf that will mesmerize your visitors. The use of the industrial black pipe allows for a great live edge shelf without any extra support for the frame underneath. You can get any hardwood to fit inside the industrial black tube and give your entryway or room an extra flair that costs less and is more affordable. Watch this video tutorial to learn how it is made.
DIY Industrial Wall Shelves
This wall shelf has about 4-5 rows, and it's pretty tall. It's easy to make and super durable. It would be best if you had supplies for the pipe and supplies for the wood. It would be best to have a miter saw, a drill, and a tape measure. This shelf fits all uses and is great for apartments, dorms, and offices; the shelving system integrates with display fixtures such as centerpieces and lamps. This video will show you complete follow-up steps; watch this before starting your project.
How To Make An Industrial Pipe Shelf
This industrial pipe shelf is a beauty; it's great for organizing things on the top of your deck or backyard/garage storage unit. Build one today, and you'll wonder why you didn't make it sooner. The project only took a couple of hours to complete, but you will enjoy it! This project will be much easier using a floor flange as the shelf uprights. This allows you to build a robust and tall shelf with support in the middle but inexpensively overall. Watch this video to learn more.
Simple Pipe Shelving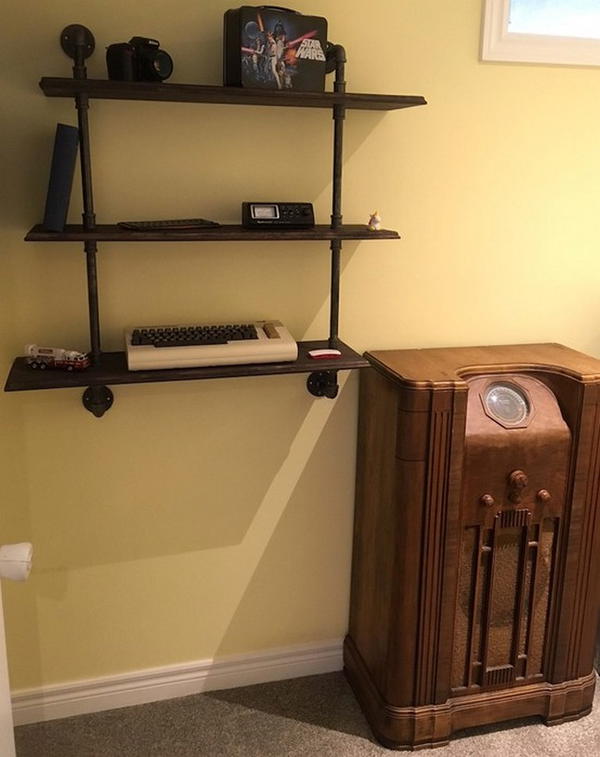 This simple DIY pipe shelf is a great way to add architectural interest to your office, library, or living room. The unique design and sleek appearance suit executive style settings. It's fast, cheap, and easy to make - with only three parts, it doesn't require an enormous investment of time or money! This pipe shelf is a great way to organize and saves space and height. The frames are adjustable and removable, so you can choose what works best.
DIY Pipe Shelves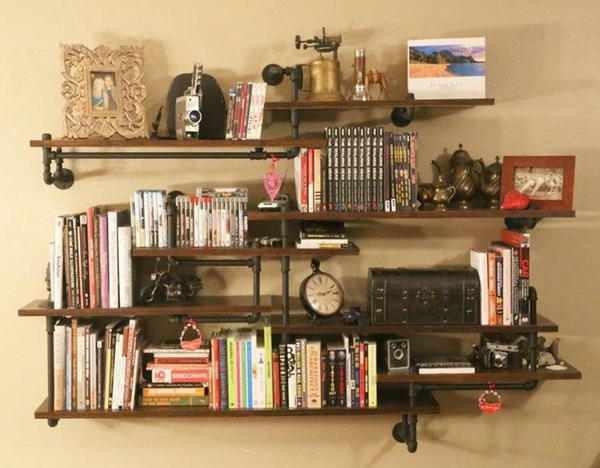 DIY your Pipe Shelves, It's a simple project that uses budget materials to give you a display for all of your favorite books and bits, safe in the knowledge that they're on display, not the floor. This guide will teach you how to build a pipe frame for shelving on your wall. Once you have the right plans, you will amazed how fancy and easy it is. With the right blueprint, even a do-it-yourself newbie can accomplish this task.
How To Build Industrial Shelves
This industrial-style shelf is one of the best woodworking projects, This is the perfect option for many households where space might be an issue, and you want to maximize your storage space by adding shelves. Here is a video demonstrating how to build an industrial-style frame using steel pipe and gel-stained pine boards. The making process is straightforward, and the result looks quite chic for one of the most budget-friendly shelving options.
DIY Pipe Bookshelves
This DIY Pipe bookshelves are not only helpful but also decorative: the supplies needed are few, and the tools are cheap to buy and easy to operate. Drill, hacksaw, glue gun, hammer, all it takes is a bunch of pipes and simple knowledge about cutting and gluing. These simple skills can make a gorgeous-looking bookshelf for your living room or a Bedroom. This video will find simple steps to build your beautiful bookshelves. The materials you need for these minimalist bookshelves are readily available in your home.
DIY Pipe Shelf
This is one of the most fabulous DIY pipe projects that will add storage and a little bit of character to your room. The shelf itself is excellent. It's very sturdy and easy to mount anywhere you want to. You can adjust the height or frame if you need to store different size items. This DIY pipe shelf is easy to make and looks great in the room. With its clean lines, it's an excellent addition to any home. Watch this video tutorial which will show you the complete follow-up steps.
How To Make An Industrial Pipe Shelf
An industrial pipe shelf is a helpful and straightforward shelf to keep in your garage. This project aims to be an alternative storage solution for your space, from the house coffee table to an industrial-style bed. This industrial shelf is easy to make, and you can use a variety of other materials such as metal pipes, chains, or ropes. It's also helpful to set the lines onto a baseboard before installing them so they don't move or twist on the wall. Anyhow watch this video to learn more!
Pipe And Salvaged Wood Shelves DIY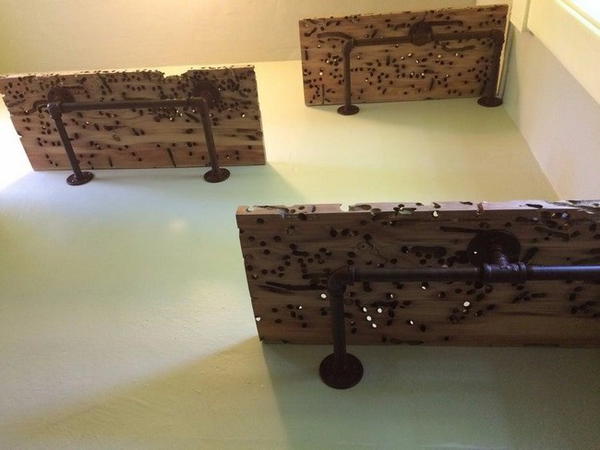 DIY Shelves with Pipe And Salvaged Wood, This DIY project was inspired by the clean and rustic look of old metal pipes found in industrial buildings. The project is pretty simple, requiring a little bit of work but nothing major. The shelving unit features an industrial black-iron pipe joined to a salvaged wood shelf base with industrial pipe fittings and can be installed in any space without the need for complicated tools. It is simple, rustic, yet elegant and has a durable quality that can stand alone or blend in with your curated interior.
How To Make DIY Industrial Pipe Shelves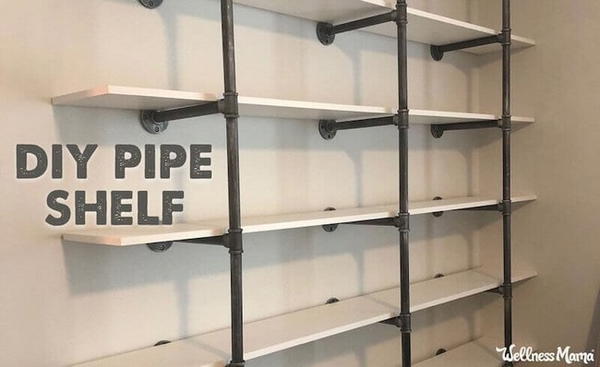 DIY Industrial Pipe shelves have a visible frame. You can store items on this shelf or use them to decorate the room. You can also install a curtain in the space to divide the room. With these DIY Industrial Pipe Shelves, you will be able to invent new solutions, organize your office and make your home prettier! This guide will help you how to build DIY industrial pipe shelves. They are inexpensive and easy to make.
DIY Industrial Pipe Shelving Unit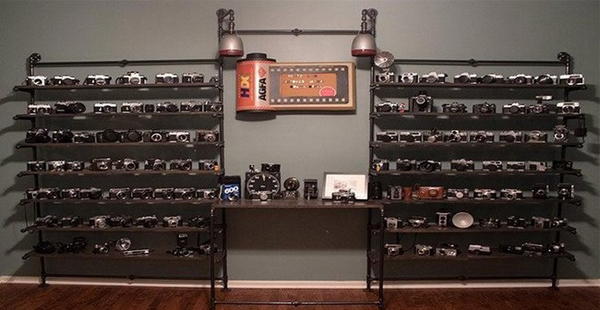 This DIY Industrial Pipe Shelving Unit will be a unique combination of pipes and wooden slat shelves. This Shelf will come in handy for managing and storing your stuff, whatever it might be. When you build it yourself, you can customize it to suit the amount of storage you require and put lights on to enable you to see through at night. It could be the perfect addition to your living space when it's done, and The project will not take long before you get the job done.
Modern DIY Pipe Shelves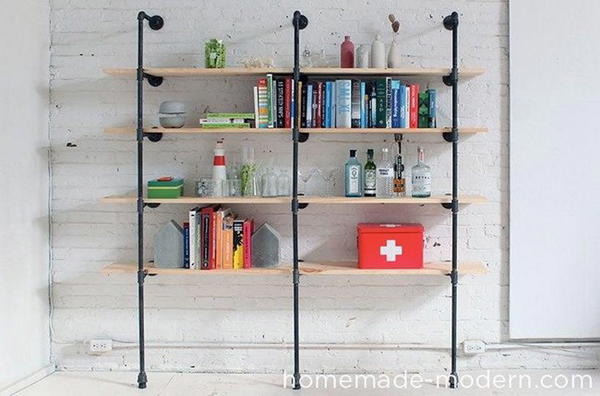 This DIY pipe shelf is the perfect gift for your home. It's quick to assemble and can fit in any location. It's a handsome, solid piece of decor that would look great in any bar, loft, or garage. The shelves are adjustable in height and add a special touch to them. These pipes are easy to paint with acrylic paints and many other techniques. Assemble them using silicone glue. Your pipe shelf will be a one-of-a-kind piece for your home or office! Go through this guide to learn more.
DIY Wood And Pipe Shelving Unit
This DIY wood and pipe shelf is the perfect way to add storage space and style to your garage, basement, or laundry room. You can also easily modify the measurements of this shelf idea. These shelves look modern, and the shapes allow various things to store, such as books, lamps, or figurines. This easy-to-follow video will guide you through every step. With just a few essential tools and only one trip to the hardware store required, anyone can build this shelving unit.