A sideboard is an excellent piece of furniture to have in your home that is perfect for storage and can be used to store any number of things, such as an assortment of pottery or even wine and liquor. But when you look around, you may find that it's hard to find the right sideboard for your home. If this is the case, then why not consider making your own? Sure, it may seem like a daunting task, but it's easier than you think! You can make a sideboard out of almost anything with just a few simple tools. Either way, here are 30 DIY sideboard ideas for you to get started on!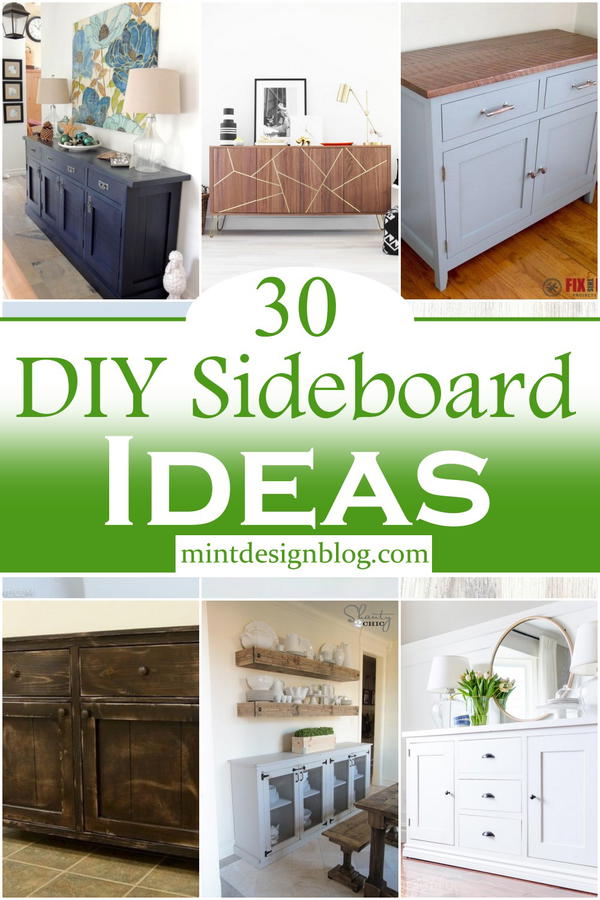 Sideboards are often used to store various cooking utensils in the kitchen, or they can be put to good use in the dining room, where they are most commonly found. DIY sideboards are fabulous because they will be unique and fit perfectly in your interior design. Also, you can make them as big or small as you want, depending on how much space you have available and on the dimensions of your dining table. From the list of the following 30 DIY Sideboard Ideas, you can make one with a few tools, skills, and time; you could have yourself a beautiful cabinet that will envy family and friends. The only thing left to decide is what style you want your sideboard to be. You can choose from classic or modern, rustic or elegant.
What's a sideboard?
A sideboard is a small table, typically found in dining rooms, used to store things like silverware and other utensils. It can often have drawers or cabinets underneath the top.
Sideboards can be very convenient and appealing additions to any room. For example, they are helpful in the kitchen for storing spices and condiments. They also look nice in the living room and can be used to hold books, magazines, and other items that you may want to have close by while sitting on the couch.
Benefits Of DIY Sideboard
There are many benefits of DIY sideboards, but here are just a few:
You can create a one-of-a-kind piece that fits your home and personality!
You can save money by making your sideboard instead of buying one from a store.
It's fun to build something with your own hands!
Storage. Who doesn't love more storage? Whether you have many things or just a few, storage always helps keep things neat and organized.
Versatility. You can use it as a side table, nightstand, or entertainment center. It's nice to have options!
Design element. Sideboards offer a beautiful decorative touch that can enhance the look of your room.
DIY Modern Kitchen Sideboard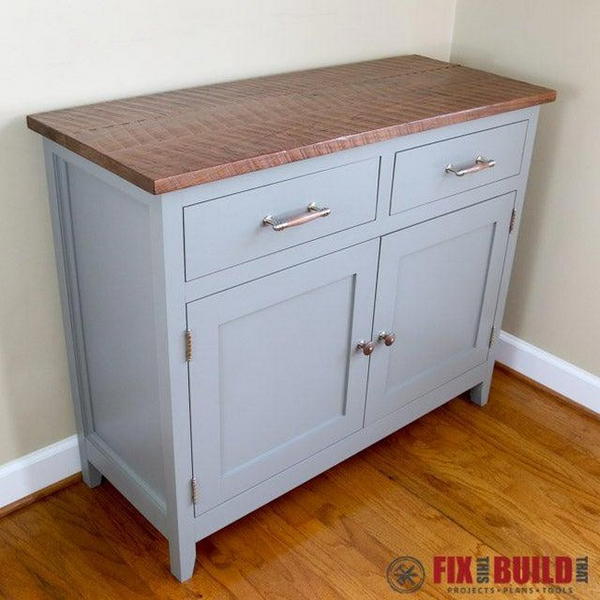 This sideboard is a DIY Project which you can make at home. It has a modern style. The color combination is also excellent and suitable for any kind of theme. You need some woodworking skills to make this one because most of the parts are adjustable. The process would take some time, so be prepared to spend a reasonable amount of time on it. You need to be able to handle woodworking tools because you will need them to build the piece. And oh yeah, you can paint the case whatever color you like. All the best on this project!
Farmhouse Sideboard Idea DIY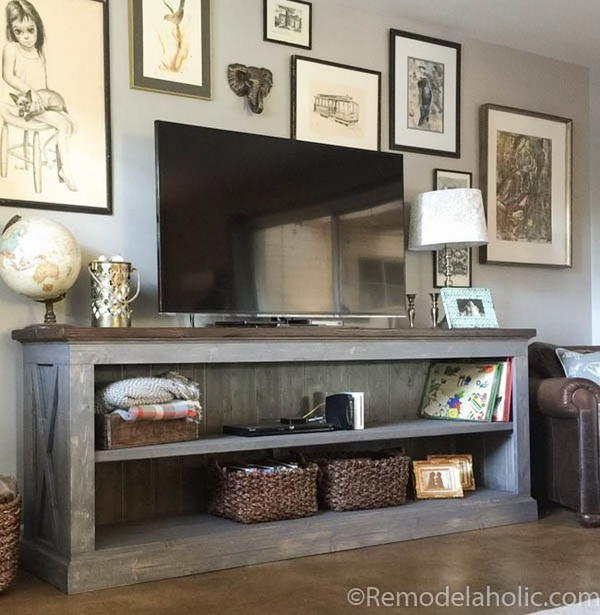 If you're looking for a sideboard for a farmhouse, this one is perfect for you. It's got two shelves that are just big enough to accommodate your television. You could have seen the décor of other homes and not felt happy with it. This is a beautiful sideboard that doesn't have doors or anything else. They are made from wide boards of equal length. You can buy one piece of wood and cut it into two parts, or you can get one piece of wood and cut it in the middle to have four shelves that are all the same size.
Modern House Sideboard DIY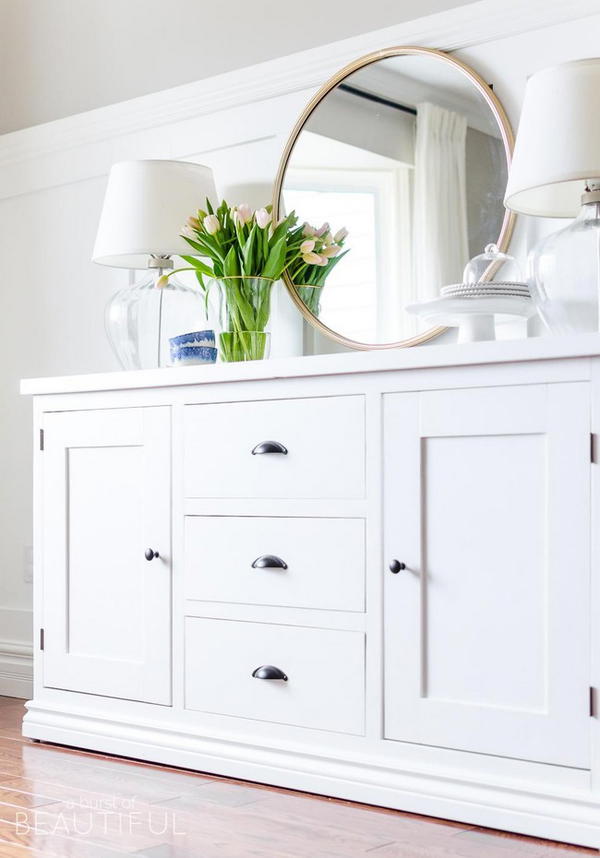 A unique design sideboard to complete the look of your vintage home decoration! A little bit Victorian and Art Deco, but it still feels homey. The built-in shelves make it more spacious so that you can put your books on display or for additional storage. Completing the circle is three storage drawers accenting the upper cabinets. This will be a popular piece of furniture for your house! It is easy to make and modify at will, just like other furniture pieces, so feel free to change the design, so it fits your house better!
DIY Huge Sideboard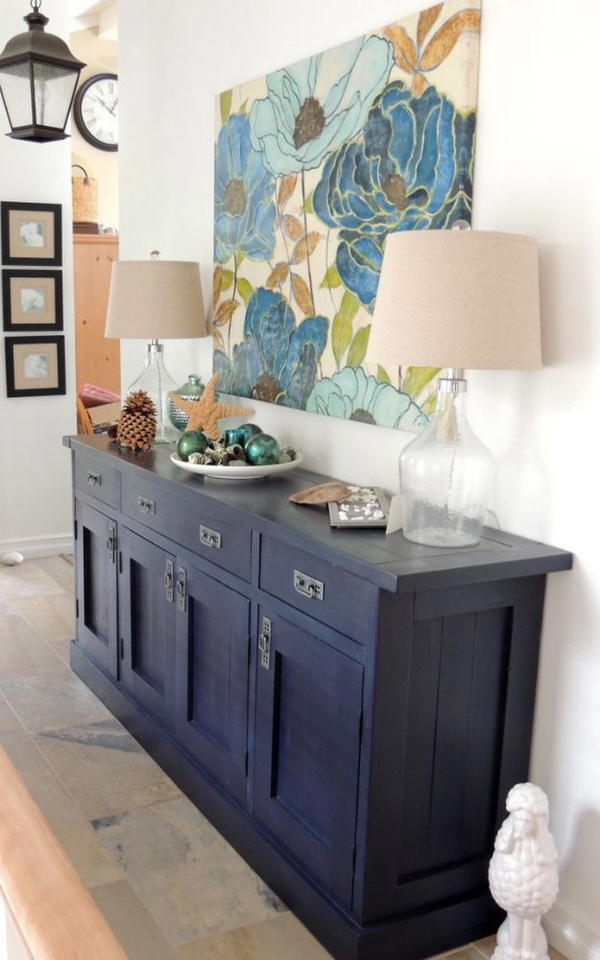 If you are looking for a storage solution that is both stylish and practical, then the DIY Sideboard is a great choice! It has all of the classic elements of a traditional buffet, but another great feature is four large drawers and four bottom shelves!This DIY huge sideboard is an excellent addition to any dining room. It can be finished in any color you like, and we will also provide detailed building plans. You will make it with our modern design; you only need to insert the wooden panels and wheels into the ready-to-assemble furniture, then get special cabinet hardware for kitchen cabinets.
DIY Ikea Hack Sideboard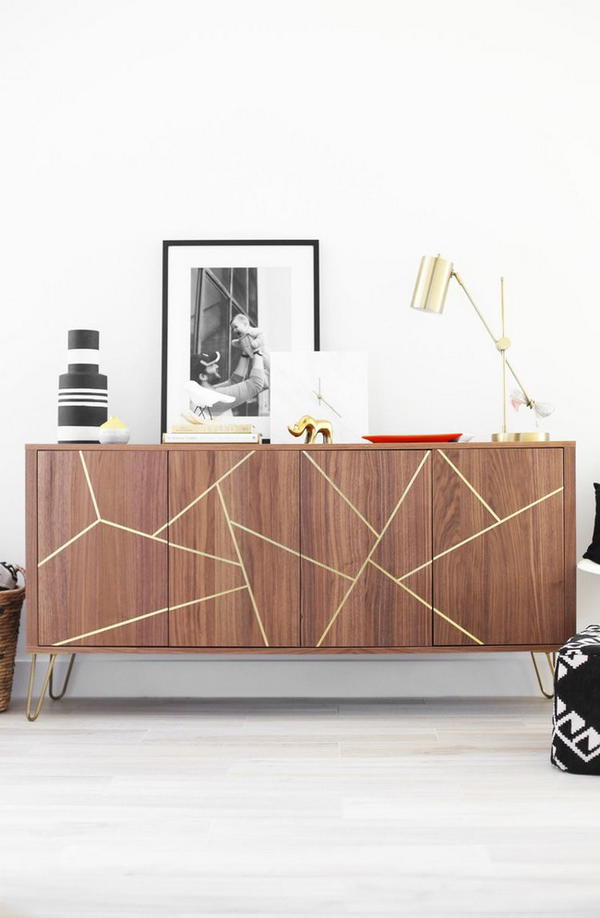 If you don't have a budget for furniture or a new piece of furniture and want to give your kitchen some design, this Ikea hack will show you how to convert the simple sideboard into a beautiful cookbook cabinet. Transforming an Ikea sideboard into a stunning table is easier than you think. This hack will show you how to add the special touch you miss from your decor. The hack process only takes an hour or less and does not require drilling skills. You just need the things you already have at home and 1 hour to complete it. It's so easy. Have fun!
Sideboard With Mesh Doors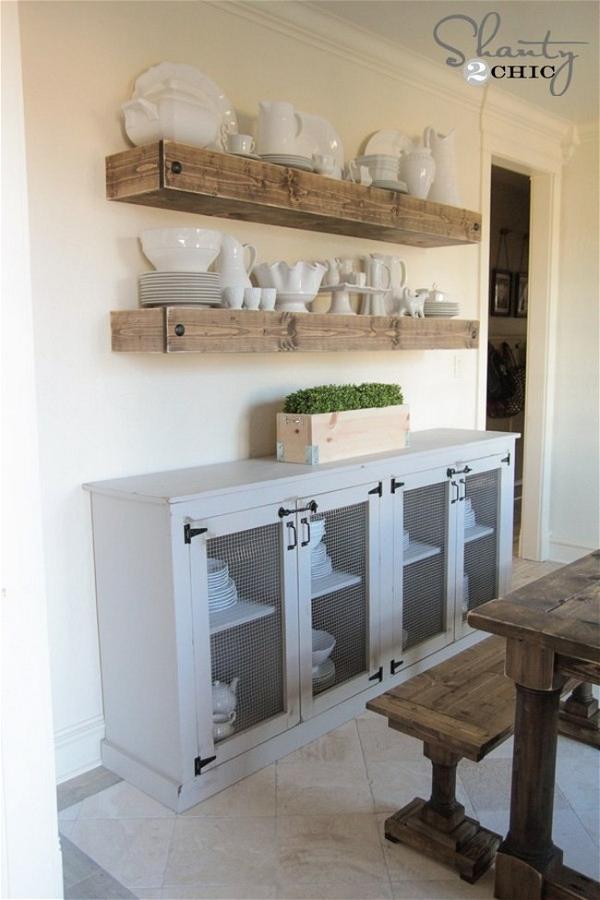 Do you run out of storage space in your kitchen? With this sideboard with mesh doors, you get a lot of storage compartments! It's much more functional than those standard cupboard doors. The open shelving gives a great sense of spaciousness to the kitchen. It's perfect for holding all the odds and ends that accumulate in the kitchen. It has so many compartments that you can keep all your kitchen accessories in one place and save space under your countertop. Just have a look at the plans and see what you think!
DIY Sideboard Cabinet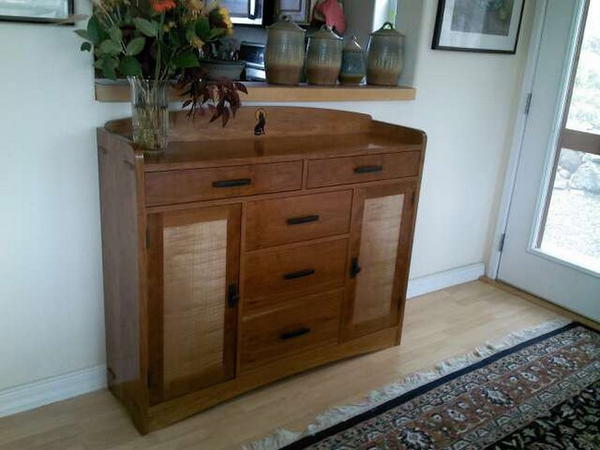 A sideboard is a piece of furniture that has drawers, shelves, or cabinets for display or storage. Sometimes, sideboards store other items such as dishes and cutlery, often in large quantities. They can be simply decorative and ornamental and serve as extra seats or tables if required. Whatever the use of the sideboard, it is a convenient piece of kitchen furniture that you can count on. This sideboard cabinet is the perfect combination of elegance and functionality. Its wide surface can be used to rest food, herbs, or favorite decorative accessories. The bottom part is suitable for the storage of holiday decorations and essentials.
DIY Sideboard Buffet Cabinet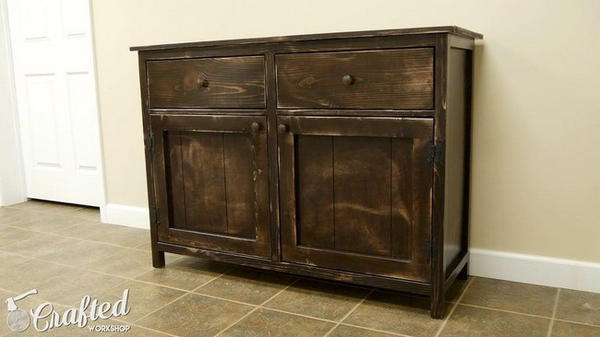 Have you been looking for a one-of-a-kind sideboard buffet cabinet? Then look no more. This sideboard is professionally constructed with the highest quality Canadian pine lumber and an easy-to-follow set of plans to lead you through every step of building this beautiful masterpiece. You will not be disappointed in the finished product. The DIY Sideboard Buffet Cabinet is a furniture piece that suits all decor. It is easy to build with most supplies available at your local big-box home improvement store.
Scandinavian Sideboard DIY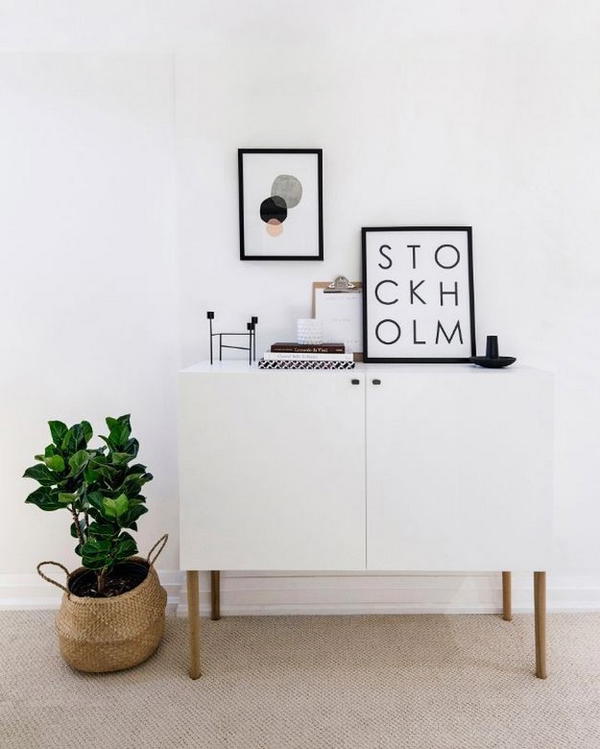 Are you looking for an idea with Scandinavian-style furniture? Take a look at this simple sideboard tutorial and try to make it. It is pretty handy as no construction is involved, and the materials needed are easy to find. The result is stunning, so it could be hard to say no to such an elegant piece of furniture. It is a simple and beautiful sideboard. It needs very simple tools and materials, but it will give so much to your space. This is a lovely Scandinavian sideboard that is DIY friendly, and the best part is you can build it yourself. It gives a relaxed atmosphere to the living room and a practical way to store your books and coffee mugs.
Retro DIY Sideboard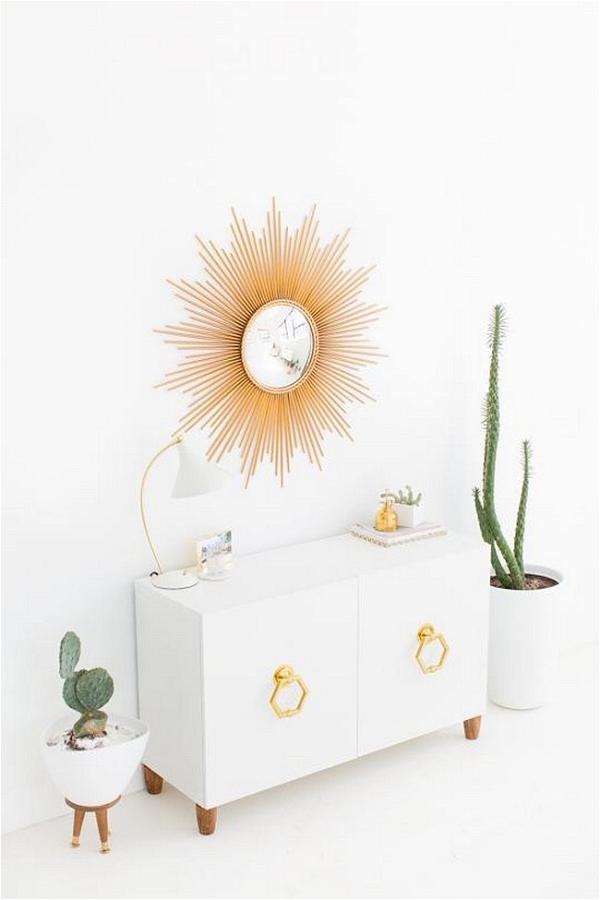 You are about to begin the assembling of this Retro DIY Sideboard. All necessary hardware, instructions, and detailed pictures are included. The materials used in this cabinet are pine wood, and it has been painted with furniture paint. This sideboard unit is made with the assembly required. The items you will be using include a drill, screwdriver, hammer & nails, and saw carpentry glue. This Retro DIY Sideboard is a fun DIY project. This cabinet is vintage-inspired and built with chalkboard paint. It's a great addition to your home decor, or you could use it in your kitchen for extra storage and display space for your open dishes.
DIY Sideboard With Wine Storage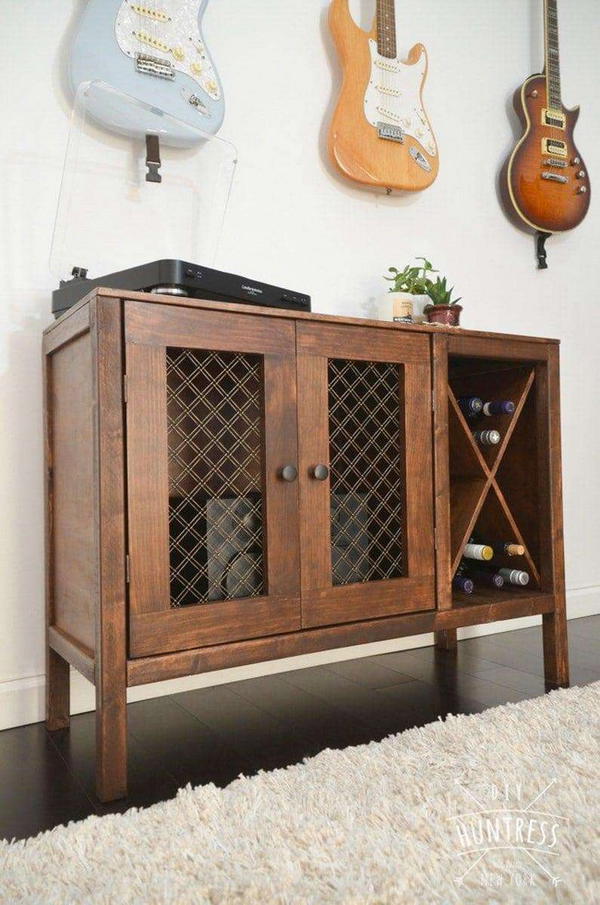 There's an old saying, "Wine makes every meal better." Having wine at home is essential for many family meals and gatherings. However, keeping the wine in the wrong place can be disastrous because those beverages are sensitive to oxygen and moisture. For this reason, it is essential to store your wine in a suitable location. The DIY sideboard with wine storage can be made out of various materials and made in many different sizes depending on the person's needs and tastes. This cabinet can be a great addition to any house regardless of the style.
Scandinavian Modern Sideboard DIY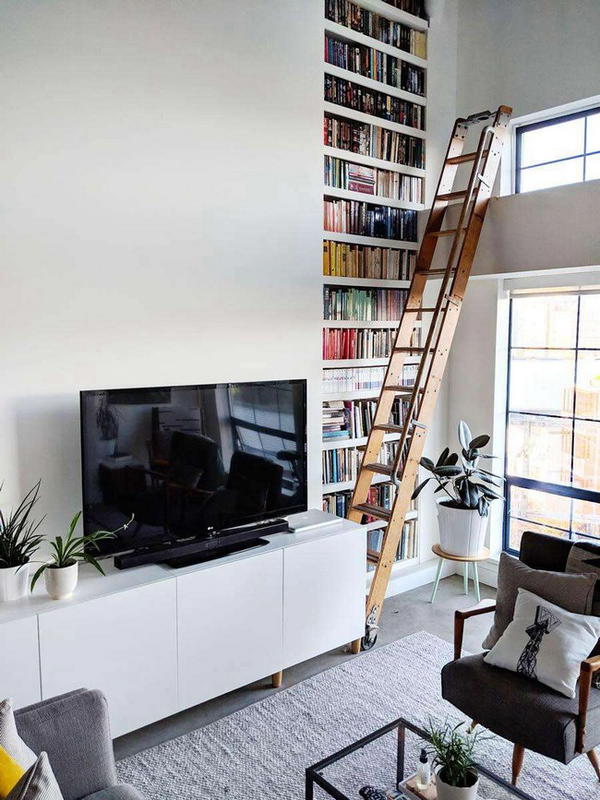 Are you seeking a nice and compact sideboard DIY project that's practically designed to fit in any living room? If yes, then this Scandinavian sideboard is here to be your next remodeling idea! Featuring sustainable construction and a beautiful minimalist design, there's no doubt that this sideboard is the right furniture piece to make your living space look hip, calm, and stylish.
Open up your living room with this Scandinavian modern sideboard DIY. The cozy bench space in this beautiful piece of furniture would allow your family members to sit down comfortably and watch your flat-screen TV. An added advantage of this DIY is that you can use the countertop to display some flowers and candles for the ambient lighting effect.
DIY Buffet Cabinet Sideboard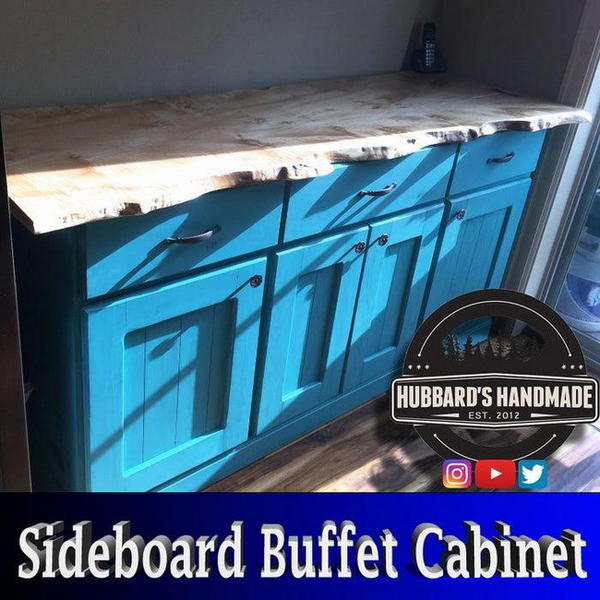 This DIY Buffet Cabinet Sideboard is an excellent addition to your kitchen. If you are into rustic styles and want to hold even more stuff, this cabinet is perfect. The wonderful thing about it is that it also has a lot of storage compartments because there are drawers on the bottom, which can be very useful for different things. It also has a countertop on top with the same thickness and texture as its rest. The countertop is not just beautiful but highly durable.
DIY Mirrored Sideboard From Dresser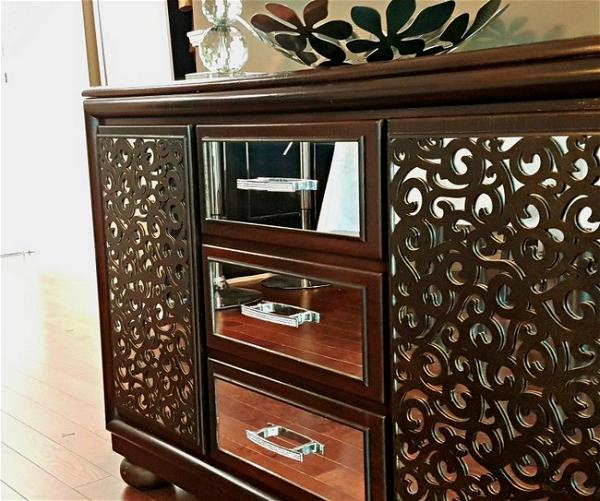 Have a sideboard but don't know what to do with it? Try this idea! It looks simple, but the result is just fantastic! This project will appeal to you: it's a nicely designed DIY mirrored sideboard. This mirrored sideboard from the dresser is worth making. For example, you can place it in your kitchen or use it for a jewelry stand. The new look is visually appealing and brings more natural light into a bedroom or a living room. This sideboard would look great in any room. So, if you think that this idea would work for you, let's begin!
DIY Box Sideboard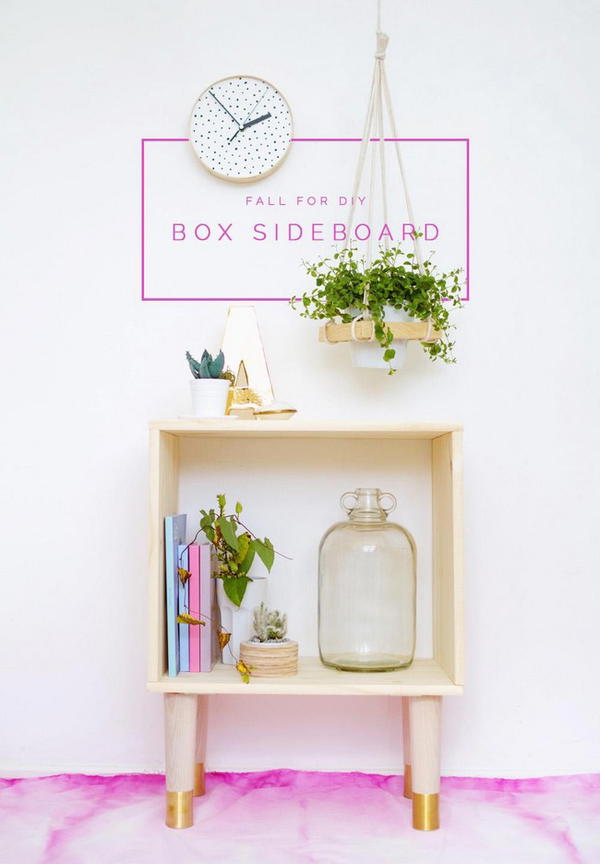 The DIY Box Sideboard is the perfect solution if you're looking to save on space in your home and still have all the storage space you need. When you're out at work, guests visiting your home will think it's a real piece of art, not realizing that it's a piece of the closet. This DIY project can be done in a couple of days with a few tools and materials. You will learn to build a box-sideboard with 1" strips of plywood, dado joints, rebate grooves, and sliding doors. You will also find out the steps you need to take when installing the hinges or handles.
Bowling Alley Sideboard With Wine Storage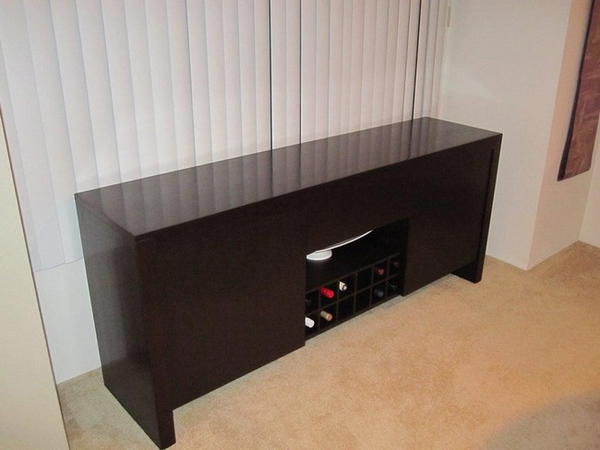 Impress your friends with the stylish functionality of Forma Bowling Alley Sideboard with Wine Storage. The extension of the cabinet on both sides, coupled with the central wine compartment, provides space to store wine bottles and glasses – an ideal complement to any bar area. This sideboard has a unique design; it is a standard size to fit anywhere in the house. It has multiple color options for you to choose from. Due to the unique shape of this sideboard, it can be considered a piece of art rather than a piece of traditional functional furniture.
'50s Inspired Sideboard DIY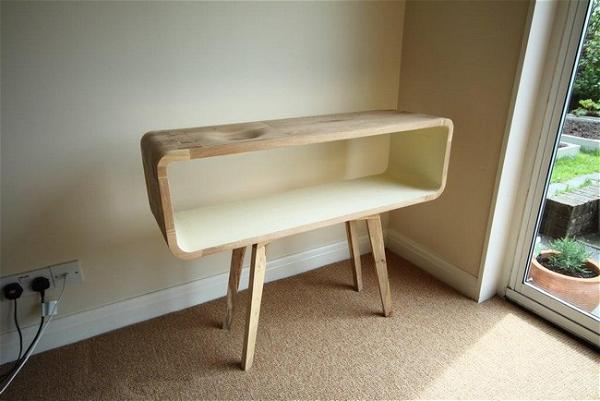 If you are in the mood for something old-fashioned, you might want to make this sideboard yourself. Or If you have been looking for a retro-style sideboard DIY and have looked around in some places and not found the right one for you. Then check out this 50's inspired sideboard made out of pine plywood. This is easy to do a project that will take a couple of weeks. It is all "wood," and it gives the feeling that it might be cumbersome, but if you have read my other tutorials, which are related to home decor, you would know that this is not so. You could make it as long as your planning is proper and you have enough plans on your hands.
Transformed Sideboard Idea DIY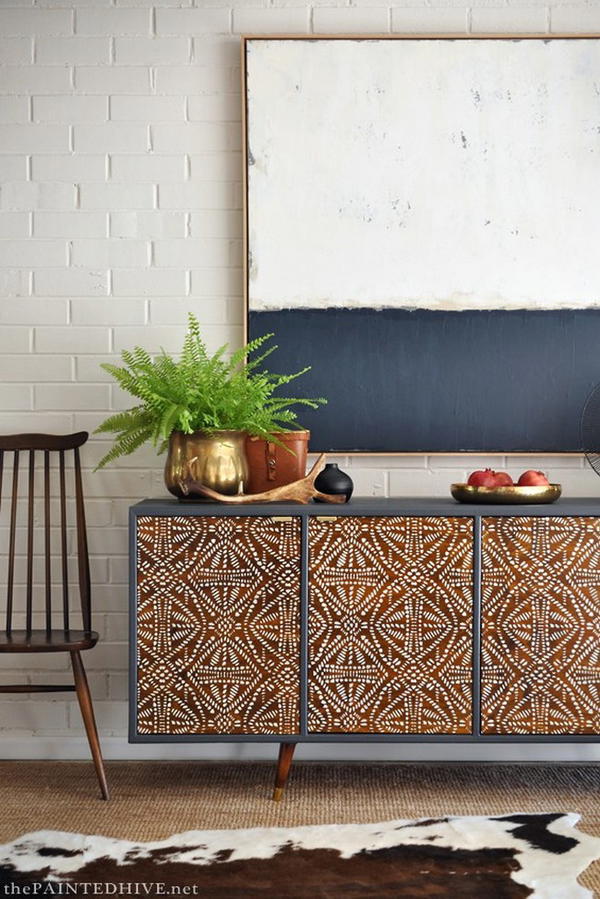 You are probably planning a home renovation project. So, you will need some money and a place to start from. Sideboards could be the answer for you. Sideboards are suitable for dining rooms, living rooms, bedrooms, etc. If you have an ugly old sideboard in your house, do not throw it away. You can simply convert it into an absolute natural, just like the image above...
It's a real shame to throw out a beautiful, solid wood sideboard just because it is not as functional as you would like. Perhaps the drawers do not work well anymore, or you have to bend down too much to reach something hidden in the back—no need to spend copious amounts of money on new furniture.
Reclaimed Wood Sideboard DIY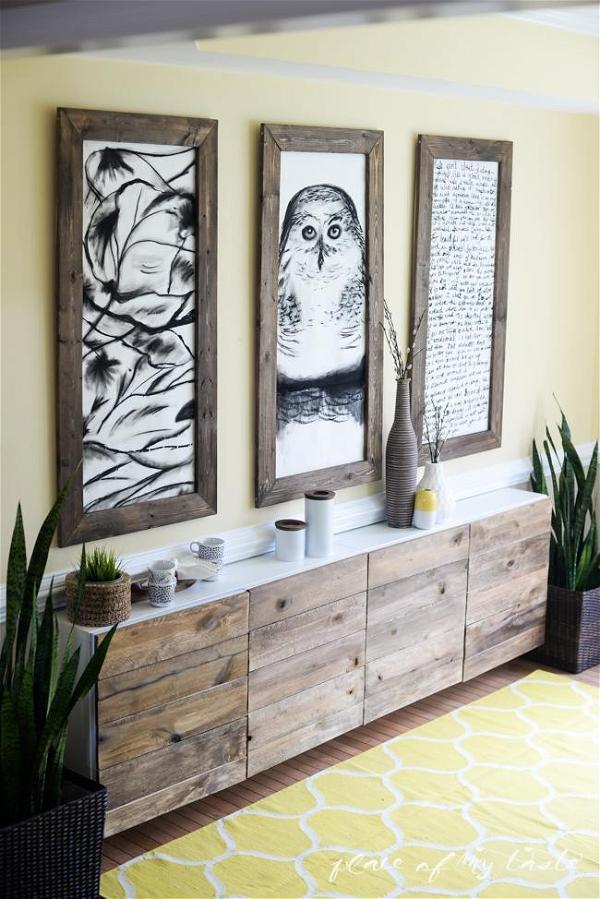 You can start to do your arts and crafts using this lovely sideboard. It is highly recommended for you in your living room. This product is featured a smooth surface of cleanable, an elegant curve shape, and many more features. This sideboard was made from reclaimed wood. This sideboard was designed to be trendy, making it a perfect item for modern-day living rooms. It has four storage compartments and doors that open completely to make it easy to access the items inside.
Designed Wood Sideboard DIY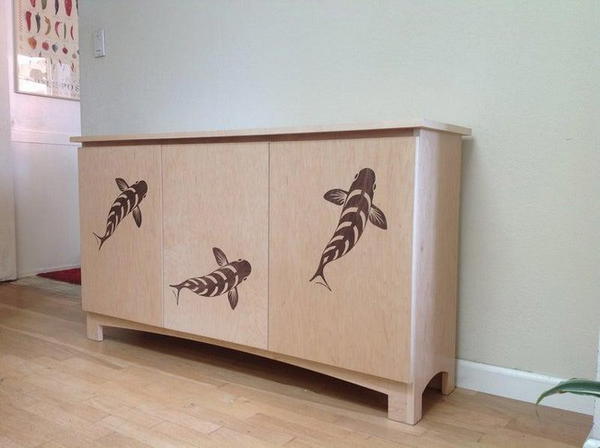 Your living room will get a nice upgrade with this rustic sideboard. It is handcrafted using only reclaimed wood to add character and ambiance to your home. It comes with three storage compartments perfect for books, magazines, and other small articles. This sideboard may be purchased in a black or brown finish and various wood choices, giving it that customized feel. This multipurpose sideboard has storage compartments and can be placed in any of your rooms. It is exclusively made from reclaimed wood, thus exemplifying rustic charm.
Farmhouse Style Buffet Sideboard DIY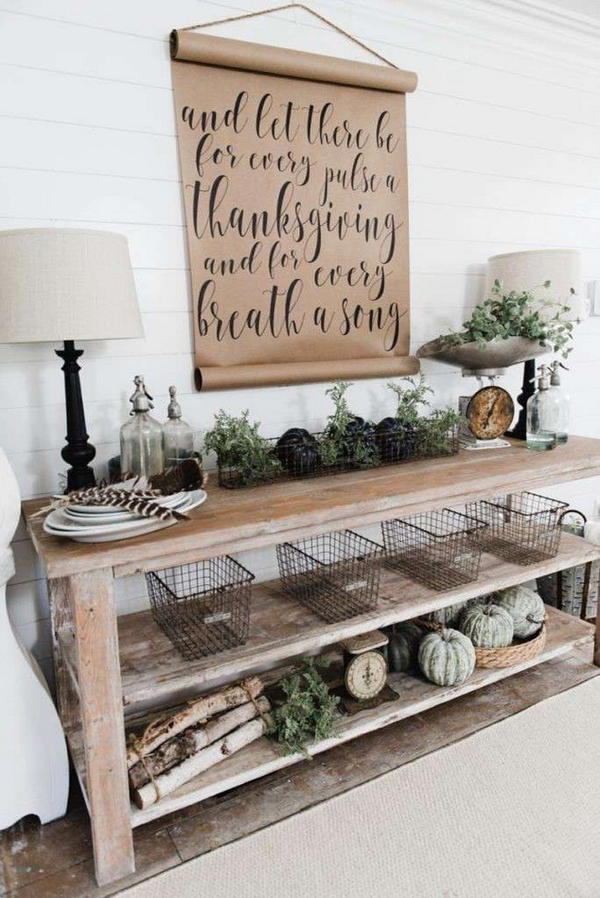 If you love the look of farmhouse style, you will want to see this sideboard buffet. Made from wood, it has a solid and sturdy construction that will stand the test of time. The finishes come from eco-friendly processes, including water-based stains and mineral oil topcoats. Its' distressed look is perfect for your home's decor. With a farmhouse-style buffet sideboard like this one, you'll have plenty of storage space for extra cutlery and dishes, essential oils and spices, bakeware, and more. The style is simple and comfortable without being over the top to be used in any room of your home.
Modern House Sideboard DIY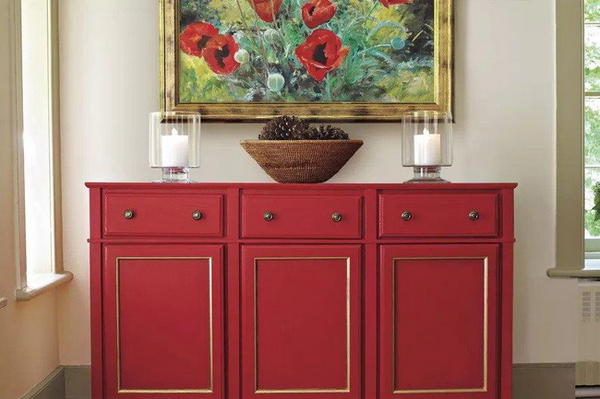 Modern House Sideboard DIY Project features a functional piece of furniture that will enhance any interior decor. The sideboard is made from solid wood and MDF sheets mounted on a plywood base, making it sturdy and robust enough to withstand daily usage. This is a quick build. You will have one sideboard up and running in no time. It's a good project for beginners, and you can have fun personalizing this sideboard to your house's color scheme or perhaps even your country's flag colors or any unique touch that suits your needs!
DIY Farmhouse Buffet Sideboard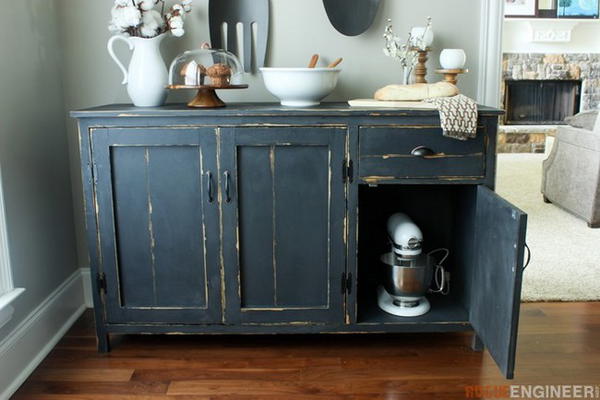 This DIY Farmhouse Buffet Sideboard brings the rustic look of a sideboard to your kitchen without the cost of an antique. It's an affordable way to add extra storage space and can even be used as a serving table. This versatile sideboard is sturdy enough to handle heavy items like pots, pans, and food trays. Its three drawers offer plenty of room for storing flatware, dishes, and small appliances. The built-in turned leg feet will fit nicely with any decor.
DIY Sideboard Idea With Copper Handle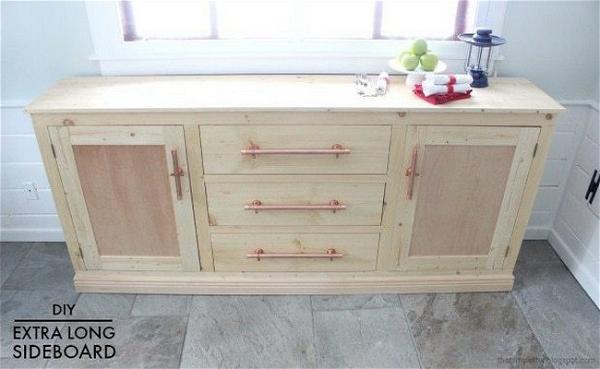 If you are bored with your old sideboard, this DIY sideboard idea is a fun way to spice it up a little bit. The copper handle will make your piece of furniture look unique and exciting. This DIY sideboard is a budget-friendly addition to your living room. You need MDF boards, a copper handle, and some brackets. You only need tools like a hammer, screwdriver, and laser saw. Time to make your own handcrafted sideboard! This sideboard is perfect if you lack space but still want to keep your necessities in one place. The bottom door is designed to hide away all the things you don't keep on hand, such as cleaning tools and supplies.
DIY Pallet Sideboard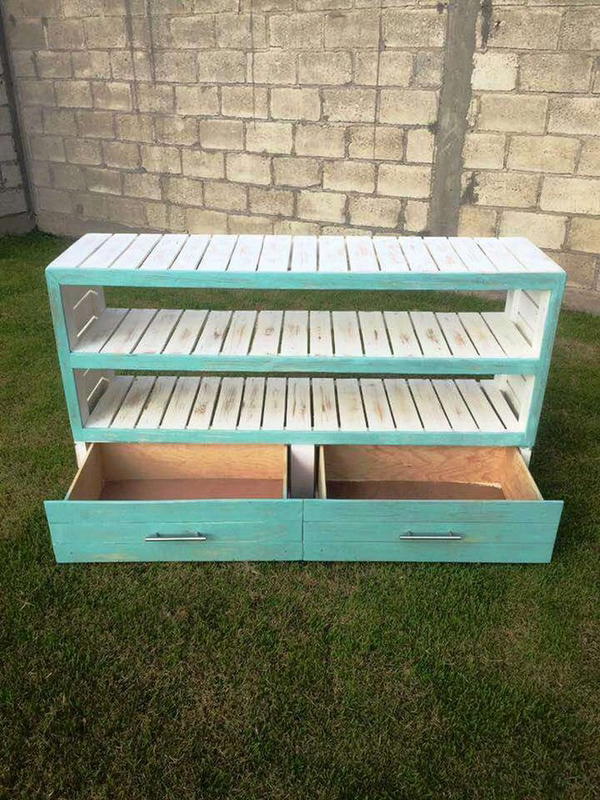 With some pallets, you can turn this idea into reality. You only need to create a frame, cut the wood slats and fix them to make the sideboard of your dreams. The pallet sideboard is a piece of furniture that everyone will notice in your living room. This rustic sideboard looks elegant and gorgeous once you have finished it. The color of the wood is the same as the old wood from the pallet. Then its grain is well exposed. So, before sanding the wooden surface, you will have to prepare wood first. It is pretty much the same as making any other furniture with wood. Exercise your creative abilities and start working on this fantastic project!
DIY Dresser To Sideboard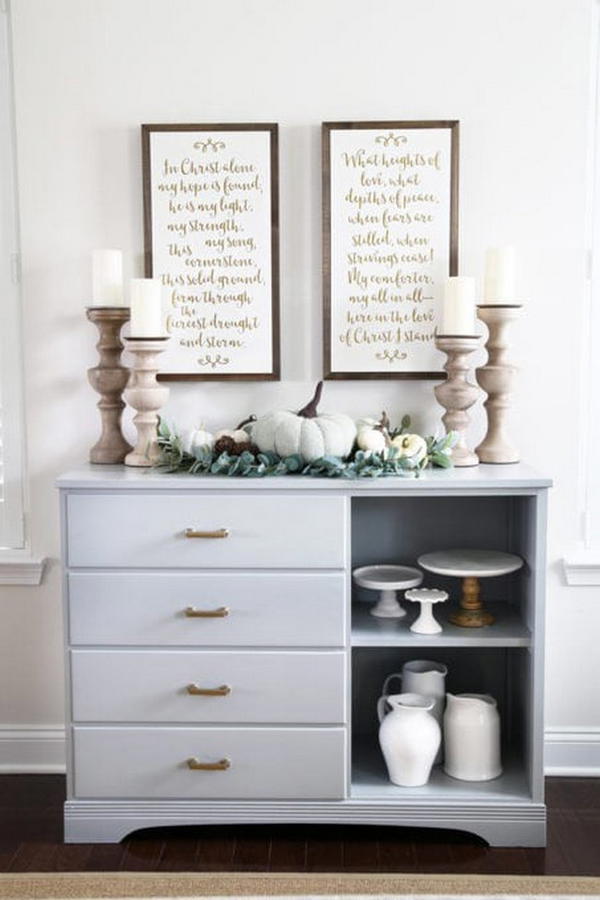 The DIY Sideboard is an easy plan to follow. You will learn how to use paint and stain to transform your old dresser into this beautiful sideboard. Before you start the DIY project, please read the instructions carefully, especially when you have to cut some pieces of furniture. You will need good tools and enough time for the project. You might also want to buy additional accessories like stains, paintbrushes, or empty boxes to store your clothes in. The process is easy to learn, and the result is a unique piece of furniture that can fit in any space.
DIY Sideboard Idea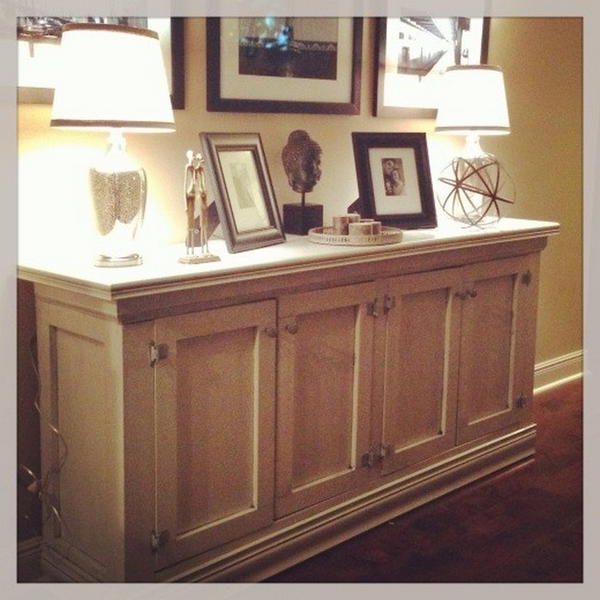 This sideboard would be ideal for a kitchen, bedroom, and living room. It would look good both with and without the doors and is made from hardwood for durability. It is also strong enough that you can use it to store everyday items. The instructions contain three self-explanatory diagrams that make building it easy. Everything you need to develop this sideboard is included in the instructions; the only thing you will need extra is some wood glue.
Sideboard From Kitchen Wall Cabinets
No need to start from scratch when making a cabinet sideboard. Just use an old kitchen wall cabinet you already have on hand and transform it into one that provides extra storage space for your living room, dining room, or even beside the bed. This sideboard from kitchen wall cabinets is the space-saving creation you have been looking for. It's a better alternative to an expensive dining room cabinet because it doesn't take additional space from your dining room. Its parts are pretty easy to put together, and there aren't an insane amount of different tools needed. This project will save you a lot of money and free up some space in your home.
Modern Style Sideboard Ideas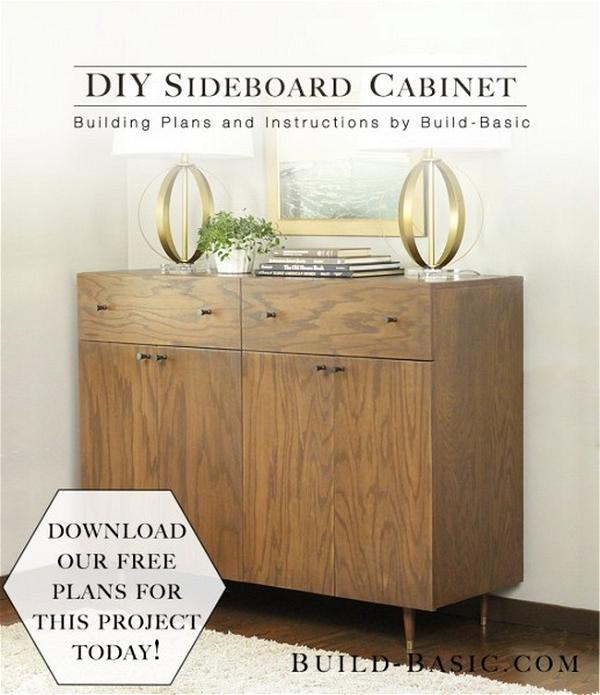 One of the most valuable pieces of furniture you can have in your kitchen is a sideboard. A sideboard creates a storage space where you can neatly store all sorts of things, including pots, pans, cooking utensils, and much more. Despite serving as extra storage space, sideboards don't occupy too much space because they occupy an area on the wall. The sideboard design is simple; therefore, it can be built quickly but still look stylish in a modern kitchen.
DIY Planked Wood Sideboard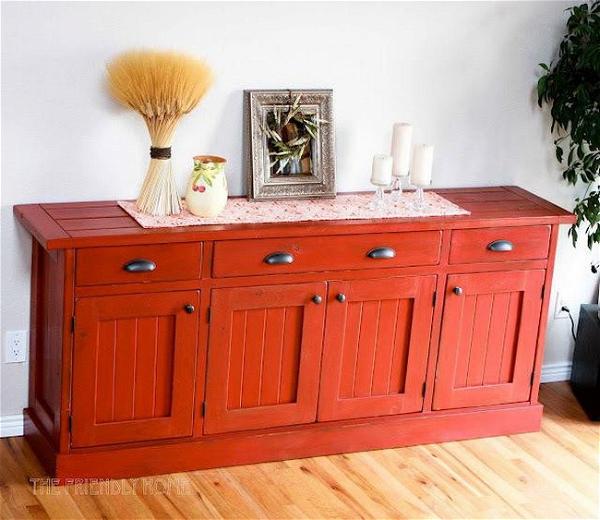 A solid wood sideboard with a pronounced planked side panel gives this DIY piece its authentic rustic look! Side Board is a unique and practical addition to your living room furniture. It's functional, stylish, and the perfect amount to display décor or hold your essentials at home. Making this planked wood sideboard requires you to pay attention strictly. Many numbers and measurements are involved in making this DIY piece. This project will be a fun and rewarding experience if you have woodworking skills and time. It is a stunning modern piece of furniture. It is very simple to make and requires minimal tools. The result looks great!
See Other Projects