Kayak racks are an essential part of any kayak enthusiast's home. They provide a safe and secure place to store your boats when not in use, helping them last longer and avoid being damaged by water or scratches. If you have a limited amount of space at home, using DIY kayak rack plans can save you money from buying one from the shop. There are many different ways you can make your own DIY kayak rack plans easily with minimal effort. If you have never made a DIY kayak rack before or don't know where to start, then here is a list of the 15 best DIY kayak rack plans for inspiration.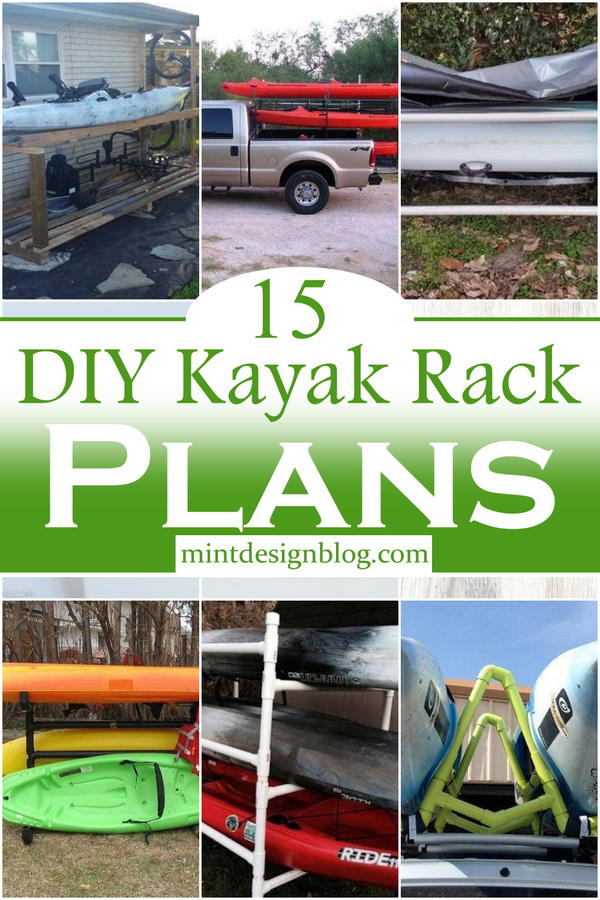 Kayak racks are a great way to store your kayaks in your garage or shed. They keep the kayaks out of the way but still within reach. They keep your gear safe and secure and keep your garage organized. Kayaks can be tricky to store, however. They're big, bulky, and heavy. They often have sharp edges that can cut into other equipment or leave marks on your garage wall. We've compiled this list of 15 DIY kayak rack plans for you! These ideas will help you find the best way to store your kayaks — whether in your garage or on the deck of your houseboat.
These 15 DIY kayak storage rack plans show you how to build kayak storage racks in pallets, wooden crates, PVC pipe, steel pipe, wall-mounted, etc.
Why do we need to DIY kayak rack plans?
Well, it's because you want to save money! You can make your kayak rack for about $25 to $50, much less than you would pay for one pre-made. Plus, it's a great project to do with your kids or grandkids, and it teaches them how to use power tools safely and effectively. You'll also be able to customize the kayak rack to fit your needs perfectly.
What are some things you should consider before making your kayak rack?
First of all, you need to figure out what type of boat you have and what kind of space you'll be putting it in. Then look at the instructions below for each type of boat rack design. Your kayak will need somewhere safe and sturdy where it can be stored when not in use—that's why we're making these DIY kayak storage plans!
DIY Kayak Rack Plans
The kayaks are the best equipment for water sports. Anyone can use them, and they are easy to handle. They are also very safe and durable. If you have a kayak, then you must have a place to store it when not in use. One of the best ways to keep your boat is by building a DIY kayak rack plan. You will be able to save space and money by making your rack instead of buying one from the market.
It is vital to have a good plan when building your kayak rack plans because it will help you finish the project in time and without any difficulty. It will also make sure that your boat stays safe, even when there are kids around playing with them or pets chewing on them!
The following are some tips for DIY Kayak Rack Plans:
Use wooden pallets for support racks for each boat (4x4) or one large pallet with three sides connected with wood screws;
Make sure that your kayak sits on top of each pallet;
Attach wheels under each end of these supports so they can roll easily across surfaces such as grassy lawns, gravel driveways, etc.;
Kayak Rack Plans DIY
This kayak rack is a piece of art that can hold your kayak's pontoons and the hull. It is made from wooden planks and screws, with a structure that is easy to set up and durable. This rack is the perfect rack for boating enthusiasts. It will accommodate two kayaks and an array of paddles. The mid-level rack allows you to put on and take off your gear not to scratch its hull. It's easy to build and inexpensive, and if you have some basic woodworking skills and tools, you can get it done fast. Make it with your hands, and add it to your home or shed as a great addition for storing kayaks!
You can also see: DIY Pontoon Boat Plans 
How To Build A Kayak Rack
Building a kayak rack is a great DIY project requiring basic carpentry skills. It only takes a few hours to make and costs much less than purchasing one. To build a kayak rack, you need some materials such as clamps, pieces of wood, screws, and a tape measure. The same items are for creating the parts required for this project. Cut all the elements needed before assembling them. Leave the horizontal piece on one side where the kayak will be placed and create multiple grooves on its edges with your chisel.
DIY Kayak Rack From Scrap Wood
If you have a few hours to spare, you can make your kayak rack using scrap wood and standard tools. This kayak rack is made from scrap wood and common components available at home. Start by cutting the pieces to fit your kayak length, and then assemble them on the ground. Then, attach other elements of the rack, like legs and brackets. The result is a multi-purpose kayak rack that can be used as a stand-alone or stack two kayaks, one on top of another. This DIY project is perfect for beginners who want to add more storage to their homes without breaking the bank.
DIY Kayak Rack
Build this DIY kayak rack to avoid spending money on store-bought ones. This rack is designed for those who want to make their homemade version of something at home. It is easy to build, made with simple materials and tools, but reliable and sturdy enough for storing your kayaks. This kayak rack is super simple to make and can accommodate up to 4 kayaks. It is strong, durable, and inexpensive, but most importantly, it will keep your kayaks safe when not in use.
How To Make A Kayak Rack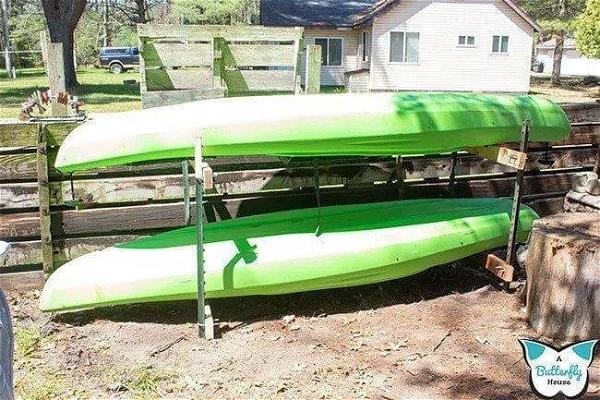 If you're passionate about kayaking, you'll want to get a prominent enough rack to park your boat on when it's not in use. This project is excellent for those who aren't handy, as it requires no prior construction experience or special tools. However, you will need to have basic hand skills to cut the lumber into 2×4 pieces and hammer them into the ground with a sledgehammer. This kayak rack is more than just a simple DIY project; it's also a handy garage storage system that uses the weight and shape of your kayak to keep the kayak in place.
DIY Kayak Rack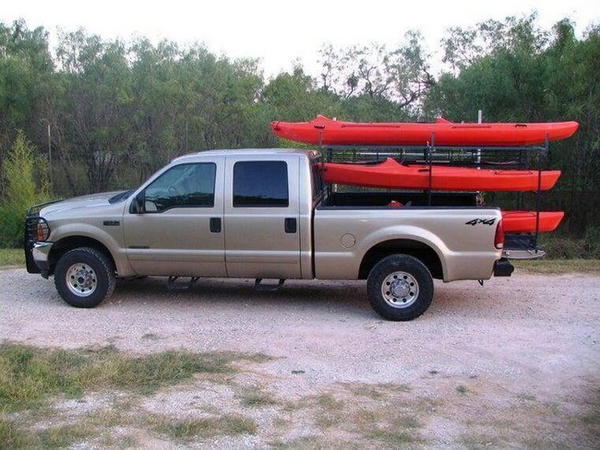 Metal kayak racks are the most common way boat owners store their watercraft. This DIY kayak rack will be a great addition to your garage. It is easy to build, and it adds a neat look. To create this storage system, you will need a few supplies and about an hour. Begin by stacking two metal rods on top of one another. Then, attach a magnetic corner to them using some solder or other adhesive. Keep in mind that your rack will only be as strong as its weakest link, so make sure all corners are provided with a secure hold. Once complete, place your kayaks on top of the metal poles, and they will stay securely in place while you decide where to keep them.
PVC Kayak Roof Rack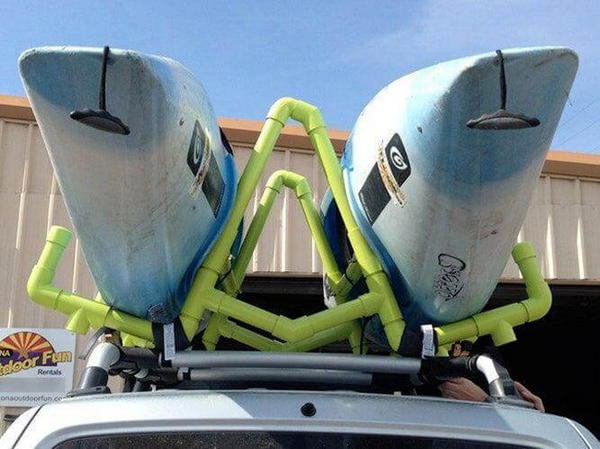 This PVC Kayak Roof Rack is the perfect way to carry your kayak on top of your car. Made from quality PVC, it folds flat for easy storage and comes complete with rope for lashing down your kayak, a set of anti-sway straps to hold it in place, and tie-down points all around the rack so you can secure your kayak from any angle. It is a great way to carry your kayak on top of your car. It is constructed from heavy-duty PVC, which provides a solid and stable base for transporting your kayak.
Keep your boat secure and out of the way with a PVC kayak roof rack. Depending on your needs, this versatile, durable rack can safely transport multiple kayaks of various sizes and styles using standard 2" crossbar tent poles or removable aluminum tubing.
Simple Kayak Rack From PVC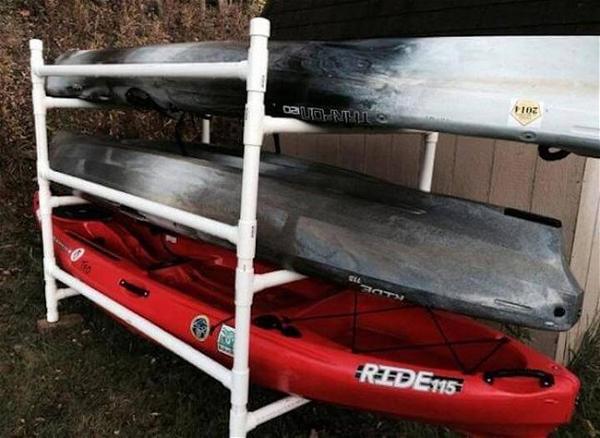 Kayak racks are typical and necessary for storing your boat. Make one for your kayak by using PVC pipes, end caps, and fittings. This is perfect to use in an attic or garage as it requires no tools and is simple to assemble. You can use this idea to store your favorite kayaks on top of your house or garage. This easy-to-make kayak rack is definitely worth the price! It's sturdy, inexpensive, and can fit in most rooms. Whether you want to keep your kayak on display or an easy way to store it, this PVC pipe kayak rack is what you need!
DIY Wooden Kayak Rack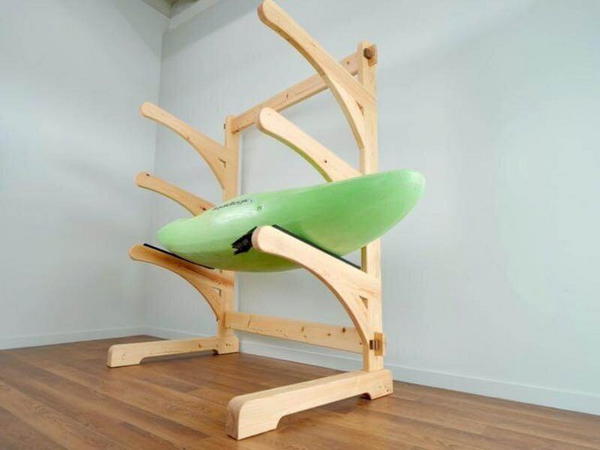 DIY Wooden Kayak rack allows you to store your kayaks safely and securely. The rack is made from cypress wood, known for its strength, durability, and resistance to rot. While it's unnecessary to have tools like a miter saw, jointer or planer, they will make ripping down the cypress boards or shaping them go much faster than if done with essential tools. If you have a lot of kayaks and want to store them properly, you can use this DIY wooden kayak rack. This project is easy, fun, and cheap to make. Follow the instructions carefully, and don't forget to treat the surface with wax or oil so that it lasts longer.
Best Kayak Storage Rack Build
The best kayak storage rack build is easy, cheap, and most importantly, it can store your kayak right in the garage. In less than 5 hours and with a budget of only $200, you can build it yourself. You need to measure and cut the PVC pipes to length and rip the plywood for the shelves. Then, assemble the pipes and their fittings and put them together. It's an easy-to-build and sturdy garage storage system for your paddleboards, kayaks, and more. All the dimensions can be customized to fit your needs; make sure that the long pipes have been cut to the required length to have the proper distance between them to support the weight of your gear.
How To Make A Kayak PVC Stand
Need to store your kayak or canoe and don't have space? This PVC stand can be a simple yet effective storage option. This Kayak PVC stand will be the perfect thing to help you store your kayak when it is not in use. It is made with PVC and elbow fittings, so it will be effortless to put together. The stand has a friendly and accessible design, but it will also look great in any room. Made in the afternoon, this project uses T fittings, PVC pipe, and glue. After putting your kayak in position, coat it with primer and paint to match your decor.
DIY Kayak Rack Build
Make your kayak rack with the help of this tutorial. You will have a sturdy and custom kayak rack that you built yourself. A simple DIY kayak rack can help you store your kayaks out of the way, but readily available tools and materials mean you can avoid the cost of a pre-made rack. This DIY kayak rack is easy to build, and it costs less than $50. All you need for this project is 2×4 boards, screws, nuts, bolts, and some caster wheels. Cut the pieces of wood according to the size you want your rack to be, and then assemble them using the guide in this video. If you're going to make your DIY kayak rack, this video will give you all the instructions needed!
DIY Kayak And Bike Rack
This DIY Kayak and Bike Rack are made from a scrap of wood, a circular saw, vices, and a level to hold the kayak in place. The rack can be mounted on your garage or shed wall. This rack can also store bikes if you remove the crossbars or watercraft if it's not in use. This DIY Rack does double duty as a wall-mounted rack for your kayak, bike, or other gear or for storing the paddles. You can also use it as a floating dock on your lake or pond with an anchor. This rack is simple to make from scrap wood from your local home improvement store. The materials are inexpensive and easy to work with; any standard circular saw, speed square, and drill are needed, and safety glasses and gloves.
DIY Outdoor Kayak Storage Rack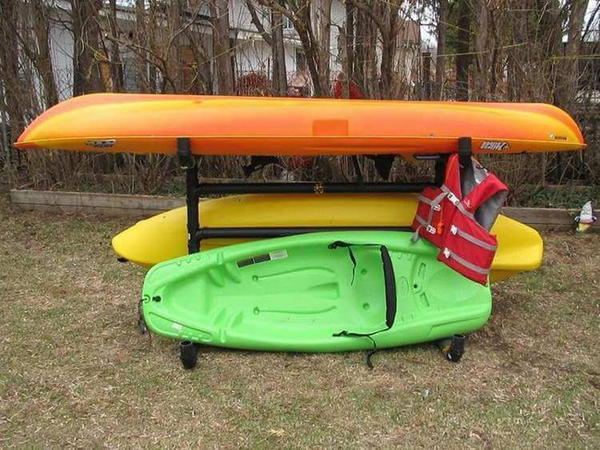 You don't need to be a craftsman to build an outdoor kayak rack. This DIY kayak rack is easy to make and versatile as it can be mounted on any wall, indoor or outdoor. Instead of purchasing one at the store, why not save a few bucks and enjoy building this project? This DIY outdoor Kayak Rack provides excellent durability, strength, and ease of assembly. The materials used include PVC pipes for kayak support and versatility, soft foam insulation for added protection, T-joints for versatility, duct tape for extra grip and handles, elbow joints for additional support, and PVC cement for added strength.
DIY Kayak Rack for Less than $100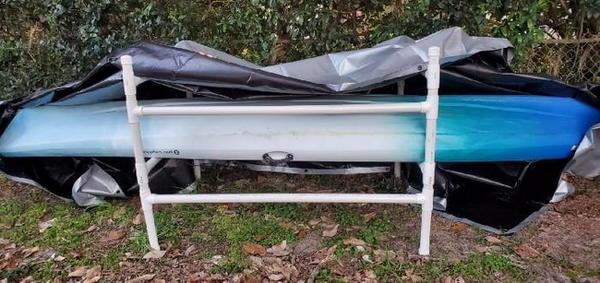 You can build this DIY Kayak Rack that will allow you to take your kayak with you on your next adventure. It is easy to make, and you can use the materials that you already have around your house. It doesn't cost more than $100, either! This PVC pipe kayak rack will do the job! You can also easily customize it by adding your personal touch, making it into a beer holder, or adding more arms to hold your paddleboards. This is a great way to transport up to two kayaks in a small vehicle. Building it is straightforward, making it a perfect weekend project for even the novice builder.
See Other Projects