This step-by-step DIY project is about Viking chair plans. If you want to build a Viking chair, we recommend you pay attention to the instructions described in the article. Plan the building of a Viking chair with accurate drawings and make sure you take accurate measurements before you start the actual construction process. The free woodworking plans for the Viking chair are easy to follow and require basic tools and materials that are inexpensive. Take a look over the rest of our woodworking plans, if you want to get more building inspiration.
DIY Viking Chair Plans: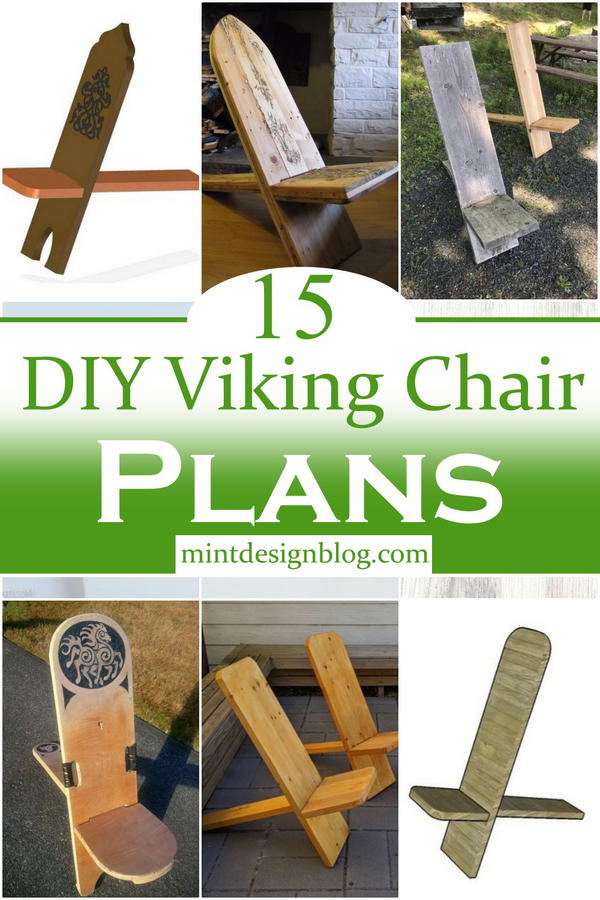 Building an outdoor bench can be quite a challenge especially when it's your first time doing it. However, if you take accurate measurements and follow the instructions, there is no reason why you shouldn't get positive results. There are so many designs and ideas that you can use for building benches for your home or backyard. Viking chairs are somewhat bigger than most of the other chair designs, but they have some great advantages. One advantage is that you can use them for indoor and outdoor use, as long as you're in a climate that doesn't get too cold. They are also pretty easy to build and relatively inexpensive to make.
Here are 15 beautiful DIY Viking Chair Plans for you to build. All of them look easy to build and probably cost less than the store-bought ones.
other Plans
Pallet Viking Chair Plan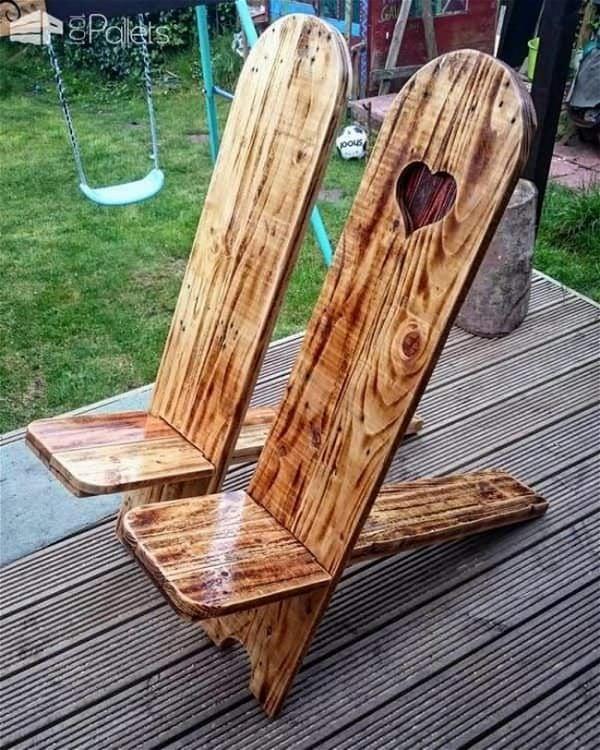 The shape of the Pallet Viking Chair is aggressively modern, but the components are simple and easy to cut from just about any moisture-resistant wood including plywood or MDF. The Chair is designed to be built using a combination of simple tools and hand tools such as circular saw, drill, jigsaw, and hand-sander. It is perfect for outside use because it can withstand different weather conditions, even the rain if needed. You can make a parabolic cut in the back's top to increase the smoothness or shape it in a Skull or Heart design for a more attractive chair.
Project details: 1001pallets.com
DIY Viking Chair Plan By Instructables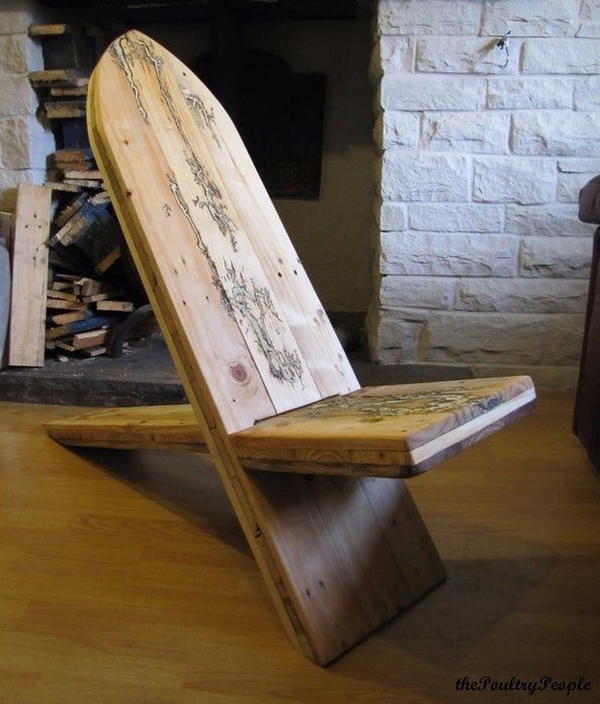 This chair is a traditional Scandinavian design, so it's fit for both your home and yard. You can use almost any kind of hardwood for the back, seat, and rails if you don't have access to Ceder. This wooden chair is built to lean back as you watch the sunset and listen to the birds. The seat and back are made in a sandwich style with two layers of laminated Baltic Birch Plywood. They are glued together, then all the surfaces are sanded smooth. The plans also make your own glowing decoration for the top of the chair, adding a fantastic and authentic ancient touch to your home furniture!
Project details: instructables.com
Viking Chair Plan By My Outdoor Plans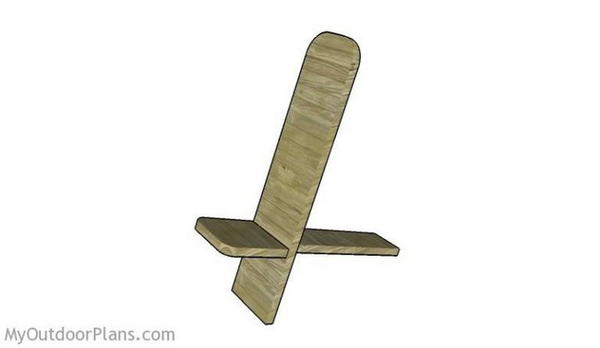 Wanting to have a sturdy chair? Have you ever built one that is strong enough to sit for longer periods of time? If you have, then you might want to know about this plan. It features solid wood joints and can make the strongest Viking chair for your camping adventure. Hence, it will not only save you from spending money on buying chairs but also give you easy access to the instructions of making one at home. This plan helps create one of the most comfortable and relaxing seating furniture you can ever find. This image has been created to help people build a Viking chair. It has a custom template so you can build a reliable product without any errors.
Project details: myoutdoorplans.com
Bog Viking Chair Plan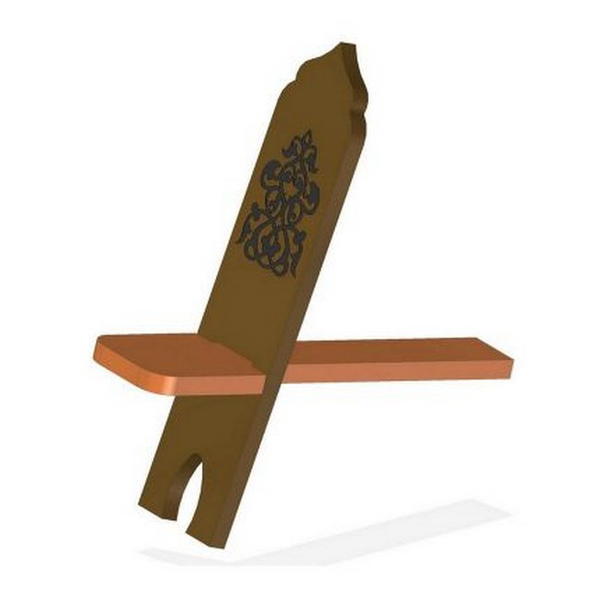 By choosing Bog Viking Chair Plan, you can create a Viking chair that is elegant in appearance yet powerful at the same time. The oval at the bottom will offer a more beautiful outlook, while the pointed top part will give the resemblance of a real Viking leader's chair. Prepare your tools and wood boards and craft something with an admirable look for your interior. Make a Viking chair from a bog with this plan. The seat of the chair has two apron parts and it will be decorated under the top with a Board. It is an ideal option for anyone who wants to make a special construction and help raise self-esteem. Enjoy!
Project details: craftsmanspace.com
Viking Camp Chair Plan By Steve Ramsey
A colourful camp chair to enjoy in your backyard or in the park. A portable camp chair is a great addition to your outdoor gear arsenal, which you can use when relaxing away from home. The Viking Chair is nothing but a fun camp chair. Made with high-quality materials, you can be sure this chair will last you a while. It comes in purple and brown, or grey and red if you prefer. Besides being fun and colourful for the park or outdoor events, it is lightweight and collapsible for easy transportation to transport on your boat or camper. Pop it on the spare seat of your car, next to a friend at a picnic table, or take it with you out during a fishing trip
Plank Viking Chair Plan By Instructables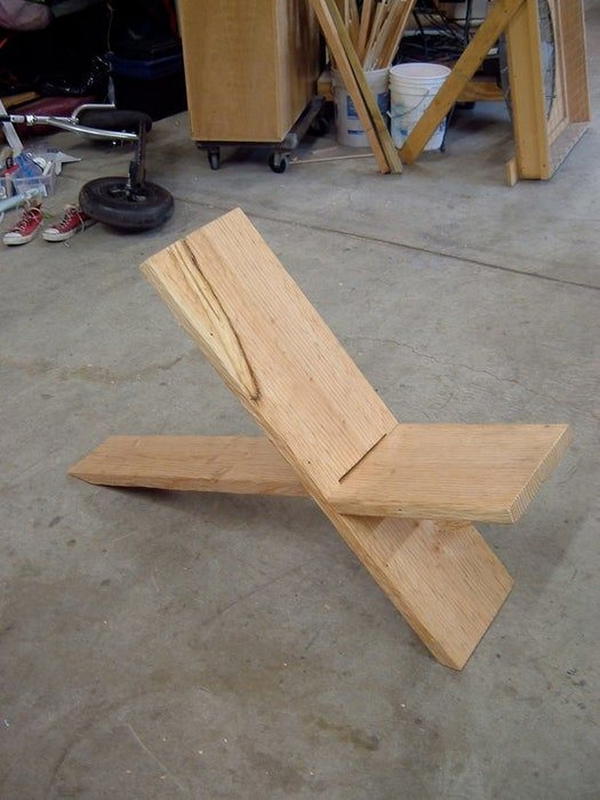 When you want comfortable, relaxed furniture for your sitting, the Viking chair is a good choice. The unique design of this furniture makes you feel like sailing in a long way. You can actually feel the moving of a ship while staying in this furniture! The wood material of this Viking chair is so durable that it can resist the pressure of an adult
The Viking Chairs are armchairs made from driftwood planks. They are inspired by the legacy of Vikings who cast their planks before they go ashore. The wooden material is strong enough to support the body weight when sitting in it and can last for many years.
project details: instructables.com
DIY Campfire Chair Plans By Four Oaks Crafts
Let's build a comfy campfire chair with the plans from Four Oaks Crafts! It will be fun and easy to make, even for beginners. This chair plan will help you to make a wooden fire chair with a cool design. They usually feature a wide, comfortable seat and backrest. Also, this chair will look awesome when it's been stained in a beautiful color. So, don't wait and start looking for some inexpensive wood to make your own DIY campfire chair.   All materials are included with your order, Building a campfire chair is an enjoyable and rewarding woodworking project. These DIY campfire chair plans will guide you through the entire process.
Nerd Throne Viking Chair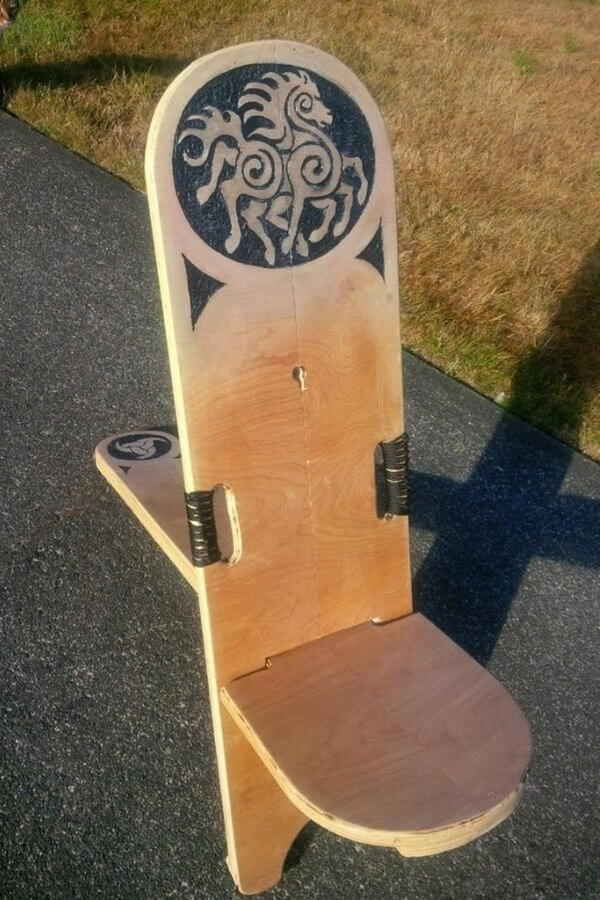 Nerd Throne is a cool design that will give you satisfaction and confidence as your imagination and thought grow in a positive way. What we have for you is an epic chair with a beautiful Viking ship-shape and an ultra-comfortable design. Just imagine how sweet it is to have a throne at home, without having a king's money. Here comes our product to help you see that dream come true.
The Nerd Throne Viking Chair is an awesome addition to your geeky decor. The comfy chair has been modelled after the chairs in medieval times but is painted and decorated with a Viking theme. It features an axe running through the seat for extra support and comfort, as well as a handy carrying handle on top of the backrest.
Project details: instructables.com
Celtic Viking Stargazer Chair Plan
This simple Celtic Viking Stargazer Chair Plan will help you create a spectacular chair with Viking styling and a deep heart-shaped backrest. Historically, the Vikings were known for their skill in wood-carving. Using sophisticated tools and techniques, they were able to create pieces of furniture such as chairs that combined beauty with strength and durability. You can build a Celtic Viking Stargazer Chair by yourself with some of the materials like lumber, plywood, some bolts, and maybe a little extra. It will add beauty to your home and create a cozy atmosphere for you to do homework or just study.
Viking Chair Plan With The Boys By The Wood Father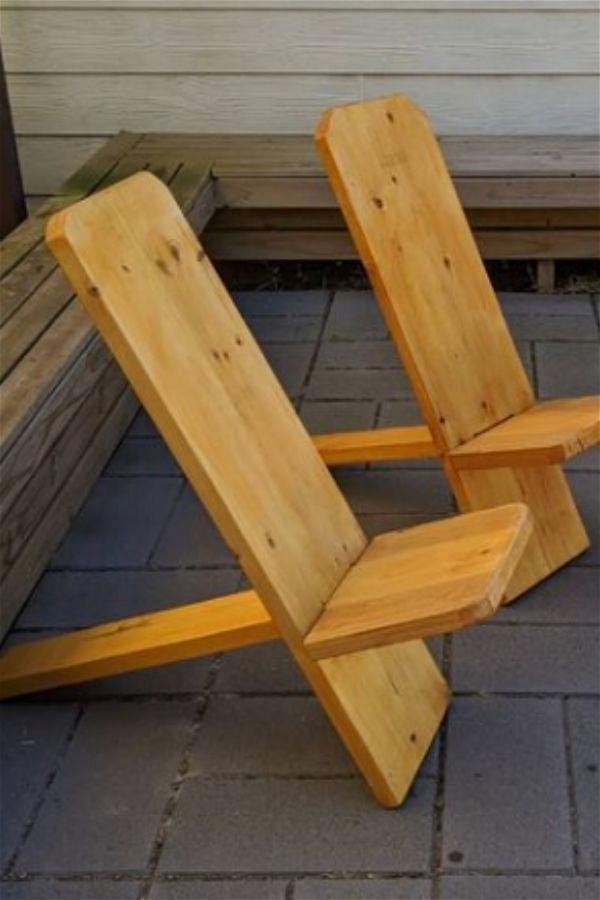 It's time for your kids to be Vikings for once. Leave them alone with these plans. The good thing about this project is that it lets your kids fabricate a Viking chair for themselves, so they can spend the time build and making it fun. Let them manhandle everything on the project from drilling corners, to cutting the mortises. Allowing them to think about the cut will make the experience more valuable, and you will surely have a great time together!. To ensure a well-made project, the kids will have to consider the layout carefully before they begin making any actions.
Project details: thewoodfather.com
Stargazer Viking Chair Plan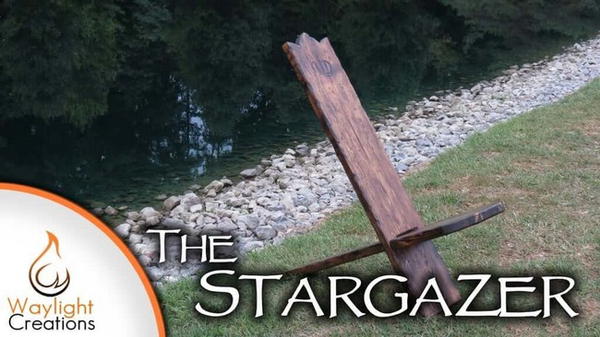 Do it Yourself Stargazer Chair Plan will teach you how to make the perfect combination of woodworking, stargazing, and Nautical style Here's a fun way to enhance your yard or garden—build your own DIY stargazer chair. This stellar seat allows you to gaze at the stars while sitting completely upright!. It's furniture that adds charm and warmness to any outdoor or indoor space. The chair is very easy to build and you don't need to break the bank buying expensive materials. This project features a unique and attractive construction using only a few simple tools and does not require experience with woodworking or joinery techniques.
Project details: instructables.com
Patrick Melchiors Viking Chairs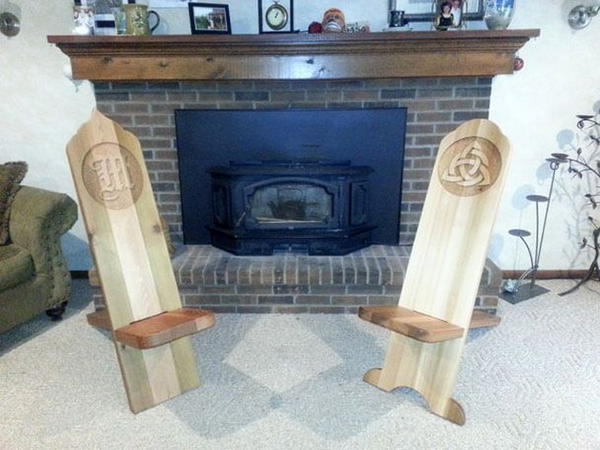 Patrick Melchiors Viking Chairs offer you to rest, read a book or even chat with someone while enjoying the soft taste of your room. The chair and couch design is created by Patrick Melchior who has focused on the chair's backboard. The unique bottom of the backboard consists of two parts. One is the half-circle shape in the middle based on which you can create two feet. The distance between each foot is considered but not too close to each other so that it ensures softness when you lean on it.
Project details: jayscustomcreations.com
Easily Viking Chair Plan By Jeffs DIY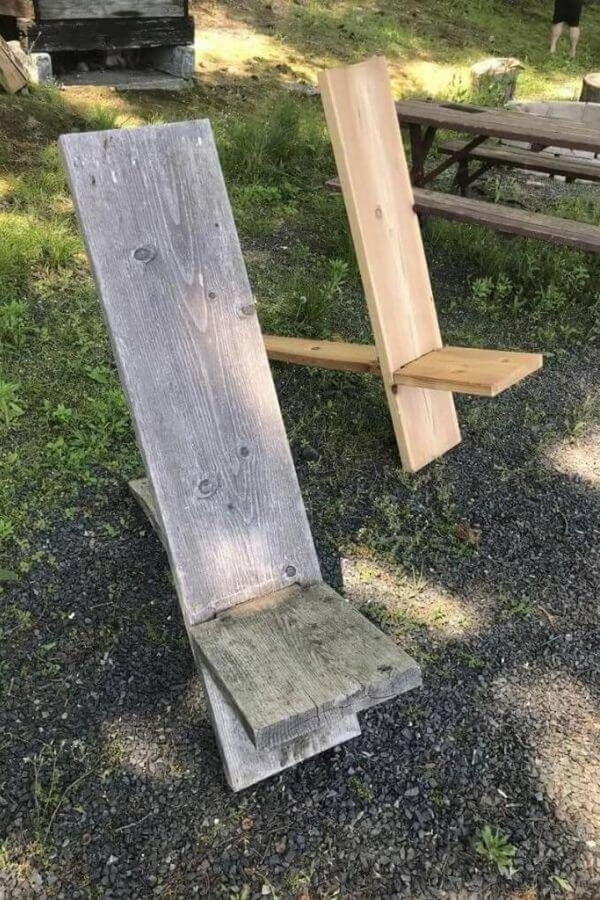 Woodworking is an enjoyable and relaxing hobby. The Viking Chair Plan promises you a simple project that anyone can accomplish. With wooden legs and a rope through the holes for hanging, this looks like homemade furniture. If you have time, go for the slat chairs. This Chair Plan will help you build a charming chair that is perfect to sit in when you want to relax after a long day. Create a comfortable Viking chair with this DIY plan. Try to make it with your own hands, it's an attractive decoration of your room. This Viking chair design is simple and elegant.
Project details: jeffsdiy.com
One Board Minimalist Viking Chair
The one-board minimalist Viking chair plan is intended for the person who wants to build a sturdy, comfortable chair on a small budget. It has also been designed so that you can construct it without having a huge workshop or large supply of tools. The design is slightly more complicated than our beginner's plans, but there are only two somewhat tricky sections. They are simply two different sizes of drill holes and do not require any experience. Cutting out the pieces of your own Viking chair and setting it up is quite cool. By choosing this plan, you will have a great time cutting out the pieces and building a nicely-shaped piece of furniture.
Project details: instructables.com
Collapsible Viking Camp Chair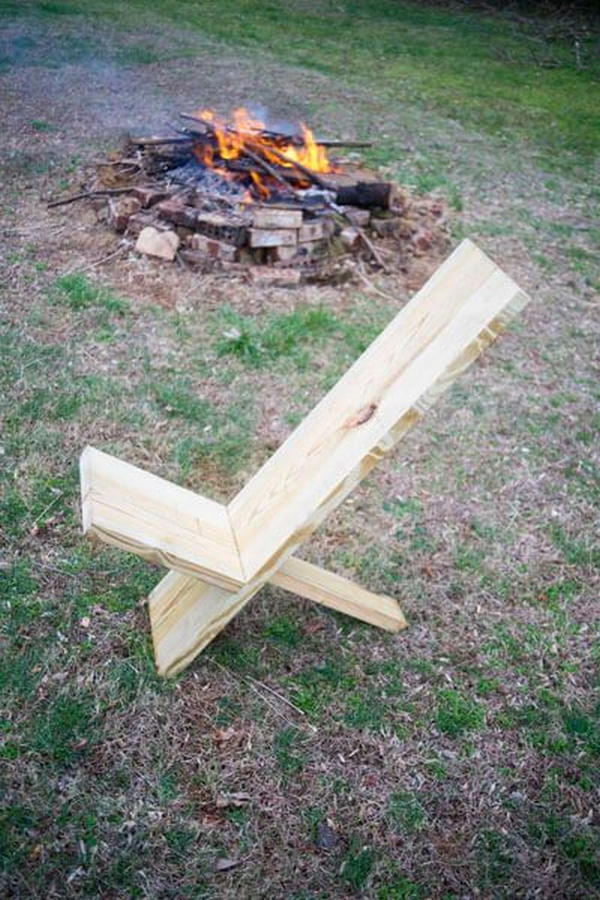 Whenever you need a break from work, enjoying camping outside is the best way to relax. However, you can't enjoy it if you do not have a comfortable chair. One good reference for this item is the Collapsible Viking Camp Chair. This chair is built from solid wood. It will never bend or break easily because the material used is made from solid wood that features flexibility and sturdiness at the same time. It will be easy for you to use this product because its stability allows you to attach it to almost any area.
This adjustable camping chair is so light and portable, you will want to take it with you every time you go camping. You can even use it as a folding craft or sewing chair when stored in your storage or attic after the backpacking season is over. The canvas material provides comfortable seating and the seatback is nicely padded for long days of sitting, and the angle is adjustable for maximum comfort.
See Other Projects