DIY Child rocking chair plans are a great way to soothe them. They are comfortable and easy to maintain as they do not have many parts. Tossing and turning your baby to sleep is not an easy task even after their birth, but it becomes easier once you have a rocking chair for them. The best thing about these chairs is that they come in different designs and styles. You can choose the one that you like most and paint the chair with any color of your choice or add some design to the chair if you wish to do so.
DIY Child Rocking Chair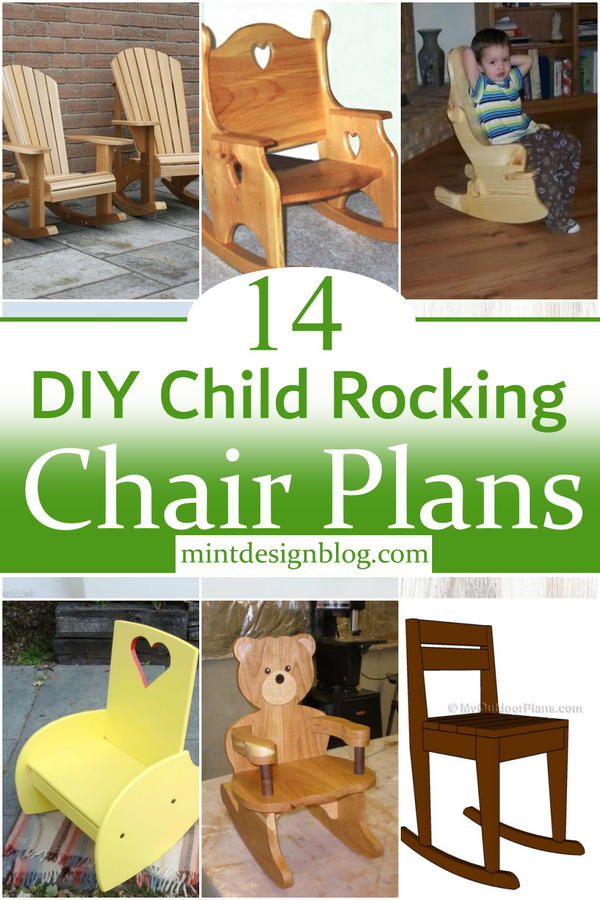 It is totally up to you and the style that you want. With a wide variety of models available in the market, you can choose the one that suits your baby best. Some of these chairs are designed for newborns while others are made for older kids. There are some models which include a storage section where you can keep food items for the baby like milk powder or toys and others also have soft cushions where you can rest your child after feeding them. The designs, materials, and features vary from one model to another depending on their usage.
The DIY child rocking chair plans range from beginner level to expert. Some include plans for simple designs with only a few steps while others may require more time and effort but produce amazing results.
Teddy Bear Rocking Chair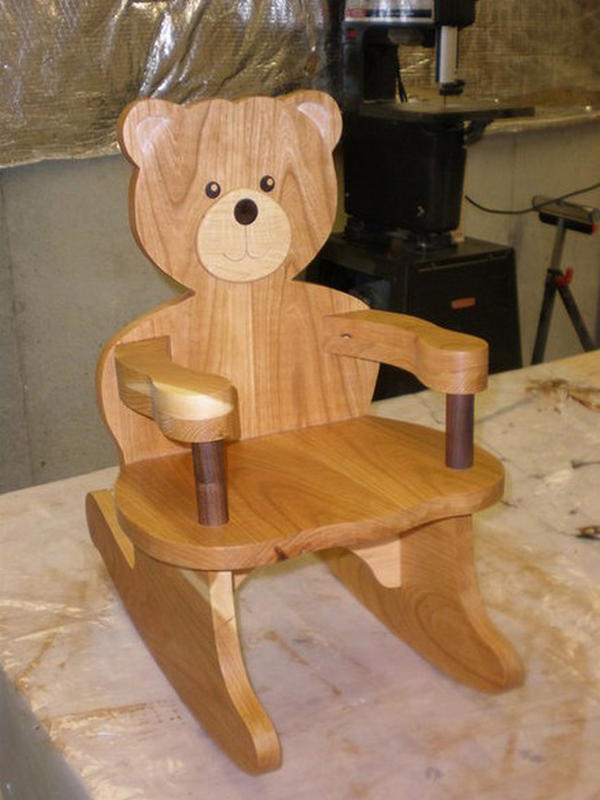 Teddy Bear Rocking Chair is a beautiful gift to give a child that they will not soon forget. Its wood construction makes it sturdy and easy to maintain, while the bear design makes it attractive and full of character. This charming teddy bear rocking chair has a forest-brown finish, fully curved wooden arms and legs, and a plush beige seat cushion. The coordinating ottoman is made of wood and upholstered in brown to match teddy bear fabric. Perfectly completes your nursery or kid's room.
Kids Rocking Chair By Instructable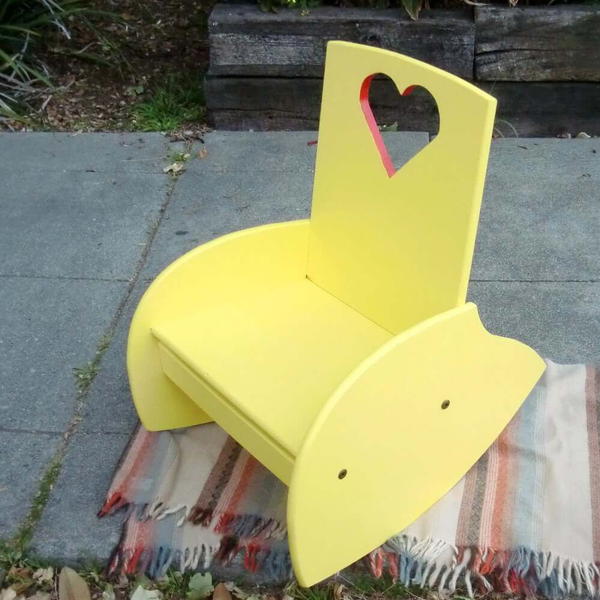 The DIY Kids Rocking Chair is a simple and stylish addition to the nursery or any room in the house. The chair cut out of wood can make it look more beautiful and delicate. Besides that, it is the best choice to decorate the baby's bedroom or living room. The rocking chair is made from pieces of wood cut to size, which includes two pieces of board for the armrest and four pieces for the legs. To make this DIY project really stand out, a heart-shaped piece of wood can be positioned as the seat. By simply following these steps, you will have created this rocking chair with your own hands in no time!
So, you can be a furniture maker even if you do not have much experience in the craft. Children will love their handmade rocking chairs while they are reading or playing.
Project details: instructables.com
Kids Rocking Chair Plans By My Outdoor Plan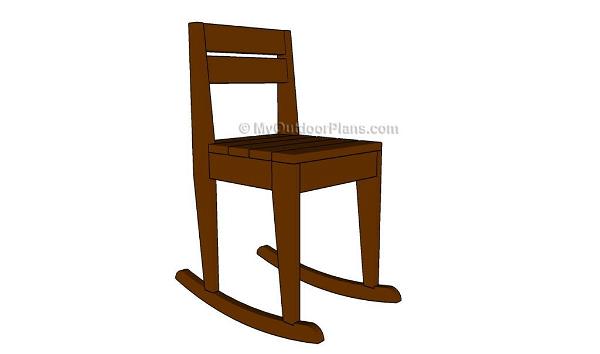 Would you want to let your kids enjoy this kind of rocking chair in the green grass or near the beach? Would you love to give them a priceless gift that could not only make them cheerful but also develop their imagination and creative skills? Our Kids Rocking Chair Plans will provide you with everything you need to build a functional, comfortable, and friendly rocking chair for your kids. It works as both toys for children to play with on the ground and a garden sitting chair.
Project details: myoutdoorplans.com
Kids Rocking Chair By Wood Designer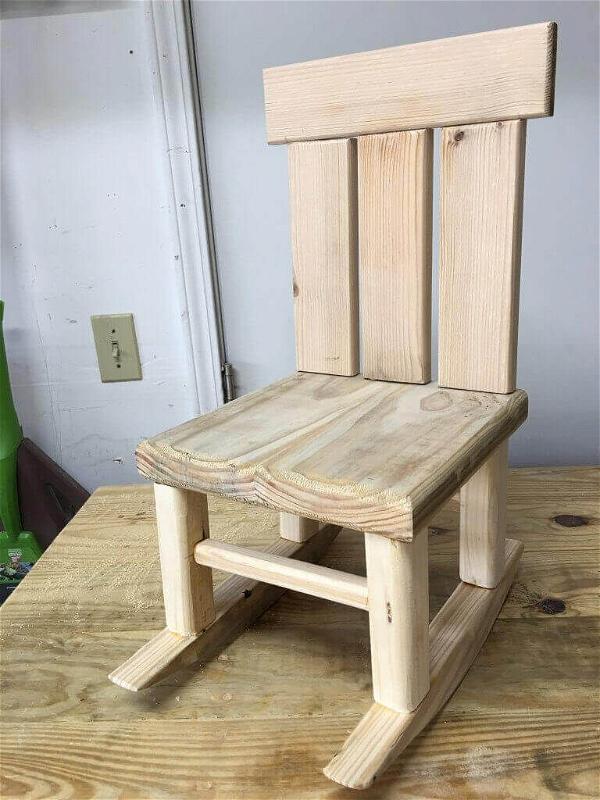 Wouldn't it be nice for your child to have a special chair for their room where he/she can stories, eat snacks, and play with his/her favorite toys? Children do love the comfort of a rocking chair, and this one is small enough for them to use at an early age. It has a unique design that makes it attractive without being too ornate, but simple enough to build from sturdy materials. If you are interested in building this piece of furniture
Rocking chairs are popular because they offer a comfortable and gentle rocking motion that can help you relax. Other than being a good place to sit and relax, it also provides a suitable toy for your baby. As he grows into an older child and adolescent, this seat also becomes invaluable as a cozy reading corner.
Project details: scwd.us
DIY Teddy Bear Rocking Chair
Do you have children and they always complain that they are bored? Our DIY Teddy Bear Rocking Chair is a great gift for kids and also a toy for them to play with within the corners of their rooms. It's easy to build with pre-cut plywood parts and only takes about 3 hours to complete.
Your loving child will just love this DIY Teddy Bear Rocking Chair. Not only does it look cute, but kids will also gain confidence and independence by learning how to rock the chair on their own children love teddy bears, and tend to hug them tightly even during sleep time. To maintain this kind of relationship, the DIY Teddy Bear Rocking Chair is specially designed with arms to separate each chair part into two parts. While you can enjoy the comfort of a rocking chair, your child will also be pampered by the soft armrests no matter which way he moves around.
Childs Rocking Chair With No Nails Or Screws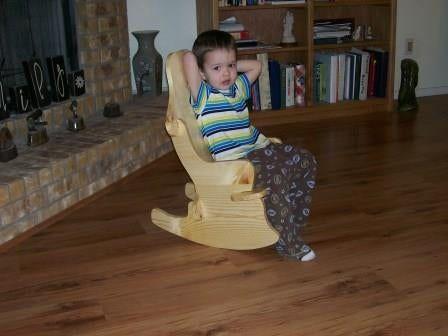 There is a way to build a child rocking chair out of wooden plumbers without being involved with screws or nails. A child rocking chair with no nails or screws – this sounds like a fantasy, but it's real! You can make it if you follow these instructions and use the right tools. The woodworker will see how to prepare pieces of wood and make them assemble. Be careful and make accurate measurements, as the width of all parts should be identical. It is important that the grooves on their legs fit a tee and that holes match for assembly purposes. The most important thing is to avoid using any kind of screws or nails.
Project details: instructables.com
Child's Rocker By The Woodcrafter Crafter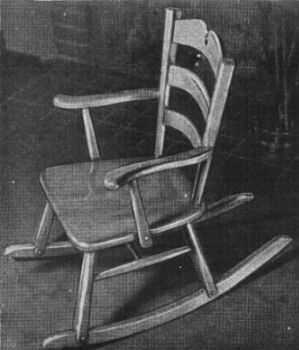 Whether for a child's nursery, a game room or just lounging around the house, this kid's rocking chair gives you many choices. Crafted from strong sanded plywood, this piece is as much decorative as it is functional. It has a sturdy frame and comfortable arms. This rocking chair is a worthy challenge for the craftsman's skills. Make sure that you are already familiar with cutting lumber from different angles. The seat should be available first. Next, mark holes from the underside. You can make the drilling lines a slight tilt to create a comfortable angle on the back of your kid. The tilt is possibly measured with a bevel or a tee.
Project details: thewoodcrafter.net
Kids Rocking Chair By How To Specialist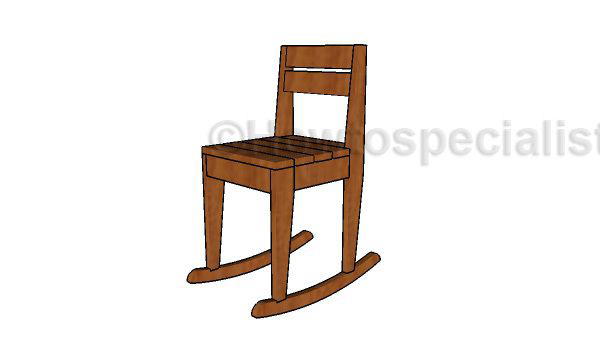 A rocking chair is a comfortable and handy piece of furniture that provides rest to parents, grandparents, and kids alike. kids rocking chairs will look amazing in your little prince's playroom. This functional and cute chair can help kids learn to stand up and become more independent, reduce the incidents of falling down, and provide your kids with an enjoyable resting place at the same time. The rocker is made of high-quality wood crafted with a mitered corner, not only sturdily built to last but providing a cozy seat for a child to rock back and forth easily. Why not replace your old or broken rocking chair with this comfortable rocking chair designed for kids? This rocker features solid wood construction with smooth curved lines, thus it looks just great in any children's room. The height can be adjusted in accordance with your needs to provide maximum comfort and safety.
Project details: howtospecialist.com
DIY Modern Rocking Chair
If you've been looking for an interesting project to work on, we suggest this DIY modern rocking chair. With its classic design and build, it will blend in with practically any home's decor. The most difficult job here is creating a curved dowel joining system to join the back and seat of the chair together. Although it sounds complicated, it really isn't that hard if you have access to a table saw and router
This rocking chair is designed by a team of skilled and passionate furniture craftsmen, such as old and young men. They each have different skills. The old man is good at drawing schematics and has a good sense of proportion. The young man can make all things flow together very well in the making process. Every detail has been perfected by them, including the shape of the armrests and backrest, as well as the construction methods for each part of it.
Child Size Adirondack Rocking Chairs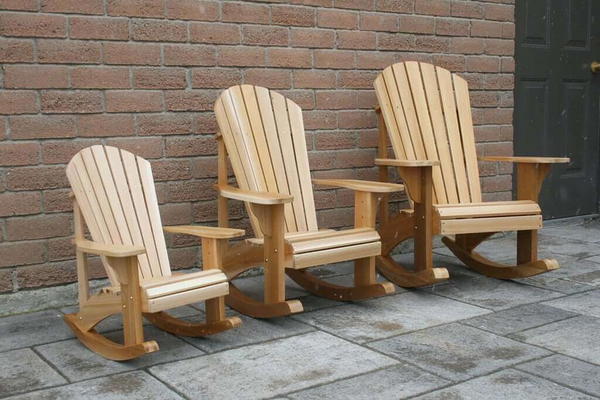 How many times have you wished you could fit a rocking chair in your home for the times when you just needed to rock out your worries away? But then reality hits and you realize there are no suitable places to put such a chair. Oh, what a pity! Perhaps not anymore, because it is possible to slightly modify an existing chair design with your own hands to transform it into an ideal rocking chair for your baby room. The great thing about this mini rocking chair is that it can be made using very few resources available at hand.
Project details: instructables.com
DIY Children's Rocking Chair
Are you going to install a DIY children's rocking chair? Just take your free time on a weekend. This is a project that will offer your family fun moments. While many kinds of kids' rocking chairs are on sale at big stores, you can make them different than other designers'. The steps of the process and materials you select must be of good quality. By preparing some tools such as the table saw, scroll saw, and Kreg Jig, we think this is the most careful work.
Child rocking chair is a gorgeous and kid-friendly design. After assembling, it has a cute and lovely animal theme. The children will feel very comfortable when they are rocking on it. You also can use this chair as an adult rocker, if you want to read or watch TV for a long time.
DIY Kids Rocking Chair Plan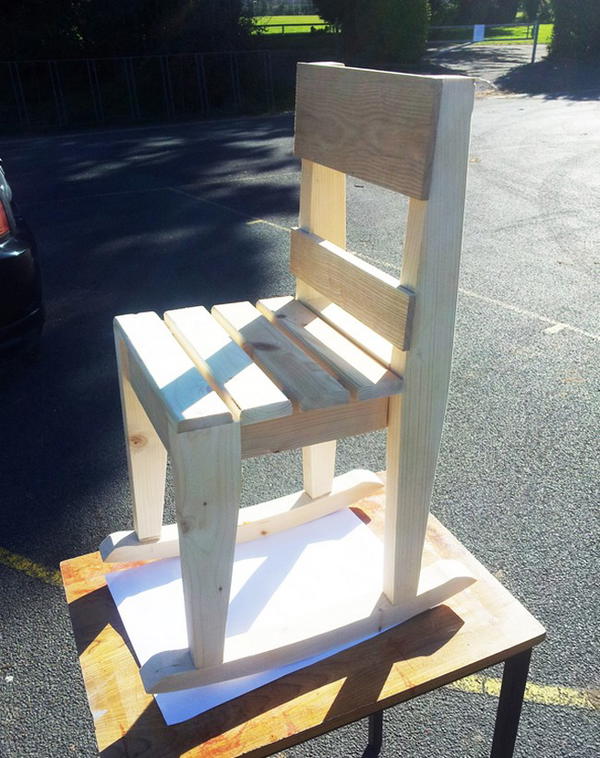 The DIY Kids Rocking Chair Plan features a traditional, classic rocking chair design that will bring comfort and value to your home. This plan will walk you through the process of building a simple, fun, and impressive rocking chair that is great for young kids to have in their room or the house. It's the perfect thing to give as a gift to a young child who wants a special place to read their books and get away from it all. It would also make a great project for the family to work on together. The plan includes a full material and tool list, cutting diagram, beginner-rated instruction manual, and images of a completed chair. You will also receive tips on how to make assembly fast and easy.
Children's Rocking Chair Plan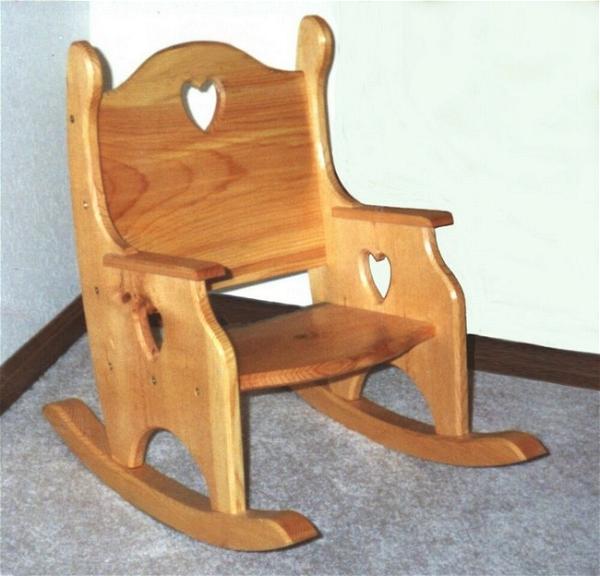 Introduce your child to the world of crafting with our children's rocking chair plan. Created especially for younger woodworkers, this project features front and back details that mimic the look of traditional rocking chairs, while building skills in measurement, cutting, and assembly. Plus, with the Rocking Chair Plan, your child can make his or her very own one-of-a-kind piece of furniture to be proud of – and love! It is designed for children so that they can swing back and forth, making memories as they go.
Kids Adirondack Rocking Chair
Would you like your child to become more interested in nature by having their own place to read, sit, and rock while watching the world outside your home? If so, then this is the DIY (do it yourself) project for you!
Your little kid will love this Adirondack Rocking Chair! Do it yourself, and have something to talk about with your kids. This is also a great gift for a parent to show their care for their children. Your kid would love you more. DIY Kids Adirondack Rocking Chair is easy to make and requires few tools, like a hammer or screwdriver. It can be made of small and large scraps of wood left over from other cuts.
See Other Projects