Outdoor fire pits have always brought families, friends, and neighbors together. No matter what the weather, people can still enjoy the warmth of a bonfire under the stars or by the light of the moon. Using DIY fire pit plans, you'll learn how to create a firepit in any shape or size you want. The best part is that there is something for everyone – from style and beauty, to practical and functional, to even indoor varieties.
DIY Fire Pit Plans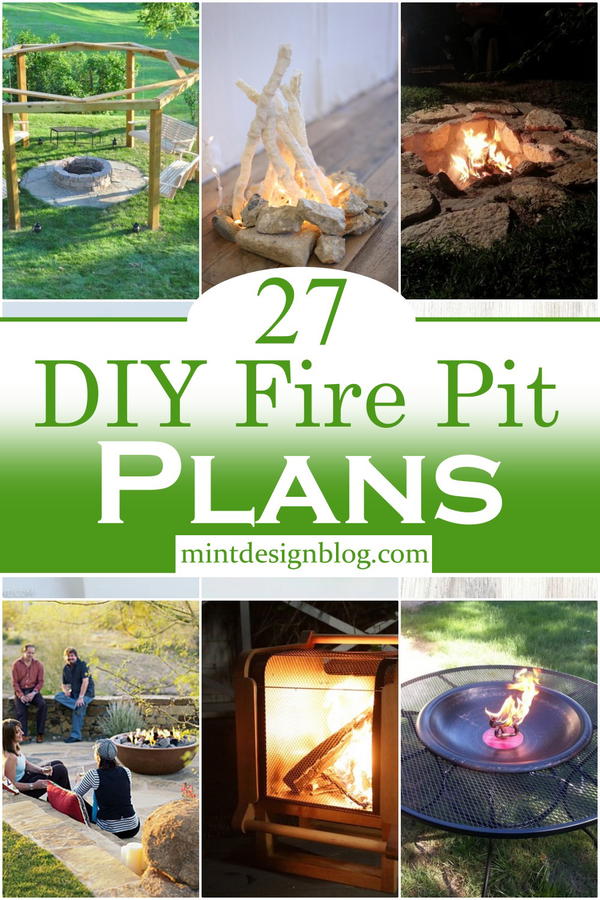 A good outdoor fire pit will not only be functional and safe but also look great in your yard. It's all about personal preference, but picking the right materials will give you more versatility and design choices. One of the most enjoyable parts of camping and outdoor activities is the campfire. The warmth, glow, and crackling flames are soothing, relaxing, and can even be mesmerizing. Trying to keep a fire going in the wind or rain isn't fun at all though. The fire dies down too quickly and becomes more of an annoyance than anything else. It also tends to spread out too far, making it difficult to sit around. For these reasons and more, having a fire pit for your campsite or back patio is a lot better than trying to make a fire in the traditional sense.
They are great for adding ambiance to a patio, deck, or backyard. So before you head out to the store and buy another one, check out these DIY fire pit plans for your next outdoor gathering with friends.
Round Paver DIY Fire Pit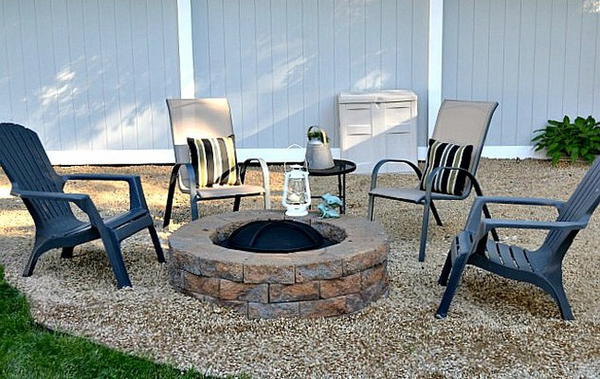 Home Road's Round Paver DIY Fire Pit creates a beautiful ambiance for summer nights and entertaining friends. This simple yet sturdy project will set the tone for warm summer nights in or around your home or cottage. This DIY fire pit features a simple and sturdy design that would be a perfect weekend project. Round pavers are placed in a circle on medium-grade sand. The pavers are connected with four black metal stakes. Once completed, this fire pit would make a lovely centerpiece in your yard! It is made with quality materials. Strong, durable, attractive. The rounded patio pavers are super sturdy and attractive against any setting. A raised ring element provides the perfect place to rest your drink or cook on top of it. With an ample surface area, it's great for lounging around in the evenings and roasting marshmallows over the fire.
Materials: Paving stone (Nicolock recommended for circular build), Cement or non-combustible adhesive, Weed barrier and pea gravel (if desired), Landscape edging (to hold section off gravel)
Tools Needed: Shovel, Hammer, Level, Mixing container and stirrer for cement, Wheelbarrow (for gravel)
Deluxe Swing Fire Pit DIY
This hanging fire pit has been described as the 'hottest trend to stir up the camping scene of the past decade,' but it's definitely not a beginner project. This fire pit gives you the option of a permanent installation or a portable unit that you can take with you on camping trips. The hanging fire pit has a metal frame wrapped in wood, hickory covers to protect your table, and metal legs that can be painted to match whatever you choose as your tabletop. Not only is this fire pit pretty cool looking, but it's also functional and easy to use. The Deluxe Swing Fire Pit is a fun and unique project to gift to or build for yourself. It's a great addition to any wooded backyard and best of all it will draw the attention and admiration of everyone who sees it.
Materials: 6″x6″x10′ pressure treated boards, 6″x6″x8′ pressure treated boards, 2'x6″x8′ pressure-treated lumber, ½×8″ galvanized lag bolts, ½ " galvanized washers, 4″ deck screws, 3″ deck screws, 2″x2″x8′ white pine boards, 50-60lb bags of concrete, Paver base for drainage, 4' steel re-bar, Stain or water seal, The fire pit itself (material of your choice), Landscape adhesive, Pea gravel and/or topsoil, Swings, Galvanized steel eye bolts OR 7" swing hangers with locking washers & nuts
Tools Needed: A-frame ladders, Miter saw (12" sliding compound recommended), Post hole digger, Shovel, Sledgehammer, Post level, Line level, Box beam level (6' or longer), Tape measure, Layout string, Speed square, Pencil, Marking paint, Mixing container for concrete (plastic recommended), Cordless drill and bits, 12" bit, 1 ¼ countersink bit, #8 pilot bit, Socket and socket wrench, Paintbrush, Router and round-over bit (optional), Sander (optional), 2-person auger with 8-10" bit, Gloves and goggles
No-Tools-Needed DIY Fire Pit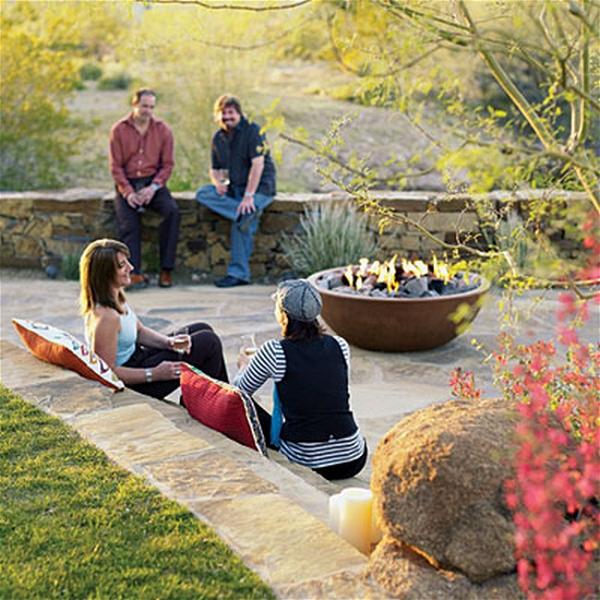 The Fine Craft Guild's DIY eco-friendly outdoor fireplace features an easy-to-build frame made out of recycled steel and cedar and environmentally friendly fuel. The instructions will tell you everything you need to know – like purchasing and organizing all the parts, finding a space and preparing it for the fireplace, and tools required for assembly (like wrenches for tightening the screws). This fire pit is great because you don't need any tools to put it together. You just dig a hole, place the ring in and light up! If you want to build a fire, grab some of the eco-friendly charcoal briquettes we suggest below. This DIY eco-friendly outdoor fireplace makes your home more inviting. Popular for weddings and parties, it's a fun way to warm up on chilly nights with family and friends.
Materials: Large container (metal, ceramic, glass), Inflammable filling material (river stones, recycled glass, etc.), Granulated charcoal briquettes or bio-fuel (like Instafire or Ecofuel)
Tools Needed: Lighter
Wooden Fire Pit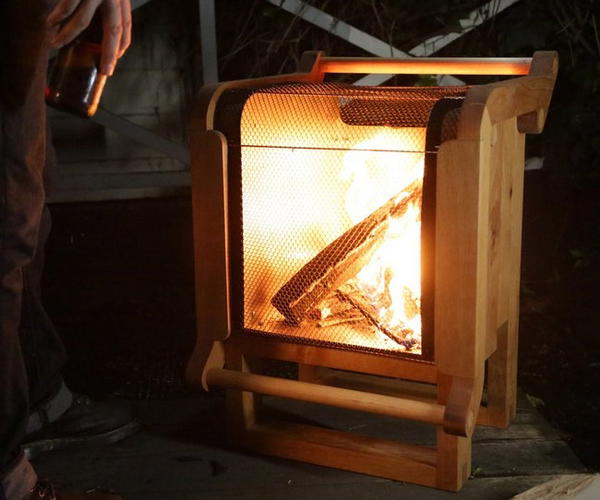 Looking to add a nice touch to your outdoor get-togethers? This wooden fire pit is perfect for early evening fires, especially if you don't have an armload of backyard for extension cords. All you need to do is pick up some mild steel sheet metal from the hardware store, and you'll be able to construct this modern patio piece that is perfect for gathering around on a small back patio. Built to table height, this wooden fire pit could be just what you need. This fire pit can be wheeled around easily so you can use it in multiple places on your patio or deck. The soothing, crackling sound of burning wood and gentle flames will warm you up inside and out. With this stunning fire pit, all your friends can gather around to share stories and roast marshmallows.
Materials: Table or circular saw, Bandsaw or jigsaw, Japanese flush saw, Drill (drill press recommended), Bits: 1½" Forstner bit, 1¼" Forstner bit, countersink bit, Doweling jig, Chisel, Mallet, Clamps, Jigsaw with fine teeth and metal blade, Hand drill and ¼" metal drill bit.
Tools Needed: 2X10 hardwood boards, Dowels: 1 ½", 1¼" dowel, ¼" joining dowels, Stainless steel sheet (34″X32″ total), Fireplace curtain screens, 1″X ½" corner bead, ¼" diameter machine screws ¼" long, and nuts
Recycled Washing Machine DIY Fire Pit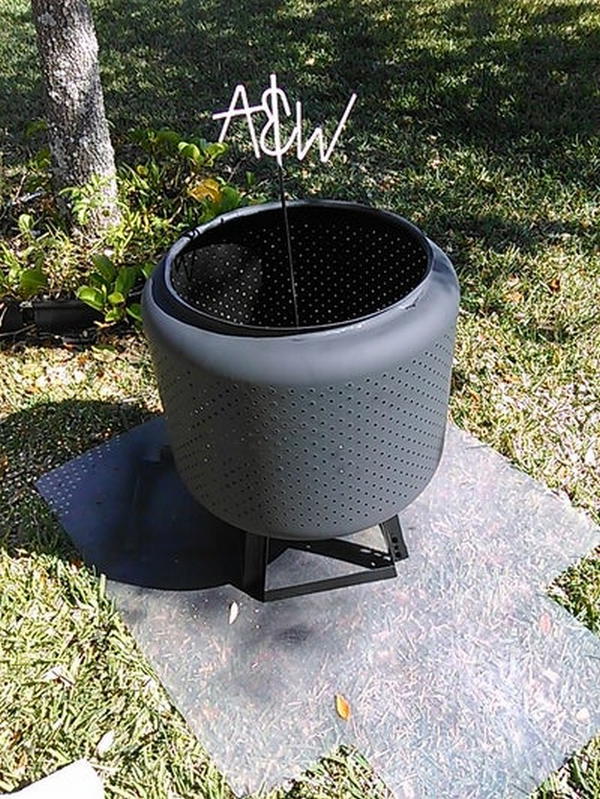 Recycling is good for the environment and for your wallets. This DIY fire pit combines two things that are easy to find at your local thrift shop: an old washing machine, and a mattress frame. The washing machine not only acts as a base for the home-made fire pit, but it also acts as a counter-weight to reduce some of the noise from shaking while in use. This is the perfect way to start your fabulous fire pit to entertain family, friends and neighbors. Featuring a unique design of an old washer machine, this will definitely be a point of interest at any get together! This project can be completed in less than half a day and only requires standard tools.
Materials: Washing machine, Metal bed frame, High Heat spray paint in white & black, Two 3′ x 3/16″ steel rod, Two 3′ x 1.25″ flat bars
Tools Needed: Angle grinder, Wire welder
Table-top DIY Fire Pit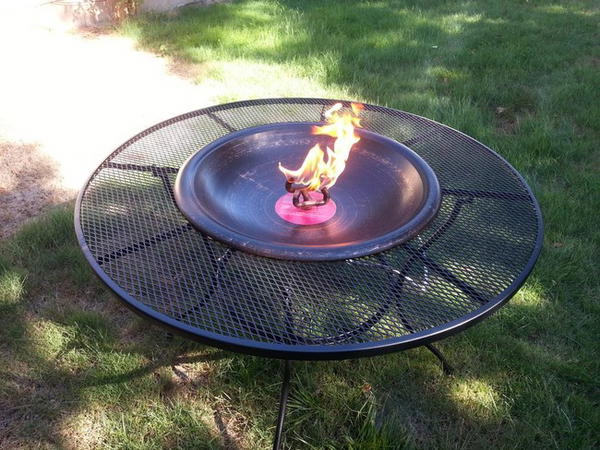 Ever want to host a casual outdoor party, but not want to deal with the hassle of setting up a bonfire? Have a small space that doesn't lend itself to a big wooden fire pit? We have just the thing!!! Compact and easy to use, this DIY table-top design is great for small spaces, urban parties, or just when you don't have room for an "outdoor installation". Plus, if you already have a garden table you can bring new life to it and save on material costs. Built on top of an old tabletop, it's entertaining and environmentally friendly. If you already have a garden table you can bring new life to it and save on material costs too.
Materials: Metal garden table, Small fire pit, Propane tank, Black paint
Tools Needed: Tape measure, Sawhorse, Metal cutting tools, grinder, cutoff tool, Dremel, Jig Saw, Sawzall, or good old hand tools, Grinder or sander, Welding tool for copper pipe, and one for just joining metals, Safety glasses, gloves, ear protection
In-Ground DIY Fire Pit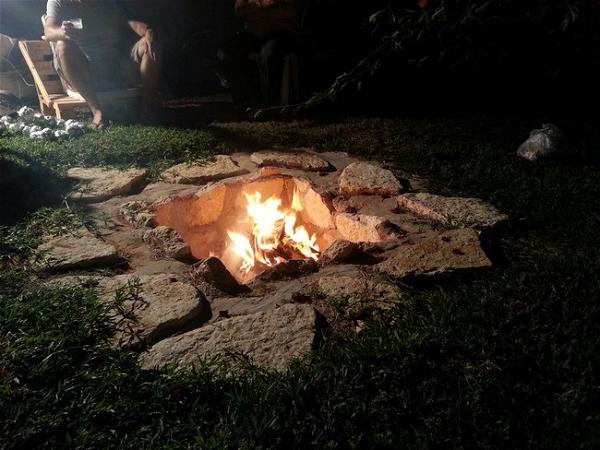 Ever longed to have a campfire in your own backyard? Make your outdoors the coziest place in town with an affordable, portable fire pit. This set right into the ground, so it's no problem if you're worried about where to put it and how to get it back out. The masonry stone is both ruggedly beautiful and helpful for radiating warmth. It will give you and your guests hours of enjoyment, all summer long! While this basic fire pit is simple to make, it's still rugged enough to stand up to some years of weather and use. The build is also the least tool-heavy DIY project we could find, ideal for beginners.
Materials: Cement (see the plans for detailed mix recipe), Stone, Rebar
Tools Needed: Shovel, Mixing container, and stirrer for cement
Flameless DIY Fire Pit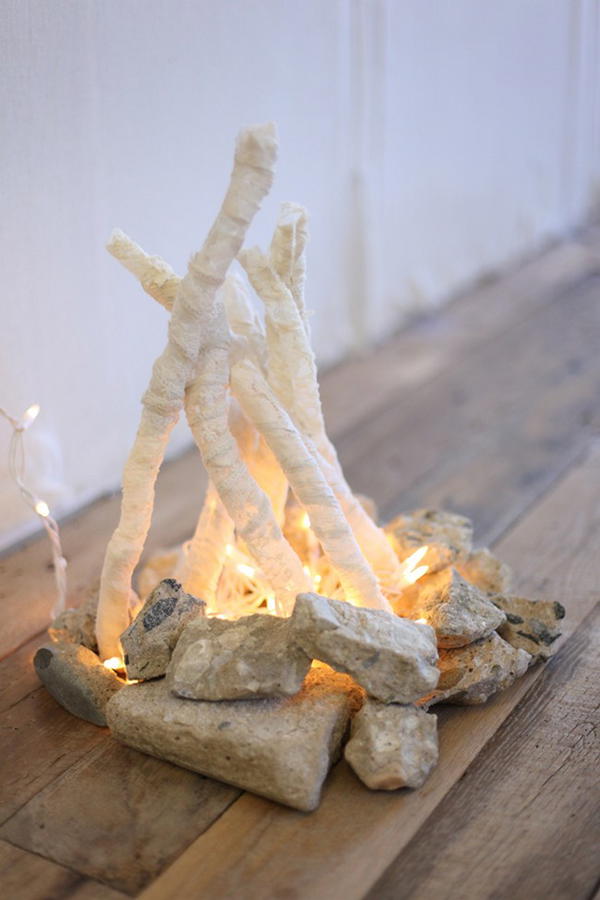 Get your family or friends together with this great homemade fire pit. If you've ever been camping, you know that there is nothing quite like sitting around a fire. This Homemade flameless fire pit can bring that sweet and cozy feeling inside your home, and it will look great in any backyard as a decorative piece. It's a fun project for kids to make, and since it doesn't use real flames, it is even safe for pets to enjoy the soft glow of this DIY fire pit. The outdoor fire pit can be placed in your backyard, but also indoors on the porch or even in your living room. This type of fireplace is inexpensive to make and requires basic tools (or only a hammer and nails) to build by yourself. Holes have been predrilled for easy assembly.
Materials: Lace strips, Tree branches, Rocks, Aluminum foil, Washable school glue or fabric stiffener, String lights
Tools Needed: Paintbrush, Scissors
Glass DIY Fire Pit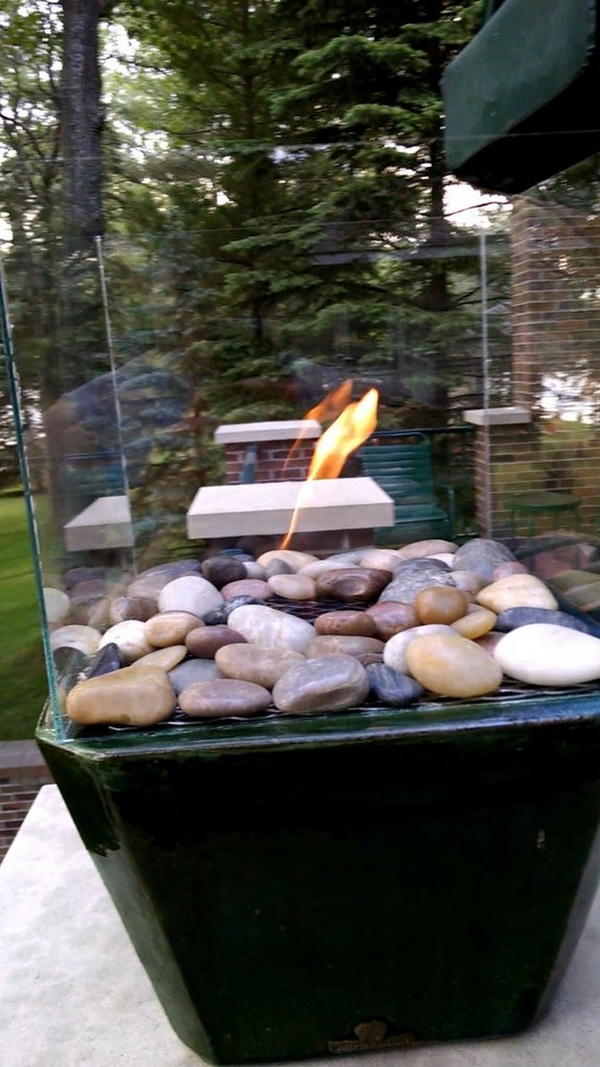 This Fire Pit is easy to assemble. DIY Fire Pit will bring back memories of your favorite campfire. With a sleek look and extra safety features, this pit has all the makings for a fantastic night around the glow of a flame. Packaged with everything you need for a quick assembly and lifetime of use, this outdoor fire pit is perfect for backyard gatherings! Made from toughened glass, this square fire pit is safe and perfect for outdoor or indoor use. It includes a metal lid to protect the glass and has an attractive metal grill to protect people from the heat. It looks great in your garden and can also be used indoors - it is completely portable and easy to assemble.
Materials: Planter, Glass panes, Grating, Rocks, Gel fireplace fuel, Marine silicone sealant, Tin can
Tools Needed: Hacksaw. Dremel, Bench grinder, Razorblade
Simple Budget DIY Fire Pit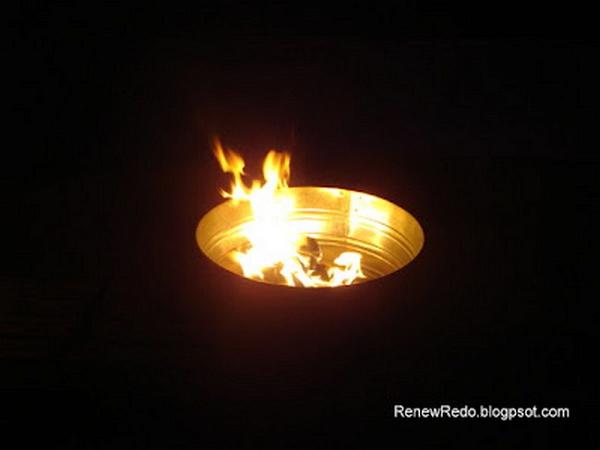 Put together this clever DIY fire pit in just a few spare minutes. The super-simple design means that you probably have all of the parts lying around your home or business anyway! This fire pit can be used for a variety of cozy gatherings, and the affordable price is budget-friendly for anyone. Children and pets should be extra careful around these, however, as the metal gets hot to the touch. This simple budget fire pit can be built from components you might already have at home. The materials for this fire pit don't cost much, which means you can make several for yourself and your friends or family without breaking the bank. This one even uses recycled wood pallets that'll make kindling and burning coals easy peasy.
Materials: Hacksaw, Dremel, Bench grinder, Razorblade
Tools Needed: Lighter
Star Wars DIY TIE Fighter Fire Pit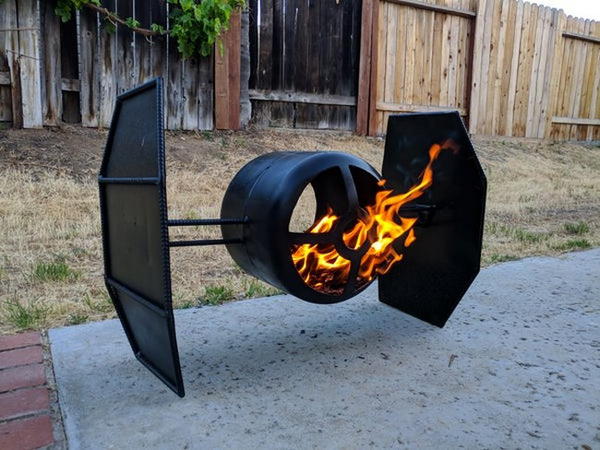 If you're a Star Wars uber fan, you need to make this TIE Fighter fire pit. You'll also have to have your own MIG welder, which can be pricey, but it is the only way to ensure stability. And despite the difficulty, it looks like it will be well worth it. It's the kind of project that's fun to tell your friends about, looks incredible, and adds a perfect Star Wars touch. Though it's not the most detailed model available, it is certainly one of the most practical! It's perfect for hanging out on a quiet private beach or while tailgating at a rock concert. The instructions come complete with plenty of stunning diagrams, cutaway views, and an inserted welding safety guide.
Materials: Propane tank, Rebar, Sheet metal
Tools Needed: Welder, Angle grinder with cutoff wheels, Hammer, Welding safety gear
Masonry DIY Fire Pit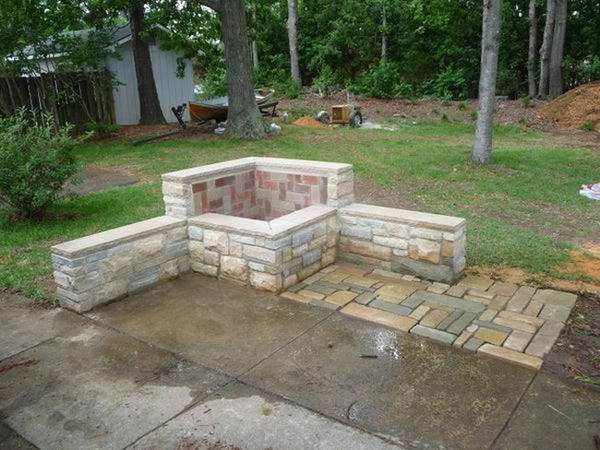 Create your own backyard oasis with the Masonry DIY Fire Pit. If you love to entertain and want to add a beautiful centerpiece to your outdoor living space, this complete masonry fire pit kit is a perfect choice. It's fully functional and easy to assemble, with everything included that you need, aside from the sand and stone, to create a fun place to gather. This masonry fire pit is fully functional, beautifully designed, and built to last. It features a standard fire bowl and a heavy-duty construction that allows it to be used with other fireplaces. This masonry DIY fire pit isn't just beautiful – it's built to last. And with its classically functional, aesthetically pleasing construction, this is a straightforward way to incorporate outdoor living into your everyday life.
Materials: 70 sq. ft Arriscraft stone,  6 Eldorado 12×48 mantle, closure bricks, (30) 4″ blocks, 5 bags Type S mortar, 1 bag fireclay, 20 bags Quikrete 5000
Tools Needed: Trowel, Hammer, Shovels, Concrete mixing container and stirrer, Levels
Coffee Table DIY Fire Pit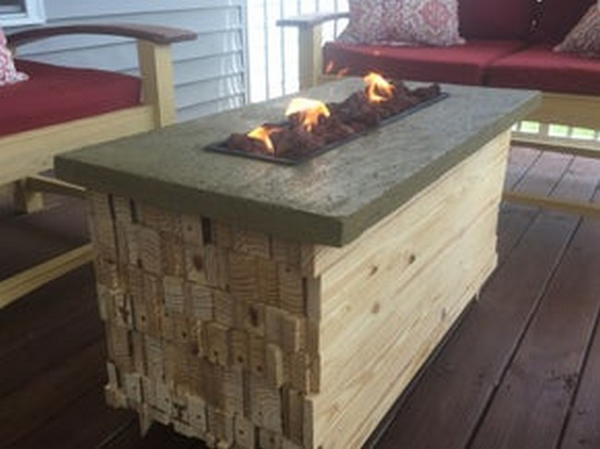 This is an inexpensive, easy-to-make DIY fire pit coffee table that you can make yourself with only two to three days' time and very, very basic woodworking skills. This DIY fire pit coffee table uses hand-hewn, rough-sawn cedar and scraps of steel, copper, and brass. When the burner is removed and the glass top replaces it (using magnets), the frosty winter nights are then replaced with slabs of marble or quarried stone that can be moved outside to create moments of peace and contemplation. Fire pits similar to this one have been used by humans for thousands of years; they're a way to connect you to your ancestors while celebrating this modern age.
Materials: 80lbs Quickcrete, 20lbs lava rocks, 2x10s, Angle iron
Tools Needed: Bandsaw, Miter saw, Table saw, Nail gun, Grinder, Welder
Modern DIY Fire Pit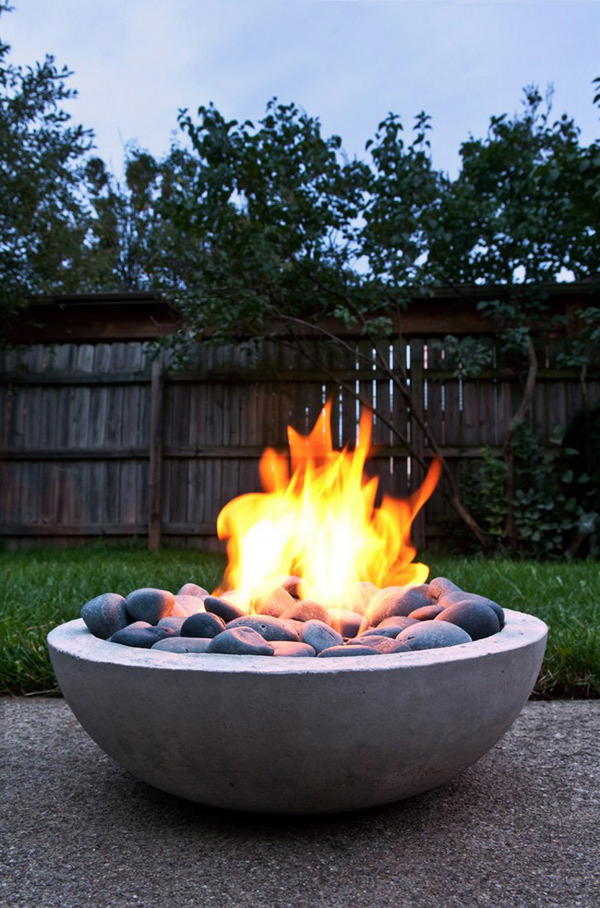 The definitive DIY project for this summer. Have you seen other fire pits and worried about the cost or mess? This DIY concrete fire pit was designed as a complete beginner's project. Create a DIY fire pit from concrete and other common household materials for a fraction of the cost of store-bought fire pits. This modern-looking fire pit is perfect for roasting marshmallows, making s'mores, or enjoying a warm fire outdoors on a cool night. This DIY project is the almost-complete fire pit, built for summer nights. The great part about this fire pit is you can use it in your backyard, patio, or even on the beach! It also doubles as a very large planter. If you want an uninterrupted view of the flames, this project is for you.
Materials: Concrete. Large bowl for exterior mold (18" diameter), Large bowl for interior mold (15" diameter), Non-stick cooking spray or oil and brush, Heavy objects (weights, rocks, etc.), gel fireplace fuel canisters, Grill grate (14½" diameter), Nonflammable rocks, stones, or glass
Tools Needed: Sandpaper, Masonry trowel, Container for mixing concrete and stirrer
Wine Barrel DIY Fire Pit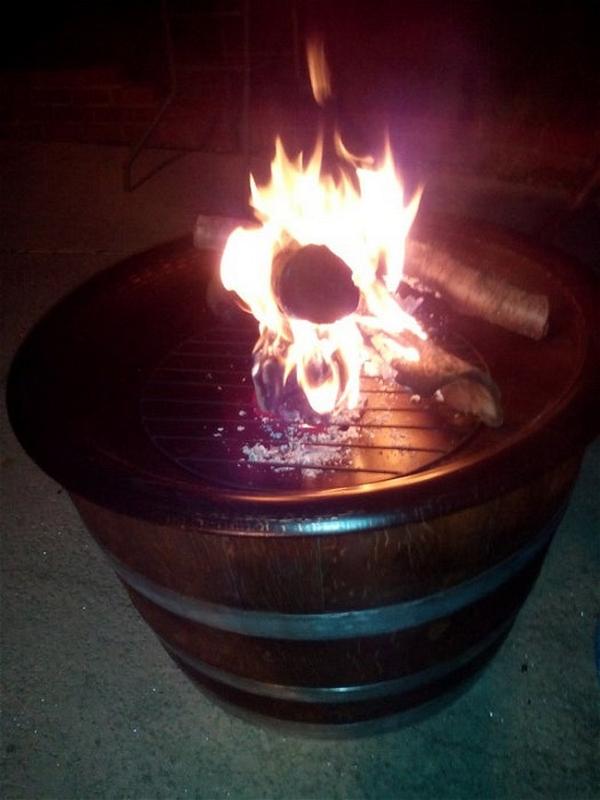 Looking for an easy, inexpensive DIY project that includes a wow factor? This wine barrel fire pit is the perfect solution. It gives new life to a used wine barrel and is full of charm. Made with concrete over gravel, this decor piece sets the stage for good times outdoors! And this wine barrel fire pit does a great job of upcycling AND keeping it simple. A total win-win! You'll love the rustic look of the countertop, as well as the simple design of the rest of the project. This wine barrel fire pit is the perfect project for anyone who is looking to do something a little different with their outdoor space. It upgrades an old wine barrel with plenty of warmth and character.
Materials: 29" fire pit from a hardware store, Wine barrel, Wood stain (if desired)
Tools Needed: Belt sander, Sandpaper, Rags
Tabletop Glass DIY Fire Pit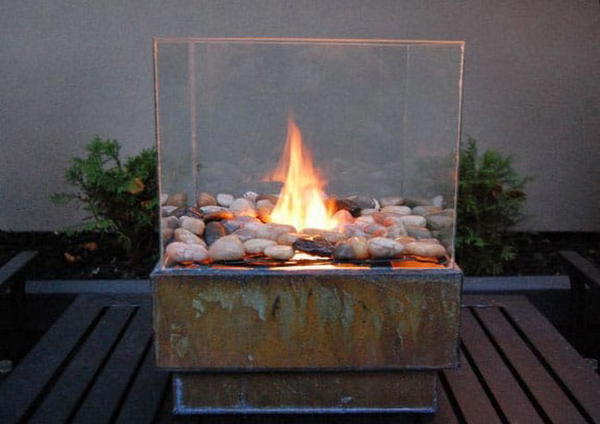 Is your backyard lacking in romance? A fire pit is a great way to add both. This tabletop version is the perfect option for individuals with minimal yard space and is easy for anyone to put together. The tabletop fire pit we're sharing today is made of beautiful glass and has a contemporary flair. It's perfect for a small space, like a rooftop garden or a patio. Because it doesn't take up too much room and it's so easy to make, you could even use it indoors. What makes this DIY fire pit so special is that you don't even need to buy any materials. Everything you need can be found at most home improvement stores! Whip up this refreshing creation in just minutes with simple tools and have yourself a flaming bowl of fun!
Materials: Marine silicone, 4 cheap glass picture frames, Small rocks or glass, Metal mesh/grate, Metal planter with a lip, Gel fuel
Tools Needed: Lighter
Easy Stone DIY Fire Pit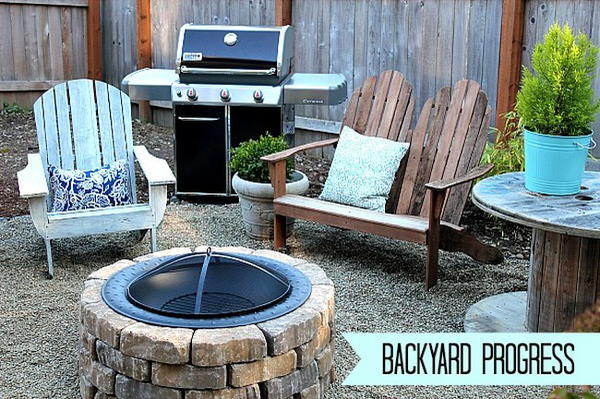 If you're looking for a fun, inexpensive project to work on this weekend, consider building your own backyard fire pit. In the warmer months of the year, the sight of a crackling fire is sure to make your backyard guests feel relaxed and welcome. In the colder months, it provides a great ambiance while you drink a mug of hot chocolate around it. This one uses a fire pit kit available at most hardware stores and includes tips on how to make your own housing out of stone. During the winter months, nothing warms a cold night like a crackling fire. If you're tired of gathering around the bonfire in your backyard, gather your family and friends around this fire pit and make s'mores all night long.
Materials: Firepit kit, Stones (builder used Allen & Roth Bertram collection)
Tools Needed: Level
Modern Concrete DIY Fire Pit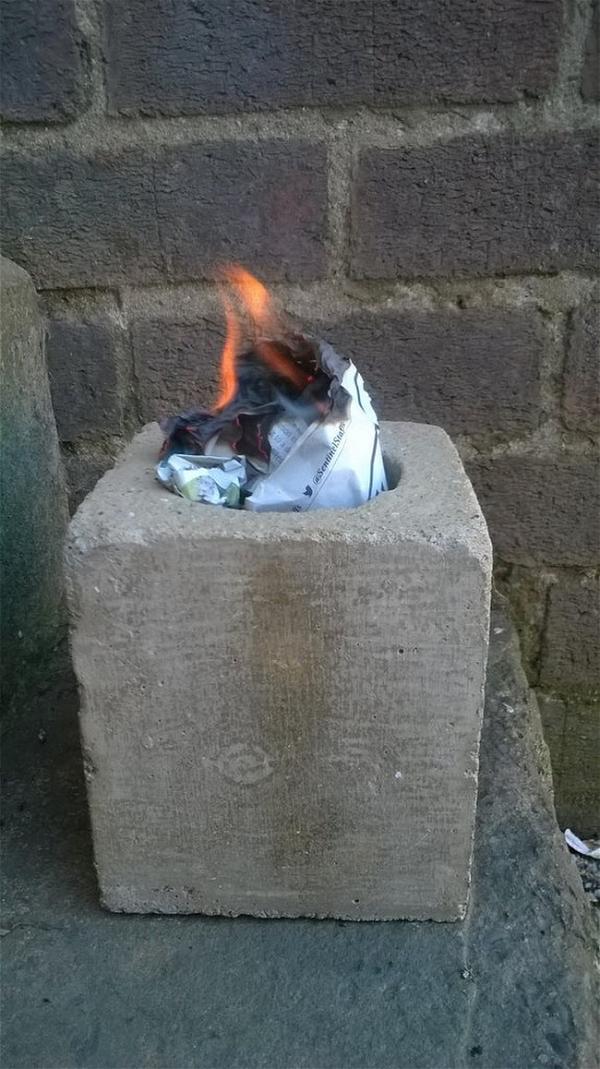 You can make this fire pit too, even if you've never laid a brick in your life. A small concrete pad for the patio, a few yards of concrete, some pea gravel, a few pieces of rebar, and you're all set. The mold is made from a cinder block and it's almost too simple to believe. But don't just skim over the instructions to find the costs without thinking it through -- it is perfectly possible to build your own concrete fire pit. As long as you have a day or two to wait for the concrete to cure, the hardest part is laying out the bricks for the base and setting them ¾" apart with sand in between -- an easy task for anyone who can level things like laying slabs for a patio or digging post holes.
Materials: Concrete, Plywood, Cardboard tube (3" diameter)
Tools Needed: Tri square, Pencil, Ruler, File or sandpaper, Band saw, Container for mixing concrete and stirrer, Hot glue gun
Simple Backyard DIY Fire Pit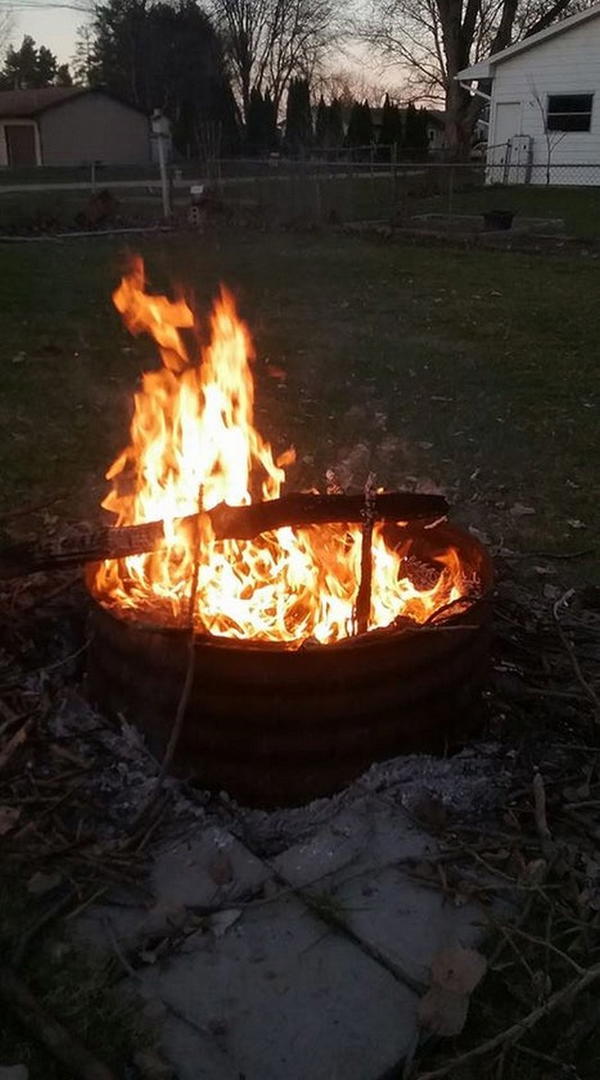 This DIY fire pit is a fun and easy build that you can put together in no time at all. This particular fire pit is made out of three one-by-nine inch bricks stacked on top of each other and sitting on top of a galvanized steel ring to maintain the circular shape. A few finished stones are simply placed at the base to surround the inner edge, and a coat of quick-drying cement was spread across the top layer of bricks near the inside to support a metal grill. You need only simple tools for disassembly, like a trowel for spreading cement or an old piece of hose for flushing out ashes, and perhaps some sandpaper to smooth the brick surfaces if needed.
Materials: Galvanized steel ring,  Bricks, Stepping stones (if desired)
Tools Needed: Shovel
Square DIY Fire Pit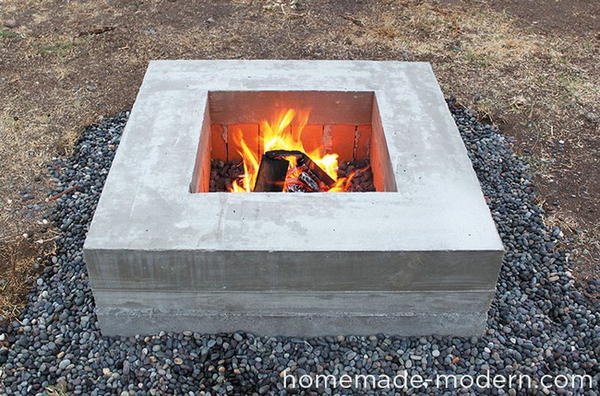 Sometimes you want to be able to sit around the fire with a group of friends after a long day at work, but you just don't have the space for a normal-sized fire pit. This project is a great solution for when space is a premium. With just a few basic tools, simple materials, and this step-by-step tutorial, you can put your creativity to use and build your own modern fire pit. It's almost as much fun as the fire! These plans are for a DIY fire pit that is square as opposed to round. It makes for a more modern look without sacrificing space or functionality. The materials list is also provided below so you know exactly what you need to build your own. Plus, if you can't make one yourself, there are plenty of sources online where you can buy a fire table like this.
Materials: Quikrete 5000, Fire bricks, Mortar, Rebar, Gravel, Lava rock, 2x4s, 2x6s, L brackets, Screws
Tools Needed: Drill. Circular saw, Compound miter saw
Fire Glass Tabletop DIY Fire Pit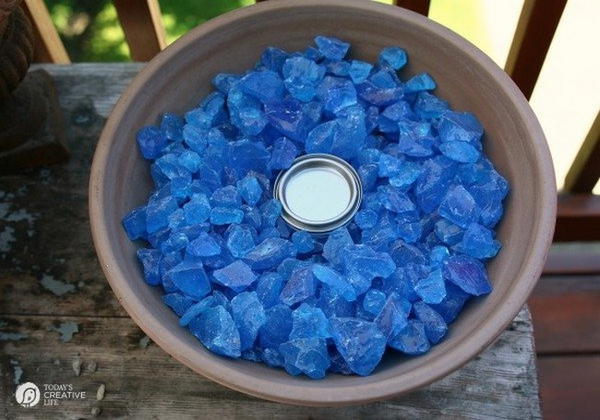 Getting your own decorative fire pit is easier than ever! FireGlass is a breakthrough product that allows you to add the effect of fire to a tabletop or mantel. The gel needs no stabilizers and will light itself, even in low light conditions. FireGlass can be found at most hardware or home improvement stores, making it easy to find. Create the relaxing ambiance of a rustic hearth indoors with this DIY FireGlass tabletop fire pit. Simply fill your decorative container with fire glass, pour in burning gel, and you're all set. From soft flames to raging fires, the effect is perfect for creating an intimate mood or serving up s'mores around outdoor dining tables.
Materials: Fire glass or pea gravel, Terracotta flower pot, Sterno clean-burning gel (food safe if desired)
Tools Needed: Lighter
Swedish Torch DIY Fire Pit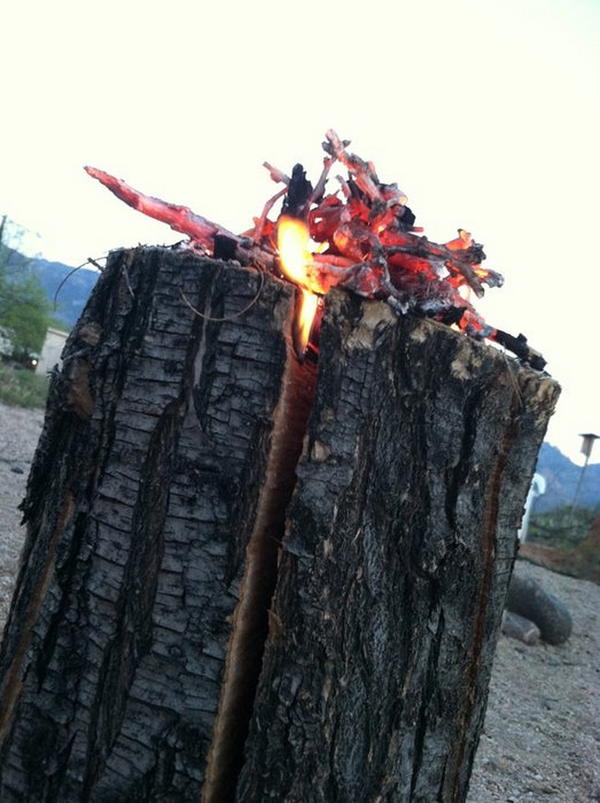 If you're already equipped with a chainsaw, you'll find the Swedish Torch fire pit to be the lightest and easiest DIY fire pit to make! Built on simple fire-building principles, it creates a small, sturdy cooking platform with a handle for holding your cooking pot. This can be as simple or complex as you want it to be, but regardless of what style of fire you decide to burn in it, the Swedish Torch is a handy little foot warmer for two. The Swedish torch is a brilliant fire building design for areas where the wood gathering is difficult and where wood supply is limited. The design consists of two opposing vertical cuts on the trunk of a tree, from which the bark can strip clean.
Materials: Dry softwood. Tinder
Tools Needed: Chainsaw
Flameless Glass DIY Fire Pit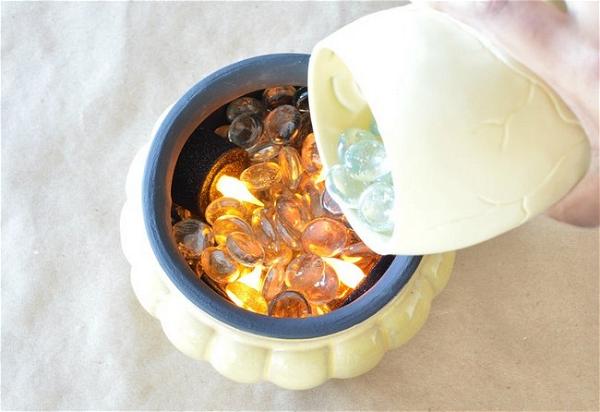 Add a little Halloween charm to your patio or garden with this easy flameless glass fire pit. Featuring soft amber-colored light shining through colorful glass pebbles, this is a great decoration if you don't have an outdoor space for a real fire. Made from ceramic, sturdy steel, and concrete, the fire pit is designed to be safely used indoors or out. Created from common supplies, it can be used indoors or out and features a soft glow made by light shining through the glass pebbles. The fire pit will illuminate all your favorite fall decorations and make for a great addition to your Halloween decor for years to come. This is a fun and unique decoration to add to your outdoor decor and is perfect for any outdoor space. This pit will add some warm glow and ambiance and it is also safe around children!
Materials: Container of choice, Black chalkboard paint (if desired), Glass gems, LED candles, Double-sided tape
Tools Needed: Paintbrush
How To Build A Gas Fire Pit Table In 5 Basic Steps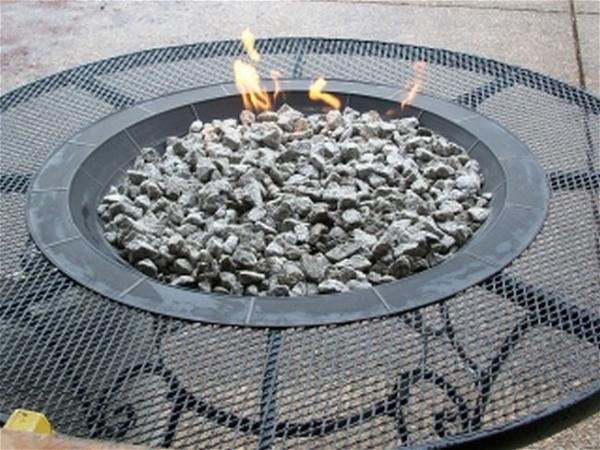 Gas fire pit tables are a popular summer project. Building one is an exciting and easy process that will make your outdoor patio look amazing. You can make the most basic design of this table beautiful by installing decorative tile, slate, or ceramic inlays. Make your outdoor space cozy by building a Gas Fire Pit Table. This table is super easy to make and can work in basic steps. Building a gas fire pit table is an exciting and easy process. It is also a popular summer project. To build it, you need a few basic tools like an angle grinder, jigsaw or small saw, tape measure, and drill machine for drilling holes for the faucets.
Materials: Dry softwood. Tinder
Tools Needed: Chainsaw
How To Make A Concrete Fire Pit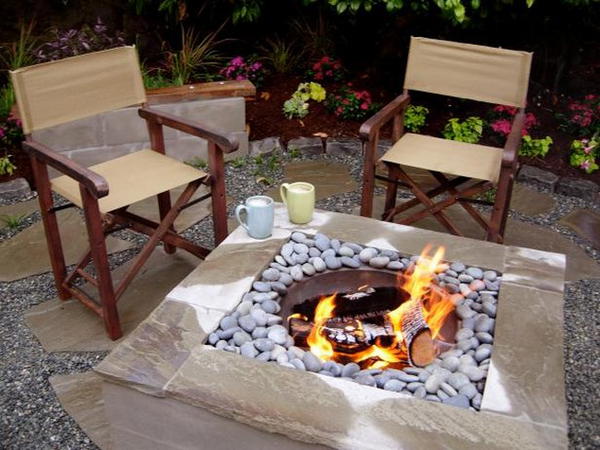 A fire pit is a great addition to any backyard, especially when the temperatures drop. This concrete fire pit will fit right in with your outdoor decor. Use it at night or during the day, the choice is yours. Constructed of durable concrete, it will last for years to come with no need to move it. No longer do you have to worry about lifting and hauling wood. The best part is you don't have to worry about buying wood either, just bring some fire starter blocks! But why use expensive firewood when you can build your own fire pit? Follow these easy steps and see how to build a concrete fire pit for yourself!
Materials: Container of choice, Black chalkboard paint (if desired), Glass gems, LED candles, Double-sided tape
Tools Needed: Paintbrush
Building A Fire Pit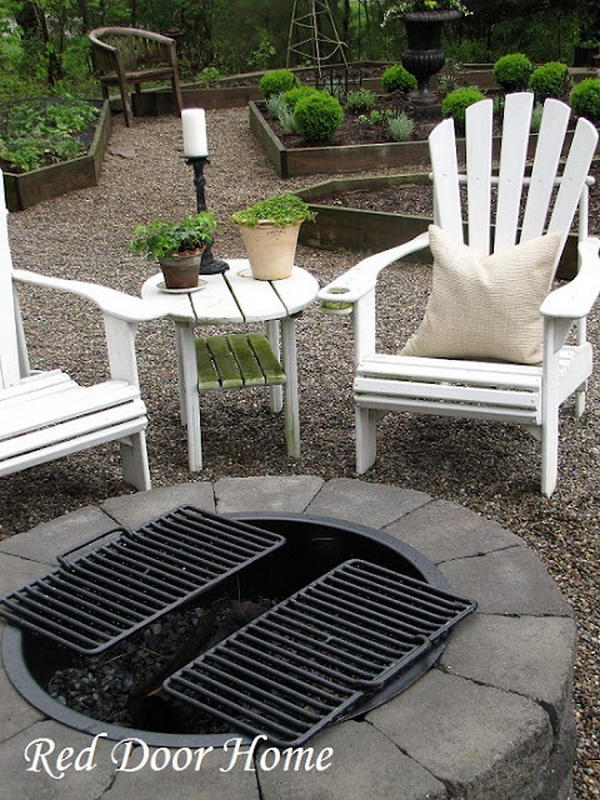 A fire pit in your backyard is what summer nights are. It's a great place to roast marshmallows, drink hot chocolate, and tell stories with friends and family. Why buy a premade fire pit when you can make one yourself? The fire pit is a great place to hang out with friends, tell stories, and enjoy the summer evenings. If you're looking for an inexpensive and easy way to add warmth and companionship to your backyard or patio, look no further than this step-by-step guide to building a fire pit. This do-it-yourself kit includes everything you need to build a fire pit at home.
Materials: Dry softwood. Tinder
Tools Needed: Chainsaw
Mini Fire Pit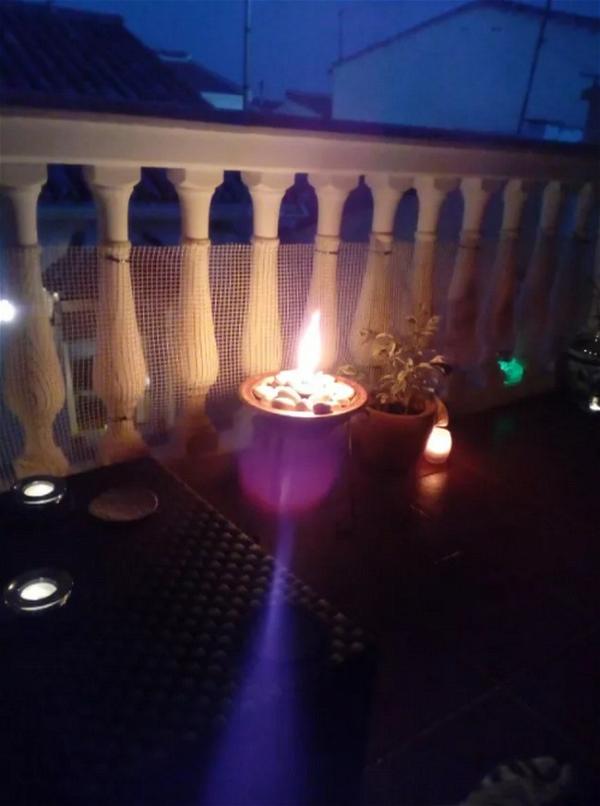 The Mini Fire Pit brings the warmth and ambiance of a fire to the patio or backyard, but without all the work! This grandiose outdoor accent will have friends and family gathering around every time you light it up. A built-in log grate stores your firewood, and a spark arrestor keeps things under control while in use. The sturdy pre-assembled steel construction of this fire pit means easy assembly and a quality structure that will withstand wind and rain. The sharp appearance of the blackened steel mesh siding is accented with the rugged Diamond Plate mesh backing for an extra touch of rustic appeal!
Materials: Container of choice, Black chalkboard paint (if desired), Glass gems, LED candles, Double-sided tape
Tools Needed: Paintbrush
See Other Projects