An outdoor kitchen is a great addition to your house either as an extension of your kitchen or as a separate room outside the house. It is usually built in the backyard or patio behind your house where you can use it for cooking, entertaining, and spending time with family and friends. These days, building an outdoor kitchen is a hot trend. If you can spend some of your extra time and money, you can enjoy an outdoor sitting place that has a food serving facility as well. It is not just a storeroom for storing outdoor tools, but rather it is designed to make outdoor activities more convenient and enjoyable. If you are looking for free DIY plans for building an outdoor kitchen then here is a list of 25 DIY outdoor kitchen ideas that will help you build one on your own easily.
DIY Outdoor Kitchen Ideas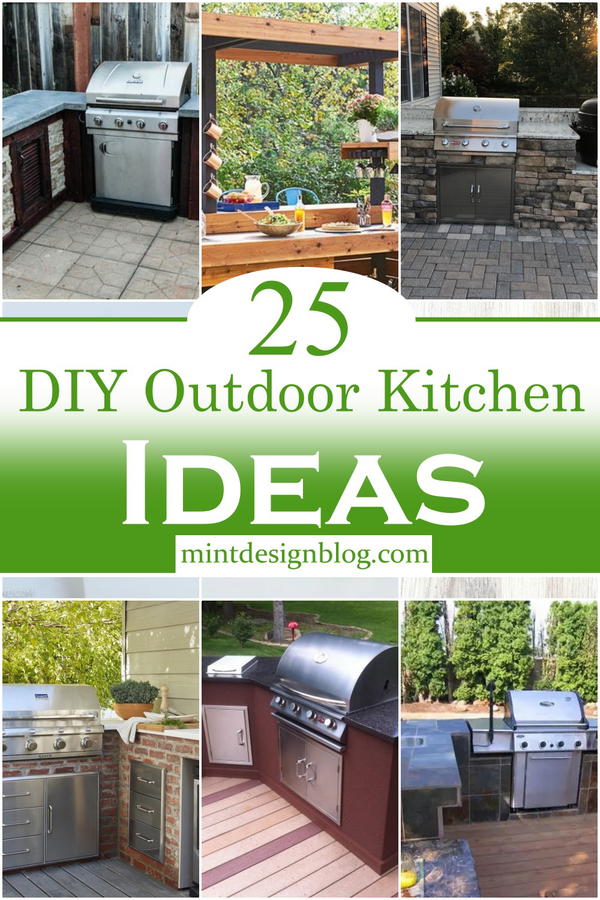 You can turn your backyard into a beautiful outdoor kitchen. If you have enough space and you want to enjoy gatherings with your guests and family members at the same time while cooking outdoor, then you can build a Free DIY Outdoor Kitchen. However, there are many advantages of choosing outdoor kitchen ideas over indoor kitchens. For example, an outdoor kitchen can be a great addition to your outdoor decor, and it will also increase the value of your home. Moreover, there are many different things that you need to consider before building an outdoor kitchen. The first thing is the location where you want to build the kitchen. There are many options available in this regard. For example, you can build the kitchen on a patio or porch. You can also choose to build a standalone kitchen as well as a permanent structure in your garden. Another thing that needs to be considered is whether or not you want to build a permanent structure or temporary structure for your kitchen.
Whether you are a professional griller or are simply looking to add a novelty to your home, these Free DIY outdoor kitchen ideas will give you some inspiration.
Outdoor Kitchen And BBQ Island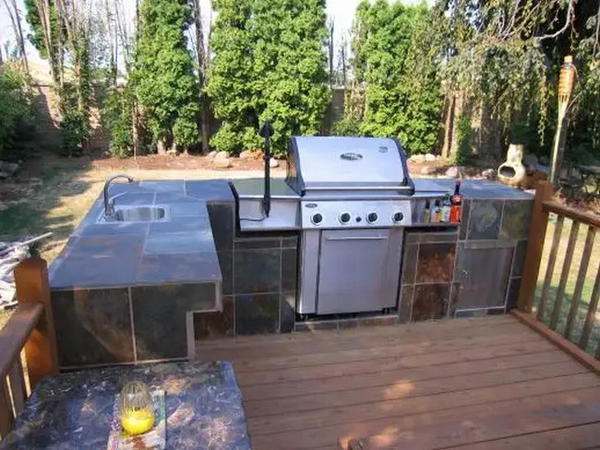 If you love cooking and grilling, you can prepare everything under the sun in your outdoor kitchen. You can make pizza, barbecue steak, or even grill fish on a hot night. The best part is that you don't need to spend a lot of money to build it. By using the simplest supplies and materials like lumber boards, grill framing, backer boards, and stone slates, you can construct an amazing BBQ island. It's spacious enough to make you feel comfortable while cooking. If you have time and patience for DIY projects, this grilling island will add more value to your home
Outdoor Kitchen With Concrete Countertops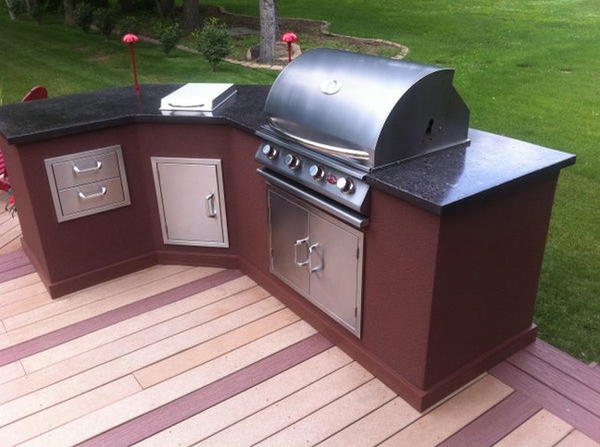 Built with concrete countertops, the kitchen is perfect to store your cooking appliances. You can also build a grill unit that fits perfectly in the corner. Measure the steel studs to make sure you achieve the right sizes. This outdoor kitchen with concrete countertops is an ideal solution for those who love to cook in the fresh air. The best thing is that you can DIY this kitchen in no time and effort with a construction base, steel studs, framing panels, and concrete countertops. Building an outdoor kitchen with concrete countertops is an ideal solution for those who love to cook in the fresh air and heat of the sun. The lovely finish is concrete on stucco, creating a striking design perfect for sitting and enjoying your free time. Let's take a look!
Building Outdoor Kitchen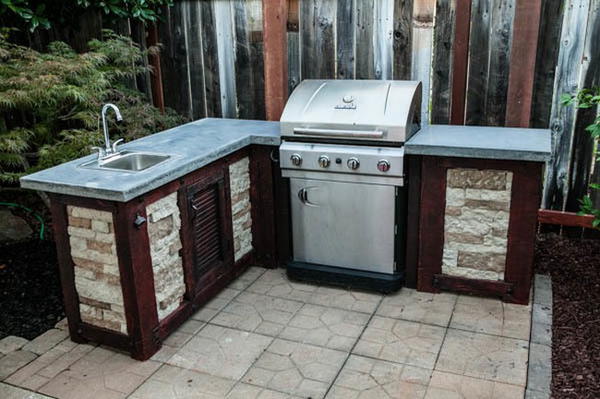 It is easy to save money when building your own outdoor kitchen. Creating the best outdoor kitchens often depend on many factors. Best of all, you can save your money and time by choosing low-maintenance materials, such as steel studs and lumber. In this case, you will have to color coat these materials to create a beautiful appeal before attaching both of them with an adhesive solution. You can build an outdoor kitchen with the help of steel stud panels and lumber. This is much easier than you think with the help of these modes. Another option is using a white brick veneer with an adhesive solution to install this wooden framing. A concrete countertop can be made of melamine sheets or any other molding frames. For completing this project, you need two or three days.
How To Build An Outdoor Kitchen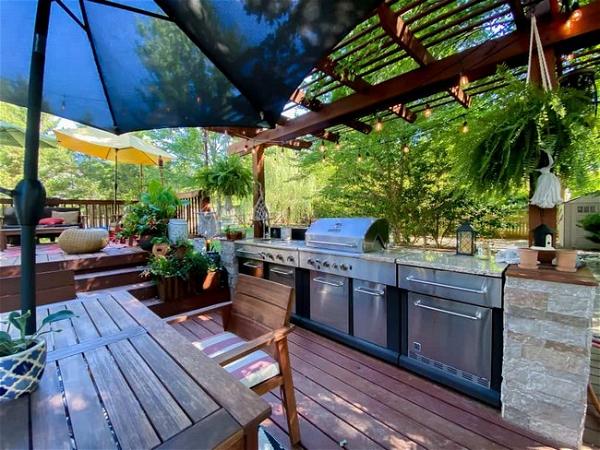 If you are passionate about crafting, it will be really exciting for you to make your own outdoor kitchen. You can build it by using wooden boards, stone or brick veneer, and adhesive solution. Further, you can deck the kitchen with a marble or granite countertop and add stunning accessories to embellish it. When it comes to building an outdoor kitchen, you need experience in the DIY field. You can choose a suitable plan to build it according to your choice. Furthermore, this project requires a lot of work and patience. Moreover, you will also use plenty of DIY tools for this project. Have a look at some important tips to build an outdoor kitchen effortlessly and beautifully.
Cedar Outdoor Kitchen Plan
Dreaming of your own backyard? This astounding luxury cedar outdoor kitchen will give you all that you want. Spice up your backyard with this stylish cedar outdoor kitchen plan. You can use this outdoor kitchen for hosting BBQs and grilling food. It is ideal for summer evenings and family gatherings. This outdoor kitchen includes the sink area, cooking space, and sitting area. Once you decide to go for this project, you need to gather all the required tools and materials first. It is made of a laminate board and polystyrene foam. The wood comes from cedar posts and the required tools are a miter saw drill, tape measure, and carpenter square. Having advanced-level crafting skills is needed for making it.
How To Make An Outdoor Kitchen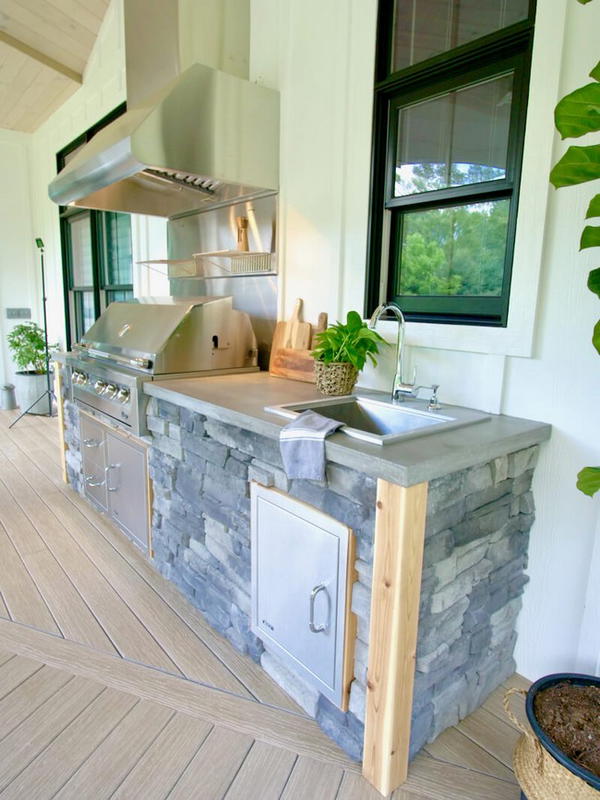 Are you looking for an outdoor kitchen plan? If so, it's not a surprise because the outdoor kitchen is very popular nowadays. More and more people, who have their own homes, build this type of kitchen area to get the best outdoor barbeque results ever. Build a beautiful and modern style outdoor kitchen efficiently by following this free plan. You can consider the cedarwood and stone veneer leftover from your collection to make this super stylish and highly productive kitchen. You can also install the sink area in this outdoor kitchen to wash off the dirty dishes. If you also want to include the plumbing services, it's better to install the access panels in cedar frame openings. To give this kitchen a complete look, install the concrete countertops lastly. This modern outdoor wooden kitchen plan is elegant and available with many details.
DIY BBQ Outdoor Kitchen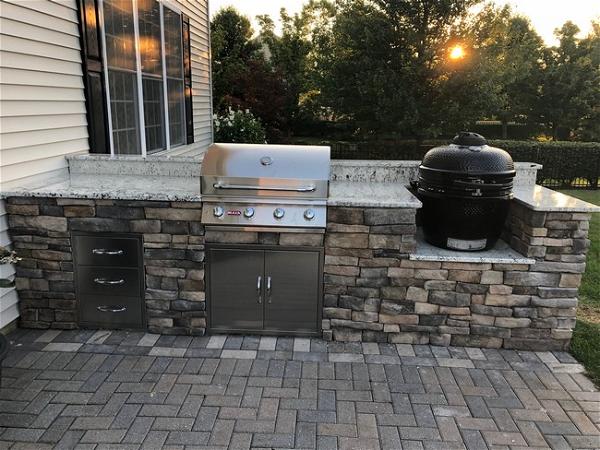 Have you got a backyard? Well, now add the charm of that open-air atmosphere to your backyard with a simple and low-cost DIY Outdoor kitchen. This super brilliant BBQ outdoor kitchen consists of metal grills that are covered by wire mesh railed walls. Making DIY BBQ Outdoor kitchen is easy. You just need to follow some basic steps. Just keep in mind to use stone veneers as a material for the outdoor patio. Stone veneers are rust-resistant even you make basic cemented outdoor grills with a combination of wire mesh. Get all the supplies and get ready to install this beautiful wall grill in your backyard tomorrow! By building a homemade outdoor kitchen, you can add more space under your house so that it will be easier for you to reach your place.
Easy DIY Outdoor Kitchen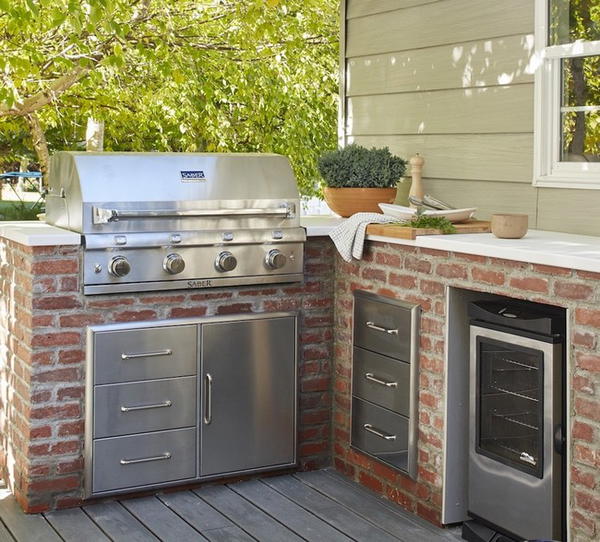 Easy DIY Outdoor Kitchen that is super productive for Do-It-Yourself lovers. Even you can have an adorable kitchen outdoors at a decent price if you follow the plan for grills and stoves. Distribute each grill or stove panel separately. Use lumber boards of outdoor framing for grills and stoves. A cement in brick veneer is useful in a tile countertop while using pressure-treat lumber in the panels and racks. Building this DIY outdoor kitchen is straightforward, but you have to ensure that all the instructions are followed. Use wood cutting and assembling tools for the construction process so that you will finish it within a few hours and the durability of this kitchen is ensured. The outdoor kitchen should be made up of weatherproof and long-lasting materials.
DIY Outdoor Grill Station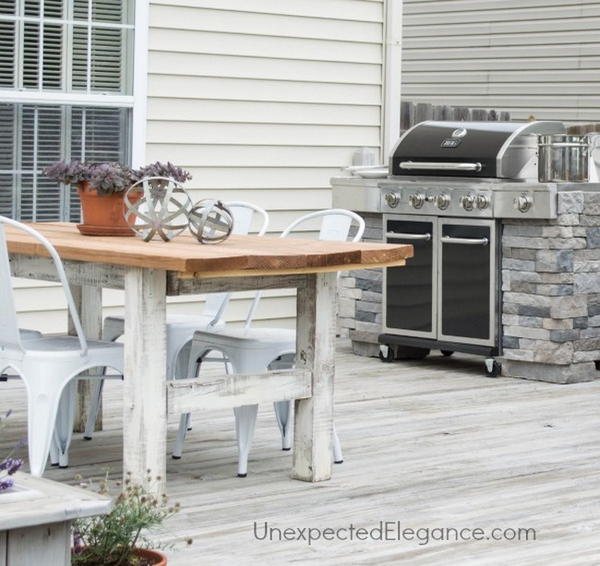 If you love to cook in your backyard then creating a DIY Outdoor Grill Station is necessary. This is a great way to get get the most out of summer and the chance to really catch up with the family and friends. The best part is that this project will cost you less than $150. Besides, it's designed to provide a strong, warm, and elegant look in your backyard. It can be an attractive feature of your home too. Making an outdoor grill station isn't challenging. All you need to do is get the tools easily and follow the steps. It isn't hard to make an outdoor grill station in your leisure time. It just needs time, energy, money, and the right tools to build one. Consider all the details mentioned here; then your work will be smoother and easier. Good luck!
Outdoor Kitchen On Deck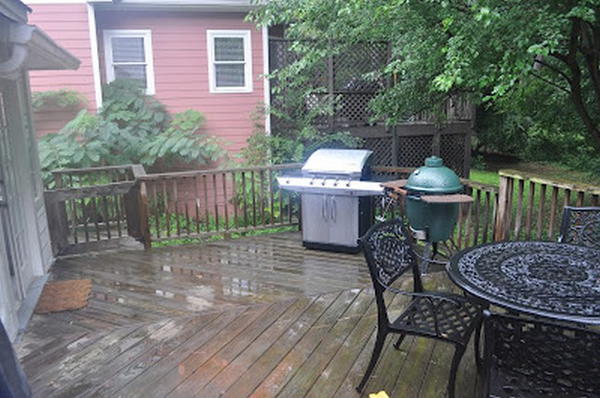 The outdoor kitchen can be a perfect addition to your deck area. Outdoors is always the best place to enjoy the fresh air and spend great moments with your family. To make it more outstanding, you can add a kitchen to create a different atmosphere with proper furniture and equipment. It's not that simple to build an outdoor kitchen; therefore, you should read carefully this article to get more understanding of how to build this kitchen. The presence of this kitchen will give more functions to your deck as well. So, if you are just getting started with your outdoor kitchen design, you have to choose the right plan. If you want one that is simple but gives a professional look, this outdoor kitchen on deck might be the right choice.
Simple Outdoor Kitchen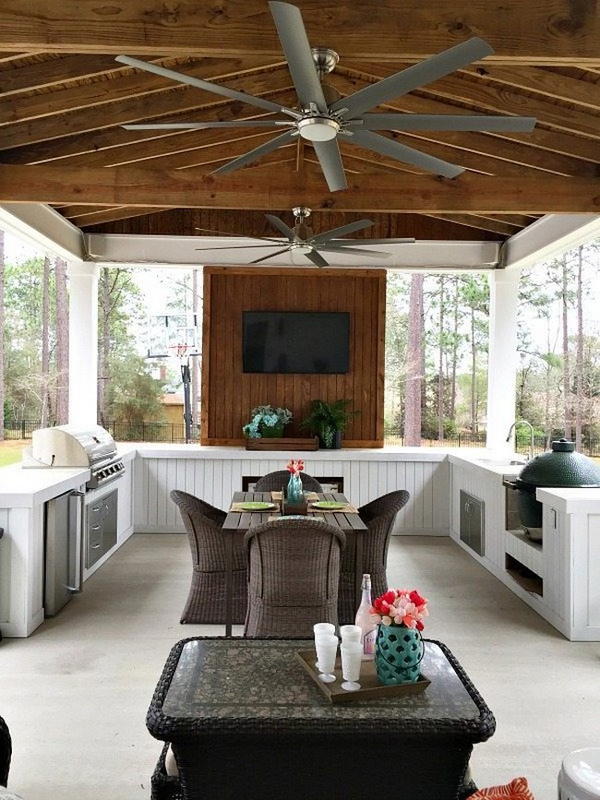 Tired of your old kitchen? Do you want a change? You can construct a new outdoor kitchen in the backyard of your home. Don't underestimate the importance of a well-equipped kitchen. An outdoor kitchen provides you with excellent options to spend quality time with family and friends. So, enjoy this holiday season with fun and delicious BBQ parties in your very own backyard. Start with a bit of framework, add walls and shelving, then lay down the perfect countertop. A free idea template makes it easy to replicate this kitchen at home. These not only make your outdoor living space beautiful but also increase the value of your home. So, if you are looking to add some extra aesthetic in your backyard or want to make the space easy to use, then you can use these ideas to get the desired results.
DIY Outdoor Kitchen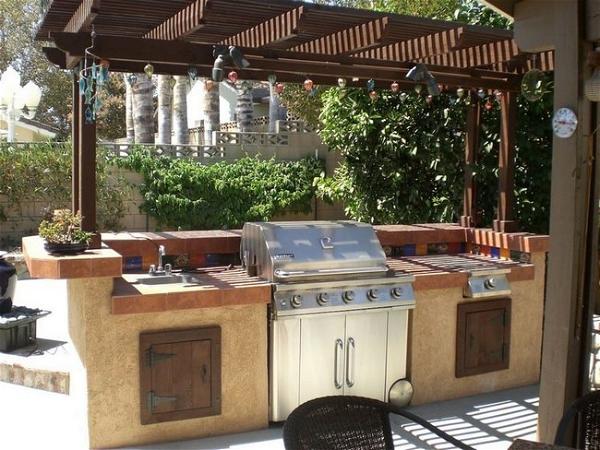 Are you looking to boost your outdoor space? Transform your yard with the addition of an outdoor kitchen. Customize your design, from the location and size down to the layout and finishings. If you can build something with concrete, gravel, copper pipes, and wood boards, then a DIY outdoor kitchen is within reach. You don't have to be a master carpenter to create a cook center, as there are various hardware stores that can supply a variety of pre-made cabinets and stone counters. The products available in any store will make the job easier for anyone. With just basic carpentry skills, you can create a gorgeous outdoor kitchen. Building your own outdoor kitchen can be a fun project. You will need to be prepared to spend some time on it, and the summer is the perfect time to get started.
Portable Outdoor Kitchen / DIY Traeger Outdoor Kitchen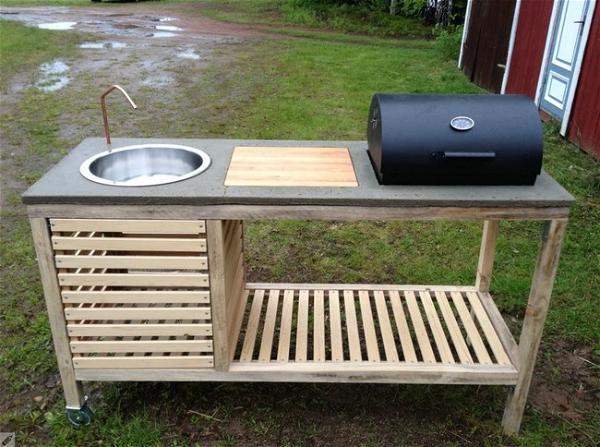 Building the portable outdoor kitchen OR DIY Traeger outdoor kitchen is super easy, inexpensive, and quick. The portable outdoor kitchen or DIY Traeger outdoor kitchen is easy to build and inexpensive as you see in this plan. Just by looking at the picture, you can build a great quality outdoor kitchen safely and easily using wood from your local home improvement store. It is quite cute, so you can make it warm and comfortable with a wooden shelf of your own choice. The wheels on the ends of the portable kitchen will be useful for moving it after cooking. You can also add a BBQ panel and sink for your convenient cooking. Then, you can add a concrete top for comfort.  With these plans, it is easy to make a portable or stationary kitchen for grilling needs. When you leave it outside, it will last for many years.
Make An Outdoor Kitchen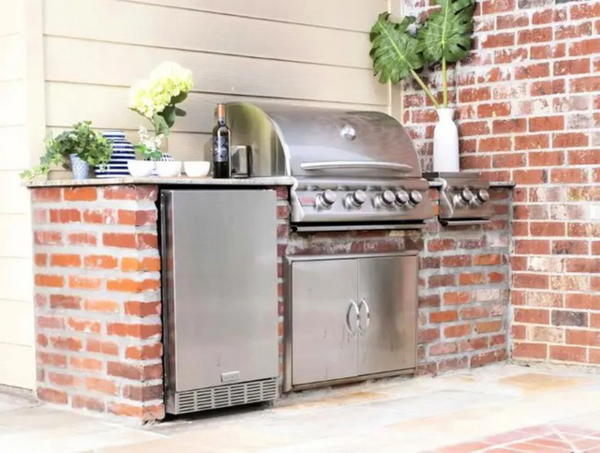 Create an easy and super attractive outdoor kitchen with the construction leftovers such as bricks, cement, gravel, marble, granite countertop, and tools for molding and pouring concrete. This plan focuses on a cooking area instead of a sink area. But if you have larger space then add a sink area to wash off the dishes. One of the greatest things about having your own outdoor kitchen is that you can make it how you want it. This DIY tutorial will give you tips on how to use some material you may already have laying around to create your perfect outdoor entertainment area - without breaking the bank. Build this outdoor kitchen in your backyard without spending too much capital. This plan will help you to make an outdoor cooking center, much like a traditional indoor kitchen.
Low-Cost Outdoor Kitchen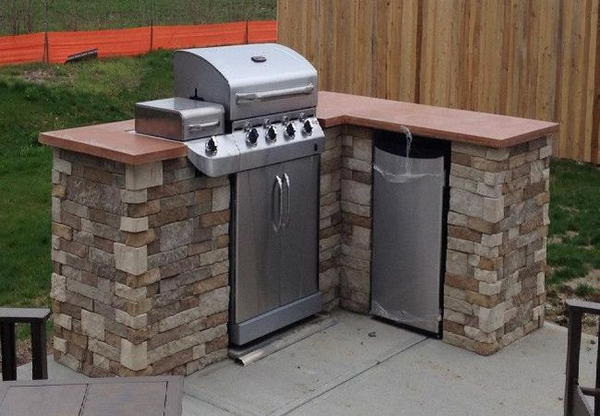 Lumber, cement, and stone veneers are the most suitable and affordable options for building an inexpensive DIY outdoor kitchen. This kitchen plan is not only budget-friendly, but you can also customize it in less time and effort according to your needs. If you keep this outdoor kitchen more affordable, use plywood for side framing. Use power drill, screws, and adhesive for assembling the boards and brick veneers on the base frame of the kitchen. You may want to spend more money, time, and effort to build a full-size outdoor kitchen in your backyard. But instead of hustle, you can try building this simple outdoor kitchen in less time than serves as your family hub for an inexpensive, easy and efficient cooking experience.
Palapa Tiki Hut With Outdoor Kitchen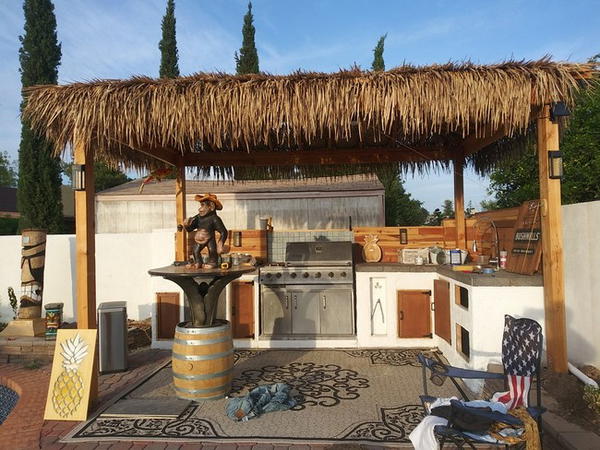 If you want to make yourself feel better, take a breath and give some plans to your skills in making Palapa Tiki Hut With Outdoor Kitchen. This DIY project requires a basic plan, measuring tape, a router with various bits, two rubber mallets, and a lot of patience. Get the instructions for building this palapa hut with an outdoor kitchen here. This outdoor kitchen DIY project is ideal for backyard patios, terraces, and screened porches. It is particularly for you if you have kids or spend a lot of time with them around your household. You can consider this DIY project as an adventure for, you and your kids.
Wooden Outdoor Kitchen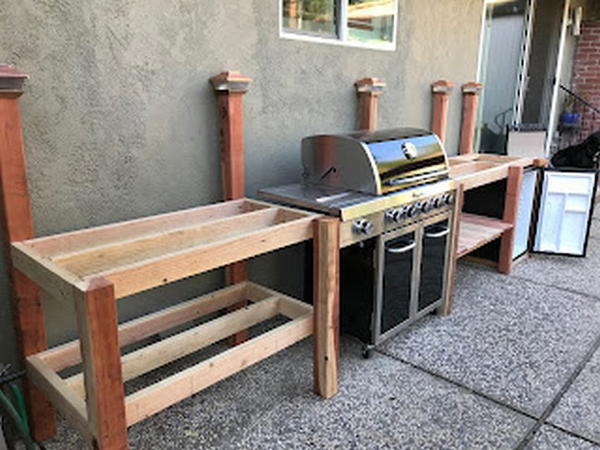 If you want a quick and easy to make an outdoor kitchen, wood will be the best supply for this project. For this kitchen, the whole thing is an appropriate plan and design. Cut and customize the wooden frames for basing side paneling and vertical support dowels. Once you have done cutting the boards with screws, install the cooking station. If you are higher on budget, install the countertops. However, the addition of countertops is not essential. It's made with wood, and the plans are complete and easy to follow. If you're up for the challenge, you can even add countertops!
Homemade Outdoor Kitchen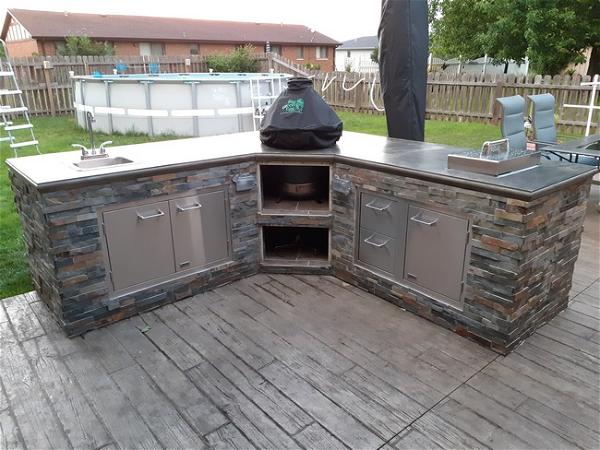 If you are looking for complete perfection and need to customize your kitchen according to your own requirement and space availability, then homemade outdoor kitchens are the answer. Creating your own outdoor kitchen can be a fabulous way to save more money while matching the outdoor décor of your house. While professionally installed outdoor kitchens can get expensive, you can create your own DIY outdoor kitchen for less. To save on cost and to customize the layout of your space, we recommend using metal grills, plywood framing, and concrete countertops for your kitchen. To add more functionality to your design, try adding a sink and bottom panels to make cleanup easier. In addition, you can go for the DIY outdoor kitchen which can be built from scratch. It will let you save money as well as you can build it with your own hands.
Cinder Block Outdoor Kitchen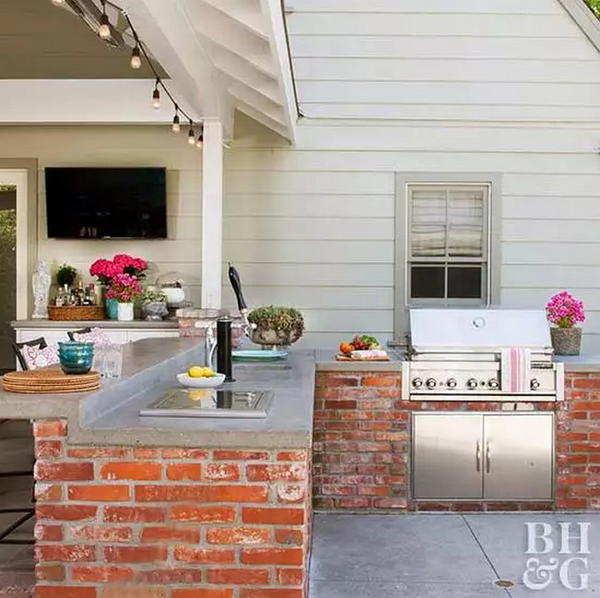 The DIY cinder block outdoor kitchen is a convenient cooking setup with storage for all the food ingredients. It is made from cinder blocks and bricks, plywood boards and tiles, slabs, backer boards, mortar, grout, and steel frame to support the frame and sturdy the entire setup. Creating a kitchen of your own needs extra planning and calculation. If you are planning to do it on your own then take the help of professional carpenters who will assist you in cutting the concrete blocks by keeping in mind their measurements.
Create your own space to gather and mingle while enjoying the great outdoors. This project is relatively simple with cinder blocks, thin mortar, backer boards, screws, plywood, and concrete patio tiles. You don't need any special tools or lots of money. The assembly process is pretty straightforward. It can be completed by a single person in under a week's time.
DIY Wood Outdoor Kitchen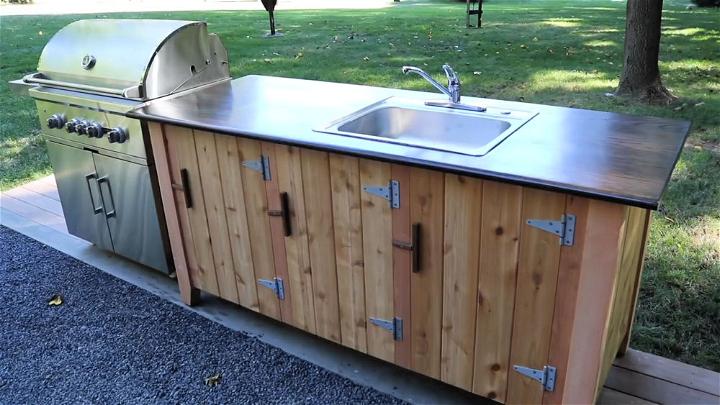 Keep your cooking and cleaning organized with your own DIY outdoor kitchen. With a compact and cozy design, this kitchen is ideal for smaller backyards. Heavy-duty steel hinges and screws ensure the longevity of the wooden cabinetry, while the black stone countertop brings a touch of luxury to the space. Plus, it has room for a double sink and all of your essential cooking appliances, including a trash compactor. This easy DIY outdoor kitchen idea will be inspired you to build your own outdoor kitchen. You can install just one cabinet and add simple appliances, or you can install multiple cabinets and extra appliances with proper placement to make a beautiful outdoor kitchen area.
DIY Outdoor Kitchen Island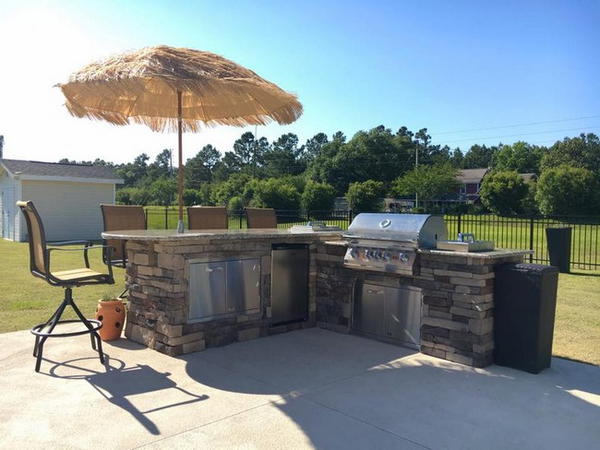 What could be better than cooking and gathering in the fresh air? A great way to make outdoor parties a success is to set up an outdoor kitchen. Build a versatile DIY outdoor kitchen island for cooking in the fresh air. For making this custom kitchen, steel grills, cement boards, and granite countertops are used. A great project for outdoor chefs! Enjoy cooking in the fresh air with this beautiful DIY Outdoor Kitchen Island. A steel grill is a great place for cooking during the summer, and in colder months, use the granite countertop to prepare food and even store your own personal smoker. This DIY outdoor kitchen island has it all: a grill, a drink station, and even a mini-fridge. The cement board and granite countertop ensure that this piece will stand the test of time.
Easy To Make Outdoor Kitchen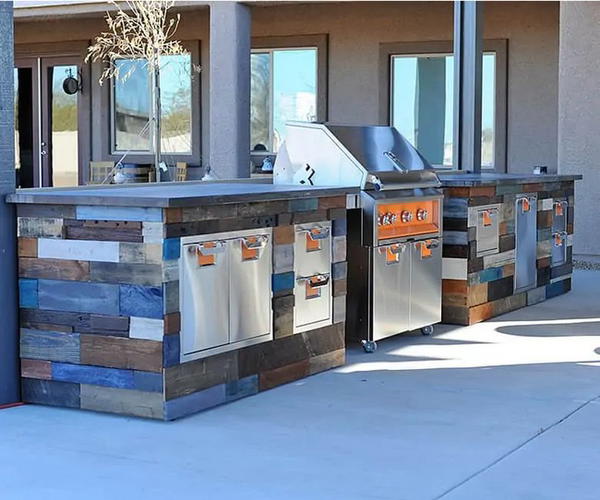 Make your outdoor kitchen easy by installing new granite kitchen cabinets. These cabinets even come with everything you need for the installation. This can be done to a pre-existing frame outdoors which already has four holes in it from mounting the frame to something else. This outdoor DIY kitchen project can be done in one day and it is much easier than you think. What you need is only a creative mind to bring your ideas into reality. The first thing that you have to do is build the frame out of bricks. Then cover this frame with granite kitchen cabinets and apply adhesive on their back for a solid connection with bricks. After that, start to decorate your outdoor kitchen with some attractive furniture like the table and chairs set, grill, drink corners, etc.
Build An Outdoor Kitchen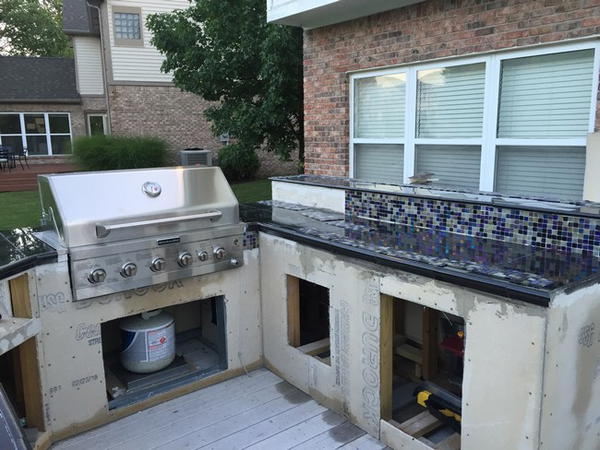 Imagine having a barbecue party in this beautiful outdoor kitchen! It is really easy to make the outdoor kitchen with the provided materials. You can DIY this super luxurious and comfortable kitchen with wooden bars for framing, Durock sheets, steel grill, cement boards, grey paint for finishing. Additionally, use the black tiles for creating the patterned countertops. You are all set to grill and cook after painting the grilling area with grey paint. This summer your best memories with friends and family will be done thanks to your DIY kitchen at a very balanced cost! You can also get inspired by the pre-made plans of this DIY kitchen. Bring on the summer and make those perfect moments with your family, friends, a cold drink in one hand, while grilling the night's dinner. This outdoor kitchen setup will last you a lifetime if built properly with the correct materials.
Outdoor Kitchen With Rumblestone
Make your outdoor living space more attractive with this outdoor kitchen design. You can build your own outdoor kitchen using tumble stones by following these instructions and you can save a considerable amount. Tumble stones, unlike cemented bricks, are very affordable and durable. You only need to place the stones on a concrete base and seal them with the marine varnish to finish this DIY project. This natural tumble stone kitchen plan uses tumble stones as the countertop, and it doesn't include the sink. It is built outside on a concrete slab. The base cabinets are made using cedarwood and made to complement the dimensions of this kitchen plan.
Customizable Outdoor Kitchen
Create a beautiful and highly durable outdoor kitchen with our step-by-step guide. Using wooden frames, larger black brick with veneer, stove appliances, and material for installing the sink, you can have the outdoor kitchen you've always dreamed of. A gorgeous and highly durable outdoor kitchen is just a few steps away. With the modular outdoor kitchen pieces, you can create your favorite layout with a sturdy granite countertop surface. The wood frame series are is designed to endure the outdoor elements and still look great over time. Each unit comes with the necessary hardware for installing each individual-use piece, along with an easy tutorial.
See Other Projects