Games bring people together. And chess is a fun, challenging game with a whole cadre of followers. While you can buy all kinds of chess boards and sets, if you have DIY skills and access to some basic tools, it's easy to make your own custom chessboard and set. And once you get the hang of it, you can branch out into more advanced designs. Chess is a game played worldwide, but did you know that most people made their own chess sets before mass-produced? If you have solid DIY skills, you can make your own chessboard and set of pieces; however, it can be difficult to construct traditional pieces from scratch. These 23 DIY chess board plans solve that problem by providing an easy starting point for any beginner. Start with these simple designs, and add your own personal touches if you want to kick it up.
DIY Chess Board Plans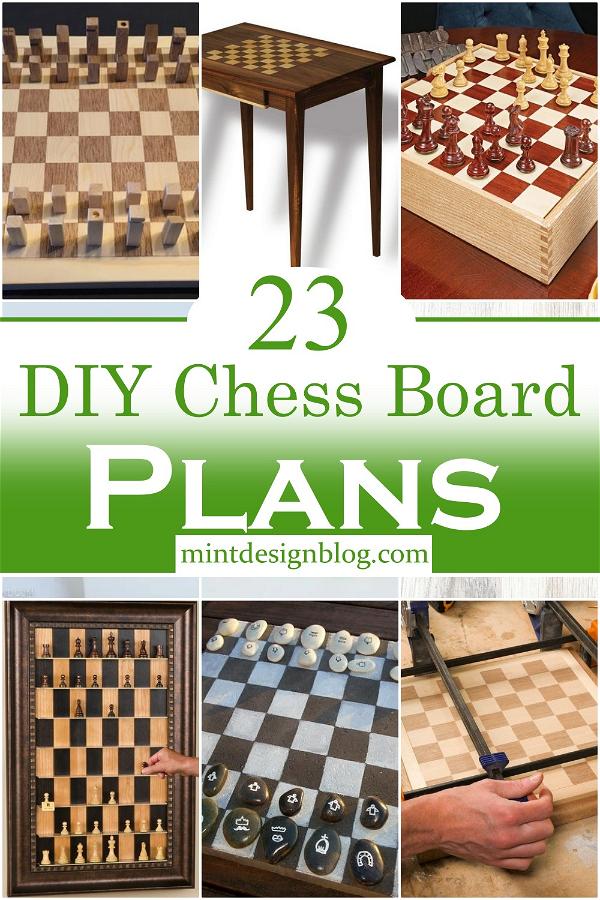 Chess is one of the oldest games in the world. Chess sets have been made from almost every material imaginable, and there's no reason why you can't start making your own chess set today! These DIY Chess Board Plans will show you how to make a chessboard from scratch or how to use a pre-made chessboard and customize it with paint and embellishments. We can say Chess is one of the oldest and most popular strategy games of all time. Assembling and playing games on your own chess board can be a fun craft project for you or a great activity for you to do with your children. However, creating a chessboard from scratch is more involved than other projects.
You can choose any of these 23 DIY Chess Board Plans to suit your taste and skills. Scroll down to find the perfect board for your chess game.
Outdoor Chess Board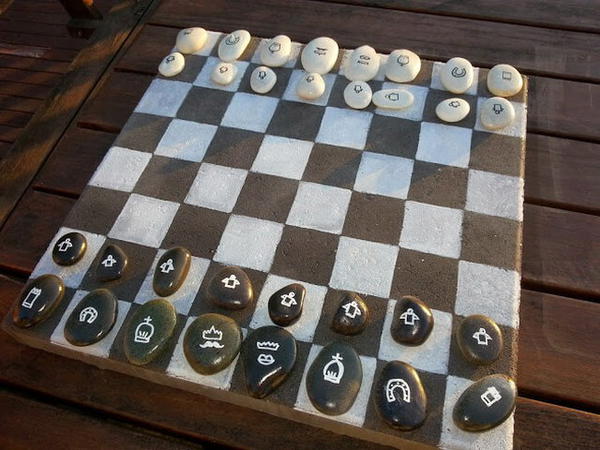 Chess is a fun and challenging game that can challenge you to use your brain to make the right moves. A simple way of making your own professional-looking chess board is by using a paver block, which comes in a variety of different shapes and sizes. This board can be placed outside on a porch or patio. To make it last longer, you can spray it with exterior paint. This outdoor chess board is simple to make at home. The materials are inexpensive and easily available and the whole project is a great family activity that only takes a couple of hours to complete. This is how you can make an outdoor chessboard. It is easy and great to have in the garden or for a party like a barbeque. All you need are the materials that are listed, a ruler, and some measurements.
DIY Chess Board for Kids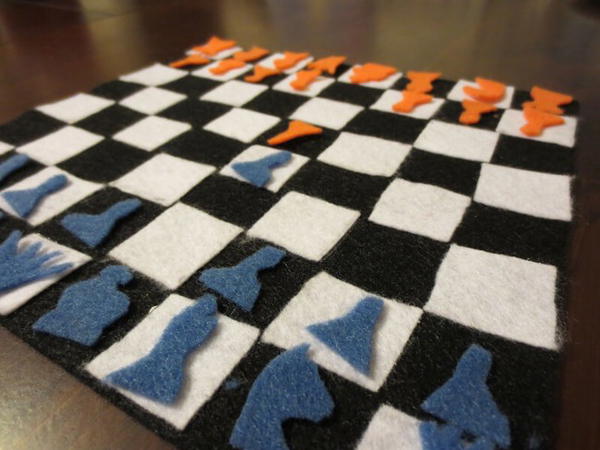 If chess is your child's favorite game and they are ready to take it to the next level, then why not create a board for them at home? This is a fun activity that you can use to teach them how the game works. Whether you have a chess lover in your life, this DIY Mini Chess Board is a great idea for you. With a pencil, ruler, wood board, cardboard, and some decorative tools of your choice, you can make this incredible gift. Paint the board with two colors and cut the cardboard separating the slots and add further decorations that you desire. This DIY Chess Board is a simple, yet a rewarding activity that will make your kids feel like professional artists. With a little bit of creativity, and some foam or cardboard, you can help your children create the perfect board game for their next playdate.
Wood Carvers DIY Chess Board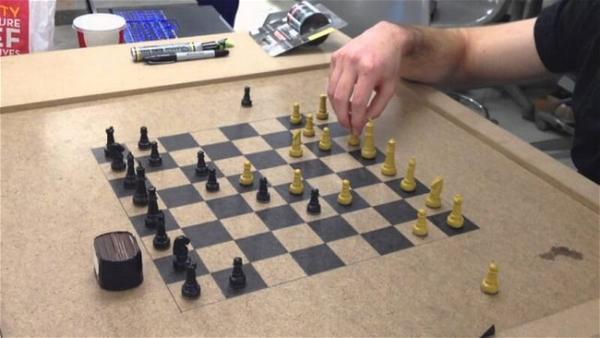 The DIY Chess Board is a great way to create a handmade gift. Whether you are a skilled woodworker or just beginning, the steps in this project will help you build confidence and learn how to tackle a new project. All you'll need is a table saw, mitre saw nail gun and router. Cut the board into strips using your table saw, cut the pieces using a mitre saw, and glue the strips together. Then sand the whole board to create a smooth surface to play on that won't scratch your pieces. Finish the board by cutting out uneven edges and assembling all panels with glue to create a unified chessboard. The chessboard is one of the most popular wooden craft projects. It can be used as a centrepiece in your home, at a party, or just for fun.
Elegant but Simple DIY Chess Board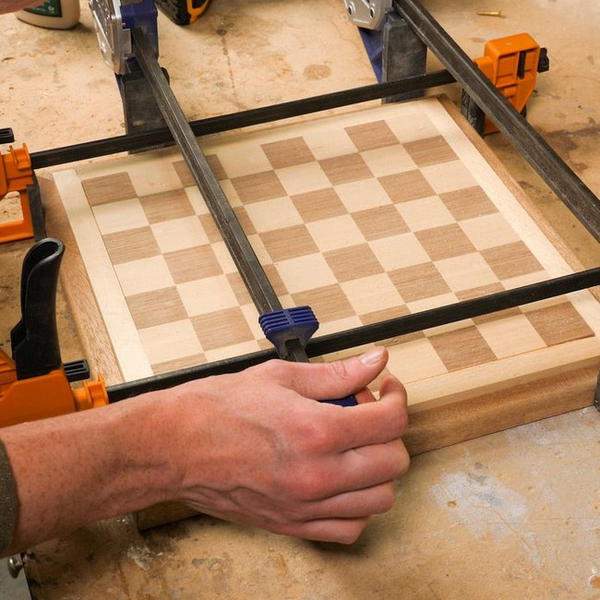 The elegant chessboard, like something you'd see at a store for a high price, is misleading because it's actually easy to make. This chessboard may be simple, but it's anything but ordinary. This project is easy enough for anyone with even basic DIY skills, but the end result is so high-end looking that people will think you purchased it from an expensive store. With a design that lets you customize the size of the board and the types of wood you use, this chess set will become a focal point in any room. Build your very own classic wooden chess board to challenge your friends! This simple project looks beautiful and isn't nearly as hard as you might think, thanks to some clever tricks. With just a few tools and materials, you can build this fun and useful game to really test your opponents' skills.
Easy DIY Chess Board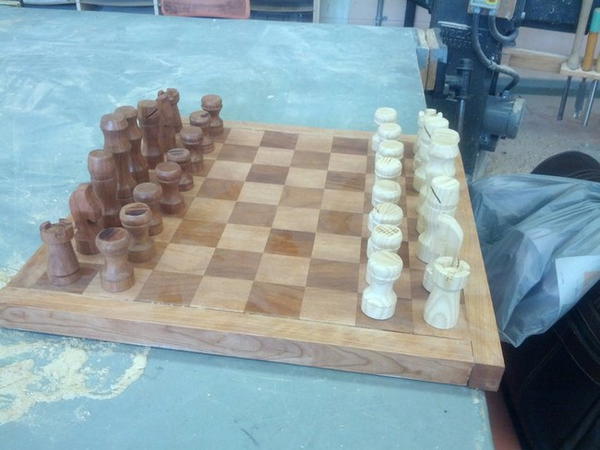 This DIY project is a perfect introduction to woodworking. The player or piece tray is made from plywood. Build the chessboard of two contrasting hardwoods. Then set out to build the chess pieces. You can modify their size or design based on your skill level, but be sure to take advantage of the diagrams and plans included in this tutorial. This project is great for any chess fan looking for a weekend project. You'll need a few power tools for this build, including a circular saw and jigsaw, plus some intermediate-level DIY skills. In the end, you'll have a finished chessboard that looks great on any tablescape while also doubling as a storage box to keep all of your wood chess pieces contained
Classic Chess Board Plans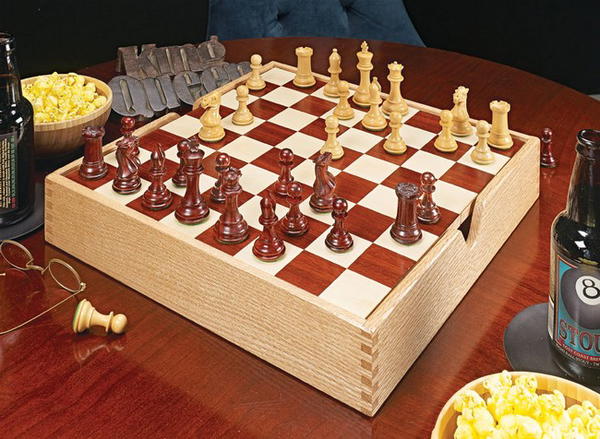 This wooden chess set is beautiful enough to be a coffee table centrepiece if you need the space. Build a classic chessboard with a beautiful inlaid top and a convenient storage compartment for your chess pieces. You'll learn advanced woodworking techniques, including dovetailing and inlay, as you construct this elegant version of a classic board game. These classic chess board plans will walk you through the process of building a sophisticated-looking chessboard with built-in storage for all of the pieces. It's an advanced build that uses techniques such as dovetailing to join the pieces together, so if you're still rather new to woodworking it might be a tough project to tackle, but an experienced woodworker should be able to put it together easily. It's a difficult build, but this unique design will make sure your guests always remember the time they saw chess on your coffee table.
Vertical Wall-Mounted Chess Board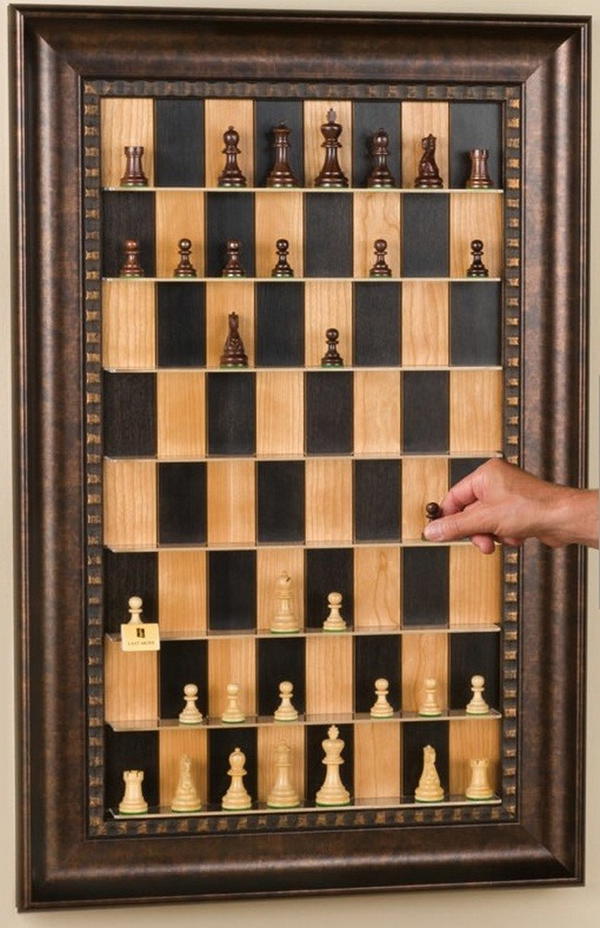 Looking for something a bit more eye-catching than a standard chessboard? This Vertical Wall-Mounted Chess Board is really wall-mounted playable art. Great conversation starter that can easily become a friendly game of chess whenever someone notices it. Since the pieces can stand on each square, there's no need for extra storage compartments. Ready to hang and includes everything needed to play.
With an engraved map of the United States and a field of lively, hand-painted pieces, this vertical wall-mounted chess set is really playable art. It's a great conversation starter that's perfect for your home or office. Since this board has no extra storage compartments for pieces, it can be easily hung to display as either a wall hanging or mounted piece.
Chess Table Plan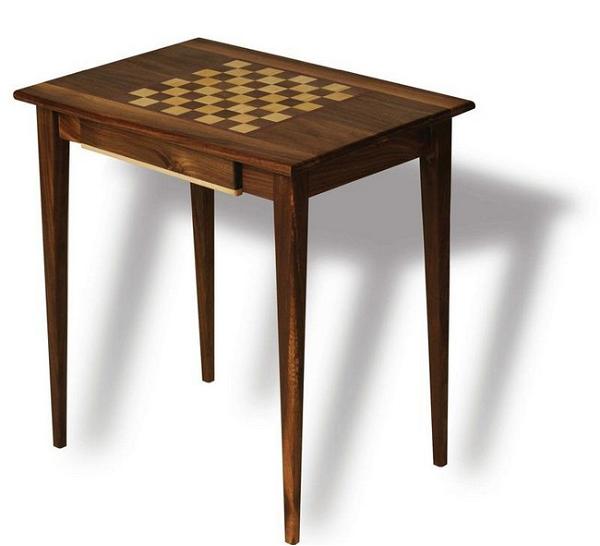 This chess table is built right into the table, and there's even a drawer for holding the pieces in case you have a cat that might knock them off the top. Some people live to play golf, others love to knit. If you're the kind of person who can never get enough chess, then why not build a table expressly for your favorite game? This handsome, super-sturdy table will be a focal point in your living room. This chess table is designed so that the chessboard is built right into the tabletop. It's made of solid oak and can sit in your living room for general use. It has a drawer for holding the chess pieces.
Simple Chess and Checkers Board Plan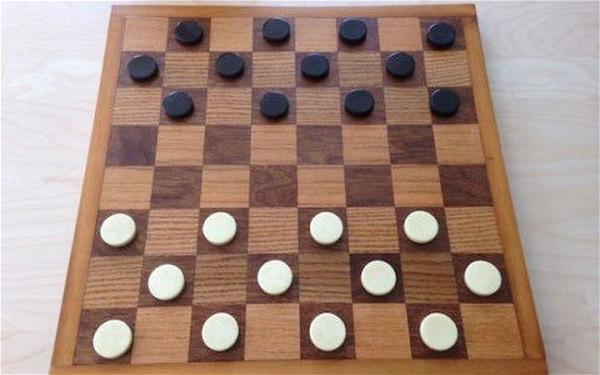 This simple project is great for people who don't need a complicated chessboard but still want their game board to look amazing. It will only take a few hours, not including drying time for the glue. This simple chess and checkers board can be built using a table saw and lathe, but you can get the same results with a band saw, drill press, and router table. It's perfect for someone that's just getting started in the craft.
Build a basic chessboard with only a few pieces of wood. This can be educational and great fun for the whole family. If you love to play chess, you're going to love how easy it is to build this simple chessboard. You can customize it by changing which side is dark and which side is light or where the checker squares are on the board. It's your board, make it how you want!!
Build A Chess Set From Wood
Chess can get really competitive, there's nothing like a good round of chess to make you feel like you're going to be a genius no matter what you end up doing. This project is great for smaller children or people who are just getting into the world of wood. Not every person is ready to take on projects involving cutting, so if you're someone who wants to save time and money this project is for you.
This is a very simple, yet good-looking chessboard that can be made in just a few hours of time. The maker of this chessboard also made simple wooden chess pieces out of the same wood used for the board. You can take some inspiration from these chess pieces to help make some for your DIY chessboard.
End Grain Chess Board Plan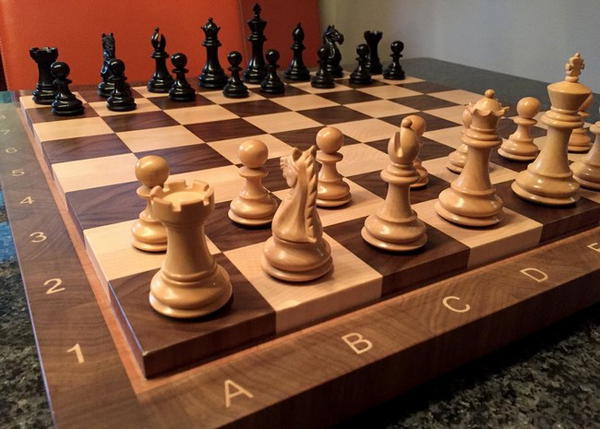 If you love chess and want to add a bit of art to your game, consider this end grain chess board plan. This gorgeous game board is crafted out of wood, meaning it's as durable as it is attractive. And if you work carefully, you can complete this project without mistakes. A beautiful chessboard to feature in your home or office made from poplar and maple hardwoods. This stunning solid wood chessboard is chic and simple, featuring end grain wood patterns and two edge stripes. The board is finished with organic mineral oil and beeswax for a smooth, luxurious finish that preserves its natural quality. Woodworkers who take on this project won't regret it when they see the final product, but those who don't have that kind of time might want to look elsewhere before beginning.
 3D Chess Board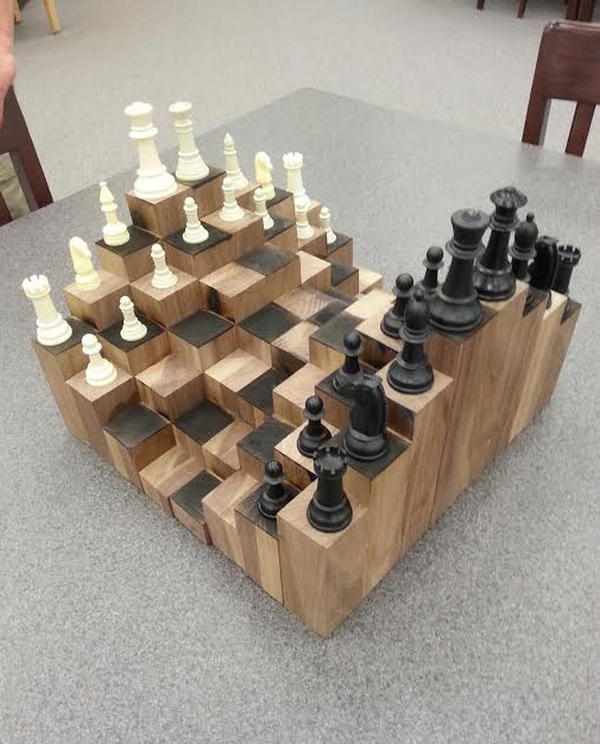 Raise the stakes with this 3D wooden chess set. With each block of wood at a different height and angled to create an interesting dome shape, this fresh take on an ancient game is sure to be a conversation starter. This chess set is unique as it utilizes a multi-level approach to take this classic game to the next level. With several pieces of walnut wood, you can build your own 3D chess board in less than a week. With its unique design, this appealing game is a great way to test your skills at chess. The great wooden craft that is also a fun way to test your chess playing skills. This board is made of walnut with square pieces finished in a variety of colors for an artistic effect that also makes moving your pieces easier.
DIY Chess Board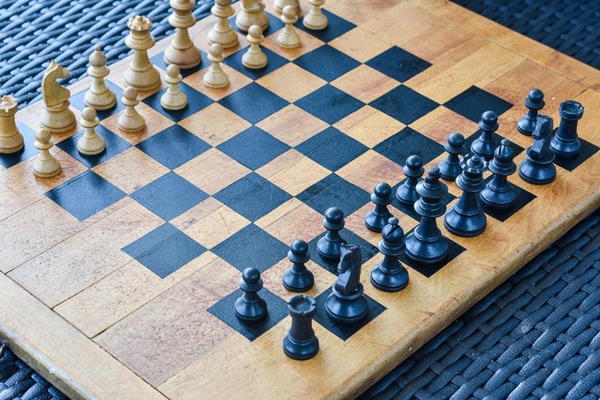 Looking for a board game to play with your family? Want to use your DIY skills to create something that you can enjoy at home or on the go? Then make your own chess set! You can make your own DIY chess board from a thrift shop cutting board. This easy-to-understand tutorial will guide you through the process of creating a personal game board that you and your friends will get years of enjoyment out of. It's sure to become a family heirloom for generations. Making your own DIY chess board from scratch between buying one can be a pretty rewarding and useful experience. Wonderful on its own, even better with the addition of a little DIY, this fun chess set will put a smile on the face of Family Guy fans in your life.
Making a Custom Chess Board & Box
If you have a passion for the old board games then this Chess Board is just right. The table features an inlaid playing board while the chairs have inlays of the game pieces. While not overly complex to make, it does require a lot of time to complete but will leave you with a truly impressive piece of work. Make a gorgeous, professional-looking chess board using maple and walnut veneers. Learn how to measure and cut veneers perfectly with a jigsaw and make amazing designs for the chessboard. You'll also make a box out of red oak to store the pieces in style. By the end, you will have gained experience in woodworking design, wood selection, woodturning, and finishing. Challenge your friends to a game of chess with a custom set that you've made!
Building Custom Chess Board
The board is a mandatory component of sports competitions in chess and draughts. Its width and height, measured in squares, will determine the playing area you can use to move your pieces according to the rules of the game. Build a custom chessboard with a removable grid, solid wood frame, and glass playing surface. Make the most elegant chessboard display in your home and impress your friends while you play!
Having a board custom-made for you can be a rewarding experience. Choose your favorite wood type and your background color, and add unique details to make your chessboard look one of a kind. Building a custom chessboard is a fun and rewarding experience. They make great gifts, they're great to play with, and they look good hanging on the wall of your home. Custom chess boards are great to give as a gift, as décor in your home, or as an exciting hobby.
Solid Wood Chess-board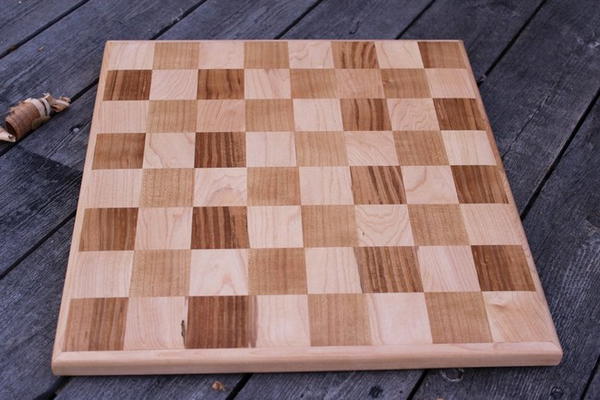 This beautiful chess set is handcrafted from solid wood, creating a stunning presentation that you'll love for years to come. This solid-wood chess board is a great way to play and display your high-quality chess pieces. The board is made of real veneer wood and comes with a slight gloss finish that really shows off the distinctive grain of the rosewood and maple. It features an attractive black border, and alternating wooden squares in each corner, with a light natural wood color on one side, and dark walnut color on the other. This elegant chess set makes a great choice as a gift or addition to your collection of home décor.
DIY Chess Board And Checkers Set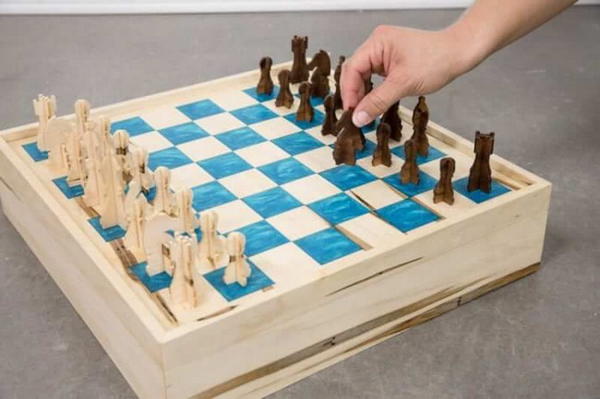 Are you an arts and crafts lover? If yes, the DIY Chess Board And Checkers Set are tailor-made for you. It includes everything you will require to make your first chessboard. You can use your creativity and imagination to make this wooden game board and checkers. Making this chessboard will stretch your woodworking skills. It involves making a routed frame, routing the grid, attaching felt pieces to divide the squares, applying an epoxy finish, and decorating the board with decorative elements of your preference. Create a beautiful chessboard and checkers set in your own home with recycled pallet boards. This project is easy to complete and can be finished in only a few hours. Before you begin, take care to sand the boards and seal them with a protective finish of your choice. The result will be a treasured heirloom you can pass on to your children.
DIY Chess Board With Rice
Got a bunch of rice? Then you've got all you need to create a chessboard! All you have to do is get some of your chess pieces, cut out the shapes of a chessboard, and then try and fill in the shapes with rice. Of course, it's not that simple. But with a bit of work and imagination, it can be done and look great when finished. You can create your DIY chessboard with rice. This process requires you to start by doing some calculations. The calculations are to determine the quantity of rice that you need for the board. Nowadays, people usually buy chess boards from stores. But this DIY chess board is fun to make and can double as a furniture piece in your house.
Advanced DIY Chess Board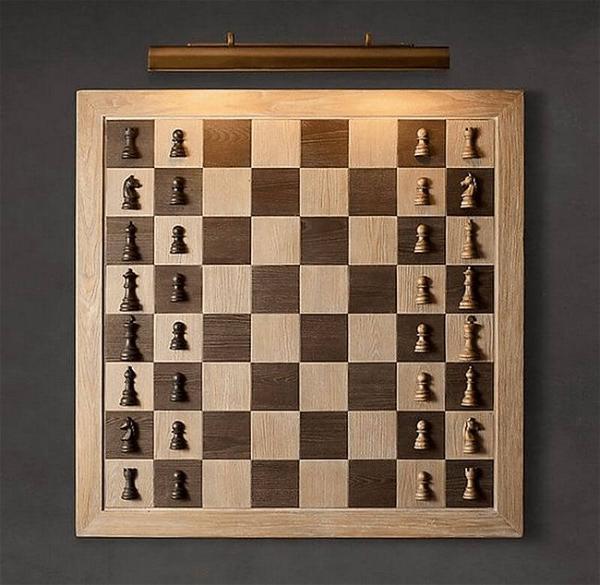 Are you looking for a new board game to play with your friends? Try building a hanging chessboard that takes less space than the traditional flat board. If you have all the tools and supplies, it only takes an afternoon to build this wall-hanging board game. Play chess with family and friends while the board is up on a wall. Hang the wooden game board in the style you choose using pieces of wood, crown molding, stain, polyurethane, paint, painter's tape, wood glue, cylindrical dowels, rubber bands, square dowels, and more. One advantage of this type of board is it takes less space to hang it on the wall and play with friends. Try something different today by building this gaming board. With this advanced DIY chessboard, you can use pieces of wood to create a hanging board and have your game up on the wall, ready for play.
Vertical DIY Chess Board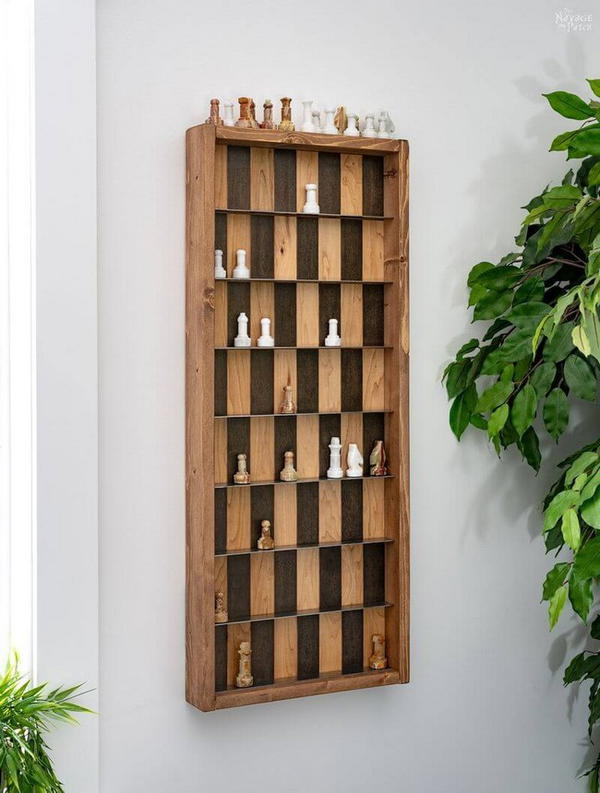 In this DIY chessboard, you will take vertical to the next level. Learn how to build your own custom wooden chessboard with a vertical frame in just a few weeks. The vertical DIY chess board is great for anyone who loves the game and wants to display it as an art piece. You'll need some basic construction knowledge and plenty of patience for this project. Still, when you're finished, you'll have your very own professional-looking wooden chessboard that doubles as home decor. Vertical chess boards are becoming more popular because they occupy less space, especially for those with limited home space. However, vertical DIY chess board projects can be a bit challenging if you don't adequately understand the board's pattern or fabricate the parts.
Garden  Chess Board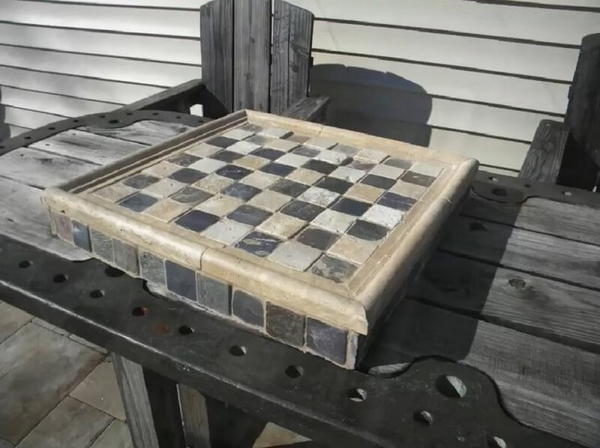 A handcrafted chessboard looks great and is a wonderful challenge to put together. This DIY chessboard made of stone will appeal to any gardener who loves the outdoors. It is durable, easy to clean, and highly functional. Make your own chessboard!! If you know how to play or aspire to learn chess, it can be easier than you think to make this useful game board. You already know the basics of mosaic tiling and will likely be thinking of all the possibilities for color. You will soon be proud to show off your beautiful new DIY inspiration! This DIY chess board is fun and easy to make for both adults and kids. You can find natural and colored mosaic tile, stone, clay, ceramic, and glass at your local craft stores. Use these natural materials to create the board for a handcrafted look.
Thrift Shop Cutting Chess Boards
This DIY cutting board chess board is a good way to start a project that will bring you joy for years. You can use this board at home or in the classroom; either way, your family and friends will have fun playing with it. You'll need a cutting board and chess pieces to create a chessboard. First, prepare the board by sanding it down with an electric sander and applying several coats of paint or stain. Then shape the board to the correct dimensions and cut out squares using your knife. Use painter's tape to create patterns and colors, then spray paint the surface. Let dry, and enjoy! It's easy to find a good, high-quality chessboard at an affordable price. With creativity and basic tools, you can create something unique that will last for years.
Laminated Pine DIY Chess Board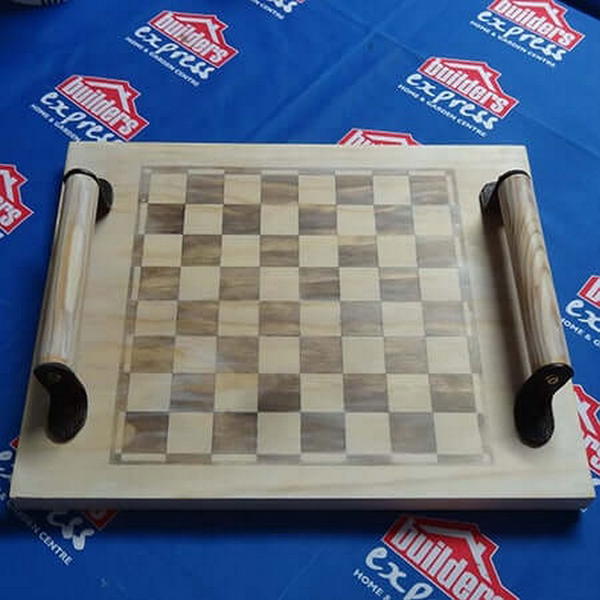 Would you like to build your own handmade wooden chess board? With this DIY kit, you can create a beautiful and unique board that's a great conversation piece and a functional game set. Assemble the laminated pine pieces to create a chessboard. This board is sure to be a fun addition to your household and can be customized. Making your own chess board is a craft project that you can use to pass the time, but it's also a way to personalize your chess set, making it more valuable and meaningful. Creating a chessboard is a great way to introduce yourself to woodworking. In this project, you'll create one from laminated pine and wood stain, allowing you to play this classic board game home with your family and friends.
See Other Projects