When you're a lover of darts, you need a professional setup at home. Dartboard cabinets allow you to keep your darts and accessories neatly in one spot. But actual pro models can get expensive. Luckily, building your own DIY dartboard is possible and a great way to save money. There are plenty of ways to learn how to build dartboard cabinets – even if you don't have much DIY experience. Luckily, these 11 DIY Dartboard Cabinet Plans are relatively easy to build and don't even take many tools. If you have a plan, you should be able to put one of these together with no problem. These DIY dartboard cabinet plans will be great for making some great-looking and functioning cabinets for home decoration and workable.
DIY Dartboard Cabinet Plans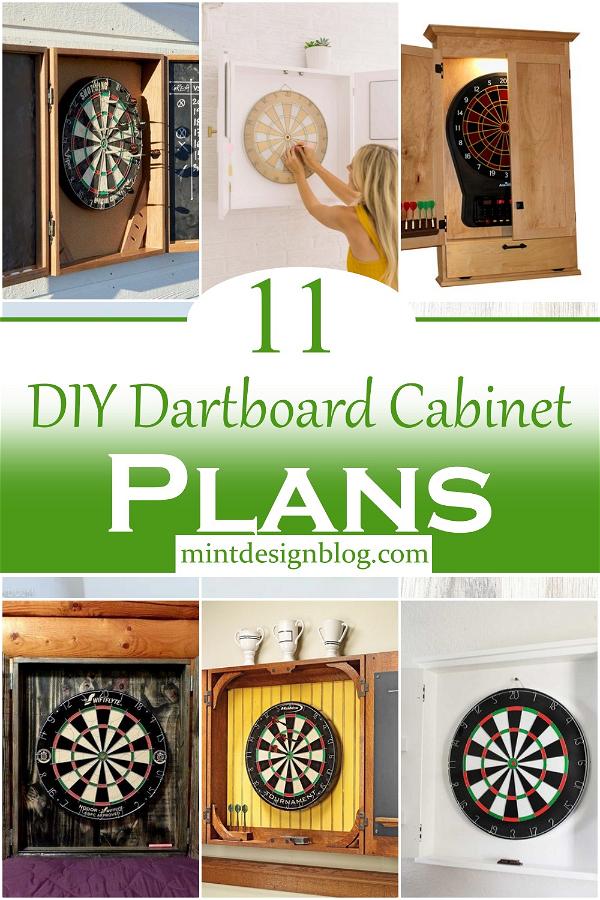 If you love darts and have been playing for a while now, you must know how important it is to have an accurate and safe place for playing. The most common way to ensure that is by making yourself a dartboard cabinet. These 11 DIY Dartboard Cabinet Plans not only to provide a safe haven for your dartboards but also give them protection from dust and other elements. They're also a great way of storing all the accessories and keeping everything organized in one place. Having such a cabinet will surely enhance your game's quality and concentration levels.
If you're looking to add some darts to your life and a dartboard cabinet just doesn't seem appealing, then these 11 DIY dartboard cabinet plans are for you.
How To Make A Dartboard Cabinet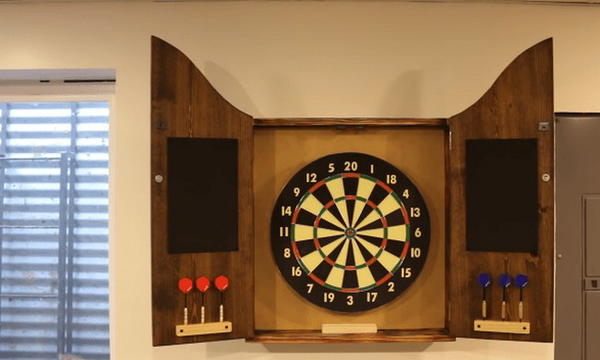 This clear, informative article teaches how to make a dartboard cabinet step-by-step. Read and learn as our expert craftsman shows you how to use a standard circular saw to make a dartboard cabinet using only a few materials. You can find all the necessary materials at your local hardware store or home improvement center. This is a great project for those who want to learn how to make a simple dartboard cabinet using minimal tools. It's perfect for adults and children because anyone can do it, and it keeps them busy for hours. This is a beginner to intermediate-level project. It can be done by anyone and is a great project for adults and children. All you will need is A circular saw, one board of wood of the size you want, two hangers, something heavy for weights, and a dart board.
Modern Dartboard Cabinet
Get your wall ready for a professional-looking dartboard! This modern, DIY dartboard cabinet kit is made with furniture-grade plywood and leaves an end product that appears as if you've hired a pro to make it. Whether you are looking to make a special gift or simply improve the look of your game room, this cabinet kit will more than satisfy your needs. Create the perfect destination for your dartboard with this DIY cabinet. Unleash the inner handyman (or woman!) in yourself and assemble this easy-to-follow kit! The cabinet includes two interior shelves (perfect for storing darts and chalk) and space to attach a dry-erase scoreboard. The custom design of the cabinet coordinates perfectly with our line of modern dartboards and accessories
Wooden Dartboard Case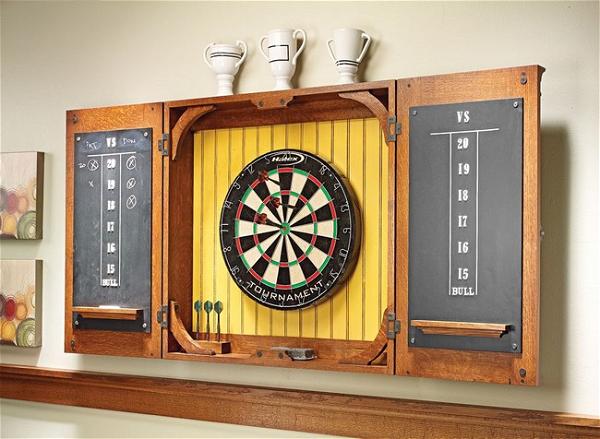 Are you looking for a simple but useful case for your dartboard and accessories? This wooden dartboard case is a great option. This Wooden Dartboard Case is a stylish addition to any game room. Made of solid pine and stained a light, natural color, this case is sturdy and blends beautifully with your other game room décor. It has plenty of room for a standard-sized dartboard, darts, scoring chalk, and other accessories. The drawers are nice, too, as they give you plenty of space to store extra darts. The overall design is minimalist, but it looks very nice in various settings. It is also very durable thanks to the MDF construction, which makes it even more resistant to dents, dings, and scratches.
Chalkboard Case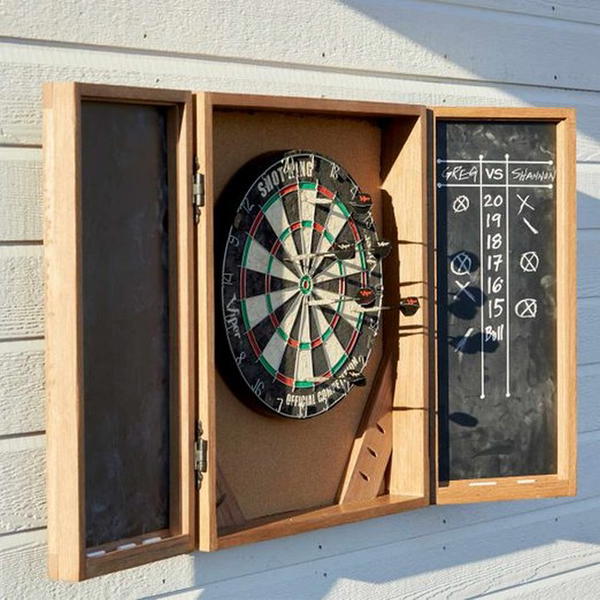 This dartboard cabinet is not only a storage space for your darts and dartboard but also a chalkboard. This case is truly a one-of-a-kind piece. When you first look at it and can't purchase it immediately, we understand––it's a hard pill to swallow! But when you open the box and see it in person, man... You just know it was worth every penny. The chalkboards allow you to easily keep score during games and write anything you want. The small holes for the actual darts are a minimalistic way to handle storage but not necessarily the most stable option if you're constantly on the go or traveling. However, if you have ever tried looking at the scoreboard on a dartboard while focusing on aiming at the board itself, then you understand why this can be helpful.
Simple Dartboard Cabinet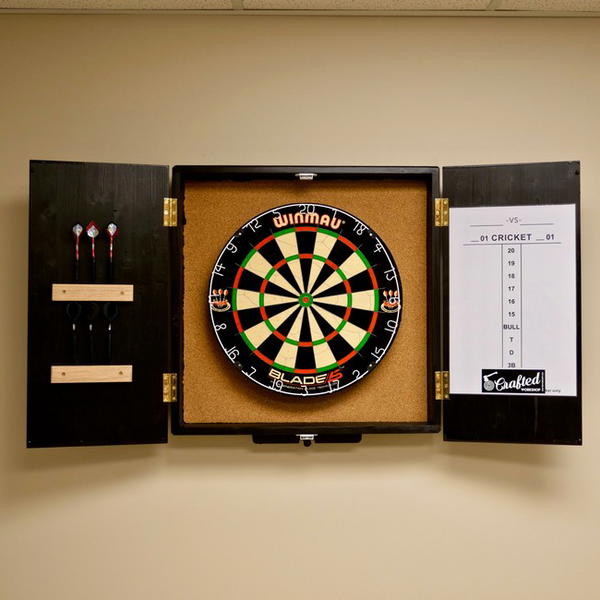 This simple dartboard cabinet is perfect for those who want to save their wall space or just don't want a huge cabinet. With somewhere to store your darts, an area to keep score, and a small shelf on top, it's an affordable option. The ultimate gift for anyone who loves playing darts. This dartboard cabinet is perfect if you just want something that works. It is smaller than many other designs, making it perfect for situations where you need to save your wall space – or when you don't want a vast cabinet hanging on your wall. There is a spot to store your darts and other accessories and a piece of paper to keep score.
Pallet Dart Cabinet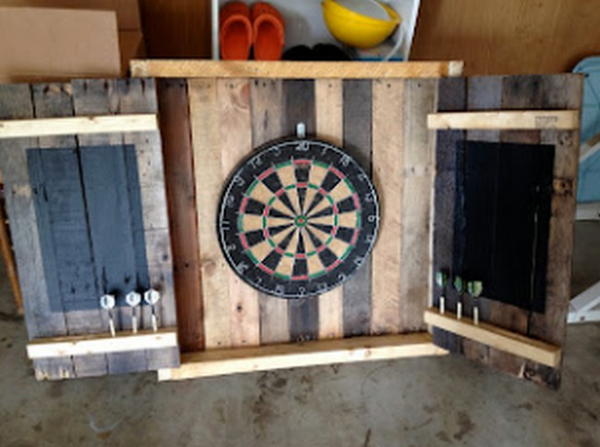 If you have some extra pallets lying around (or can quickly find some for free or for a cheaper cost), then this is the plan for you. It is relatively simple and can be done very cheaply. You don't need expensive materials or anything of that sort. Instead, you'll be using wood from pallets almost exclusively. Keep your darts and accessories organized with this easy-to-make wall cabinet. This cabinet uses an extra pallet to create something sturdy that captures the rustic look.
Build this simple DIY dartboard cabinet to bring your family and friends together. The tutorial explains how to make a dart cabinet from free pallets. Tossing darts can be fun to hang out with friends—most people are good at it, even if they don't think so. It's just not that hard to get better at it, as long as you practice and get used to the feeling of throwing a dart.
Extremely Simple Design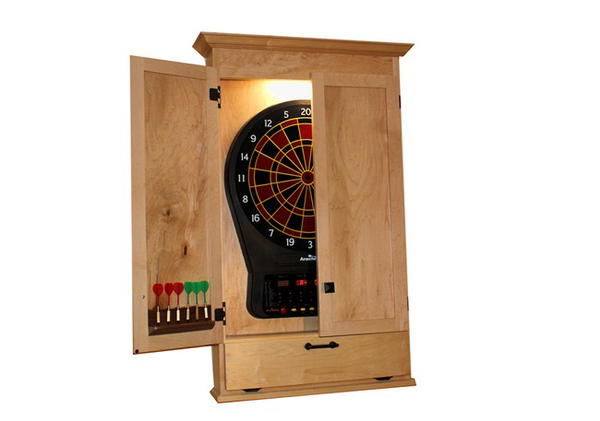 This simple design is perfect if you don't want to spend much time working on a dartboard case. This case isn't precisely beautiful, but it is convenient and has plenty of storage space. You can stain it to fit your aesthetics or leave it as-is. This cabinet is perfect if you don't want to spend much time working on a dartboard case but still want one that can keep your case hidden from view and have room for all your accessories. This case isn't exactly beautiful; however, it is convenient and provides plenty of storage. You can customize this cabinet to fit your aesthetics. It's also easy to fix this cabinet up if you have the time and skill.
Fancy Pallet Dartboard Cabinet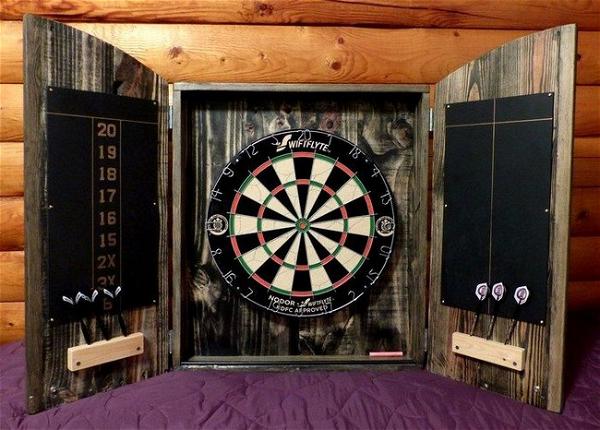 The vintage look of this dartboard cabinet makes for a great addition to any cabin, man cave, or bar area. This fan-favorite dartboard cabinet is perfect for any home bar or game room. Made of a pallet dartboard and durable, this cabinet offers a timeless appeal that can be enjoyed for years. Made out of almost entirely dartboards and featuring gorgeous, high-quality doors, this product is a great choice whether you're looking for a beautiful piece of furniture or just something to hold your dartboard. This pallet dartboard cabinet is easy to make, includes instructions on how to build, and the plans are free. Because it's made of old pallets, you know it will also be inexpensive!
White, Simple Cabinet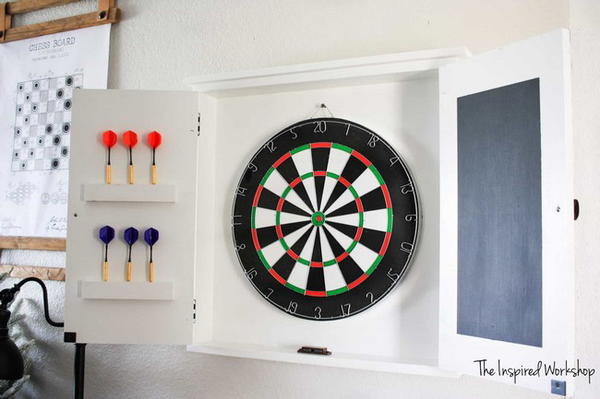 This simple dartboard cabinet is great for anyone looking for a dartboard that fits their space needs and looks great on a wall. The door will stay closed using the magnet, so you won't have to worry about swinging it open. This dartboard cabinet is a smaller case that will fit your dartboard and accessories well. There isn't much room for storing extra items, but there should be enough space if you take everything out of the box. It is made solidly, especially when you consider its price point. This will be a good match if you aren't looking for anything extravagant and just want a basic yet quality cabinet.
Fancy Dartboard Cabinet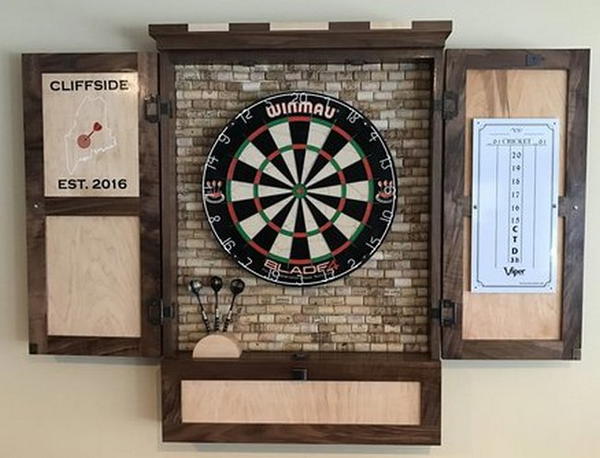 This dartboard cabinet is much fancier than most other options on the market. It is cut in a complicated manner that makes it overly stylized. There is room for you to store your darts and keep track of your scores. The area behind the dartboard is quasi-brick, which gives it a more traditional and fancier feel. This plan is excellent for those who want a professional-level cabinet, have the time to commit to this complex project, and have some DIY experience.
This plan is excellent for those who want a professional-level cabinet, have the time to commit to this complex project, and have some DIY experience. This isn't particularly suitable for new building things, as there is some complexity involved. However, it looks much better than most other options if you have the time and skill necessary to build it.
You can also see: DIY Dartboard Backboard Ideas
Dartboard Cabinet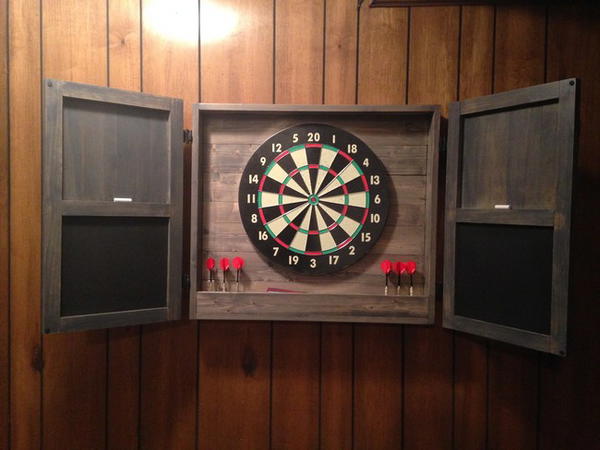 The Dartboard Cabinet is a stylish and functional piece to house your dartboard. This walnut veneer cabinet comes with a black felt door, which can be shut with a strong magnetic closure. Inside, you'll find a chalk scoreboard, storage space for darts accessories, and many steel-tip darts to get you started. The Dartboard Cabinet is the perfect addition to any home bar or game room. This regulation-size cabinet features a maple finish, and black felt lining, adding a class touch. The cabinet hinges are strategically placed to offer easy accessibility during play.
This dartboard cabinet was built using pine boards with cedar trim. It is held together using wood screws, finish nails, and small brads. The chalkboards are MDF boards cut using the circular saw, then sprayed with chalkboard paint. It was my first custom project and was a lot of fun to build. Great room addition for a man cave!
See Other Projects