There are a lot of people who are interested in owning guns and displaying them for their own collection. However, there is one major problem that often arises when someone decides to purchase a gun rack – the price. Gun racks are not cheap by any means, and this can make someone who is just starting out feel as if they will never be able to get a gun rack. The good news is that it is possible to build your own gun rack without spending a lot of money. All you need are some plans, which you can find online quite easily. There are many different DIY gun rack plans that you can choose from, and most of them are quite simple and easy to understand.
DIY Gun Rack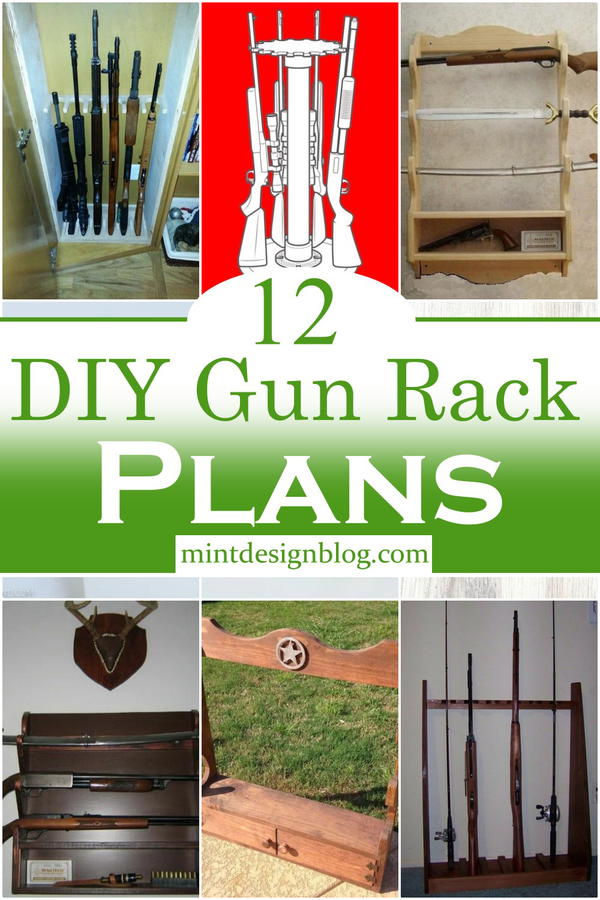 You will also find that there are several different designs that you can choose from as well. Free DIY gun rack plans can help you build a rack that will be sturdy, long-lasting, and also inexpensive. The only price to pay is just to spend some hours fiddling around with these plans. For example, if you don't have any prior experience in carpentry, you may need a lot of time to understand and follow these plans. But the result will be worth it because you will have your new gun rack made of wood or metal that you can use for storing your firearms safely.
Let's take a look at 12 free DIY gun rack plans and learn how to build a sturdy and inexpensive rack. These racks can easily associate with any headache rack also to shift your weapons from one place to other while travelling to forest or hunting destinations. You can also follow our list of superb DIY shooting bench ideas, if you're willing to go to army or have artillery urges then this list of ideas will surely be your favorite.
Field Rifle Rack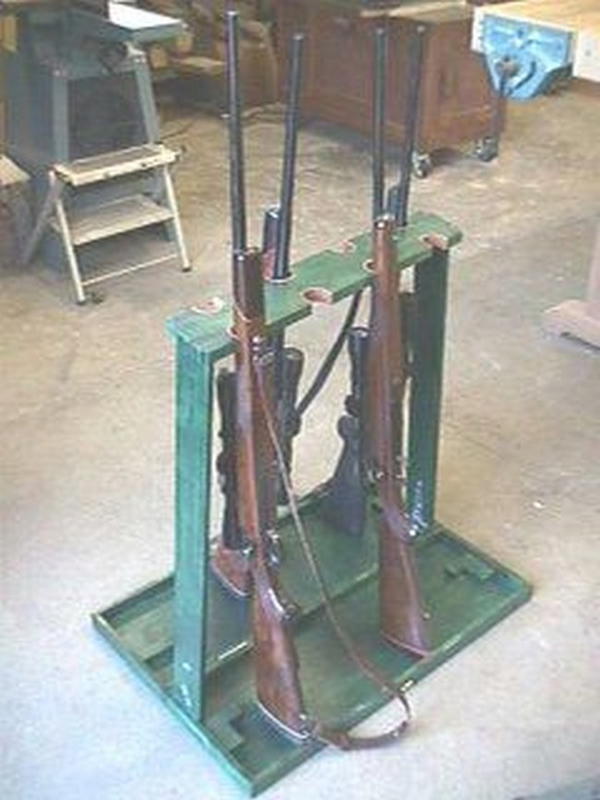 This rack is easily foldable, making it more versatile than most racks. Another innovation this rack has to offer is that it can be used by itself. This means the rack can be left at a shooting range for use when needed, or used as an impromptu gun rest in your truck bed. Another great feature of this plan is the ease with which it can be folded back up when not in use. The unique design of this gun rack allows you to fold the entire gun rack when it isn't in use, saving valuable space and protecting your guns at the same time. This gun rack can hold up guns and features a forend hook that allows you to store your gun cleaning supplies next to the rack.
Project details: billpounds.com
Build A Custom Rifle Rack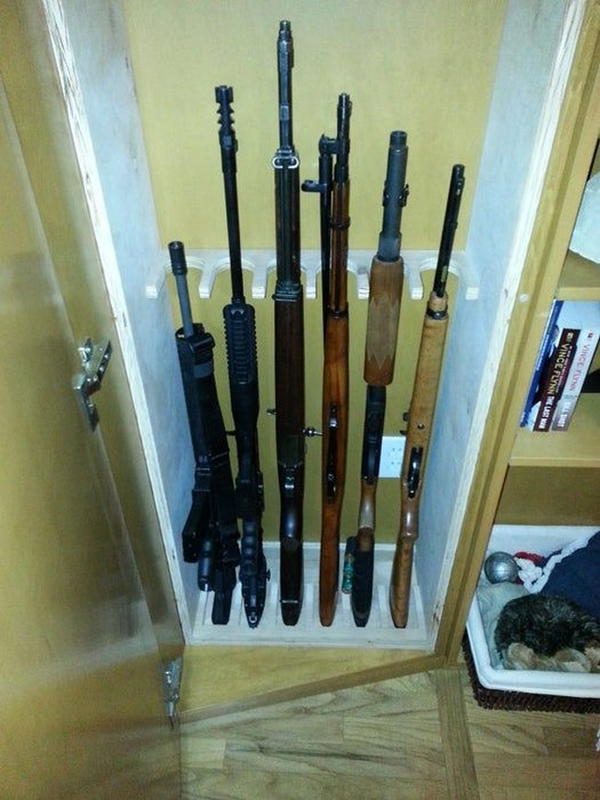 Are you tired of carefully placing your rifles into an ordinary gun cabinet? If you want to house your guns in an inconspicuous manner, using your existing cabinet is a good idea. However, it's not the best way to store them safely and keep them organized. The better solution is building a custom rifle rack yourself. In fact, it's more convenient than you may think. Why not build a more organized alternative in the form of a desk that blends well with any theme? Build a rifle rack and instantly turn your unused gun cabinet into a concealed safe. No one will even know you have a collection of rifles in your home, especially when they're safely stored behind the closed doors of this inconspicuous gun rack. This plan is suited for the do-it-yourselfer who's looking for a quick and easy project that can be completed in a weekend.
Project details: instructables.com
Cheap DIY Gun Rack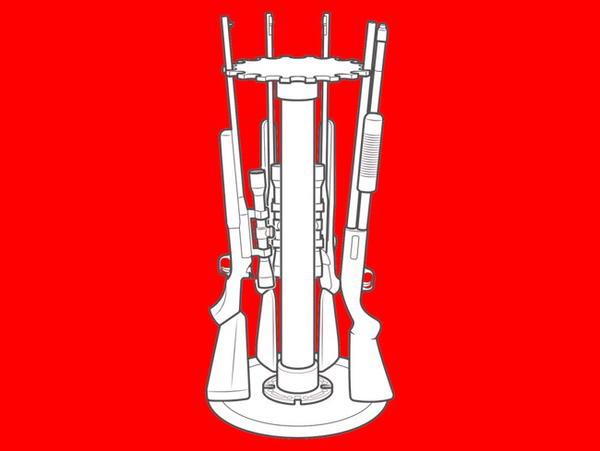 In order to add ambience to the room and make it a bit more interesting, many people like to decorate their walls with a gun rack. It's a personal touch that makes everyone that sees it either curious or envious. Unfortunately, most of the racks you can buy online or at the local hardware store are heavy and bulky. This Instructable will show you how to build something far cheaper but still just as functional as any store-bought gun rack out there. While some woodworking experience is required to complete this project, anyone with minimal skills can still build this. You don't have to go out and spend a fortune on this piece of furniture. Instead, you can get it done quickly and easily with a cheap homemade gun rack design that will fit perfectly into your home.
Project details: outdoorlife.com
Standing Gun Rack From Instructables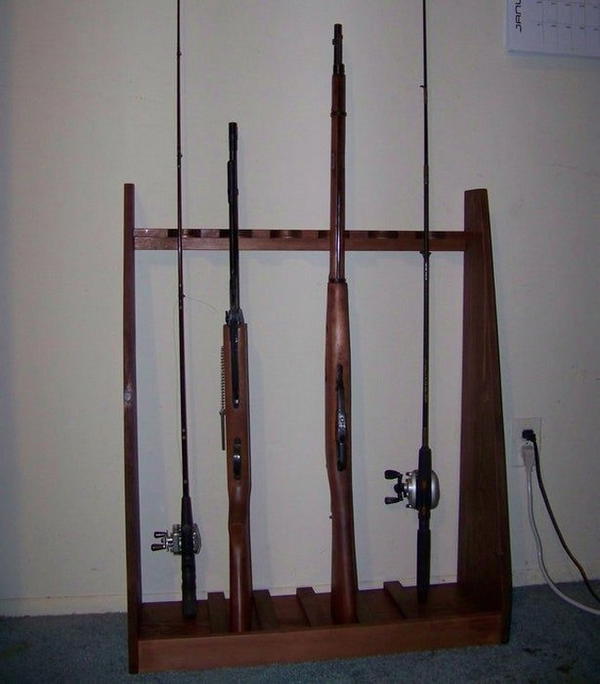 If guns have regulated your introvert into a corner, you can bring it out. All you need is a little space to hang up your guns, more specifically this standing gun rack. It will hold up to six firearms and can store any type of gun. The core concept of this gun rack is easy accessibility and functionality for the guns. That is why its design ensures that all the guns are store standing. You can easily grab the gun right away on your way out. It also doesn't take up much space. This standing gun rack looks nice, neat, and simple. It is designed to make it easier for anyone who enjoys shooting. It's made of pine wood and steel parts and has a strong ability to hold up to six guns.
Project details: instructables.com
DIY Rifle Rack For $20
Many of you probably have more than one rifle. In this project, you will be able to avoid the cost of a commercial rack and get more storage ability with the same amount of money. Meanwhile, it is easy to do, just need your spare time. Those are pretty big with long barrels. Regardless, you can stuff all of them in one corner of the counter. A clever idea to conceal them and at the same time organize is this project. At Cheap Sheds, you can create your own DIY rifle rack. It is just one of the items that we offer you, and we can say that it is going to make a great addition to your house. After you complete this project, you will have this affordable gun cabinet whether you have been fond of guns for years or have just inherited them from your grandfather.
Project details: tngun.com
Free Rifle Rack Plan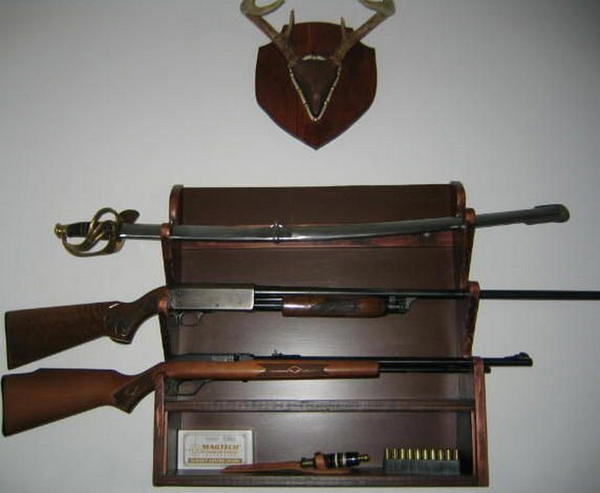 Keep your rifle safely stored away until you need it. This is a detailed rifle rack plan with dimensions for your needs. Build to store and hang up to three rifles or shotguns. Each section has a sleek look for your living room. This plan will show you how to make a unique rifle rack. It is specially made for long-term gun storage, it does not follow the grab-and-go standing design. But it uses the horizontal approach not vertical, leaning to a decorative piece for you to show off your gun collection. And each barrel rest is beautifully designed with smooth curves and artistic cuts. You go no more than three rifles in it because of the limited space.
The right barrel rest is intentionally set up to be an inch higher than the left one that separates the buttstock and the barrel. With this design, the rifle barrel will rest at the same level as the buttstock, ensuring no oil draining to the stock.
Project details: wayneofthewoods.com
DIY Vertical Gun Rack Plan By The Unknown Cat
This DIY vertical gun rack plan has something wonderful to offer you. There is no universal gun rest that can be used by all of them. Instead, this plan has an innovative solution of separating the barrel rest with the buttock rest through different pieces. Have fun hanging around with your friends making these homemade gun racks!
With this plan, you can create a gun rack to separate your firearms by the length of their barrels. If the guns have different butt heights, it solves this issue as well. You just need to cut the pieces of the barrel rest wide enough to fit the guns' lengths. The buttock rest uses similarly-sized chunks attached in an L shape to hold several rifles in place. After that, screwing them together keeps everything in place better than you'd expect.
Reclaimed Pallet Wood Gun Rack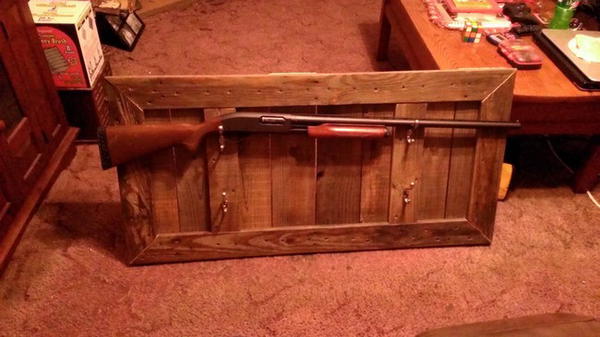 This rack is the perfect addition to any gun enthusiast's collection of guns. If you want to save some money while still getting yourself a solid gun rack, this one might be just what you need. It has a minimalistic design, but despite its lack of additional features, it's going to serve you well. Just remember that due to its small size, the rack won't be able to hold more than two guns. First, one can say this accessory is clearly the most basic plan. It involves nothing else but a rectangle frame and some hooks. Next, you won't have to pay much for this project. Obviously, there are some limitations as a result of this design. One of them is that there is no space for storing extra magazines, as well as a fact that you will be able to use them only on one wall.
Project details: instructables.com
6. DIY Gun Rack By Explosive Review
It only takes some screws, keys, and a medium-size sheet of plywood to make a gun rack. If you love shooting but have no place to store your arsenal, this DIY project is for you! Creating a gun rack is necessary if you have more guns. This gun rack is easy to make. It only uses common tools, such as a circular saw, jigsaw, and staple gun. The only challenging part is to cut the semicircles and assemble them together. So it would be better if you ask a friend's help when you do it. However, you may not want to stick to the crude ones made of tree branches and planks of wood. With this DIY Gun Rack, you can quickly create a powerful weapon mount for your house, garage, or even your vehicle!
Wooden Gun Rack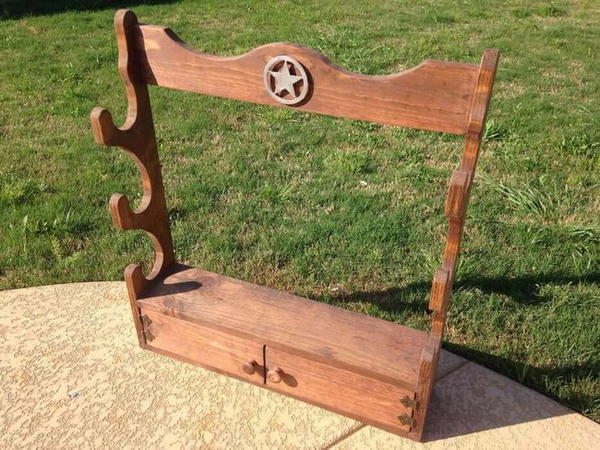 Our gun rack is mounted solidly to the wall. The platform is made from solid wood and finished to match your decor. The shelf can be adjusted up or down and is lined with velvet material to prevent your gun from scratching. There is a compartment behind the drawer that is perfect for holding ammunition, cleaning tools, and other accessories. This classic design will look great in any room of your home. Comes with mounting hardware. Display your guns with pride. This pistol rack offers a simple and steady display for modern guns, old guns, attractive guns, ugly guns, odd-sized ones, and even your precious family heirlooms!
This gun rack boasts a spacious design that supports 3 guns. The back of the rack is designed to have storage space, which you can use to store pistols and ammo. The storage space is generally not accessible through its size allows you to store some things, such as gloves.
Project details: instructables.com
DIY Rifle Rack Plan From Woodworking Corner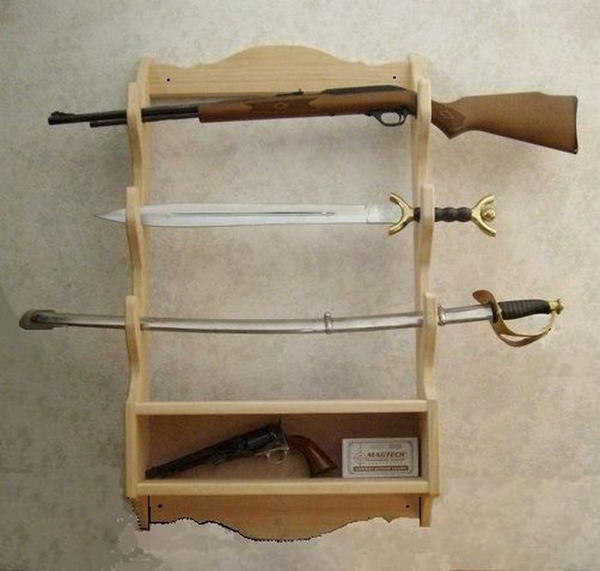 Did you ever need to store a number of guns, but there was not enough space for that? Now you can build your own gun storage rack for as little money as possible. This DIY gun rack is easy and quick to build, and it can fit in most spaces. We tried it with a number of different rifles, shotguns, and pistols, but not things like sniper rifles that are longer in size. So the bottom line is that the dimensions we have provided in the plan will fit any regular rifle. This is without any doubt the easiest project on our site. It's easy and quick to build, the materials used are cheap and it is very efficient storage for your guns. The storage rack can fit in all sorts of guns, assault rifles included, but again, not things like sniper rifles that are longer.
DIY Gun Rack By Gun Locker 75
Gun lockers by Gun Locker 75 make it easy to store your collection of guns while keeping them in one place. Since they are made from high-quality ABS plastic, they are more durable and longer-lasting than most of the other gun cabinets on the market today. They come in numerous sizes and configurations so that you can customize one for your specific requirements.
This project is all about fitting in as many rifles as you can. If you´re a gun enthusiast, you are no doubt aware of some guns prefer to be hung, while others prefer to be laid horizontally. This comes in handy when there are fewer rifles than room space and it allows those who like their privacy have their own places. All in all, it's easy to make and extremely handy. The design uses only lumber, screws, and utility hooks. If you have a planer machine and some time at your disposal, a much better result can achieve.
See Other Projects