Basement shelves can serve a variety of purposes. Tackling a shelving project can be daunting if you've never had the experience of the building. You can create a DIY home office, laundry room, or another space to do anything from knitting and reading to playing with toys. If you have a spare or unfinished basement, these 15 DIY Basement Shelving Ideas are perfect for you! With these DIY basement storage shelves, you no longer have to worry about your items being ruined by the moisture in your basement. They are perfect if you are looking for the ultimate DIY weekend project. The materials are inexpensive and customizable to your space, and they aren't overly complicated to build.
DIY Basement Shelving Ideas

These 15 DIY Basement Shelving Ideas will help you stay organized and keep items off the floor like holiday decorations, toys, tools, and sporting goods! DIY basement shelving ideas are a great way to add more storage space to your home, especially if you are moving into a finished basement. These Shelves are a great storage solution for the basement because they are inexpensive, fairly simple to customize, and easy to install. Add baskets to additional storage space and keep all of your items organized and in one place. While there are a variety of shelving options you can buy, installing them can be difficult and expensive – these simple DIY shelves are inexpensive, easy to make, and customizable!
Check out this collection of 15 different DIY basement shelving ideas to create storage space and make the most of your unused basement space. DIY Basement shelving ideas are often the ideal choice for people looking to get the most out of their basement easily.
How To Build Inexpensive Basement Storage Shelves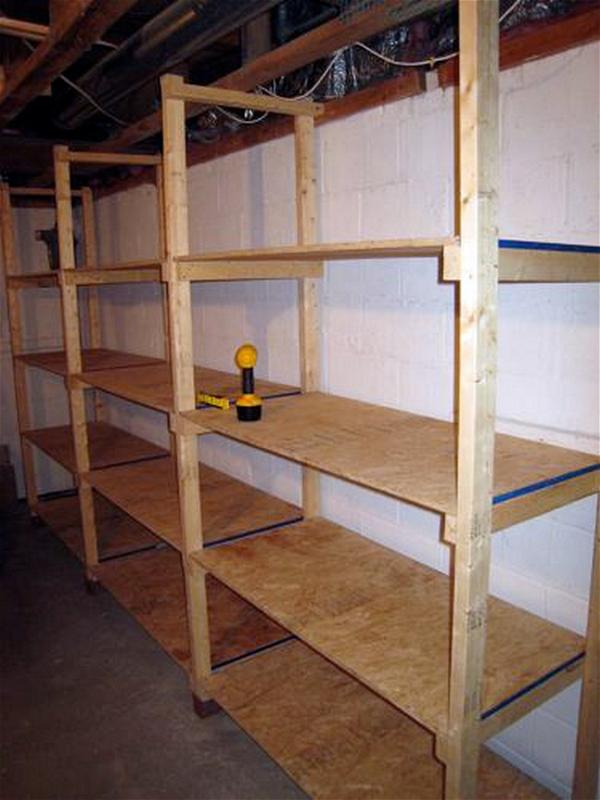 One of the things that benefit homeowners with a basement is the additional storage space you gain by having that big open room down there. This is a simple but sturdy design. The shelves are strong yet light enough that you can move them around to meet your needs. If you do not have a lot of tools and you do not have much construction experience, you will be able to make this project.
To build your own inexpensive basement storage shelves, you don't need woodworking skills. The creative aspect comes in deciding on the design of the shelves and how you put them up. You can have one long top shelf or perhaps a honeycomb pattern of boxes. You can use screws or nails to fasten them to studs in the wall or you can purchase some drywall anchors that claim they will hold 20 pounds each.
DIY Basement Shelving System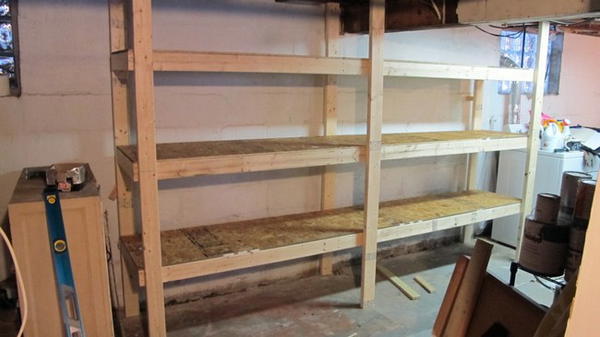 Build strong, durable shelving quickly and easily with this DIY Basement Shelving System. Basement shelves are able to be added to your existing home-built basement shelving or the DIY Basement Shelving System. Increase your storage space in your basement! This easy-to-install wall shelf system is made of real wood with steel brackets. It's perfect for your garage, basement, or laundry room. This DIY basement shelving system is all you need to get your garage, basement, or mudroom organized. With this easy-to-build kit and a few inexpensive tools, you can build an attractive and rugged storage system. And because it's homemade, it can be sized to fit any space.
How To Make A Basement Storage Shelf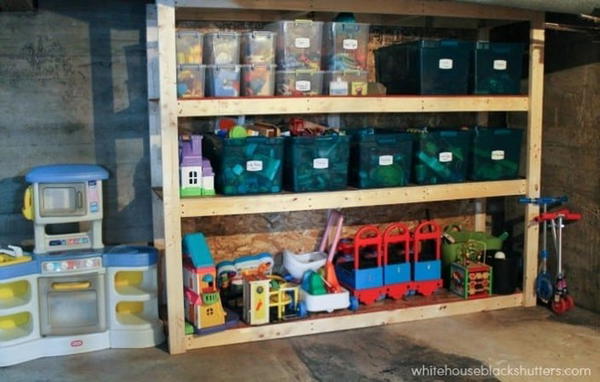 Create sturdy, useful shelves in your basement with this easy tutorial. Make the most of your space, and build these adjustable shelves not only for the basement but for any room in your house where you need additional storage! Keep your basement looking organized and finished with this easy-to-install shelving. Maximize storage in your basement with these inexpensive, easy-to-build storage shelves. This is an excellent beginner project for any DIYer who wants to create more storage space. These shelves are a cheaper version of store-bought shelves because they're made to be customized for you. You don't need expensive tools or a lot of hardware. With these simple steps, you can build a storage shelf with very little effort and get organized!
DIY Basement Shelving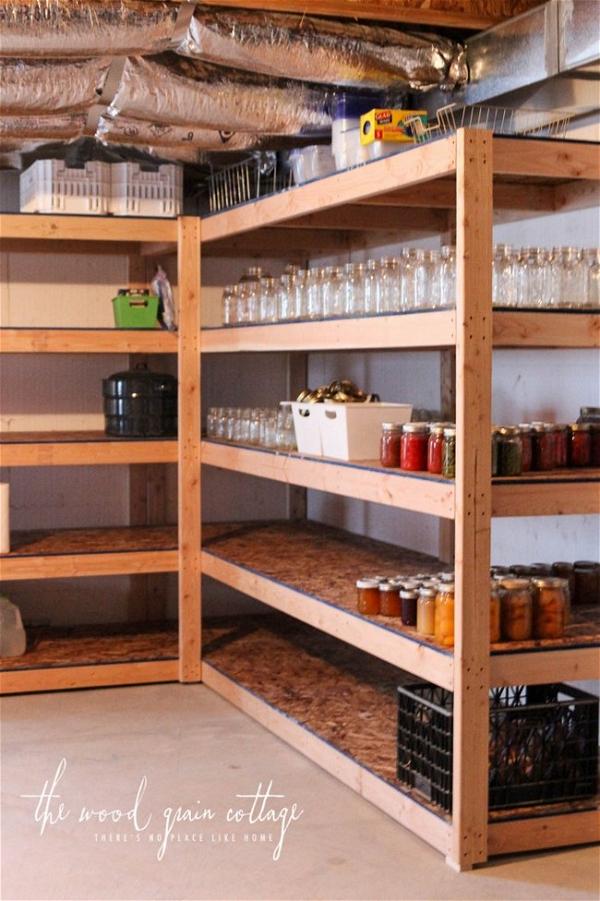 It's an organized space that fits your life, improves your efficiency, and saves you time. As your perfect companion for DIY projects, these pre-cut pieces of high-quality plywood and hardware are ready to be assembled. With basic tools, you can build a beautiful shelf or bookcase in no time at all. Create more storage space in your home with the DIY Basement Shelving kit. The quick and easy assembly can be completed without tools and takes about an hour for two people. The shelf is designed to fit as many rings of the unit as you need over a studded wall, providing storage for items that are heavy or bulky.
DIY Basement Shelves with video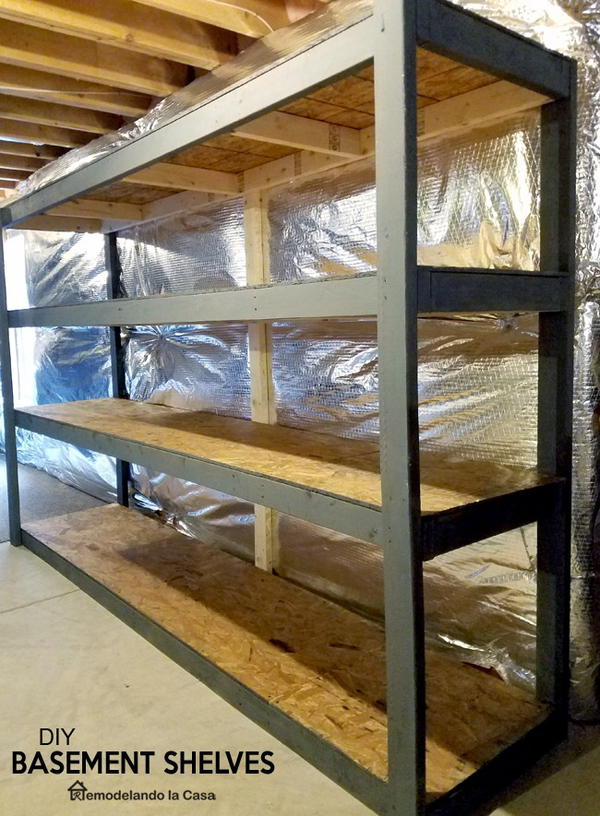 Organizing your basement is easier than ever with a set of home-built shelves that make everything easy to access and keep your old stuff dry and clean. Basement storage is king to keep the sanity in that part of the house. DIY Basement Shelves Especially if you're owning your own place and amassing more than a few items in your home, basement storage is king to keep the sanity in that part of the house. Building a set of shelves is not only an economical project, but it also brought order to your basement. Create a storage solution for your basement. This is a straightforward and cost-effective way to keep your sanity in that part of the house. Building a set of shelves was not only an economical project, but it also brought order to your basement.
Build Easy Free Standing Shelving Unit for Basement or Garage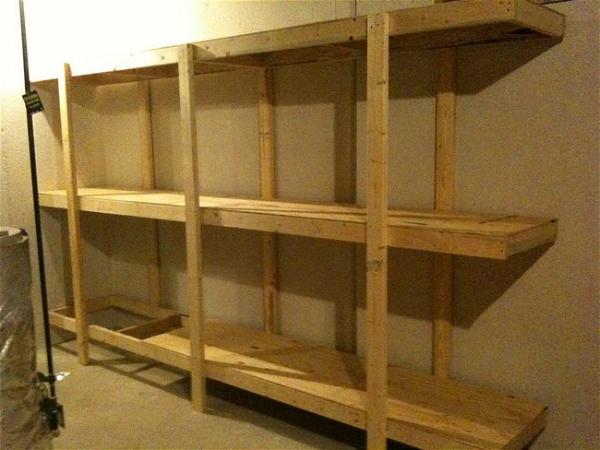 Need a temporary or easy build solution for garage or basement shelving? This tutorial explains how to build an easy, freestanding shelving unit to use in your home, for items like a garage, shed, basement, etc. This is a wonderful way to build an easy free-standing shelving unit for the basement or garage. You can make the shelf any size by using your own lumber. If you want to hang the shelves use one of these classes on hanging a shelf from the ceiling. This easy to assemble shelving unit is perfect for basements or garages. You can use it as a free-standing unit or you can add it to an existing shelf or cabinet combination. It is made out of MDF and assembled with wood glue and wood screws. This unit is free-standing and built on the floor, then once completed, move the sections into place. Great storage idea!
How to Build Strong Storage Shelves for Basement
In a basement, you can build shelves to stack plastic storage bins or serve as the base for a workbench. Building your own shelving unit can be less expensive than purchasing one already made. This shelving unit is a great way to store items in your garage or basement. It is also easy to build this unit and costs much less than buying a pre-built structure. With the right tools, planning, and patience, you can have strong storage shelves that will last a long time Finding a location where the shelves won't get in the way is important. Moving on to building them, making them strong and safe is your number one goal. Once they are in place, you can paint or stain the wood to better match the surrounding decor.
Storage Shelves with Workstation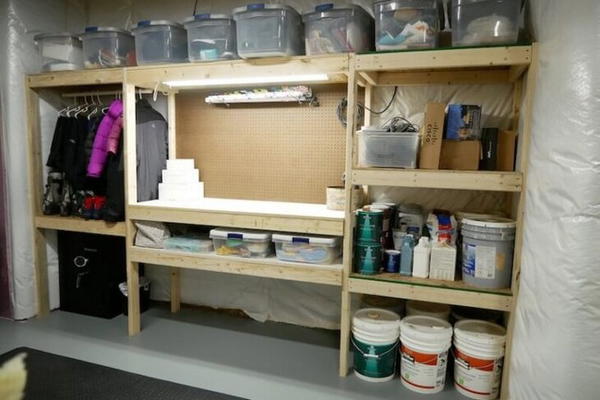 Looking for new ways to think outside the cube? This Storage Shelves with Workstation is a practical, space-saving solution for your busy home or office. These Storage Shelves with Workstations are designed to help keep your home office or business organized and efficient. Made from solid wood, these shelves feature a desk and keyboard tray, while wheels ensure they're as mobile as you are. The multipurpose desk offers a spacious worktop surface and room to store your office essentials in style. You'll love the contemporary look and functionality that this design brings to any space This office storage set with a matching workstation will give you a personal table as well as a place to tuck papers, notebooks, and more out of sight. If your space is limited, use the shelves alone for extra storage.
DIY Garage Shelves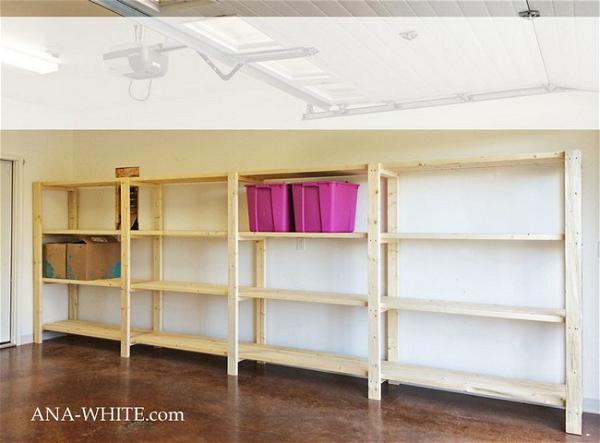 DIY Garage Shelves are a great addition to your garage or shop. The brackets are fully adjustable and can be added to existing support structures or they can be used on their own. These DIY Garage Shelves are a perfect beginner's project if you want to build your own garage storage. They are easy to build and will last for years of garage storage problems being solved. Made these brackets as strong as possible with pre-formed, half-inch thick steel construction and a powder-coated finish so that you won't have to worry about the weight of your stored goods. Are you ready to give your garage some serious style? These DIY shelving are perfect for this storage project.
Floating Garage Shelves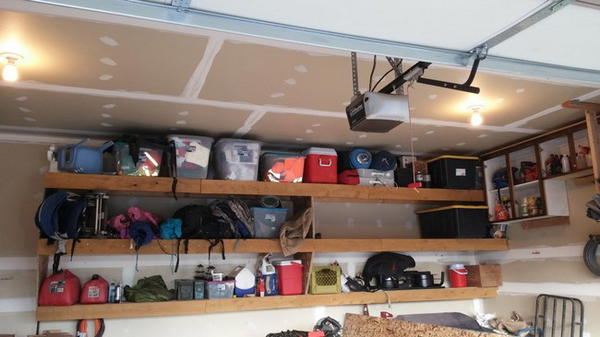 These garage shelves are built to be floating, as well as strong, shelves. These floating garage shelves are perfect for all your garage storage needs. Durable and strong, these shelves are perfect for storing large items that need a little bit more space. They also work perfectly as work areas or storage areas with or near your workbench. They help make the most of your wall space, staying up and out of the way from your vehicle. The design is created with an industrial-strength steel frame and heavy-duty dual-rivet beams and braces, which allows the shelving unit to have a capacity of 1500 pounds (evenly spread). Use your garage wall space as efficiently as possible and add storage without taking up valuable floor space. An attractive storage solution so everyone can see!
Gargantuan Basement or Garage Shelving Unit for $36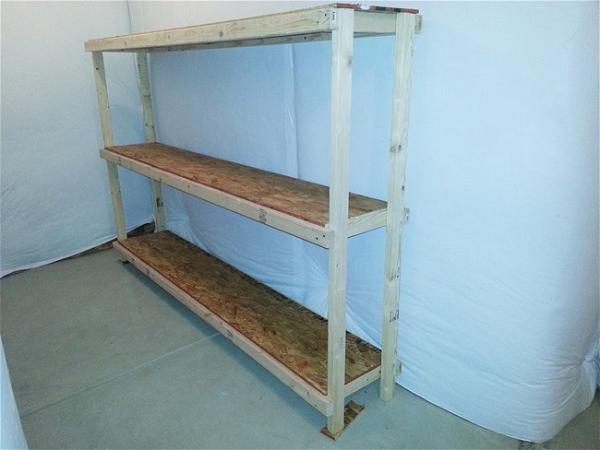 Get your garage or basement in order with this sturdy shelving unit. It holds up to four times as much as similar units, and it's just $36! The Basement or Garage Shelving Unit is a great organizational solution. Whether you're storing sports equipment, tools, seasonal decorations, off-season clothing and accessories, toys and games, or extra linens, these heavy-duty shelves will meet your storage needs. Its shelves are adjustable and can hold anything from small items to heavy toolboxes. Plus, its multicolored finish will add a pop of color to your storage space. The shelves are adjustable and easy to assemble, so if you move and have a new garage or basement, you can easily disassemble it, move and adjust it for your new space. It's versatile, sturdy, and super affordable.
Easy Extra Space Storage Shelves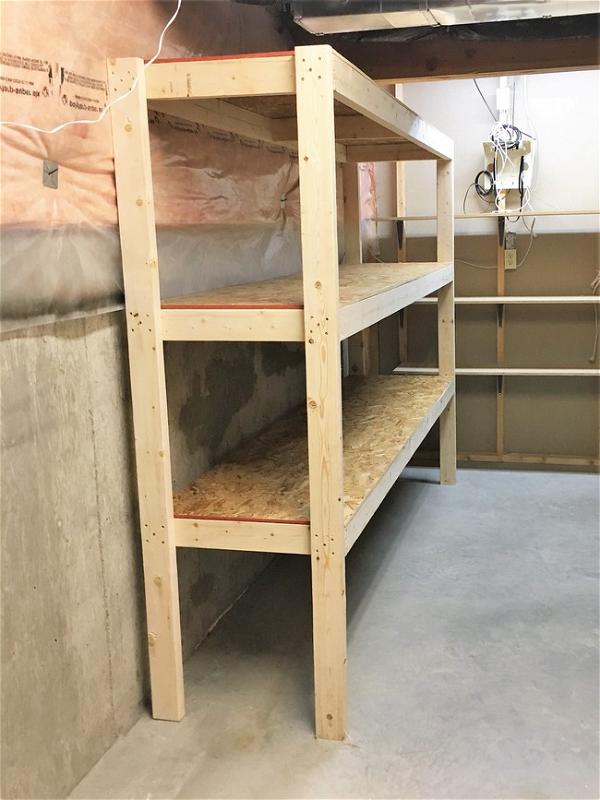 Extra Space Storage Shelves are easy to assemble, strong, and sturdy. Add a little extra storage space to your home, office, garage, or shed and keep everything neat and tidy with the Easy Extra Space Shelves. Featuring four rust-resistant steel shelves, this durable unit is easy to assemble and comes with a handy tool to help get you on your way. It's made of steel so you needn't worry about the shelves tipping over. The shelves are powder coated and are lightweight while holding a lot of weight. They look attractive on their own and can hold almost anything you want to store. Make any space in your home useful with these storage shelves. They're wall-mounted and don't require any tools to install. Plus, they work in pantries, closets, garages, and even under the kitchen sink.
Garage Shelves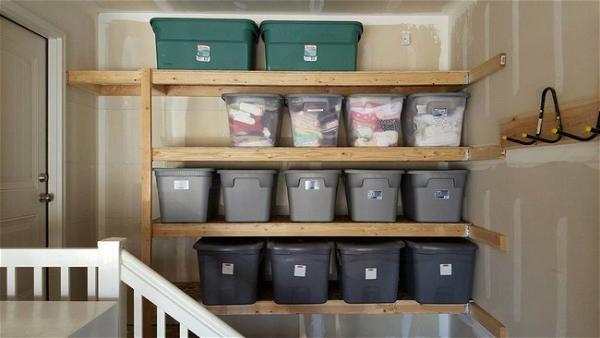 If you're looking for an affordable, easy-to-build, and strong method of building shelves that will last a lifetime we can help. The best part about building your own garage shelves is that you can fit them wherever you have room, and you can make sure that the cost of the project stays within your budget. Your garage is far more than an area to park your cars and store things. To you, it's a workshop, a place where you can take care of any home project — from hanging a picture frame to building an outdoor sofa. A great way to make it functional for those projects, and for storing everyday household items, is to build wall-mounted garage shelves in the area above the rafters but below the ceiling.
Garage Towers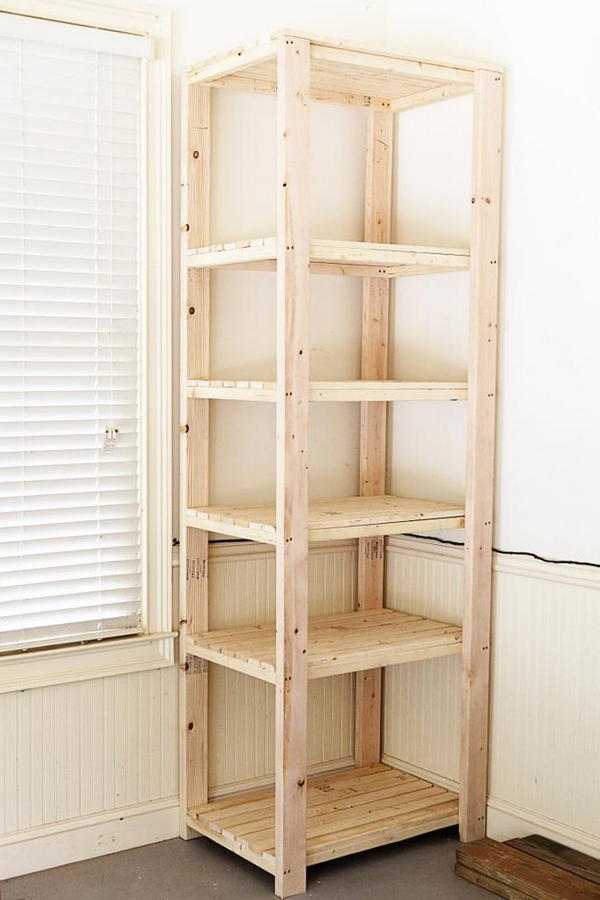 Store tools vertically and maximize your space. Great for organizing things in your garage, shed, or basement (basements are good places to put old things). The Garage Tower is the ultimate storage solution for your garage. Strong, durable, and easy to use, it turns wasted overhead space into a sturdy platform that organizes items and frees up valuable floor space while also giving you easier access to items stored away. Garage Towers provides a stylish, compact way to store bins, sporting equipment, and other items, taking advantage of unused overhead space and giving your garage back to the only thing it is meant for—storing your gear and vehicles. These sturdy steel towers can be placed anywhere and hold up to three bikes each for maximum storage space efficiency.
DIY 2×4 Shelving Unit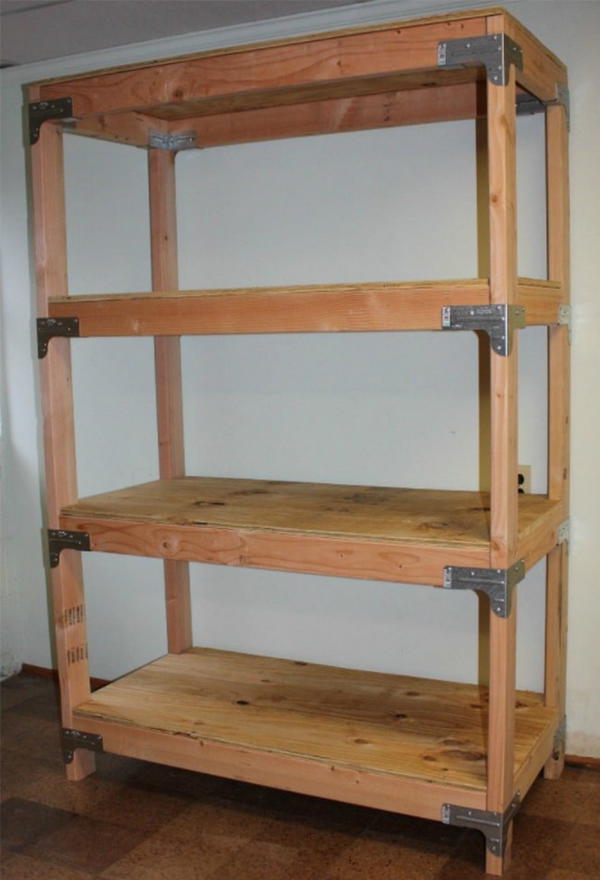 Need a place to store and organize your books, games, or glassware? This DIY 2×4 shelve is perfect for all of those items and more. The best part is that you can customize the length of each shelving unit to suit your space, and then stack them altogether for a sturdy bookshelf. Or place the shelves all over your home to create a custom, unique piece that is exactly what you need!
This 2x4 shelving unit is easy to build, and stylish. The plans include different versions of the shelf, from basic to fully enclosed, so you can create a customized unit that fits your needs. Whether you want to use it for storage or decor, this beginner woodworking project is easy to create on a weekend.
See Other Projects