DIY basement stair ideas can be such a time-saver. If you have a basement, then you have the space that you could utilize to make an awesome staircase for easier access to your basement. It doesn't have to be as expensive or complicated as it's made out to be. If you're about to embark on this project or if you want something that meets your specific needs, then continue reading! Grab a cup of coffee and let's discuss basement stair options. Basement stair ideas are all about adding value to your home and making it feel warm and cozy. With basic do-it-yourself skills and an eye for design, you can create the perfect solution that fits your lifestyle.
DIY Basement Stair Ideas

There are several stair ideas that one can take part in to change their living space. The first step before starting any project is to have plans drawn out by a professional. Next, you will need to get all of the necessary materials to complete your DIY stair projects. The next step is one of the most important steps, which is making sure you have proper safety precautions in place for this project and every project that you work on in your home. Once you have completed these basic steps, you can get started with your DIY stair projects. One great idea is to install some new railing on your stairs if they are looking worn and dated. You can cover up the old railing with new wood or metal or even stone if you like.
These 10 DIY basement stair ideas are great for those who are considering a project either in the basement or want to tackle other home improvement projects.
See More Projects
How To Redo Basement Stairs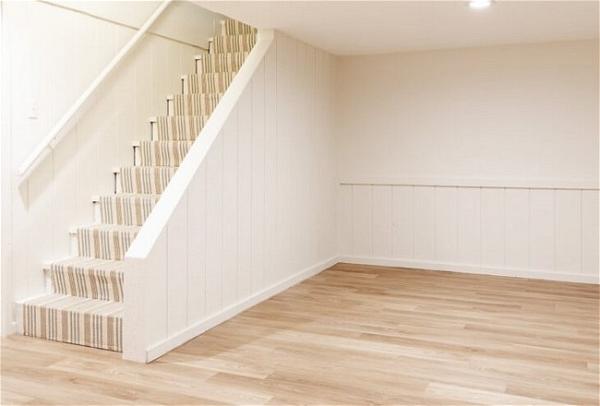 Want to update your basement stairs? Redoing the basement stairs is definitely a do-it-yourself project that can be accomplished quickly with a few basic tools. If you think the basement stairs are in pretty good condition and just need a little updating, you can probably handle this job yourself. You'll find pretty and practical basement paint stairs ideas here – it's the ultimate DIY staircase makeover. Use an indoor/outdoor striped stair carpet for a look you're going to love. Your staircase may be one of the most overlooked design elements in your home, but it's an opportunity to add a punch of pattern and color with inexpensive stair runners.
Check out these DIY staircase makeover ideas for basement stairs & find the inspiration for your renovations. Before you start any stair renovations, make sure to check with the building department in your town or city to make sure that you meet the code. Staircases are a common forum for remodeling ideas, but homeowners can easily overlook the potential value of this overlooked feature. The basement staircase is a great place to try out your design ideas. Whether you want to work on the look, functionality, or both, here's how to makeover stairs.
Painted Basement Steps With Board And Batten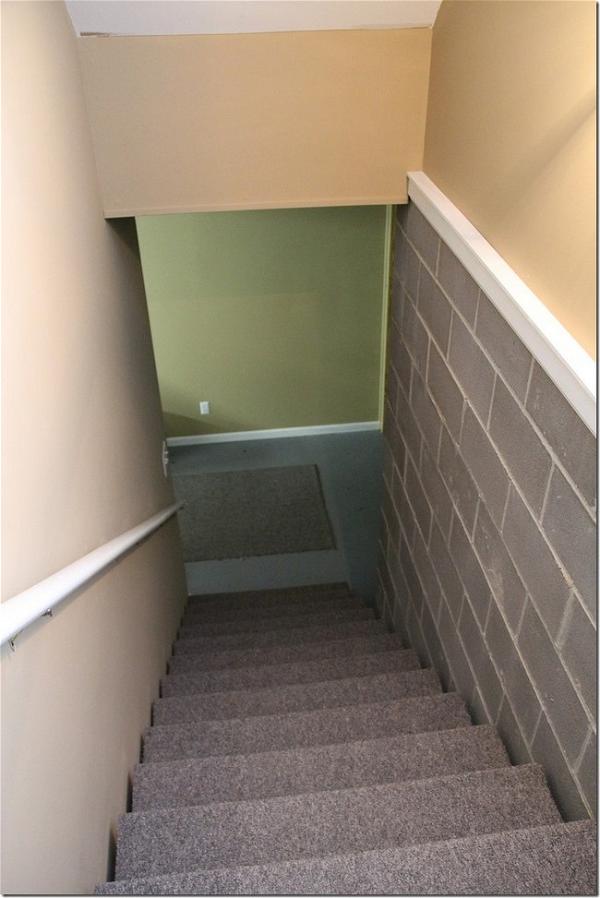 A basement is a great way for any home to add extra living space and act as a recreation room for the family. Add a fresh look to your basement steps with board and batten. The minimally invasive technique involves attaching boards or planks diagonally to the wall, then covering those boards with a thin strip of wood called battens. It's a quick, relatively easy way to create sturdier steps that add little bulk to the walls. Getting a complete basement renovation done is no longer an elaborate task.
Grab your tools and get started with your first basement project. From floor to ceiling, there will be something new or painted in every corner of your basement. Take a swim or rejuvenate after the kids are in bed. Enjoy a glass of iced tea with the late afternoon breeze. You deserve it. And now you can, with the spare time you'll gain by redoing your basement steps. Sean shows you how to paint basement steps to look like board and batten.
Hidden Storage Under Stairs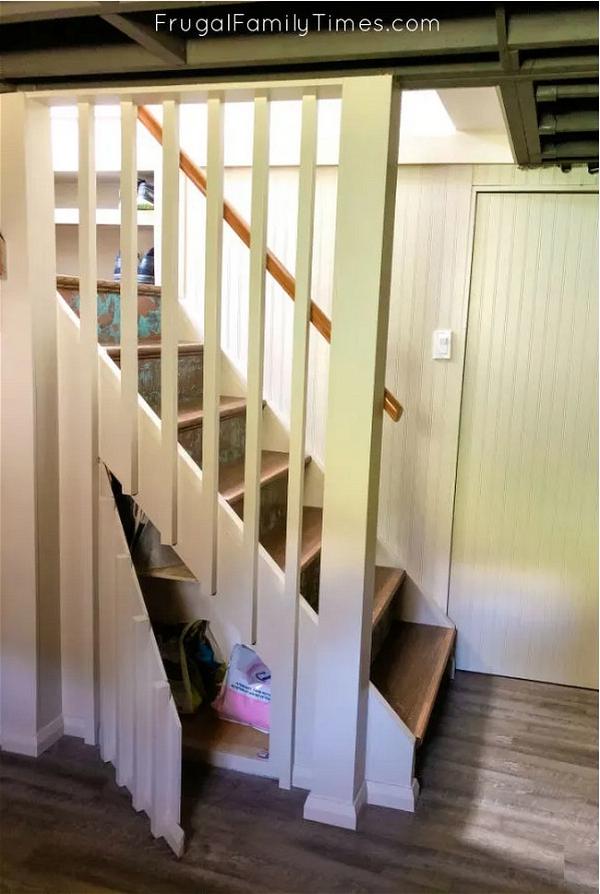 Give your guests some space of their own! Along with the five large drawers, our under stairs storage furniture has room to hide valuables out of sight. This piece comes in several finishes and is ideal for any home. Convert storage space under your staircase into the one thing your home didn't have before—Hidden Storage. With the Hidden Storage Under Stairs installation, you'll be able to store shoes, coats, hats, documents, and more in a safe, secure location right out of sight. Available in a variety of colors to match your decor and made with environmentally friendly materials, they're strong enough to support pounds of storage goods. Cleverly built and conveniently positioned, our Under Stair Storage will add a practical touch of designer style to any home. Each under stairs cupboard has been specifically designed to complement any staircase type and is hand-finished and fitted with self-closing hinges.
Perfect for the attic, home office, or any space that needs a little extra organizational help, this cabinet offers a large amount of storage space that makes the most of a small area. Low to the ground and designed to fit under stairs, this piece blends into its surroundings while still containing lots of helpful storage features like tiered shelves and removable bins. Made from solid wood with a weathered finish and beadboard backing, this amazing addition to your space will last for years to come.
DIY Basement Stair Transformation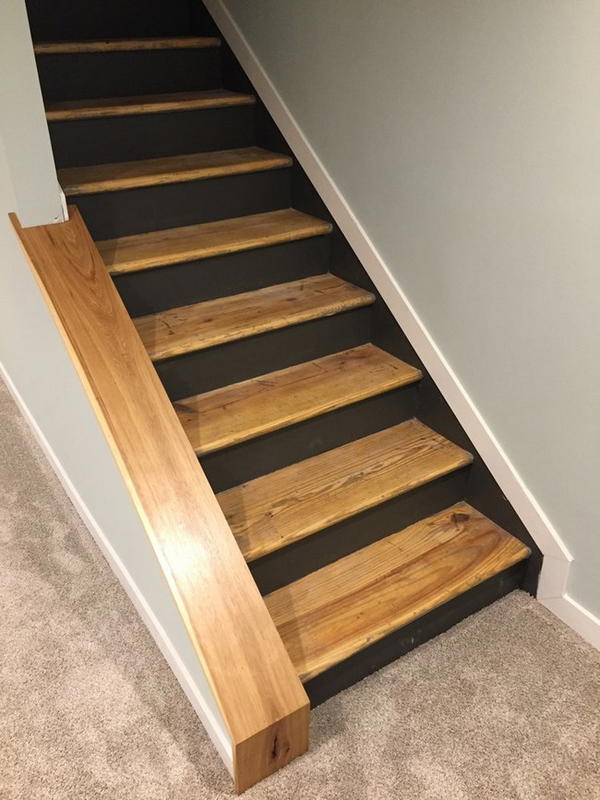 The basement stairs are one of the most important, but often overlooked portions of your home. DIY Basement Stairs Transformations provide everything one needs to transform their basement stairs. We offer a range of options for basement staircases, including our most popular DIY basement stair kits. With our variety of kits and tools, transforming your staircase has never been easier! Transform the look of your basement stairs with DIY polished concrete! This project is incredibly easy to do and looks absolutely stunning when completed. It will give your home a high-end, modern look you never imagined possibly.
Most basements have one major problem - their stairwell. Whether small or large, most basement stairs lack the natural light most people find necessary to get out of bed on a dreary winter day ... unless your stairwell looks like this. Branching off from the basement to the above ground, the basement's stairs are a necessity for homes with low-lying basements. However, many homes trade their basement exits for storage rooms and other necessities during construction. Building your basement staircase is a breeze when you've got the right plans and materials. Not only is it easy, but it's simple to add some personal touches to your stairs to give them a whole new look.
Painted Basement Stairs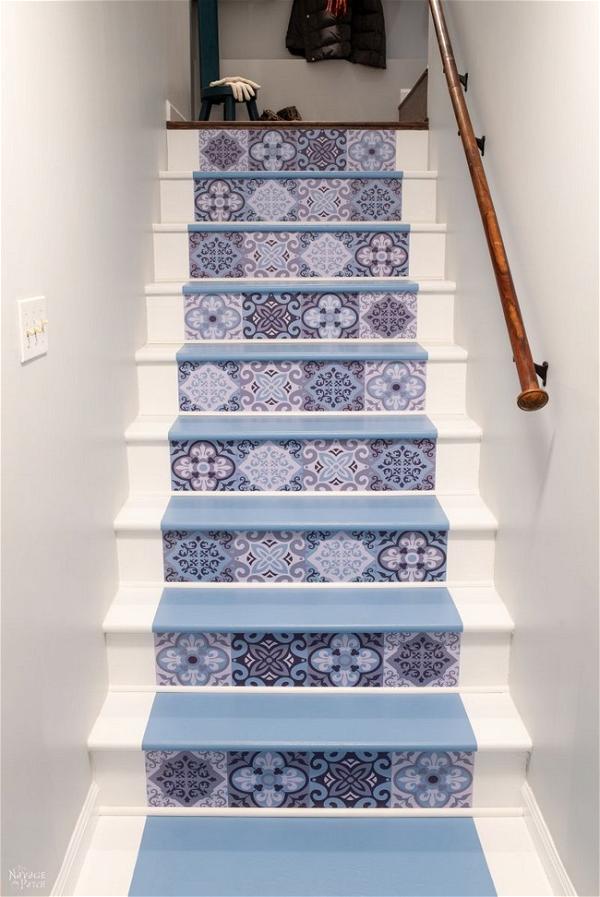 The basement is where a lot of people think to put their extra space since it is usually a large room in the house. Basements are notorious for being cold because they are underground or below ground level, so making your space a brighter and warmer place to be is ideal for most homeowners. When remodeling your basement, you'll be faced with many decisions. A paint job for your basement stairs will certainly be one of them. However, basement stairs usually come into view and serve a very specific purpose. You don't want to spend a lot of money on this project, and you may not want to repaint for years to come.
Here are some alternative solutions that can help your house achieve a higher level of style on a budget! Painting basement stairs may be necessary to get rid of the color they were painted when they were installed. It is necessary to use steps that are made out of something that stands up well to paint. Don't let the basement stairs stop you from having a great party. With a little bit of prep and some paint, you can turn a dark, dingy set of basement stairs into something that will inspire people to dance all night long.
DIY Basement Stair Remodel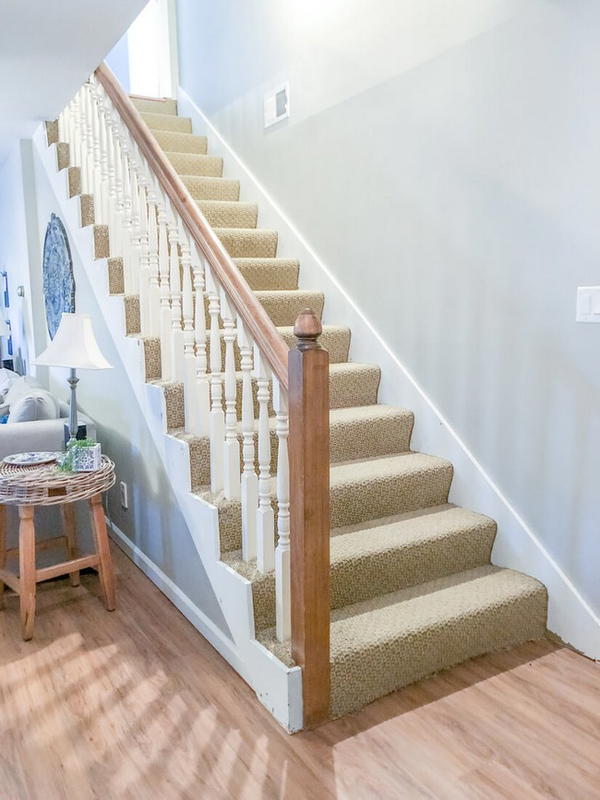 Basement stair remodels can be tricky. Not only do you have to worry about function and style, but you also need to worry about finding contractors that will actually respect your budget. That's why we have created our How to Remodel Your Basement Staircase article which has a ton of great inspiration and helpful tips on basement staircases. If you're looking for something easy, straightforward and that's sure to impact your home in a good way, this basement stair remodel is the project for you. The best thing about buying materials on sale?
Find awesome ways to put them to work! Make your home safer and more accessible with this DIY Basement Stair Remodel With this process, you'll transform a set of dark, narrow basement stairs into a wider, brighter stairway. Learn how to remove old carpet and install new hardwood flooring so that you can still take advantage of the natural basement lighting. This remodeling project takes some planning and time but is well worth it when you're finished.
DIY Stairs Makeover for Under $200 with Full Cost Breakdown
This is a before and after home renovation video for a DIY staircase makeover with a difference. We transformed $100 to $200 worth of materials into a neat staircase, transforming an otherwise boring, plain landing into something special. This DIY Stairs Makeover project was created to help you DIY a beautiful and functional set of stairs in just a day…UNDER $200! And, it includes a full cost breakdown of all the supplies you'll need.
Do you have carpeted stairs with a tiny nosing that you're tired of seeing? Do you have shabby and dangerous handrails and no banister? Tired of looking up at a blank wall where the banister used to be? You can makeover your drab wood staircase in a few simple steps with this DIY stairs makeover. It's extremely easy and offers great results without breaking the bank. The best part? It doesn't even require any heavy construction work with tools like saws or drills. Add painted treads, new carpeting, or a runner for a professional look.
DIY Basement Stairway Ideas
A basement is the best area of your house to make a game room, home theater, or just hang out with friends. You can make it even better than you did before with some help from our ideas and resources. There are many options a homeowner has when installing a stairway in their basement. The number one thing to consider is of course safety, while also maximizing the use of space.
We've rounded up some of our favorite DIY ideas for basement stairways that look amazing and create extra storage space as well! When you are in the realization stage of planning your basement to have a stairway it is important to make sure that there is enough room to accommodate the width, height, and level change of your new stairs. Be sure that you take into account the materials required for making a sturdy and safe staircase. Think about how you want your staircase to look when it's finished, will it be for your basement or for access between floors? When you are thinking about all these things at once it can be a lot to handle.
Closet Under the Basement Stairs Ideas
Don't put things under the basement stairs. Build a closet instead. Open shelves on two or three sides of the closet and connect the walls that support the stairwell to frame your walk-in closet masterpiece. Throw away those shoes piled up by the stairs and bring out the vacuum cleaner when you need to clean it. You're looking at your basement stairs and they look like a perfect spot for a closet? Great idea. Build the closet so that it connects on two or three sides with the walls supporting the stairwell and you'll have more space than you ever dreamed of underneath those stairs. And many people choose to build their closets this way because it's less expensive.
If finding space for your clothes seems impossible in a roomy house; try installing one of these small closets under the basement stairs. Not only is this closet out of the way, but it's also central to many rooms in the home as well as being handy for coats and rarely used clothing. Check out these ideas for building your own custom walk-in closet under the basement stairs. It's a great way to free up some space in your home or give yourself an extra bedroom!
How to add risers to existing stairs
Did you know that your stairs can extend? Risers, also known as treads, are a relatively affordable way; to extend your stairs and make them fit the specific needs of your home. Risers are fundamental stair parts that can be made from a variety of materials. Adding risers to existing stairs is a simple way to increase the height of a flight of steps; or to add access to the basement or other area below.
Risers must rest on a stringer board and a stringer board room is needed depending on the size of your new riser. Before you can add risers to an existing flight of stairs, you must lay plywood over the steps. Once you've determined the number of risers you need for the new flooring height, rip the plywood to size. Use a table saw set at approximately a 15° angle to conform to the existing stair angle. Be sure to wear eye protection and take precautions; when making the first cut so it doesn't kick back at you.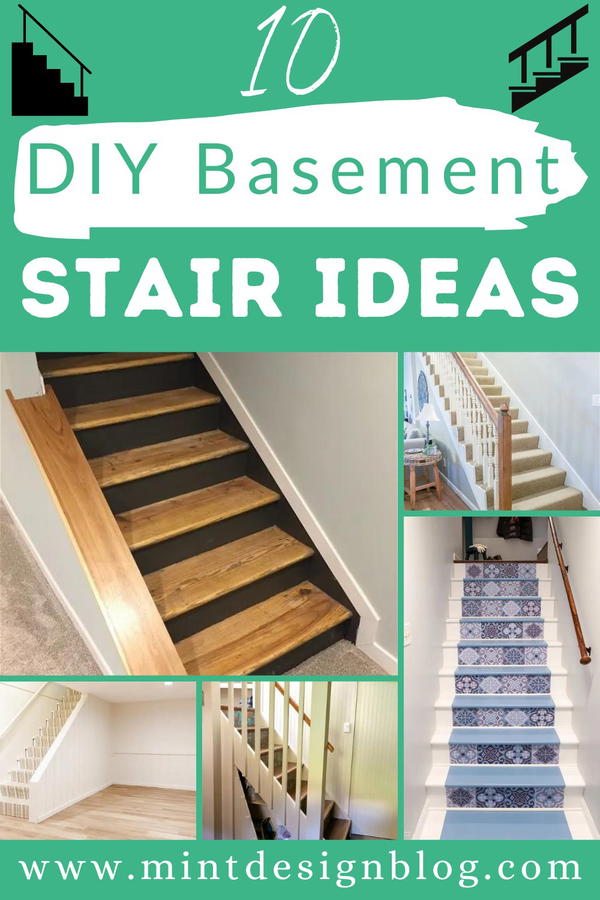 See Other Projects