If you're lucky enough to live in an expansive open foyer or entranceway house, you've probably had to deal with transporting large items, guests, and luggage up and down the stairs. Instead of struggling to get your things upstairs or down, why not consider building a folding staircase? These staircases fold out from either side of the wall it's built into, providing access to multiple levels without taking up more room than a standard door. These DIY Folding Staircase Plans are also perfect projects for dorm rooms, kids' playrooms, and guest bedrooms.
DIY Folding Staircase Plans

It would be best if you considered building a folding stair to look for the most functional staircases. They are easy to install, can be installed in tight spaces, and can fold away when not needed. These plans will show you exactly how to build a folding staircase with photos and illustrations depicting each step of the way. The options are endless with this collection of DIY folding stairs. These plans are ideal for anyone looking to save space and enjoy a more open floor plan. Create your own custom staircase or choose one. Whether you need a temporary set of stairs or an elegant folding staircase, these DIY folding stair plans offer creative ways to solve your problems.
Advantages Of DIY Folding Staircase
DIY folding staircase plans are a great way to create a unique look for your home and save money. When you buy a folding staircase, many benefits come with it. But if you are looking to save money and have the time, then DIY folding staircase plans might be right for you.
DIY folding staircase plans have many advantages over buying one already made. Let's take a look at some of the benefits of doing it yourself:
The ability to customize your folding staircase plan to match your home or other decorating needs.
The ability to pick out the materials as you see fit and not worry about them being compatible because they can all be used together in one foldable staircase kit!
You have total control over how large or small your folding stairs will be because you get to choose what size lumber goes into them, which means that no matter how small or large your space is, there will be a folding staircase that fits perfectly; into it!
You will also have complete control over how steep or shallow the foldable stairs will be because the height can easily be adjusted by adding more or fewer steps!
Make A Foldable Staircase
Are you considering building a telescope stand? If yes, do take your time and watch this video where I make it. Treat yourself to good music as you go through the whole process of creating a beautiful foldable staircase in a matter of minutes. Building a folding staircase is a great project to challenge your skills and enhance your home's value. This video guide will have you creating your own in no time. Ask yourself these questions before you begin: Are you comfortable using power tools? Do you have the suitable materials to complete this project?
Easy Foldable Stairs Build
Are you looking for a fantastic tool that can be used to keep the kids busy? Look no further than these DIY foldable stairs. This video guide will give you all the information, instruction, and ideas needed to make DIY foldable stairs, similar to the one in this guide. You need a few things like wood, screws, a drill, and some time to make them. Other supplies like wood glue and tape measure will make the process visually appealing. With the help of these videos and other resources on the web. You can effortlessly create your own foldable stairs within no time.
DIY Folding Staircase Tutorial
Building your own folding staircase is easy with suitable materials and tools. This DIY Folding Staircase Timelapse guide shows you how to build and install it. It's straightforward but has a unique design that makes climbing up the stairs fun and effortless. This DIY folding staircase is a modification of the traditional staircases. It allows easy access to your upper loft and a little more functionality for your living area. This build is easy to follow, and all required are a few standard tools and patience.
Attic Stairs Installation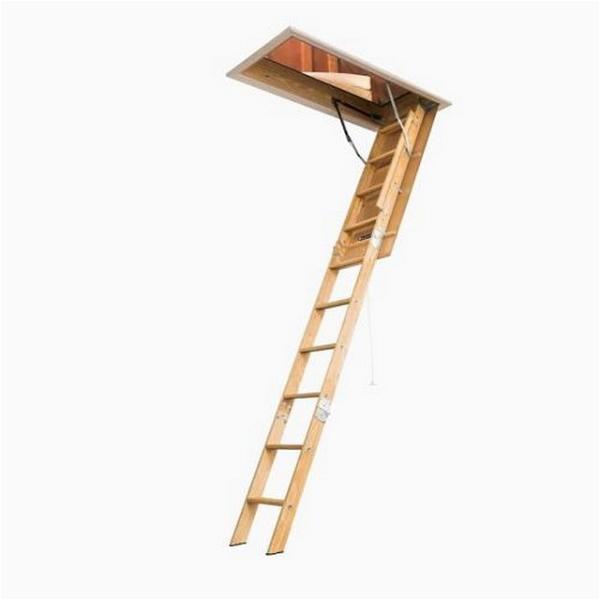 Are you looking for a cheap and easy way to get your closet storage under control? This tutorial will show you how to install perfect attic stairs! The two sets of staircases will extend out from your ceiling, giving you extra room to organize clothing, supplies, and more. These attic stairs are an innovative solution for storing and accessing your attic. It is suitable for any home's interior structure and creates a multifunction space. This project is simple and affordable. The basic materials you need will cost between $120-$150 at your local hardware store.
How To Make A Folding Staircase
This stunning loft bedroom is designed with a folding staircase that flows seamlessly into the living area at different times of the day. The stairs and rails are made from metal, while the wood provides a beautiful and warm accent. This video will show you how to make a folding staircase for a loft room in your home. It is the same as the previous video guide, but it offers more in-depth instructions about measuring and cutting the wood for your staircase and assembling it. To complete this project, you'll need good wood glue like wood glue, screws, hinges, and more materials.
Folding Staircase Build Idea
If you are looking for a folding staircase design that is easy to build and made with simple materials, then this project will help. It is suitable for home use and makes entering or leaving the attic easier. This Folding Staircase is an excellent option for a fantastic assembly experience and easy storage. It's lightweight, so it's easy to transport and can be folded for easy storage when not in use. The bright color options are perfect for any theme and add beauty to your stairwell, while the sleek design allows for easy movement up and down without sacrificing safety or comfort.
Foldable Wood Stair For Bunkbed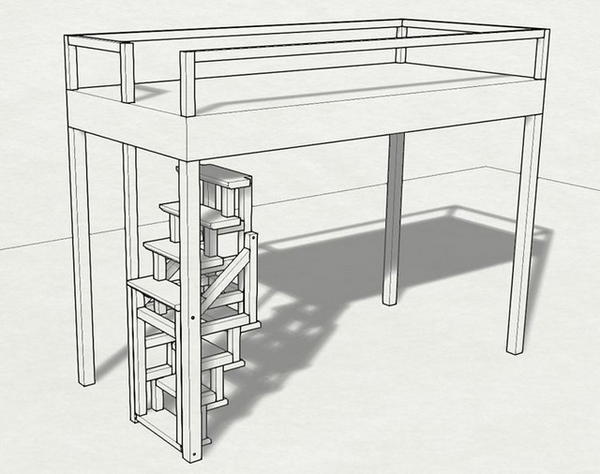 It's easy to build your own DIY Bunk Bed Foldable Wood Stair. This bunk bed step ladder is perfect for kids' rooms, allowing you to give your child a safe and fun way to get in and out of bed. A great space saver, this set includes everything you need to build sturdy stairs in minutes. Just follow the easy folding instructions and create the perfect step stool that can be folded away on any nightstand or tucked under a bed when not in use. Made from Baltic birch plywood, the steps are sturdy enough that even adults can easily climb!
Smart Folding Staircase Creation
Install a DIY bright folding staircase to make your home safer and more accessible. This helps with mobility and ensures a lower-maintenance solution that is less likely to catch dirt and grime than traditional stairs. Building the intelligent staircase is a great DIY project that takes little time. You can make this staircase using the materials you already have at home. The measurements for this bright folding ladder are not provided here because each staircase design may vary. However, the steps are universal and easy to follow to create your design.
How To Make Folding Loft Stairs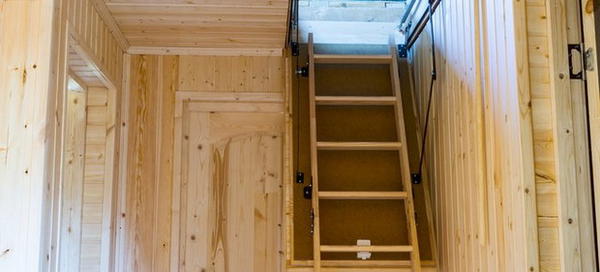 Folding loft stairs allow you to access your walk-in attic with ease. It keeps things open and accessible in the main living area of your home and allows you to add in storage as needed. This folding loft stairs tutorial will show you exactly how to build a folding loft stairway that can be used in any room. The folding stairway is easy to install and gives you access to a space above your house where you can store things or even use it as an extra bedroom. With the right tools and materials, you can build a folding loft stair that folds down when it's not in use and still supports additional weight on top when standing in the room.
How To Make Folding Staircase
There are a lot of people who are happy with the folding staircase because it can be moved. On the other hand, others have doubts about this type of staircase and wonder if this option fits their needs. This video will show you how to quickly and easily install a folding staircase system. This is an easy DIY project that can be completed on the weekend. The design is simple and efficient, but you must make it yourself. It can be made from plywood, metal strips, or steel to be strong enough for most locations. The only tricky part will be drilling all of the holes for the bolts.
Install An Attic Ladder For Upper Gallery
An attic ladder is a great safety feature in your home, providing a way to quickly get into and out of the attic area. This video will show you how to install an attic ladder using a pre-assembled steel ladder, wood board, and rope for pulling the ladder down. If you have an unfinished attic section in your home that needs a little more storage room or even somewhere to stay out of sight, this video tutorial can help you install an attic ladder.
Rolling Folding Shop Ladder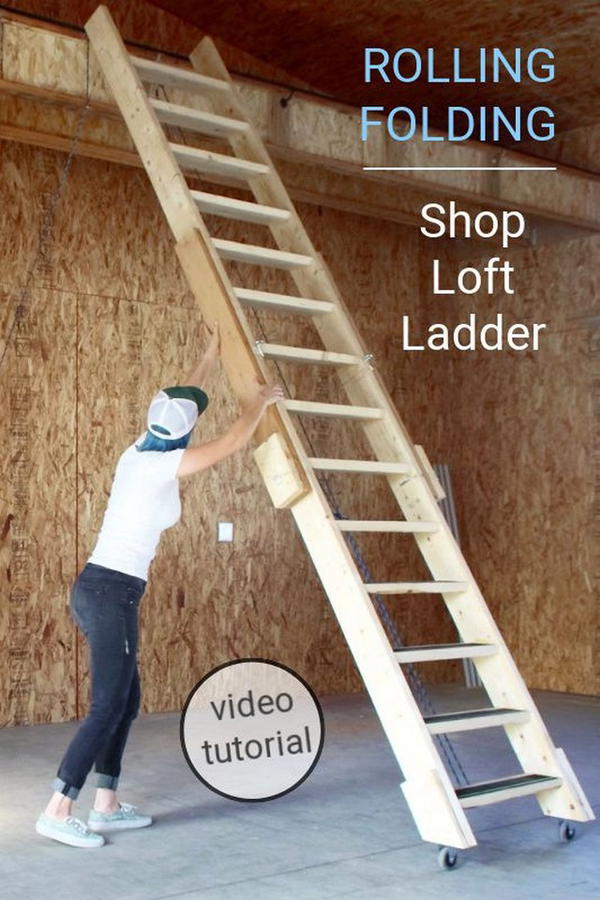 This rolling, folding staircase is easy to configure and even simpler to store. You can use it as a stepladder by day or unfold it at night and prepare it for a party or romantic dinner with your partner — what could be more romantic? And the coolest part? Its storage space is right under it. This folding staircase system is easy to use, incredibly versatile and doesn't take much space in storage. Whether a DIYer or a professional contractor, this ladder will change your life by eliminating the need to build and store bulky ladders in your home – now that's what we call convenience!
Folding Stairs DIY Idea
need a quick and easy piece of furniture you can use to store shoes and other items? These DIY Folding Stairs are a great idea and the most specific part of DIY furniture you'll ever make. Homeowners can use these folding stairs diy to add a storage room, closet, or basement. It's straightforward to make and requires only some basic carpentry skills. This folding stair design might open up your options for storing a staircase and using an awkward space. Watch the video above to see how it's done!
An Attic Folding Ladder Creation
Installing a folding attic ladder is a great way to improve accessibility to your attic space. Attics can be full of treasures, but they are also full of potential hazards and debris that could fall on you or damage the valuable objects you have stored. This ladder will make it safer to store items in your attic while making it easier for you to access them when necessary. You must hire a professional to properly install the ladder on your home, as improper installation can lead to injury or damage. Thankfully, this guide will help you understand how to properly install your attic ladder so that you and your family can stay safe in your home.
How To Build Staircase
This is a practical project and an excellent opportunity to learn basic woodworking skills. Homeowners won't have any problem completing it as the building process becomes relatively straightforward once they are armed with the necessary tools and materials. Follow these steps closely to have an inspiring and easy-going time while building it. This project is inexpensive and can be done in under 5 hours of constant building and assembling. This DIY stairs project is easy-going and straightforward to follow, perfect for beginners to try their hand at this project for the first time. You'll need lots of wood boards, a pencil to make a mark, Dewalt circular saw screws, a drill, and a few other supplies.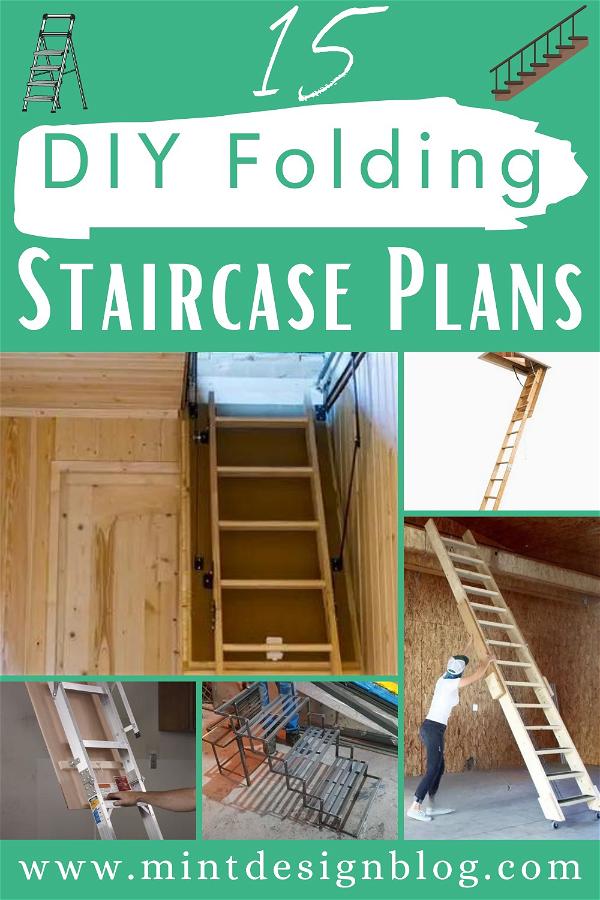 See Other Projects