Even the most casual rider can turn their bike into a fun and practical vehicle with a bike trailer. Many bike trailers range from the lightweight frame and fabric trailers to sturdy metal-framed haulers for your garden or other heavy loads. A DIY bike trailer can be customized to suit any purpose or adventure. We have a superb list of DIY Bike trailer ideas to meet almost everyone's needs and tastes.
These Bike trailers are towed by bicycles or similar vehicles and used to carry things like tools, firewood, and children. Our DIY Trailers have seats that can also be pulled by a motorcycle or ATV. DIY Bike Trailer ideas are built from metal mesh, wood, plastic, and vinyl. Most have a rope tied to the front of the trailer for steering control, while some are small enough for one child or a small cargo.
DIY Bike Trailer Ideas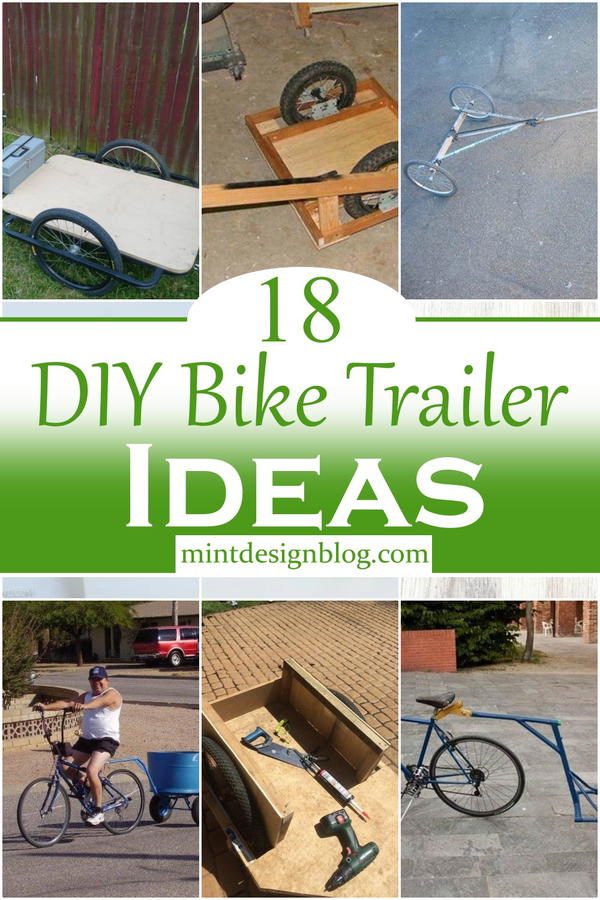 This collection of homemade bike trailer ideas will be useful for those who want to build their trailer for practical purposes, fun, or a DIY project for garage projects. These tutorials and designs are all handpicked based on their practicality and innovation, making most of these DIY bike trailer creations easy to apply. Because they are very easy to build, they can blend in well with your existing bike and those around you. All of the given DIY trailers are crafted out of recycled materials to be green, along with being functional as well. These DIY bike trailer ideas will help you create your do-it-yourself bike trailer for your bike and family to lift heavier items with minimal effort.
You Can See:
Benefits Of A Bike Trailer
A bike trailer is a great tool that can be used for different purposes, from carrying large amounts of cargo to recreational activities of your choice. Once you choose what you want to do with your bike, you will want to research online to find the best DIY bike trailer ideas and designs. You will give your friends and neighbors a run for their money as you pedal past them with your bike trailer in tow. The trailer's simplicity, safety, and fun are unmatched by any other. It makes carrying stuff around easier and helps you in your everyday life. A bike trailer will make your life more comfortable, from picking up groceries to taking care of children and pets to hauling show equipment.
How To Build A Bike Trailer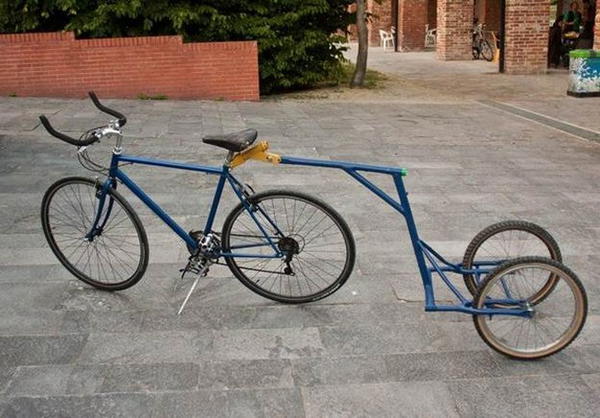 Building your trailer can be done fairly easily, for fun or profit. To help you start this project, we've laid out the basic steps of making a bike trailer. You can use the plans and instructions to build from scratch or estimate the parts and equipment needed to modify an old trailer. Though easy to make, good results require attention to detail and a little know-how. You will also have access to power tools such as a grinder, drill, and welder.
How To Build A Bike Trailer

A cargo bike is unique in that it is used for carrying various goods and materials. Bicycle trailers have been around for a couple of years and offer a smart alternative to the standard bike trailer - but they are pricey, ranging from approximately $150 to over $800. Here we present you with an easy, affordable, and creative project on how to build a bike trailer so you can haul anything behind your bike – without spending tons of money. It will be a fun and useful bike trailer, plus you'll heartedly admire making it.
DIY Cart Bike Trailer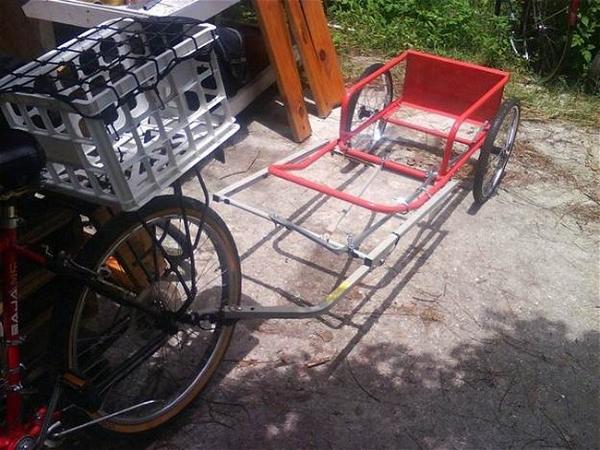 The DIY Cart Bike Trailer combines an already existing trailer and a welding cart. The welding cart is basically like a giant frame to hold tracks and accessories, usually transporting cars, boats, or even tractors in the fields. This setup flips the standard idea of what a bike trailer is – instead of transporting your kid in a box, you just put them on the road in their regular Barbie car! It will be a decent option to make a bike trailer with minimal cost and effort; you just have to join two different premade items, and your job will get done.
How To Build A Bicycle Cargo Trailer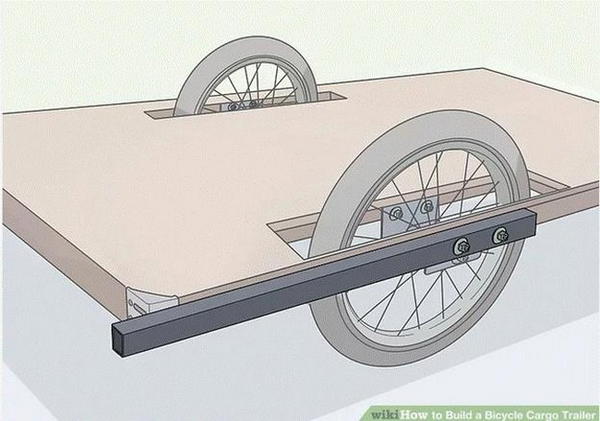 You can build a bicycle cargo trailer using pieces of wood, metal brackets and screws, two bicycle wheels, and some other accessories necessary to have a fantastic time with your kids as you drive them around town. It will also give you a chance to bond with them effectively while getting some exercise at the same time. To build your bicycle cargo trailer, use these step-by-step instructions. From cutting the wood to attaching the wheels, follow all the steps to build a simple and functional bike cargo trailer for your family.
DIY Bike Trailer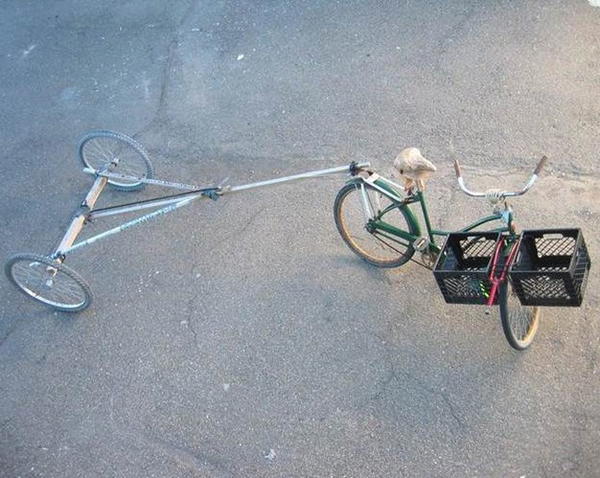 The DIY cargo bike trailer, or this double Dutch bike, is simple, functional, and can be used for various purposes. Constructed from recycled materials and having a frame made from hockey sticks and a wheelchair, this inventive creation can also function as a wagon to give hiker friendlies a ride. Tasks that require a lot of manpower or are impossible for one person on their own can be accomplished using a DIY bike trailer. Assembling the frame of the bike trailer from hockey sticks, wheelchair rims, wheels, and tires, you can fit up to a 300-pound weight in this trailer. Its overall height can also be adjusted based on your needs.
How To Build A Trailer For A Bicycle
If you've ever fancied yourself as a bit of a handyman, you should consider building your trailer for a bicycle; there's no need to be a skilled woodworker, as all that's needed is a few essential tools and a lot of determination. Anyone can build their trailer for a bicycle with our easy-to-follow tutorial. With it costing only around $40, this DIY wooden bicycle trailer is perfect if you want to save on the price of expensive bike trailers. The total cost for this project was about $30, but you could build this for less if you use cheaper materials.
How To Build Your Bike Trailer
Building a bike trailer is one of the best alternatives if you are trying to find a way to transport big loads over long distances. Once made, you will be able to haul longer distances and cargo that is too big or heavy for your bicycle. The best part is that the making process of this DIY bike trailer doesn't cost a lot of money or time. All you need are some basic tools and materials that can be locally sourced or recycled around your home. Don't worry about tools or experience with building, and there is no previous knowledge needed to build the bike trailer! This homemade build is sturdy and suitable for transporting cargo and pets. The cost of materials will be less than $100
No-Weld Bicycle Trailer Build
This build will show you how we turned a cheap trailer into a high-value bike hauler. When we had to make some hard choices about purchasing, we chose to go cheap on the frame. We figured the frame was half-price, which is always good. The main reason for going with this design was to make our bikes mobile. If you don't have any way of transporting your bikes, it's harder to go out for rides and keep in shape. It's great for encouraging kids to ride their bikes, transporting groceries, or just being a showpiece to impress your friends.
How To Build A Bike Trailer
This tutorial on building a bike trailer is perfect for the DIY weekend warrior. With this no-weld option, you won't need to spend the better part of a day welding together your new trailer. This budget-friendly approach to moving cargo is lightweight construction and relatively easy to build, with just straight and simple cuts required on the steel tubing. The hitch can be as simple as a couple of bolts connecting it to any standard bike frame. The frame style shown in this tutorial connects quickly and easily to the back of a bike seat using an L-shaped bracket.
DIY Homemade Bicycle Trailer
If your only personal means of transportation is a bike and you already own one, you should consider building this DIY homemade bicycle trailer. It's suitable for loads of up to 150 pounds and does the job of hauling it around easily. You can attach this trailer to your bicycle or any vehicle you can hook up with. This is typically a woodworking project, yet it can be done with simple tools. The materials needed are not expensive, and it will be great for transporting lightweight items around.
DIY Bike Trailer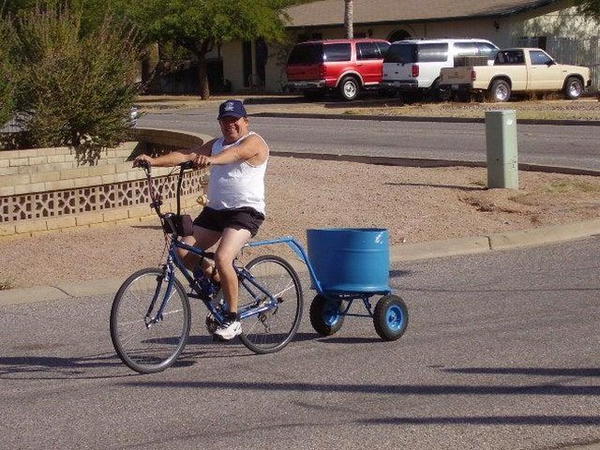 DIY Bike Trailer is a modified version of a bike trailer that can carry heavy loads for longer distances, and this trailer can be used to carry items such as drinks and other things, including nuts, bolts, tools, and many other kinds of stuff. This do-it-yourself bicycle trailer is an essential part of your transportation system; if you are a biker and need to haul some weighted item along with your bike, you must follow this idea. Details on how to make your DIY bike trailer are given below.
DIY Bike Trailer
Building your trailer can be fairly easy, for fun or profit. To help you start this project, we've laid out the basic steps of making a bike trailer. You can use the plans and instructions to build from scratch or estimate the parts and equipment needed to modify an old trailer. Though easy to make, good results require attention to detail and a little know-how. You will also have access to power tools such as a grinder, drill, and welder. This will make a great trailer for your hunting bike with some good close-up pictures of what you are taking up in the air.
How To Build A Bike Trailer Out Of Wood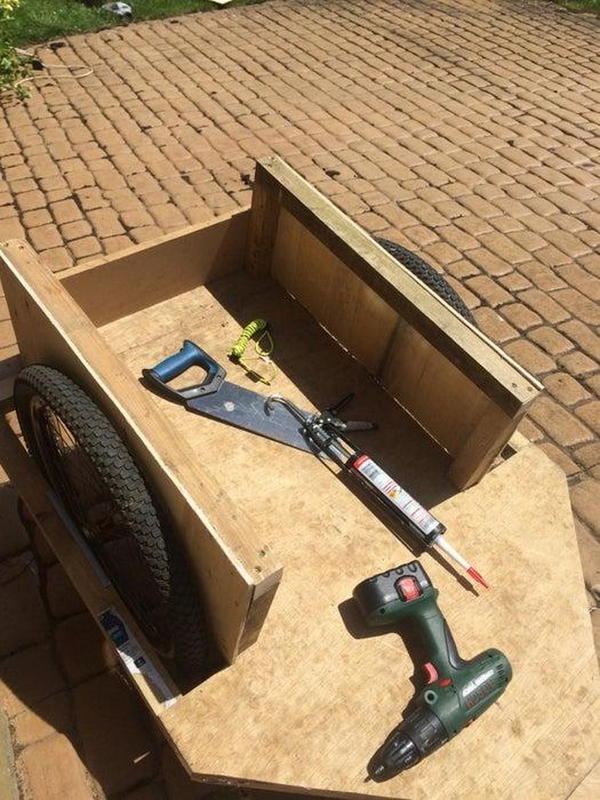 You will surprise by the simplicity and ease of building your wood bike trailer. After finishing the instructable, you will have a completely functional vehicle for hauling your prized possession. Go for wood cycling trailers rather than the traditional ones built from metal or aluminum. They are inexpensive, easy to build, flexible, and can be repaired or remodeled in no time when damaged or worn out. This would make a great gift idea for someone special or as part of your family's outing activities.
DIY Bike Cargo Trailer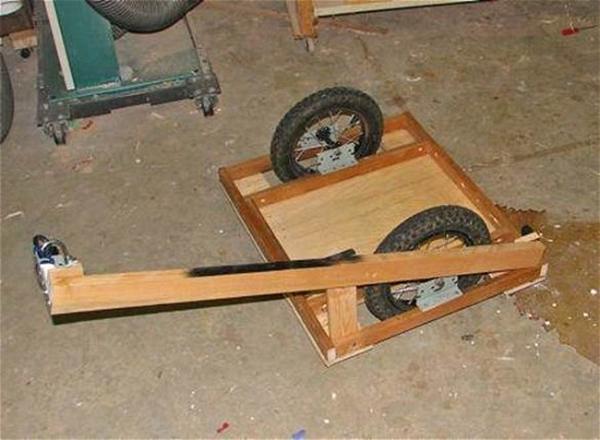 This article will follow your step-by-step instructions to make your own DIY bike cargo trailer. It's small and light, making storage when you don't need it very easy; as it can hang against the wall when not in use. It will be perfect for anyone who is low on storage space or hates cluttered spaces. It's also easily transferable to another bike, giving you versatility with this one design, making the building cost 0 dollars! Even if you were to buy some of the supplies required, you'd still find that it's super affordable and practically a steal.
Bicycle Cargo Trailer
The Bicycle Cargo Trailer is the solution for people that want to haul cargo but can't (or don't want to) carry it. It can haul most household appliances with a heavy-duty design and a 500 lb weight capacity. The trailer attaches to almost any bicycle using the Universal Mounting Bracket, making it easier to use wherever you want. It is great for transporting goods or kids and is simple to build in two days; by anybody who knows the basics of bicycle repair."
My Home-Made Bike Trailer

This is a how-to guide for creating this bicycle trailer; that can work well to carry cargo, firewood, and even kids! We'll walk you through the steps of building the trailer, choosing and attaching an axle, choosing attachments that can fit the most common bike frames. This trailer is built to carry all stuff when we ride bikes. It's great for grocery shopping, hauling garbage to the dump, and anything else you may need.
PVC Bike Trailer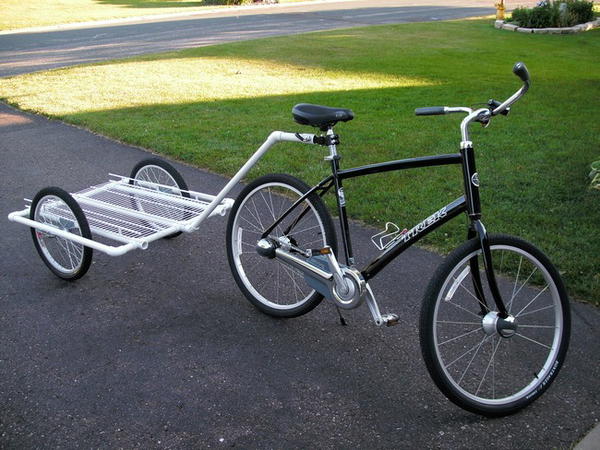 The bamboo bike trailer is a traditional design that needs no further introduction. The most complex part of the build was fashioning the wheel from PVC piping to resemble the wheel spokes. You won't need to spend much time in the garage with this one; it's a great project to do with a friend who enjoys woodworking. The PVC Bike Trailer is a simple and fun accessory for your bicycle. It'll haul up to 50 pounds to the park, pool, beach, or trail.
Build A Big Bike Trailer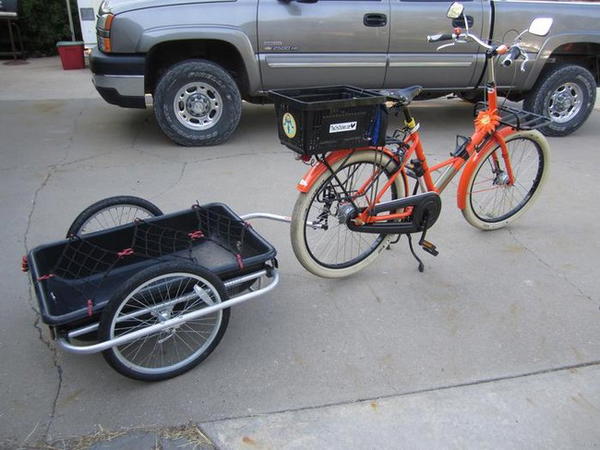 The Big Bike Trailer could be a great general-purpose trailer or utility trailer to pull behind a motorcycle or ATV; even a car or truck with a tow hitch. It has a little cargo storage inside, some tie-down loops on the body; two cross members to put stuff on. It can handle 150 pounds of distributed weight, so it should have no trouble handling oversized loads. This could be an ideal weekend camping platform for someone; to haul food, beer, and camping gear for a trip into the woods.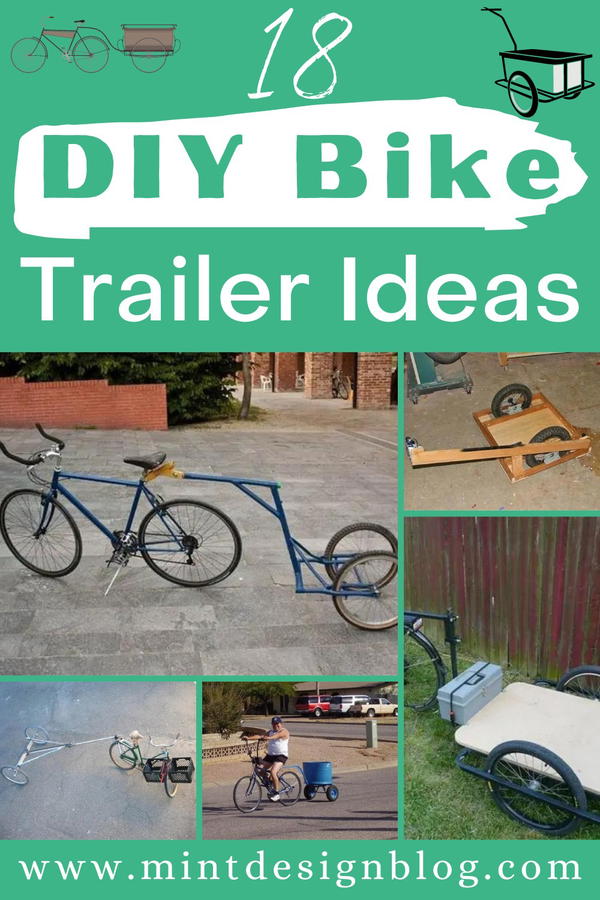 See Other Projects