If you are tired of riding your bike with many items that you need to bring along on your ride, then opting for a bike basket is the best thing you can do. Baskets play a major role in the lives of cyclists. Simultaneously, they are responsible for keeping all your stuff safe and sound. Choosing the right basket for your bicycle doesn't just happen. You will have to be keen on various factors and requirements. To come up with an unbiased recommendation regarding the same, we have created this DIY bike basket ideas list to help you out if you wonder what things would look good in your bike baskets. With these ideas, all you need to bring is some cool breeze and loads of fun.
These DIY bike basket ideas are something you can learn from other people to have some beautiful experiences while biking. Below, DIY bike basket ideas are simple and can be utilized in many ways. People around the globe are utilizing this space effectively to hold anything from plants to baby carriages and cargo transportation. You can design your DIY bike basket based on your needs.
DIY Bike Basket Ideas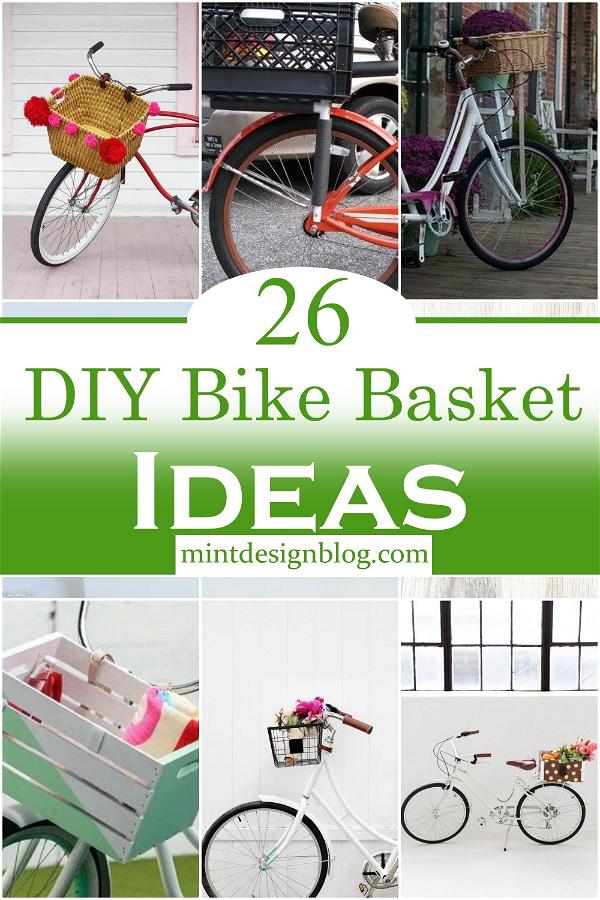 DIY bike baskets are beautiful accessories that make your bike gorgeous, able to carry more weight or transport stuff. They are easy to make, and if you have a lot of will and creativity, you can be wonderful at designing and creating unique ones. Some people even have listed their ideas on how to make it and used materials to make it. The first step is to evaluate your needs; what do you need the basket for: transporting things, carrying children, and carrying pets? Then use simple tools and materials: plastic straws and PVC pipes from the hardware store, cardboard, and foam material- and start working on your design!
How To Make A Bike Basket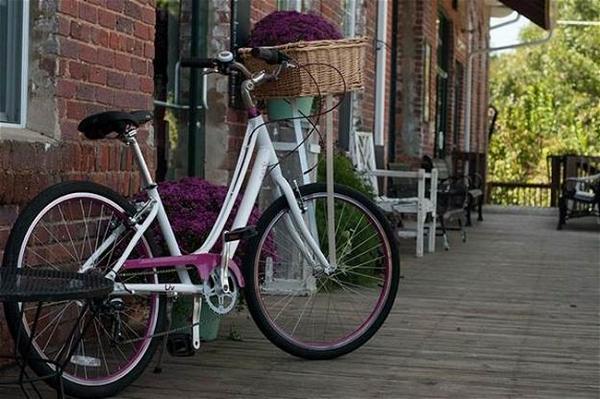 The bicycle basket is a common yet important accessory that gives your bike and travels a more stylish image. Bicycle baskets are designed to be durable and waterproof. They can have a range of capacities, but the standard size is between 10 and 20 liters. They can be attached to both fronts, rear, and middle of the bicycle. It is also advisable to carry it with panniers to cushion the basket for more protection. This will make it safer for the basket if it comes into contact with other objects or people.
Basket
Metal Struts
Zip Ties
Bolts
3/16 (5 mm) Drill Bit
Hacksaw That Cuts Metal
Metal Files
Vice Grip
This process is one of the easiest bike basket installations one has ever done. Start by selecting the most appropriate and fit-for-need basket online from amazon, or get the basket from your storeroom or local craft store. Then, bring the metal struts concerning the weight and size of your selected basket to bear its weight easily. Drill some tiny holes fix the metal struts, and attach them to the front of your two-wheeler. You'll have to knot some zip ties to keep your basket tight so it can bear the shocks made by hurdles and speed breakers and allow you to keep the things inside the basket safer and managed.
PVC And Milk Bike Basket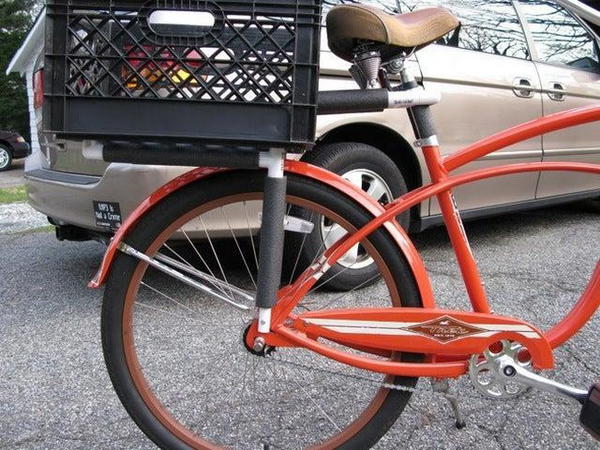 The PVC and milk bike basket is a simple and elegant gift idea for someone who enjoys a bit of biking. It's made from sewer PVC and old black milk bottles, which are incredibly durable, so they'll last for years outdoors. It's attached to the seat post with a strong leather strap and is easy to attach with just one bolt on the rear support. This bike basket prevents spillage from milk or other liquids as you run your errands on campus or in town.
Front Cardboard Bike Basket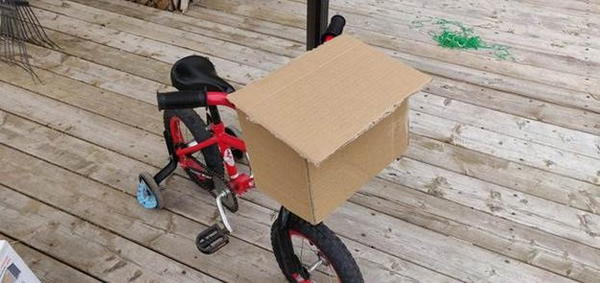 This flat cardboard bike basket will help hold your purchases or serve as extra storage for your stuff. Cut out the pieces, and then strap the basket to the handlebars. This simple yet effective cardboard bike basket will make your trips a little easier. You can use it as planned or modify it to fit your particular needs. The basket is very light, so it doesn't add extra weight. It's easy to attach and remove. You can use this basket as storage and as a table on a picnic or beach.
How To Make A DIY Bike Basket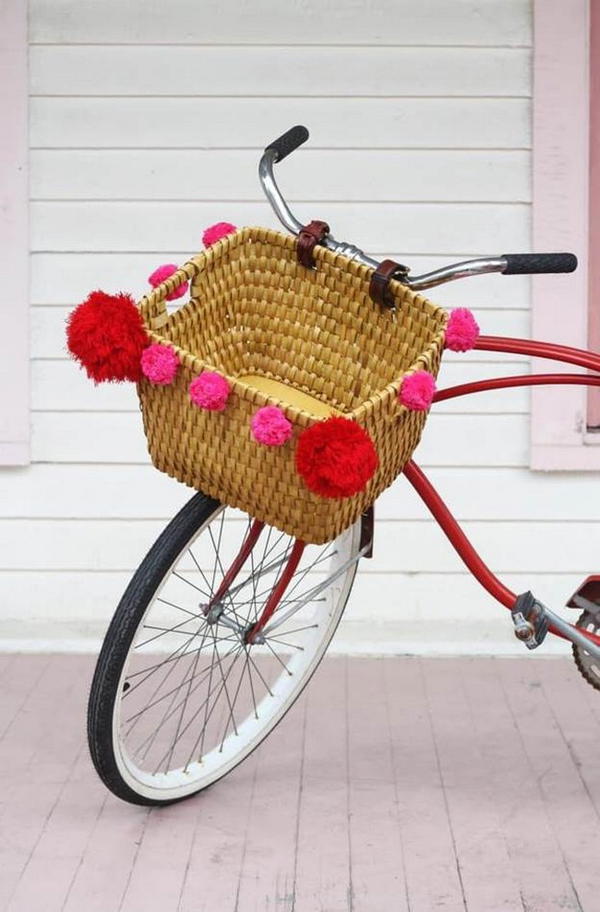 Want to decorate your bike with something creative and personalized? Make this easy DIY Bike Basket, and never worry about your bags again. This DIY bike basket can be a cute addition to any bicycle. Instead of slinging a bag over the bike handlebars, or a big bulging backpack on your back, you can easily make a very efficient, cute, and trendy little basket that fits most bikes perfectly. Good for people who love to go biking and need to carry stuff in a basket beneath the seat, this DIY bike basket is pretty much a good way to do it.
DIY Wood Crate Bike Basket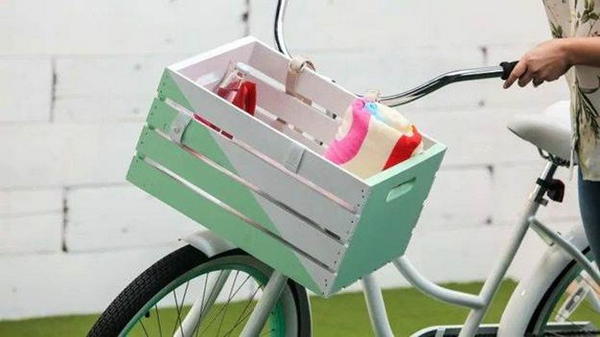 This tutorial will guide you through the process of building a delightful bike basket. It is rather simple to make with the tools that generally everyone has in their toolbox. This DIY wood crate project is a great way to put those old pallets to use. Pallets are all over the place, and this project will give a unique feel to your bike. It's a cheap project that you can decorate to suit your style and needs. This tutorial is designed specifically for an unfinished wood crate but can be easily modified to use a piece of your choosing and finish however you please.
DIY Bike Basket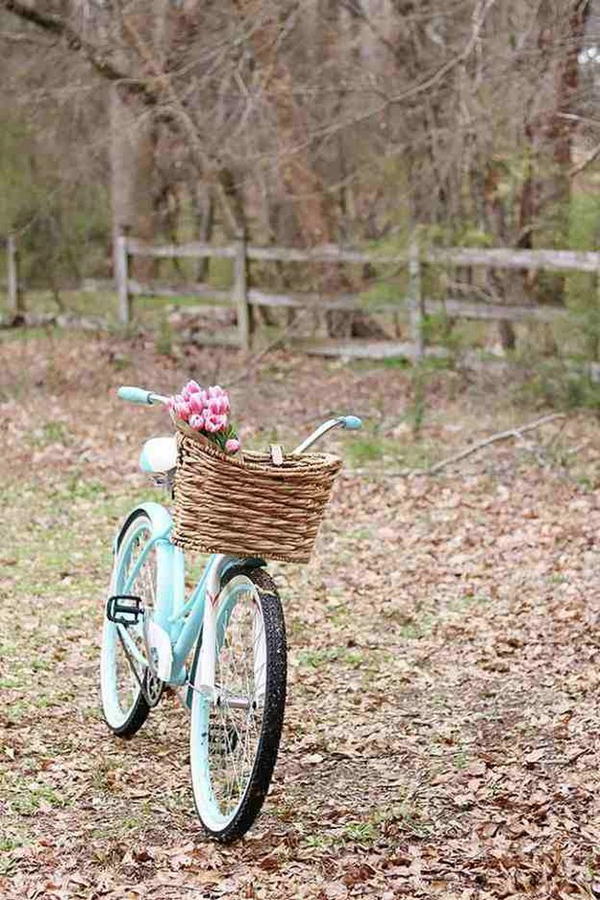 Constructing a bike basket out of an old wicker basket is an easy project that can be completed in one afternoon. The materials are inexpensive, and the finished product looks great.  To make this, gather up an old wicker basket, two leather belts with D-rings, a drill, a rivet setter, and a bicycle basket for a reference. Use your old belt as a template to mark all new holes on the belt strap. The hole will have to be drilled through both layers of the leather, so be careful when using the drill.   Test fit the new strap with your basket before putting it all together. Then attach it with the rivet setter, and you're done!
DIY Wire Bike Basket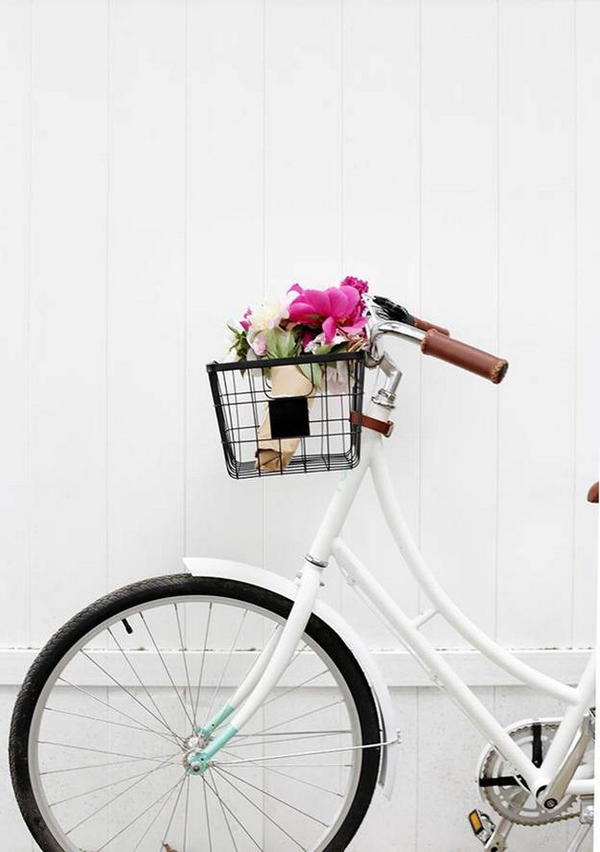 This is a simple basket made of wire. It would fit any standard bike frame. To make this, you will only need a piece of wire, several belts, and a bit of creativity. You will need a drill and a pair of pliers to assemble it. The process is very easy to follow. You would be done in no time with this DIY project that could be used to put goodies on your bike when you take your dog out for a ride. It is a great way to carry items, thus being eco-friendly. The step-by-step tutorial will guide you through building this out of wire and belts.
DIY Polka Dot Bike Basket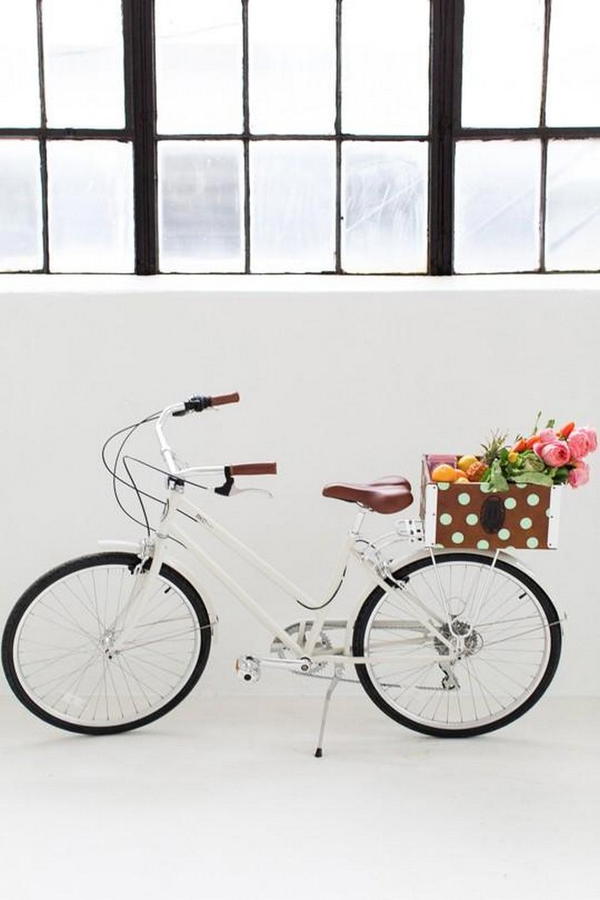 Here's a fun, DIY bicycle project that will make your bike stand out. With a large empty crate and fresh mint green craft paint, you will make a polka dot style bike basket in no time! You can make this polka dot bicycle basket together with some extra materials. The project will cost about twenty dollars, plus eight dollars for the crate and paint. This is a great gift for your daughter or any special friend; plus this bike is the perfect addition to the farmer's market, beach fairs, and flea markets.
DIY Cheap Bike Basket
The DIY Cheap Bike Basket is the simplest of all bicycle baskets. You need a plastic basket, a cheap cup, and extra zip ties. The cheapest way to install the basket on a bike is to strap the cup to the inside part of the basket with zip ties. It will serve its purpose by holding groceries and light items you want to transport from one place to another. You can create a basket in minutes with an inexpensive cup, mounting hardware, and zip ties! Watch the short video to see how easy it is!
DIY Bike Basket
Bicycle baskets offer a safe and convenient way to transport fruit, vegetables, and other goods to customers. You can use this basket to carry your goods and not hurt your hands. Remember to spray the basket with paint so that it will not fetch rust when it rains. Cable ties should be used for safe-keeping to avoid any theft. Apart from carrying fruits, vegetables, and other products, this item is equally useful for carrying books or small tools.
DIY Copper Bike Basket
The copper bike basket is the latest design for trendy bikes. Make this copper bike basket a fun DIY project, and learn how to make a gorgeous decorative piece for your bicycle. When you want to add a special touch to your bike, this copper pipe will be able to do it for you. Consider the information from the blog, DIY Junkie, and make your copper bike basket. This DIY Copper Bike Basket has a wooden base where you can place your belongings and then carry them in style.
How To Attach A Removable Crate To Your Bike
Getting the right fit can be a pain, but not with this removable crate. The holes where you attach it to the bike are precise. Bolts and joints make it secure on the bike at all angles. You can easily switch this out for another mode of transport without hassles. The directions for creating this basket should be understandable and simple to follow. The bolts should be marked to avoid confusion. This will help the individual construct the bicycle basket properly.
DIY Simple Bike Basket
This bicycle basket is a great way to carry your items while biking. It could also work as a pinch shopping cart or market basket. This design came into being after years of using the classic wire basket common on most bicycles today and becoming frustrated by the things that would fall out of it while riding. This bike basket is very easy and inexpensive to make if you have some experience with sewing. You can use either heavy-duty canvas or outdoor fabric. You can easily add one if your bike has a curved bar but no horizontal one.
DIY Floral Bike Basket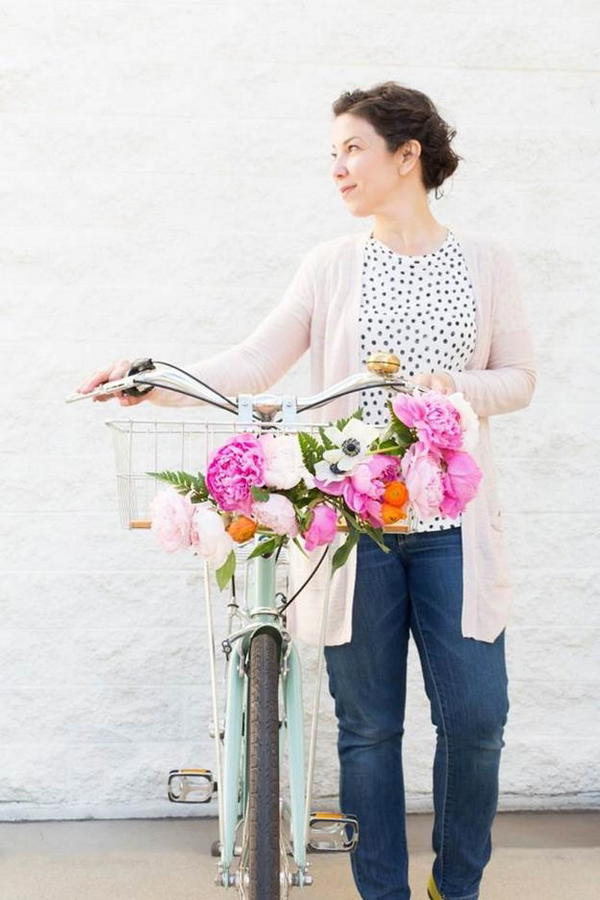 Cycling is a fun and inexpensive way to get around. To add a touch of floral personality, we created this DIY floral bike basket that can be finished in about half an hour. Trace the basket on your cardboard and cut it out. Attach the flowers to the pieces of cardboard with glue. Layer the largest blooms and greenery on top of smaller ones so they appear to come together naturally. Congratulations, now you have a beautiful new addition to your bike.
Bike Basket Liner DIY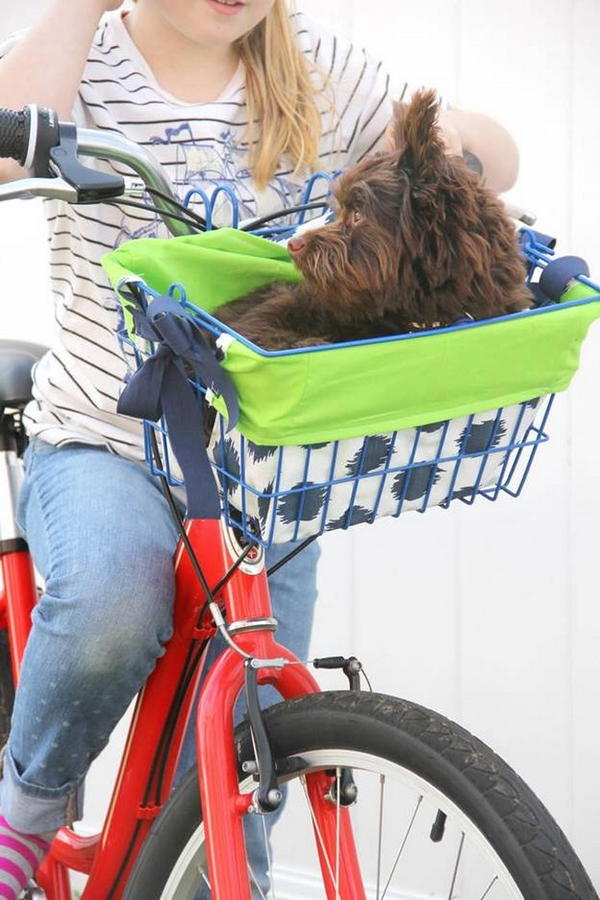 The basket liner can be a simple box shape or be made to fold into a bowl shape. Either way, you want the fabric to be as tight and smooth on the inside as possible to avoid rubbing up against your food and feeling rough on your hands. Pinning is easiest, but you can hand-sew the lining onto the outside for a more stable bag. Adding an extra layer of material on top makes it easier to use by covering up the holes in the basket so that little hands cannot get through.
Floral Bike Basket DIY
Go for a creative ride with a floral bike basket. You can turn any bike into a work of art and show it to your friends or family. You will be able to give it as a gift, so it is best to make sure that the flowers you choose fit in with the person you are buying them for. It is all about having fun and making something beautiful, whether you are painting on a canvas or doing bike basket art. You need some watercolor canvas and flowers to create a DIY flower basket that suits your taste.
How To Attach A Bike Basket
So your bike needs a basket, but none of the local stores have one that fits. You're left with no choice but to build one yourself. The first step is to select the leather straps and find two pieces of wood that will serve as a bracket. Take the basket measurements and then mark it out on the wood to save time. Drill holes into it if you want to use metal attachments, or if you want, cut out the leather straps and drill holes into them. Attach it to your basket and enjoy your new bike basket right away!
DIY Bike Porter Crate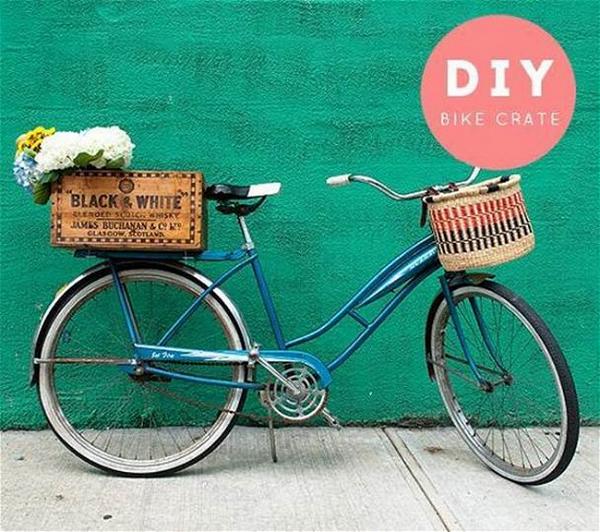 Our DIY bike porter crate will help you carry your journey and more. The crate is made of durable materials with a vintage box. You can choose to have two baskets on your bicycle to carry as much as you need per time. Get a vintage box for use. Rid it of any dirt. Seal the crate and repeat till oil no longer penetrates the wood. Use mending plates, bolts, and nuts for support. Salvage your old bicycle and add this wooden porter crate on top of it to help you transport heavy things more accessible.
How To Install A Front Bike Basket
This bike basket is a great way to carry items when going on a biking trip. The beige color and brown lid make it look stylish and durable. With the help of the easy-to-follow instructions, you can install this basket on your bike in no time flat. It is quite sturdy, so you can be confident that you will have a great time riding with it. This basket is also a great place to put your items when biking into the city.
Tangled DIY Bike Basket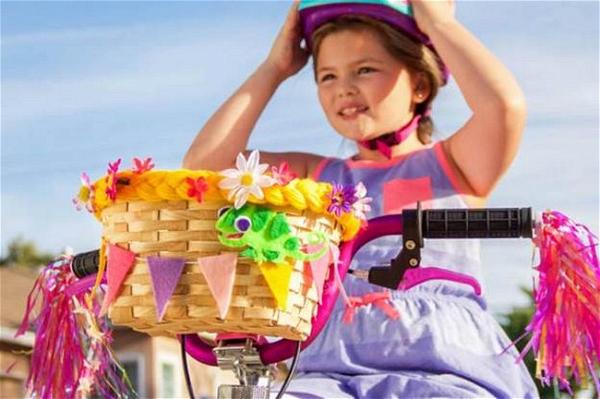 DIY bike baskets are an easy and inexpensive way to give your kids a little space to carry along whatever they fancy. Let them get creative, too. They can decorate their new basket with felt material, yarn, craft flowers, and anything else they think might fit the bill. Here are the steps to create a colorful and fanciful design that any young one will enjoy. This flowery basket looks lovable, beautiful, and adorable. It is a good learning experience for the kids to do something useful with their hands. They can be more creative and feel more confident with the results.
DIY Bike Basket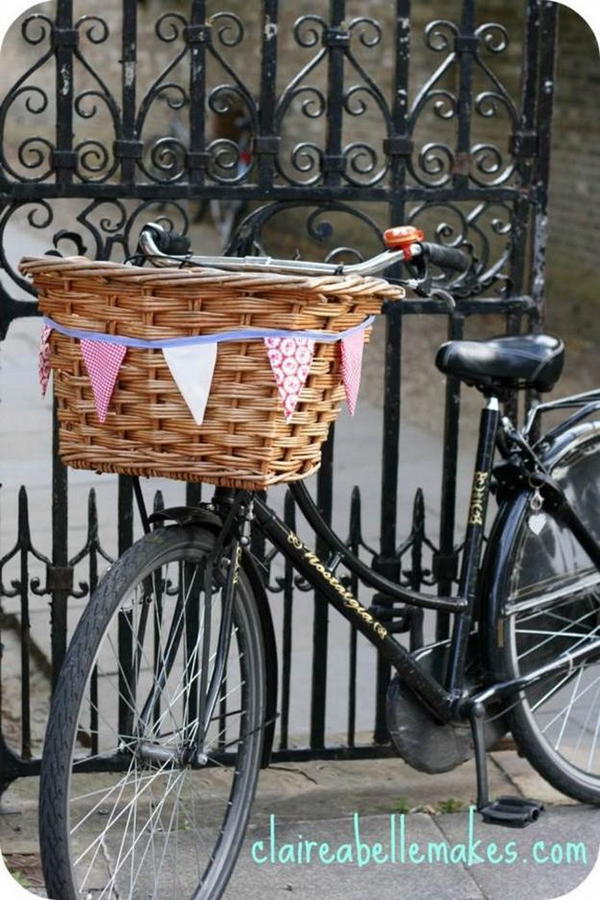 Whether you're off to the farmer's market or just headed out for a neighborhood picnic, our cute Bike Basket will come in handy. All you need is recyclable cardboard and a few yards of colorful fabric. Wrap this simple design around the basket, cinch it up with coordinating bias tape, and toss in your favorite treats! It's easy to make with just a few steps and about an hour. Follow these instructions and create your basket today. This project can be completed with little sewing experience, and the fabric can add a touch of personality.
DIY Bicycle Basket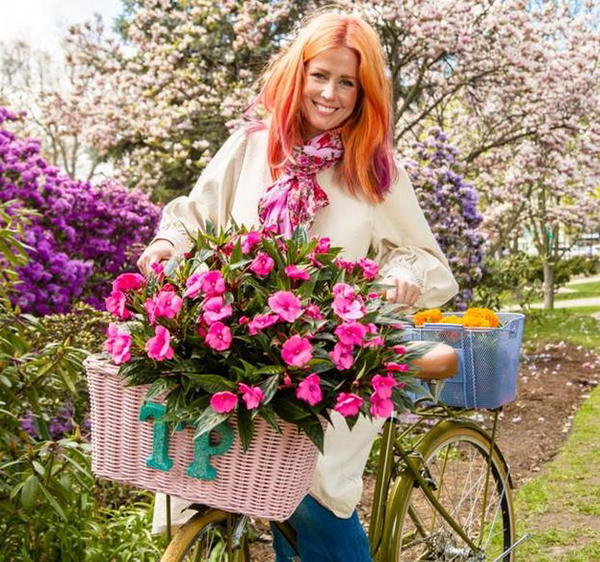 DIY Bicycle Basket is a very easy project but will prove to be the best one. It takes a few minutes and gives your bike an entirely new look. To give a personal touch to this project, use the initials of your loved ones, cute cartoon characters, or bible quotes from your religion. If you want it to be more lively, you can add some glitters to it. This ride will never fail to catch people's attention when you are cycling around with your new customized bike basket.
DIY Piggy Bike Basket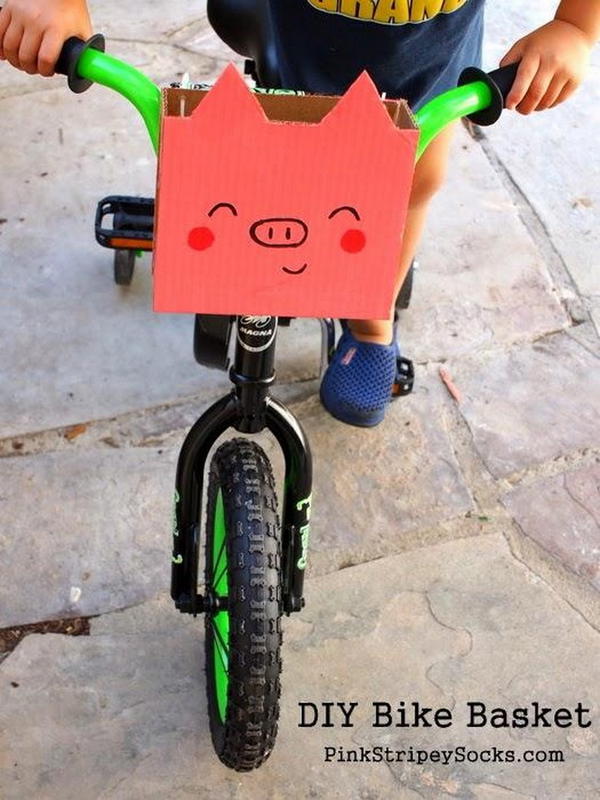 You can apply your style if you want to make the doll bike more fun. The boldest way is to draw on a cardboard box with a pencil and cut out the tire and handlebar sleeves. You can spray-paint the body of a bike basket according to your design and make a design on the parts of the zipper mouth. This amazing bike will hide your tools and anything else you may want to take with you on your bike rides.
DIY Bike Picnic Crate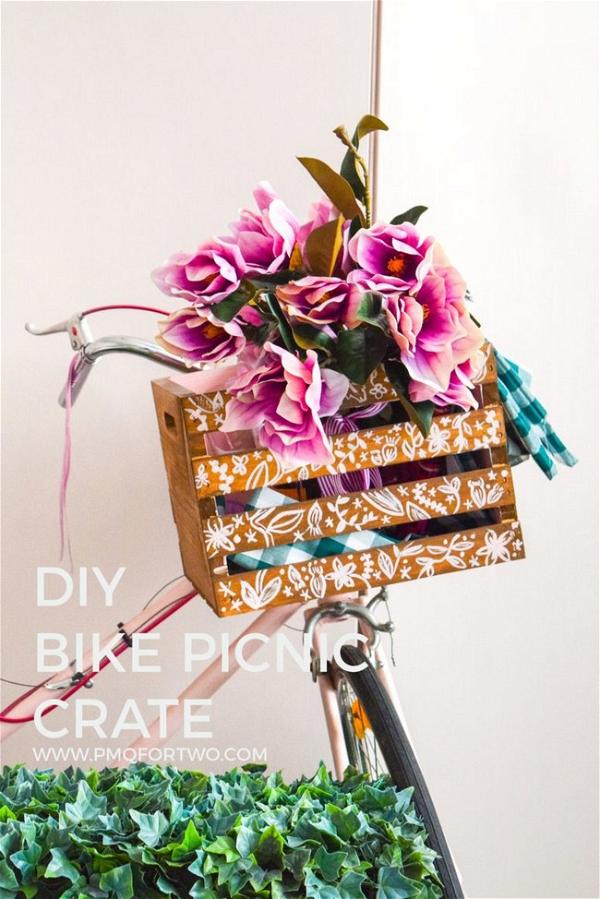 This DIY bike picnic crate is custom-made for your bike and constructed from high-quality materials, including a galvanized steel base. The UV-treated polyester cloth that can be easily wiped clean, and recycled polyethylene plastic bottles for the side pockets, with a metal ring and carabiner attached for extra security. The umbrella canvas canopy helps keep your cargo safe from the elements and is designed to install easily over this basket, so you don't have to worry about getting stuck with it when you need to go for speed.
Wine Crate Bike Basket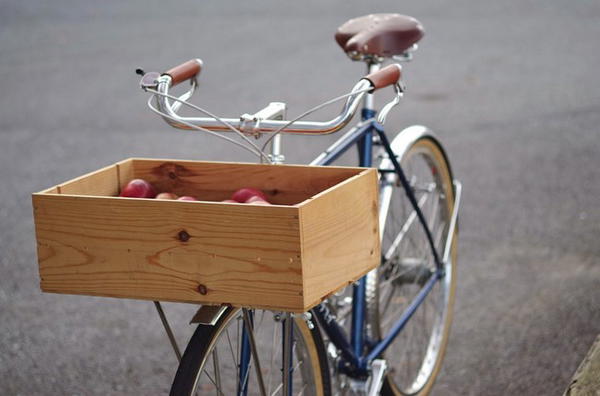 The bicycle basket makes hauling a bottle of wine to a party easier and safer than balancing it on your handlebars or seat. A solid wood crate creates a smooth surface out front so that you can cart around those bottles with ease—wine not included. The Wine Crate Bike Basket comes in one size but can be mounted to most standard racks or front baskets. This sturdy and practical basket is made to carry your groceries for the day; it will fit any bike with a wide range of handlebars and comfortably carry between 5 to 15 kilograms.
Penelope's DIY Bike Crate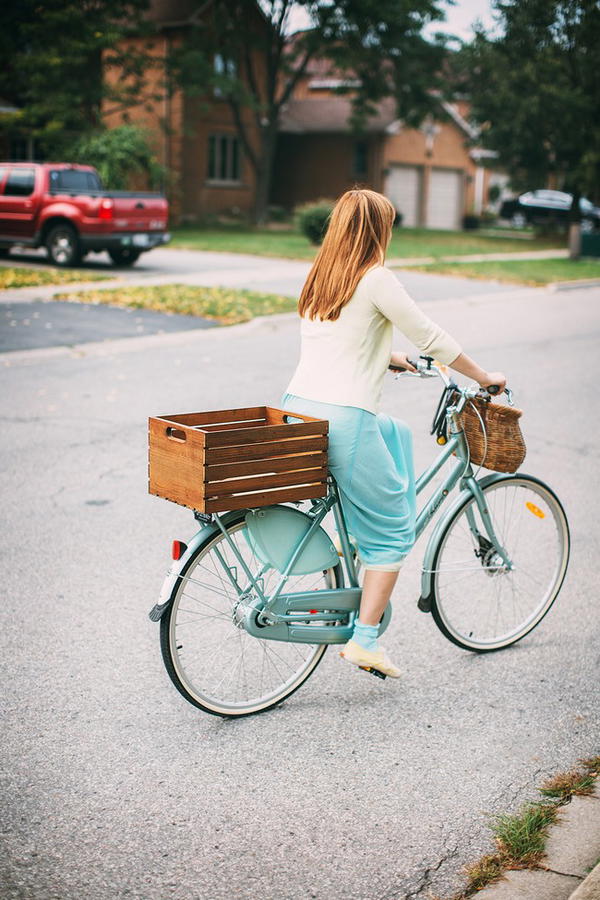 The Wine Crate Basket is designed to fit most porteur racks and can also be used with a side-mounted rack along the main tube. The basket is made with a solid wood core, wrapped in woven rattan, and comes with two leather handles on both sides to facilitate carrying. This basket has a limited capacity of 3L and can be folded flat when not in use. The crate is made from wood, and the mounting hardware is available in silver or black finish.