Are you looking for the best steering wheel cover ideas that you can try? If you have a car and use it daily, it's evident that your steering wheel will get worn out with time. You will have to find interesting ways to cover your steering wheel to prevent this. A steering wheel cover makes sure that your hands don't feel too hot or too cold in different conditions. It also ensures that your steering wheel's color does not fade with time. So if you are looking for some beautiful and affordable DIY steering wheel cover ideas for your car, then here are 20 DIY Steering Wheel Cover Ideas that you can try yourself.
DIY Steering Wheel Covers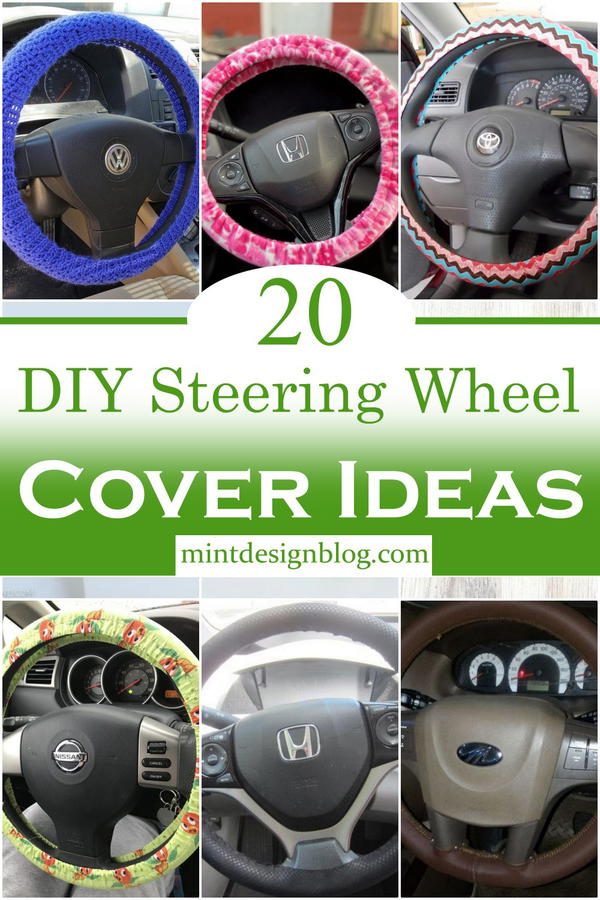 If you're looking for a way to make your steering wheel look more stylish, you've come to the right place. If you have an older car or truck, you may have worn-out or faded steering wheels. Using a DIY steering wheel cover, this problem can be fixed with little effort and relatively low cost. These are easy to make at home and great for adding style and flair to your vehicle. The best part about this project is that it's pretty simple. If you can sew, you can make one for yourself from the 20 DIY Steering Wheel Cover Ideas. And if you don't know how to sew, other options can help you get your hands on one of these covers without learning how to sew them yourself!
See More: 18 DIY Camper Shell Plans
Steering Wheel Cover Ideas
There's no shortage of ways to customize a steering wheel. You can go with something simple like making a cover out of fabric. Or you can go all-out and create something unexpected, like a pineapple or a beaded masterpiece.
If you have an older car, there's a good chance that your steering wheel is looking worse for wear. The vinyl may have turned brittle and cracked. Or the leather may have faded, dried out, and begun to peel away from the wheel. A new cover can help improve the wheel's look and feel while adding some pizazz.
To make one of these DIY steering wheel covers, you'll need several tools and supplies:
Fabric
Scissors or rotary cutter
Measuring tape or ruler
Sewing machine (or needle and thread)
Stuffing such as cotton balls or batting
Quick DIY Steering Wheel Cover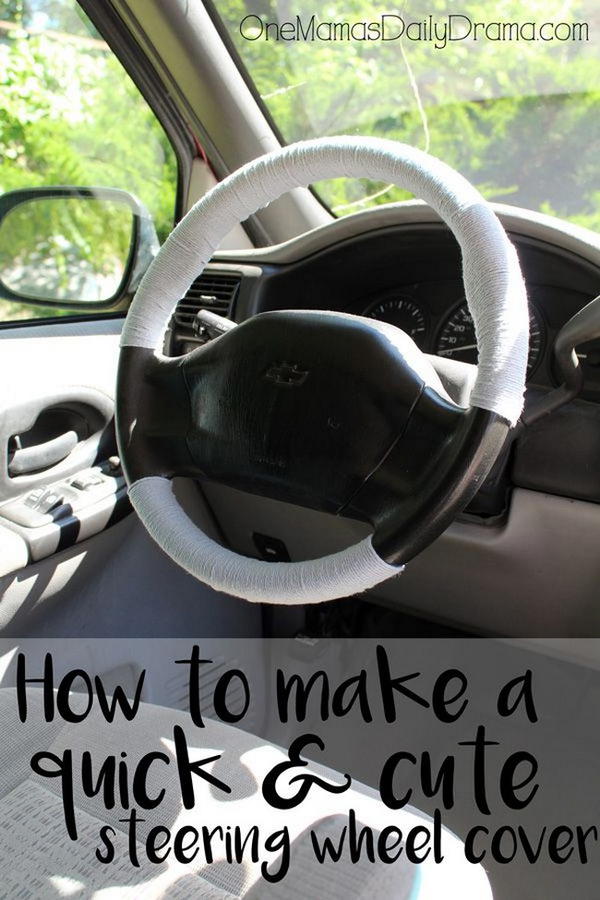 Your car is your second home and deserves to be decorated with fun accessories. This quick and easy DIY steering wheel cover perfectly complements any car's interior. This fast and easy DIY steering wheel cover is the perfect solution for making your steering wheel look nicer and adding color to your car. It is effortless to make and guarantees that your hands will stay warm and dry on even frigid days. You don't have to know how to crochet to do it!
How To Sew A Steering Wheel Cover
Steering wheel covers come in different shapes, sizes, and designs. With just a small amount of sewing skills, you can make your own steering wheel cover or sew a cover purchased at the store. The tutorial will teach you how to measure to create a steering wheel cover and how to sew it. Making a steering wheel cover is fun and easy to do. It can be made from fabric or material, such as quilting cotton, flannel, or fleece. Sewing elastic on the bottom edge of your cover will give it a snugger fit around your wheel.
How To Stitch Leather Steering Wheel Cover
Do-it-yourself. Enthusiasts will love to learn how to stitch a leather steering wheel cover. This is also a great beginner's project for people who have never done any leather stitching. You can finish this project in less than an hour with just a few skills, materials, and tools. It is a pouch with two front panels, an inner piece sewn inside, and two back panels attached to each front panel. The finished work looks fantastic on wooden wheels and is aesthetically pleasing on its own.
DIY Steering Wheel Cover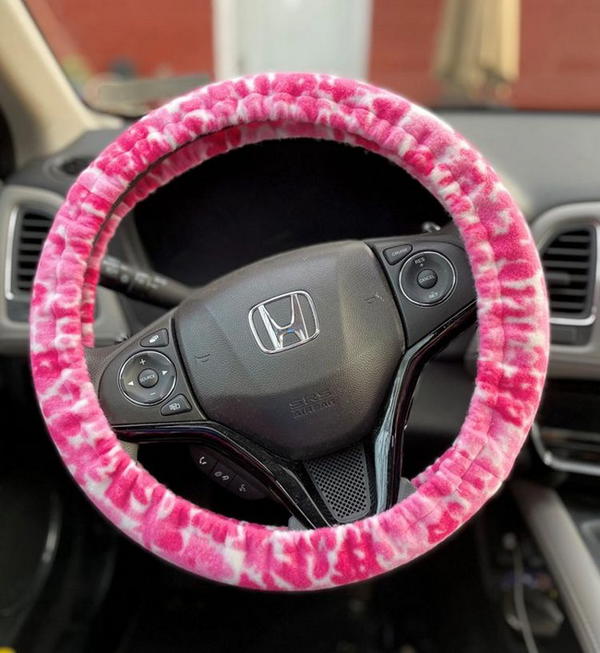 Chilly day? Warm hands and a pretty cover? Yes, please! This custom steering wheel cover is the perfect solution to cold hands on the go. The soft fleece lining makes it easy to grip the steering wheel and protect your hands from the cold. Not only that, but it adds a new level of style to your car– not just your steering wheel! You'll stay comfortable with two layers of fabric and a quilted backing to give it some cushion. This versatile cover fits most standard steering wheels and conforms to your hands for excellent grip.
How To Make A Steering Wheel Cover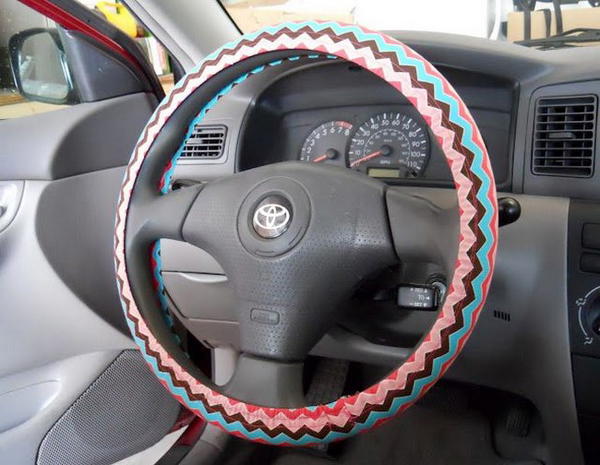 Car heat makes your feet and hands cozy, but your steering wheel doesn't get the same treatment. Make your steering wheel cover because it is fun and keeps your hands nice and warm in the winter! Made with fleece or leather, a steering wheel cover is comfortable for your car. They help to keep your hands warm in cold weather while at the same time keeping your wheel clean. You can choose to use any material you desire. This quick project requires only a little sewing for a fancy padded look.
How To Sew A Steering Cover With Fabric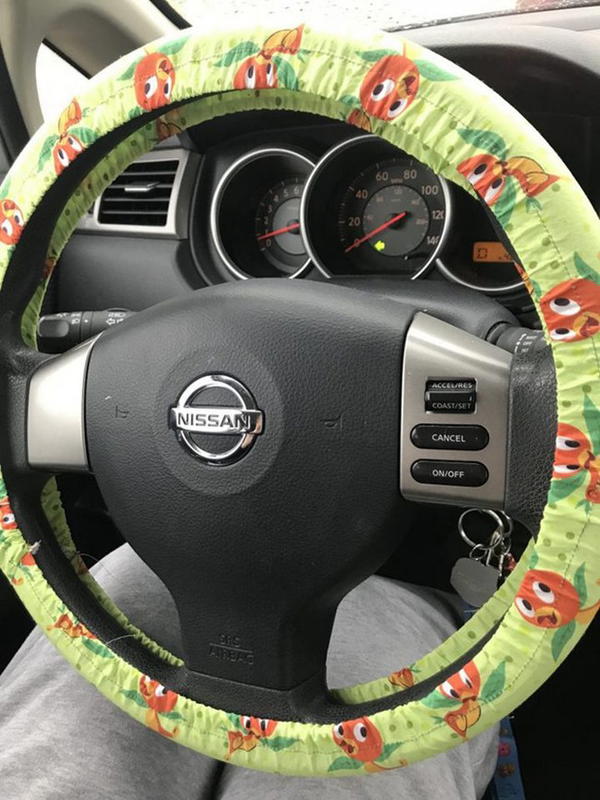 Good driving is the art of numerous small things. One such thing is a steering wheel cover. A good steering wheel cover should protect your car's original steering wheel and make it more comfortable to hold. A beautiful body makes your car look fantastic. And if you are interested in sewing your own set of covers, this tutorial is for you. It does not interfere with any of your controls and gives a comfortable feel to hold on to for hours. You can sew a nice-looking steering wheel cover with just a few materials and a little bit of hard work. Just follow the steps described in this tutorial.
Leather Steering Wheel Cover
If you are looking for a gift for your favorite driver, leather steering wheel covers can't be found in stores. But with patience and some hand stitching, you'll have one in no time flat! This is one gift that will bring great joy and happiness to the recipient. Making a leather steering wheel cover for the master of their domain is just one way to show your love and appreciation for your loved one's car. Best of all, this DIY tutorial will lead the way. It could be your husband's prized sports car or your significant other's new racecar, but whichever vehicle it belongs to, they will love this gift idea.
DIY Homemade Steering Wheel Cover
If you're looking for a fun, new project that you can work on either in your car or at home, try knitting your own steering wheel cover. The DIY Paracord Steering Wheel Cover is a great Christmas gift to give away as a present for completing a knitting project. A paracord steering wheel cover will look great in your car and be the perfect example of your knitting skills. The stylish and straightforward result makes an excellent gift for any car enthusiast! Make it your own by choosing from the different pattern options.
Scrap Busting Steering Wheel Cover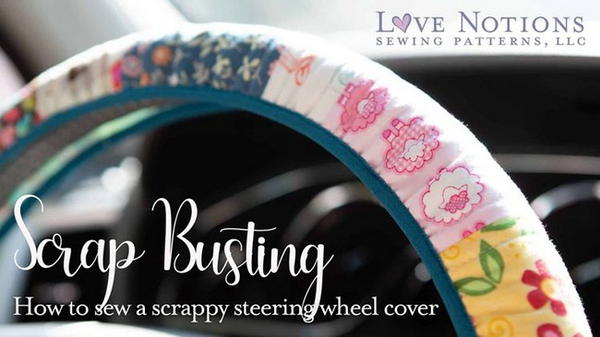 Let us introduce you to a perfect project for those wanting to try something new and crafty. Scrap Busting Steering Wheel Cover is a simple, fun, and fast project for knitters of all levels. This project is perfect for beginners looking to learn new techniques with intermediate techniques, such as buttonholes and cables. And because it's a last-minute gift or a way to upcycle your scrap yarn, the Scrap Busting Steering Wheel Cover is great for any knitter on the go. It's a quick project and will take less than an hour from cast on to cast off.
Making A Steering Cover With Your Favorite Fabric
You probably know someone who makes their own steering wheel covers. The process is pretty basic, and you can use your creativity to integrate excellent fabrics; anyone can add a personal touch to their car with a new steering wheel cover to change things up. This tutorial gives you basic guidelines for making your own fabric-covered steering wheel. It is best to avoid making your own if you do not have a sewing machine, but it is unnecessary. Elastic bands are used in the casing to tie together the fabric and maintain its shape. Also, cotton fabrics with prints or a solid color are the most common choices for this project.
DIY Fur Steering Wheel Cover
Have you ever wanted to put fur on your car's steering wheel? Maybe you've had an old fur coat lying around or even a bedroom pillow you never use. Whatever you have lying around can be used to make your own DIY Fur Steering Wheel Cover. This video will show you how to cut and sew fur using a sewing machine. Don't be intimidated by the task; go out and make yourself the perfect accessory for the driver in life.
Sewing A Steering Wheel Cover
You can sew your own steering wheel cover with just a few materials and put your personal touch on this project. Sewing this fun cover takes a little time, and you can use your own personalized fabrics. Sewing your steering wheel cover is very easy and takes less than an hour of your time. All you will need is a sewing machine, a fabric, and some thread. You will save money by purchasing a steering wheel cover from the store, and you can make it look however you like. It's pretty easy, and you only need a sewing machine, some fabric, and a little time.
How To Install A Leather Steering Wheel Cover
A steering wheel is a principal place for car owners to suffer from hand pain. With continued use, the leather steering wheel can be increasingly worn out, and the woven fabric on seats can wear through more quickly than expected. Plastic steering wheels lack the feel of genuine leather, but adding a leather steering wheel cover could bring your car back to its original sense. You will be surprised at the speed at which you can have your own leather steering wheel cover.
Crochet Steering Wheel Cover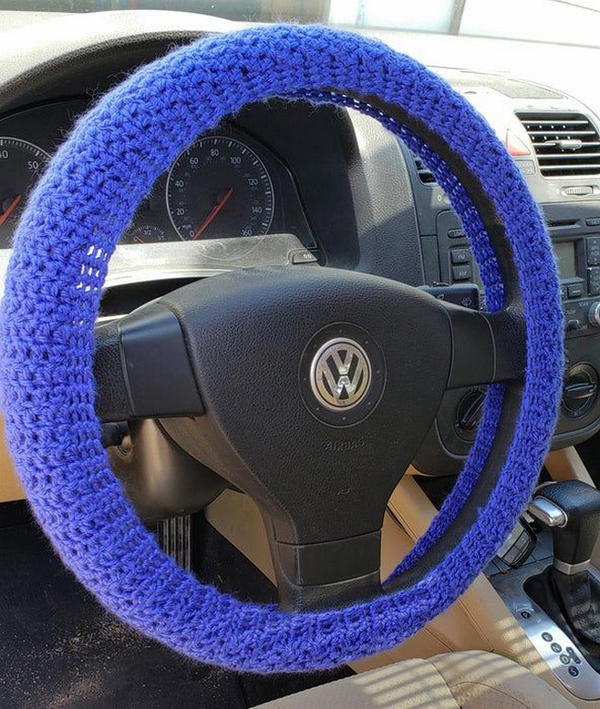 Crocheting your own steering wheel cover is an easy way to add a customized look to make your car stand out from others. With just a little practice, you can create something that is both aesthetically pleasing and functional, keeping your hands and fingers warm in colder temperatures. Though it may take some time, patience and practice, it could be made at home with simple steps. Start by choosing the yarn you want to use for your steering wheel cover. There are a lot of colors in yarn that could match your steering wheel.
Leather Wheel Steering Cover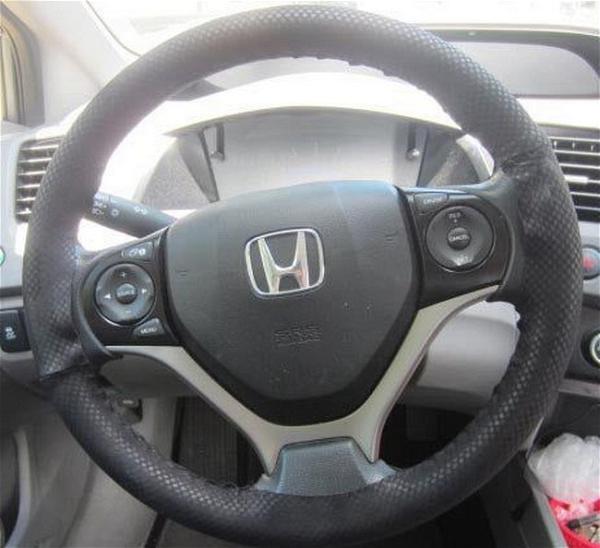 There is no need to replace your car's nice leather steering wheel if the original one is still in good condition. The Leather Wheel Steering Cover looks fabulous, especially when placed on a leather-based steering wheel. It's easy to fix onto the first tier of your car or truck's steering wheel, and once you take it off, its leather piece becomes loose for future uses. It looks so good that you'll want to put it back on the next time you drive.
Steering Wheel Custom Leather Cover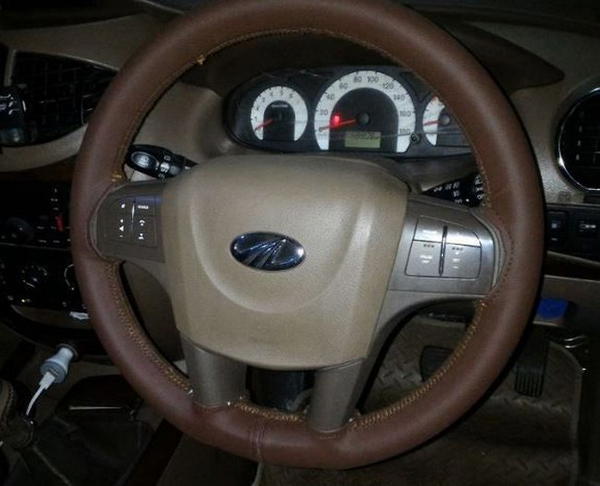 Personalized steering wheel covers are a great way to add a unique and personalized touch to your car. Keep your hands protected from cold and hot conditions with your leather steering wheel cover. This universal fit accessory provides the best protection in any environment. A simple, effective way to keep warm on those chilly days or keep the sun out of your eyes in the hot summer months! Adorn your car's steering wheel and make it look elegant with our custom steering wheel cover. You can pick from various patterns, colors, sizes, and styles. Get your favorite one for your car now.
See More: 23 DIY Car Seat Cover Projects
DIY Paracord Strapped Steering Wheel
This steering wheel cover is a nice-looking and practical addition to any vehicle. It is made of high-quality steel, making it a solid and rigid material. It is the answer to all of your needs to protect your hands as you stop and go. As a functional accent piece, these steering wheel covers can be used in many sports and professions as a reminder or symbol of good luck. The paracord was initially designed for parachutists, making this product even more special. And it comes with a DIY paracord strap for easy installation."
How To Sew A Steering Wheel Cover
Are you tired of having to replace your worn-out steering wheel cover? There is no need to suffer when you can easily make one on your own with this guide that will bestow upon you a new and exciting experience. In this article, you will learn how to sew a steering wheel cover without any other patterns or skills. You can make your own steering wheel cover for the car using old or new fabric in your favorite color. Getting back on the road without breaking the bank should be a breeze."
DIY Steering Wheel Cover
Most vehicles come with a soft, plain plastic or vinyl steering wheel. If you want to make your vehicle more attractive, this DIY Steering Wheel Cover tutorial can help you get the best out of it. You can choose a soft fabric and make a cozy steering wheel cover. It is straightforward; just follow the tutorial and order one for yourself. The DIY steering wheel cover will help you drive safely and confidently!
DIY Steering Wheel Cover
Do you love fun and cool stuff that make every day seem like a party? Put a smile on your face and make ordinary drives more entertaining with a DIY steering wheel cover! Steering wheel covers are a great way to accessorize your car. They are easy to make and come in various colors and patterns. If you want to create a steering wheel cover with your favorite image, words, or design, this tutorial is for you. This project is easy enough for even the most amateur of crafters. And when you're done, you'll have a new and refreshed car interior to enjoy.