Are you planning to trim some weight by removing excess accessories from your vehicle? In my opinion, customizing your car and finding new ways to transport cargo can be a fun task. But if you go with the store-bought rack options, it will be a pricey and challenging option so try to go through this series of DIY roof rack ideas. These roof racks are great accessories for multiple purposes, whether you're looking for a large-sized rack for heavier objects to lift. Or keep the routine picnic accessories with you while traveling; you'll find the best and most appropriate roof rack ideas here.
Racks are a great way to keep your truck, SUV, or van safe. However, some hauling jobs require extra storage space. Freeing up deck space is the primary concern of many owners. A DIY roof rack setup can accommodate oversized cargo without sacrificing user comfort. There are many different floors and wind load considerations when choosing the best DIY roof rack for your particular needs. For example, options focus on easy installation, easy removal, and ease of use during off-road travel.
DIY Roof Rack Ideas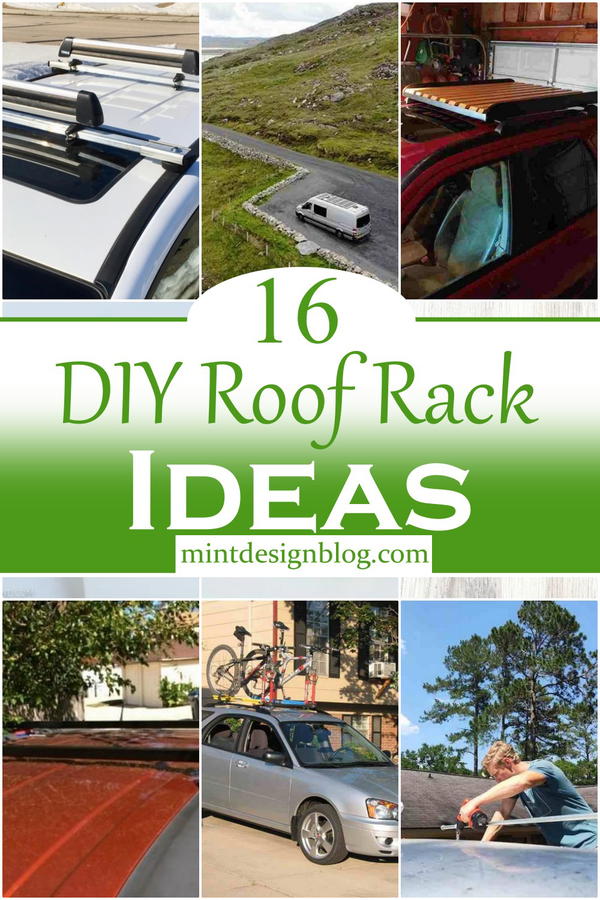 Pre-assembled roof racks for cars can be quite expensive, especially when you want extra storage space without the aerodynamic performance of a spoiler. However, the truth is that making DIY roof racks isn't that complicated and requires some materials and your own two hands. With a few materials, some time, and these diagrams, you'll be able to create your racks that should last well into the future. We discuss 15 different DIY roof rack ideas so you can decide which method will work best for your vehicle. Choose a wood, PVC, or aluminum design, or take the easy way out and use some fabric and string to create a homemade rack.
If you love to spend a lot of time outdoors, you'll find that a basic rooftop rack can open up a whole new world of possibilities for adventure and recreation. Whether you want to transport your mountain bikes, kayaks, skis, snowboards, or surfboards, or just split some wood for the fireplace or carry home groceries, every vehicle can benefit from these do-it-yourself roof rack projects.
You Can See: 19 DIY Camper Awning Ideas
Homemade Roof Rack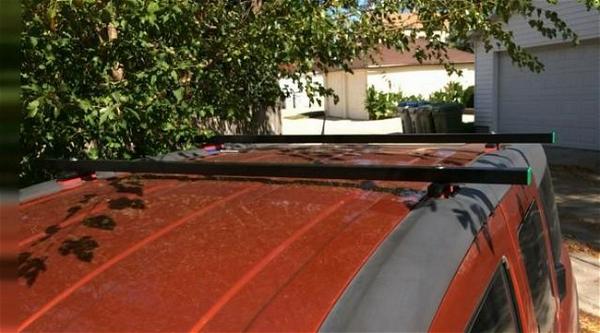 Purchasing a roof rack will cost you hundreds of dollars. This instructable will show you how to build your homemade roof rack using stainless steel hardware from the local hardware store and expanded metal from your neighborhood home improvement store! If you have the tools and some time on your hands, this project shouldn't cost more than $150 or so to complete. The design of this rack is simple yet sufficient for carrying cargo on bumpy roads and curvy highways. It's also built to easily fit into a garage if you need to store it. This instructable will walk you through making your front and back mount and explain how to attach the rack to your vehicle.
Accessorized Roof Rack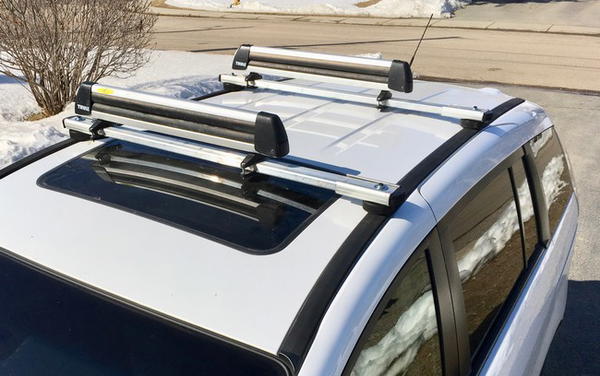 The Accessorized Roof Rack is an excellent option for many vehicles. This roof rack can fit into any vehicle. Its square base and round top are sandwiched by four metal rods, creating a strong structure that will hold anything you need to be transported. It is universal, the installation is relatively easy, and the price is budget-friendly. The installation guidelines are detailed enough to ensure that you can install this yourself within a reasonable time. With a little bit of elbow grease, you may have the first step of getting a small garage started!
See More: 21 DIY Truck Bed Bike Rack Plans
Cheap DIY Rack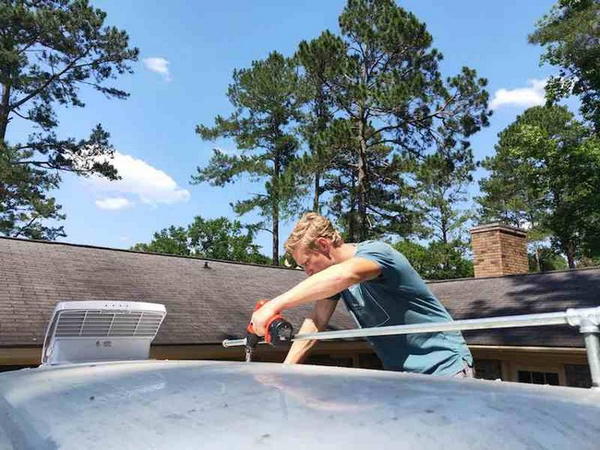 We spend a lot of time in our vehicles, and after a long day at work or on the road, we want to get home as quickly as possible. If you have roof-mounted racks on your vehicle, you may be able to decrease your travel time by using them to hold cargo baskets or lightweight roof-mounted racks while you drive. Unfortunately, this is a challenge if you have a vehicle made in the last 15 years because car manufacturers didn't make the job any easier for us. We'll show you how to build your roof rack for light-duty cargo. You'll need five ½-inch x 2-inch bolts with nuts and washers. That's it, that's all you need.
Functional DIY Roof Rack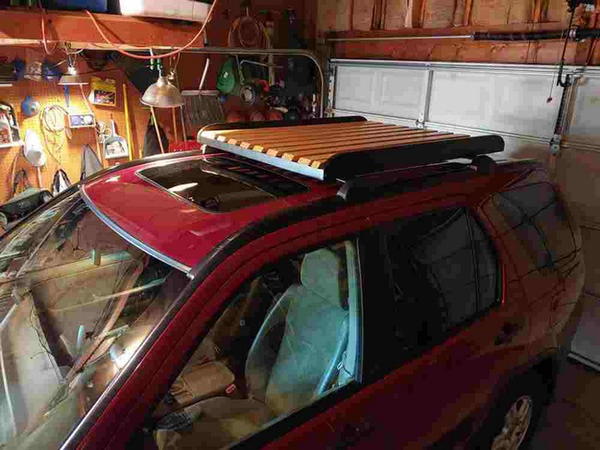 Everyone loves their SUV or wagon, but adding a roof rack is often impractical for cars that aren't meant for accessories. Unless you don't mind ruining the look of your vehicle. But if you want to go off the beaten path and add some seriously cool new features to your car, read this tutorial and follow these helpful tips as you build your DIY roof rack and show off your woodworking skills! Attaching a basic DIY roof rack to the top of your vehicle allows you to transport and store items like bikes, skis, and ladders. You will need basic tools like a socket wrench set and drill to build a roof rack. The instructions below guide you from start to finish in three easy steps.
Small Car Roof Rack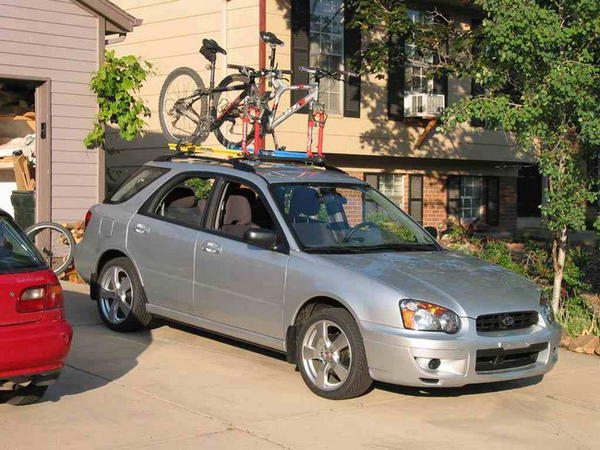 Built like a simple platform, this small car roof rack can carry anything you can throw. It's perfect for hauling somebody's kayak, ladders, lumber, bikes and boards, and anything you need to keep dry while remaining accessible. It uses leftover lumber you may have at home, giving you a cheap alternative to those expensive factory racks that only work on the cars they are made for. No special tools or skill levels are required for assembly. The car rack uses leftover lumber from your old pallets or odd wooden pieces you may have lying around the shop. It is built flat to leave room for the rear door and trunk access in hatchback cars.
Roof Rack to Hold Anything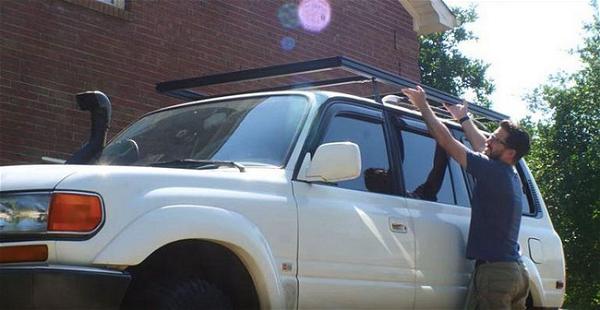 A roof rack is one of the most useful additions any driver can add to their ride. Going on road trips with your friends and family, heading out for a day's skiing, or just running errands, having additional space to carry surfboards, kayaks, skis, and even bicycles will make your life much easier. The Thule Portage roof rack can handle it all. Built side-by-side with Thule roof boxes and accessories for ease of use, the Portage roof rack has everything you need to mount it onto your vehicle.
DIY Van Roof Rack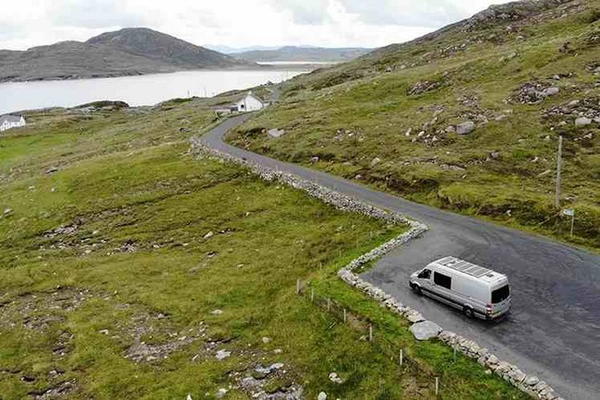 A DIY Van Roof Rack can cut off a large part of your fuel costs. This surface mount guide lets you install a roof rack with legs and solar panels onto your van. If you follow this DIY step-by-step approach, you will safely mount four solar panels on a sturdy roof rack that won't make any noises or vibrations, even at high speeds. This guide will give you step-by-step instructions on how to hook up a roof rack for your van that will allow you to turn it into an off-grid living machine! It's like having a complete RV/Camper without paying the price of a brand-new rig.
Roof Rack without Rattle
A roof rack system is an excellent solution for those interested in sporting equipment. But don't want to drain the precious cargo room in their vehicle. This option allows them to transport their kayaks, skis, bikes, or other equipment without worrying. About taking up valuable space inside their vehicle. Whether you're transporting your gear for a day at the lake or on a weekend camping trip. An excellent roof rack system will ensure that your gear arrives in good condition. With these easy-to-use accessories, you can protect your vehicle from unnecessary noise pollution. By raising your rooftop equipment and securing it to your vehicle's existing crossbars.
Roof Rack Design, Construction & Testing
This video is a fast-paced, step-by-step guide through designing and constructing a roof rack for your car or van. The focus is optimizing storage space and making it an easy access point for loading and unloading equipment. Using this guide, you can make your rack to carry bikes, skis, and other equipment over the top of a car or van. Transporting that gear to your favorite spots is inexpensive, giving you more space inside your vehicle. This video walks you through every step, from design and materials to testing. So, you can build an effective and safe roof rack for all your gear.
Customized Roof/Cargo Rack
To equip your car with a Lifetime Sport Racks roof rack. Think of it as adding a new dimension to your car. Now you'll be able to carry kayaks, bikes, or extra luggage with accessories in one simple package. And not have to sacrifice the use of interior space for storage. Our roof racks are designed for easy, do-it-yourself installation and come with everything needed for a successful installation. Including rubber padding that protects your factory paint finish. Pick from a selection of racks, baskets, and accessories and make your vehicle for the garage.
Superstrut/Unistrut Roof Rack
Rearranging and rearranging is a regular things for novice travelers. An extended carriage basket might be able to hold things more than its old version, but with Superstrut/Unistrut, anything is possible. You can either extend your current basket or make it a new one, which is handy for you. What's more, you can make alterations according to your convenience and requirement at any point in time. Follow these easy instructions and tips on getting the most excellent use out of your Superstrut/Unistrut roof rack.
Bundle-Saving Roof Rack
Metal scraps are an essential material to create a high-quality rooftop rack. You can build almost any type of structure as you can free form the shape of your rack. Add an adequate number of supports. The frame from below should sufficiently support the roof structure to withstand; the cargo weight being carried on top of the metallic rooftop. The strong metal structures created using valuable metal scraps are highly reliable and sturdy, ensuring the protection of transported goods. This rack has ample support on an open-top structure, caged sides for additional safety, and surrounding rails for added protection.
Universal Soft Roof Rack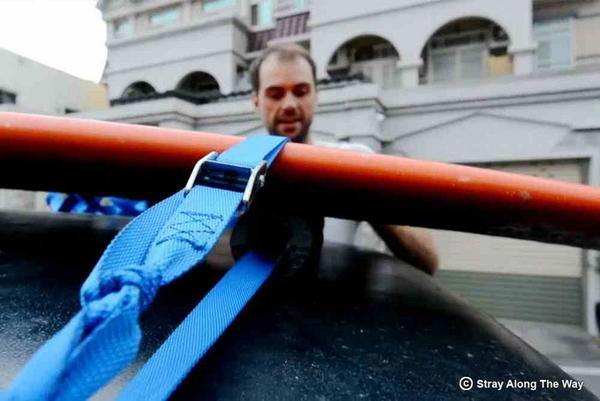 The Universal Soft Roof Rack is a simple solution for anyone struggling to find an inexpensive way of hauling light. For long items without scratching the paint, drilling holes, or buying expensive crossbars. With this practical yet innovative hack, you can go from 1 rod to 2 rods in seconds. Energy-absorbing foam tubes hold the rods firmly yet gently and safely keep your cargo snug against the roof. This setup allows you to carry long items safely and securely. They have high shock resistance and show precise operation capability under high temperatures. Adding to this, they can recycle and provide an economical transportation solution.
DIY Aluminum Roof Rack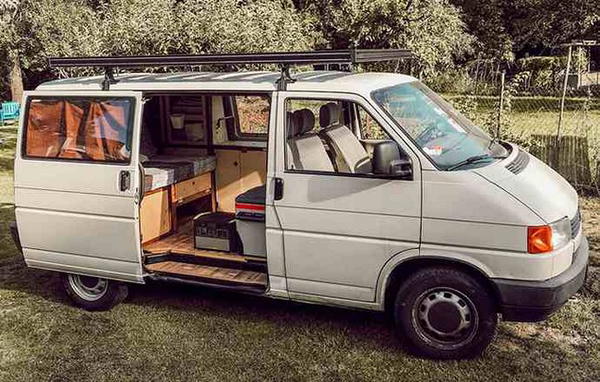 Building a roof rack is a practical way to store extra luggage and contents for road trips. It's not difficult, but you must know how to choose the correct size, set it up, and install it safely. You can choose from many products, but Aluminum is durable and lightweight. This DIY aluminum roof rack can accommodate two suitcases securely on your vehicle. The best part? You can customize it based on your vehicle's specifications. It works great for carrying pets in their cages, transporting lumber, moving supplies, and other objects that offer extra storage space.
Custom Roof Mounting System
This video tutorial will guide you through a custom roof mounting system. That can be easily assembled using scrap aluminum and screws. It takes only a few minutes to assemble. Plus can be used for various purposes, like carrying camping gear, spare parts, or other necessities. It comes in four pieces and an assortment of hardware, allowing you to mount virtually any bike rack or accessory to your vehicle's roof. Racks can be easily disassembled if needed and attached to other vehicles. We inspire and make one!
Simple DIY Roof Rack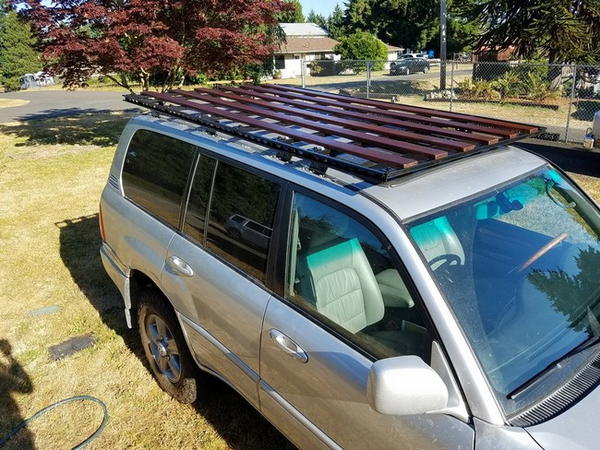 The goal is to provide the ability to carry multiple kayaks up to the car's roof. I wanted something super quick, easy to install, and uninstall. Moderately priced, aesthetically appealing, and robust enough to carry two kayaks on top of an SUV. This instructable aims to show; you how to make a basic roof rack for your car from common and inexpensive parts. This can use as a base for a more complex design; to carry extra things like skis, kayaks, bicycles, etc. I'll show you how to make it as strong and rigid as possible.