Mounting your bikes in the truck bed can be tricky (and dangerous) without a proper rack. It's also hard to move the bikes around. This is where a pickup truck bike rack comes in handy. You can place your bikes at the back of your truck and go on that much-needed biking trip. You can easily remove your bikes from the rack when you reach your destination and get biking! And that doesn't mean you have to spend hundreds of dollars on a bike rack either. Using these DIY truck bed bike rack plans, you can make one yourself at home!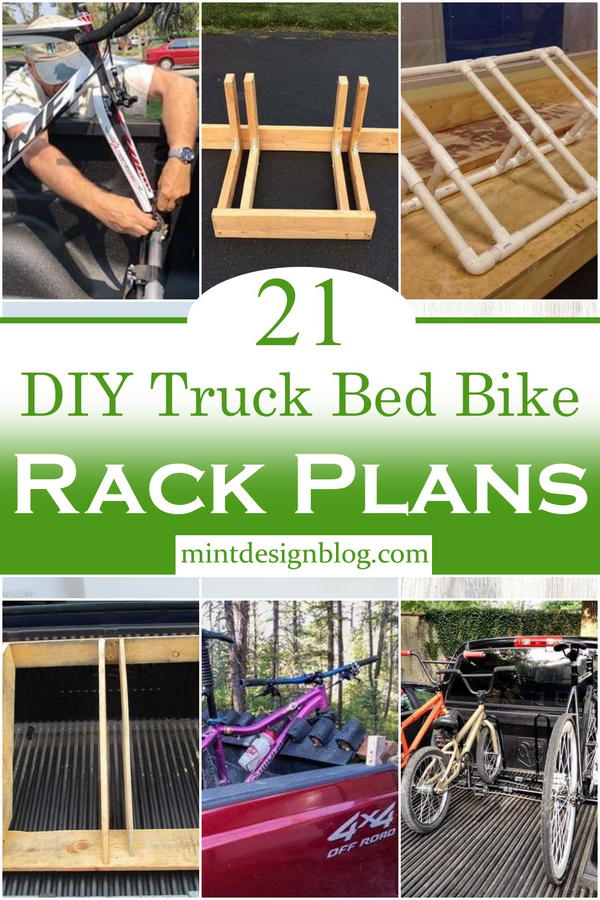 A truck bed bike rack also helps you keep your bikes safe while driving. It's also convenient because it keeps your bikes out of the way, and you don't have to worry about someone stealing them out of the back of your truck. Truck beds are made with various materials such as fiberglass, aluminum, and steel. If you're using fiberglass or aluminum, you will need to use bolts designed for these materials. Steel truck beds can use bolts without any issues.
Here are 21 DIY truck bed bike rack plans that are much more affordable than a commercial rack and transport your bikes safely.
Benefits Of DIY Truck Bed Bike Racks
Are you looking for the best way to store your bike on a truck bed? If so, you have come to the right place.
The easiest way to store your bike on a truck bed is by using DIY truck bed bike racks.
DIY truck bed bike racks are great for storing your bikes because they allow you to keep them on your truck bed without damaging the paint or denting the metal of your truck.
Additionally, DIY truck bed bike racks are easy to install and remove when using your truck bed for other things.
What do truck bed bike racks look like?
Truck bed bike racks are pretty simple: They're sets of crossbars that go across the width of your truck bed and cradle your bicycle. The types of material used will vary based on the model, but most racks use steel or aluminum bars and padding for protection. Some companies will also include locks for added security, and others may include other accessories such as tie-downs or wheel chocks.
For some people, this level of customization is great. They can use whatever kind of bars they have on hand and even buy inexpensive accessories that fit their needs from their local hardware store.
Why Buy One When You Can DIY?
It's easy to see the benefits of a new bike rack for your truck bed, but why spend money when you can DIY it? Here are a few reasons:
It's cheaper.
It's cooler.
It can hold more bikes than some expensive racks.
PVC Bike Racks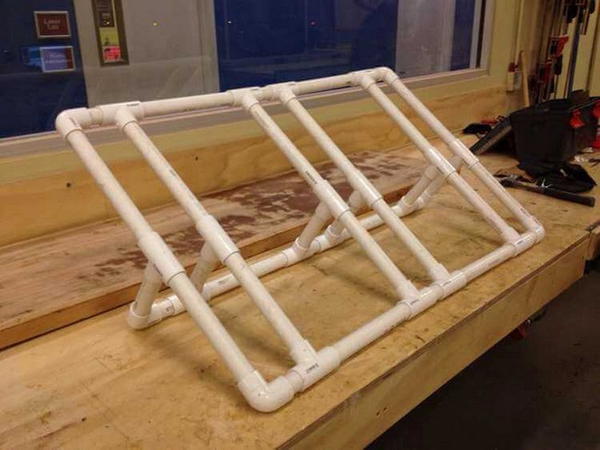 People who put value in their bikes should not just rent a truck or trailer to bring them on trips. They should have the means to get it with them. However, there are limitations on what they can transport a bike in. Trucks and trailers can be expensive. They also might not be the proper setup for carrying bikes. For example, a bicycle may get damaged or scratched if not laid down flat. Some solutions are available at stores. These may be expensive, and they may not meet your specific needs. These DIY truck bed bike rack plans are a popular way of carrying and securing bikes when traveling.
Bike rack on retractable roofing
The retractable bike rack is an easy way for truck owners to transport their bikes on the back of their trucks. It takes advantage of the space on top of most truck beds and lets you load your bikes without needing to open the bed cover. Simply mount a support arm to your existing truck bed rail, and install a motorcycle rack to that arm. The bike can now be loaded from the side of the bed, without worrying about it falling out.
L Shaped Wood Alternative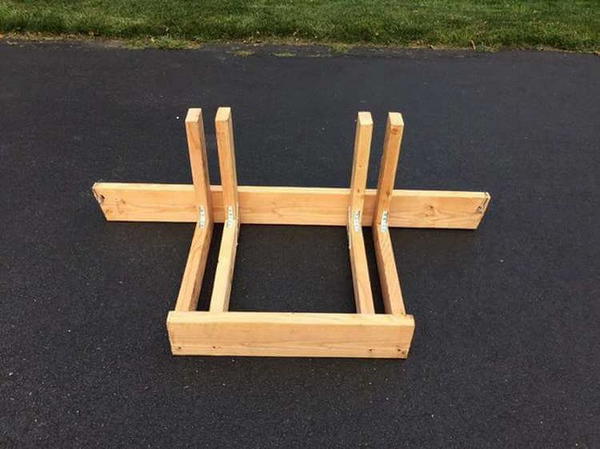 The need for a bike rack may be evident if you've seen bikes packed into vehicles. You may be surprised just how handy such a tool can turn out to be. If you are short on space and have no garage, or if you're in a part of the world where winters are cold, and bike racks are practically a necessity, then the versatility and durability of an L-shaped wooden bike rack might make all the difference between enjoying your bicycle and letting its absence stop you from biking entirely.
Recovered Pallet Solution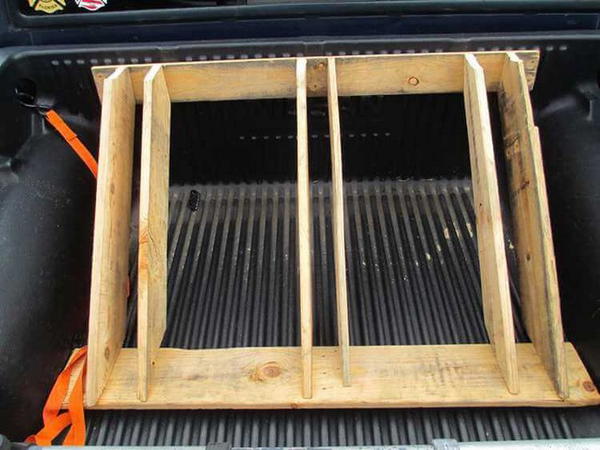 Reclaimed pallets are a favorite of DIY'ers everywhere because of their great price and sturdy material. What can you make out of them? A bike rack, of course! Start with a base pallet and use the sides for your rack, re-nailing some sections for extra stability. Use a couple of other pallets to fashion small steps for easy reaching. Use small nails that fit your hammer to secure everything in place. Your new bike rack is sure to be functional and good-looking, too!
Bike rack for fat tires
If you own a bike with fat tires, the standard bike racks might not fit. Most of them are made to fit thin tires that your fat tires don't have. If you want to move your bikes during the summer or winter season and transport them to different places, you will need an extra bike rack that will fit on the truck. This rack is easy to make and fits almost all trucks. The beam should be long enough to hold both your bikes' front wheels. Don't forget to include a beefy locking mechanism if they want to take things back.
Side Mounted Bike Rack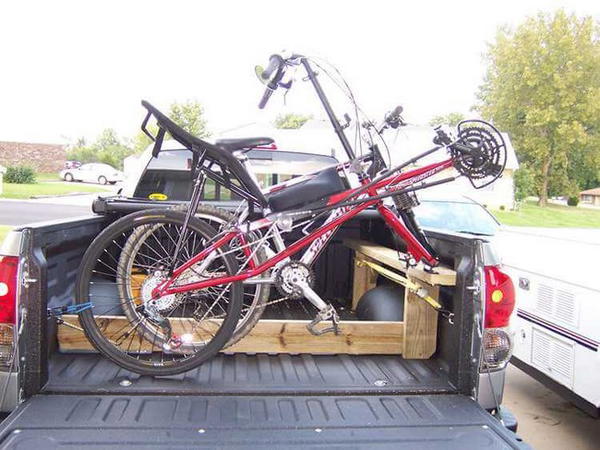 This Side Mounted Bike Rack sits flush with the side of your truck bed to give you more space when not in use. This rack is excellent for owners who have short bed trucks or want to tow a trailer and will hold several bikes. The side-mounted bike rack is a simple solution to help carry multiple bikes. With only two bolts and four screws, this bike rack is easy to install and convenient. To install, attach the brackets on each end of the bike rack to the side of the truck bed. Attach the wood-looking bench to the frame of your truck, and it will act as a guide for you to place your bikes without worrying about them falling off.
Bike racks for mid-sized pickup trucks
It would help if you had a bike rack for your truck. You could spend a hundred bucks on an off-the-shelf option that you may or may not like, or you can make one yourself. This guide will show you how to make a simple outdoor, heavy-duty bike rack that fits most mid-size trucks. Bike racks are a better alternative to protective bike wraps. Although they can be expensive, they are still cheaper than buying a bike or bike rack. These racks are easy to make and can be customized with your preferred design.
Store-Bought Augmentations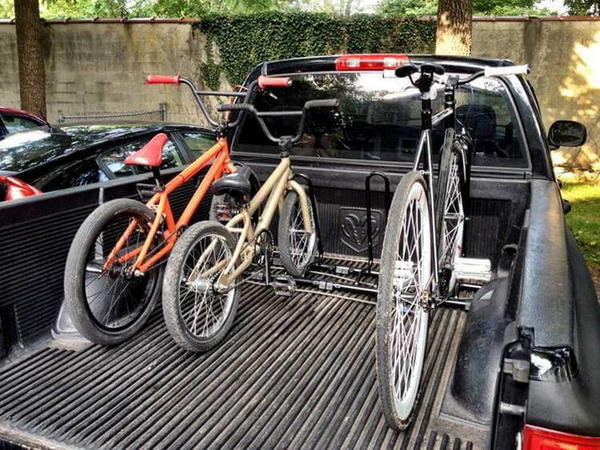 Have you ever been so close to your destination only to realize you forgot the bike? Many affordable, store-bought bike racks fit into the back of most trucks. You can also make your bike rack with a few PVC pipes and modifications. You can buy a bike rack online really cheaply online. But if you don't have a toolset or any skill as far as modifying it, you're going to have to take it to someone with the skills for about $25. With the $50 in materials you spent and a few PVC pipes, you can make a better bike rack for your truck.. It is always a good idea to make sure that whatever modification you choose to carry out is rated for your vehicle.
Homemade truck bed bike hauler
A homemade truck bed bike hauler helps move and transport your bicycles, especially if you have more than one. You will need to decide how many bike racks you want depending on the number of bikes and their type of tires. You will also want to make sure the front of your truck has a lip suitable for holding your homemade bike racks. In addition, you should compensate for the angle of the truck bed so that your bikes are firmly in place while you are driving around. You can purchase some clamps from a nearby hardware store or online retailers if necessary.
Bike Rack System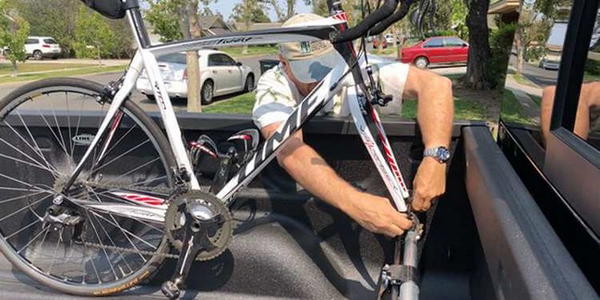 Not comfortable drilling holes to install a bike rack? Well, don't worry, because the easiest way to install a bike rack is by installing a steel bar that you can use for attaching as many as six mounts. You don't have to drill holes in your expensive trucks and automobiles. Thanks to the bike rack system, you can install a bike rack into your vehicle without drilling holes. It enables you to fit several bikes into the back of your vehicle. This system is constructed out of a heavy-duty steel bar and steel fork mount, which are easily found in any hardware store. On each support, you will be able to fit an individual bicycle. This means more room on your truck.
Strap based bike rack
You no longer have to carry around the heavy loads from one location to another. You can instead transport them using the Strap-Based Bike Rack! This bike rack is a relatively new concept gaining popularity ever since it was invented. By using high-quality straps and some additional padding, you'll be able to strap your bicycles on your vehicle's truck. This will make transporting your bikes a whole lot easier and more convenient! Tie the straps to the back of your vehicle and then wheel over your bike, leaving it securely in place for travel.
Tailgate rack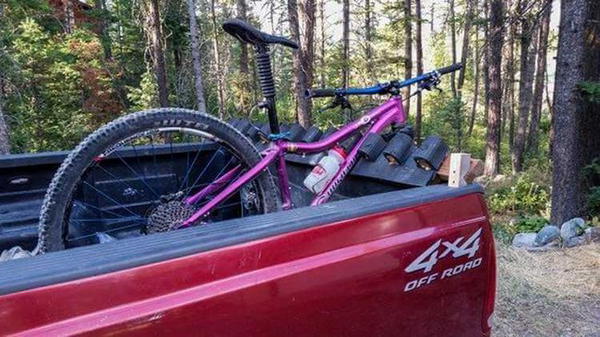 If you're a cyclist and own a truck, you already know how to improve hauling bicycles. Improving your truck bed is usually not a problem, but what about the bike rack? It's great to be practical and make the best use of your materials, but having to use an old tire rack or some plywood will just not cut it. A tailgate rack can be made at home, as long as you have someone with woodworking skills or even without scrap wood and a little bit of glue before leaving for your camping destination or bike trails.
The store-bought garage solution
You can make a very cheap bike rack for your truck made out of steel pipes. The design is quite simple, and it just needs to be welded so that the lines can support the weight of your bike. There are several solutions on how you can do this one. It can be tricky, though, so you will need some welding skills if you want to make one. It's stable and adjustable, so it's a good candidate for a DIY project.
Frugal Bike Rack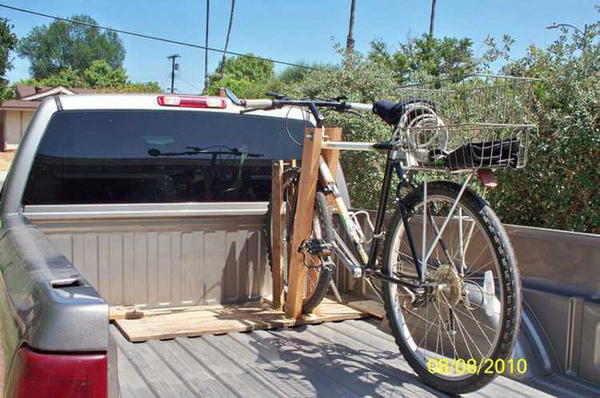 The Frugal Bike Rack is a cheap, simple storage solution that folds the bike at an angle so it takes up less vertical space.  This design is made so that you can use salvage, old or new wood. You do not need to buy any hardware or other details with it. Simply cut your wood and bolt the parts together (with a power drill) and you have a bike rack, easy as that! This way, you know nothing about bike racks but still have one for your needs.
Dread mill carpet solution
Some trucks offer a bike rack, but these can be bulky and inconvenient. There's another way to transport your bikes ― just lay them sideways over your tailgate. This Dreadmill Carpet provides the support you need to keep your bikes intact as you cheer them. The strap across the front folds down to give you a large fabric surface to lay your bike. It also has handles for extra stability and a handy spot for a bungee cord for extra security. This is a great way to prevent dings or scratches from your bike rack and helps protect the finish on your bike.
Fence Post Bike Rack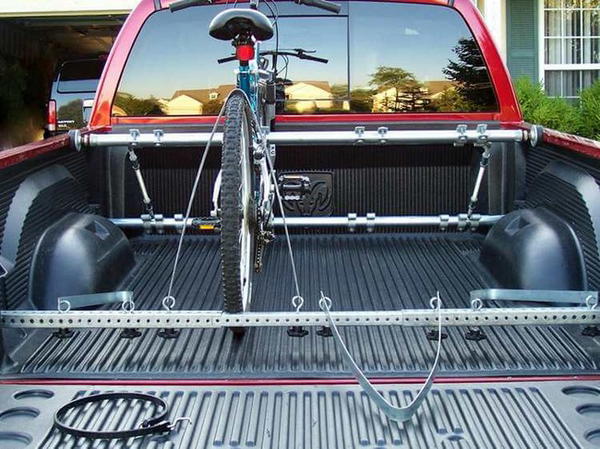 Having a bike rack is great if you want to transport your bikes to a safer location (away from your home) or store them in a shed. With the Fence Post Bike Rack, you can carry many cycles, but the price is not too much to pay. The project is easy and can be done by just about anyone. The main requirement is a fence post that brackets have supported. You can make it with fiberglass piping; however, you will have to know how to use Teflon tape to tighten the connection between the fittings. This simple design was used but proven whether the bike will be stable when using this product.
Simple Bike Rack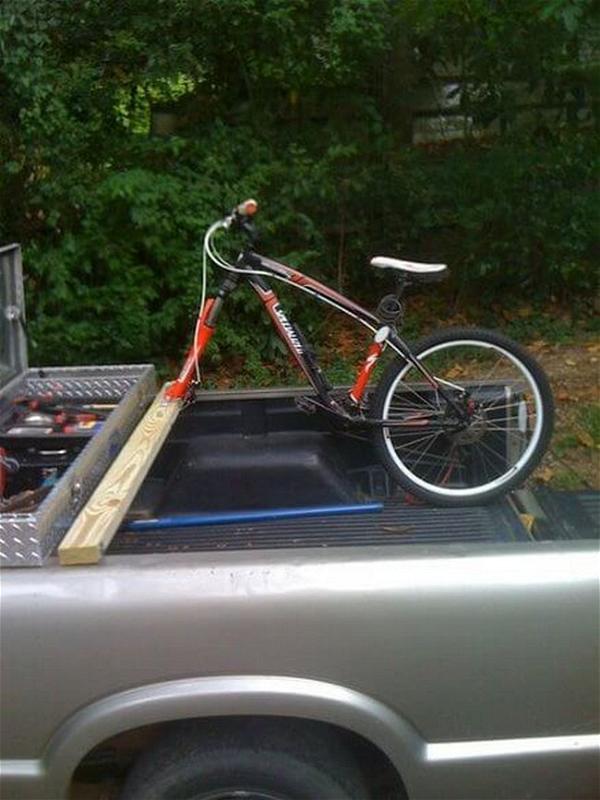 You have a car, but you love biking in your spare time. What's better is that you already have the lumber to build a bike rack for your truck. It's compact and straightforward, and you can take it anywhere. These things make it a great tool to use for transporting your bikes. The simplicity of this design is fantastic! If you know how to use a few essential tools, you can make this yourself. It is so worth it for the price. You can use this simple bike rack for any bike and even multiple cycles.
Upright PVC Truck Bed Rack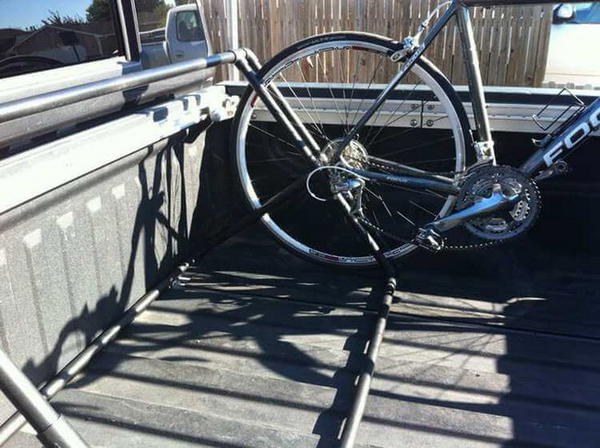 Have you ever tried driving with your bike on the truck bed? It's quite an arrangement, with you holding the bike and turning it around to balance it now and then. You can't see anything behind you because this many bikes looms over your head. Not to mention it's an easy job for the thieves since the bike is right there in plain sight. You can solve this problem by making a PVC pipe bike rack for your truck. PVC pipes are cheap, light, and durable so that they won't let you down. This project is an easy one that will cost you almost nothing and take two hours tops!
Wood Bike Rack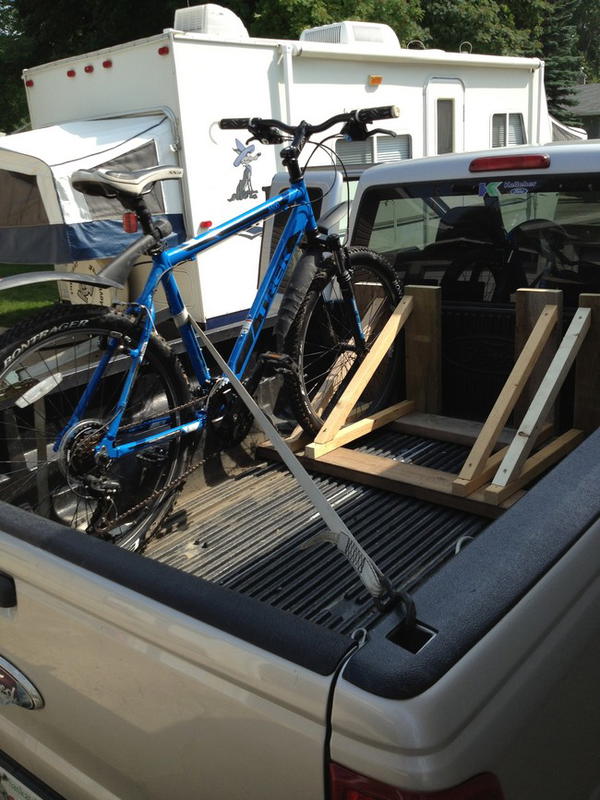 Is your garage or shed storing a mess of bikes? Are you tired of tripping over bike parts and supplies? Keep your cool with a Wood Bike Rack. Handmade and expertly finished, this rack is created from locally recycled elm wood and constructed using traditional joinery methods. It easily holds four bikes by their tires and has an open design that enables easy entry for kids' bikes. The rack's unfinished wood will age gracefully whenever you feel like taking it outdoors.
Bike Rack Options For Truck Beds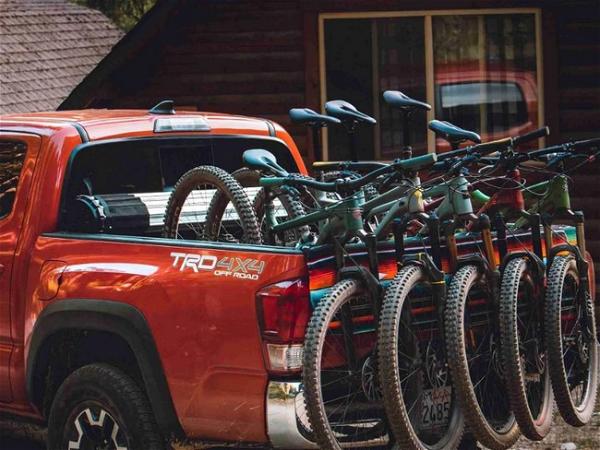 The transporter's Expedition and Aeroblade Series Truck Bed Bike Racks set the standard for strength and versatility. Simplify your next bike trip by getting a truck bed bike rack. Free yourself from the hassle of lifting bikes onto rooftop racks, mounting carrier hitches, or trying to attach bikes to your vehicle. Truck bed bike racks convert any bed into a durable, convenient, and affordable place to transport up to 5 Bicycles.