Welcome to our list of DIY bike repair stand projects where we'll try to cover most of the different types of stands made with essential parts. These projects include bike repair stands made from wood, metal, and plastic. The tips provided in these tutorials are essential to get the best use out of your repair stand and to ensure it is built safely and properly. These bike repair stand projects are for various skill sets, and even a beginning home builder can tackle this. The first one is simple and good for anyone. The next three repair stand projects build on each other, adding detail and complexity. You've seen the store-bought stands; now see how you could make them yourself.
DIY Bike Repair Stand Projects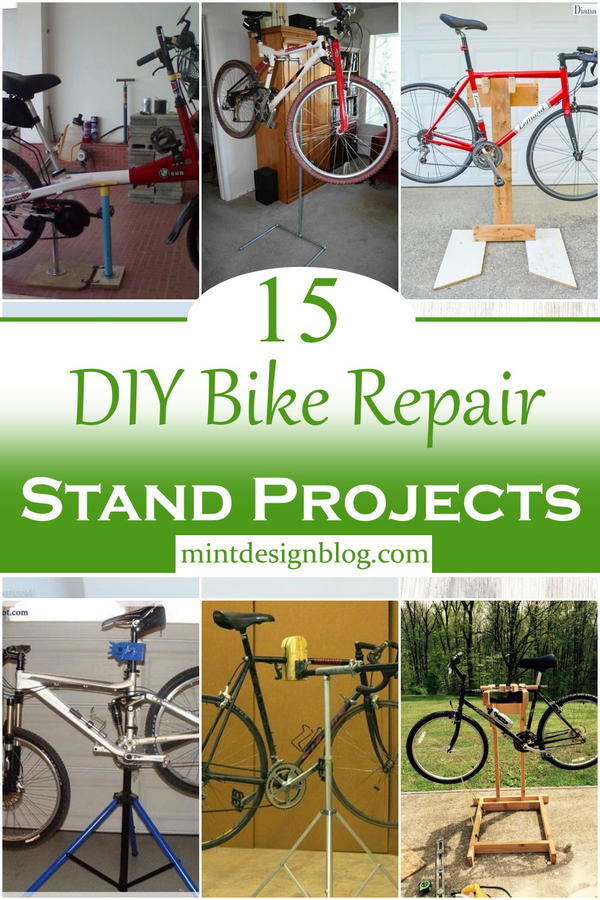 DIY bike repair stand projects are something that many people can convert and make on their own. You can build a stand that's suited to your need. Before you start making your own, you should plan out the design and construction beforehand. Know what type of bike you have and the height range you would want for your stand's tubing. Gather all the tools you will need to complete the building process, and after a few weekends of work, you will be able to hold up your bicycle exactly how you want it, and it should last for many years to come.
You'll find information on building a repair stand out of wood or metal, using old bicycle parts, using it correctly, and how best to stow your bike during the winter. Plus, there are considerations for those who want to use their repair stands long-term, maintenance tips, and even some fun facts about the history of hand bikes.
You Can Also See: 21 DIY Truck Bed Bike Rack Plans
Bicycle Stand Homemade
The equipment of the stand is very easy to follow. No need screws and metal pipes. Using PVC pipe with a step is dedicated especially for your bike. It has two functions, parking and a resting place for your bike. This bicycle stand is a practical project for riders and mechanics alike. The hardest part about making this stand is finding the right materials. Homemade projects are often made from leftover materials; I suggest you purchase someone ½-inch PVC pipe and fittings because they require heat to bend and glue.
DIY Bicycle Repair Stand from Scrap Wood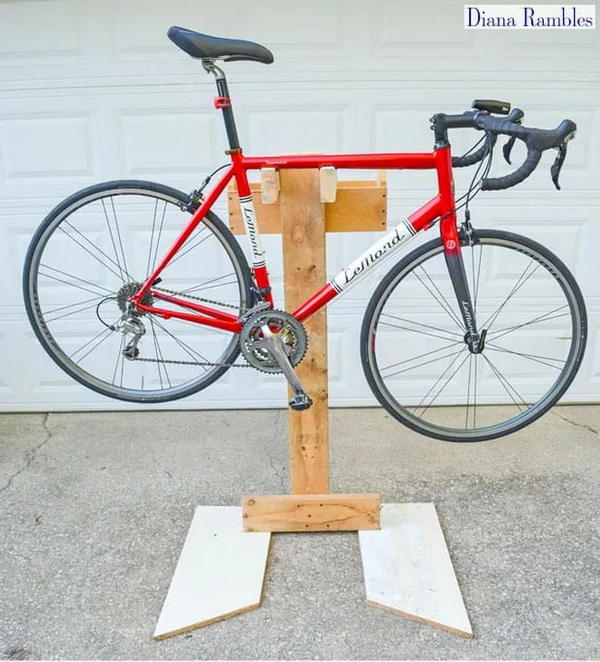 With its simple and frugal design, this DIY bicycle repair stand can help you; perform minor repairs and adjustments on your bicycle. It offers a comfortable way to make such adjustments while saving your back from having to bend over repeatedly. It will make repairs and rendering maintenance tasks easier; but it can also make things more convenient when it comes to maintaining your beloved cycles. This frugal DIY bike repair stand is made with scrap wood and some M6 bolts. Check out the guidelines provided in the link and see how this handy contraption works.
DIY Bike Repair Stand
You will be more than pleased to have this Bike Repair Stand by your side, whatever the nature of work on your bike might be. The bike repair stand is very durable and easy to set up. It could be used in the home, backyard garage, or any other place one wants to work on the bike. You need many useful things such as pipe and cabinet that can hold the bike at its designated height, and you will also need a drill machine to make holes for screwing certain parts of doing it yourself bike repair stand.
Minimalist Bike Repair Stand DIY
Minimalist bike repair stand DIY is the simplest, cheapest, and most effective tool for your bike if it doesn't have a stand on its own or if you're looking for an alternative to the typical floor-level repair stand. This type of bike stand works great for bikes with both V-brakes and disc brakes, and if anyone wants to build their own, it will be a decent-worthy project for those who have some knowledge of bike repairing.
Cheap Bike Repair Stand DIY
This cheap bike repair stand isn't expensive, super cheap, and very affordable to make, but I won't advise this for a professional who needs something very durable. This bike repair stand is simple to make but won't last for a long time because of the tools. Setting it up is easy and does not require advanced carpentry skills. The materials you will need to make this repair stands are a few wood boards and an adjustable bike wall rack.
DIY Portable Bike Repair Stand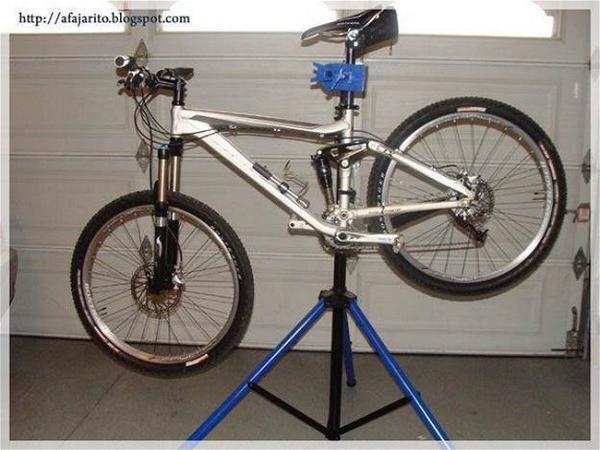 With the DIY Portable Bike Repair Stand, you can do everything you want, from adjusting your seat to changing wheels – all in one place. It's easy to carry, very stable, and not tippy. The portable bike repair stands are quite adjustable to the angle of the clam, they can be anywhere between 0-90 degrees, and it is perfect for any bike geometry. Making it possible for the bike to be tilted at any angle you would love. The advantage of this type of bike repair stand is that it can be assembled with quick action, for instance, when conducting a cyclocross race.
DIY Bicycle Repair Stand
A bicycle repair stand is an important tool for any cyclist, no matter how experienced. A stand allows for convenient and safe repairs and saves you from spending a whole afternoon on your back in the garage. This DIY bike repair stand is easy to make, functional, simple, and durable. This stand isn't a professional repair stand, but the tools are readily available, easy to work with, and inexpensive. You can use this repair stand for five years now with no problems.
Portable Bike Repair Stand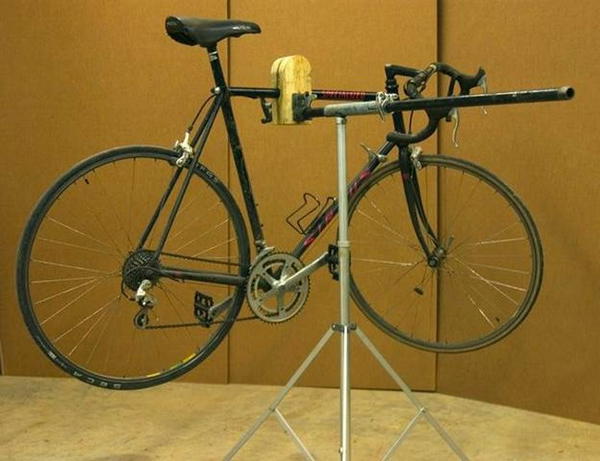 A portable bike repair stand can be made yourselves, literally in minutes. The idea is to use the tripod and the pony clamps with the seat post clamp. This way, you can mount a bike with a seat post diameter of ~28mm – 1 into it. The tripod is then locked up with the process of using the full extension tube as a nut by screwing it into itself and locking it off with the thumbscrew. The pony clamps themselves can then be slid back and forth until you get the best angle for your workspace.
DIY PVC Bike Repair Stand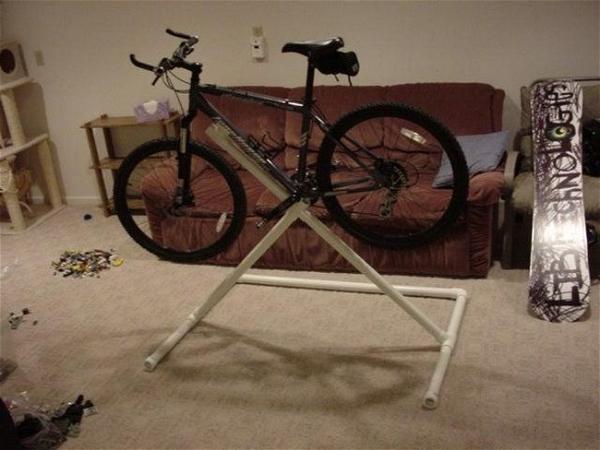 If you are thinking of making your DIY PVC bike stand at home, here are a few things to consider: - Many people would feel uncomfortable about drilling holes on their bicycle frames to install this repair stand. - Since there is no adjustability or rotation involved, it's not that useful for some repairs or if you want to keep your bike in different positions. - You can use it while washing your bike, but it becomes a little difficult due to the height of the stand.
How To Make A Steel Bicycle Repair Stand
Here is a steel bicycle repair stand tutorial. This project will show you how to use hand tools to make a simple, practical, easy, and modern bike repair stand for your garage or shop. After watching this video, it takes a few minutes to have a piece of steel shaped, drilled, welded, and ground into a bike repair stand that has an industrial look & feel. This repair stand is great for putting your bike on it when you need to make adjustments to the brakes, handlebars, or saddle, or if you want to do any maintenance. You can also use this as a work stand if you don't have a floor bike holder.
DIY Bike Repair Stand
Have you ever wanted to repair your bike in the comfort of your own home but were deterred by the idea that you needed a repair stand first? You can now fix your bike anywhere with this DIY bike repair stand made from wood and steel pipes. The video is a detailed demonstration of how I built my bike repair stand for about $10 worth of material. All you need is to have the tools and materials required (easy considering all you need is wood, pipes, and rods) and follow my simple step-by-step instructions.
DIY Bike Repair Stand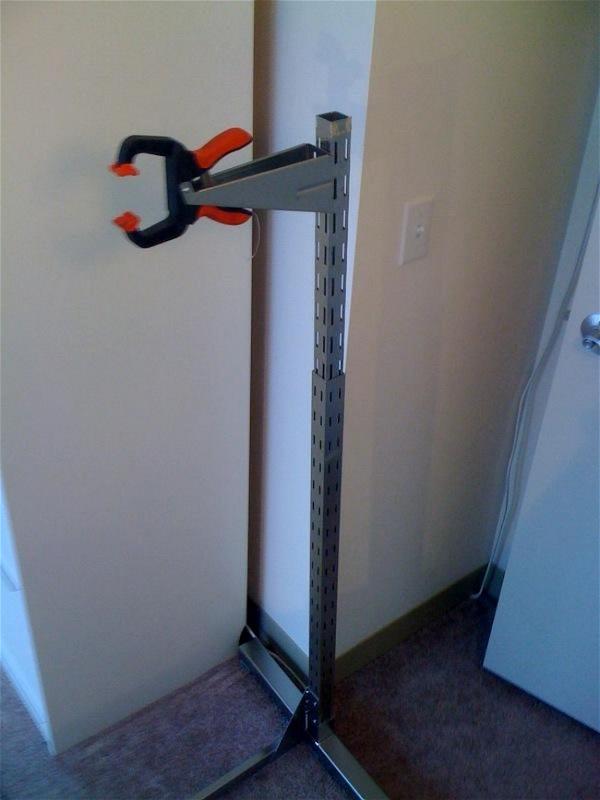 This DIY bike stand solves a common problem- How to fix the bike easily? It uses a ladder as the frame and straps/ties to connect everything. With this stand, you can perform maintenance on your bike, such as tire change, chain repair, brake repair, adjusting gears, etc. Even though this stand is simple, it is stable enough to hold up to 70kg weight. I hope that you enjoy making and using it! It's inexpensive, easy to make, and effective for almost any maintenance on the bike. You can do plenty of tasks with this repair stand such as minor adjustments, changing tires, and fixing any other problem with the bike.
DIY Bike Repair Stand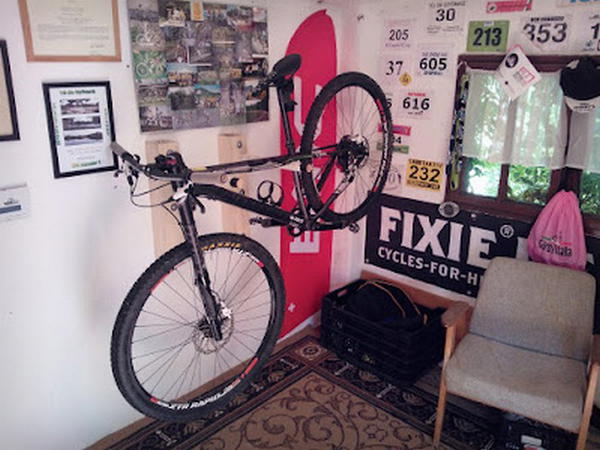 This DIY Bike Repair Stand is cheap yet very useful. It can be used either with a bike on the ground or its side. However, it is better to have it in a stand position with the bike so you will have easy access to all parts of the bike and won't have to take it apart while in extreme positions. There is nothing more frustrating than fixing your bike on the floor while lying on your back in the middle of the room. This little DIY project is designed to maximize space and provide a neat and simple way to have your bicycle vertically fixed when doing maintenance work or even washing it.
Bicycle Repair Stand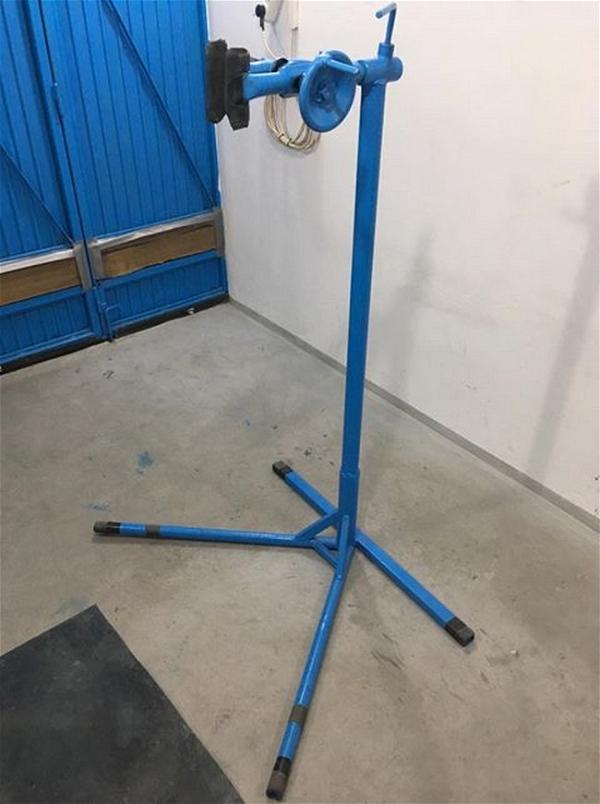 This bicycle repair stand is made for working with pleasure! Once you've finally assembled it, you'll be able to fix almost any kind of bicycle quickly and easily. Assembly directions and detailed pictures will make your job take no longer than 15 minutes. You'll be able to perform almost any bicycle repair or maintenance – from changing a flat tire or chain to adjusting gears. Since the tool stand is made of high-quality steel and has a heavy-duty bolt clamping feature; the whole tool stand should weigh about 10 kg. The whole thing will be on wheels with swivel casters to put the tool right in front of you – literally wherever you want it. If it's too tall for your bike, screw the height adjuster knob and adjust it according to your needs.
Homemade Wooden Bicycle Stand With Dual Mounting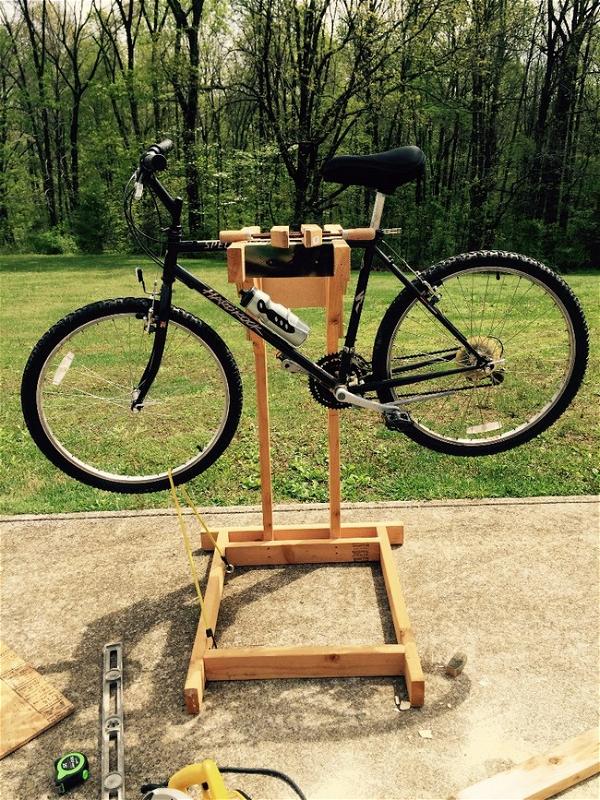 The Homemade Wooden Bicycle Stand with Dual Mounting provides you with a safe and easy way to repair your bicycle. The problem of turning the bicycle upside down is eliminated, making it easier to work on the derailleurs and gears. The bike stand also makes it easier to tune up your ride for hiking or cycling. Many tools are not necessary, saving space and weight in your survival kit. And if you break into a sweat while pedaling, place a fan nearby because this homemade bike stand doesn't include a towel rack or water bottle holder.