The time has come, and you have finally saved enough money to buy a motorcycle; You are excited about owning your first bike, and you cannot wait for it to be delivered. However, if you have a garage at home or a workshop, it is essential to invest in one of these DIY motorcycle lift plans before the bike arrives. They come in all shapes and sizes, so choose what works best for you. These DIY Motorcycle Lift Plans will show you how to build a motorcycle lift that fits the needs of your garage. Our team of experts designed these blueprints with efficiency and safety in mind, so you don't have to worry about the quality of your build!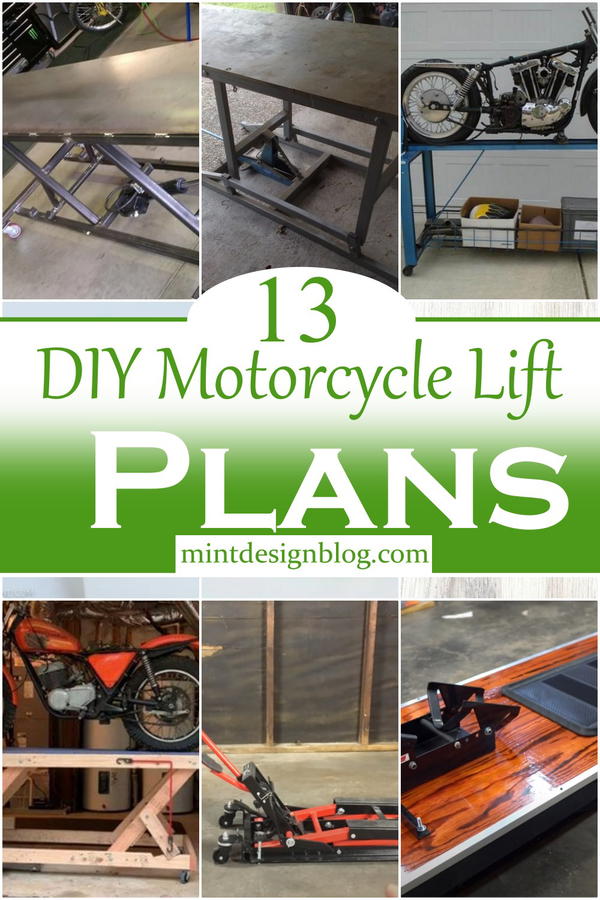 Motorcycle lifts are essential for any garage or workshop. They give you a way to work with your bike safely and securely above the floor. You can use them for engine maintenance tasks, painting jobs, cleaning, etc. A lift is a way to support your motorcycle to avoid getting damaged while it is being worked on. These lifts range from simple DIY plans to more complex designs that allow you to move the motorcycle around in all directions.
Here are 13 DIY motorcycle lift plans for your workshop, so grab these easy-to-follow plans and build the perfect lift for your garage.
How To Build A Motorcycle Lift: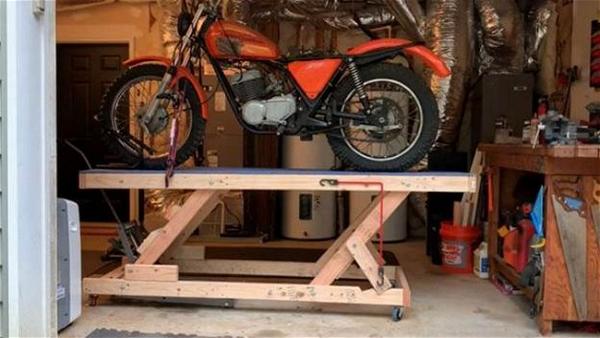 Are you interested in building homemade and low-cost motorcycle lifts to work on your motorbike in your garage? If so, then this will be the right guide for you. This manual is usually about step-by-step instructions for building motorcycle lifts at home. With proper plans and advice, you can't get wrong with this book. With the right tools, a little know-how, and following the procedures in this guide, it is a very straightforward process that anyone can do with basic mechanical knowledge.
DIY Motorcycle Work Stand:
Make your own motorcycle work stand out of wood and aluminum pipes. It's lightweight enough for one person to lift but sturdy and stable when assembled. The legs can be made longer by adding more pipe sections if needed. This DIY stand can also be easily folded up to store in small spaces, like a shed or garage. The designer of this guide made the scaffold out of aluminum pipes, hooks, and wood boards. It can be easily folded and stored in small spaces like a shed or garage.
Cheap DIY Motorcycle Lift
A motorcycle lift might be the last thing you think about when planning your garage. However, this can be a good decision, making working on your motorcycle easier, quicker, and safer. If you are interested in building your own DIY motorcycle lift for your garage, there are many things you need to consider before you get started. The first thing you need to do is think about how much weight your motorcycle lift will have to handle and if it will be stable enough for the job.
DIY Motorcycle Hydraulic Lift
Your DIY Motorcycle Hydraulic Lift Table is a unique project that combines design and functionality to develop something that most people don't see coming. You'll be surprised at how well this table performed, especially since it was built with scrap wood and other parts. This could be the best investment you can make for yourself if you're a mechanic who frequently needs to work underneath vehicles. This table can lift to 1000 lbs, so if you're working on an extensive repair, this table will be able to support it.
DIY Motorcycle Lift
DIY Motorcycle Lifts are a great way to lift your bikes off the floor for easy maintenance and repairs. If you've ever dropped something on your motorcycle or had trouble changing tires, you know how important it is to have this skill. Consider these plans if you're looking for an easy way to create a bench, scissor, or jack-style lift on the cheap. This DIY motorcycle lift will make all your repairs and cleaning more manageable by allowing you to easily lift your bikes off of the ground for easy access to almost any part of your bike.
DIY Motorcycle Lift Table Using Winch
With a custom motorcycle lift table, you'll have the perfect workshop solution for maintaining your prized bike. You can quickly work underneath the bike with tools or check components by lowering it onto a workbench fitted with an extension table or raising it to a comfortable working height with a motorized winch. The winch is perfect for motorcycles that are hard to pick up and lower down and for tires and wheels. Pegs on the bed of the table hold everything in place.
$200 Motorcycle LIft DIY
You've got a motorcycle, but your garage is too small to fit it. You've built a lifting device, but you can't get it to work. You're wondering, what can I do now? Stop wondering and make a new lifting device yourself. It's cheaper than you think; all you need is some jack stands and wood boards to create this $200 DIY motorcycle lift. The tutorial for this project is at Instructables, so check it out if you want to learn more!
Homemade Motorcycle Lift
In this project, you will learn how to build a motorcycle lift for your home garage. This motorcycle lift consists of a scissors jack and some scrap wood. A bike can be placed on the rack by the scissor jack, making working on them much more convenient. This motorcycle lift is excellent for those who enjoy working on motorcycles and those who want to build their own bike from scratch because it gives you an easy way to work at a height.
DIY Scissor Lift For Motorcycle
This fun project gives motorcyclists another option when choosing how to repair the suspension components under their bikes. The DIY Scissor Lift allows the motorcyclist to raise the side of their bike off the ground, giving better access while they work. This is a serious tool that can give you extra space and time to complete your job. You can easily remove the lift when you're done off-roading and quickly install it again when your friends want to join in on the fun.
Homemade Motorcycle Lift For $35
Are you a motorcycle lover? Do you want to lift your bike but don't want to spend a lot of money on expensive motorcycle lifts? If so, this post is just for you. We will show you how to make your own motorcycle lift at home using two table saws and some scrap wood. A motorcycle lift is an essential device to provide a safe and comfortable place for your motorcycle. Most motorbike enthusiasts have their unique garage or shed, but many don't have the room to lift their bikes because they only need to store them. Therefore, they have to find a way of keeping them without lifting them off the ground.
DIY Wooden Motorcycle Lift
Ever wish you could lift your motorcycle out of the way, so you didn't have to lay it down on the ground or have a ride-on drive over it? This DIY wooden motorcycle lift was designed to solve that problem. You can build this DIY motorcycle lift and save yourself a lot of money. You'll enjoy creating valuable something while not shelling out money for equipment with shiny parts that you don't need.
Custom Motorcycle Lift: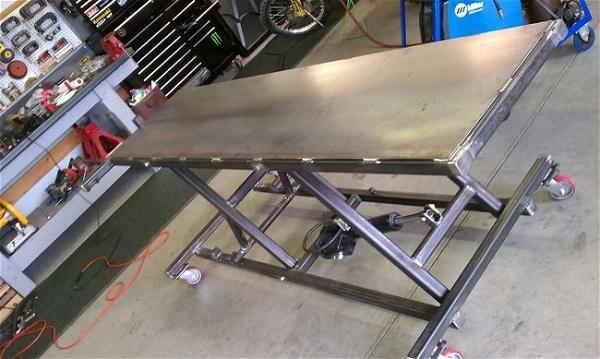 If you have a hard time deciding what type of bike lift to purchase, the Custom Lift is a great choice. It has enough space to store two motorcycles, boots, and helmets. It will provide your collection with the safety and security they deserve. This futuristic lift is durable aluminum and can be folded to store in small, tight spaces. It comes with all the necessary tools. The Custom Motorcycle Lift is a space saver and convenient way to lift either two bikes at a time or one more giant motorcycle. This lift is easy to install, so you won't have to wait long or pay extra to have it put together.
DIY Motor Lift: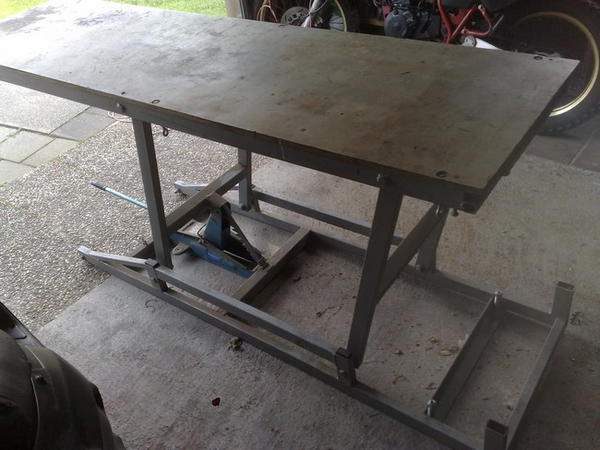 A Lightweight, simple-to-follow project that will help you work on your motorcycle with ease. This modification simplifies routine maintenance procedures and improves safety in the garage. It takes half a day to build and can be constructed. This is an excellent option for you if you have a single motorcycle that needs to be raised from the ground. This compact and innovative design makes working on your bike easier with the ability to be raised and lowered while supporting up to 1,