Have you finally decided to make your makeup vanity table? Or do you already have a vanity and want to learn how to beautify its look? If yes, then read ahead! Makeup vanities are very important for a woman, especially when she wants to look good. The main thing to keep in mind before making a vanity is that it should complement the overall look of your room. By having broader research over the internet, we came here with this list of DIY vanity table ideas, which are surely great to please all the ladies in the world. Every woman can find the best affordable, easy-to-make, and functional vanity table for her room in this collection; just follow the guidelines we provided, and you'll end up with impressive results.
DIY Makeup Vanity Table Ideas
DIY vanity table plans with step-by-step instructions for building one. These are the best makeup table ideas that can be useful for doing it yourself. Especially if you have to build a small makeup desk in your interior, you can have a great time and make something cool to impress your family and friends. The good thing about these tables is that you don't have to spend too much money, as most are cheap and easy to build.
Vanity tables are one of the most practical furniture pieces to help you organize your cosmetics. Different types of vanity tables are available in the market, each with a unique style. Beginners often choose a simple vanity table made from wood to give their bedroom an elegant yet classic look. On the other hand, individuals with a minimalist approach opt for a steel or glass table. When combined with colorful accessories, a round shape looks charming in a girl's bedroom, while big mirrors adorning the top of a vanity desk make it look sophisticated in a guy's room.
Free Makeup Vanity Woodworking Plans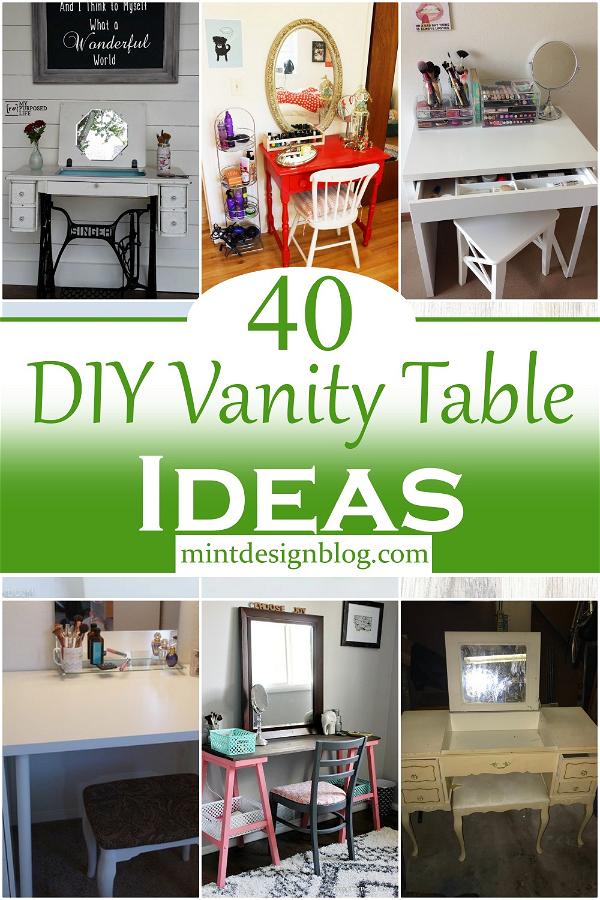 You can buy one second-hand or make your DIY makeup vanity table at home. The idea of making your furniture comes with many benefits attached to it. Not only will you save money, but you will also get to learn new skills while creating something beautiful for yourself. Below are some amazing ideas to help you create your cheap makeup vanity table at home without spending too much money.
You can See: 25 DIY Makeup Bag Ideas
Apartment-Sized Vanity Table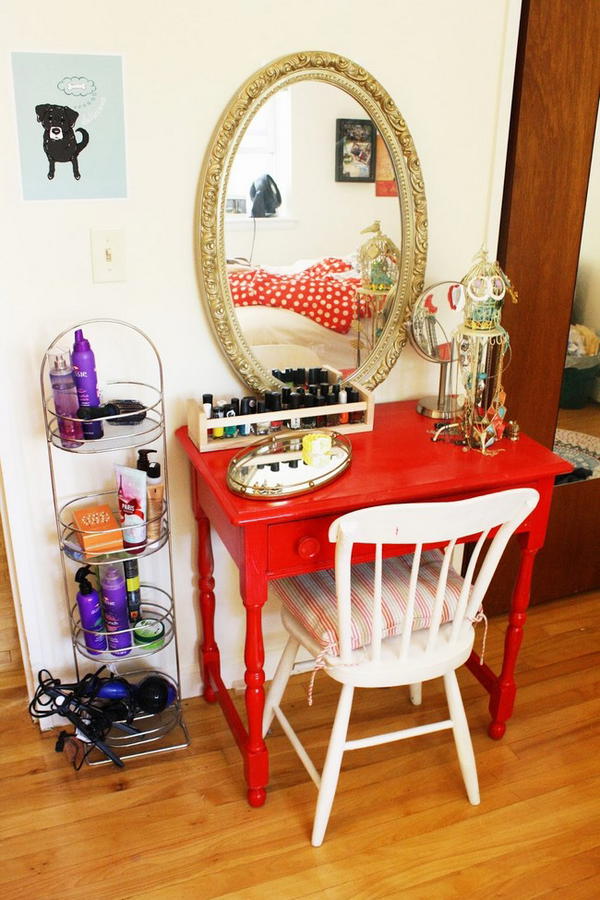 Do you see the large round mirror on the backside of the vanity table? That'll give your room more depth and beauty. We suggest you use the long oval mirrors to fit into the space on top of the table for a nice and spacious area to put things like perfumes and makeup. Have fun with this project and remember: it's not about spending much time or money, but about doing it yourself and choosing quality, useful materials to make your family happier.
Beautiful, spacious, and all under $3. What more could you ask for? Yes! DIY Apartment-Sized Vanity Table is all that you want and much more. It's the toughest choice you'd ever make about vanity tables.
Makeup Vanity Mirror with Lights:
Mirrors are extremely required in every home; you can see the beauty of the room in it, customize it with lights and make it look like a dreamlike place. The DIY makeup vanity mirror with lights is an attractive addition to your room simply because of its simplicity in terms of usage, besides containing all the basic options in it.
A makeup vanity is a very essential item for women. Makeup vanity with lights is the quickest way to turn an ordinary bedroom into a cosy, cozy, girly place. This DIY idea of adding lights to your makeup vanity will surely leave you mesmerized. Yeah! It's the best DIY project one can try to have an amazing experience using it.
Making A Vanity Table:
This vanity table remains very popular in this modern era; it's an ideal choice to be made, especially if you're a style-savvy man. As a desk, a vanity table is a good thing to be added to your dwelling space; this type of desk is perfect for females since they can put down their brushes or other cosmetics for easier application.
You may use this elegant-looking vanity table in any room of your home without taking up too much space. In addition, it will suit any style of furniture you have in your bedroom, living room, bathroom, or kitchen. The good thing about this project is this vanity's sturdier texture and shiny surface, which can serve excellent in many beneficial purposes.
DIY Dressing Table For Smaller Space:
With the help of this DIY Dressing Table, you can make the best arrangement for your makeup items. The table consists of all accessories you will need to organize your stuff in an organized manner. Further, this table will give your lady's or dressing room an artistic look. This DIY dressing table is easy to make, and the world is your colorful canvas, so feel free to decorate it with whatever design strikes your fancy. So, bring that into your home and decorate it with indoor plants, handmade decorative items, and other home décor essentials. It will be a decent masterpiece for the room's decoration.
Antique Makeup Vanity Table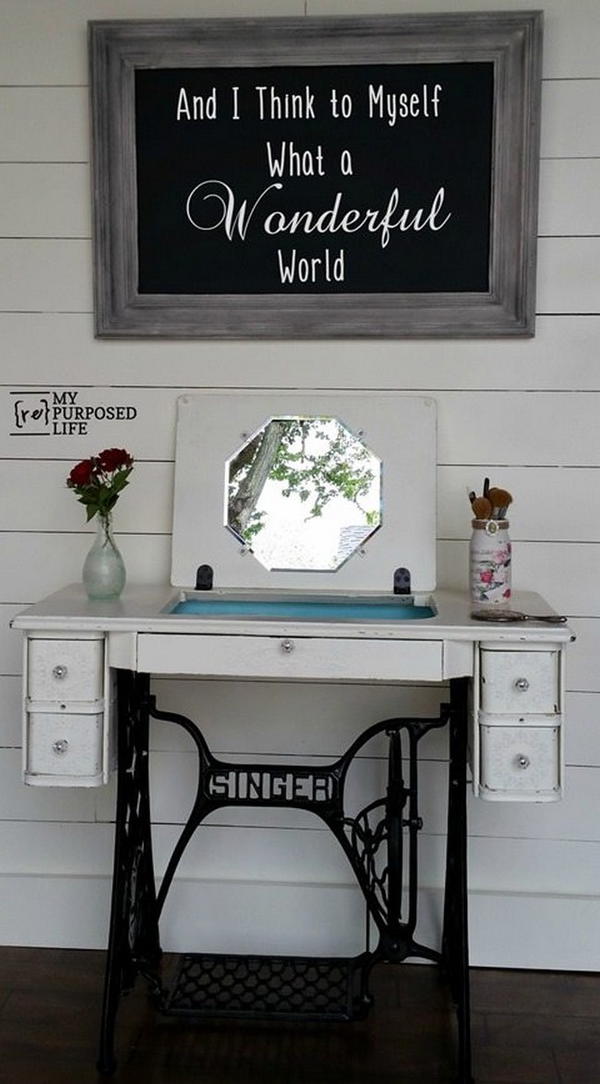 Sometimes, vintage things lay around our home that we don't know how to use most effectively. Nowadays, if your makeup products are scattered everywhere in your home, it must be difficult for you to find the one you want to apply to. Here is a wonderful DIY idea for you using the old sewing machine and a wooden board to make an antique-style vanity table for your room.
If you do not know what to make of the old sewing machine and a wooden board, here we give you an idea of ​​how to turn them into an antique makeup mirror. The easy tutorial shared on Ana White shows you how to make a unique and useful item for your room and put your makeup items on display.
Ikea Vanity Under $50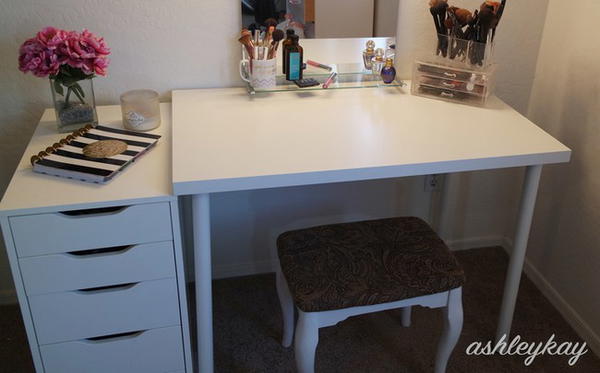 This DIY vanity under $50 idea is one of those exceptional projects that will help you to save a considerable amount of money. The other plus side is that you can adjust the design according to your taste or preference. This vanity set is affordable and elegant enough to look good in most bedrooms. It has a simple design that can complement any modern, classic, or contemporary bedroom style. Depending on your color scheme, the color of the IKEA Kallax shelf can be altered to suit your needs. You can even add more shelves if need be.
Building this vanity table is simple and easy, so it will not take much of your time. Moreover, it requires basic tools and materials readily available at home. So what are you waiting for? Grab the tools, and let's get started with the project!
Teen Attic Bedroom Vanity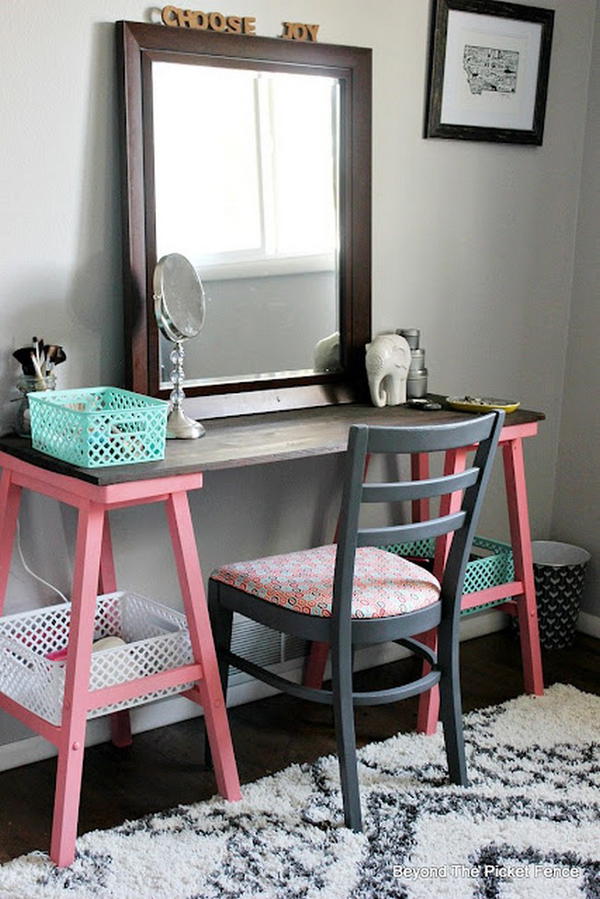 People do fun and enjoy decorating their teen girls' bedrooms. She is growing up and wants to find her personality in her own way by altering the color of the walls and adding an elegant bedroom vanity. As a parent, you can easily fulfill her wish to own a gorgeous bedroom vanity by looking at the variety of available designs. The design will not only look good, but it will also be comfortable as well as sturdy.
The Teen Attic Bedroom Vanity, with its glimmering white dressing table with purple polka-dot chair, is the perfect addition to your daughter's bedroom for any occasion. This is very demanding furniture that resembles a modern look. The additional features are adequate storage space, high-quality material that gives years of service, and a safety lock that offers safety for your child.
Vanity Desk With Mirror Table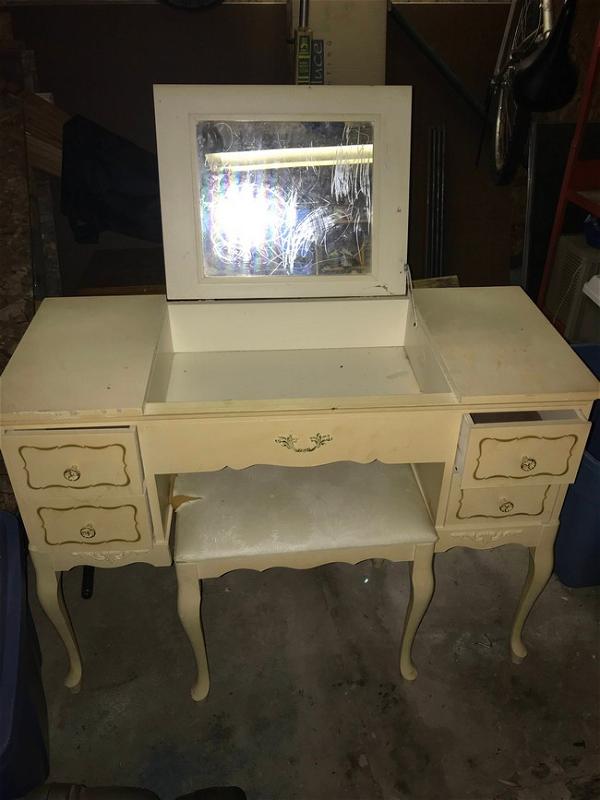 There is a very simple and inexpensive way to create a simply amazing polished piece for your home décor that will definitely enhance the look of your room. The method required such simple and basic materials, both new and old. Its mirror surmounted top covering over the edge of the bottom shelf. It would double as functional furniture as well as a novel vanity desk.
The vanity mirror for makeup application, as well as a place to store all your toiletries, is a must-have in today's fast-paced lifestyle. Take an old wooden table, boil it with some water and pour some color over it to give the surface a brand-new look. When you have a completed vanity table with a mirror, put it into a corner of your room and decorate it with some personal belongings.
Makeup Vanity Desk With Storage Video Tutorial:
This Video Creates a fun and interesting idea for a vanity table set. Learn how this DIY makeup vanity desk with a storage plan can be used in different areas of the house, such as the bathroom, living room, and even the bedroom. With this video, you will learn how to use it effectively to create a makeup table made out of black metal piping and PVC piping to help achieve a modern look.
Lighting can make a statement and add personality and drama to your room. This tutorial shows you how to add a hidden backlit lightbox to a store-bought makeup vanity desk. This project is fairly easy because you reuse the existing vanity top without going through the full building process.
DIY Makeup Vanity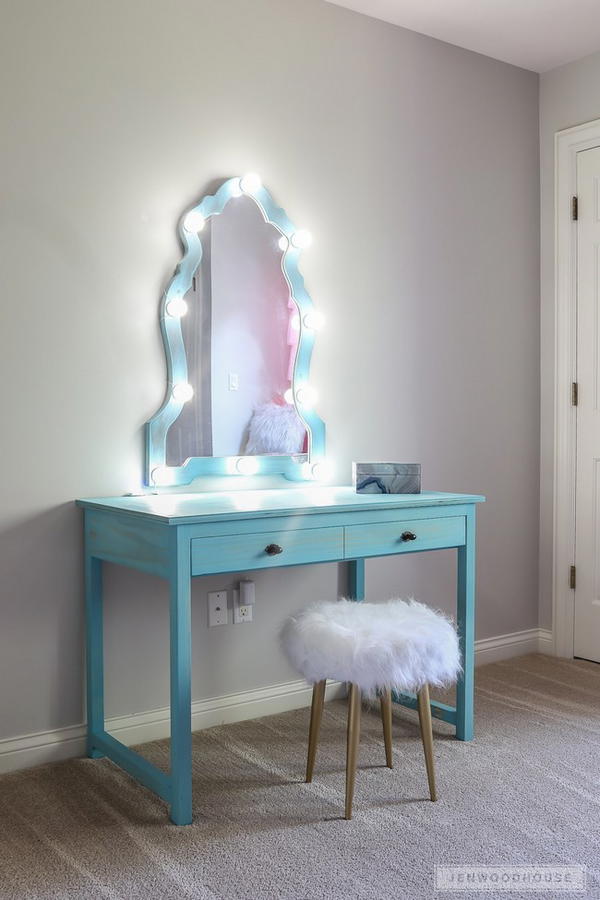 This DIY makeup vanity is a great idea for your daughter's room, especially if you are unsure what furniture items to go with. This vanity can serve as a dresser, study table, or even a console table. It is very versatile, and you can create it in various sizes according to your preference. This DIY makeup vanity can be customized in multiple ways. You can choose the paint color of the dresser and the stool, the drawers' size, the stool's height, and the material used for making this beautiful furniture item. You can also go with an intricate drawer design if you want this furniture piece to stand out.
So, if you're looking for a practical and multipurpose furniture item to place in your girl's room, this DIY makeup vanity table is a perfect choice. It can serve as a console table, study table, or vanity table. The combination of drawer and shelf on this piece makes it super versatile.
Modern Vanity Desk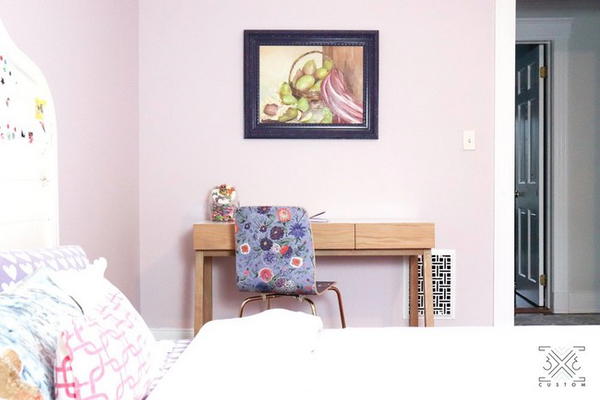 You can simply build this astonishing DIY modern vanity desk with basic tools and furnishings. It will be a decent handmade piece for your home decoration and also be a great choice to add an essence of gratification to your spaces. The black and white tones blend harmoniously, making it much more attractive for decor lovers.
The DIY modern vanity desk with flowers is amazing and in-depth in every way possible. It's a good homemade furniture idea to customize your bedroom in an exceptionally sophisticated manner by gracefully integrating this creative variant to make a stunning statement.
Silver Makeup Vanity Table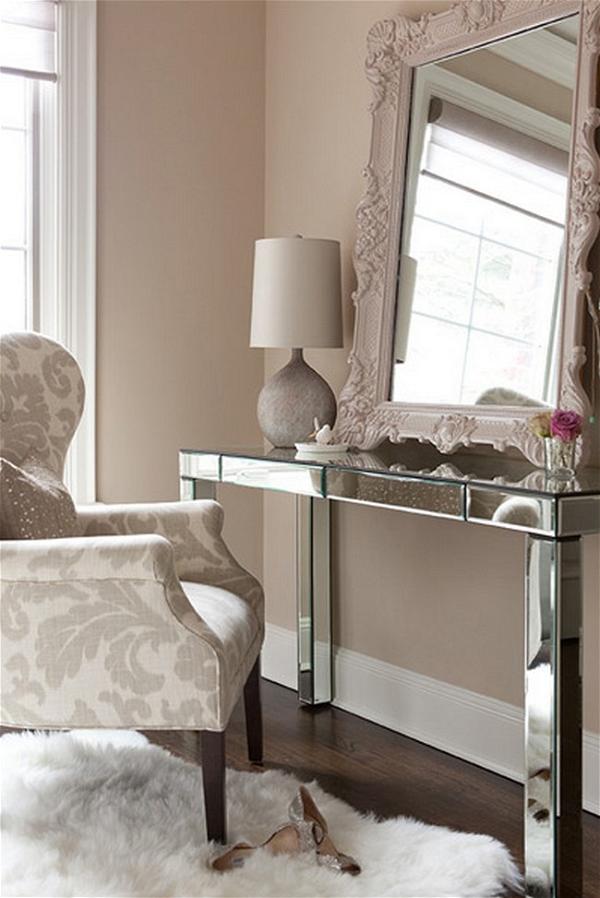 Our DIY silver makeup vanity table is inexpensive for small bedrooms, apartments, dorms, etc. Most women face space problems with all their makeup essentials. If you want to be more space-efficient, this gorgeous desk picked up from the thrift store is just for you.
The DIY silver makeup vanity table is built-up with the help of a recycled desk to make it look like a brand-new item. While its best finishing makes this desk more superior. Adding a medium-sized mirror on the top of this desk will make it look more wide and more spacious. The great thing about this desk is that it can be brought at a low price because you made it up with recycled parts.
Ikea Micke Makeup Vanity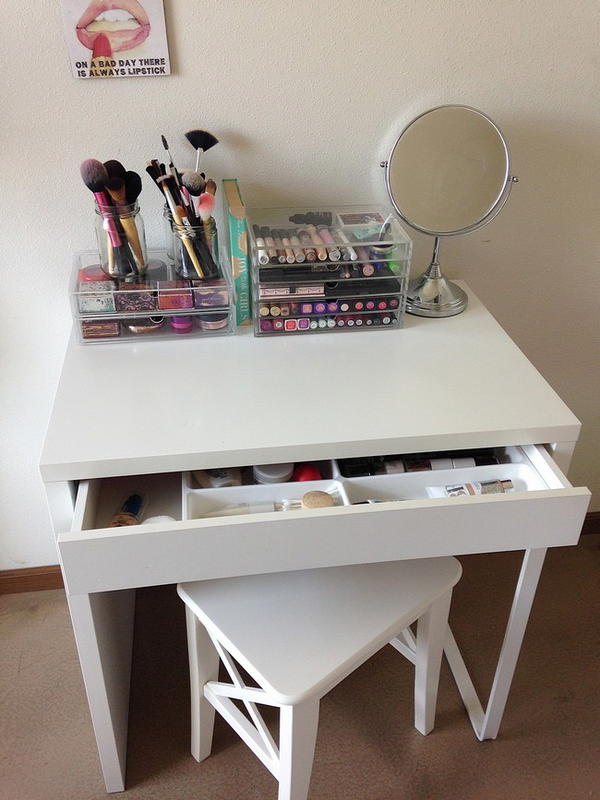 DIY Ikea Micke makeup vanity is sturdy, easy to assemble, and looks amazing. It will look fabulous in your room. This vanity works for all seasons, whether outdoor or indoor, for summer or winter. This DIY Ikea Micke is perfect for storing multiple uses items such as office supplies, home décor items, arts and crafts items, craft-making kits, makeup products, and more.
This DIY Ikea Micke makeup table is a perfect addition to your bathroom and in your bedroom, in the best quality possible; it has the best construction and materials that will accentuate your room's look.
Good Morning Makeup Vanity
This DIY Good Morning Makeup Vanity Table has a high-quality solid wood and melamine surface. It is easy to clean with a cloth, durable, and safe for home use. It has silver metal legs and a melamine top that add a fashionable look to your bedroom. You can choose the melamine top for beauty or the melamine top with the beauty case drawer to hold your makeup items. This vanity table is attractive stuff with which you can make your room warm and elegant and make you happy daily.
This awesome DIY good morning makeup vanity table project is easy yet awesome enough to be considered a great DIY furniture project for those looking to build some awesome furniture handy. The main material of the product is wood; therefore, it makes the vanity piece durable, sturdy, and everlasting. If you have sufficient space in your room, don't hesitate to add this eye-catching dressing table to your home.
Glass Top Makeup Vanity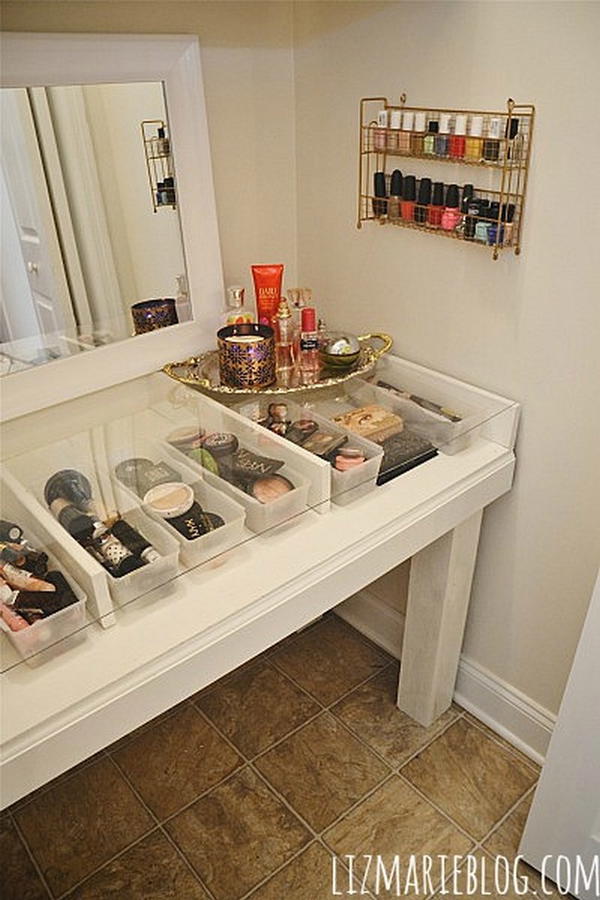 DIY glass top makeup vanity is the best place to do your makeup in front of people. If you already own a dressing table, then it's time to purchase this exquisite piece to give your apartment a stylish touch. A great addition to any room in the house, this gorgeous table with a charming circular structure will look good and be extremely useful in holding all your cosmetic products. The corner legs of this makeup vanity table offer a contemporary style. You can use it in your bedroom to decorate it with the luxurious feel of the vanity. However, the simplicity of the design of this glass-top exercise table will amaze you.
Three Compartment Desk Vanity Table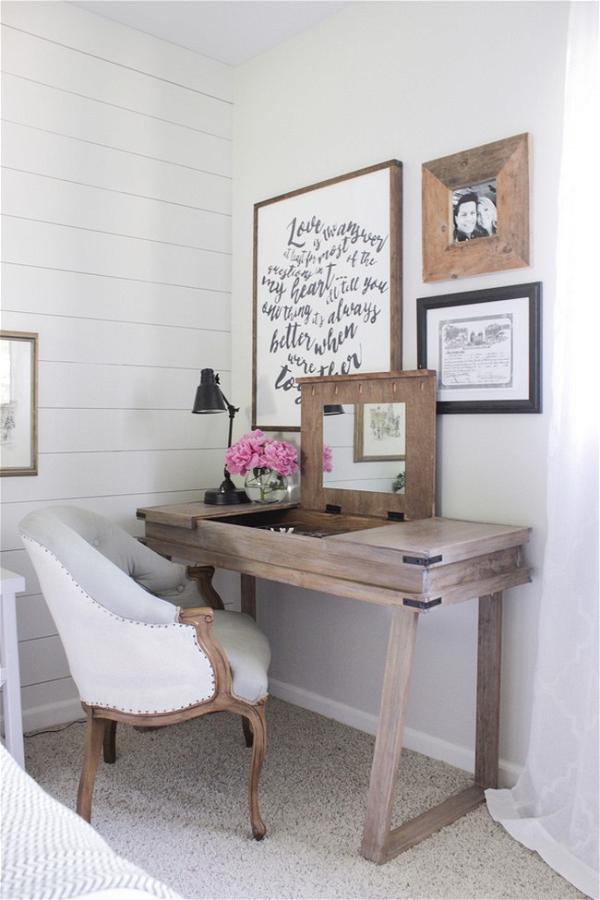 Wooden boards are fixed together to form this DIY vanity table. The top of the table, i.e., the surface, has been made using three-compartment wooden boxes, which are fixed to the bottom part of the tabletop to create a DIY three-compartment desk vanity table that will surely win your heart in no time.
You got to love the idea of using old wooden boards for making a stylish and functional desk vanity. You can use it in a kid's room where they can safely keep their things in a separate part, which in turn will keep the mess in check in a boy-proof manner.
A Small Space Beauty Station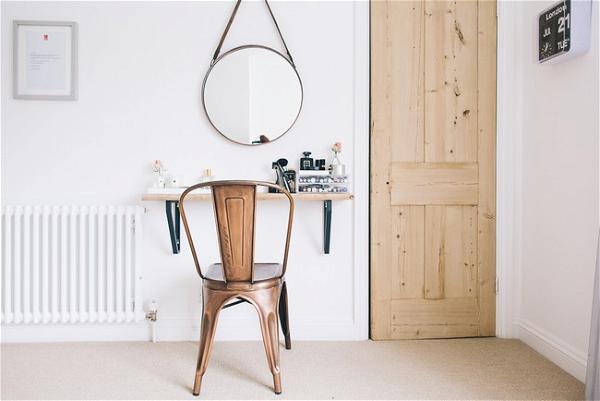 A Small Space Beauty Station is one of the most favorable DIY projects that are executed amid limited space at home. It occupies too little space, makes your room more organized, and assists you in creating a matching decor theme for your home. So get your hands dirty with this project today.
A small space beauty station that easily fits anywhere is the best solution. It's less expensive to make, and it's always an easy way to have your table at home. The DIY idea may be better for you, too.
Vanity Makeover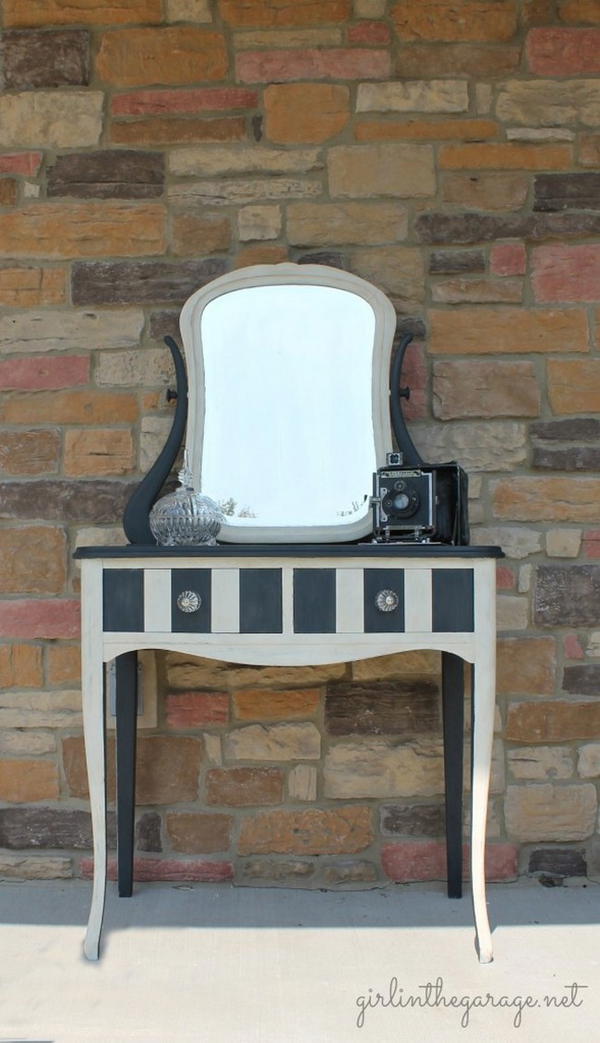 You need to give your old vanity a twist by adding some elegant touches in terms of changing the handles, drawer pulls, and even the legs. This will result in a modern piece that will be able to stand out in any room. You can even have an antique vanity to make it look like something straight out of the past. With some nice woodwork and detailing, you'll be able to achieve the desired results after the makeover.
The DIY Vanity Makeover will show you how to give your old vanity a fresh look. Every girl would love to have a vanity alongside their bedroom, but most of the time they go with the traditional styles of different furniture shops, which do not match the modern interior of the room. This can be prevented by having a customized vanity that matches your room's theme and feel. If you're planning on making one for yourself or someone else, this guide is for you.
Detail here girlinthegarage
Floating Shelf Vanity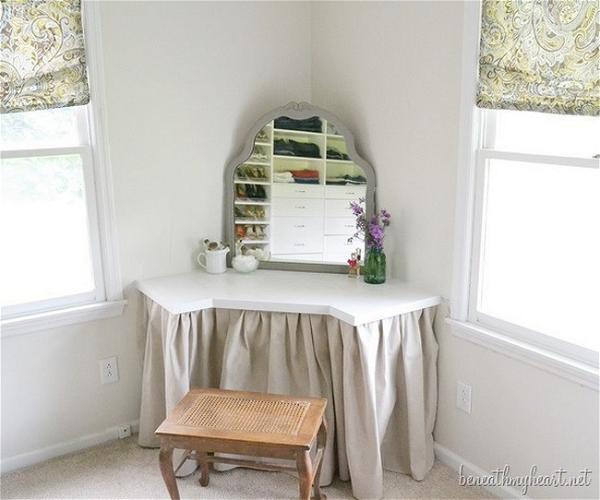 This DIY floating shelf vanity will complement any kind of decor, as it's a useful dressing table that you can spot in the corner of your room. With few accessories from the hardware stores, this floating shelf will become an amazing interior product. The curved design allows you to move the desk to any available corner. The beauty of this wonderful DIY dressing table is that it supports all areas of your beauty regime, whether it's makeup items or your toiletries. This is a solid choice if you're looking for a DIY project at home. You don't have to spend too much money to decorate your bedroom. This DIY dressing vanity will serve you unique, cheap, and adorable in your bedroom design.
Flip Top Vanity Table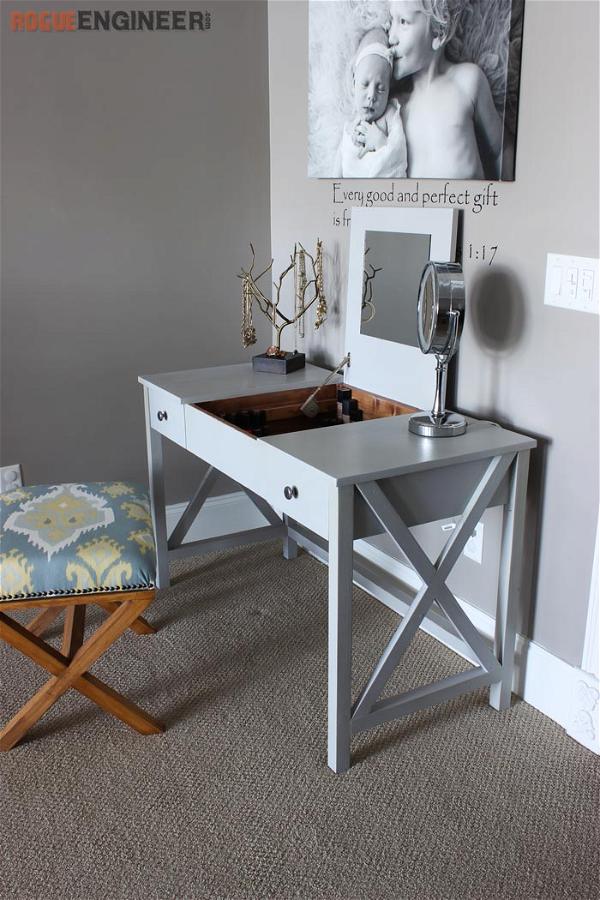 If you are looking for the perfect table for your dressing room, this DIY flip-top vanity table is what you need. A vanity table is useful for women and an indispensable decorative piece in the room. It features a folding mirror, which will help save your space, and an attached lamp that provides convenient light when putting on makeup. Having what you need in one place without searching through drawers will save you time in the morning. DIY Flip Top Vanity Table is stylish, comfortable, and an excellent value for the price. The design of this vanity table is based on traditional craftsman tables that were built to last.
Hairpin Make-up Vanity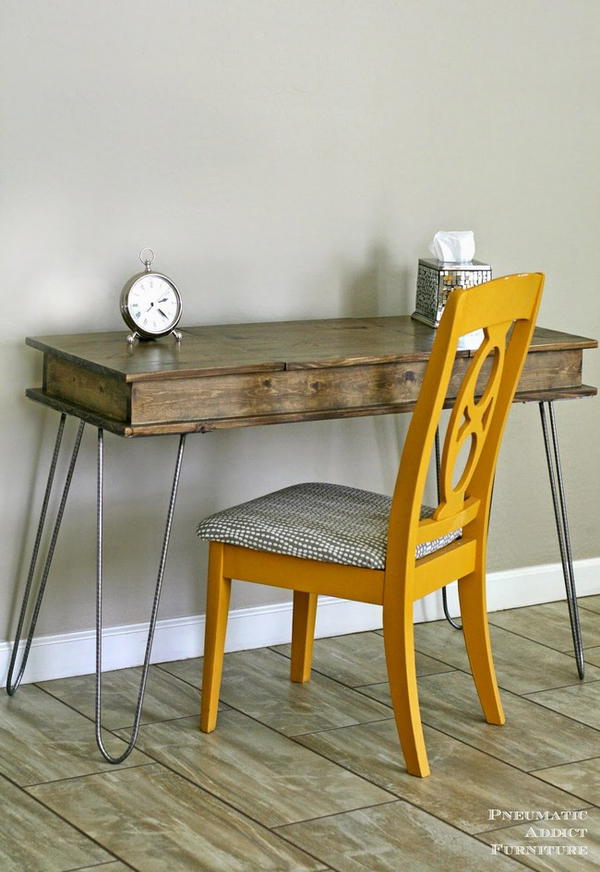 A hairpin makeup vanity table is a great choice for you. Since the hairpin comes with an antique mirror, it will give you a bigger visual effect. You can use it as part of your home decor, or you can use it as a functional piece of furniture. This small yet mighty table can fit in another corner of your bedroom.
This folding hairpin nightstand is easy to build with DIY plans, plus it's also constructed with pine wood for a beautiful rustic style. It looks great in any bedroom with its adjustable shelves, charming details including exposed shelves, and nailhead trim, and it's just the right choice for gift-giving due to its simple construction.
Wooden Makeup Vanity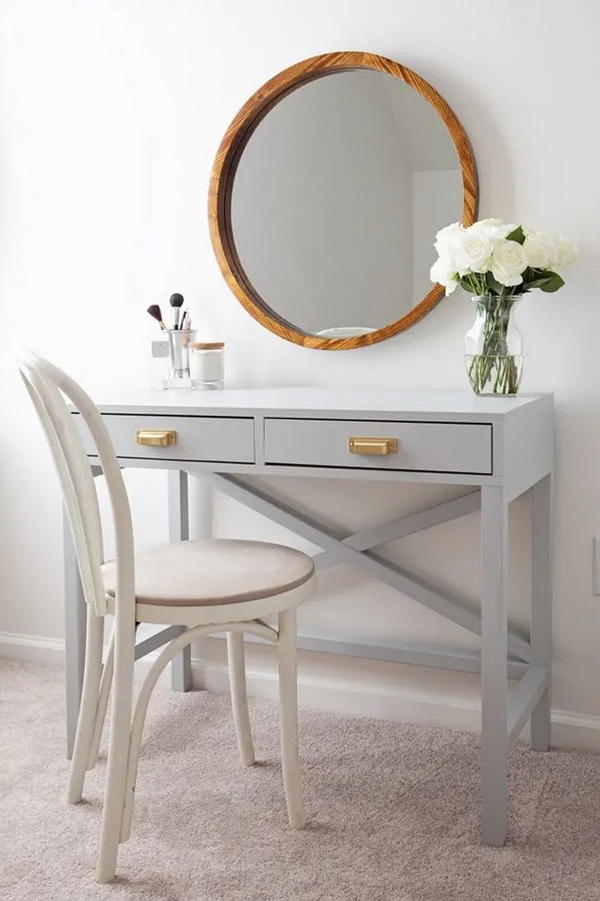 We put on makeup daily to make ourselves look better, think more positively, and feel better about ourselves. While it's not always necessary to spend hours on your appearance each day, it is important to take care of yourself. This project is made from the simplest household materials! The plywood, nails, and wood varnish all come from IKEA. All you need to do it measure, saw, drill and screw!
So why not start with the basics? This DIY makeup vanity project turns your utility room or bathroom into a makeup station. It's simple enough for beginners but elegant enough for the most refined of spaces. And don't forget to use your new vanity to spruce up the space (or at least clean out the dust bunnies that collect under there). This will keep you motivated and on track so you can get all those little tasks done.
Ikea Makeup Vanity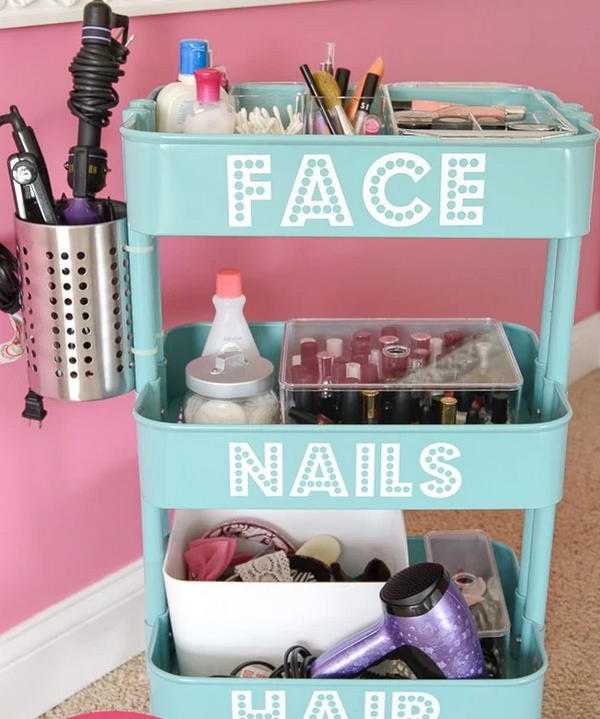 This makeup vanity with storage is gorgeous and large enough for two people to sit at it comfortably. It is also convenient since it sits on top of a Raksog cart that you can roll into a closet or other hidden place when not in use. Best of all, this DIY Vanity Table is cheap and easy to build!
This picture of a simple Ikea makeup table will make you want to get up close and personal with your flawless skin. This is the perfect vanity for young women who like to keep their makeup in order, whether at home or in a hostel. It's stylish, affordable, and easy to assemble.
Makeup Vanity From A Vintage Sewing Table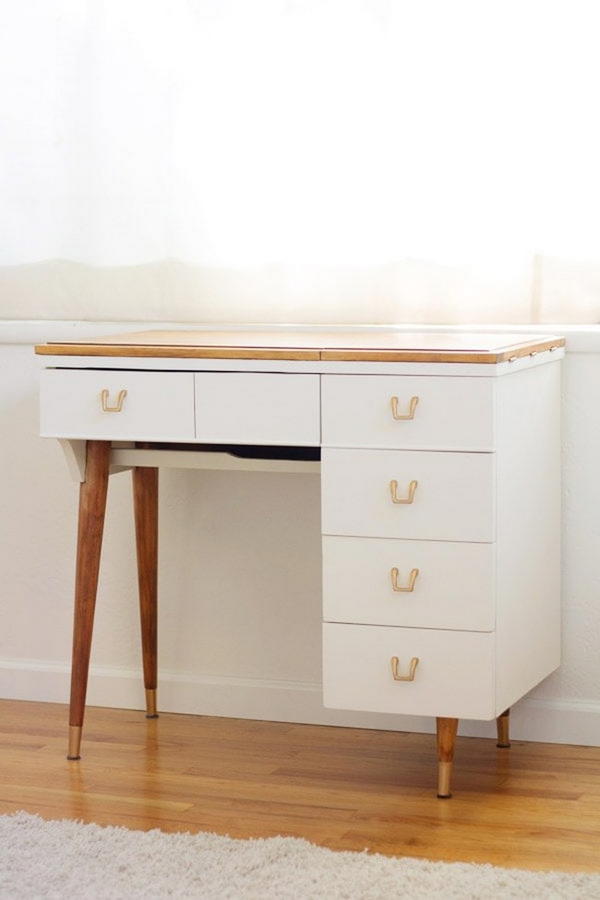 You can make your dream vanity table or makeup table with your DIY skills and creativity at home. Have you ever dreamed of a beautiful and stylish makeup table? This article will show how to restore an old sewing table into an ideal handmade vanity at home.
If your sewing table has served you well through the years, it is time to put a new use out of it. Here is a great transformation from an old sewing table to a vintage makeup vanity. Your vintage sewing table can be updated and reconfigured into something special- your own makeup vanity.
Pine Makeup Vanity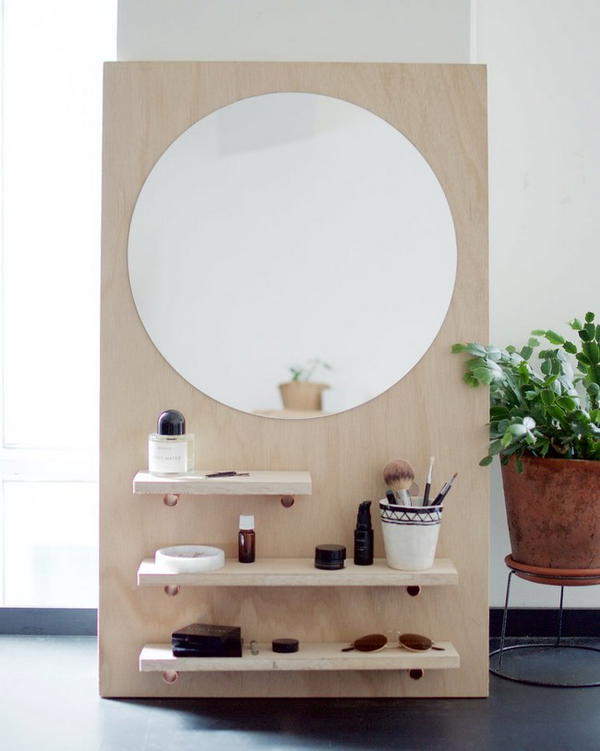 It's not easy trying to bathe, groom, or get ready when you're living out of a hotel; this is why I designed the pine makeup vanity. The DIY pine makeup vanity is everything you need to take care of yourself in one place. If you've ever had a hard time changing your hair, doing a quick manicure, or putting on makeup before a date, this will be your new best friend. With a huge round mirror and some manageable shelves, this piece makes it easy to take care of yourself.
Are you ready to have the best hair day of your life? Finally, you can have everything you need at your fingertips. Save dresser space with this DIY pine makeup vanity. This DIY project is simple and requires only a few basic supplies.
Glass Top Makeup Vanity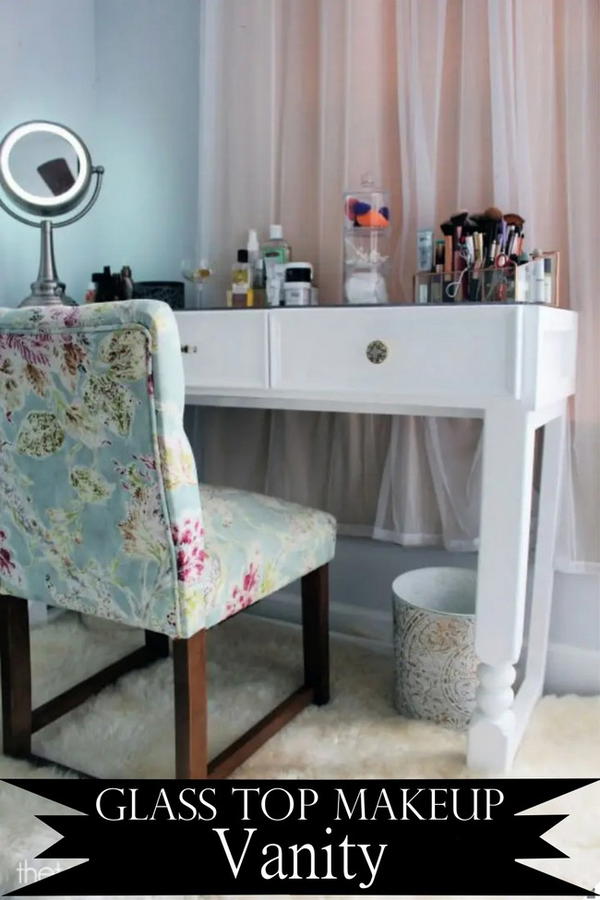 Start your dream vanity now with this awesome all-wooden design. Packed with three deep compartments, this unit is 17" wide and 48" long to supply you with the best storage solution. It has a wonderful look and feel to it. You can even take it off your wall and easily bring about 50 lbs of makeup equipment.
Build this series of wooden drawers today, and you can easily make your makeup studio better tomorrow. You can see what is inside the drawers with the glass top without pulling them out. And that saves time! It is also one of the most effective ways to keep your makeup clean and dust-free.
Lighted DIY Vanity Mirror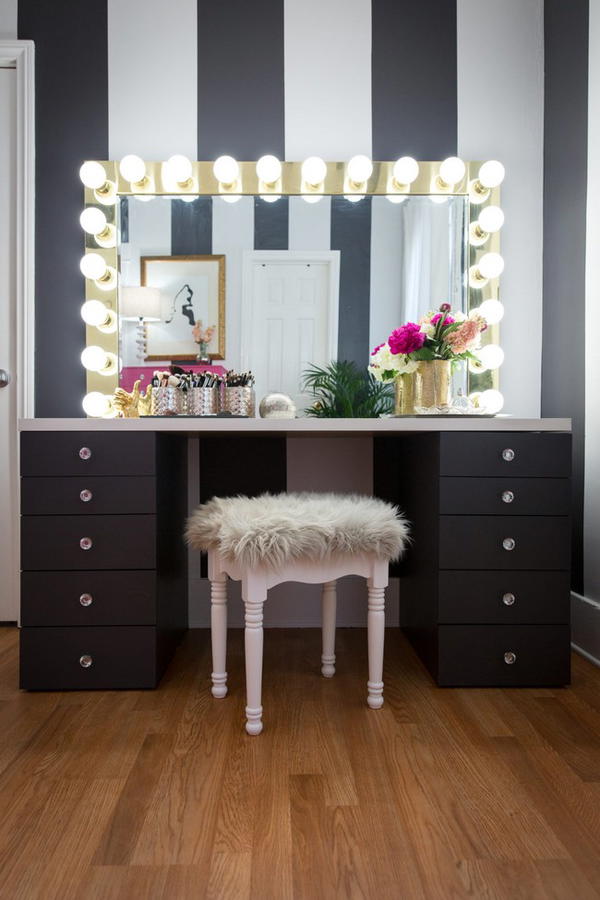 Creating a gorgeous look starts with the right tools. This vanity with a lighted mirror is just what you need to organize and store your beauty essentials, night and day. It features built-in under-cabinet lighting that can be adjusted as you desire, as well as 5 drawers and 2 cabinets for storing your makeup, hair accessories, and other beauty products. With a chic contemporary design and handy touch sensor button for commonly used items, this vanity allows you to make a statement in your home or bathroom.
Every little thing, every small detail in this DIY makeup vanity, has been carefully planned out. You can notice it right away when you get it, the packaging is impressive. After you get it open, then you will be impressed by the size of each drawer; they are deep enough to place anything you want inside them.
Homemade Makeup Vanity Table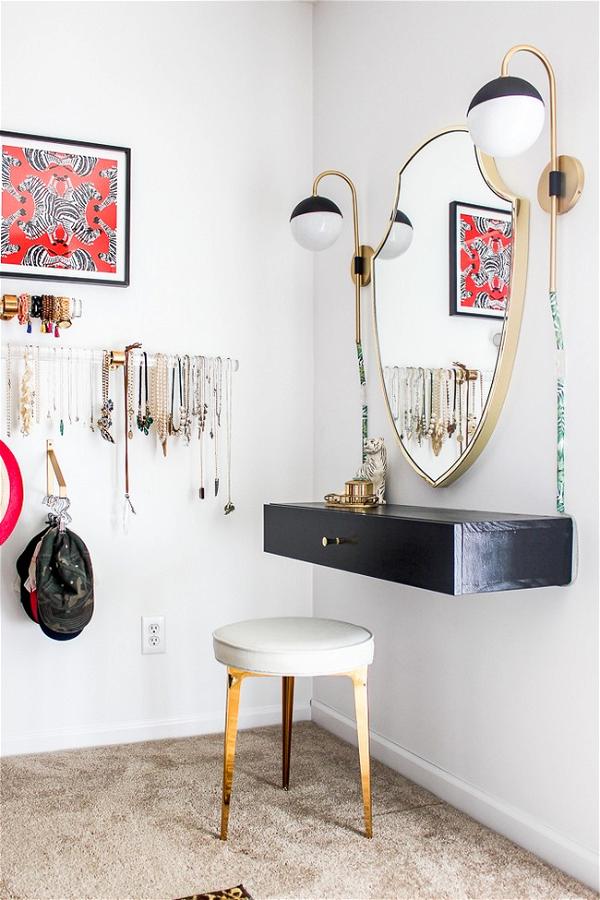 Wall-mounted storage is the most suitable choice if you want to avoid those fancy and expensive dressing tables and vanity desks. Using a wall-mounted makeup table and chair is a good idea as it saves a lot of money and provides easy availability. This particular makeup vanity table will show you how to make use of your wall-mount wood storage system, which you already have at your home, and convert it into one such fun and cute vanity.
When it comes to beauty, many of us want to look great, but high-end products are expensive. Instead of investing in an expensive vanity table, you can set up your own DIY makeup vanity table at home.
Simple Makeup Vanity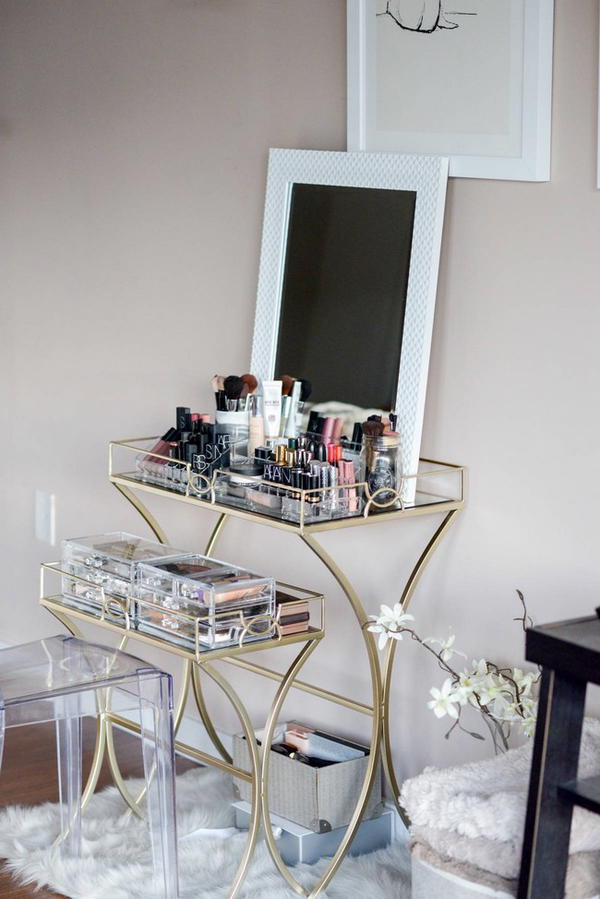 A Makeup Vanity table at home is the need of each girl and the dream of every woman. This DIY project can be made with a very small budget and spending a short time on it. This makeup vanity is easy to make by anyone. You can have it made as per your requirements if you have its measurements in hand. The dressing table has an elegant and beautiful look, after putting it all together you will feel like you are in heaven. Makeup Vanity table is an adorably chic way to organize all your makeup, brushes, and accessories in one place. This striped design is perfect for any home.
Lighted Vanity Mirror Unit
Lighted Vanity Mirror will allow you to get rid of the hassle of using a single lamp to illuminate your face. It is just the right size to see your whole face when looking at the mirror and will help you perfectly apply your concealer, eyeliner, and other types of makeup. This lighted vanity mirror is perfect for your bathroom or dressing area. Featuring an easy-to-use swivel mount that you can place on top of any dresser or cabinet and built-in dual bulb LED lights that provide even lighting you can adjust to your preference. This vanity mirror has a solid design that will last for many years, providing you with a handy tool for helping to get ready each day.
Stylish Makeup Vanity With Lights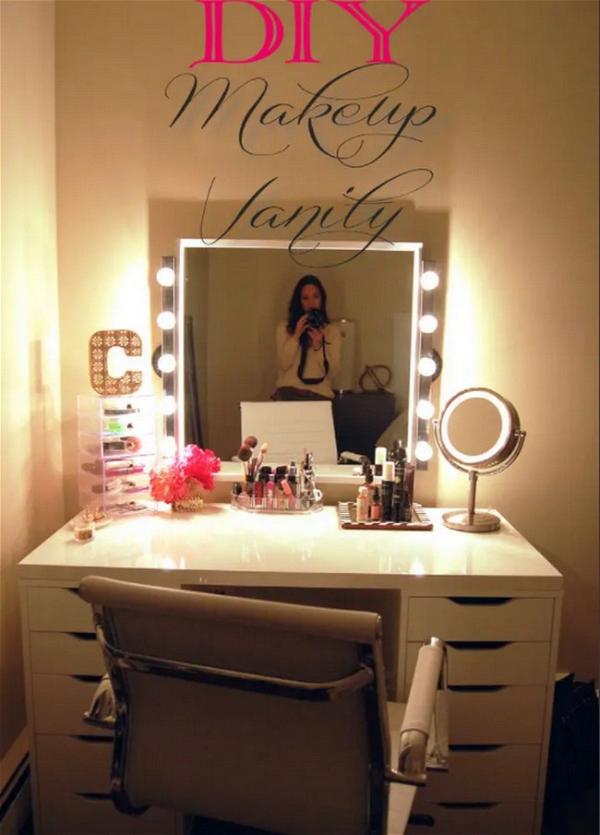 This Stylish Makeup Vanity with Lights is the perfect addition to your bathroom or living room. Store all your makeup and other accessories with ease thanks to its various shelves. The sturdy metal legs and glossy wooden top are hard-wearing and stylish, ideal for any home. Even better – you can adjust the shelves to meet your convenience! Perfect for the makeup artist in your life – whether they're just starting out or a long-time professional
With a makeup vanity table with lights, your beauty routine gets so much easier. Organize all the necessary things on its adjustable shelves, so there is enough space for brushes and other cosmetics. In addition, it works as an ideal storage place for a whole bunch of albums and other accessories.
Dresser into Makeup Vanity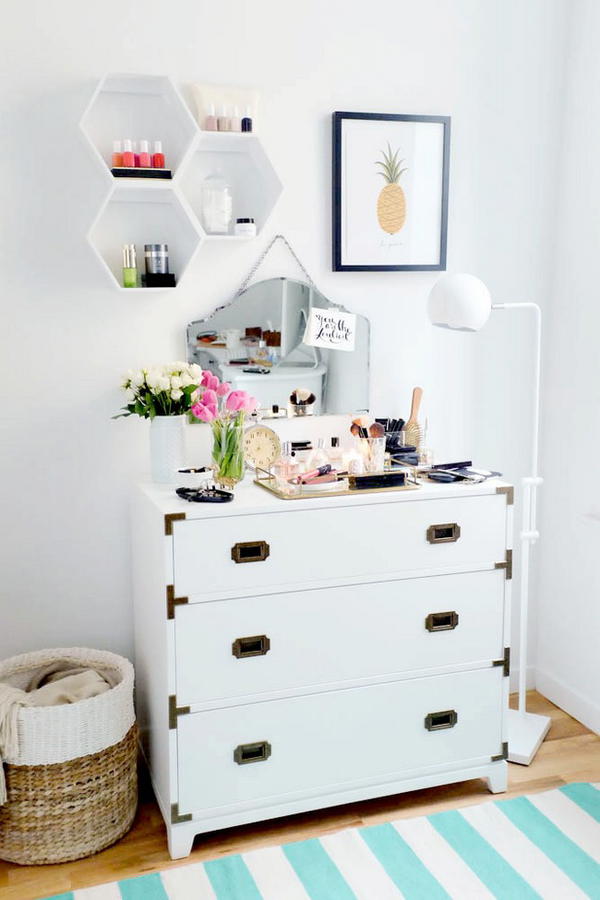 Convert an old dresser into a cute vanity table. Decorate your bedroom by adding a makeup vanity and a dressing table to your old dresser. Choosing the perfect vanity table for your room is something that you need to consider very seriously. Your dresser can be turned into a functional and stylish vanity by adding a dressing table top to it. Use a mirror with different shapes and designs to ensure that it matches your bedroom's theme. The simplest way to transform a small dresser into something extraordinary is to create a vanity in your bedroom.
Tiffany Inspired Makeup Vanity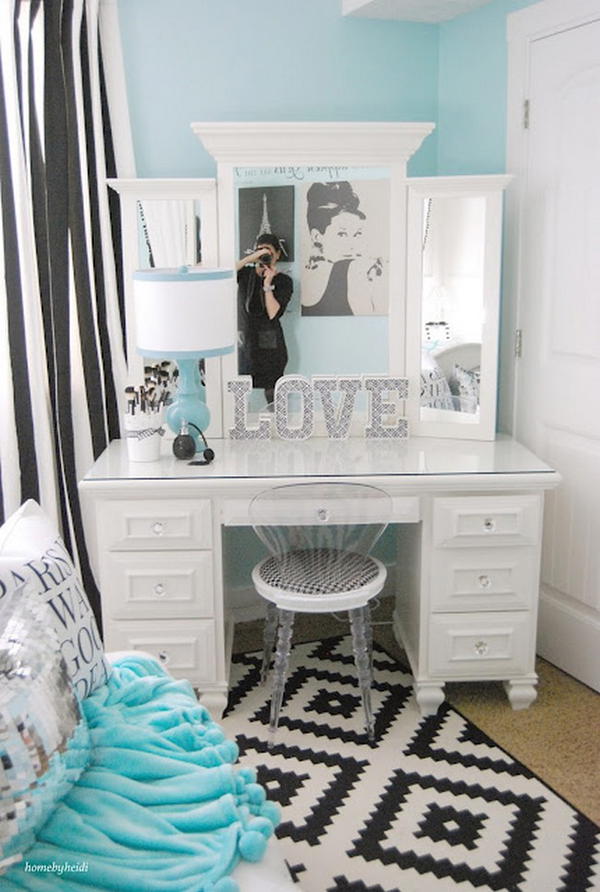 The Tiffany makeup vanity is a perfect piece for any girl's bedroom. While the girls are away, adults can also have fun with this gorgeous piece of furniture in their bedrooms! The drawers will keep all your makeup, brushes, and other accessories compactly organized in one place that you can easily reach for whenever you're ready to reapply your lipstick or brush on some bronzer. This glorious makeup table is a girl's best friend. It is exquisite and charming, with everything in pure white. This will make your daughter's bedroom look like a royal palace.
DIY A Wall Vanity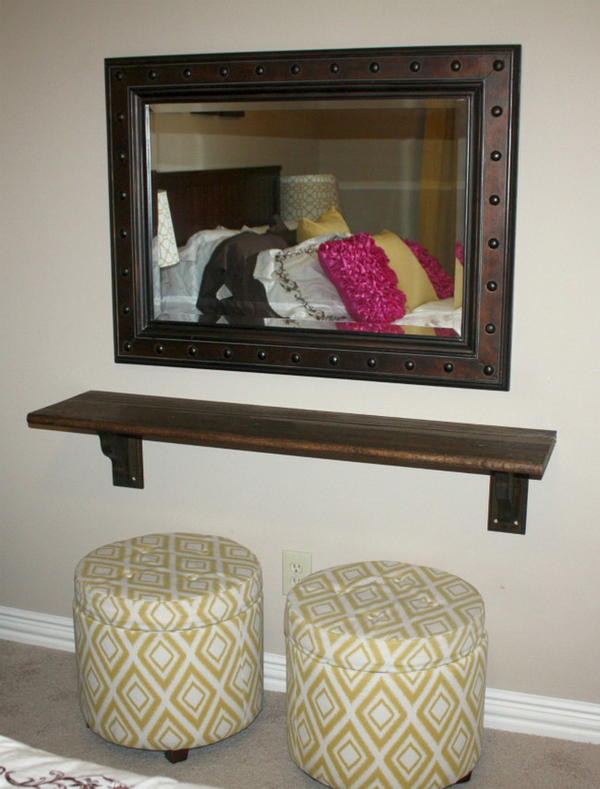 DIY a wall vanity idea is the perfect solution for your small bathroom. This easy-to-install wall vanity is stunning as well as practical. The shelves on the bottom and the mirror on top are all you need to create a gorgeous bedroom vanity set in your small space bathroom. Simple, reliable, and sturdy, this DIY wall-mounted bathroom vanity will be an adequate and convenient addition to any such living space. If trying to decorate your kitchen, bedroom, or bathroom, you should try this DIY wall vanity. It will save space in your room and be a perfect decoration too.
Makeup Vanity Makeover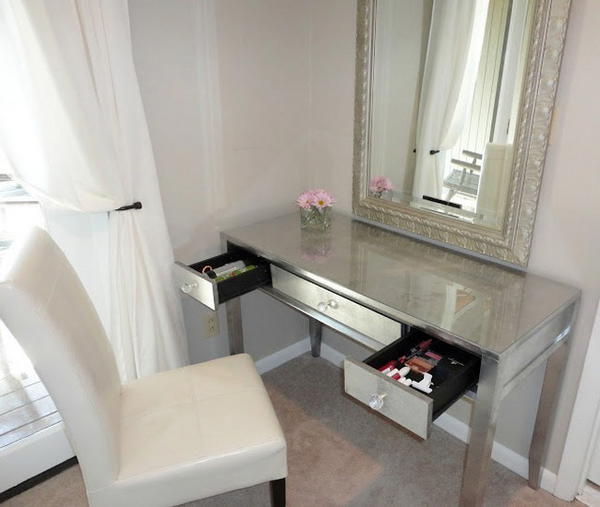 The Makeup Vanity Makeover is a cosmetic and storage table that will make your beauty experience more interesting, fun, and convenient. You can simply maintain your habits while sitting comfortably in front of the mirror or relax with a good book while taking care of yourself around the house. Essentially, this is a stylish table to put makeup on and store numerous things as you put them in the drawers. The best part is that it is fully adjustable and is made of a very good quality wooden surface. This product has a sleek design that looks great when placed inside your room. Its silvery surface instantly adds elegance to your home or office.
DIY Vanity Table Tutorial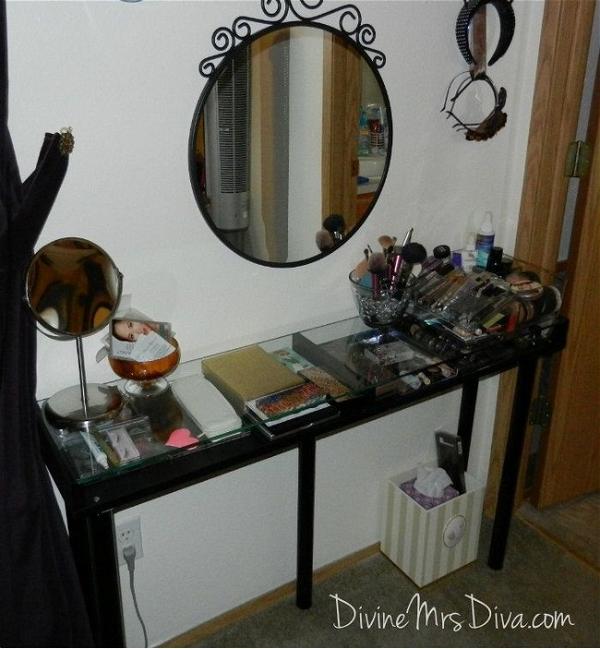 DIY vanity table tutorial that would make your lives easier and bring a whole lot of fun and happiness inside your homes. Girls, go ahead, take a look at what you could do to upgrade your homes. When decorating a house and giving it some more furniture, you always have a bunch of options to choose from. One of the most popular one's that are picked by people for their homes is getting these sliding mirror doors for their bedrooms. A lot of people today even go for them for the bathrooms too. Also, if you have a vanity table of your own that you want to upgrade and make it look better than ever before, then I can tell you there is no better option than creating one at home yourself
Pallet Makeup Vanity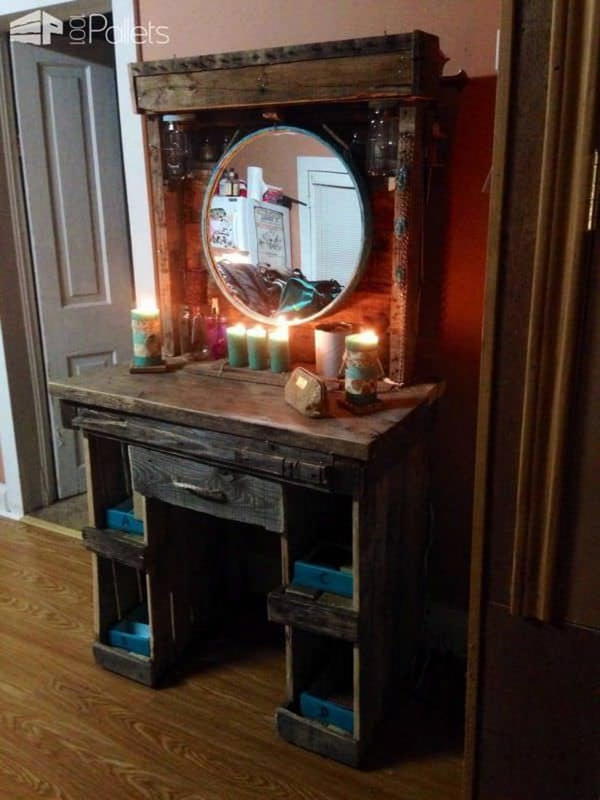 This pallet makeup vanity offers a great storage solution for a bathroom, bedroom, or office space. With the functionality of a makeup station, this unique furniture piece is perfect for both storage and display. The Pallet Makeup Vanity table includes drawers for storage and three shelves for displaying your favorite products.
This pallet makeup vanity offers a great storage solution for a bathroom, bedroom, or office space. With the functionality of a makeup station, this unique furniture piece is perfect for both storage and display. The Pallet Makeup Vanity table includes drawers for storage and three shelves for displaying your favorite products.
Wooden Makeup Vanity For Kids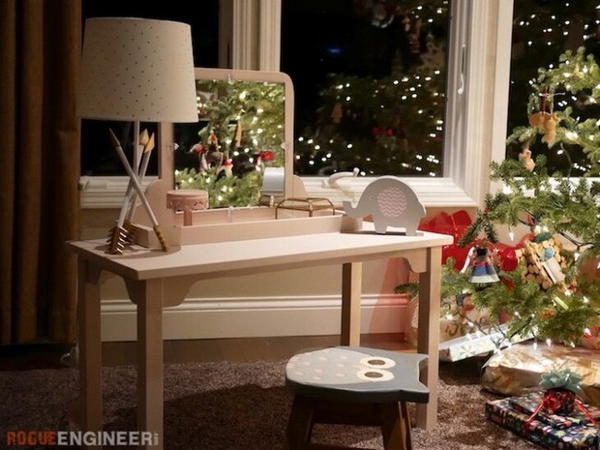 Wooden makeup vanity is the perfect way for your little girl to get ready for a big day. It comes with a mirror and a stool. This is one of the cutest designs. This is a very simple and easy-to-make project which you can easily incorporate into your kid's room decor. It's a perfect way to get your kids excited about makeup and grooming. This vanity can be an ideal fit if you have an unused corner in your kid's room. Just paint the walls white, attach a small dressing table or table lamp and attach the wooden makeup vanity for kids on the wall.
Everything is cute and pretty in these little girls' rooms, even the things they use. This kind of makeup vanity is very useful for kids, especially those who love to do makeup. Another thing that can be used is a small table to place a lamp, or perhaps some nice flowers. Especially stickers are a great way of adding some fun and color to the furniture.
Small Space Makeup Vanity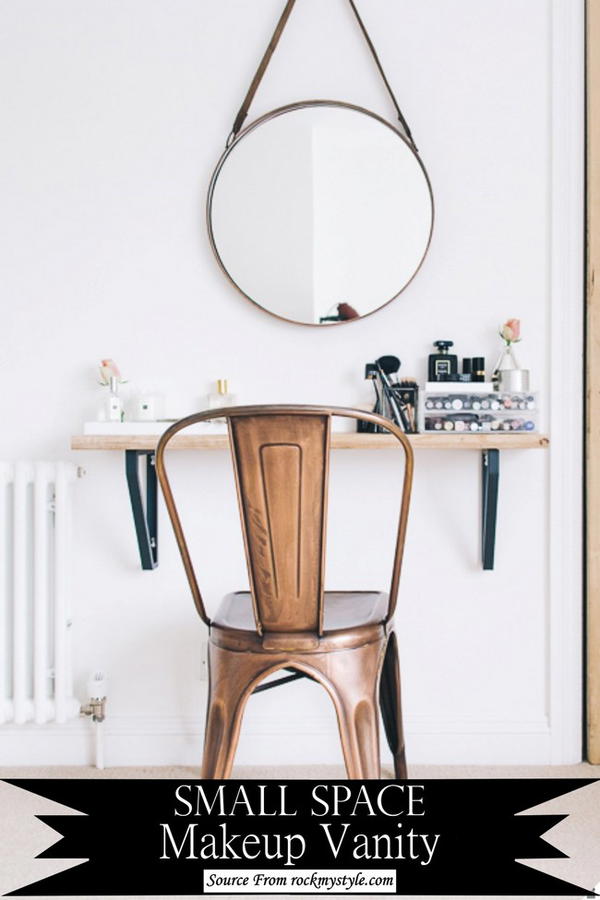 If you have a small space in your bedroom and looking for something unique, then this makeup vanity station is definitely something you need to see! A floating shelf with a mirror hanging over it will make it look like a makeup mini-station. A floating shelf is definitely a really good thing for your wall. Since it is actually just a shelving unit that used to hang on the wall, you are able to stack it up against your walls and make better use of the space. This small space makeup vanity will allow you to get ready on a daily basis without taking up a lot of space and keeping you within arms reach of your brushes or nail polish cabinet.
DIY Ikea ALEX Vanity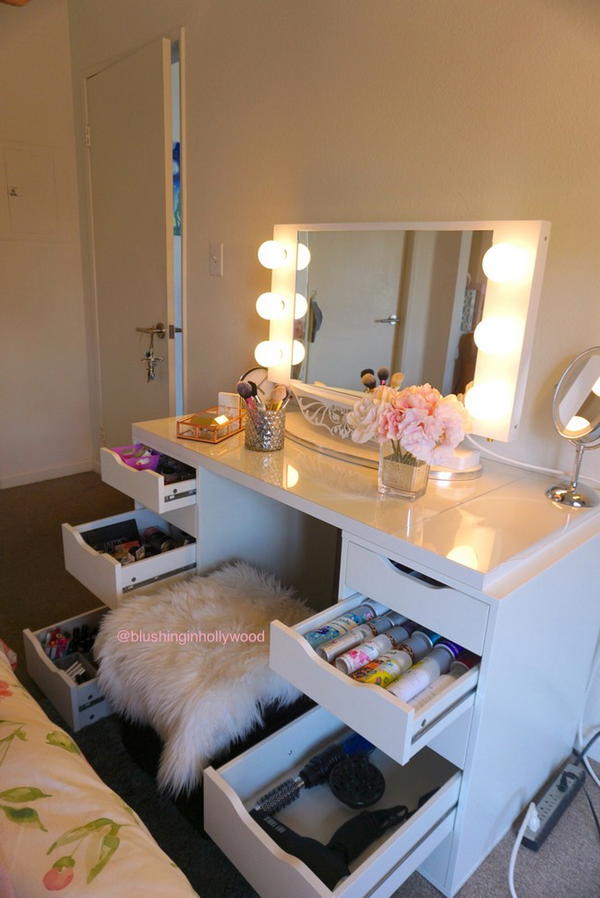 DIY Ikea ALEX Vanity is simple. It is designed to hold all of your makeup and jewelry in one organized space. Instead of searching through your jewelry box to pick out a favorite necklace or earrings, you can pick from your collection in one spot. It's perfect for any girl's space or college dorm room.
It's important to have a place to store all your makeup and jewelry. ALEX DIY Vanity is the perfect piece to get everyone organized. Let the girls do their makeup in style, while you pick out that perfect necklace to match your outfit. This vanity was designed specifically to help you find what you're looking for and get ready fast.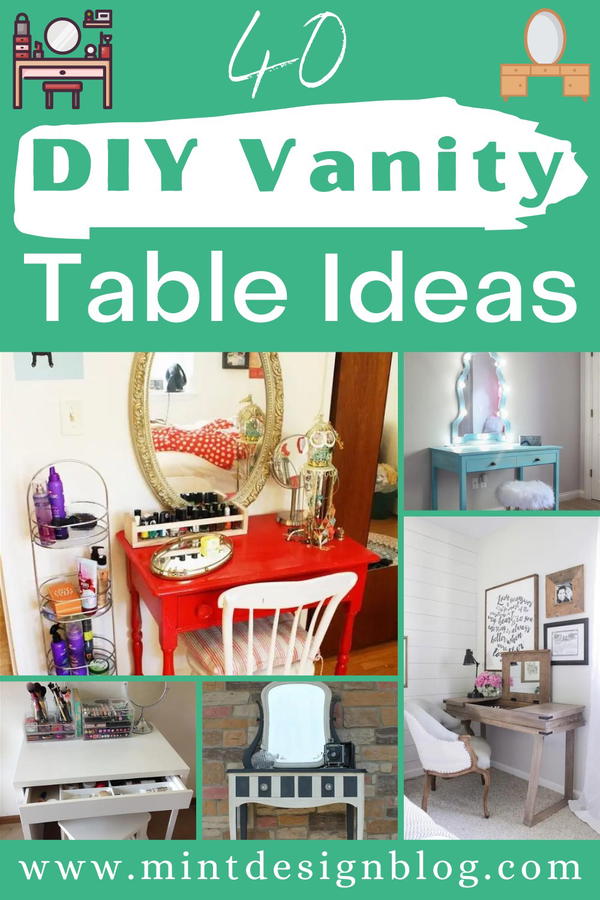 See Other Projects