Here we have listed different DIY Height Chart Ideas that will have you excited about making your own. These easy-to-follow ideas let you make your height chart that fits your child's personality. Whether they are 3 months or 15 years old, these DIY height chart ideas are a great way to track their growth - and they can be super stylish too! Use our amazing DIY Height Chart Ideas to see how you can make a personalized chart that tells your child's story. The options are endless when creating unique and fun height charts!
How Do You Make A Wooden Height Chart?

A height chart can be the perfect way to motivate your children and encourage them to reach their goals. Creating a height chart for your children can be a great way to help them see the difference between height and growth over time. This tool helps improve self-esteem and provides a concrete visual of their growth.  Making a DIY height chart for your children is a fun and creative way to keep track of their growth.
Whether they are toddlers or teens, these DIY Height Chart Ideas will make a beautiful homemade project that will become a cherished keepsake. We love these DIY ideas because you can use any medium like wood, fabric, paper mache, leather, etc. There are no rules to follow, and there's no right or wrong way. So let your imagination run wild and create one of these unique DIY Height Chart Ideas that are fun and easy to make.
Kids Homemade DIY Height Chart
The DIY Height Chart is one of the most popular and meaningful ways to measure your little one growing up. Unfortunately, most of them are expensive, but now you can save money by making your own DIY height chart. There are so many fun, unique and clever ways to customize these Height Chart Ideas by adding personal touches to make them your own. They are adorable and great keepsakes you can show off in your home or give as a gift. These height charts will create a memory that will last for years.
DIY Height Chart On Wall
Everyone has their way of crossing off height on the wall when their kids grow. But with these unique DIY Height Chart on-wall ideas, you can have a highly personalized take on the traditional growth chart. These DIY Height Chart Ideas will excite your kids to use their new wall art daily and keep track of their growth over time. These cool ideas include themes kids love and are easy to create with everyday materials!
DIY Ruler Growth Chart
Help your child track their growth milestones with this DIY ruler growth chart, which can be customized to suit your child's height, name, and photo. Made from high-quality wood, it will last for years, making this the perfect birthday gift for any expecting parents. It's one of those projects that makes you feel like you've achieved a lot. Hang it on your wall to record "growth" in fun, children's bedroom, or nursery playroom decorating theme.
Easiest DIY Wooden Ruler Growth Chart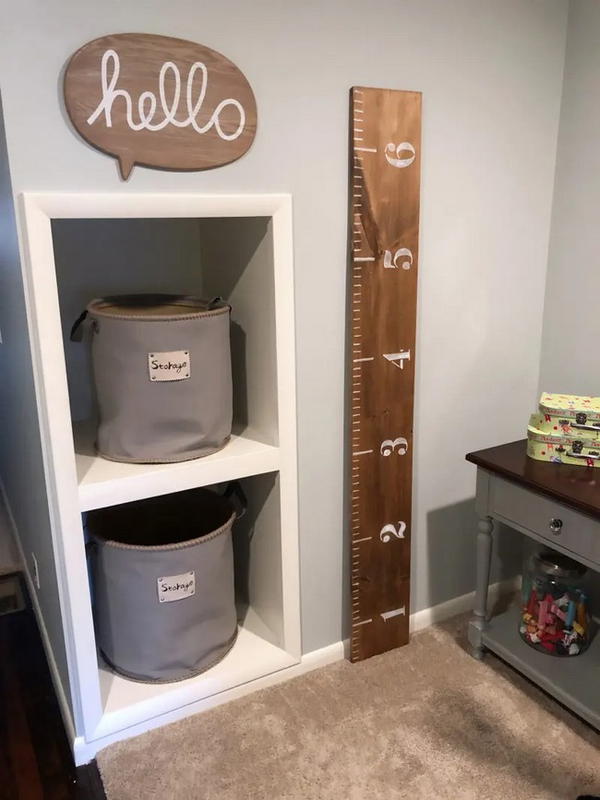 This rustic, natural wooden ruler is the perfect gift for any new parent or proud parent. This ruler is completely customizable, making it the perfect gift as a beautiful keepsake that will be treasured for years to come. Super simple and super fun, this DIY wooden ruler growth chart is the perfect thing to track your little one's (and big ones too) height. Get it as a gift, or make it yourself. This a helpful reminder that growing up is a wondrous journey.
DIY Project Creating Our Family's Mobile Growth Chart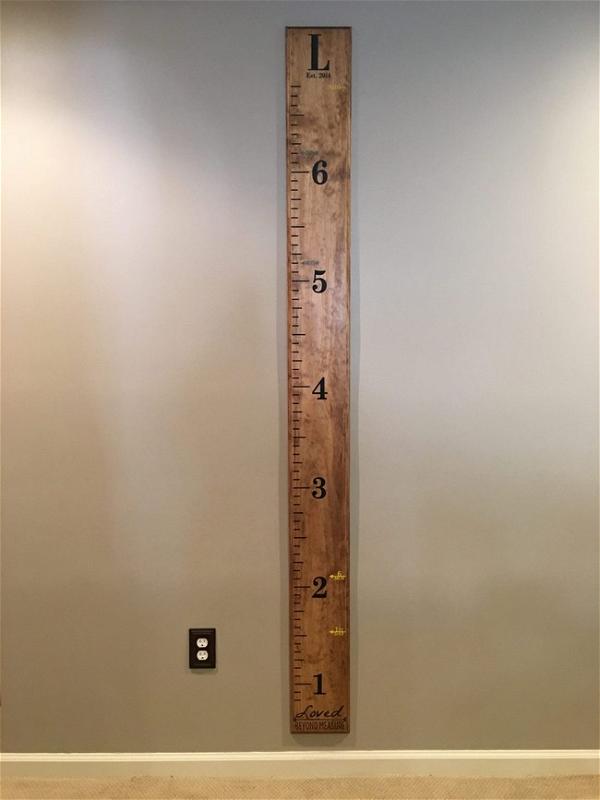 Take your child's growth with you in this Family Mobile Growth Chart. Just add the measurements and create a place to keep track of all their changes; this is a great gift for any parent. This fun DIY project is a great way to see how your little ones grow up and fill the house with adorable home decor. You don't need to break the bank to create a fun and functional family mobile growth chart. This simple project uses materials that you probably already have at home. All you need is an old piece of wood, blank wall space, and some paint swatches.
DIY Ruler Growth Chart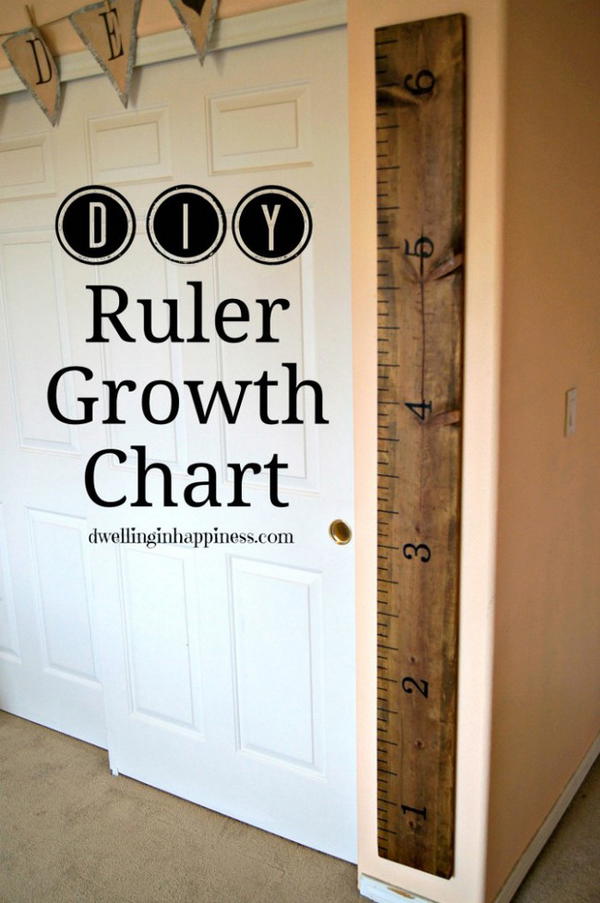 This DIY Ruler Growth Chart can be hung on your wall or desk and customized to look just like you want it to. It's made of wood to last for years at home. You can use this on a door or wall so your kids can track their measurements as they grow. Whether you're redecorating your home or creating a custom, hand-me-down keepsake for a loved one, this DIY ruler growth chart is a fun and easy way to make all that hassle disappear!
DIY Growth Chart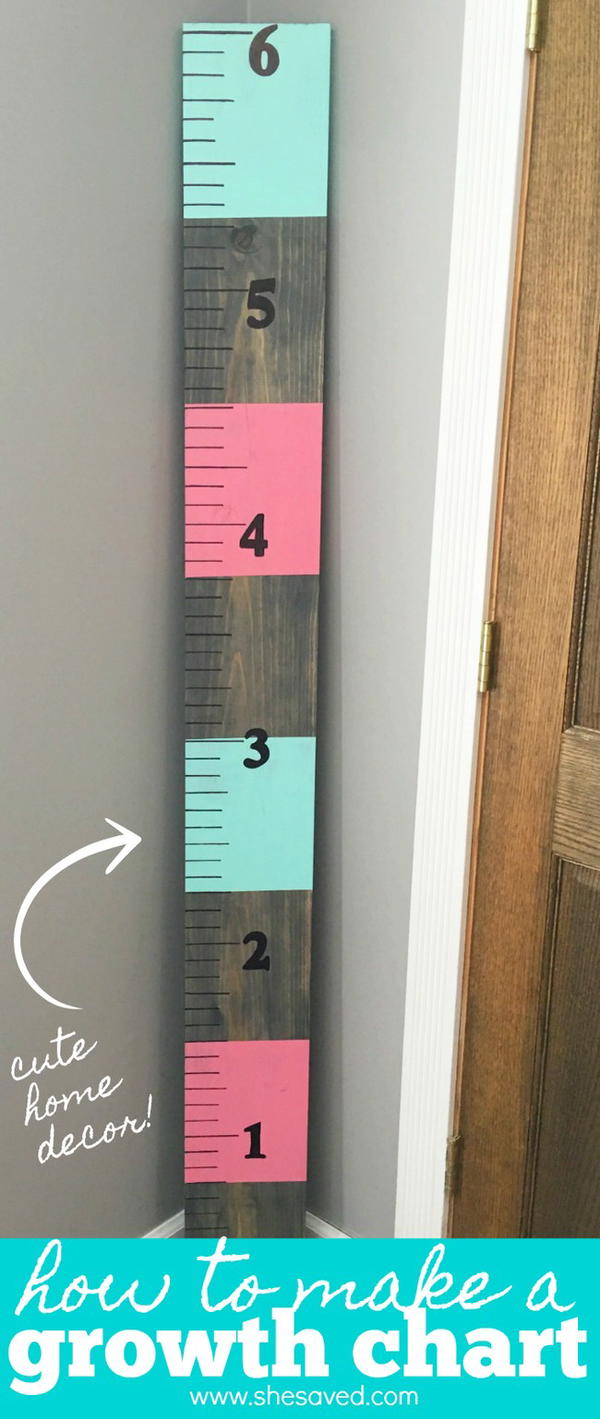 Make your custom growth chart for your little one! This is a great DIY project for mommy and daddy to make together. The perfect DIY project to hang on your little one's bedroom wall, this growth chart is made with a simple wooden board and chalkboard paint. Easy-to-follow directions and step-by-step photos will have you creating a beautiful growth chart in no time! Once done, you can hang the growth chart in their room.
Also, see: Easy DIY Wooden Gate Plans 
DIY Wooden Tree Growth Chart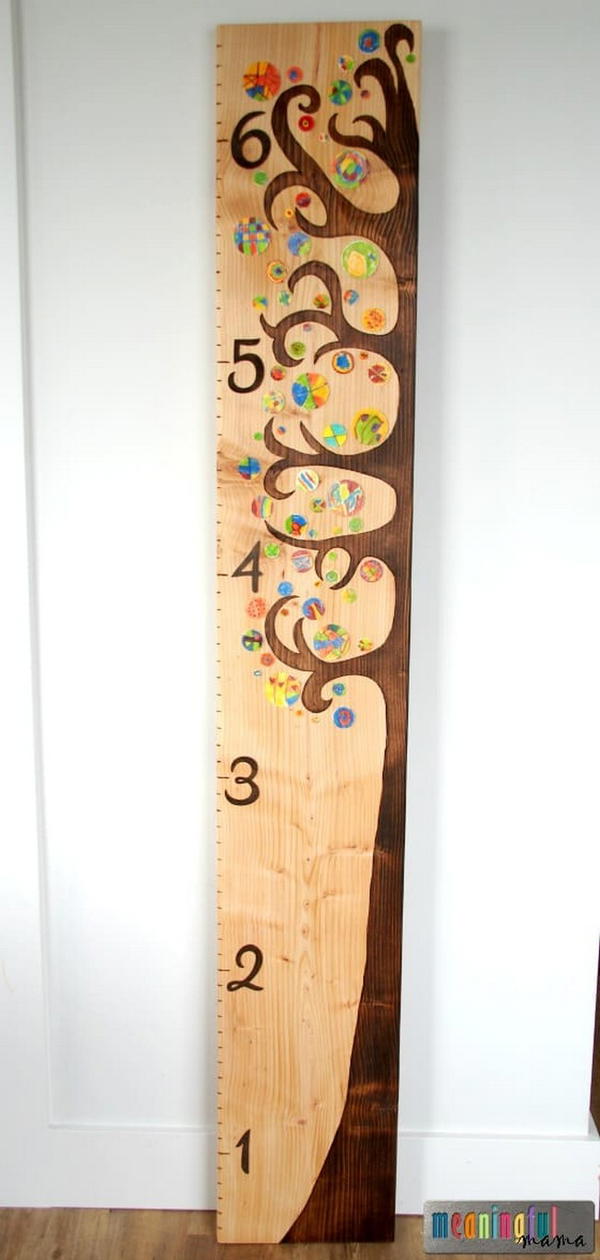 Are you looking for a fun, toddler-friendly learning tool? This DIY Wooden Growth Chart is just the thing! The handpainted tree trunk is a nice blank canvas for your child to use as an open-ended learning experience. A wonderful gift for important occasions in life, this unique growth chart tree-shaped is made from eco-friendly wood. Simply build and paint the wooden tree, hang it on the wall, and start marking its height as they grow.
DIY Personalized Growth Chart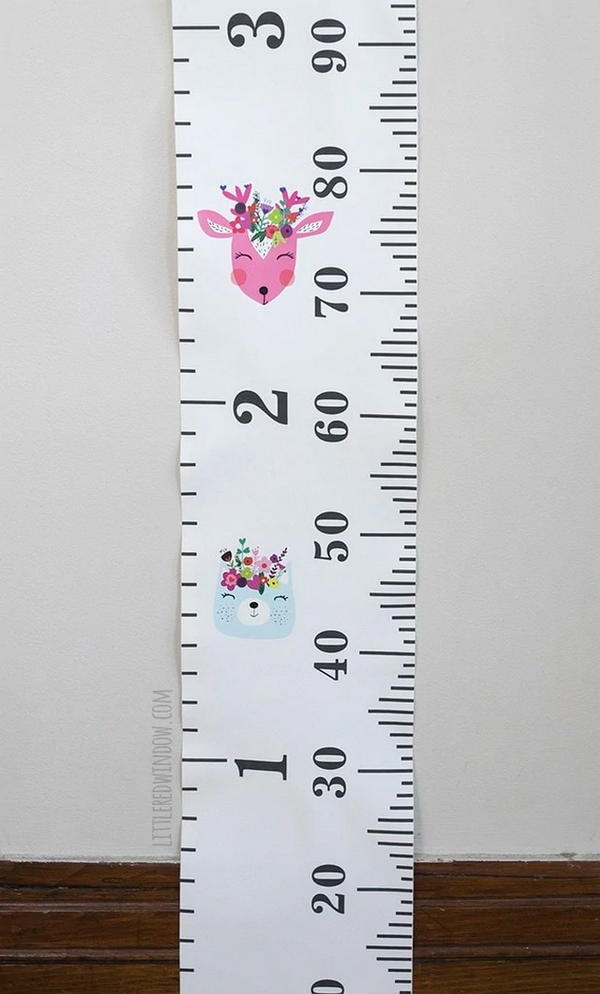 Every child's growth is an important record. This growth chart is a fun way to track your child's dimensions and those of your family members. The Personalized Growth Chart allows you to record the date and their name with their heights. This easy craft is a great gift idea for anyone with children, especially for their room or nursery. Detailed instructions are included on how to make this functional piece even more personal by adding photos.
Chalk Board Ruler Growth Chart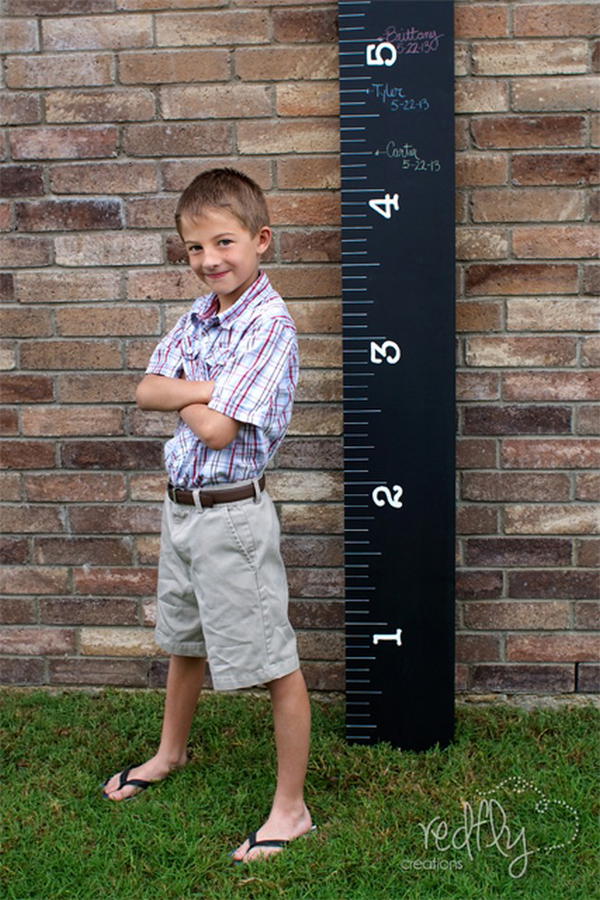 Give your child the gift of self-expression with this unique Chalk Board Ruler Growth Chart. This ruler growth chart is a fun and practical way to chart your child's height. Use chalk markers, as it's a great surface for writing and drawing. Designed for hanging on a wall, the Chalk Board Ruler Growth Chart is perfect for keeping track of your child's growth from birth to adulthood. It includes blank spaces to write in your child's measurements each year. A spiral wire is included so you can easily hang this chart on the wall above its height.
DIY Wooden Growth Chart for Kids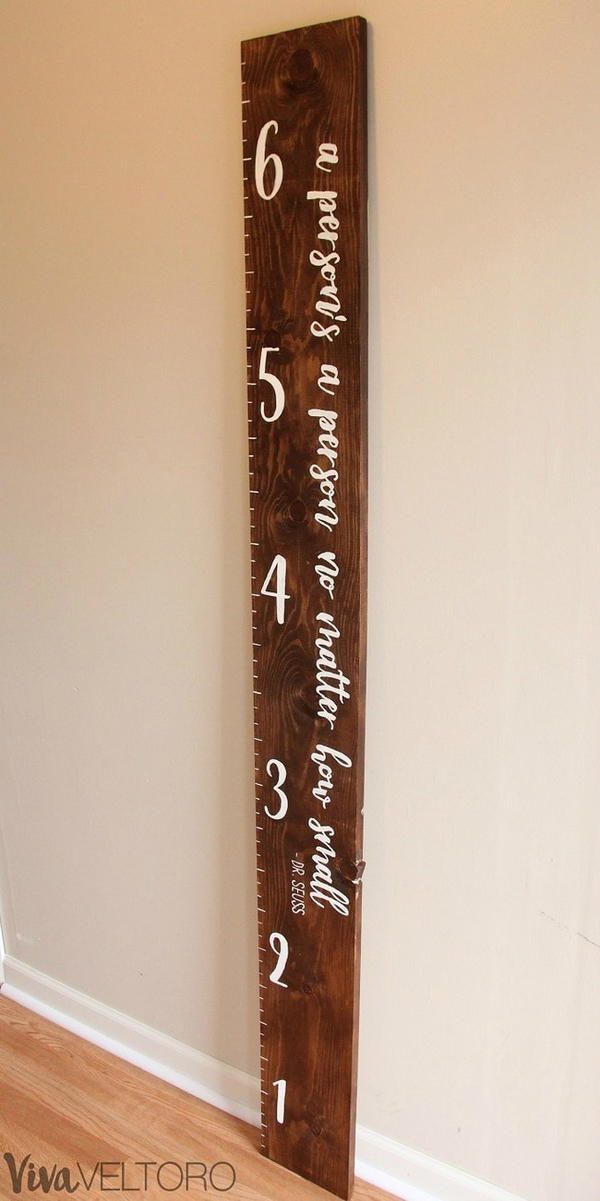 Are you looking for a unique and fun wall decoration for your child? This DIY Wooden Growth Chart is the perfect gift for all little ones. It's simple to make and can be customized to suit your child's room decor or personality. You can easily make this Wooden Growth Chart for Kids by yourself. The best part is that you can make a variety of wooden growth charts with your kids, keeping track of how they're growing up. Plus, it remains a cute decor piece as they grow into a big kid!
$5 + 30 Minute Wooden Growth Chart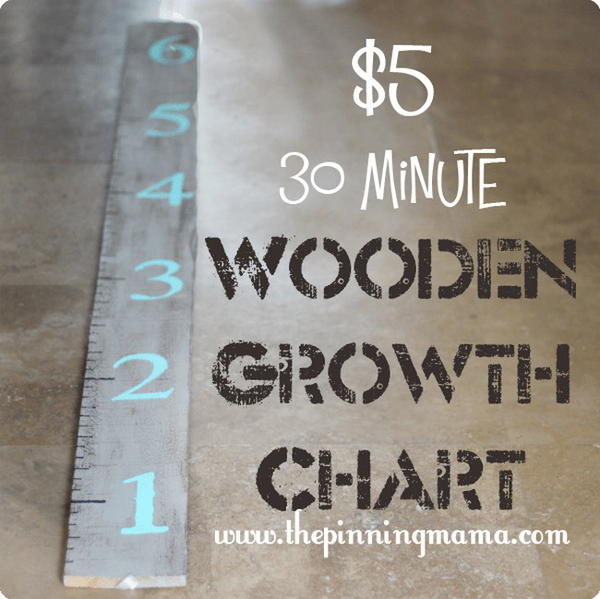 This $5 wooden growth chart features a handcrafted design, making it an excellent gift for the whole family. This wooden growth chart makes the perfect addition to any home. It will be a valuable reminder of your child's height year after year and can even be repainted for new siblings who come along. Give your child a chance to record their height growth with this beautiful and functional $5 + 30 Minute Wooden Growth Chart with room for 5 years of growth.
How To Make A Diy Growth Chart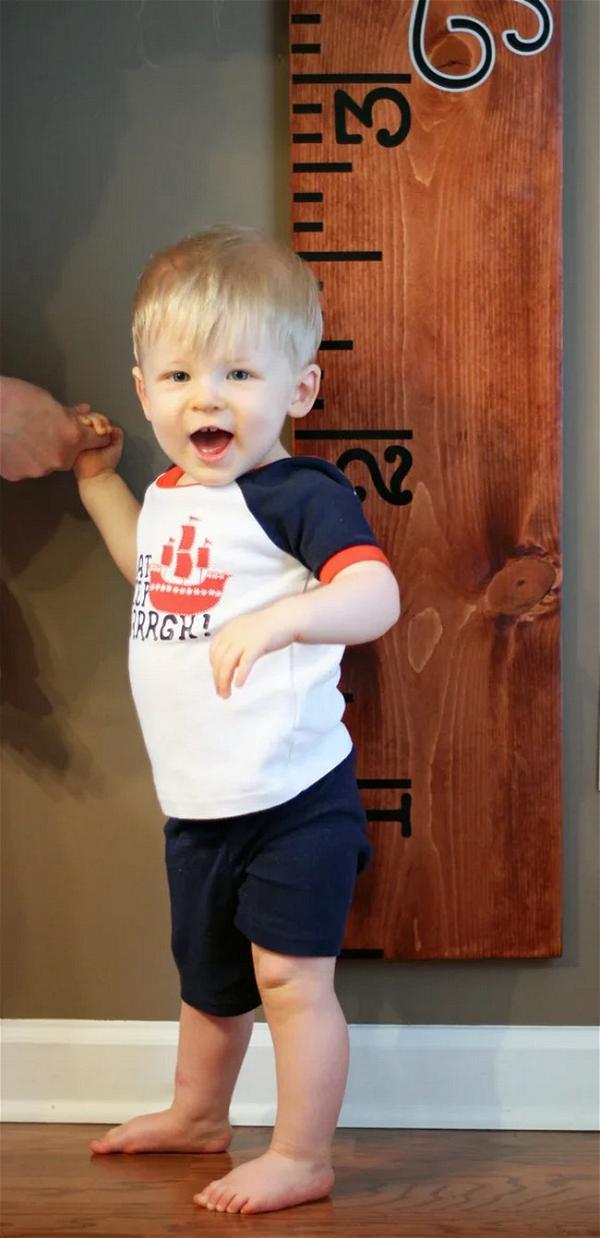 There's no better way to track your child's growth than a homemade growth chart. Use this tutorial to make one that will let your child measure their height with style. This growth chart is designed to record your child's height while they grow up. It will be a wonderful way to remember all their birthdays because if you add the dates in on the first birthday, then every year after that, your child can see what their current height is compared to the last time you recorded it by just looking at the chart!
DIY Canvas Growth Chart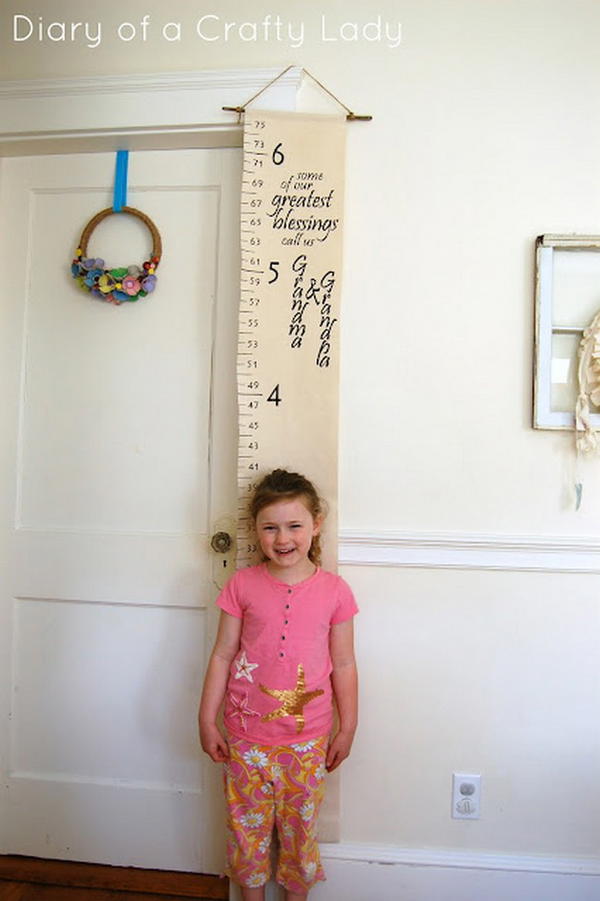 Give a personalized, practical gift the new parents will enjoy -- a handmade canvas growth chart. This easy craft project is perfect for both new and established families alike. Whether you're making a gift for a friend or loved one or giving yourself a treat, this DIY canvas growth chart is sure to bring joy and wonder to anyone who sees it. Just follow the step-by-step instructions in this guide, and you'll quickly create a fun, functional, and personalized growth chart. It's an activity that both you and your child will enjoy as they chart their own height over time!
DIY Growth Chart Ruler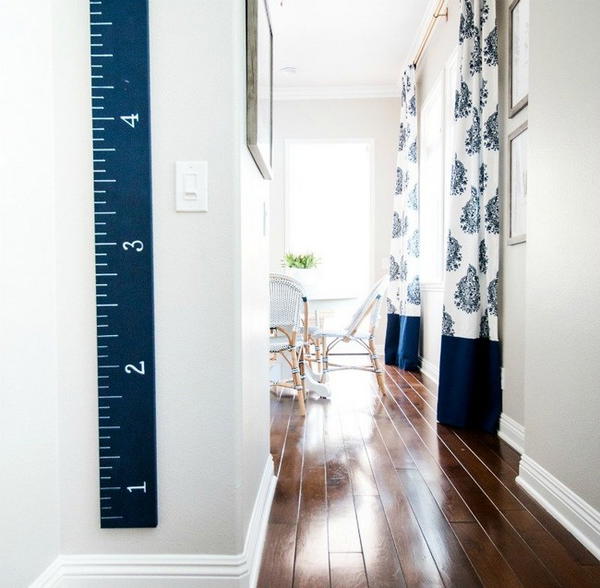 When it comes to home decor, it's all about the details. This Do It Yourself Growth Chart Ruler includes everything you need to make a home improvement that will last. Made of durable wood, it's simple to assemble and won't warp over time like most other rulers. Plus, you can use our stickers or paint your numbers. This easy-to-make ruler lets you track your child's growth and hold onto those memories forever!
DIY Ruler Growth Chart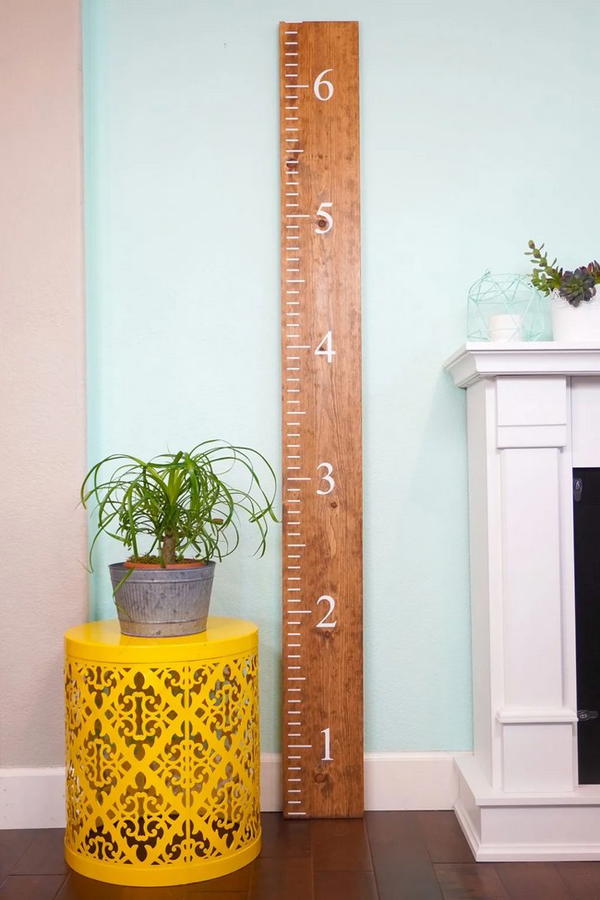 Make your happy family memories with this easy DIY ruler growth chart. Use a few supplies, and you'll be on your way to a fun keepsake that displays your family's height—from the smallest to tallest—in one spot. This DIY ruler growth chart is the perfect way to commemorate your child's milestones. It's a great way to show your kiddo how tall they've grown and how proud you are of their achievements. And it's easy enough to make, even if you're on a budget.
You can also see: Easy DIY Wood Burning Patterns 
DIY Ruler Growth Chart with Cricut Joy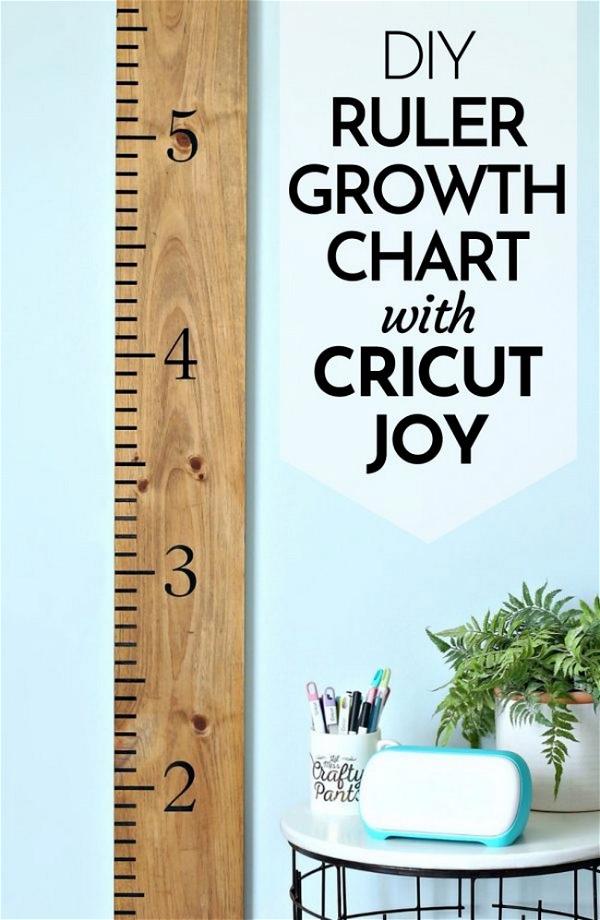 Creating a ruler growth chart in your child's room can be a great way to keep track of their height and development throughout the years. This DIY ruler growth chart project is simple, customized, and doesn't require any heavy-duty sewing skills. Cut out various sizes for different ages and hang them on the wall. Kids will love seeing how big they have gotten, and having their names in the center makes it extra special. Make this project personal by adding everyone's names and photos!
See Other Projects