Wood burning is one of those skills that seem intimidating at first, but once you get the hang of it, it's actually incredibly fun and rewarding. Plus, you can burn just about anything into wood — in fact, wood burning is a great way to personalize your woodworking projects. Wood burning is an art that's been around for thousands of years, and there are a lot of different ways to approach it. DIY wood burning patterns help you to use a wood-burning tool to craft your own artwork. Others enjoy trying to replicate images from photos. And still, others love the challenge of making patterns from scratch, even if they end up looking like abstract artwork.
DIY Wood Burning Patterns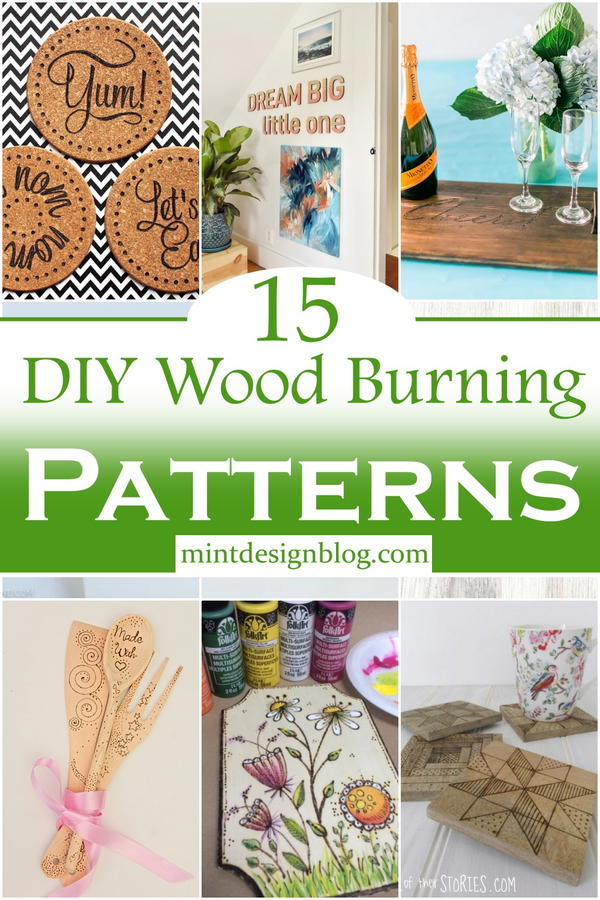 Trying to find good patterns that aren't too complex can be a challenge though. There's no shortage of patterns out there on the internet, but many of them are overly intricate or hard to understand. So you want to find some wood-burning patterns for your new hobby? Well, you've found it with this collection of different wood-burning patterns that are designed to help you become a better wood-burner! Here are 15  pages packed with great patterns that cover all difficulty levels. The patterns range from basic shapes, such as hearts and leaves, to more advanced patterns that have lots of curves and details.
Wood burning is a simple technique that can be applied to endless projects. There are many different ways to approach it, and you can find more advanced wood-burning designs here. DIY Wood Burning Patterns helps you learn how to create simple, easy, and fun wood burning designs that you can use on different projects. If you're fond of trying something different and interesting then carving on wood will be a great option for you.
Etched Wooden Spoons
Customize your next dinner party with these gorgeous Etched Wooden Spoons. This is a perfect gift for holiday parties and weddings alike. You can shop for these spoons in a retail store or you can even take part in making them as a DIY project. Also can create a set of personalized, etched spoons to use in your kitchen. You will love the bold look and sturdy feel of these spoons. These wooden spoons are sure to be your new favorites. You will love the bold look and sturdy feel of these spoons. In addition, you will enjoy using them in your own kitchen. The selection of these etched wooden spoons will give you plenty of options to choose from when it comes to looking for that perfect spoon design.
Skill Level: Easy
Materials: Boards, screws
Tools Needed: Saw, screwdriver
Be the Change you Wish to See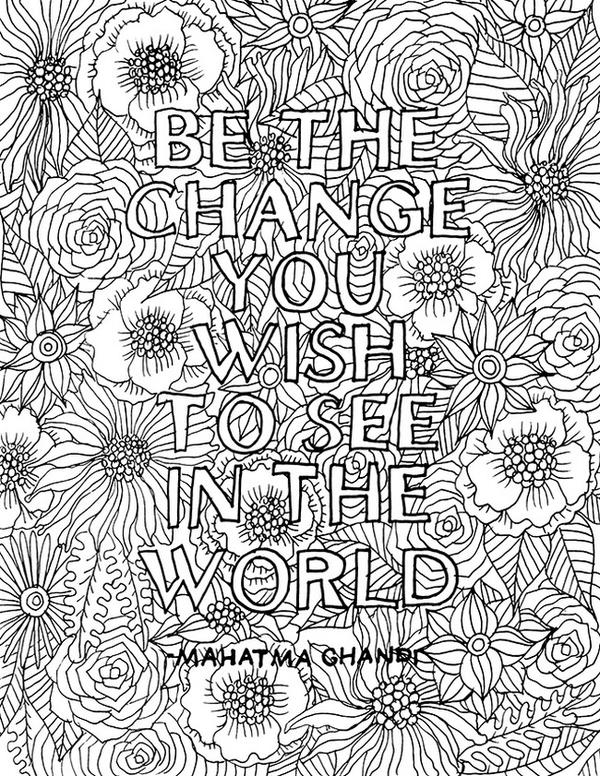 Don't let the small size fool you, this is intricate. Be The Change you wish to see in the world pattern is a tackle box full of hard work. This pattern will communicate your commitment to peace and activism. For those who may not feel quite ready to make a statement so bold, there are still plenty of intricate details to keep you occupied for quite some time. It's time to branch out from the typical cross stitch patterns you're used to and take on a challenging project - one that you can put on display and be truly proud of. This design is easy to finish when you decide that you've got the time and want something truly special!
Skill Level: advanced
Materials: Boards, screws
Tools Needed: Saw, screwdriver
Be The Change You Wish To See In The World Pattern
The Plaid Palette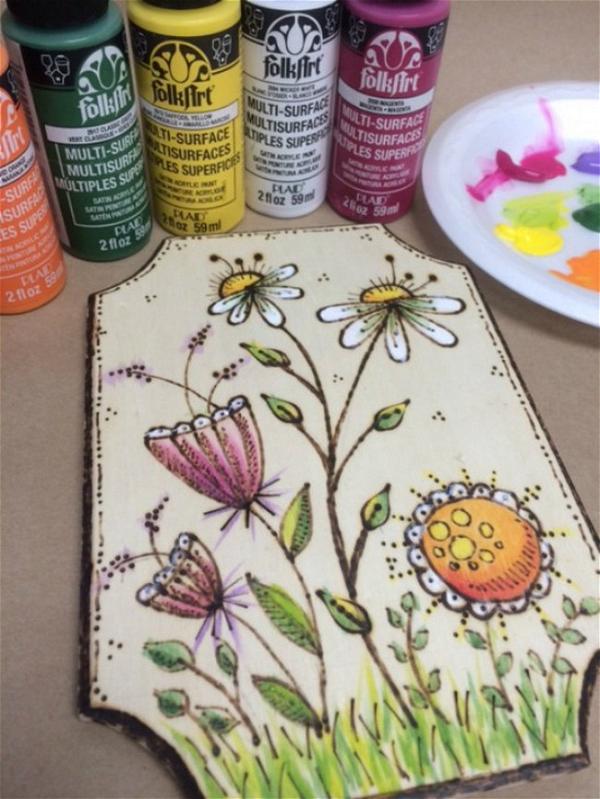 Is wood burning a relaxing hobby for you? Of course, it is! Did you know that Plaid makes a Decorative Wood Burning Tool that makes DIY wood burning fun and easy? You're always too busy for a real vacation. Realizing that we know how important travel is to you, we've designed a kit made just for yourself! That's right - this kit actually brings you the best of both worlds. The Plaid Palette comes with everything you need to wood-burn wherever you may be: four different points for wood-burning and two additional tips for stencil-cutting. It contains everything that you need in one neat package, including two little storage bags for all of your accessories! This is the perfect tool to create beautiful designs on anything from scrapbook pages and furniture to lighting!
Skill Level: Easy
Materials: Boards, screws
Tools Needed: Saw, screwdriver
DIY Color Block Wall Art Quote With Mud Cloth Style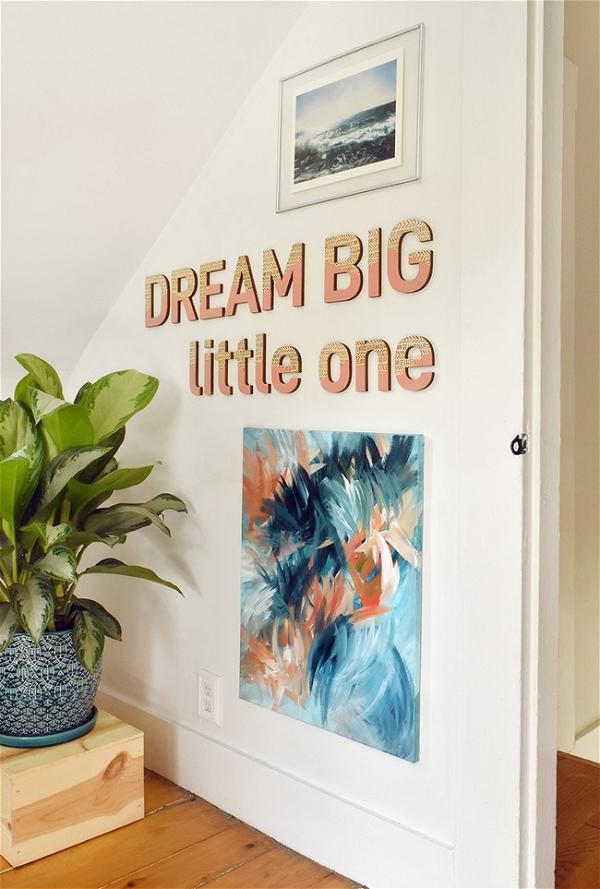 Decorate your walls with this DIY wall artboard. Although the design uses mud cloth, you do not need any special skills-all you need is a few simple materials and a little time to enjoy the creative process. If you like DIY projects, then you will love this unique color block art wall decor. This DIY wall art project is a simple two-step craft that will add a modern pop of color to your home. One wood canvas and one length of mud cloth are all that you'll need to bring this colorful art piece to life. Create a unique look and personalize the artwork to include names, quotes, and special dates! This is the perfect gift for people who love color and children.
Skill Level: Easy
Materials: Boards, screws
Tools Needed: Saw, screwdriver
Make Quilt Block Coasters With Pyrography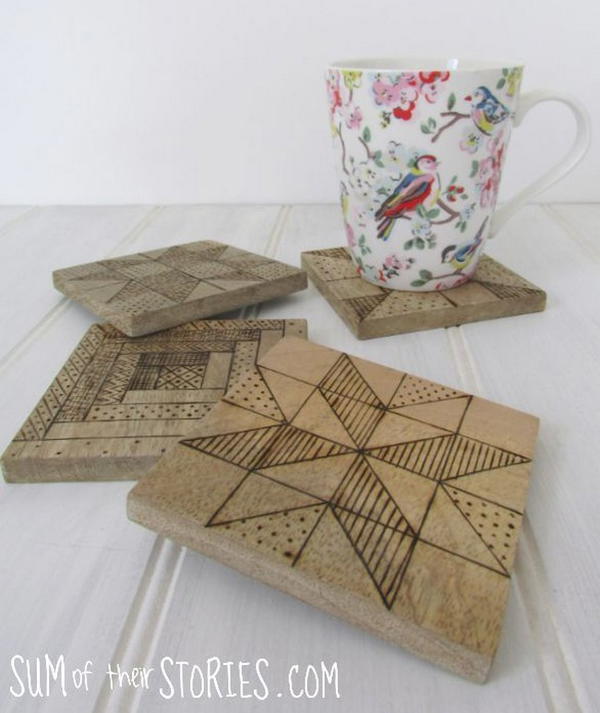 Create relaxing quilt-block coasters using pyrography (burning), and an engraving tool. First, make the coaster shapes with wood and a hobby knife. Next, use the hot stylus to burn different regions of color onto the coaster surface. Adjust the temperature and position to vary each design. Complete your coasters by adding a layer of paint for lasting results. These gorgeous coasters are an original and fun handmade gift idea, perfect for using up scrap material or as a way to use up any unwanted fabric that you might have. Make quilt block coasters with wood-burning using by following this step-by-step tutorial. This project is great for beginners and a fun, easy way to decorate your home with some gorgeous woodwork.
Skill Level: Easy
Materials: Boards, screws
Tools Needed: Saw, screwdriver
Cool Wood Burned Cork Trivets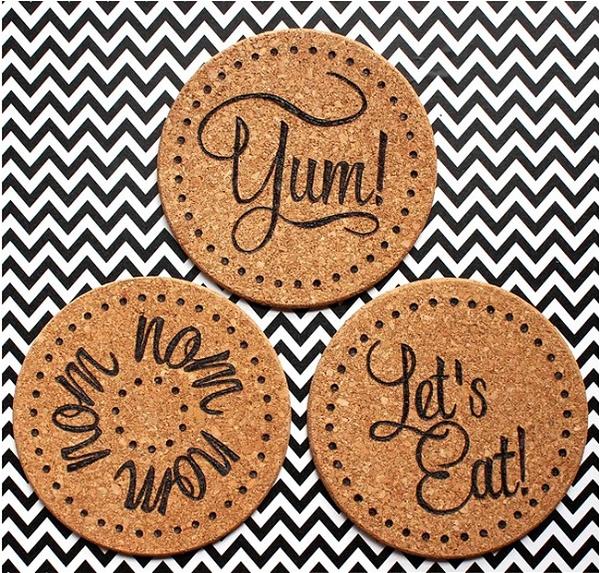 Cool Woods is pleased to offer these handcrafted, artisanal cork trivets! Made from the natural cork you know and love, each of our trivet's unique designs is created by burning through the wax to expose the natural beauty of your new trivet. Whether for yourself or as a gift for a friend or loved one, Cool Woods is sure to help you create a beautiful setting for fond memories around any table! Go ahead and see what we have to offer -- you're bound to find something that catches your eye. With the burned cork trivets, you can use them in hot pots or pans without having to worry that they will burn your counter or table. Burned cork trivets are also a perfect gift for anyone.
Skill Level: Easy
Materials:
 cork trivets
Wood burner with interchangeable tips and adjustable heat
Pen or marker
Tools Needed:
Silhouette Cameo scissors or a Xacto knife
Contact paper stencil
 paper or stickers
DIY Serving Tray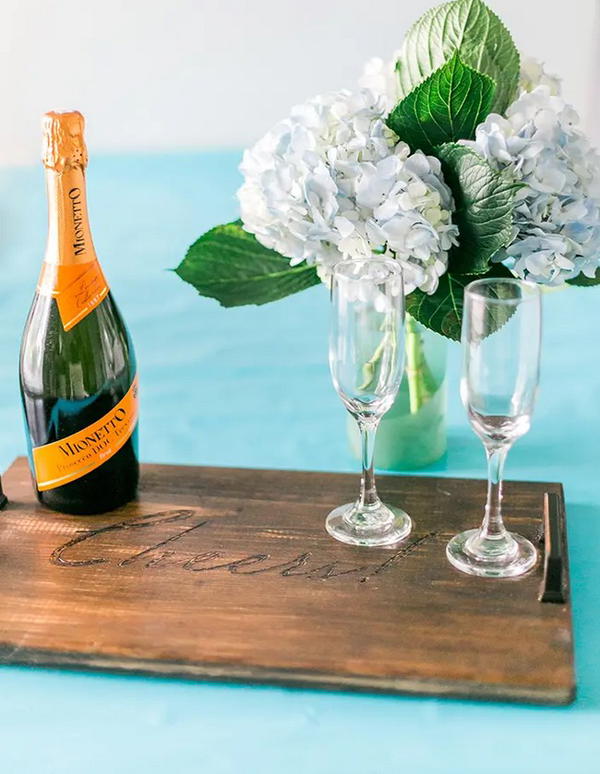 DIY a beautiful serving tray in a few easy steps! The finished product is perfect for serving cheese, baked goods, appetizers and other delightful items. Bring every snack to new heights with our DIY Serving Tray! Designed by yours truly, it's not your ordinary serving tray. This DIY project is great for snacks and appetizers. Give one as a gift or keep one in the kitchen. Use brightly colored duct tape to add flair to your serving tray! It's a great DIY project because it's a nice creative way to display dishware, desserts or fruit. You can paint the tray or cover it with the material. The choice is yours!
Skill Level: Easy
Materials: drill bits, Cabinet Pull, Wood Burner, Wood Stain
Tools Needed: Circular Saw, Router, Drill,
DIY Wood Burned Spoons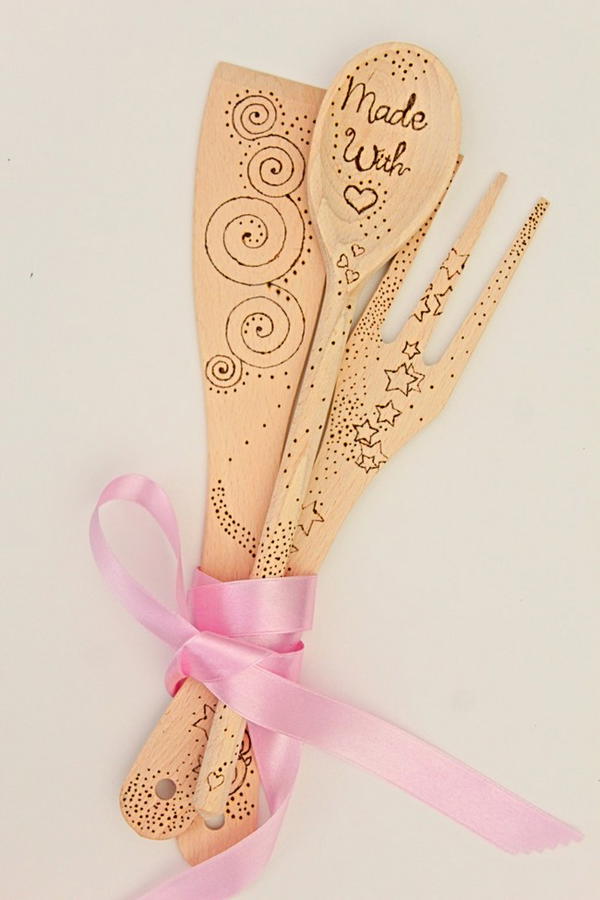 These beautiful handmade wood-burned spoons are a thoughtful gift, and a great way to add one-of-a-kind character to your kitchen. The perfect combination of creativity and functionality, these spoons can be used for stirring, serving, and more! These DIY wood-burned spoons are such a fun and easy project! They make a great gift, housewarming or hostess gift or just to make for yourself. You can add names, initials, messages, or anything else you would like to the wood burners. The possibilities are endless! These little DIY wood-burned spoons would also make amazing rustic wedding favors or decorations on your wedding table!
Skill Level: Easy
Materials:
wooden kitchen spoons
wood burning designs
sanding block
coconut oil
Tools Needed:
wood burning tool
holder
pliers
DIY Woodburned Sign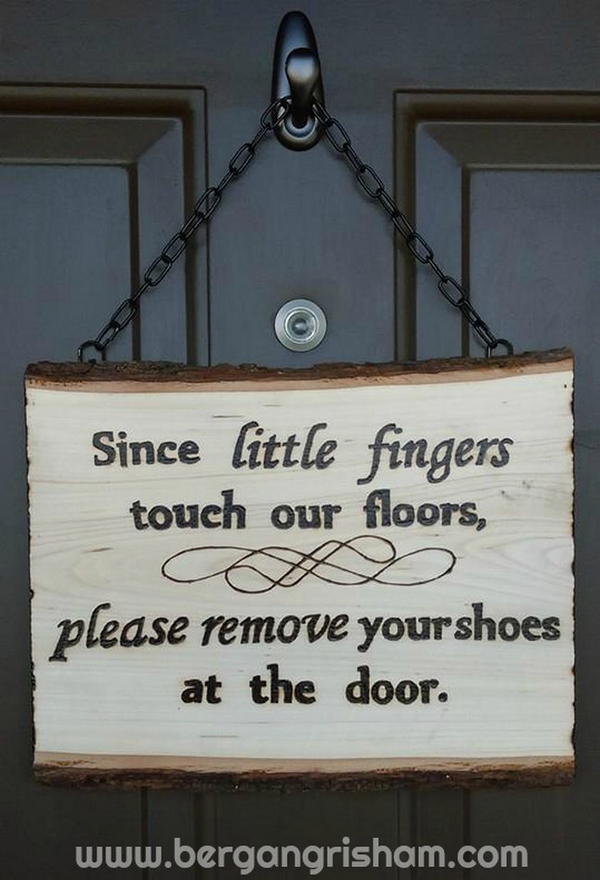 Cheers! The perfect gift. Personalize this gorgeous sign with any saying or name. This hand-painted wood sign is a perfect accent piece for your home or makes a great housewarming gift! Or Entertaining your guests is easy when you are able to say "Welcome!" on the front door. The sign comes in two pieces and attaches to any door with two screws (included). Once attached, use the provided piece of sandpaper to smooth out the surface and create a chalkboard-like finish. Then all you need is a piece of chalk to write your welcome message! The DIY Woodburned Sign makes it easy for you to welcome visitors into your home and personalize any room.
Skill Level: Easy
Materials:
A piece of wood
An extension cord
A clear coat
A sawtooth picture hanger
A chain and picture frame hangers
Tools Needed:
Sandpaper or a sanding sponge
A burning pen
Paper, ink, a printer, etc.
Scissors
Tape
A ballpoint pen
DIY Wooden Ruler Growth Chart
Have you been searching for a simple and easy way to create a DIY wooden ruler growth chart for your little ones? All it takes is some wood, a piece of paper and a pencil! This DIY wooden ruler growth chart is a simple and gorgeous addition to any kids room. With statement chevron stripes and a modern design, it will give you the feeling of a little bit of sophistication. Keep track of your little ones' height with the help of this easy-to-make wooden ruler growth chart. Great as a gift idea or for your own home, our ruler is made entirely out of wood and ready to be painted to match any decor! Comes with all the craft supplies you need to make a DIY custom printed ruler growth chart. The ruler itself is crafted of high-quality hardwood, with a smooth sanded finish.
Skill Level: Easy
Materials:
lumber
Orbital Sander
Stain
Polyurethane
White Cloth for Staining
Tools Needed:
Ruler & Pencil
Wood Burning Tool
Wood Conditioner
Miter Saw
Foam Brushes for Stain
Hanging Clip
Wood Burned Ornaments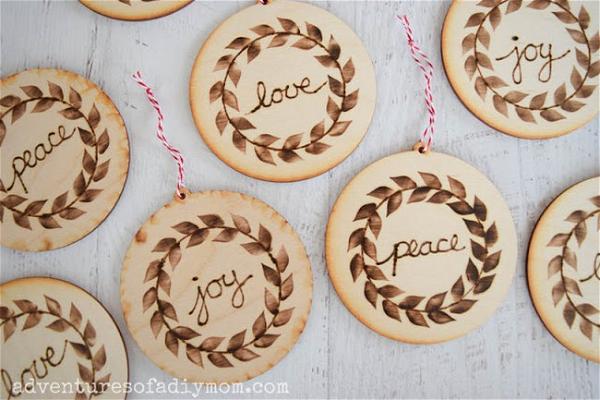 Let your inner artist out! Create adorable ornaments with this super simple wood-burning kit. Just select your favorite design, heat up the pen, and go to town! Whether you're making a gift or keeping them all to yourself, there is no wrong way to give someone a signature Avery burn. Put pictures of loved ones right on the tree with our wood-burned ornaments. Choose from Christmas, monograms, and more! This listing is for one lovely wood-burned ornament (choose your design). Perfect as a gift or to add some rustic charm to your own decor, you can choose between the two designs shown in the photos below.
Skill Level: hard
Materials:
Wooden circles
Magnets
Glue
Tools Needed:
Woodburning tool
Mod Podge
Foam brush
Clear Acrylic Sealer
DIY Scrabble Blocks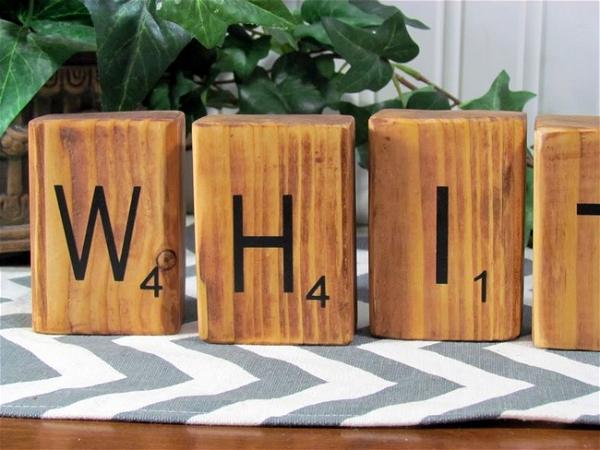 Looking for a playful way to spell Scrabble? These DIY Scrabble Blocks are the perfect activity for family game night. With enough tiles to play rounds of Scrabble, the entire family can get in on the action. Bring a fun, interactive twist to your Scrabble game with our unique DIY Scrabble Blocks. Made from slate and recycled rubber, these natural blocks are like a blank canvas waiting for you to personalize them. Create your own personalized set of scrabble blocks that are fun to play with, stack, and arrange in any way you choose. Easily create words on the colorful, clay-coated wooden blocks and rearrange them to build something new.
Skill Level: Advanced
Materials:
Unfinished recipe box
Wood stain
Polycrylic sealer
Safe workspace
Tools Needed:
Wood burning tool
Wood burning letter stamps
How to Make Wood Burned Leaf Magnets on Wood Slices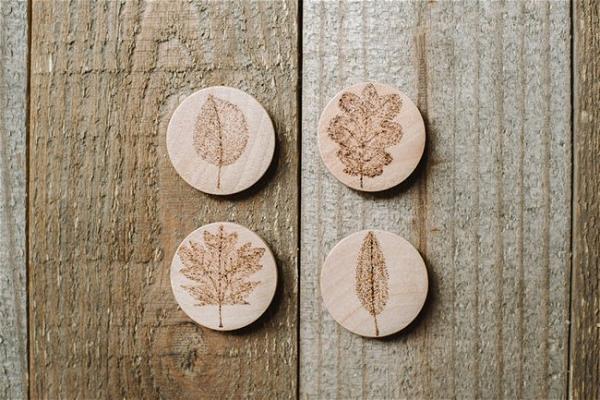 Making wood-burned leaf magnets is an easy project that can be done using only a few supplies. Once you see how unique and beautiful your wood-burned leaf magnets can be, you'll want to make them for everyone this holiday season! These wood burned leaf magnets can be made except for a carving tool, an ashtray, and some clean oiled or lacquer finished slices of wood. They make great gifts or are awesome decorations for your home, office, or car! This kit includes everything needed to make detailed patterns on wood, including wood burning tips with variable sizes, and free sample iron-on transfer paper for creating your own designs! The sample picture shows how to create the pattern of leaves on wood slices.
Skill Level: Easy
Materials:
Wooden circles
Magnets
Glue
Tools Needed:
Woodburning tool
Mod Podge
Foam brush
Clear Acrylic Sealer
DIY Wood Burned Picture Frame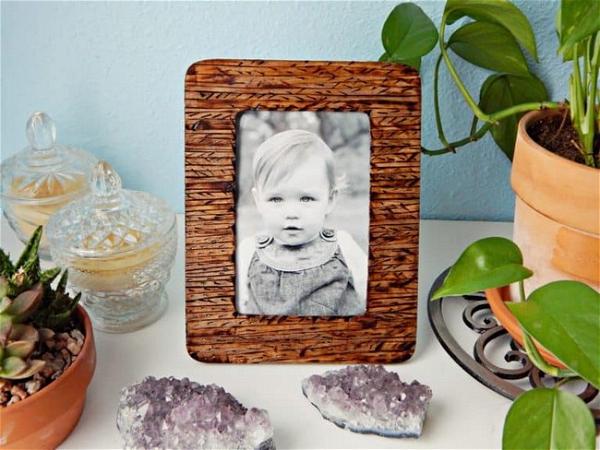 If you love to decorate for every holiday, but wish your pictures could be a little more on the artsy side, then grab some creative time and craft up this DIY Wood Burned Picture Frame! Grab your child or friend's child (or even another adult!) and have fun painting with the easy-to-use wood-burning tool. Turn a simple picture frame into an artistic masterpiece with DIY Wood Burned Picture Frame. Simply glue wooden tags onto the frame and then burn them with a propane torch. The thin layers of paint on the tags mix to form unique designs, resulting in each frame being one-of-a-kind. By adding your personal touch to this DIY mahogany wood frame, it'll be a treasured family heirloom that can last for generations!
Skill Level: Easy
Materials:
Plain wood picture frame from the craft store
Walnut colored wood stain
Tools Needed:
Wood burning tool
Wood burning letter stamps
Custom Recipe Box using Wood Branding Letters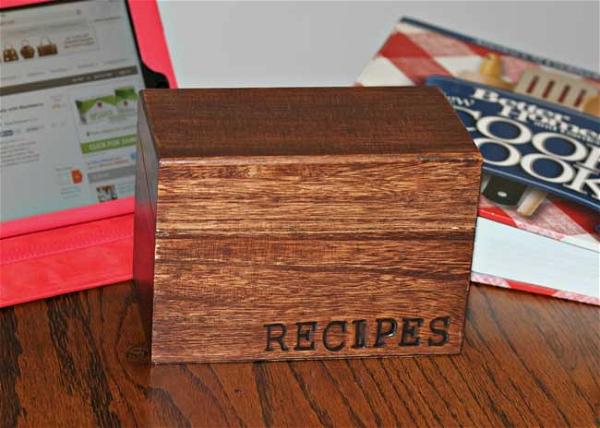 Transform a plain recipe box into a unique, beautiful, and personal way to store your family's recipes or treasured mementos. You or your family can hand carve any word, scripture, or saying and use it as the focus of a decorative design with select wood branding letters. This recycled wood recipe box features hand-cut wood letters on the top and sides that spell out "recipe". All of the letters are cut from scrap plywood which means that no two recipe boxes will look exactly alike. Keep organized with our customizable recipe boxes. These are individual wooden boxes for each recipe. Make your boxes in less than 10 min and then stain, paint, or metallic the outside to give it that professional look.
Skill Level: Easy
Materials:
Unfinished recipe box
Wood stain
Polycrylic sealer
Safe workspace
Tools Needed:
Wood burning tool
Wood burning letter stamps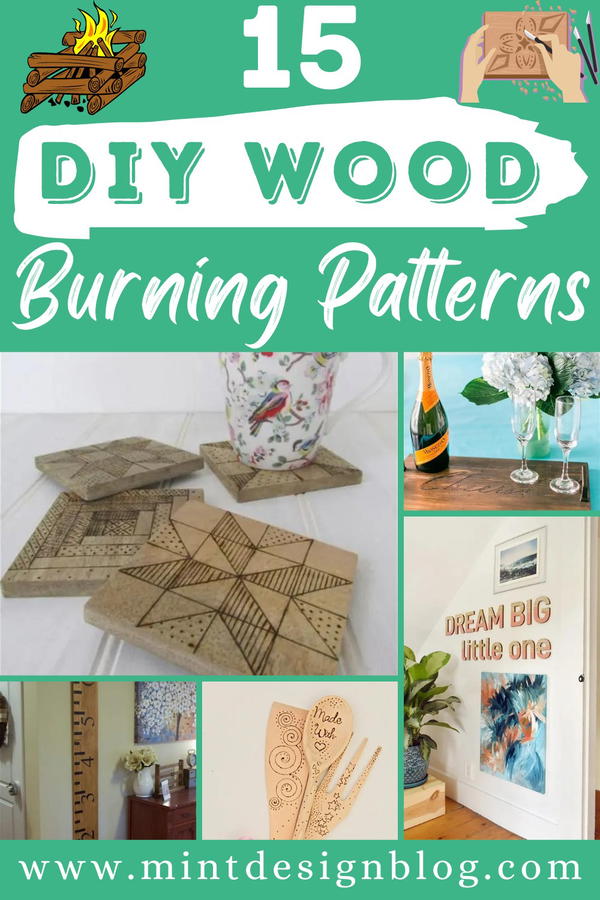 Conclusion
Wood burning patterns kits will help you to burn your own designs into plain wood. There is no better way to personalize your space. We have put together a huge selection of wood-burning patterns/wood-burning stencils that are all free. Here you will find decorative, geometric, and other patterns for your wood-burning tool project. The majority of these free downloadable wood burning patterns were created by us at Wood Burning Heaven. You can also find a few free patterns shared by other passionate DIY practitioners like yourself!
See Other Projects