Bedrooms can be a challenge for parents looking for bright, fun wall art that also isn't going to hurt a toddler if they happen to run into it. This colorful DIY Aztec Wall Art should do the trick! With an assortment of fun shapes, there are plenty of patterns that they can choose from to create their own artistic masterpiece. The project is easy enough to complete with their little ones, and the biggest cleanup will be the papers strewn across the floor once they're done!
These DIY Aztec Wall Art crafts are so simple and fun to make! Mix and match the patterns to create your own unique wall hanging. We especially love the color combo of turquoise, red, cream, and black. You can use any color scheme you like, just be sure to choose coordinating colors that will look great together when you hang them up on the wall.
DIY Aztec Wall Art

These easy DIY Aztec Wall Art crafts would also look great displayed on the floor. Display them together for a cool graphic pattern or hang them separately for a more subtle effect. This Aztec Wall Art is perfect for kids' rooms or even playrooms; this craft would also look adorable in a nursery! Hang one on the outside of your child's door for an adorable addition to their room. The possibilities are endless with this easy DIY craft. What's great about these Aztec Wall Art crafts is that they're both fun and functional! The geometric shapes also make it a more modern take on the traditional Aztec wall art design These colorful pieces add an adventurous vibe to any room in your home!
DIY Aztec Wood Art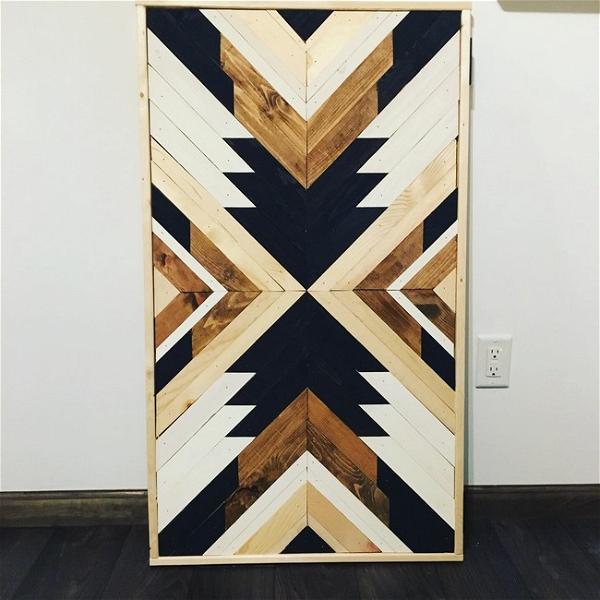 DIY Aztec Wood Art is a pattern to brighten up your little ones' room. Its natural allure in boho and Scandinavian home décor! Have you ever walked into a store or art gallery and spotted the perfect piece, only to find it was out of your budget? Do you love the look of the Aztec pattern but just can't afford it? There are so many good pieces out there to choose from.
They can be pricy depending on what size and style you want. So, why not design and make your own? A great piece of wall art that fits right in with boho and Scandinavian style home décor, you can use this design to make multiple pieces of wall art that fit your room decor by changing the paint colors, and size to fit your space. Give a DIY Aztec Wood Art creation to someone you love and help them explore their creative side. Turning a piece of wood into a beautiful work of art is easier than you think
A 30 Minutes Wall Art
If you love beautiful wall art, but don't have the time or money to buy and frame them, then this is the perfect product for you! Let your creativity shine when you paint a stunning piece of wall art yourself. This is a digital photo of an Aztec-inspired art print. No Aztec art was harmed in the making of this product. This high-quality printable art piece will look like it was painted by an artist.
You can display it in minutes and make any room stand out. Take advantage of this unique opportunity to decorate your wall with a quality - superior to that of paper or canvas - original painting without paying the high price. A 30 Minutes Wall decal looks amazing and surprisingly easy to apply! It was so joyful to watch how this idea has been transformed into a unique decal, and it's so fun to create your own patterns with these little pieces of tape.
DIY Wooden Aztec Wall Art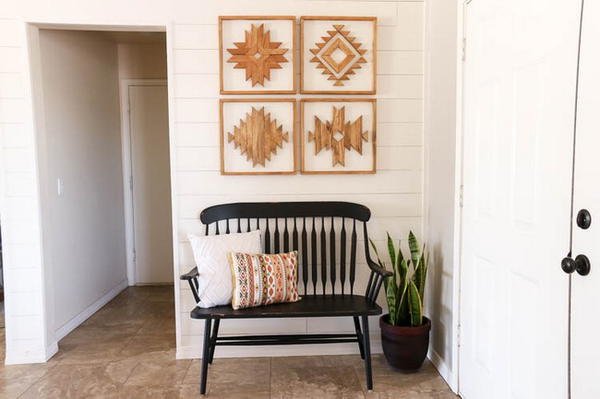 This DIY wall art project is a great decor idea for any home. The Aztec pattern has been created with wooden Aztec shapes and painted with a dark color to give it a rich, dimensional effect. The bright colors and fun design of the craft will be sure to turn it into a unique and beautiful accent in any room. Elevate your space with a personal touch by building your own Aztec wall art. The kit contains all four pieces of the design cut into strips for precise assembly. Decorate a blank canvas with colored tape or paint -- it's up to you!
This woodworking project is easy enough for everyone from beginners to DIY masters. Customize it in your favorite colors or create multiple versions for neat wall art around your home. Wall art will make your room look gorgeous and attractive. It uplifts the overall aesthetics of your home and makes it unique. Wall art is a great way to decorate your home. Your guests will notice it instantly as it plays a vital role in setting an impression about your taste level in their minds.
DIY Wooden Stick Wall Art - Aztec Style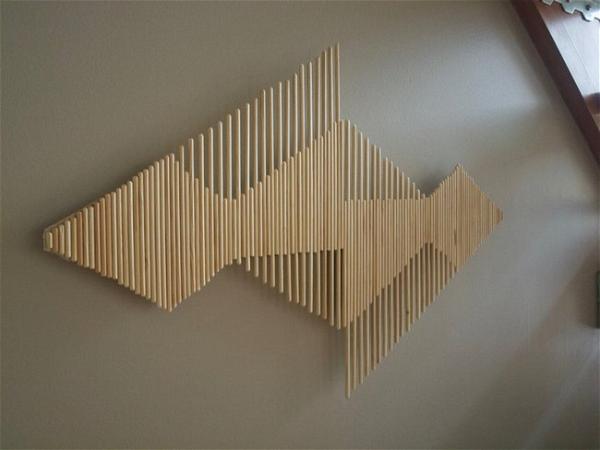 Aztec Art is one of the most recognized art movements, and it looks better than ever with our Aztec Art Inspiration Wall Decor Set! Add a special touch of the Southwest to your home or office with this Aztec-patterned wall art. The set includes two wooden sticks and metal brackets to hang them. Your friends will love this easy and inexpensive DIY Aztec Stick Wall Art. An awesome project for all crafty homemakers, this Aztec stick wall art makes a great homemade gift. It's perfect to display in any room of your home or even make several for a lush garden path.
The bundle includes all you need to create a design that's unique to your space. Each stick features a unique carved pattern and can be easily interchanged so that you can display a whole new look without any complicated installation. This DIY Aztec-Style Wall Art is so easy to make and takes only an hour. It's an affordable and unique way to decorate your walls. Not only it has an elegant decoration, but also it is a nice gift to show your friends and doesn't cost too much. This project brings you not only fun but also enjoyment and a sense of accomplishment. Have fun!
DIY Pallet Wood Aztec Table
. Who says you can't make your own furniture? Sure, it's not that hard but for someone who has never done any carpentry before...well that's a whole other story. But if you have the ambition and have ready access to some pallets (or pallet wood) then go ahead and give this a try! Aztec tables are lovely pieces of furniture that look like they are from the ancient world. You can make one yourself, using a few pallets, a few tools, and some paint. And it's really simple to do.
Bring a bit of the Aztec civilization into your own home with this DIY Aztec-style table made from pallet wood. It is easy to make and should take you around 2 hours. This table is a combination of the destruction of creativity and an interpretation of the culture through modern arts. As a side note, pallets are transformed into these sofas are always very appreciatively assessed by the public in general because they reflect their creativity. This table is perfect for any room in the house. It's big enough to work on but small enough to not be in the way
DIY Geometric Wall Art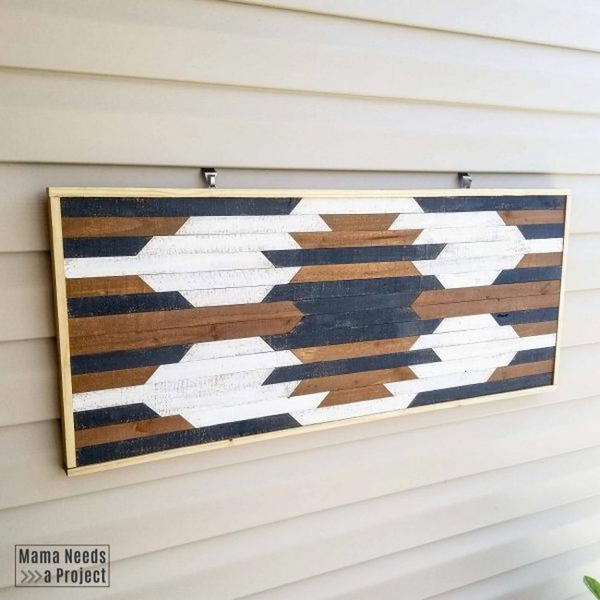 Geometric wall art is in these days, but so is the idea of making your own. And ours doesn't require a trip to the store, many expensive tools, and even skill.DIY geometric wall art is fun... And easy to make. You will be surprised how a few basic supplies can turn into something that looks complicated but it's actually pretty simple. This DIY geometric wall art project will give your home an elegant, yet modern look. Choose the color of paint and frame that match your walls or the decor in the space. It is an affordable project too. Geometric patterns are one of our favorite things.
We've made this DIY modular art wall to hang above our master's bed, but you can easily recreate it for your own home. Look for simple decorating tools and materials at your local craft or hardware store. A beautiful and fun geometric accent for your home always cheers us up. Decorate your space with this trendy and contemporary geometric wall art cut from the thick, high-quality canvas! Available in a wide range of bright colors to enhance your home décor, these modern wall art prints are the perfect complement to any room.
DIY Wooden Aztec Native Wall Art Or Drinks Tray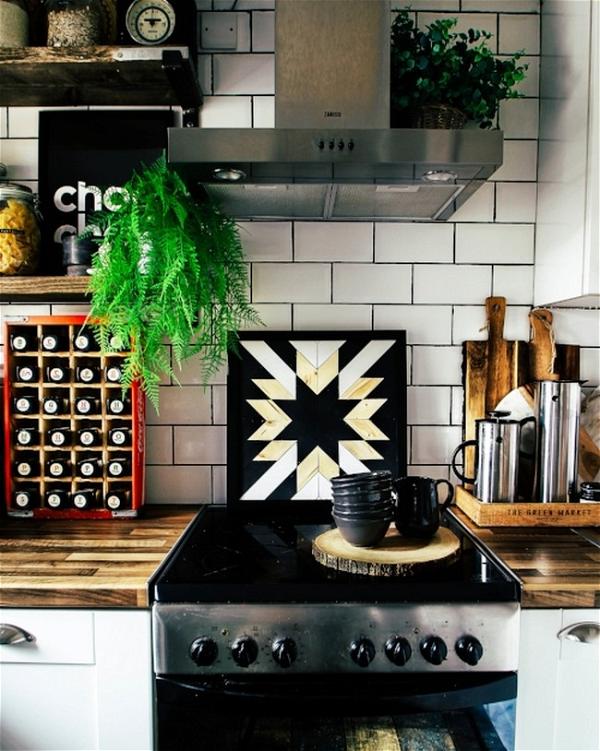 This wooden plank on its edge makes for great Drinks Tray or Aztec Wall Art. We have used it as our Kitchen Breakfast Bar and Home Office Desk Project to fit the kids' drinks and snacks. Personalized and customized DIY Wooden Aztec Native Wall Art Or Drinks Tray. You can choose the style, color scheme, and wording for you. Make the perfect gift for you or anyone else.
Take a few hours out of your weekend and give that blank wall just what it needs. You won't be disappointed with the end result, nor will any of your family, friends, and acquaintances. A few hours of work will allow you to build this custom wall art or drinks tray. It's a perfect gift for any occasion and is great for emptying your pencil case. It's made from reclaimed wood and decorated with several coats of the most insane colors you can imagine.
You can also try our series of DIY fume hooded projects to get rid of fumes around your kitchen. 
DIY Aztec Inspired Dresser Makeover And Nursery Sneak Peek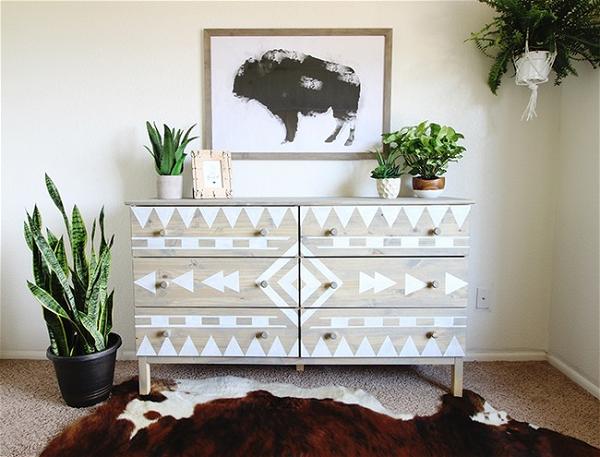 Are you ever in the market for a nursery table and chairs?  This DIY Aztec Inspired Dresser Makeover is sure to make your little one feel like royalty, whether you use it for a dresser, or a table to serve platters of food upon.  It's perfect for seating as well. The DIY Aztec Inspired Dresser Makeover and Nursery sneak peek will show you how to transform a simple dresser by just painting it.
The look is complete with new hardware and fabric creating an Aztec-inspired nursery that anyone can do, including me! The DIY Aztec Inspired Dresser Makeover and Nursery sneak peek will show you how to transform a simple dresser by just painting it. This is not just a how-to paint a dress~e. The look is complete with new hardware and fabric creating an Aztec-inspired nursery that anyone can do, including me!
DIY Pouf Ikea Hack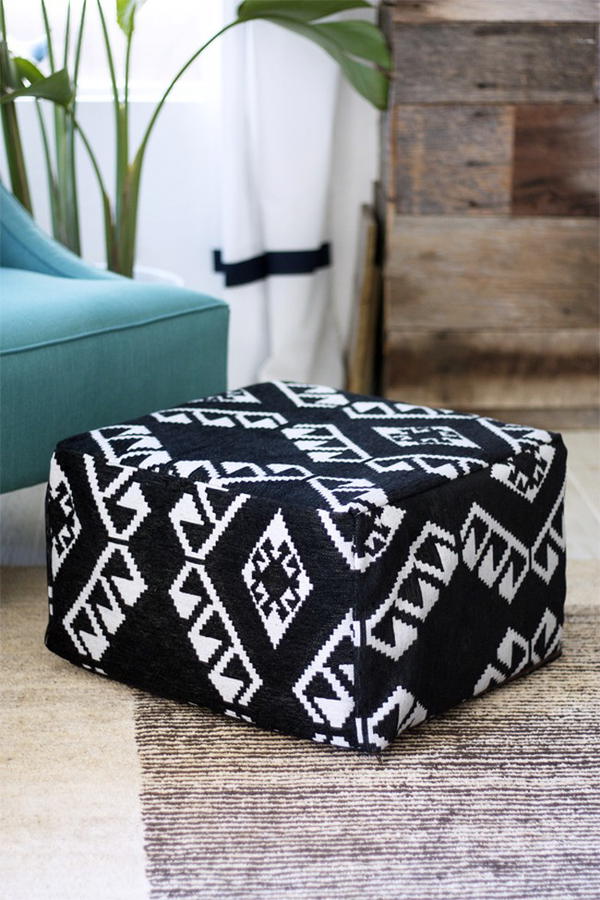 Ever notice the large ovals of cushion on the Ikea Poang and Markus swivel chairs? They're not just for looks. They're also incredibly comfy and could stand on their own as beanbags. Why not fill them with a bunch of pillows, attach with a few seams, then pull out the stuffing to make Ikea poufs? Ikea Svensk Pouf has become quite an 'It-trend' in interior design and decorating. It is most famous for its functionalities of being both chic and minimalist, and for its fantastic color options. Comparable to the look of big fluffy pillows, Svensk Pouf is known for its soft fluffy look that cuddles and warms you up in the coldest days of winter, or even on muggy summer nights.
Ikea poufs are an amazing addition to any room, no matter how you will use them. If a pouf does not agree with your current décor. We all love our poufs, crafty or ready to be decorated! But when you want to carry it everywhere, you may feel heavy, try to make your own duvet cover pouf easy and simple. DIY... make it YOURSELF!
Make A Statement Wall With Paint Pens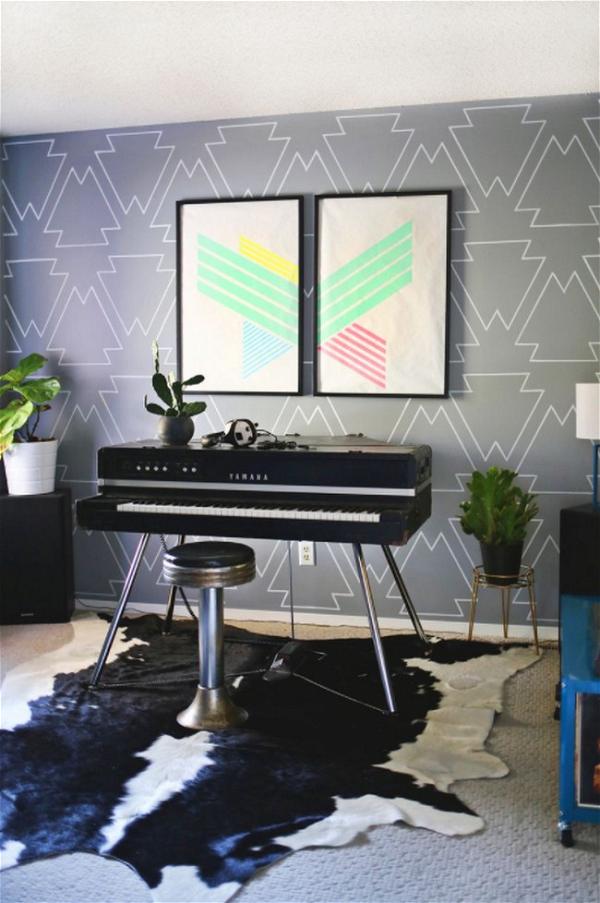 Make a statement on your walls with paint pens. Using a paint marker pen is easy and convenient. Pens from this collection allow you to make art on a wall in any location, by yourself. Whether you choose bold colors or subtle shades, the end results are beautiful. The paint pen's innovative paint-within-a-marker technology gives you the freedom of artistic expression without the heavy cans of paint and the long time it takes to dry. With quick-drying, nontoxic, and nonperfumed Paint Pens, it is easy to create beautiful pieces of art on your wall with little mess.
They are water-based, and won't damage most painted surfaces. And the best part? They wipe right off with a sponge! Give your walls a make-over without the hassle! Thread Painting Pens are easy to use and come in water-based paint which allows you to draw or write on walls or windows. The paint is water-soluble and when you are done with the wall can be wiped away with water!
DIY Painted Rug Inspired By West Elm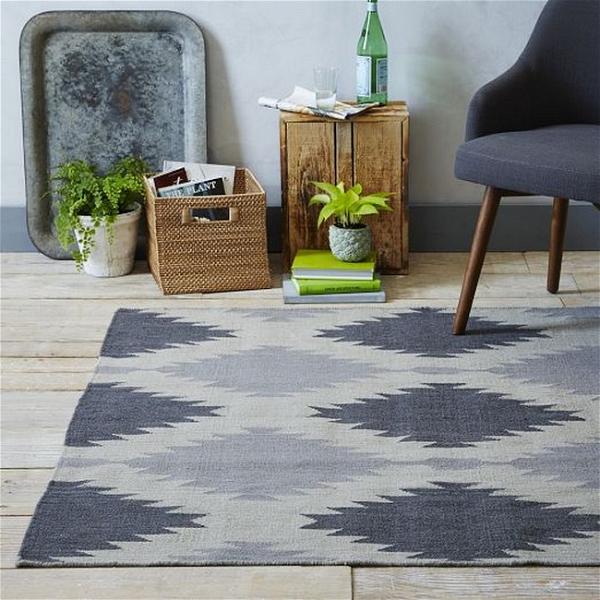 Make your floors pop with a unique and fun accent rug! Each of our DIY rugs is made from cotton and comes complete with everything you need to hang it up in your living space. Simply choose your own colors, paint away, and let dry. Hang up in your living room, bedroom, bathroom, or entryway for added style and a splash of color – you'll love the new look in your home! Do it yourself diy painted rug. Make stunning paintings on area rugs using our unique rug painting kits. No need for artistic skill, all you need is a little imagination and fun! Bring new life to a worn-out, dingy rug.
We've taken one of our favorite painterly techniques, sponging and dabbing, and combined it with stamping for crazy cool patterns. Then we brought in another go-to for us—the rug. You can create your own masterpiece using only water and paint. Turn a plain rug into a one-of-a-kind treasure. This DIY Painted Rug is crafted to fit your needs and cover any surface, including walls or floors. Pick your color and add a touch of originality to any space with some artistic inspiration
DIY Aztec Tote Bags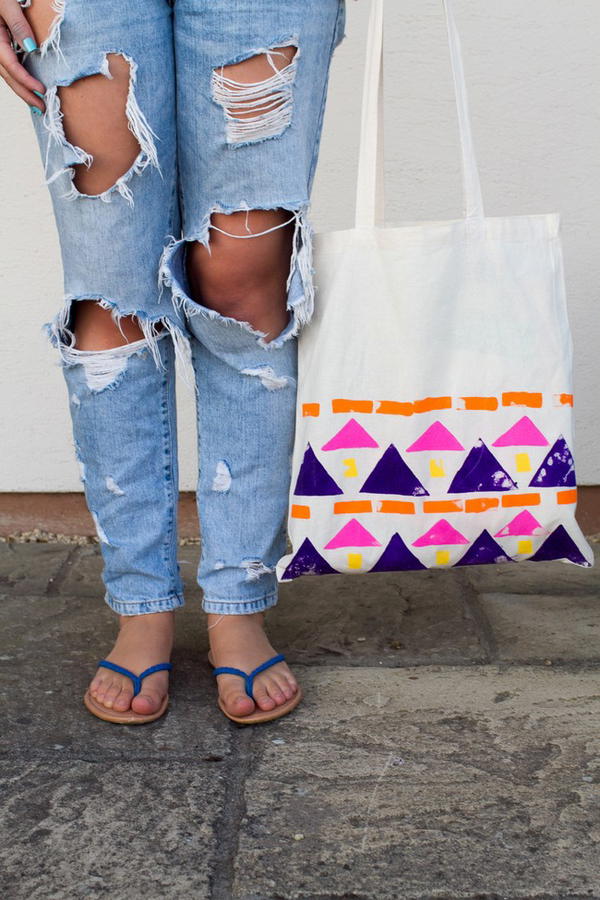 Your adorably unlikely DIY Aztec Tote Bags are two pieces of fabric cut into circles and stitched together. Two teeny straps (just big enough to tie around your wrist) complete the design. Super cute, extremely easy, and the perfect thing to make if you want to gift someone a nice handmade item that they won't have to get rid of. The receiving end will think you are so smart for coming up with this easy yet fashionable way for them to carry stuff. Great for bags, pouches....pretty much anything you can think of!
These Aztec-patterned tote bags are reusable and can be used in grocery shopping or other trips. To make your own, use materials that are at hand, such as ordinary plastic bags or old newspapers. Play around with your favorite colors and patterns. You can even decorate them with beads or other trims. Best of all, you can give these homemade tote bags as gifts, too! Aztec Tote Bags
DIY Faux African Basket Wall Art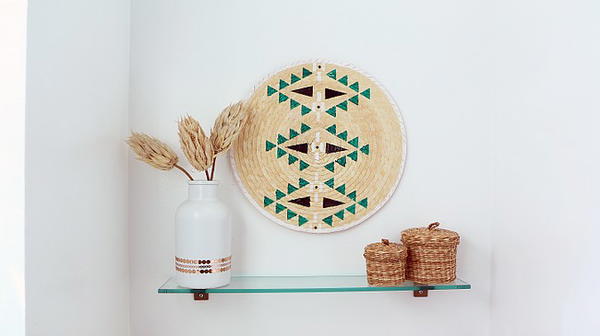 Little do most people know that African baskets are one of the oldest craft forms in Africa. For centuries, these beautiful African basketry pieces have been used to store firewood and food, transport fruits and other goods across the villages and towns. They are also useful to keep baby stuff in! This DIY Faux African Basket Wall Art looks real but is made of wire and fabric! Hang this amazing piece of wall art in a living room, bedroom, office, or any place that needs a little decoration.
It can also be used as an original, modern-looking decoration. Hang it up with double-sided tape, staples (you may need a staple gun), nails, or screws, and enjoy the look of this one-of-a-kind piece hanging on your wall! Transform any wall into an African dream with the four-piece DIY Faux African Basket Wall Art set from RoomMates. The decorative wall art features a fun, tribal design in sunny yellow and white.
Boho Wood Wall Art Gold & Light Grey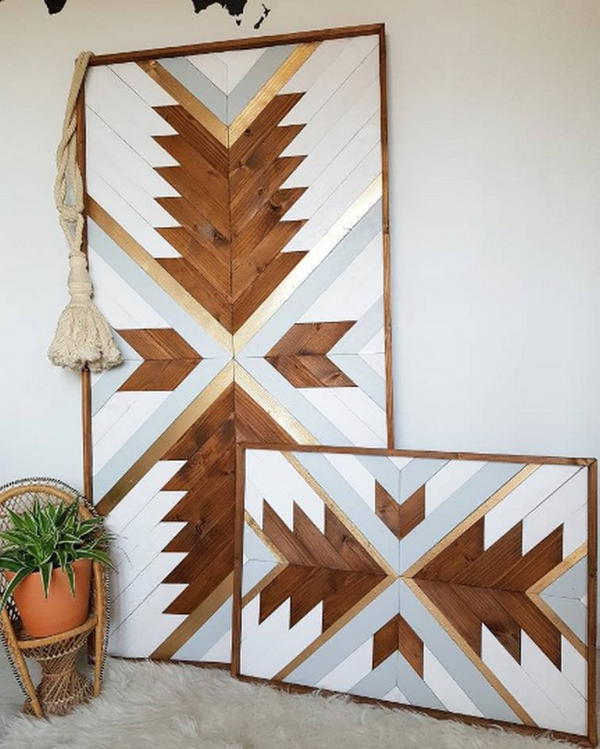 This captivating wall decor is anything but ordinary! This piece is something you will cherish in your home. The artwork has a subdued look that gives a modern yet rustic feel to any space. It features a unique combination of Gold and Grey. There is a clean and elegant charm about this work of art. The Boho Wood Wall art Gold & Light Grey is a must-have for any home. Bring this unique home accessory to life with a black metal frame and gently textured block or plank Chicco wooden art.
With its modern appeal, the chic piece can easily become the focal point of your space. Tap into your inner bohemian with this original rustic light grey & gold wood wall art. Featuring unique, hand-painted floral designs, this fine art wall decor is the perfect finishing touch to any room. Decorate your home with this beautiful piece from the Boho collection. Framed in a painted grey finish, it will add a splash of style and color to any room. Add it over the fireplace, in your favorite reading nook, or above the entryway table.
DIY Aztec Pattern Wall Art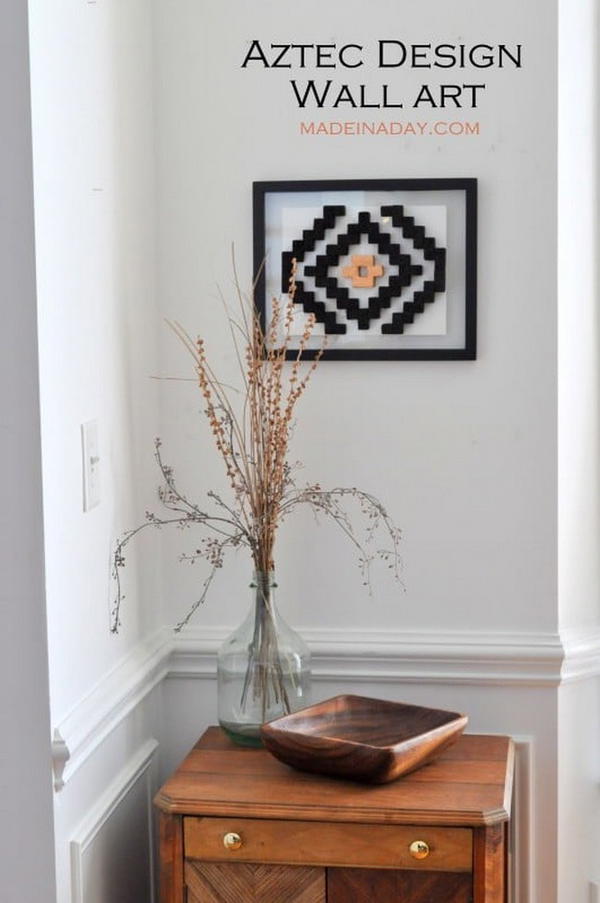 Are you ready to jazz up your dorm room or apartment this summer? All you need is some paint, a few tools and a canvas! Create bold patterns for your walls with DIY Aztec Pattern Wall Art. This multi-piece stencil is easy to use, letting you create an eye-catching geometric accent on one wall or apply multiple sections to cover an entire feature wall. The versatility and simplicity of this DIY wall art stencil make it practical and unique, perfect in any space. Get your creative juices going with this easy-to-follow DIY Aztec pattern. Make a statement with this hot trend that is sure to impress your friends.
This Aztec pattern wall art covers all the materials; you will need to make including a wooden frame, artificial canvas, and directions. You're going to love this color palette, when you order this DIY Aztec Wall Art Kit by jaynesaware.com, harness the power of your room & its existing color scheme, then add a sticker fun feel to any room. Jayne's wall art designs are perfect for painted walls and feature the durability of high-quality vinyl that delivers a true painted-on look with peel & stick ease!