If you are Looking for new ways to organize your home office? These DIY file cabinet projects will change the way you think about filing cabinets, and we're here to walk you through all the steps to create them. Choose from a variety of types, including two-, four-, and six-drawer designs—and use our shop drawings and elevations to build your own perfect cabinet from scratch, or modify ours to suit your space. Discover a treasure trove of projects for your own file cabinet. Learn how to build a file cabinet table, a little box with secret storage, a caddy for pens and pencils, and more. These decorative and practical projects are perfect for DIY fanatics interested in adding their own personal touch to their home office or craft room.
DIY File Cabinet Makeover

A lot of us have an abundance of paperwork, and we need file cabinets to keep everything organized. But if you are looking for a way to spice up your office space with a bit of DIY file cabinet fun, then look no further than these 15 DIY File Cabinet Projects. From built-in desks to custom chalk-painted art, you will find yourself inspired by these amazing ideas.
DIY Filing Cabinet Build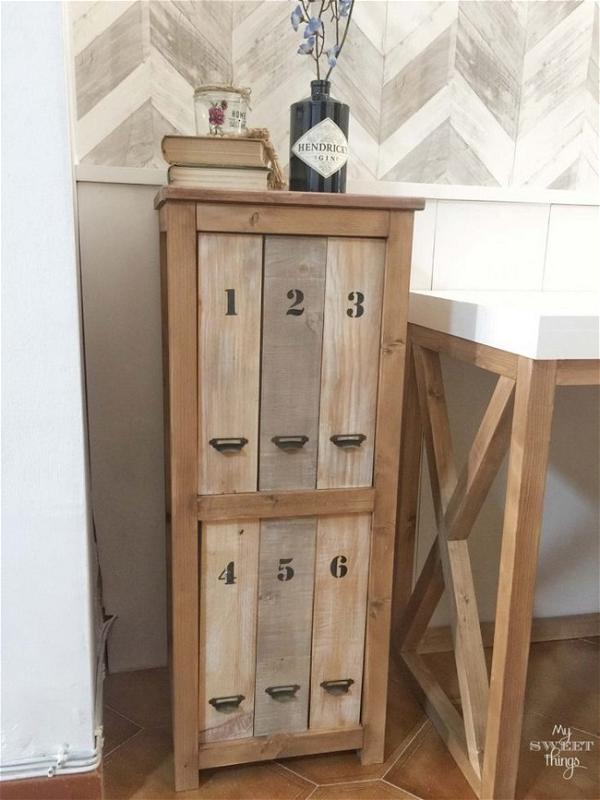 You can build your own filing cabinet that is nicer than any you can buy. It will be inexpensive, sturdy, and able to hold substantial amounts of paper without a problem. The DIY Filing Cabinet Build is a great option for those who have run out of space at home or have limited time. The budget to buy it will depend on where you are buying the cabinets from and whether they come assembled or not.
Filing cabinets can be expensive. But you don't have to spend a lot of money to have something that is absolutely functional and looks good. In fact, you can build your own filing cabinet for very little money and end up with something that actually looks pretty darn good. This plan allows first-time builders as well as experienced woodworkers and hobbyists to get started making a cheap, simple, accurate filing cabinet.
Skill Level: beginner
Tools:
Kreg Jig (to make pocket holes)
Sander
Wood stain
Drill
Miter saw / Table saw / Circular saw
Supplies:
Painted DIY File Cabinet Cost Less Than $10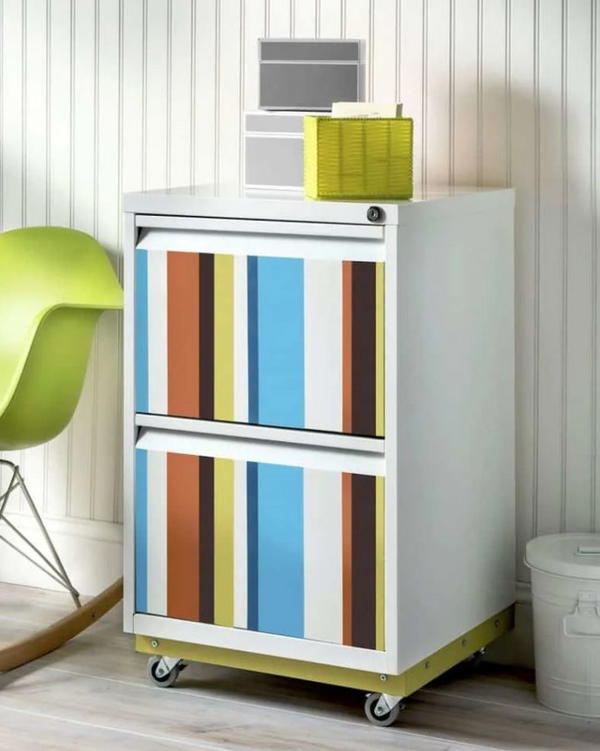 We're always on the lookout for inexpensive furniture that can be easily revived. That's why we love the idea of painting and distressing cabinets to keep costs down. This easy DIY project can offer an amazing update to a thrift store find or any cabinet that's looking dated. You can take a thrift store find and give it a whole new look with just some spray paint. Learn how to makeover a file cabinet with bright splashes of color or give it one gorgeous layer of color!
When most people think of painted furniture, a few images come to mind – paint peeling off a dated crib or old Formica kitchen table, or kids' crafts gone awry. But there is a way to paint an entire piece of furniture and have the perfect end result – if you want a pop of color in your home's decor, this DIY file cabinet is perfect.
Skill Level: expert
Tools:
Drill
Miter saw
Casters
Screwdriver
Ruler
Supplies: 
Filing cabinet from the thrift store
Various spray paint colors:

Rustoleum American Accents Lagoon
Valspar Outdoor Satin (Spring Sprout, Dark Night, Dried Peppers)
Krylon ColorMaster Satin Island Splash
Krylon ColorMaster Paint + Primer Flat White

Flathead wood screws
Painter's tape
Butcher paper or newsprint
Pottery Barn Knock Off File Cabinet
This Pottery Barn Knock Off File Cabinet is a contemporary desk accent that you can use to store important documents, bills, and paperwork in your office. With its sleek design, this file cabinet will help keep your workspace looking tidy and organized. It isn't new but is in a good condition. The surface has some marks on it from being moved around, but if you are looking for an inexpensive and stylish way to add storage space to your home office or den, this messy piece of furniture is for you. This Pottery Barn-inspired file cabinet will add a modern design statement to your home office.
Skill Level: expert
Tools: 
Medium Grit Sandpaper
Foam roller
Latex paint
Plaster of Paris 
Waverly Inspirations Chalk Paint in Mineral
Rust-Oleum Spray Paint in Weathered Steel
Supplies:
Plywood
Caulk 
Valspar Dark Sealing Wax
Chip Brush
Printed Numbers
Stenciled File Cabinet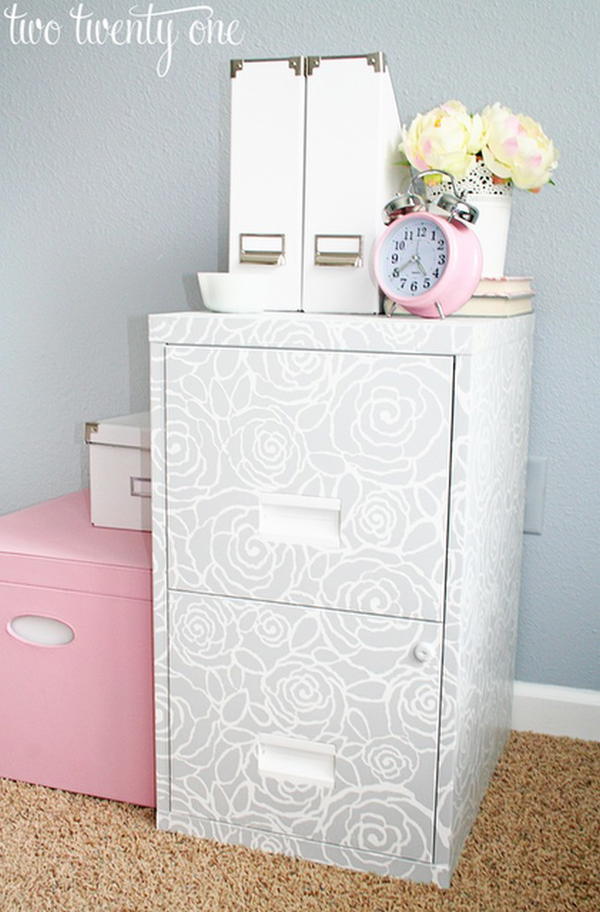 Add some color and style to your office with our new stenciled file cabinet. This handsome, high-quality file cabinet features a locking drawer and a legal-size interior for all of your important paperwork, as well as three small drawers for all of your smaller supplies. Perfect for storing your most vital storage items, this Stenciled File Cabinet makes an amazing addition to any living space. This piece features a cherry stain finish, one large row of letter-sized file drawers, and one small row of drawers that offers plenty of space for paper clips and other supplies. Use the included stencils and paint to decorate the front of the cabinet to coordinate with the rest of your office.
Skill Level: expert
Tools: 
Medium Grit Sandpaper
Foam roller
Latex paint
Plaster of Paris 
Waverly Inspirations Chalk Paint in Mineral
Rust-Oleum Spray Paint in Weathered Steel
Supplies:
Plywood
Caulk 
Valspar Dark Sealing Wax
Chip Brush
Printed Numbers
File Cabinet Makeover With Chalkboard Paint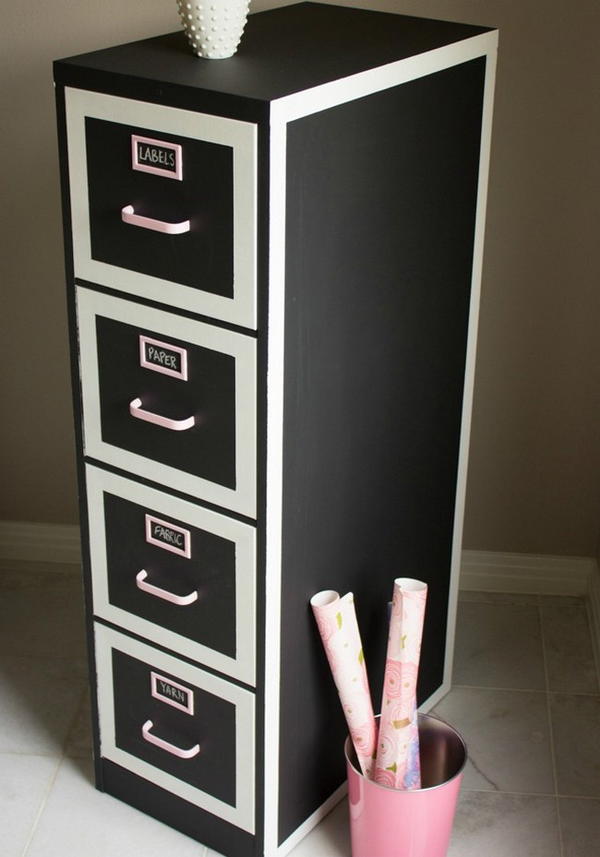 Chalkboard paint is the new paint to add pizzazz to a file cabinet. This is one of many unique painting projects we have come across from around the world. You can turn a boring old file cabinet into a super cute and functional storage unit for the kitchen or mudroom with this DIY project. With just chalkboard paint and a couple of other craft supplies, you'll have your very own chalkboard cabinet in no time. Self-adhesive stencils make it a snap to add the iron-on board accents, and you can even customize the labeling on your file folders to match!
Skill Level: expert
Tools:
Supplies:
Easy File Cabinet Makeover And Organization Tips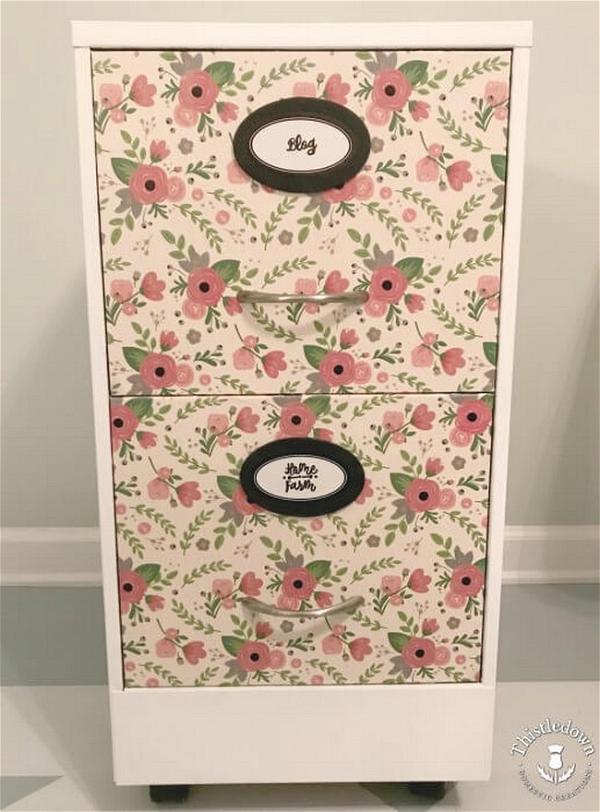 Don't give up on your file cabinets. The doors can be removed and replaced with wood or glass inserts, or you can paint them to fit your office decor. Use clips or magnets for holding paper clips, an over-the-door storage organizer for staplers and other supplies, clear shoe holders for paper, a magnetic knife strip for scissors, shears, and pens, decorative paper trays for stamps, lipstick, lip balm, and other small items. You can even create a hanging desk organizer using a simple shower curtain rod with baskets under each shelf. This can be a reality if you transform and organize your file cabinet the right way. By planning ahead and organizing with labels, folders, and dividers, your file cabinet can be a useful storage piece instead of a messy storage space.
Skill Level: expert
Tools:
Drill with appropriate bits or screwdriver
Glue gun/sticks
Cleaning supplies – rag, bucket, mild detergent
Scissors and razor knife
Screwdriver
Tape measure
Paintbrush or roller
Supplies: 
Metal file cabinet
Chalk paint
Wrapping paper
Mod Podge
New pulls for the drawers
New drawer labels
Casters
wood pieces
Screws
Dated File Cabinet Gets An Industrial Makeover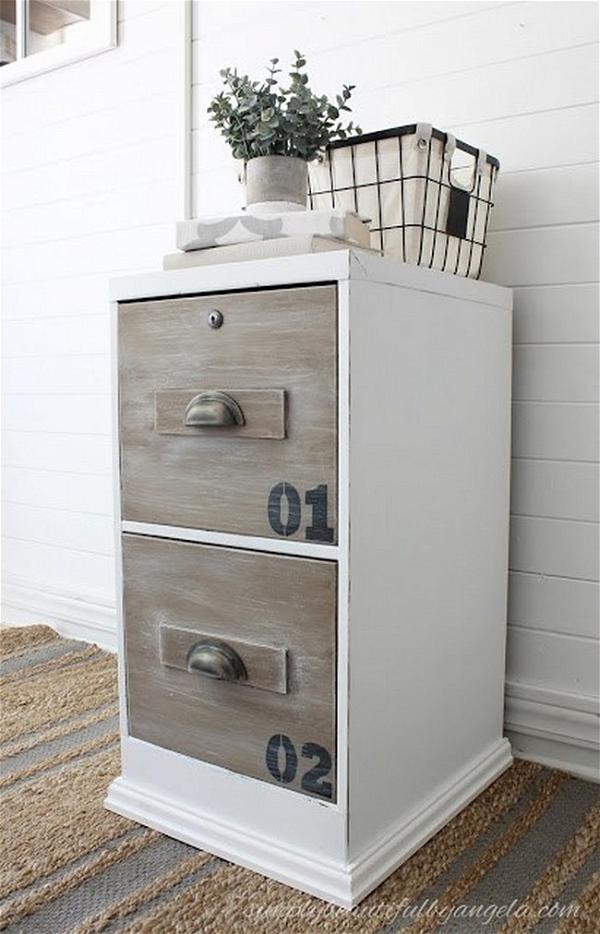 This is a recycled file cabinet that we transformed into the perfect desk or laundry room storage solution. It includes two drawers. The files inside have been slightly modified so that they fit inside the drawers and open shelf. Everything else is plain wood, with no paint at all! Perfect for storing hats, gloves, scarves, and journals--or your paperwork. It makes a unique desktop organizer or it could easily be hidden away in your laundry room whenever not in use. If you are one of those people who has a hard time tossing out items that haven't seen much use, you probably have a file cabinet that is outdated as well. Changing the drab paint job is an easy weekend project that can liven up any room in your house. With the help of some bold hues, it was transformed into a thing of beauty.
Skill Level: expert
Tools: 
Medium Grit Sandpaper
Foam roller
Latex paint
Plaster of Paris 
Waverly Inspirations Chalk Paint in Mineral
Rust-Oleum Spray Paint in Weathered Steel
Supplies:
Plywood
Caulk 
Valspar Dark Sealing Wax
Chip Brush
Printed Numbers
Sharpie
Molding
 Nails
Vintage Cup Pulls
Chalk Painted Filing Cabinet Makeover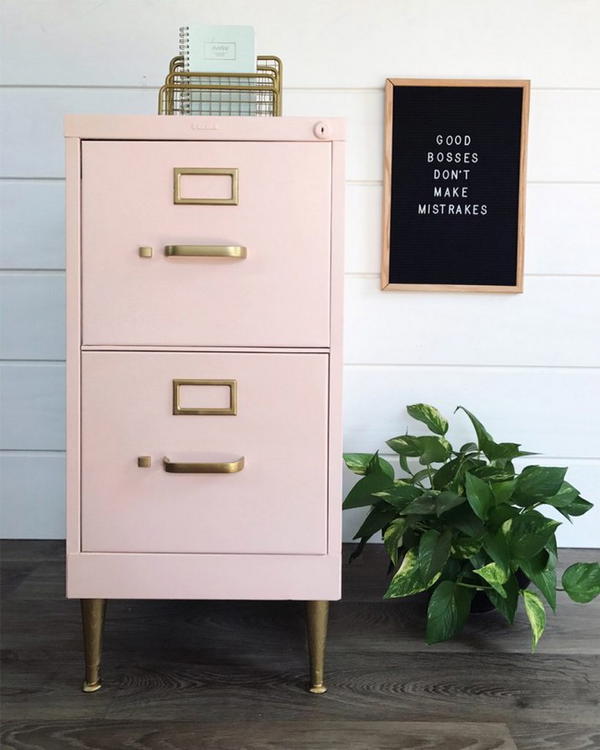 Do you ever see an old piece of furniture and wish you could turn it into something new and fabulous? Here we have a medium-sized chalky pink cabinet that has been given a Scandinavian-style filing cabinet makeover. This chalk paint filing cabinet looks great, yet is also very functional. As you can see in the photos, there are two drawers in which to store your files. There is also a handle on the side to easily lift off the entire top piece A chalk paint filing cabinet makeover will breathe new life into any tired old piece of furniture. This medium-sized chalky pink filing cabinet looks great and is also extremely functional.
Skill Level: expert
Tools: saw, hammer, drill, screwdriver
Supplies:  cabinets, pine plywood, screws, nails
Ugly Home Office Makeover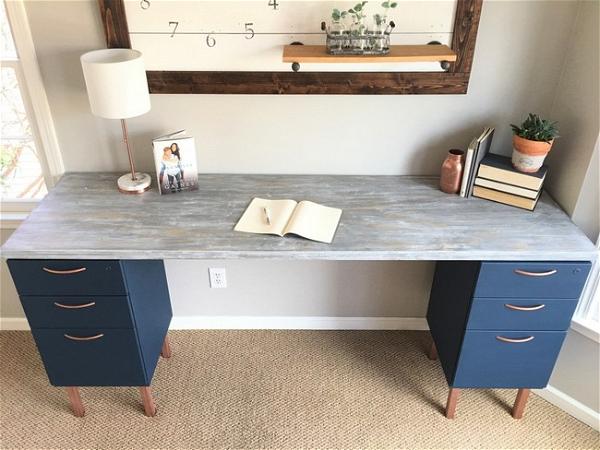 You'll find the tools you need to turn your ugly home office into a well-organized, functional and beautiful space in this kit. Because you don't have to make major structural changes, you save time and money. Firmly believe that happiness is a place for everything and everything in its place with this do-it-yourself makeover. You will receive a professionally done makeover for your home office. You will be provided with a Skilled designer, desk, and other organizational accessories that will be installed skillfully into your home office. All the materials will come from top-notch manufacturers and suppliers.
Skill Level: expert
Tools: saw, hammer, drill, screwdriver
Supplies:  cabinets, pine plywood, screws, nails
Campaign Dresser Inspired Filing Cabinet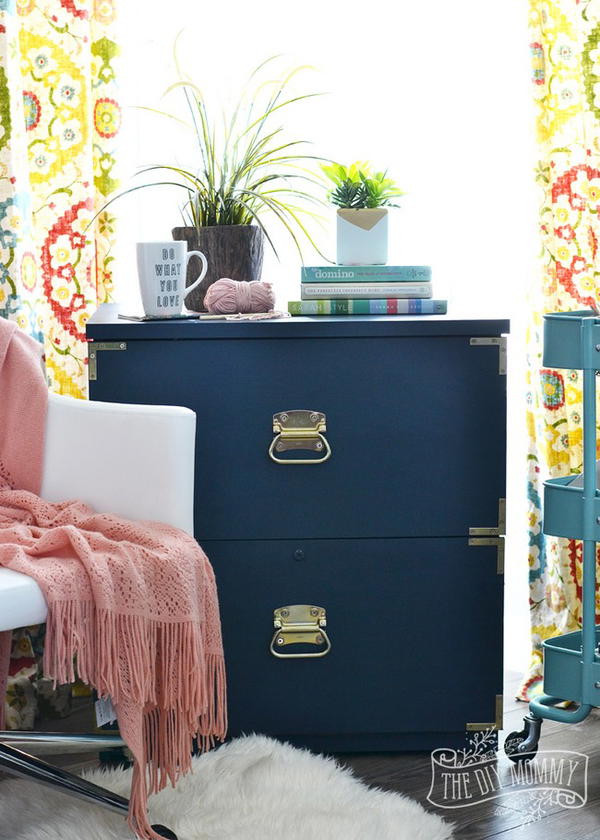 Show off your personality with our Campaign Dresser Inspired Filing Cabinet. This file cabinet is a great fit for your home or office and will be a stylish addition to any space. The white dresser-inspired filing cabinet is made from solid hardwood and comes in two separate faux drawer units. Each drawer unit has two open and two drop-front storage areas, as well as a file storage area to organize documents. Each unit features soft close drawers, a beautifully worn finish, along with antique-style hardware to complete the look of the campaign dresser-inspired filing cabinet. Easy assembly is required.
Skill Level: expert
Tools: saw, hammer, drill, srewdriver
Supplies:  cabinets, pine plywood, screws, nails
How To Transform A Rusty Metal Cabinet To A Modern Statement Piece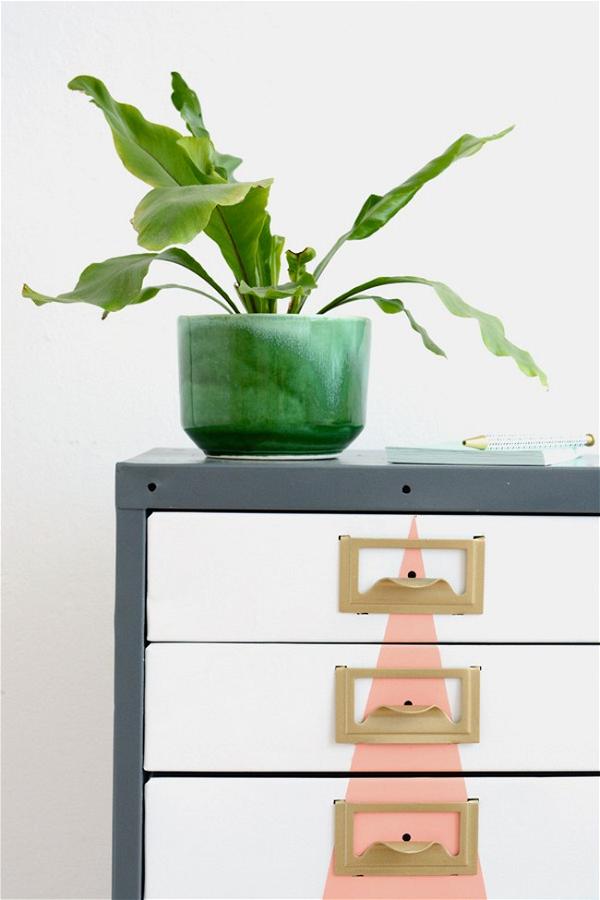 Rusty, old cabinets are the easiest ones to salvage. They make fantastic projects to show off your new skills, but you'll want to do a little research first. Just because you have a cabinet doesn't mean you can easily make a vanity out of it. Get the right measurements and check if it's functional before you buy a heavy-duty truck so you can move it around. All you need is a new paint job and a few other stylish accessories and you have an entirely new piece of furniture! Extra storage, great decor, and a little piece of art all in one...where to start? A piece of furniture we have seen over and over. The industrial look is making a huge comeback in interiors, which means old rustic cabinets are coming out of the woodwork (pun intended).
Skill Level: beginner
Tools: 
power drill
blue painter's tape
spray primer
spray paint in white, grey, gold, and peach
Supplies:  
sandpaper or a power sander
tack cloth
white felt
small wheels
self-tapping or self-drilling screws
blue painter's tape
DIY Built-In File Cabinets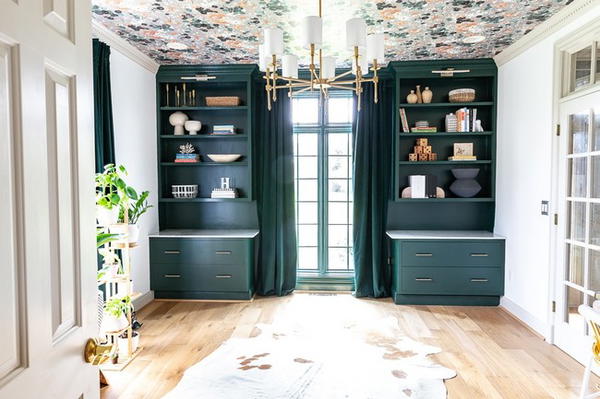 Organize your receipts and invoices in style with DIY Built-In File Cabinets. These File Cabinets come preassembled, so all you need to do is position them on the wall! They're constructed from high-quality wood and feature a stylish natural pine finish. Use them to store insurance documents, tax files, or family photos, or as part of a larger wall decorating project. The possibilities are endless! They're inexpensive, easy to build and they can be customized any way you like. Transforming your filing system has never been easier. Each file cabinet is designed to neatly fit underneath a desk, along a wall, or in a corner. Full-extension slides and ball-bearing suspension make accessing your records effortless, while the heavy-duty diamond plate steel construction provides durability for years of use.
Skill Level: expert
Tools:
Built-in paint color
Wall paint color
Cowhide rug
Supplies:
Trim
Light brass chandelier
Picture lights
Antique brass candlesticks
Sculptural vases
Raw wood vase trio
Oversized wooden dice (DIY!)
Framed butterfly
Ceramic house
White pug bookend (no longer available)
Stone bookends
Black vase
Velvet curtains
French oak hardwood flooring
You can also see: DIY Bookend Ideas 
File Cabinet Makeover Using Homemade Chalk Paint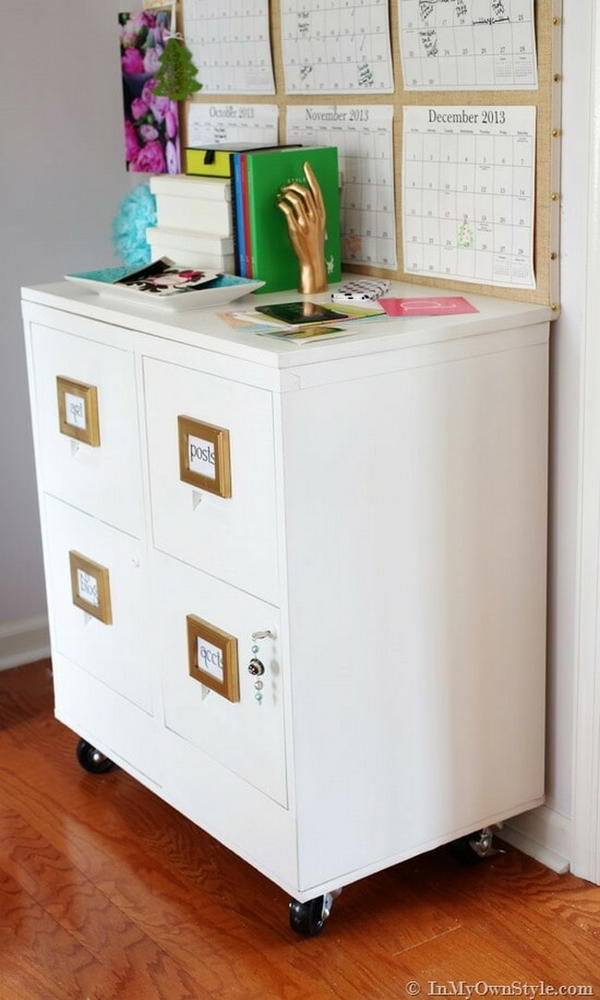 Wondering how to makeover your office space? Why not start with these DIY chalk paint file cabinet makeovers. Add a pop of color and make your work environment more exciting! Plus they are easy to do yourself and you can customize them to fit any style or room. This chalk paint works on almost anything and the best thing about it is that it can be mixed with any kind of primer or paint. The possibilities are endless! The transformation is almost complete. All that's left is to touch up the paint on the file cabinet to match the newly painted pieces of furniture. Then, it will be all finished!
Skill Level: expert
Tools:
Bandit Wood Veneer Edge Trimmer
Bandit Veneer Edging
Glue gun and a glue stick
Krylon gold metallic spray paint 
Supplies: 
plywood
 plain wheels 
 wood screws
Latex paint  – satin finish
Plaster of Paris  and/or Calcium Carbonate Powder
Soft rag and/or buffing mitt
Paintbrush
Medium grit sandpaper
 frames
Johnsons Paste wax
Paper for drawer labels
How To Make A Filing Cabinet Using Walnut Plywood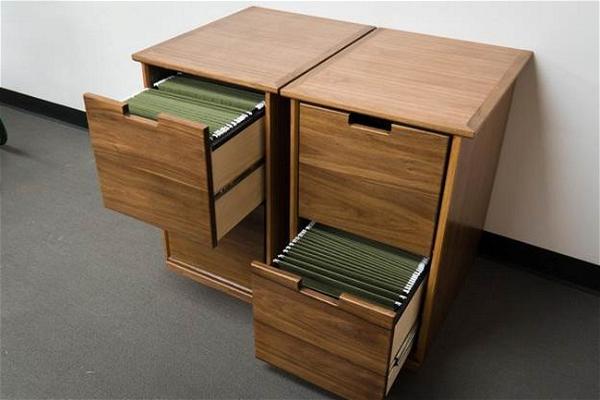 An elegant solution to this problem is to build a filing cabinet using walnut plywood. Their natural oils help prevent warping and cracking and make them resistant to both fire and water damage.
Filing cabinets are a great way to organize your workspace, but you probably don't have room in your home to store one, let alone the time to build one. Here's an easy project that's both functional and affordable. All you need is some walnut plywood, metal brackets, and a couple of drawer pulls with mounting hardware. This project consists of cutting a walnut plywood sheet into four pieces, drilling holes in the appropriate places, and screwing the pieces together to form the carcass of the cabinet. Then fit with the drawers and store your files inside! The carcass can be cut out of a single sheet- however, for an even sturdier end product, you will want to get two sheets for this job.
Skill Level: beginner
Tools:
SawStop Table Saw

Kreg  Pocket Hole Master System
Supplies:
Walnut Plywood,

Titebond Wood Glue

Aluminum Bar Clamps

 Baltic Birch,

Kreg Micro Pocket Drill Guide

 Full Extension Drawer Slides

Rockler Universal Drawer Slide Jig

Walnut by the Piece

Rockler Bandy Clamps

Folder Hanger Easy Slip-On
How to Cover a File Cabinet With Contact Paper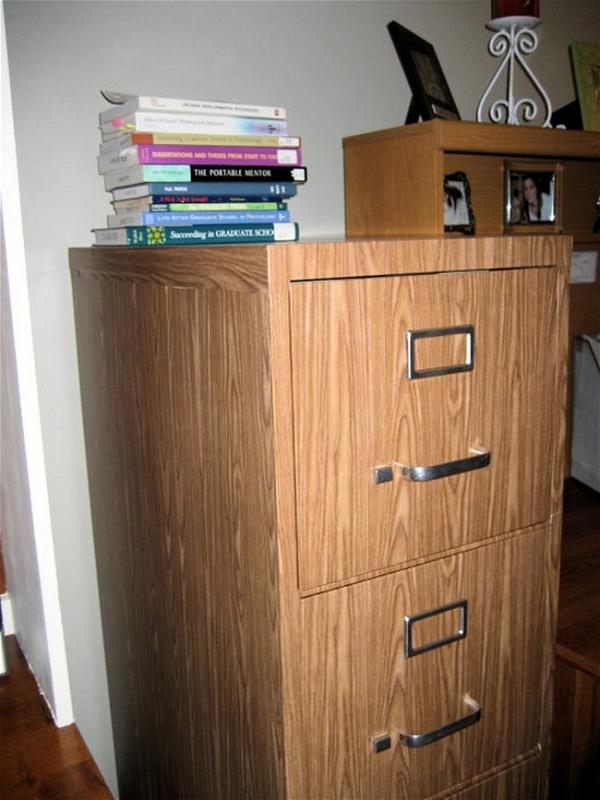 Want to know how to cover a file cabinet with contact paper? Contact paper is perfect for giving those old file cabinets a new look. By using this easy and inexpensive method to cover a file cabinet, you can give it a fresh and professional look that will make your office or home office feel more official. Make it your own by choosing contact paper in any color you like. To do this, you need to know how to cover that old boring cabinet with contact paper and make it pop! Contact paper is easy to use and can transform a mundane cabinet into something quite creative.
Skill Level: beginner
Tools: screwdriver, Acto knife, tape measure, scissors
Supplies: Contact paper, plastic card, store rewards card, to smooth out bubbles,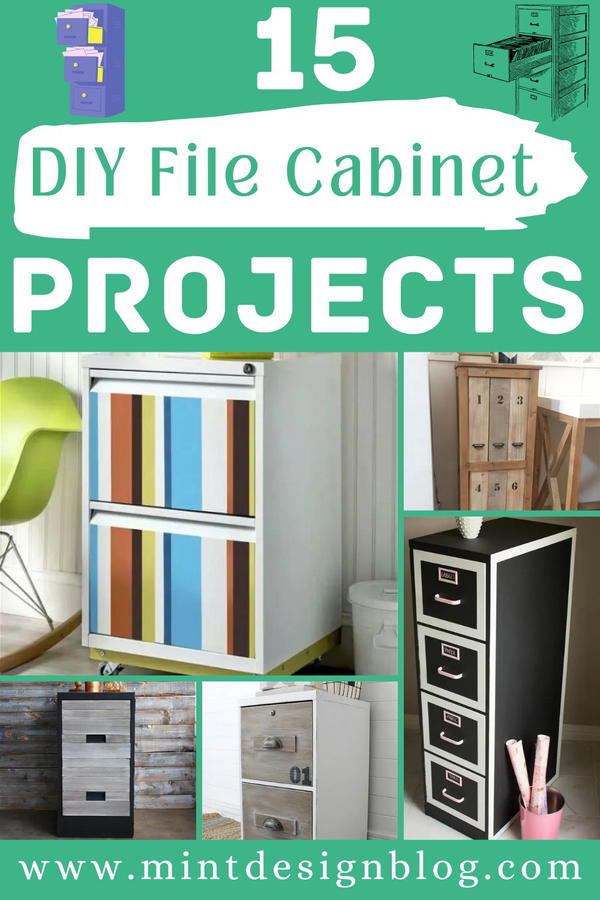 Conclusion
Get inspired by these 15 easy DIY projects you can do with a basic file cabinet and a few simple materials. If you love a good DIY project, but don't want to put in much effort, you'll appreciate these articles. With step-by-step instructions and photos, both beginner and experienced crafters can create stylish, functional file cabinets from inexpensive, readily available materials that look great and will support the weight of your growing collection.