When you think of a hammer, you probably don't picture a tool that can be used for much more than driving nails. However, that's not the case with wooden mallets because they have more useabilities than a traditional hammer. Wooden mallets are just as useful as other hammers when it comes to driving nails, but they also come into play for many other benefits. If you're a woodworking expert and always have some urges to do things unique with wood, picking up a wooden mallet is a great choice. These Wooden mallets are used to drive pegs into the wood, so they tend to be lighter than other hammers. If you're looking to make your own, check out these 15 DIY wooden mallet plans that will give you the perfect mallet for your needs.
DIY Wooden Mallet Plans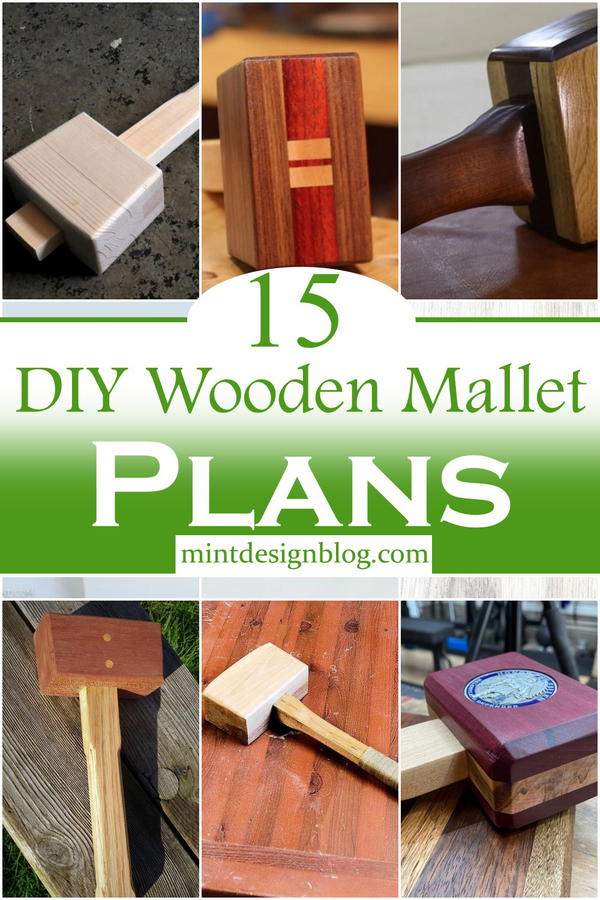 A mallet is also essential when striking a chisel to split a wood piece or hammer nails into hardwood. For most carpenters and do-it-yourselfers, the mallet is the first tool they buy when working with wood. No matter what type of project you're working on, unless you have to strike metal, chances are you'll be using some wooden mallet to get the job done. Below are 15 DIY wooden mallet plans, including free diagrams. It is recommended that you read these plans carefully before crafting your wooden mallet. Have fun DIYing!
How To Make Your Own Joiner's Wooden Mallet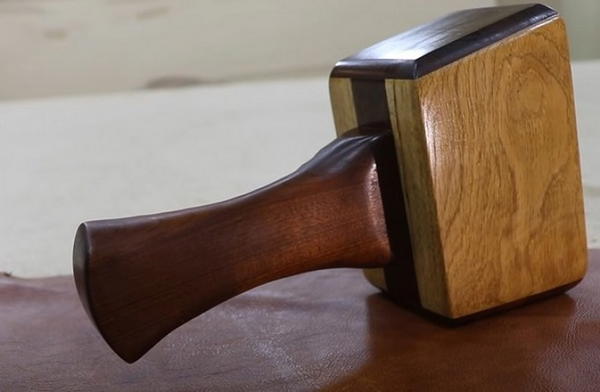 A Wooden mallet is useful in the workshop when making joints and assembling furniture. Although commercial wooden mallets are available, if you want to avoid the expense of buying one, it is possible to make your own at home easily! This particular style of mallet can be made in a couple of hours using basic hand tools. Coat the head and handle with boiled linseed oil to provide a hard-wearing finish and prevent the wood from splintering when used in place of metal. A mallet is a wooden hammer used to drive wooden pegs in joinery. After you have memorized this How To make a DIY Joiner's Wooden Mallet, you will be able to assemble the parts and put them together whenever you need one, and you'll feel like an expert in the field of carpentry.
Making A Joiner's Mallet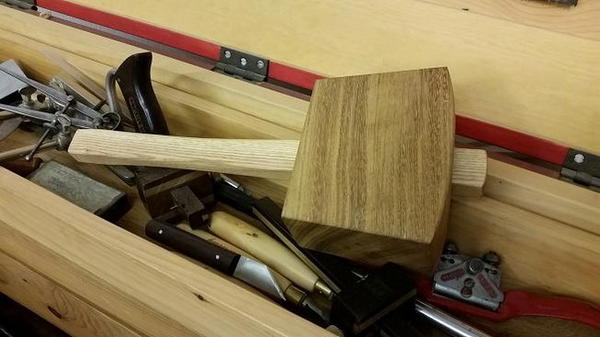 The Joiner's Mallet is designed to be hit with a wide variety of different-sized hammers and mallets. If you are a carpenter, have an eye for detail, or are in need of repetitive strikes that need to look natural, then the joiner's mallet will be an ideal tool for your craft. Made from hard Ashwood, this joiner's mallet is ideal if you will be working alone, or if you need a sturdy hammer that can handle heavier workloads. The grain of the ash creates a striped pattern in the wood that is beautiful and unique to each one. The hardwood joiner's mallet will last a lifetime, and with no saturated glue joints, can be taken apart to be expertly refinished by your local woodworker.
Make A Wooden Mallet Easily With Limited Tools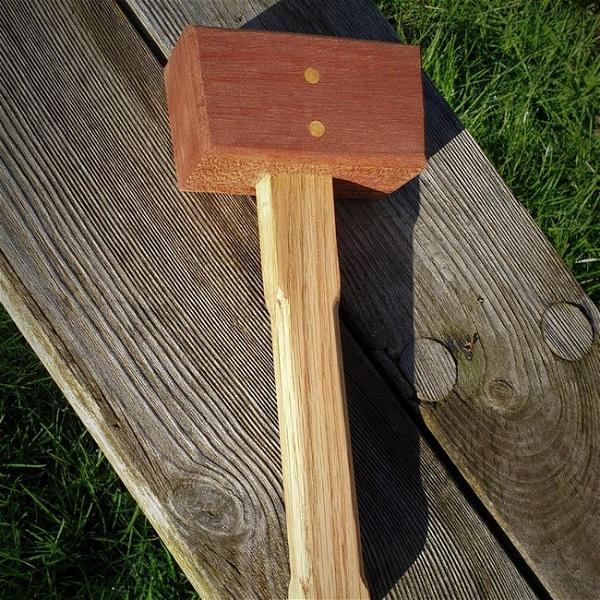 Everyone needs a wooden mallet for tackling jobs around the house. For woodworking, DIY, and crafts projects, a mallet is more convenient than a hammer and does not mark up your project pieces. A baseball bat or ax handle is the traditional material for mallets, but why buy them when you can make your own with limited tools. The wooden mallet is an essential construction tool that can also be used to dust, compress the soil, and crush concrete. In addition, it has other practical applications. Creating a wooden mallet can be done with limited tools and raw materials. By following our instructions on how to craft your own and the many uses of a wooden mallet, you will learn how to save money by turning scrap wood into something valuable.
How To Make A Woodworking Mallet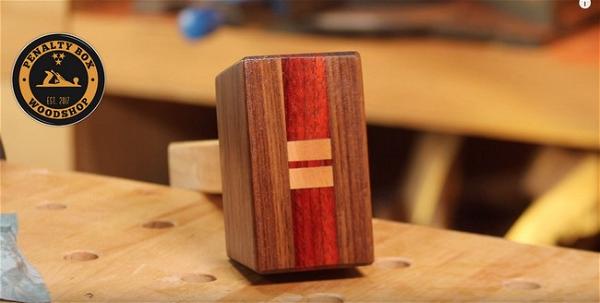 Mallets are a woodworker's best friends; they are used for knocking out chisels, drawing out dovetails, driving in screws, and pounding joints. However, you making a mallet is totally up to you as long as it works for your project. Nails are the most common method to make a woodworking mallet. The main step for this type of mallet is to drill a hole through the headstock and drive the nail through both pieces of wood. Another way to make a woodworking mallet is using a wedge. This type of mallet is easy to make and can be customized in different ways. Glue and epoxy are the way many craftsmen prefer to make their mallets because they will last longer than any other kind of material.
Three Ways To Build A Wooden Mallet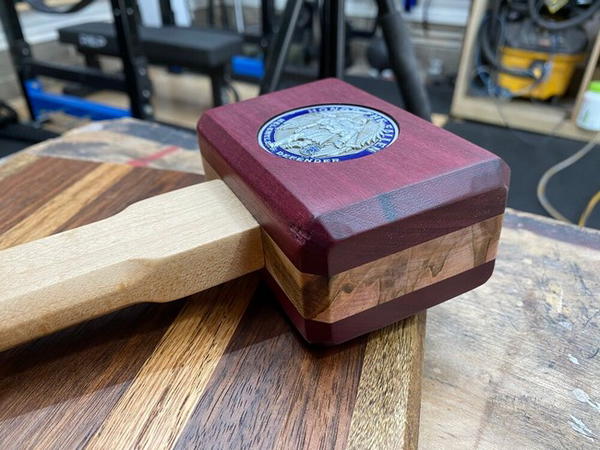 The mallet has long been a handyman's and woodworker's tool of choice, whether for rough framing or delicate furniture assembly. You can build one from a block of hardwood, balsa, or softwood. Choose your size, shape, and weight and find working mallets to suit you. This wooden mallet is perfect for any handyman or do-it-yourselfer, but sometimes figuring out how to build one can be a little challenging. When it comes to DIY projects, wooden mallets are a must-have tool. Whether your project calls for assembly or demolition, you don't want to find yourself empty-handed when you want to get the job done. You can build just about anything with the right tools in your tool shed, and a wooden mallet is no exception.
Mallet Plan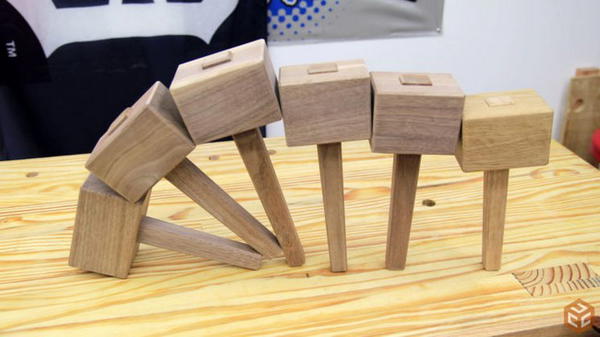 Improve your skills and learn to make a mallet with this free woodworking plan. This project could be used as a Christmas gift for a family member, especially if you pair it with a wooden mallet head that you make yourself. For the hardware, iron and steel objects that are easy to bend or shape can be used. The entire project is easy and straightforward. The finished product works well with tightening or removing nails, and this unique method also makes it easier to smooth out nicks in the wood or remove any imperfections that may have occurred during construction. The handle is replaceable and the head can be removed and put back on without any glue!
Easy Wooden Mallet Plan
The plans will show you how to make a sturdy mallet that you can use with your sledgehammer to whack things like railings into place, clean up loose wood, or move rocks and brick around in your garden. The mallet you make will be as functional as it is attractive. With the help of these easy wooden mallet construction plans, even a weekend woodworker can easily create this project. The easy wooden mallet plans are a great start for anyone looking to make their own tools. As you can see, you don't need to be a woodworking master to build your own mallets: though you will need some basic woodworking skills, it doesn't take years of experience to complete these plans.
Wooden Mallet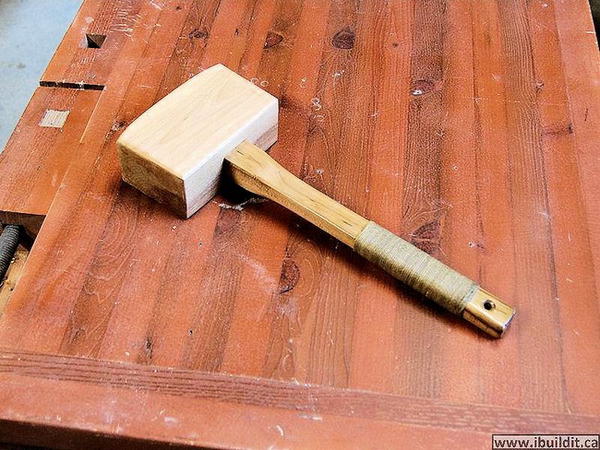 Wooden mallet plans will walk you through the construction process, but the materials list takes away some of the guesswork involved in building this type of project. The finished mallet should feel a bit heavier than the ones that are made on machines but should still have enough "spring" to make it easy to use. Additional detail in this version includes a twine-wrapped handle which offers a better grip when using and reduces the chance of splinters. This design can be used for most small projects you may have where you need additional force but not too much weight. Try this plan to create your own adjustable wooden mallet out of a few wood scraps you probably have laying around your workshop. The inclusion of this project adds fun to any woodworking experience.
What Is A Dead-blow Mallet
A dead-blow mallet is a heavy-headed hammer used to quickly break up any material that may be clogging your plumbing. Usually made of cast iron, these tools are very heavy and essentially make it impossible for them to sting or cut whatever you're holding them against. This gives you more control and makes it much safer when you're trying to unclog stubborn sinks or toilets. A dead-blow mallet is a rubber hammer that is used for gently driving items into a precise alignment. The soft head of the mallet prevents the item from being damaged, and the weight inside ensures that there is no "bounce back" to trigger unwanted results.
Make a Mallet
You can always buy a new mallet, but it is hard to beat the satisfaction of making your own. And because no two pieces of wood are the same, you'll end up with a mallet that's as unique as its maker. Make something great, make your own mallet! With the Make a Mallet kit, you will have to have all the things you need to build your own mallet. Making a mallet is a fun project that develops basic woodworking skills. You can build this handleless joining tool on the table saw using just a few tools. All the parts are cut using only the standard rip fence and a miter gauge. With a little glue and some sanding, it's ready for use in about an hour. And now you have an awesome hammering tool! This one has a nice handle made of hardwood.
Wooden Mallet Plan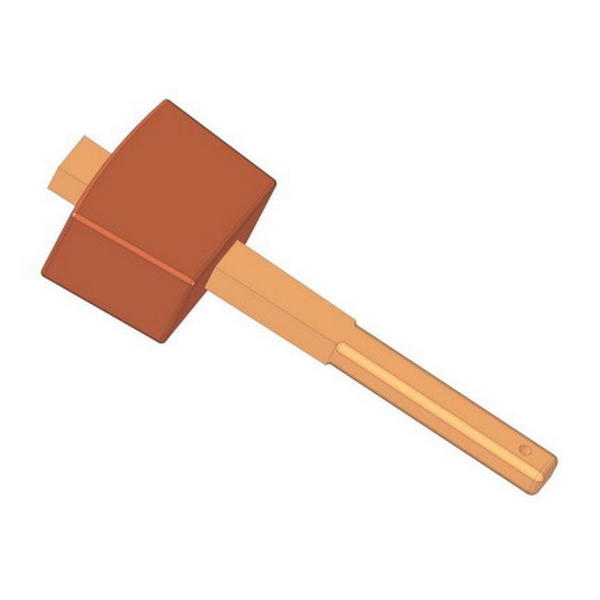 Wooden mallets are traditional, yes, but your mallet may not have any history. Now you can make your own mallet with a tapered head for wedging and striking, tapering of the eye for increased durability, and neoprene padding for every part of the handle that comes in contact with a worker's hands. This enables the head to wedge onto the handle. This medium size wooden mallet is an ideal addition to a shop or workbench. The head is tapered for strength, with a tapered eye for easy assembly. The design can be incorporated into numerous projects including rhythmic, percussion, plywood manufacturing, and more.
Make A Deadblow Wooden Mallet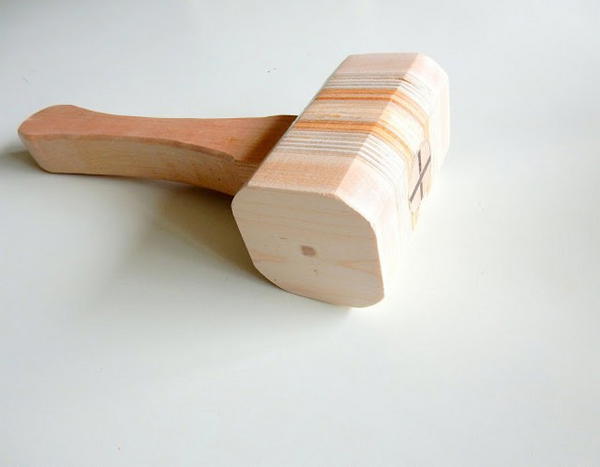 Make a dead blow wooden mallet out of hardwood. Save your wife some kitchenware. This is a very easy project, and with the right tools, a fun one too. An ordinary dead blow hammer can drive thousands of nails and will never wear out, but you may not want to use it to hit your favorite ceramic lamp. This project is for manufacturing a solid wooden dead blow hammer that will be used for other household chores...
Make your own precision wood strike device for driving wooden stakes into the frozen ground or compacted soil. These mallets can be cut from any scrap of dry hardwood but will perform best when made from hickory (if you can find it); sweetgum, oak, ash, elm, beech, sycamore, pecan, or the like. The size is up to you. The dead blow center is not critical; some experimenting with materials will determine how hard a blow is needed to drive a stake or pit prop.
Awesome Wooden Mallet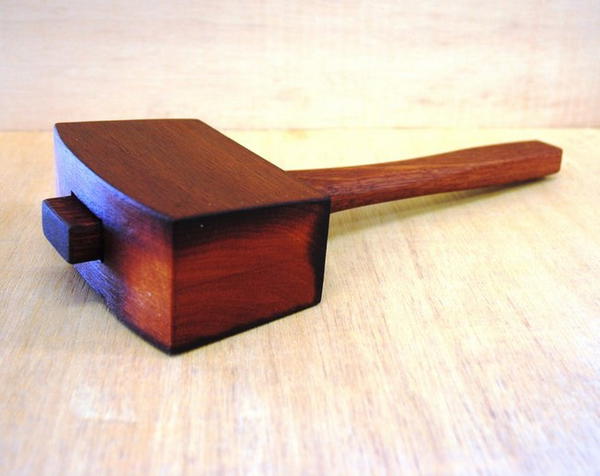 This handmade, wooden mallet can take a beating and still be your reliable tool in the kitchen. Break up the day with a swing at this sturdy mallet made from hardwoods. The rounded eye won't tear up your hands and will help to deliver an accurate strike. Ultimately, it's still a mallet so you don't expect it to be comfortable for extended periods of time, but the oak handle makes it an awesome wooden mallet. A beautifully crafted wooden mallet for breaking down boxes, and protecting your hands from paper cuts. Made from laminated bamboo and silky oak, this attractive mallet will last a lifetime or two. Whether you're pounding in tent stakes, cracking nuts, or just looking for a cool new way to tenderize your steaks, this handy piece of multi-tooled awesomeness will make your day!
Domed Head Joiner's Mallet Plan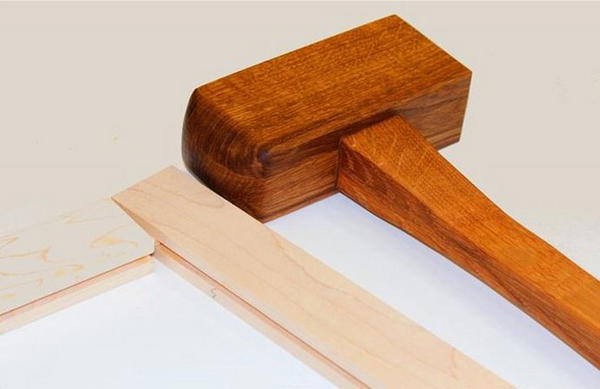 This particular tool has such a simple design, it is almost difficult to believe. Cut four pieces of wood and glue them together to make a solid block. Be sure the grain is running up and down the length of the piece and not across it. When your glued pieces have dried, use a chisel to square around the outside edge. Now turn your attention to the head of your mallet; flatten it out some and then begin shaping so that it has a nice dome on top. Drill out a hole in the side for hanging after applying oil for finishing purposes; and you are ready to go! This mallet is made with plain old softwood. You can also use hardwood although it may not be as durable. This is a relatively easy project that only uses mainly simple tools.
Making A Classic Woodworker's Mallet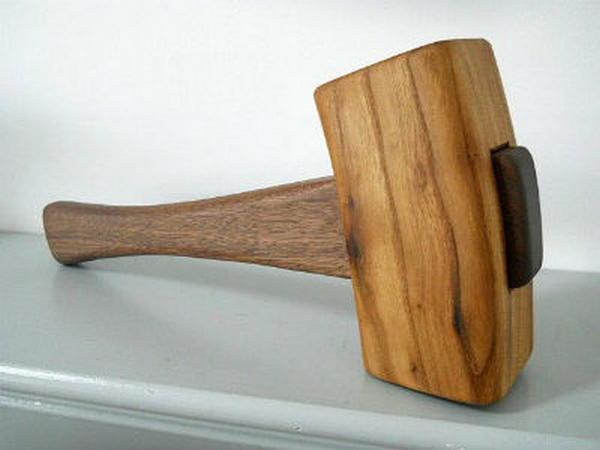 A woodworker's mallet is a necessary tool to have in the workshop. A woodworking mallet is used with a wood chisel for shaping and carving wood. Have you ever wanted to make a mallet? If you enjoy woodworking, this Old Fashioned Woodworker's Mallet would make a great addition to your tool collection. This mallet will create with the finest burls and will be a work of art; that will last for many years to come. Making a mallet is a great way to learn how to tap the energy in the wood. The best part about all this tapping is that you get to make an awesome hammer. This mallet will create from beech, is 1" thick at the head, and 3" wide around the handle.