Whether you're new to woodworking or the project in question, we've picked out a list of DIY Woodworking projects that are incredibly easy to complete and don't require a lot of experience. These projects will help you get used to basic tools and techniques and work on your skills before you move on to more complicated pieces. It's our goal to keep the user experience as positive and simple as possible. We've picked out a list of projects that are incredibly easy to complete, don't require a lot of experience, and will help you get used to basic tools and techniques, as well as work on your skills before you move on to more complicated pieces.
DIY Woodworking Projects: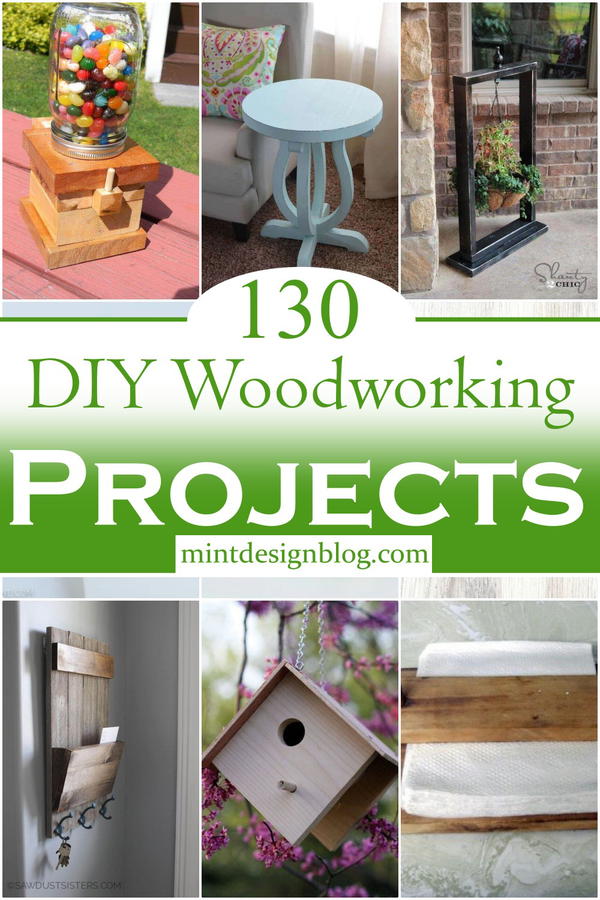 Woodworking projects are a great way to bring an extra feature or a new look to your home or garden. Using wood involves many steps, from choosing the right piece to cutting it and making it into something useful. Many online platforms offer detailed instructions on how to complete various projects with ease.
If you want to learn woodworking, you've come to the right place. We'll walk you through everything you need to know to get started with this rewarding hobby. Whether you want to build furniture or just enjoy woodworking as a hobby, it takes time and patience to master the art of woodworking. However, there are basic woodworking projects that anyone can do in order to get started on a budget. Selection of wood will specifically depend upon the nature of object we're willing to make sometime pallets work best and some time balsa wood is the prominent option.
Wooden Arrow Tutorial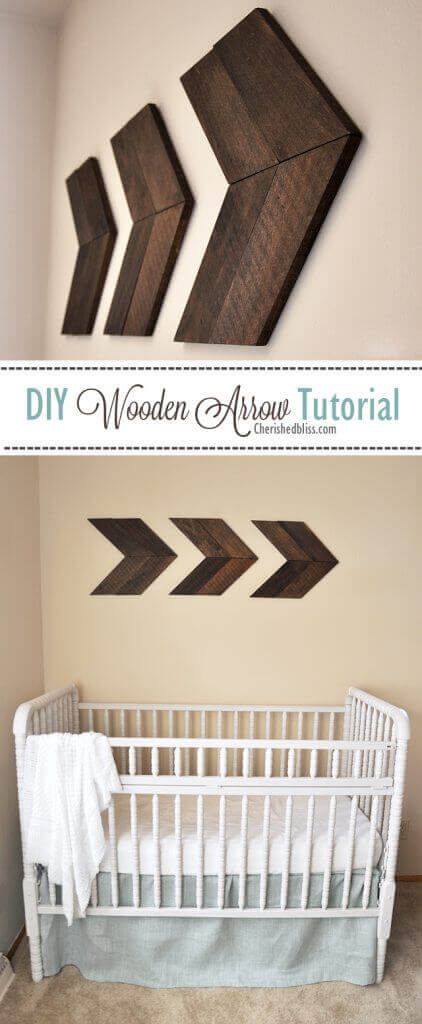 Who doesn't love a project that involves something you can make and is easy to follow? Something you can hang up in your room, or even give as gifts. This tutorial helps you create a set of simple wooden arrows for decoration. Simple in design, these arrows are perfect for any room and offer that finishing touch. A fun and easy-to-follow tutorial which will be enjoyed by all. They are really easy to make so don't worry! You will need some wood, paint, craft glue, sharpies, pencils, and a compass. You also need some pliers and clamps. If you have these supplies then let's get started!
Project details: cherishedbliss.com
Wooden Bird House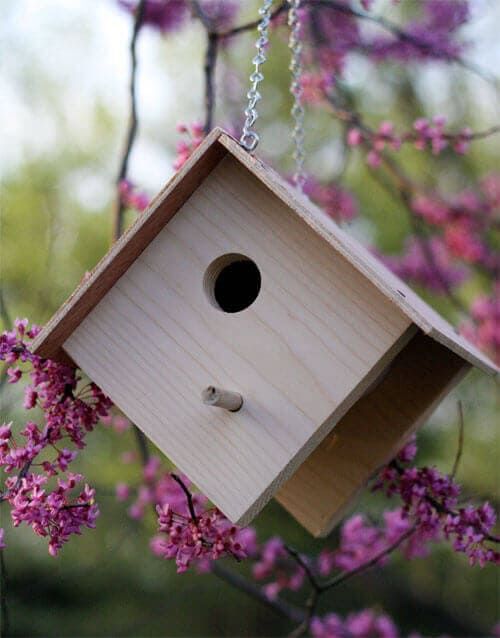 Here's a wonderful project for you if you're looking for a quick, fun project. We show you everything you need to know about how to build a wooden birdhouse. Making one is great for kids because it gives them the knowledge to go out and make anything. It's also a good thing for beginners because it's such a simple project. If you enjoy woodworking, this is a nice little addition to the home. This is a fun and easy project to do with your kids. It may also be accomplished by beginners starting out in woodworking. This birdhouse that just looks good. The cut-out window and Rope handle really make it stand out from the crowd.
Project details: skiptomylou.org
Wooden Doormat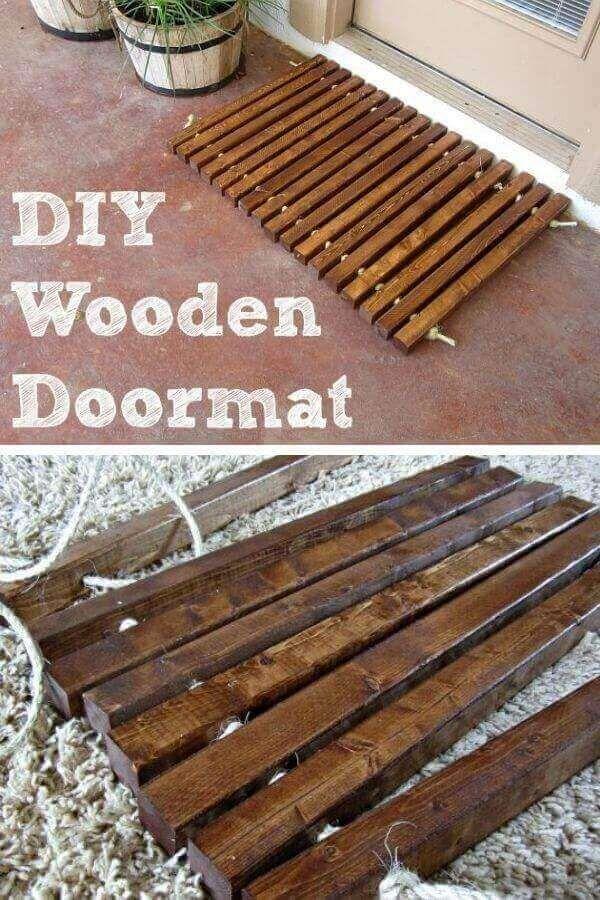 Wooden doormat, anyone? If you don't want to go to the store and buy one, then building your own might be a good alternative. It's such a simple project you can do it in just a few hours, and probably for less than $20! The good thing about this doormat is that you can customize it easily to the decor of your home, or the style of your entrance. You just have to choose the right kind of wood, and make sure you observe accurately the proportions so that your product looks really nice. You're going to need some wooden planks or smaller straight pieces of wood (the size doesn't really matter), a ruler or anything similar with which you can draw straight lines, some nails (or glue), and some string.
Project details: domesticimperfection.com
Bathtub Tray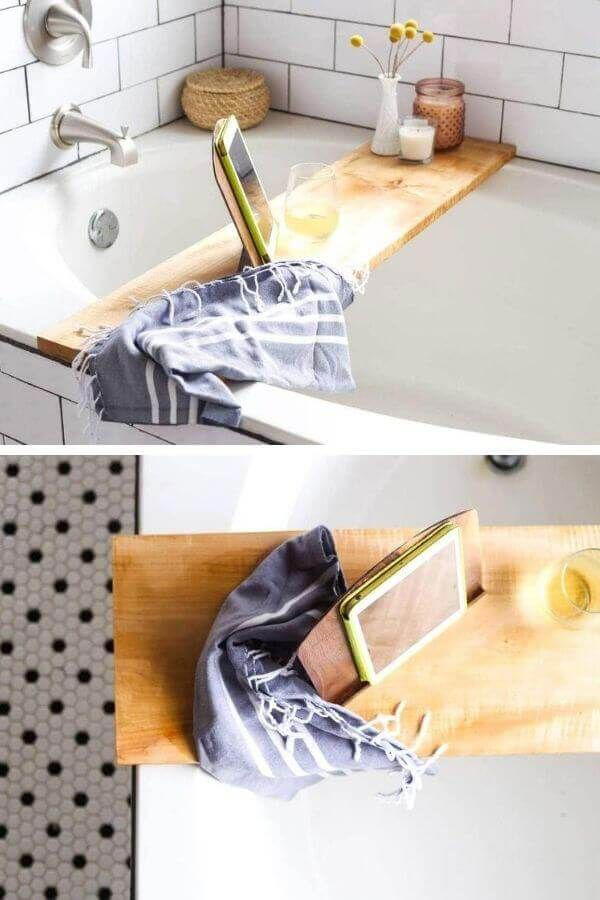 If you love spending a long time in the bath and want to make it as enjoyable as possible, then you will need this product! The Bathtub Tray is specially designed so that you can easily drop your drinks onto the tray and relax while they get cold. You won't even have to lean around or reach for your drink!
This bathtub tray is great for anyone who has trouble reaching it. It's the perfect length to have a drink or snack right by you.  It's designed for use in bathtubs and other deep tubs, with most of it being under the water.
Project details: loveandrenovations.com
Wooden X Side Table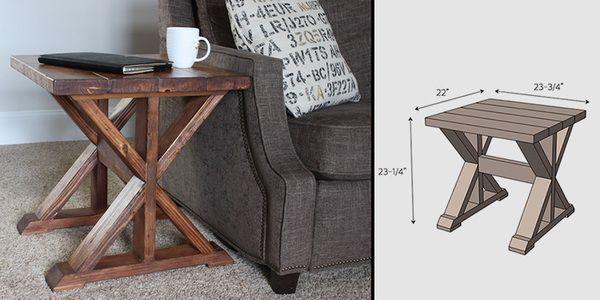 If you like the idea of building a project that is easy and quick to build, but still has an elegant look, then this wooden X-shaped table is for you. The table isn't something overly fancy or complicated to build, but it sure looks nice when it's all put together.
This is a project that you can use to create a very practical table. It will fit in with your interior decor and will be suitable to use in different rooms. You'll be able to use it as a coffee table, side table, or even as a small coffee table. Wood is easy to maintain, but don't forget to protect it from direct sunlight, heat, and moisture sources.
Project details: manmadediy.com
Hanging Basket Frame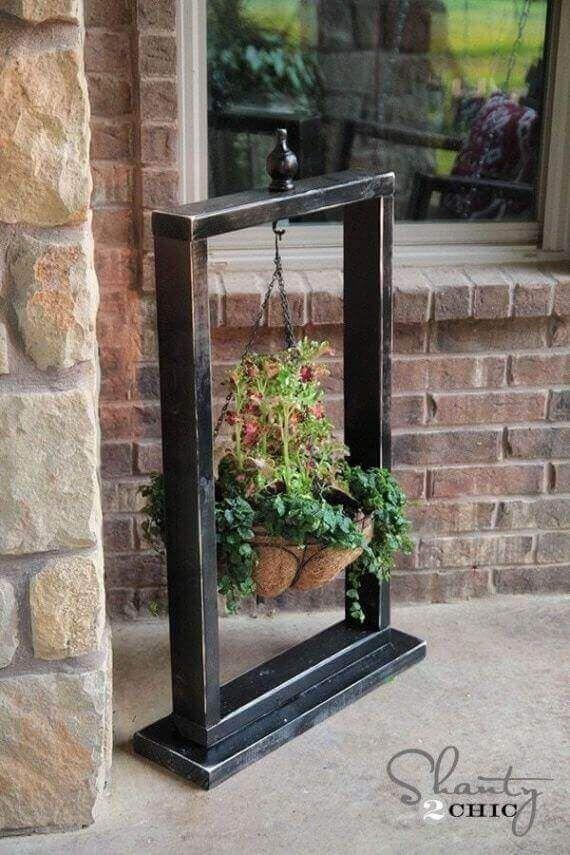 A wooden hanging frame is a perfect project if you are looking to add an unusual accent to your home. It is easy to build, lovely to look at, and it's quite useful too – you can use it to hang up pots or baskets full of flowers to better enjoy their fragrance. The wooden frame is also a great decoration that can complement a variety of home décor styles.
A hanging basket frame is best used for those who have either a balcony or porch with plenty of outdoor space. You can use this to hang potted plants from or decorate the hanging basket frame with lights, plants, or even a tarp.
Project details: shanty-2-chic.com
Serving Tray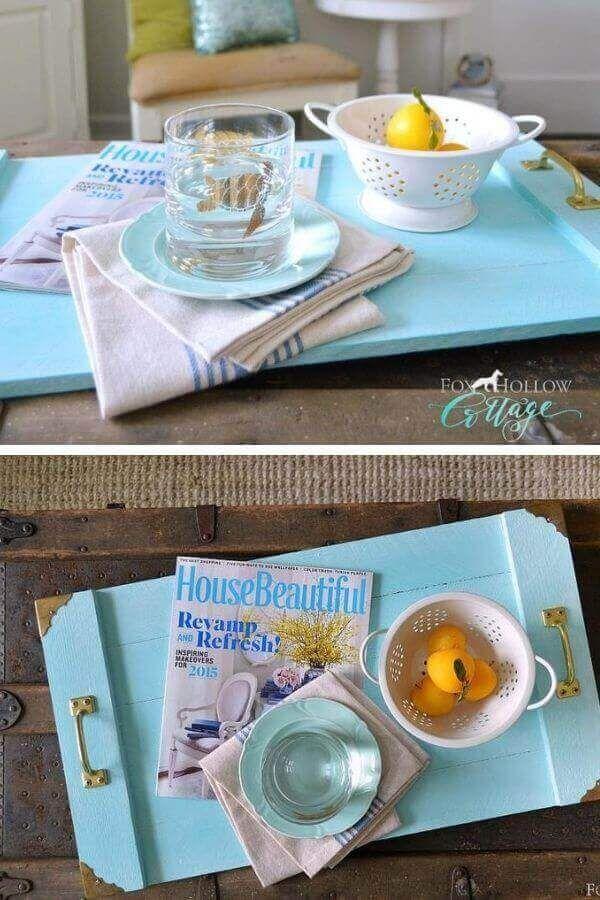 As your breakfast tray, this wooden serving tray gives you a great new way to serve breakfast in bed. But it can also be used for beverages after a long day, or for lunch on the couch when you don't feel like getting up. It is simple, but elegant and will leave a lasting impression on your special someone.
This simple wooden serving tray is carved out of high-quality cherry wood and perfectly sized to hold your glass or mug. Whether you're taking breakfast to bed, or enjoying a hot drink when the weather outside is frightful, it makes every moment more enjoyable.
Project details: foxhollowcottage.com
Shoe Organizer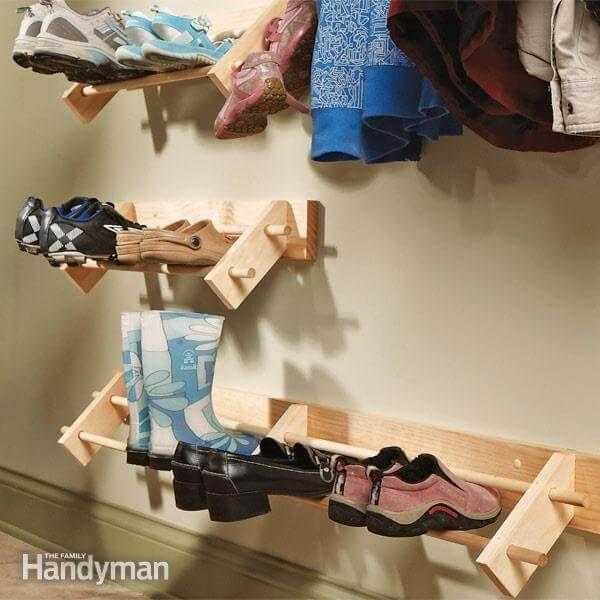 If you're an organized person, you know the importance of having everything where it belongs. But shoes absolutely require that special attention. And generally speaking, they tend to be a really tricky case. So if you want to be able to see all your shoes and make sure they're not in the way, a shoe organizer is what you need. The one you're going to find on this page is especially nice because it's adjustable – it can be turned into a table or a wardrobe plan. The shoe organizer is used as a storage device for footwear so one can store and organize easily shoes with this shoe organizer. They come in a wide variety of styles, shapes, and sizes with unique features to fulfill the need of each user.
Project details: familyhandyman.com
Key Holder For Walls
This decorative key holder is perfect for hanging items that you might need quickly but doesn't want to clutter your drawers. It's small enough to hang on your wall and convenient enough to be in plain sight when you need it. Now you keep the entryway to your home tidy and organized. This cute key holder offers you a practical solution that is easy to install. Made of wood and metal, this wall-mounted keyholder is simple yet decorative. It comes in neutral black and wooden finishes, giving it the rustic look you've always wanted.
Project details: sawdustsisters.com
Wooden Spoon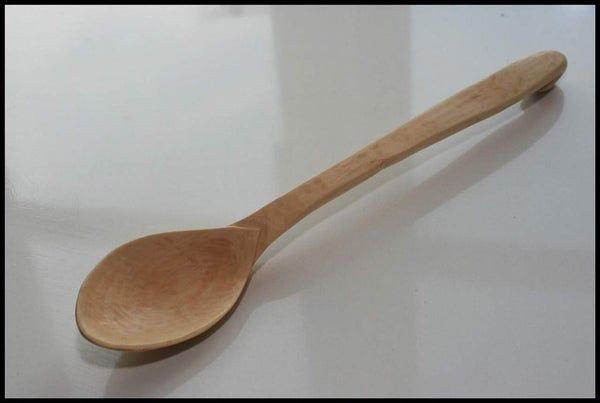 Have you ever wanted to make a spoon in your own home? Well, now you can with this Wooden Spoon recipe! This wonderful idea and recipe are somewhat different as it uses primitive tools to get the final product. But almost every home should have these tools; hopefully, you do too. It's just amazing what we can achieve with some easy and primitive tools.
This recipe is somewhat different as it uses primitive tools to get the final product. But almost every home should have these tools, and hopefully, you do too. It's just amazing what we can achieve with some easy and primitive tools.
Project details: instructables.com
17. DIY Cutting Board From Scrap Wood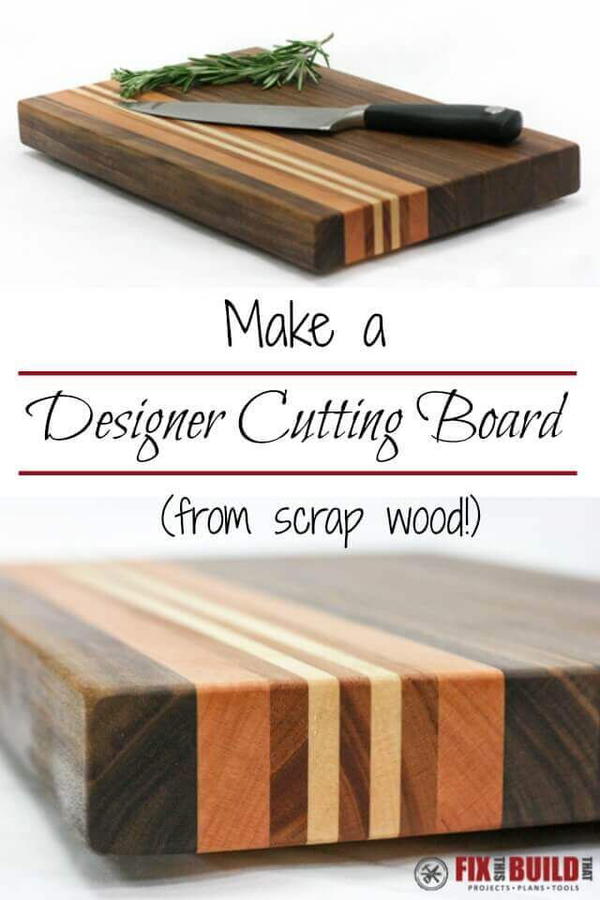 Cutting boards are an essential part of kitchen equipment. This is true whether you're cooking at home or in a restaurant. You need to be able to chop and mincemeat, vegetables, etc. on a clean flat surface that doesn't harbor any harmful bacteria. A homemade cutting board is a perfect solution, as it can be made by anyone with even the most rudimentary knowledge of carpentry and woodworking.
Whether you plan to gift it to someone or just keep it for yourself, a cutting board is a great project. It can be made out of any type of wood you have on hand. A DIY cutting board will serve you, but also look good in your kitchen. With the right tools and patience, you too can make your own cutting board.
Project details: fixthisbuildthat.com
Napkin Holder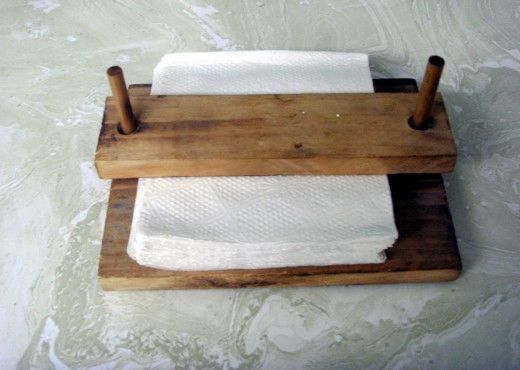 Here's an interesting little project. This napkin holder is not that difficult to make. But it will still satisfy your woodworking itch. Your kids will love the way it looks and your spouse will surely appreciate the functionality it brings to the table. Just be prepared to make several of them because you're likely going to want to gift them with these amazing napkin holders.
This portable napkin holder is perfectly sized to fit in a drawer. It will help you keep your counter neat and tidy. This project is great if you are new to woodworking and it's also a great project if you have kids. They can finish it easily with your assistance.
Project details: hubpages.com
Curvy Side Table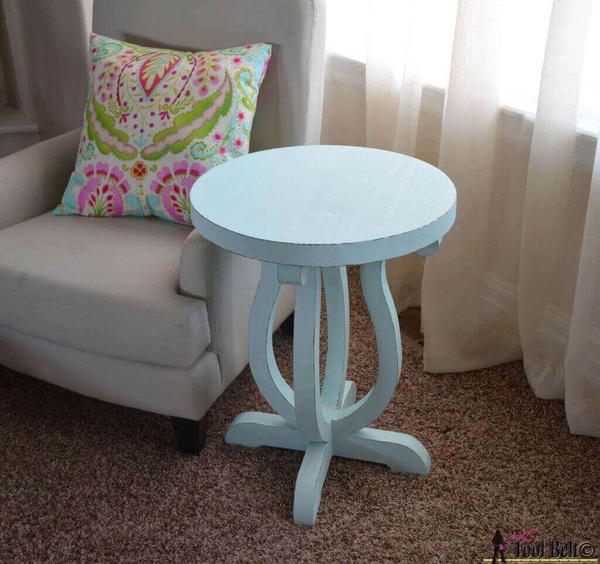 If you want to add an elegant touch of natural beauty to your room, then you should try creating this Curvy Side Table on your own. This practical coffee table is ideal both as a place to rest your legs while relaxing on the couch and as a support for decorations and lamps.
Well, this table is quite something, isn't it? There're no screw holes on it and it can potentially be painted in just about any color you want. Don't hesitate to add some personal touches to your side table. Don't worry if you still feel that this job is too difficult. We have made a step-by-step tutorial for this wooden masterpiece, so you can easily create it too.
Project details: hertoolbelt.com
Wooden Supply Tray
Have you always wanted to start woodworking, but did not know where to begin? Wooden Supply Tray is a project that's going to teach you some new skills when it comes to woodworking. It's a great first project, and the end result is a cute little storage box that you can use in your bedroom, kitchen, or office. And all you need is just a few basic tools, some time, and patience. The best thing is that this is a very simple design, so you don't have to spend hours trying to figure out how to make it. So if you want something useful, attractive and different - this piece of furniture will make a nice display wherever you put it!.
Project details: build-basic.com
Lap Desk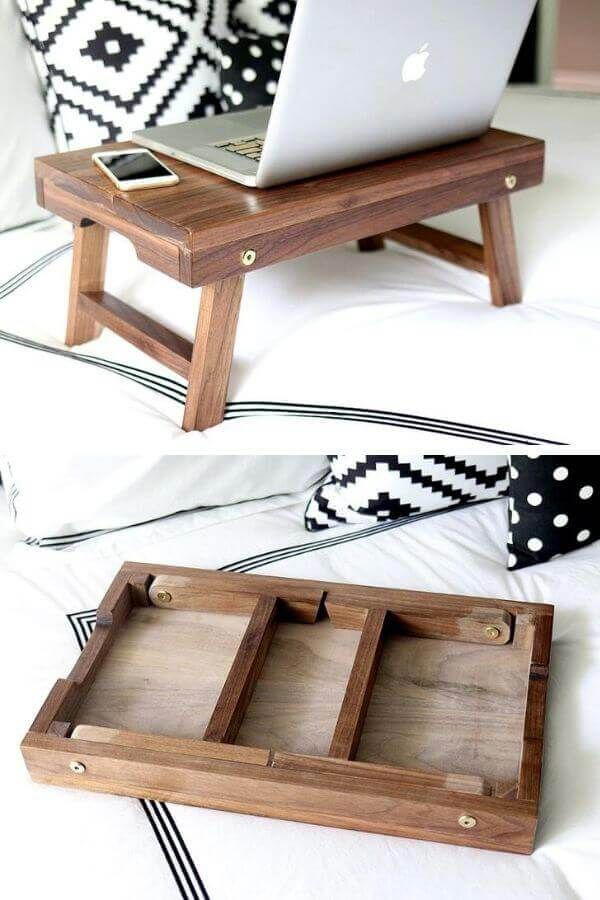 The laptop lap desk is a great project to get started with. It's quite simple and easy to make, not to mention it looks nice. You can use this as a side table or even as a mini-table if you're someone who uses their laptop in bed. This works excellently, too, whether you're writing an essay, surfing the web, or checking your Twitter feed.
This lap desk is a very simple project to make, as well as being a practical product that you can use in your life. It's also extremely cheap to make. You can find an old piece of wood for the side of the desk and make a place for the laptop on top. This isn't really that advanced of a project; in fact, it's rather simple and fun to do.
Project details: jenwoodhouse.com
Hanging Planter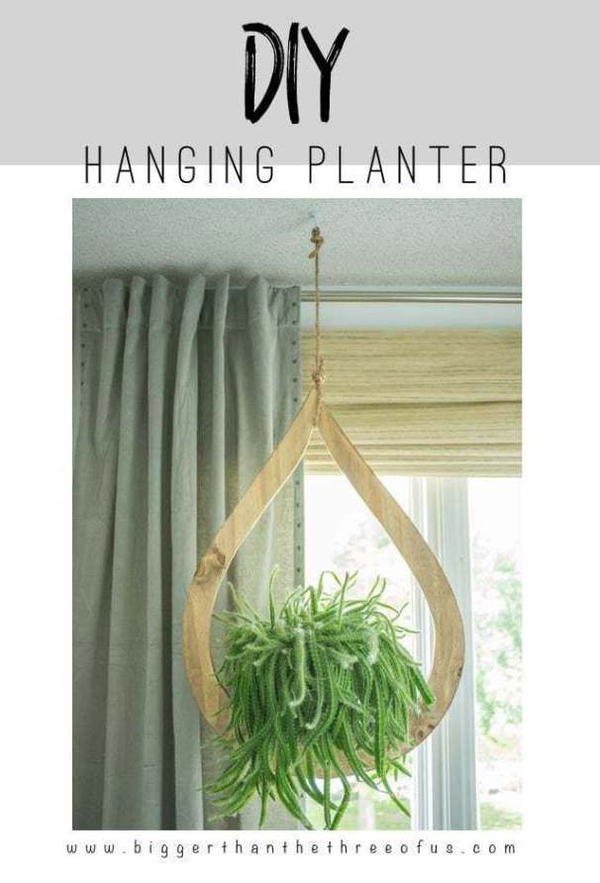 Are you looking for an affordable and original way to display your plants? Then this project is perfect for you! The planter hanger is made from wood and metal and will give your potted plants the perfect style. You should be able to make it in a few hours. This hanging planter project is easy and will cost you less than $20. All you need is wood, a saw, a hammer, adhesive, and some screws. Plant the seedling inside this planter, water it properly, and you'll have a gorgeous plant to display!
Project details: biggerthanthethreeofus.com
Candy Dispenser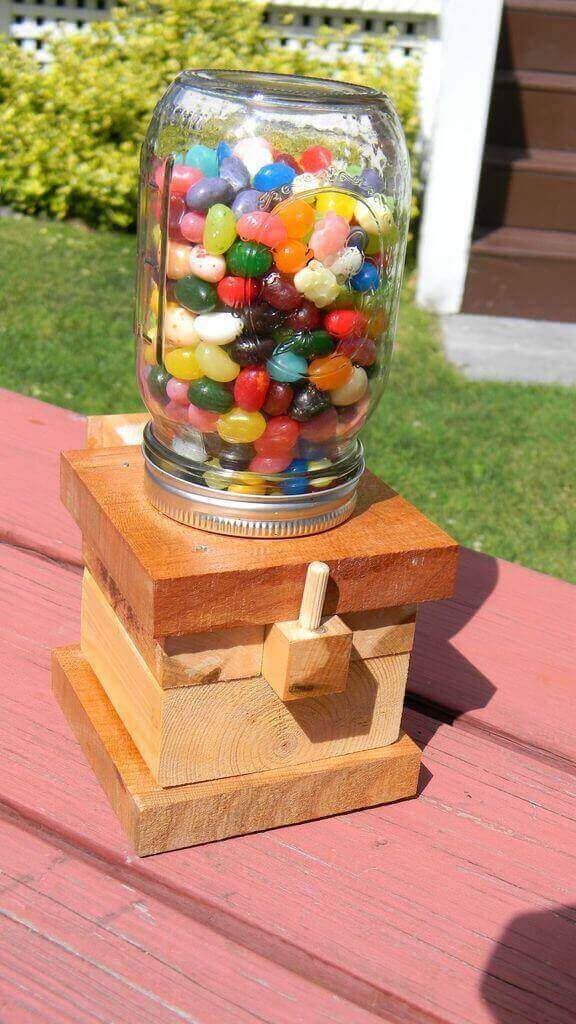 The Candy Dispenser is such a fun and great project to do for the whole family as you can use it for any type of candy. It's extremely easy to make and the instructions are easy to follow along with. With only a handful of tools, you will be all set in no time at all. Once you're done with this project, you will be able to eat one piece of candy after another until you reach the bottom. The best thing about this candy dispenser is that it doesn't have to sit on the floor. You could put it on your desk, kitchen counter, or anywhere else you want.
Project details: instructables.com
Wooden Stool
This is a wooden stool which is useful for many things. You could use it for when you're doing arts and crafts work or maybe just as extra seating at home. It also makes a cheap but very useful gift for someone's birthday or Christmas. This wooden stool is of a low height and can be used to reach higher levels. Furthermore, it can be used as a seat or an extra table. All you need to make this stool is a couple of pieces of wood, a little sawing and hammering, some paint if you want to make it look nice, etc...
Project details: addicted2decorating.com
DIY Media Box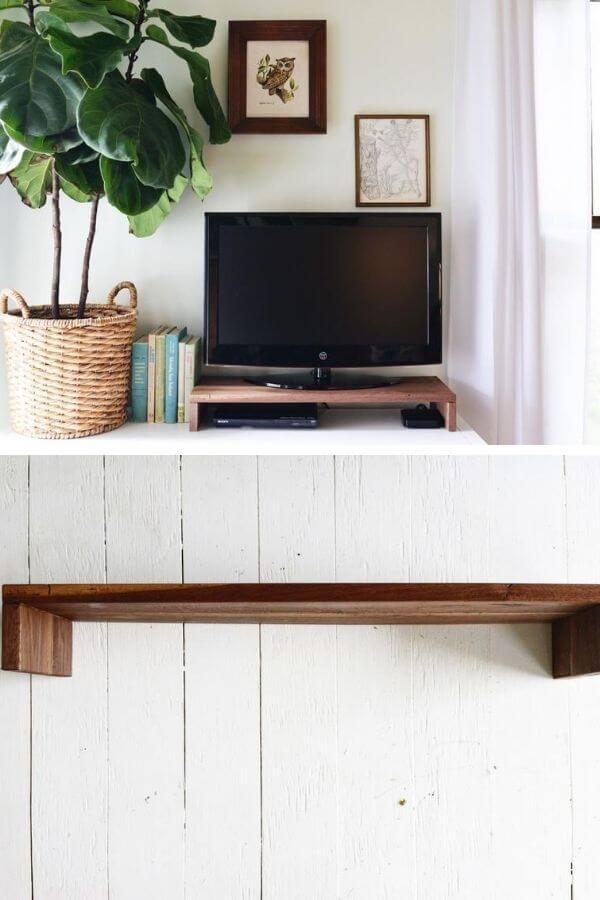 When it comes to home projects, this is one of the easiest ones you can do. You'll need a power drill, glue gun, and some patience to complete this project. With this media box, you are able to place your TV on top, and if you want, you can also place other media at the bottom. The DIY Media box is a great project for any woodworker to try. With a small number of materials and a little bit of effort, you can build a simple but impressive piece of furniture. By following these step-by-step instructions, you will be able to create your own media box in no time.
Project details: homedit.com
Wooden Tree Swing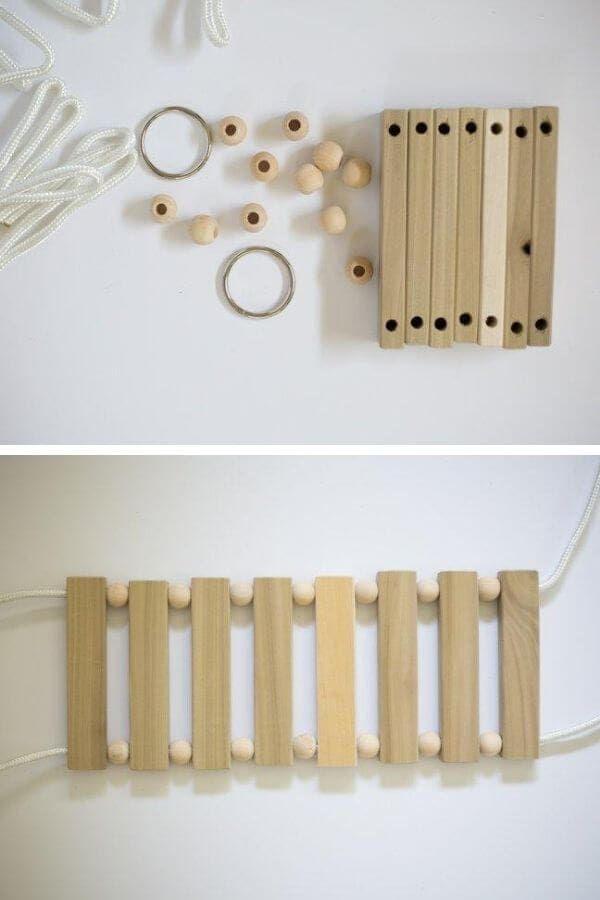 Cozy, safe, and easy to assemble, this swing offers the perfect retreat from modern stresses. With a sturdy wood frame and rope seats, it's just the thing for getting your back in shape, which will relieve stress on your back and joints. Enjoy hours of bliss as you take pleasure in the relaxing sway of your arboreal perch.
Simply hang your swing from a sturdy tree branch or other overhead structure, and enjoy hours of bliss. This beautifully crafted swing has a durable, solid wood frame and rope seats, making it cozy and safe for your children. And since assembling this swing is as easy as swinging on it, you'll have more time to enjoy its soothing sway.
Project details: momtastic.com
DIY Pet Bed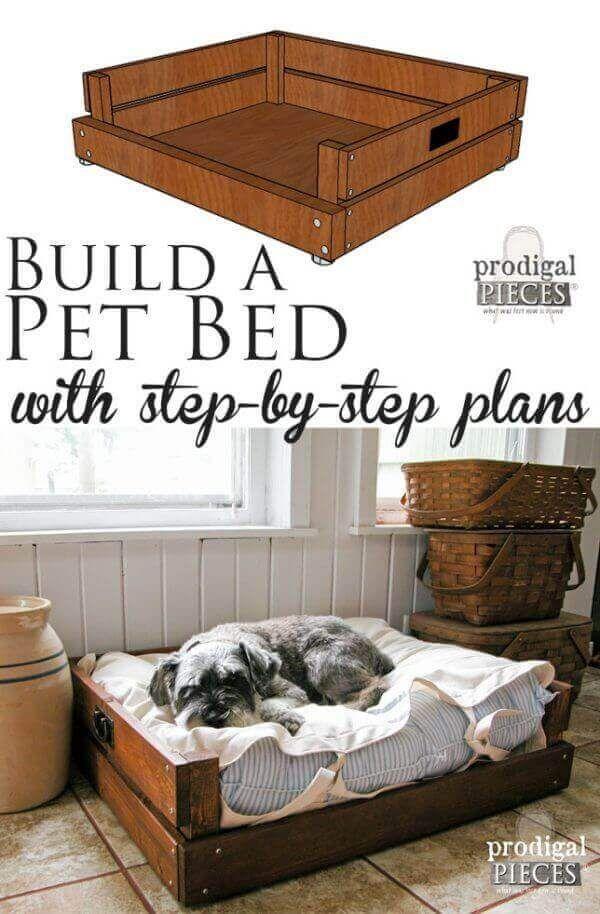 Are you getting bored with your old pet bed? Do you think it's time for a change? It doesn't really matter if you do or not, but if you want to change the comfy place for your pet, then why not try building one yourself? Don't you forget that the bed is the most important place for the dog? The dog needs a real cozy place where it can sleep. But most of all, the dog should feel safe and comfortable in its own bed. DIY pet beds are a great way to make a pet feel special for sure. If you want some exciting ideas for your pet's playing indoor or outdoor then our list of DIY cat trees will surely benefit you and your pet.
Project details: prodigalpieces.com
Desk Organizer
Populate your desk with this simple-to-make desk organizer. Perfect for storing phones, pencils, or other accessories that are all too easy to lose track of. Whether you just like to keep things neater on your desk, or are looking for a nice gift idea, it's sure to go down well. Everyone likes to keep their desk organized, but if you're like most of us, you can never seem to find a place for everything and everywhere. That's where this desk organizer comes in. Just take a quick look at this idea and learn how to build your own today! The shape of this desk organizer is inspired by our series of DIY keepsake box plans you can also follow it for more excellent projects.
Project details: thekimsixfix.com
Magazine Holder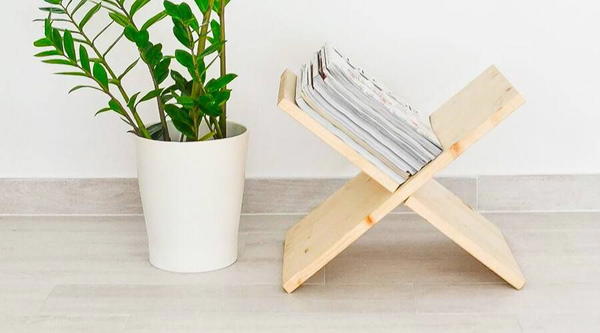 This wooden magazine holder can be made from one piece of wood and only the simplest of tools. It's easy to make and looks good, but more importantly, it's incredibly effective. The X-shape makes it ideal for magazines, but you can use it for other things as well including playing cards. Use this X-shape magazine holder to organize your piles of magazines. As you can see, it is made out of wood, and on top of it, you'll find ribbons that will hold your magazines on the place. However, do note that the product is supposed to stay inside your home, so avoid placing it outside or in places that are exposed to rain and other elements.
Project details: homedit.com
Wooden Address Number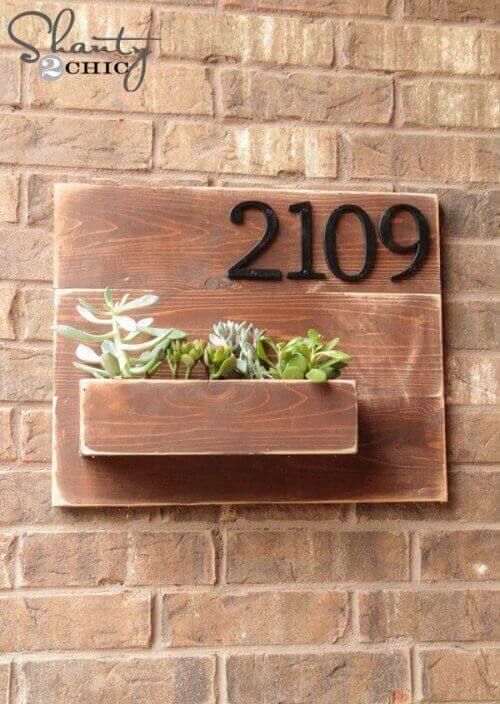 This address will make your home stand out in the neighborhood. Make your neighbors envious with this easy-to-make wooden address sign. Use the chart provided to cut the address numbers and letters from ½" thick wood. The numbers are outlined in red while the background is gray. The other two pictures show how you can place flowers next to the address sign to personalize it even more. Decorate your front door with this address sign. Made from high-quality wooden materials, this sign will last for a long time. It is perfect for your home or business.
Project details: shanty-2-chic.com
Wedding Wine Box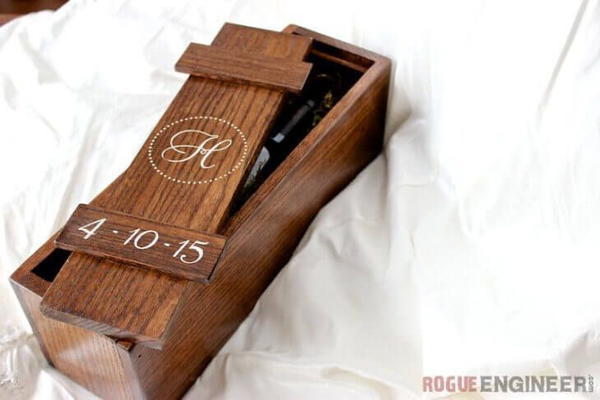 Wedding Wine Boxes are the perfect wedding present to give a couple. You're building the wine box yourself and they can be styled in any way you want. You can even write the date of the wedding onto the box, just like the picture shows. But, you can still be creative with it and style it in your own way. This wedding wine box is one of the most beautiful presents to give. You can style the box in any way you want because this box is intended to be used after the wedding and even by children. The design possibilities are endless.
Project details: rogueengineer.com
Bike Stand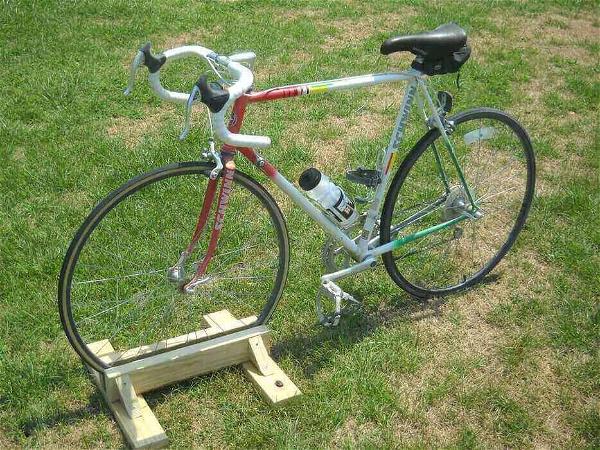 It is a common fact that your bike stands need special places to rest. You can't just put it anywhere, as there might not be supporting places where you can place your bike. Well, luckily you can make one yourself. This simple wooden bike stand will allow you to let your bicycle rest comfortably.
This DIY bike stand is simple and convenient to make. It provides a comfortable place to let your bike rest, or to store it in the garage if you live in an apartment. This project features all you need to know about how to make a bike stand, with links to the necessary tools and materials.
Project details: instructables.com
Tic Tac Toe Game DIY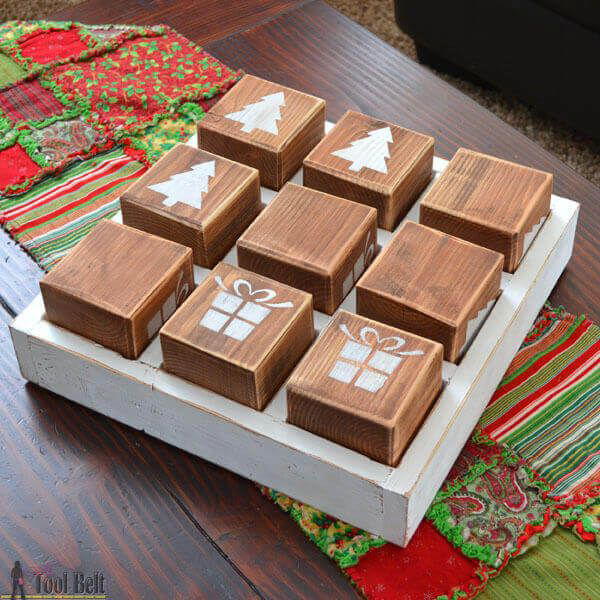 Build it big in the garden, or play indoors. This DIY game can be made from any wood you have to hand. It's a simple design, but lots of fun for kids and adults alike. We have a few suggestions for where to buy the parts and what kind of wood is best, but let your imagination run free and come up with your own design!
Be amazed at the creativity that you can harness with these wooden blocks. They look more like a pattern than a game, don't they? But once you go ahead and start creating, you will realize how easy it is to complete your masterpiece. It's a fun activity for kids of all ages. And playing Tic Tac Toe has never been so fun and creative before.
Project details: hertoolbelt.com
Wooden Bar Stools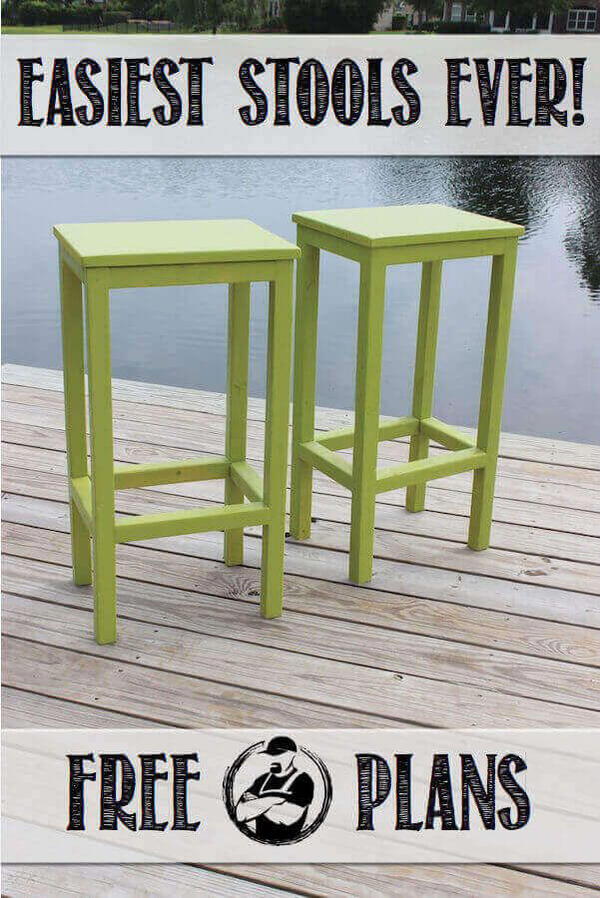 Outdoor bar stools are a great addition to your outdoor bar. These wooden bar stools come in a set of two, and each one has a footrest. They're made with weather-resistant wood, so they won't easily get damaged by the sun. Have you ever wanted to have a veranda with a saloon-style private bar in your backyard or home? Well, the wooden bar stools can be just what you need! The legs and backrest are made of sturdy wood.
Project details: rogueengineer.com
Wooden Christmas Tree
The Wooden Christmas Tree is a great way to decorate your home. You can make it on your own with different kinds of wood, or, you could use plywood. High durability and realistic colors are features that differentiate the Wooden Christmas Tree from other artificial trees.
Forget the expensive Christmas trees at the mall and save your money for presents! The cute wooden tree is all you need to increase the holiday spirit in every room of your house, be it the living room, kitchen or bedroom. The natural trunk looks great with any decor, while the white lights are not only easy to attach but they illuminate beautifully through the gaps in the trunk.
Project details: homedit.com
Metal Pipe Table
Dealing with metal pipes can be intimidating for some of you, but it doesn't have to be. By the time you finish this tutorial, you will understand how to work with metal pipes. This is a practical table that can show you what real woodworking projects are all about.
Woodworking can be quite rewarding, but it can also be quite challenging. This is why we've created this awesome Metal Pipe Table tutorial. It's not as intricate as it might appear at first sight, so you don't need to worry much about the process of building it. We'll show you how to build a sturdy and useful end table with detailed illustrations and explanations.
Project details: diyprojects.com
Magazine Storage Containers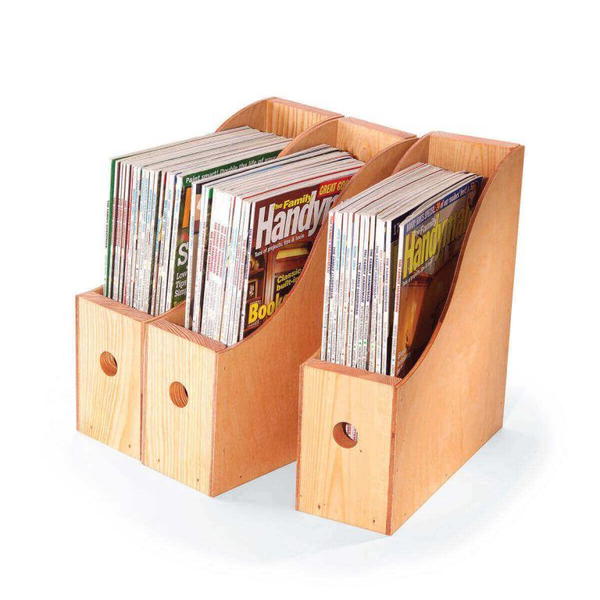 If you love to collect magazines but don't always have great ways of storing them, this project is perfect for you. It's a super easy and cheap way to make your own magazine storage containers. Your living room might have the biggest collection of magazines, or your kids' rooms need great storage ideas. You can use these magazine storage containers to solve your problem and keep magazines organized.
Everyone loves to read magazines, but often times they get tossed on a table and get ruined. Well, not anymore! These magazine storage containers are the perfect thing for every family. They're cheap and easy to make. You can display them on open shelves or hide them under tables. Either way, they're a great way to keep things organized.
Project details: familyhandyman.com
Wooden Sofa Sleeve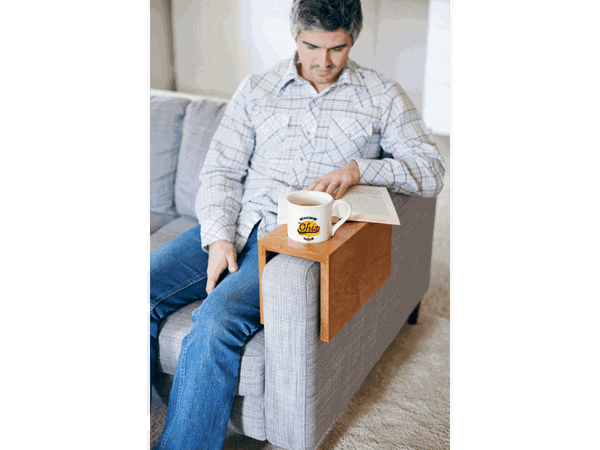 The sofa sleeve is a great way to limit your worries regarding the safety of your cup. You will be able to place it anywhere you want to, without worrying that it could create a hole in your furniture. It's a very simple DIY project that everyone can make on their own, regardless of their experience or their past projects. The specific measures needed for placing a cup might not be the same for other utensils, so you have to assess all of them before beginning the work. So, if you're looking for a simple project to start with, why not try out the wooden sofa sleeve? You may find it a lot easier than you expected.
Project details: abeautifulmess.com
Wooden Candle Holder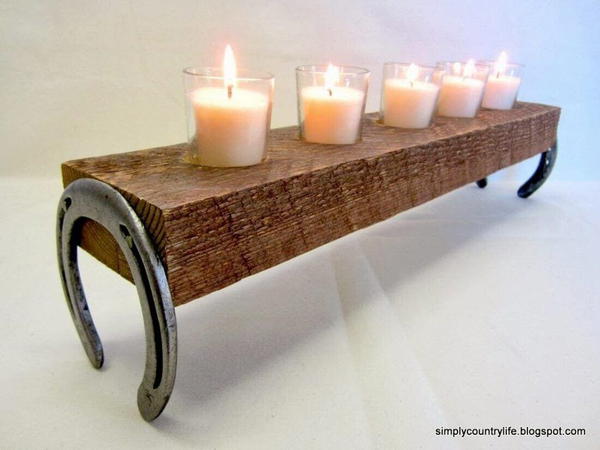 It's all in the details! This wooden candle holder will protect the wax from getting dropped on your table and leaving a mess. You need one piece of wood, a sharp and flat blade to cut along the sides. Drill 5 holes, and check if it fits the candle size you plan to use. Glue or screw it onto the wood. It can also be done without tools if you want a rustic look. Having a bunch of candles on your dinner table can be a hazard if they are not put inside this wooden candle holder. This item is made in such a way that it will protect the candles, as well as the dinner table, from spilling or dripping wax.
Project details: simplycountrylife.blogspot.com
Simple Wooden Bench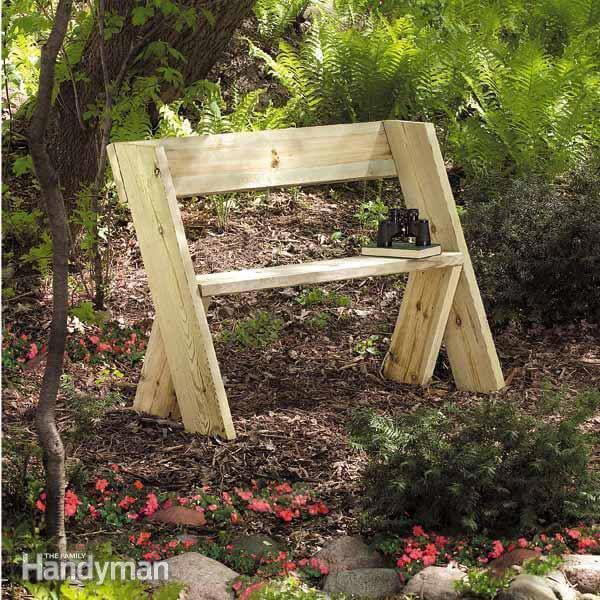 Are you thinking about building a nice wooden bench for your garden, shed, or home? If so, you should know that this project is very easy to make. You'll need to use lumber, screws, and basic tools. It's important to know the details of the plans beforehand so you can start from the beginning and finish the design properly wooden bench plans included here are some of the best from the web. They're detailed and easy to follow. Your bench will take, at most, a weekend to complete; all you need is a power drill and some screws to build a strong frame for your project. Get started now!.
Project details: familyhandyman.com
DIY Wooden IPad Dock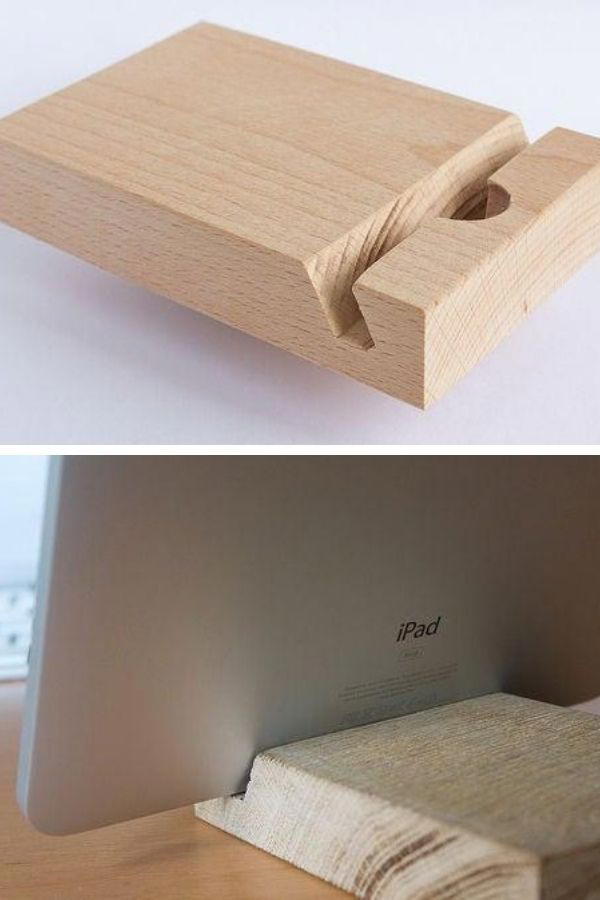 With an individual iPad and a dock, you can charge your iPad while it stays docked. So there goes the struggle of not being able to keep your iPad up in hand. You can find a lot of iPad accessories in the market today. These days, people use their iPads to do everything and that's why they need accessories. Why there's a high demand for iPad docks today? Well, the first reason is that the iPad is a very fragile device and if it falls, it will definitely break. That's why you need an iPad dock to keep your Apple tablet standing upright on your table or counter.
Project details: instructables.com
Wooden Beer Caddy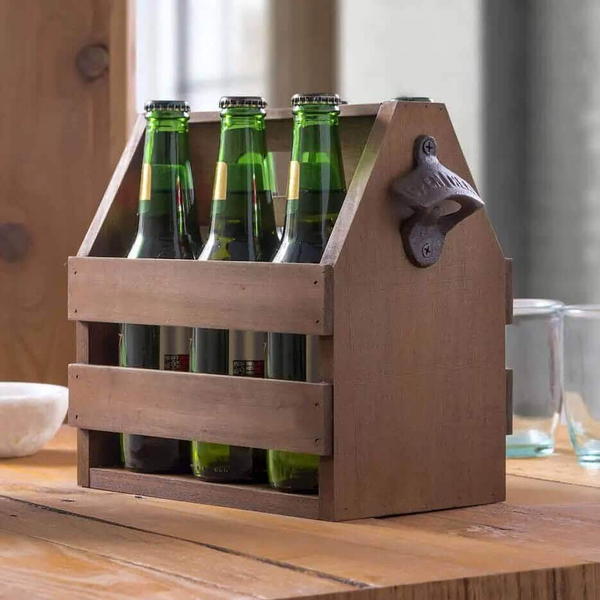 Ever wish there was an easy way to carry a whole six-pack of beer? Beer lovers would surely love a beverage caddy such as this. It comes in handy especially when they are going to cook in their backyards or at the beachfront. This beer caddy acts like a magnet and attracts everyone's attention- that's why it is worth making! This wooden beer caddy is a very simple craft project. If you want to make it, here are the wood pieces and supplies needed:
Project details: diycandy.com
Wall Wine Holder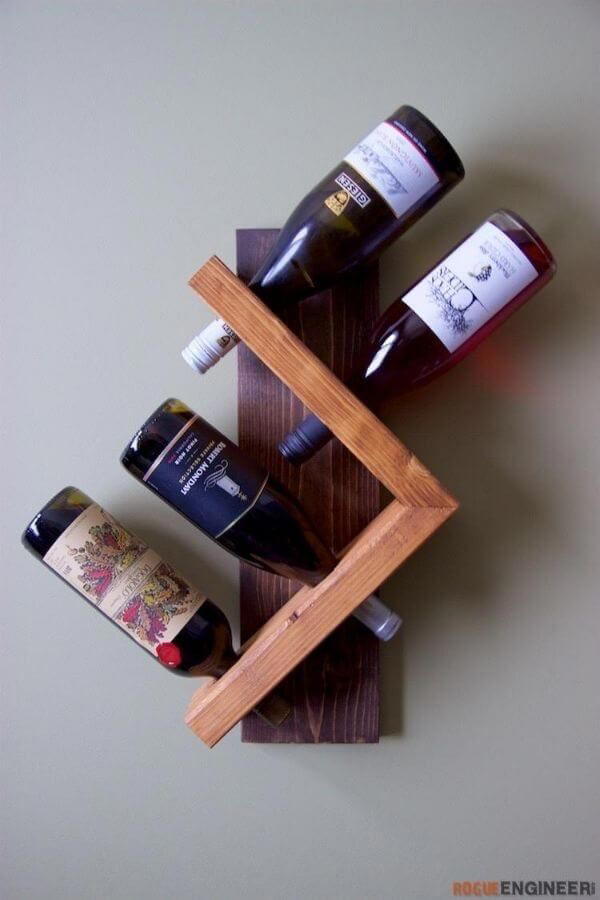 Homemade presents are always so much more thoughtful, and this wine holder is a perfect project to keep in your back pocket. It's as easy as building a brick wall and offers immediate satisfaction. Trying to find a creative way to display your wine collection? Attach this wooden wine rack on the wall, right next to your kitchen or dining table. It seems like an easy DIY project—you'll only need a few screws and pieces of wood, a miter saw, and some planning. Soon you'll have an awesome piece of decoration that will impress your guests.
Project details: rogueengineer.com
Modern Wall Clock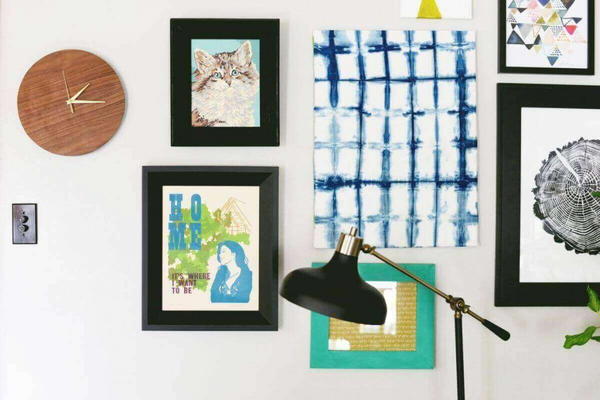 To decorate a wall at your party place, dining room, or office, you do not necessarily have to use an expensive handmade wall clock. You can make the most stylish piece of wall art yourself. Look at this photo and learn how to make the metallic modern wall clock on your own.
This is a modern wall clock you can decorate your bathroom with. It is easy to make it using everyday materials and a little DIY magic. Its sleek design and attractive color can easily fit into any interior without being too flashy. Take a look at the detailed instructions below to learn how to make one on your own.
Project details: homedit.com
Mudroom Bench To Shoe Storage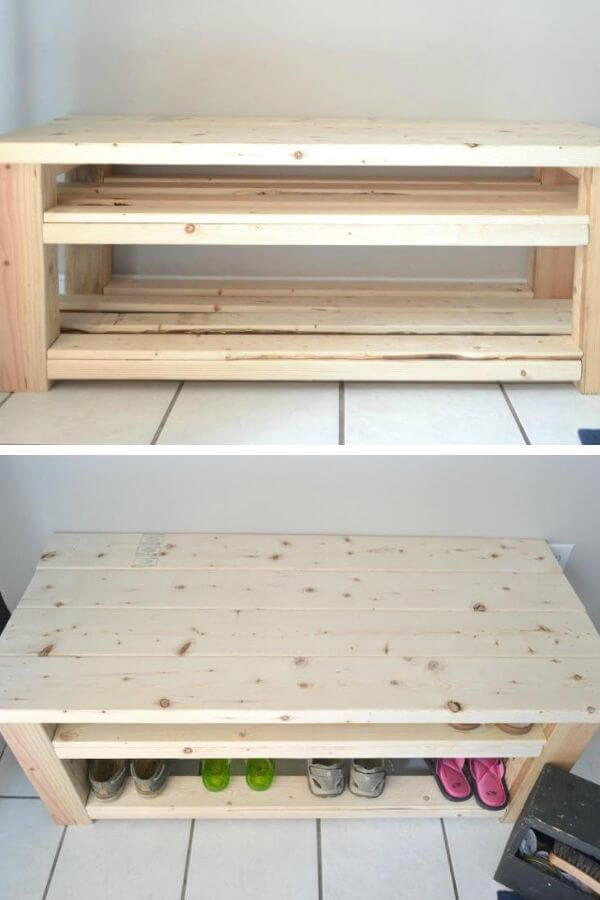 Build a mudroom bench to shoe storage and get that muddy foot mess off of your floor. The idea is that if you have mud and dirt on the shoes, they can be left outside. This is perfect for mud season or areas that are prone to slushy or cold conditions in the winter. Create a place to store shoes and boots so that people do not track mud into your house. Build a shoe bench with these instructions and get organized!
Project details: buildsomething.com
Desk Lamp
It's always difficult to find a good desk lamp. You need one that's well-made, cheap, and it must always light up what you're working on. If you're sick of your old lamp and want to replace it with some handmade one, this could be a good last-minute DIY project for you. Just keep in mind that, due to multiple reasons, it might not be the most stable lamp out there. This lamp might be the smallest of my lamps. It's made of the same parts as the larger desk lamp, but the pieces are just smaller.
Project details: homedit.com
Farmhouse Desk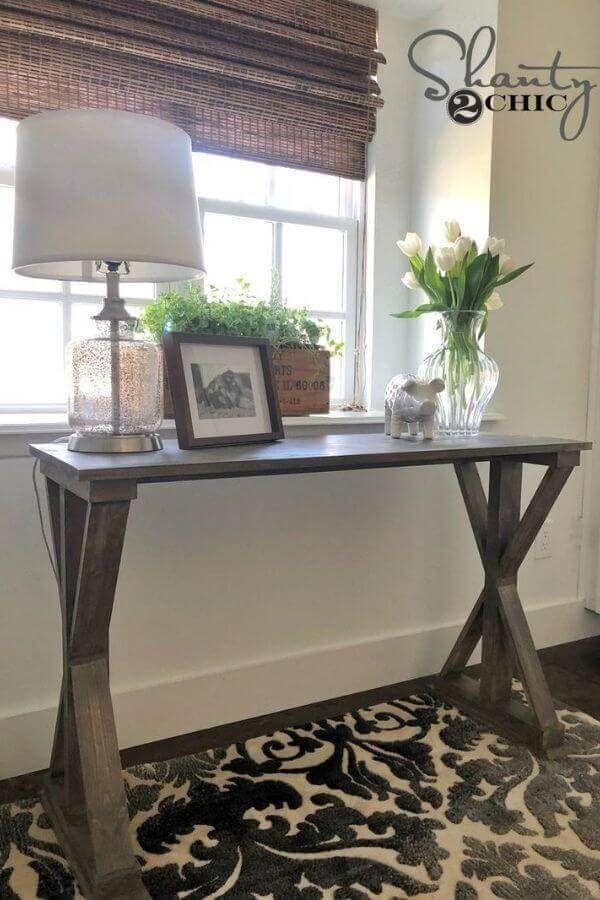 Farmhouse desks are often a centerpiece in the living room. You can find one that really fits you, or make one by yourself. This Desk is perfectly suited for any room. The beauty of this piece lies in its simplicity and functionality, so you can make it as elegant or casual as you wish. Its personality will be determined by individual pieces used to create the whole, making every piece unique! Please share your creations with us!
Farmhouse "X''' shaped desk is a pretty compact piece of furniture, perfect for storing books and other office supplies. It can easily fit into a corner of the room, and even though it is small, it's still exceptionally pretty. The idea was that the desk will be kept in a bedroom, as an additional storage spot.
Project details: shanty-2-chic.com
Wooden Picture Frame
A wooden picture frame is a beautiful and useful home project! Frame pictures and display them anywhere in your home. Even if you're not a professional woodworker, you can still make a wooden picture frame with simple steps. The completed frame will display the photo of your loved one and add personality to your room while providing a wonderful decorative facet.
When we're making a wooden picture frame, there are some important points to be considered. To make sure that the wooden picture frames are the best one, you need to decide first what pictures will be put into it and how many. You should consider what tools are needed for the project and how much time you may spend on it. Then start making a wooden picture frame by choosing one of its patterns.
Project details: instructables.com
Quick And Quirky Candleholder
Set a romantic mood for your home with this unique candleholder. This is an affordable craft project that can be made in no time! Materials needed: Wood of your choice (polished, sanded, and cleaned), Drawings of the candle holder (however you like it!)  candles, and a drill. After choosing the desired wood piece, you are all set to get your hands dirty! Drill holes into the wood and make sure not to drill in the wrong place. Now you have a nice candle holder for a romantic candlelit dinner!
Project details: somewhatsimple.com
Bistro Table Building Plan
Are you tired of having to use an ugly plastic table when all you want is to have a meal outside with your family and friends? With this simple and straightforward design, any beginner can build a bistro table that can tag along your picnic trip. Bistro table is a unique project that you can build during your weekend brunch. It is a super easy task for any beginner, and after finishing this cute little table, you will surely want to build more of these.
Building a bistro table is a super easy task for any beginner, and it will only take hours for you to finish. The tutorial comes with step-by-step instructions that are easy to understand, and all the tools are required are included in the materials list. Anyone can do this project from start to finish. Whether you're looking to hone your skills or simply make something for your own home or garden, we guarantee that this is a very handy little table that is waiting for you!
Project details: theshabbycreekcottage.com
A Modern DIY Bathroom Organizer (With Mirror)
Planning a bathroom renovation on a small budget? or just looking to add some extra storage to your bathroom? Here is the perfect DIY Bathroom Organizer (With Mirror) you have been looking for. No need to pay over $75 at the store. Everything you need to do this yourself is on a printable cutting diagram. This is a great project if you have some basic skills, don't be intimidated by the process. Supplies are very common and not expensive at all, plan and measure beforehand then set out and make it happen.
Project details: papernstitchblog.com
DIY Wood Box Centerpiece
Your house is much more beautiful with a little cute and space-saving centerpiece, displaying decorative items and flowers. If you want to get this cute and pleasant decoration, you need to prepare some wood pieces, a saw, drills, a tape measure, white paint, and glue. This is the process of making the centerpiece. It will take some time, but the result is really amazing. Turning this idea into actuality is simple, requiring only some wood pieces, a saw, drills, a tape measure, and some white paint to look great on your coffee table or any other piece of furniture.
Project details: lovegrowswild.com
DIY Beer Tote
If you love to have a good time with friends, making this DIY Beer Tote is a must. It is so easy and inexpensive that it will take you no more than half a day to finish one. The oak boards and handles are ready, now all you need to do is put them together with screws and all the tools that you need for woodworking. Put up your drinks for everyone!
With all the materials needed, you will have the chance to create your own beer tote at home! You just need to gather up and see what you can use. Making a DIY beer tote increases the possibility of saving money over buying one of them.
Project details: rogueengineer.com
DIY Copper Pipe And Wood Slice Side Table
Your morning coffee is right at your fingertips with this simple design. It's not only perfect for a bedroom, but it is also the perfect piece for an office or college dorm room since it sits below eye level on most desks. Grab a drill, some copper pipe, and a few other supplies, and then it's all about basic construction for this DIY project. This table definitely looks like more work than it is!
You are going to love how easy it is to make this table. The wood slice is definitely strong and sturdy, but the copper pipe really makes this table stand out. Make sure that you have all of the tools before you get started. You will also want to drill a hole in your wood slice prior to attaching everything together.
Project details: https://fallfordiy.com
Simple Chair With 2x4s
Do you have an apartment with a small living room, but you desperately need a place to sit? Then make yourself this handy chai. The chair is perfect for a small apartment or someone looking to get started in carpentry. This simple chair can be built in about two hours and is ideal for those who do not have much experience with woodworking. It also has many design options if you are more advanced! With these few materials, you can build your own chair without the hassle of expensive and wasteful packaging. We have provided all that you might need but are vaguely advised to add more weight and support.
Project details: morelikehome.net
Entryway Update
Change the way you deal with adding extra space to your home. You don't need to drive yourself crazy by finding out how to make an entryway or a coat rack. An entryway update doesn't have to be expensive. There are plenty of ways to redecorate and show off your personal style around your front door. Here are a few ideas that are simple and fun, like the oak coat rack made from boards with holes drilled in them, or the inexpensive way to clean up your mailbox by adding a wreath for decoration. Such a functional piece is taking an ordinary entryway to another level. Get your drill, oak boards, and make one today!.
Project details: loveandrenovations.com
DIY Bookshelf Ledges For The Nursery
If you are planning to build a bookshelf for your kids, you certainly need some more space for their books. And the solution is simple – just put some ledges on the walls to be used as a storage rack! It would not take so much time for you to find various DIY projects about adding shelves in an entryway or making a cute coat rack with pipes and wooden boards.
But if you want to make some simple and adorable ledges for your kids' books, this step-by-step tutorial is just what you are looking for! or Do you have a lot of books/small toys/somewhat important documents? Are you fed up with buying new bookshelves every so often? Are you just looking for ideas on how to efficiently arrange your belongings? Look no further! This guidebook will provide you with the simplest solution for the clutter around your home, and it's easy enough even for children to make one. Best of all: you'll learn some math along the way!
Project details: theturquoisehome.com
DIY Hammock Stand
This DIY Hammock Stand is very easy to make one of the best things about this stand is that it can easily be customized to fit your needs and requirements. The package comes with one DIY Hammock Stand and a set of clamping bolts, so you can have yourself a hammock in no time!
If you love lounging in a hammock, then you might want to consider making yourself a stand for your local tree. Having a place of your own will ensure that you can have a peaceful place to relax any time you need it. Building your own stand is easy, but only if you know where to start. Here's how!
Project details: kellyleighcreates.com
Easy DIY Earring Stand
If you are wondering why you should make this DIY earring stand, we can give you several reasons. The first one is the fact that by making it you will spend an hour of your spare time creating something beautiful. Secondly, this stand can be used in two different ways: vertically or horizontally. That means if you do not have enough space for a large stand, you can use this idea and make a miniature one instead. Third, and finally, as we said before, this project is easy to execute so even children and elderly people can try it. Even if you are not a DIY enthusiast, making an earring stand is not a very hard thing to do.
Project details: housefulofhandmade.com
DIY Floating Shelves
Make your space multifunctional with a DIY project that is easy to make and affordable. Diy floating shelves are one of the best laundry room shelves you could have ever imagined. How to set it up as step-by-step? Let's just stick to the guide and search for the perfect DIY materials on your local yardage. The job of a DIY floating shelf is not complicated – however, being skilled enough for the first try is important. Here are some useful tips on how to install a floating shelf.
Project details: fourgenerationsoneroof.com
Sofa Side Table
Nowadays, it is quite difficult to find suitable storage for you because the limited sheds or cabinets are not enough to store things into. Then, a DIY side table is your only choice for you to get extra storage for your family. It sounds strange that how can furniture be as a side table, so it turns my desk into a side table which has many functions like desk, drawer, and cupboard. To make your folding desk like a sofa side table, you will need four wooden boards (the piece of the table and a piece of the leg), L brackets, screws, and nails.
Project details: keepingitsimplecrafts.com
Hello Bathroom Drawer Cabinet
Do you have extra closet space to store bathroom items? Or do you need to tidy up your home, but don't want something bulky or expensive to do? A bathroom drawer cabinet is a wonderful piece of furniture to keep your house more organized, and you can reuse your old drawer to make one. Clean your drawer well and dry it thoroughly. Then, clean the whole drawer with some glass cleaner, such as Windex. After that take space from your bathroom clutter! This beautiful bathroom drawer cabinet will make your life easier, and give you an organized bathroom.
Project details: theboldabode.com
DIY Wooden Wall Planter
Do you know what is perfect for bringing nature to your home? A wooden wall planter! Even those who are not into crafting and painting will be impressed with the result and the price of this DIY project. First, get or make a wooden pallet, give it a fresh touch with paint and then do some creative decorating to create an original work of art. A perfect way to add a decorative accent to your house at a very low cost. Perfect for both beginners and advanced woodworkers. But this is not just a planter! With a few wooden boxes and some screws, you can make your house appear vibrant and renewing. Even if you don't have a green thumb, it's now easier than ever to add plants to an indoor or outdoor space!
Project details: sarahjoyblog.com
Build A Bench
That's a really low-cost and straightforward way to make a bench with a little bit of wood. If you have some timber that you were planning to throw out or some free pallets, this project will be the perfect opportunity to get something done with them. It makes a good place for kids to sit down and rest their toys, clothes, or other things, while they are playing in the hallway or in the garden. The most difficult part is choosing placements of parts; otherwise, it's just a few saw cuts and clamping them together – how easy is that?
Project details: grillo-designs.com
DIY Wood Arrows
Are you a DIY enthusiast? If so, we've got an excellent product concerning DIY wood arrows. In order to make wood arrows, you will only need wood arrow shafts and various kinds of incised arrowheads. That's it! We will guide you step by step with every detail to ensure that you create some pretty great DIY wood arrows. Don't delay the creative process any longer, grab a miter saw now and cut your own DIY Wooden Arrows! It's rather simple to make your very own with these detailed woodworking plans.
Project details: 100things2do.ca
DIY Produce Stand
With the right materials and a few hours, you can build a customized produce stand. This stand can be created with several wood pieces, small boxes, finishing nails, and screws. Your produce stand will store fruits and vegetables, and any other small products in an organized fashion to prepare for sales. Keep your fruits and veggies, along with other small items or condiments fresh, with a DIY produce stand. The shelves keep everything easily visible and in reach when you're on the go or around the kitchen.
Project details: overthebigmoon.com
Cornhole Game
Build your own Cornhole game by purchasing the boards with personalized names. The woodblocks are guaranteed to last as they are made of top-quality wood and plywood. Find a piece of beautiful craft paper, such as flag banners, sports banners, and team banners, to print customized names on these boards; ensure easy orientation on any side of the board. Add more fun to your Cornhole game right away! The perfect gift for your significant other, or yourself, our two cornhole boards will last a lifetime. 100% wood and extremely beautiful, they can even be customized with an engraving of your choice. Place them outside on a warm summer night, listen to your favorite music, and drink a cool glass of lemonade. It doesn't get much better than this.
Project details: overthebigmoon.com
Industrial Wood Coffee Table
This attractive coffee table is just the thing for your living room. Constructed from solid wood, the top surface is covered with a sheet of tempered glass. Adding a unique touch, the frame of the table resembles a fish tank. To assemble, prepare wood boards and screws, wood glue, and polycrylic water-based finish. The Industrial Wood Coffee Table is a great idea to increase the look of your home. This coffee table is ideal for any décor and any room you have in your house. It could be painted, stained, or finished and it will fit with every design creating a harmonious interior. The Industrial Wood Coffee Table can be of great use in any room of your house and you will surely enjoy it.
Project details: littlehouseoffour.com
DIY House Shaped Business Card Holder
Want a creative and modern way to hold your business cards? You're in luck! The DIY House Shaped Business Card Holder is simple yet surprisingly sturdy due to its super strong glue that takes a while to show signs of separation. It's made of only solid wood pieces, making it easier to grab whatever scrap wood is lying around, which is great because you can use these for presents at home as well as for business. Add some decorative flair to your office with the DIY House Card Holder. This easy and fun DIY project can be completed in about an hour. No experience required!
Project details: woodshopdiaries.com
A Few Simple Boxes
Moving is hard, packing is easy. And nothing is better for packing than a box. But which box should you use, and how do you put it together? Enter this tutorial. Plain brown cardboard boxes, the type available at any store and many print shops, can be used to pack just about anything. Their only drawback is they aren't the most attractive things in the world (and they're definitely the most unattractive when they're empty).
That's why wrapping them in fabric, paper or other decorative materials can be liberating: You can brighten up your home without spending a ton of cash or breaking your back dragging fancy furniture in and out of your place. But not all boxes are created equal: The best packaging for your items depends on their size and what shape they're going to need to be when you get them where you want them. See if any of these will work for you.
Project details: instructables.com
DIY Upholstered X-Bench
Have you ever been unsatisfied with the upholstery of your chairs or benches at home due to their lack of adequate comfort? Here is a DIY X-bench for you to upholster by yourself. The cost is almost nothing since you only need to use materials from your home and other common woodworking tools. This X-bench is simple and easy, yet extremely comfortable and solid once it is done. Woodworking is not so difficult, and this upholstered X-bench is a nice furniture project for beginners. Here are some DIY steps to make your own X-bench in your bedroom with homemade materials.
Project details: anikasdiylife.com
DIY Holder For Wine Bottle And Glasses
Have you ever been troubled by how to carry the wine bottle and several wine glasses around? Can't you just use a stool and hold them up with it? But this is heavy that causes trouble walking. At this moment, think of making a holder for them. The holder is sure to save you from laboriously filling up your hands with several wine glasses. Let's try! Wine is a pleasant drink and hardly ever fails to bring a smile to the faces of many people.
What's more, it can be enjoyed during meals, buffets, parties or even just in the afternoon break in the office. However, a bottle of wine might be too heavy to carry alone and four wine glasses can be very annoying to carry as well, no matter how you choose to do it. Therefore, this DIY Holder For Wine Bottle And Glasses can come in really handy as it will not only hold four glasses but also one wine bottle making your job much easier
Project details: downhomeinspiration.com
DIY Wood Tray
Tired of ordinary, boring trays? This DIY wood tray is the perfect creative outlet for those looking to add a bit of personality to their space. Whether you want to create a unique gift for someone or just want an extra something around your home, this is the DIY for you! Getting the project done does not necessarily require a lot of skill, but there are a few things you need to remember for maximizing the outcome. The first thing is about the wood selected. The wood needs to be strong enough to hold the necessary items without cracking or breaking under moderate pressure. In addition, in choosing the best wood, it should not have any flaws that can lead to damage when water gets spilled on it.
Project details: ourhomemadeeasy.com
DIY Build A Workbench With Wheels
You will see this workbench in many workshops, home workshops, garages, or anywhere you need a workbench! It offers great versatility, as it comes when disassembled, with wheels included to allow you to move it around whenever you want. Take your workshop to the next level by building a little cart that allows you to easily move your tools and materials around. This makes the perfect gift for Father's Day and any DIY enthusiast out there. Now we are going to get much more in-depth with this and by the end, you're really going to have a built and great looking workbench that looks like it came out of a woodworking magazine.
Project details: homemadebycarmona.com
DIY Build A Picture Shelf
Don't you ever get tired of looking at the same old photos and trinkets on your walls? A Picture Shelf adds new life to your home, with a unique chance to showcase your household's most beloved items. This project is for any woodworker that likes a challenge and has some basic woodworking skills. Imagine what you can do with wood. Woodworking projects range from simple to complex. Woodworking is a hobby you can enjoy all year long, no matter what season it is or what time of day it is. The process of woodworking is not only a fun pastime but also an educational way to pass the time and get some good old-fashioned entertainment.
Project details: twofeetfirst.net
Corbel Sconce Lights For Bedroom
Corbel sconce lights are placed on each side of your bed and create a dramatic effect on the room, you can use it as a useful tool for setting up a romantic mood. You may also select other related decorative materials to match with your house interiors such as painting and carpet. Knowing a bedroom with a wonderful and warm atmosphere can surely bring tranquility to your mind! But do you know how to go about it? You've been reading some ideas in home improvement magazines, but you are not quite sure if they are right for your home. Well, if this is the case, why don't you try installing two Corbel Sconce Lights For the Bedroom on both sides of your bed frame?
Project details: dwellinginhappiness.com
DIY Stacking Storage Cubbies
Perfect for storing away stuffed animals, toys, and books - our DIY stacking storage cubbies are a unique and whimsical way to keep your child's room looking neat. The set includes photo instructions, a materials list, and a cut list to create the desired amount of cubbies. Storing toys, stuffed animals, and other items in bins can get messy. But with DIY Stacking Storage Cubbies, you can create a spot for your kid's favorite toys to look neat again!
Project details: prettyhandygirl.com
Modern Tablet Or Cookbook Stand
Cooking can become a unique experience with the use of a cookbook stand. Constructed from wood, this stand includes some qualities which make it stand out from other cookbook stands. Mostly, all stands do not give the possibility to rotate the cookbook or tablet. However, this book stand manages to do so in every way possible. With its rubberized bottom, your electronic devices and/or books are safe against any burns or damages. A very useful addition to your kitchen, don't you think so? A simple way to make a wooden cookbook stand looks great, it is useful, as well as an excellent decor piece. There is nothing more frustrating than trying to follow a recipe and have it turn out wrong. That's why you need to have a tablet or cookbook stand nearby! Here's a simple-to-make clip that makes any tablet, phone, or cookbook work as one.
Project details: hgtv.com
DIY Bathroom Vanity
A bathroom vanity is an essential part of any bathroom, as it provides space to store bathroom accessories such as toothbrushes and cosmetics while transforming your bathroom into a more elegant look with clean lines. More than that, it's also a visual divider between your bathroom counter and the rest of your bathroom space. Diy bathroom vanity is a relatively simple project of renovating and remodeling your bathroom.
You need to have basic knowledge about bathroom renovation, know about the budget and time, prepare all necessary tools and accessories, hire a professional contractor, and so on. Having these basic knowledge, tools, accessories, and knowing a great contractor must be enough for you if you want to renovate your bathroom by yourself. Having clear information about the design of your new bathroom vanity would be a great help before starting the project. Because choice is always important during the process of renovating and remodeling anything at home.
Project details: angelamariemade.com
Tiny Wooden USB Driver
You surely know that USBs are small rectangular devices used to wirelessly transmit data. The design of a USB is standardized by the USB Implementers Forum, and most USBs have an exposed housing made of plastic, which looks rather boring. You can easily make your own wooden cover, and customize it in a decorative or innovative way. You can either use your wooden cover as a replacement for the USB housing of one broken flash drive, or you can take it as a branch from your favorite piece of wood to create something new. Make a round wooden cap or an interesting inlay - the ways of combining several smaller pieces of wood are endless. Whatever you choose, we wish you lots of fun and creative work!
Project details: instructables.com
 DIY Bar Cart
A Bar Cart is a must-have piece of furniture in a contemporary home. It goes well with any table, dresser, or bookshelf and adds instant style to your place. Make this jaw-dropping piece for your home or for your next DIY project. With all the necessary measurements and easy tips, you'll be surprised how this bar cart comes together easily. A handyman can build a DIY bar cart with old wood and some tools, though a lot of time is spent on attaching pieces to ensure that your frame will be strong and sturdy. If you are eager, start making this small but functional piece of furniture today.
Project details: angelamariemade.com
Rope Swing
A rope swing is surely a wonderful add-on to your kids' playground, so why not make one for your children? With no tools and only a few pieces of wood, you can build this classic wooden rope swing. Cut the wood to size, drill a hole and tie it to 2 sturdy trees. Then, use a carabiner to secure the other end of the rope onto the tree and you're done! A high-quality natural rope adds character to this swing and makes it feel more like the real thing. Rope swinging can easily become a dangerous habit, however. A homemade playground swing tethering your kids to an unreliable surface is definitely not an option, so why not make your own?!
Project details: dukesandduchesses.com
Rustic Wood Plank DIY Clock
This rustic wood plank DIY clock is a simple and straightforward way to add an old-fashioned touch to your home or office. You can easily mount it on the wall, just as with any other modern clock, and enjoy the perfect blend of vintage and modern design. The clock features an easy-to-operate set of hands that are designed to move smoothly and silently through the day for many years. This should be an ideal clock for those who want something different. This easy-to-build DIY clock is just so simple and inexpensive. It makes an impressive addition to any living room.
Project details: makingitinthemountains.com
Bath Tray With Book Rest
The Bath Tray with a Book Rest is the perfect addition to your bathroom when soaking in a hot bathtub. It allows you to relax and read in comfort, adds extra storage space for your bathroom essentials, and is a convenient platform for placing decorative soaps and candles. Our book rest has the added feature of a magazine rack so that you can enjoy reading more while relaxing on your bath tray! You will get a very simple compartmentalized tray, which is situated higher than the sit-in part where your bum is. It has lovely wood grain, but not lacquered – so as to not interfere with any wetness in the bathroom.
Project details: huntandhost.net
Small X End Table + Free Plans
Looking for a useful, stable, and cute table to store all your accessories? You may have come to the right place. This Small X Table is both stable and functional, with its height-adjustable top which is ideal for placing a drink or an ice cream on! This X end table is a great way to add storage space and display items in your living room. The large top surface provides ample space to display framed pictures, small candles, coffee, or books. Simultaneously, small containers with magazines and newspapers can be neatly stored inside. Nostalgic as it is functional, this table provides a small but stable surface that can fit anywhere in your apartment. Use the free plans to build one for yourself!
Project details: shadesofblueinteriors.com
DIY Accessory Holder/Charging Station
Scrap wood can turn into a brilliant and useful piece of furniture in just a few hours with some woodworking tools. DIY your own accessory holder/charging station to hold your smartphone, tablet, or e-reader using your smartphone as the camera and video recorder. After this tutorial, you will be able to make as many as you want in any size you wish. When you get home and want to relax, you don't have to worry about your smartphone anymore. Put it in this DIY holder out of scrap wood and watch your favorite shows without holding your phone. Great for use at home and work, as you can charge your phone overnight.
Project details: fwmadebycarli.com
Outdoor Rolling Cart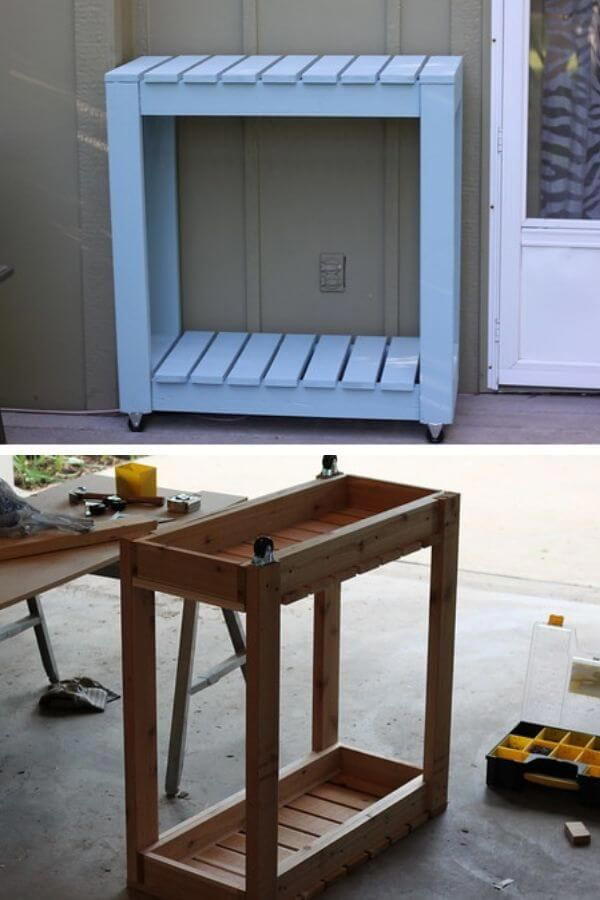 If you have limited space and looking for storage areas, why not try this Outdoor Rolling Cart? It is exceptionally functional for those with limited space and looking for storage areas. If you love gardening, crafting, or just simply adore your pets, then a storage cart is something that you need to have. A rolling storage cart gives you more than an extra storage space – it increases comfort when doing the job. It's so easy to move around while having things on it and the most exciting thing is that you can walk even if it is full. For outdoor enthusiasts, you know how important it is to store your equipment safely.
Project details: anythingpretty.com
DIY Modern Desk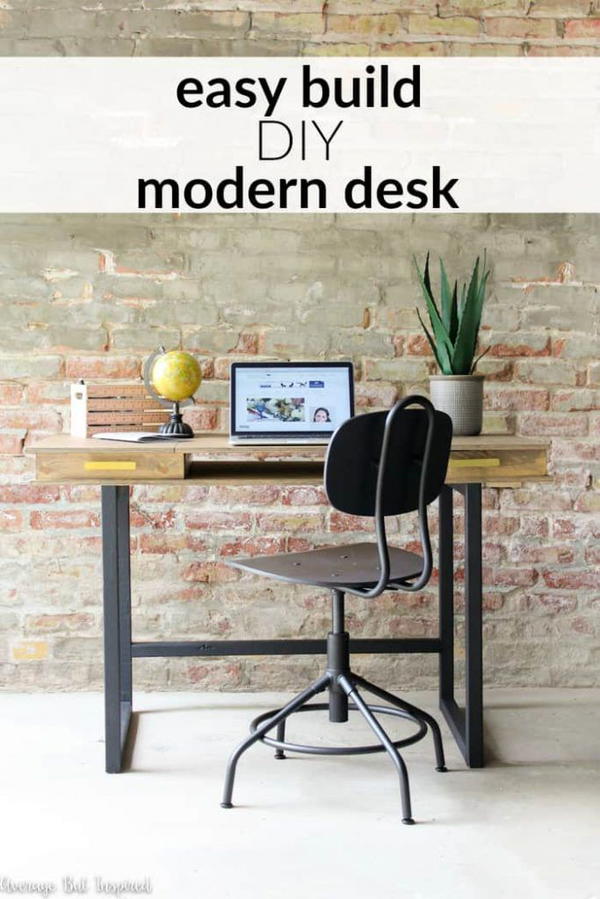 Create an inspired workspace at home with this DIY modern desk. Featuring storage, a functional desktop, and an open design, it will add style to your living space while making more space to work and play. The DIY project is easy to follow, thanks to full step-by-step instructions with clear photos and illustrations. Follow the sequence of building the deck base and tabletop, then add your own style with paint or stain for a personalized look. DIY doesn't have to mean hours of hard labor! With a little time and the right supplies, this modern desk will add a sleek touch to your home office or living space. It's perfect for holding any kind of laptop or desktop computer.
Project details: averageinspired.com
Simple Woodworking Storage Project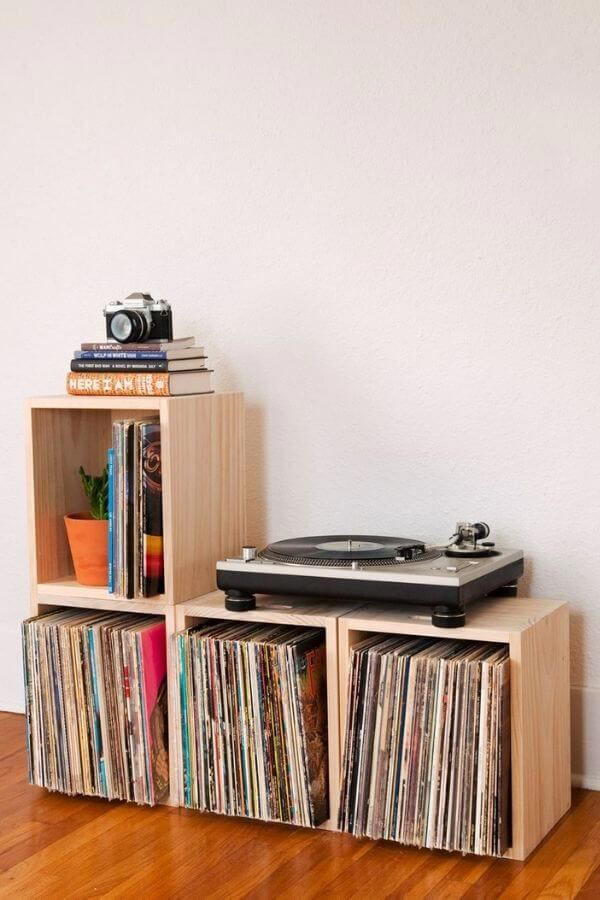 Some people like to save their old albums, pictures, or even videotapes for the memories they hold. But some people don't have enough room for this kind of stuff in their rooms, especially if they live in a small apartment or house. That's when you start thinking about building a new storage cabinet, but it will make you money, time and you don't have woodworking skills, so it is not easy to get it done by yourself Build a customized music rack using basic building materials and tools. This is a good way to save space and organize your albums and/or records.
Project details: manmadediy.com
DIY Modern House Number Sign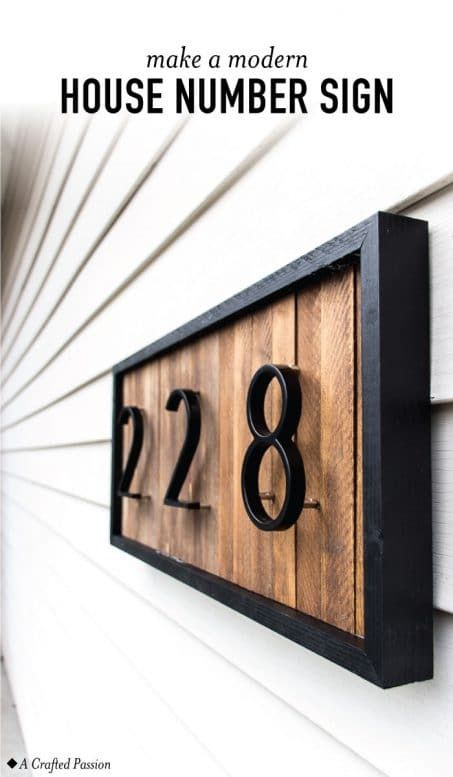 We all agree that the first thing we need to do as soon as we get to any home or property is find its address number. Most people let their address number signs rot and look old and rusty either due to negligence or a lack of budget to make it good-looking.
The most common house number sign is made up of wood shims and a wooden board with numbers painted on it. Everyone's house is unique and different from the others, so why don't we make the house number sign our own? We add a touch of uniqueness to it, customized with shapes and colors that represent each home. First, cut down a shim into smaller pieces and drill holes on the surface with a wood drill bit. Then, attach them into the holes with nails. The next step is applying wood stain to protect the wood that was used.
Project details: acraftedpassion.com
DIY Wood Lanterns
These DIY wood lanterns are so easy you can make them even if you consider yourself a beginner woodworker. We made our lanterns with scrap wood, sturdy lattice, and glass jars so we didn't spend a dime on this project. The end result is attractive home accents that draw great attention and add elegance to your backyard and garden. The idea of making a wood lantern can be intimidating, but it doesn't have to be. These DIY wood lanterns are easy to make, entirely affordable, and have limitless design potential With sheets of wood, woodworking tools, and paint, you can make your own DIY wood lanterns!
Project details: dreamdesigndiy.com
DIY Flower Box Centerpiece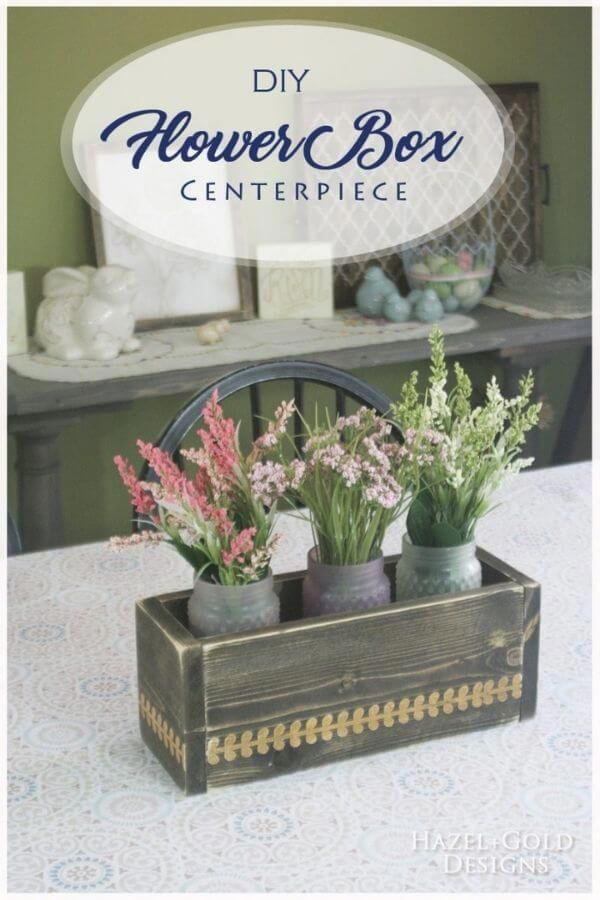 If you like to DIY some projects in your home, the DIY flower box centerpiece is one of the interesting and attractive pieces that can make your house look more energetic. For some considerate details, this woodworking project is really quite easy to make. If you ever want a nice holder for your flower or plant collection, this DIY flower box centerpiece is a perfect option for you. To make the DIY flower box centerpiece, you will need to spend about 3 hours on this project. Don't worry if you don't have much woodworking experience yet. You can start your flower centerpiece now. Enjoy making it!.
Project details: hazelandgolddesigns.com
Cedar Treasure Chest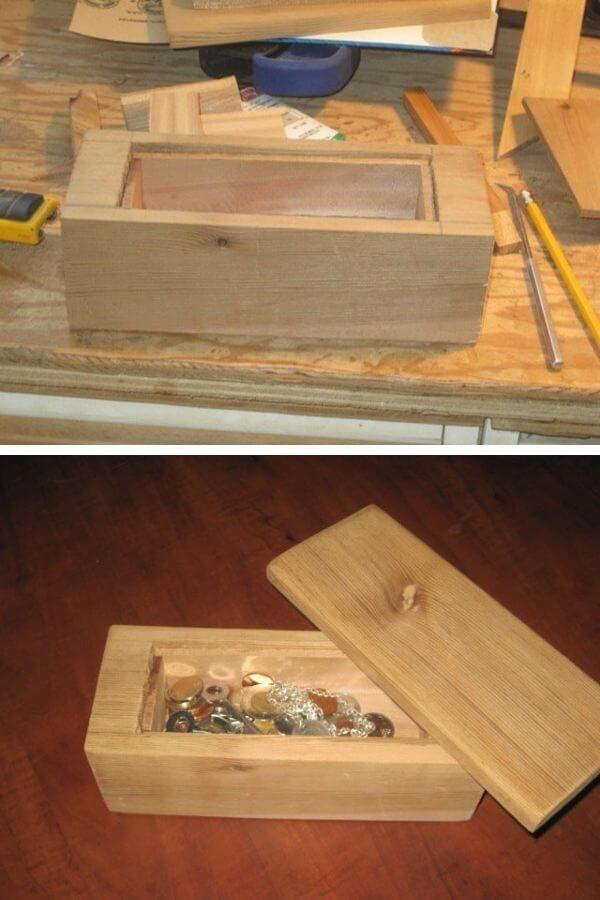 This treasure chest is constructed of real cedar wood. It is a traditional heirloom chest created in the style of the chest used by pirates and traders alike. The decorative molding and hardware add interest without being overbearing. Included is a picture of the finished project, instructions to help you build it, approx. material cost, supplies needed for completion, and some photos of the completed project. The storage space is enough to hold treasures. The treasure chest is a symbol of the wealth and honor that is associated with sailors and pirates operating on the high seas.
Project details: instructables.com
Firewood Rack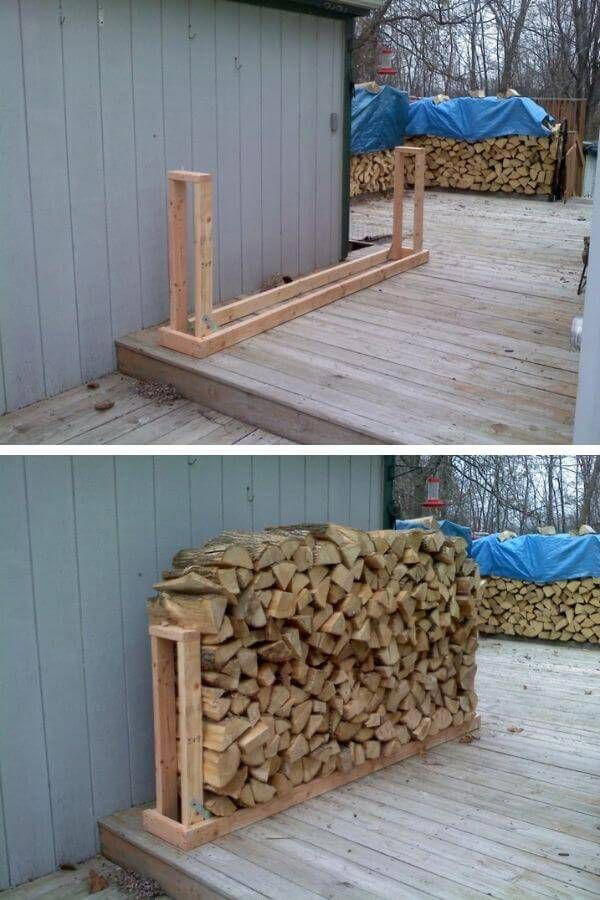 A firewood rack provides an elegant way to store your firewood. Hey, why spend all afternoon picking up firewood and stacking it on your lawn and in your garden? Why not spend some time building a rack that will keep the mess out of sight, but still let you easily get at your firewood? With a couple of hours of free time and some basic tools, you can build an easy-to-make garage-style firewood rack with dimensions you can cut precisely at home—no measuring required! The angles are already figured out for you—all you do is cut and attach the parts. This wood rack even has a shelf to keep kindling handy.
Project details: instructables.com
DIY X-Stool Or Table
The DIY X-stool or table is modern and cool, perfect to use as a stool or add shelf space. With its simple design and sleek appearance, it fits in with any bar set or dining room set. And it looks good enough to sit next to your bed or in the living room. This DIY X-stool and table is a great choice in front of the sofa, besides your bed, or in your dressing room. It won't take up much space and is definitely stable and strong enough to withstand the heavyweight. You can put some decorations on it like a flower vase. Perfect for small spaces!
Project details: ladygoats.com
DIY Table Planter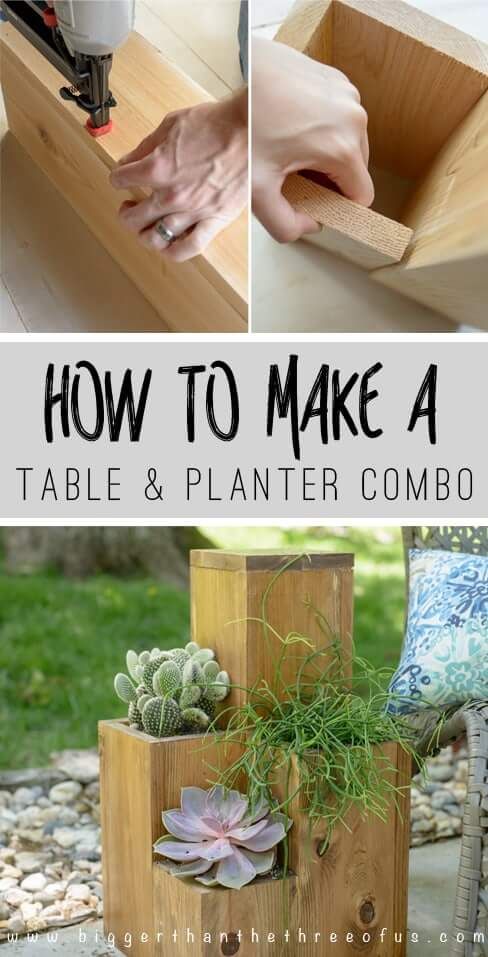 Make a stunning DIY table planter out of wood boards, wood glue, and your favorite flowers.  We did it at the office and ours look great. Are you ready to do the same? Planters are a modern and beautiful way to display your favorite plants. After all, the whole point of having a plant is so that you can enjoy its presence year-round. Rather than filling valuable floor space with pots, planters allow you to showcase your green thumb while leaving space for chairs or couches, or anything else you fancy.
Project details: biggerthanthethreeofus.com
DIY Bird Feeder
A DIY bird feeder is a great gift for nature lovers. The kit includes all components necessary to create a fun and easy project right in your own home. Enjoy watching the birds come to visit! Making a DIY bird feeder is simple, cost-effective, Earth-friendly, and teaches kids about the importance of wildlife. Here's what you need to do: take a small wooden box with a cover, hot glue it to other pieces of wood for easy construction. Drill holes through the sides for the seeds to run through, put a recycled plastic bottle or glass in the middle with a drainage hole—this way excess water will run out. Choose bird seeds that attract lots of different birds, or create several feeders offering different foods so birds can mingle. Now you're ready to share your homemade creation with the wildlife!
Project details: 100things2do.ca
DIY Wooden Shoe Rack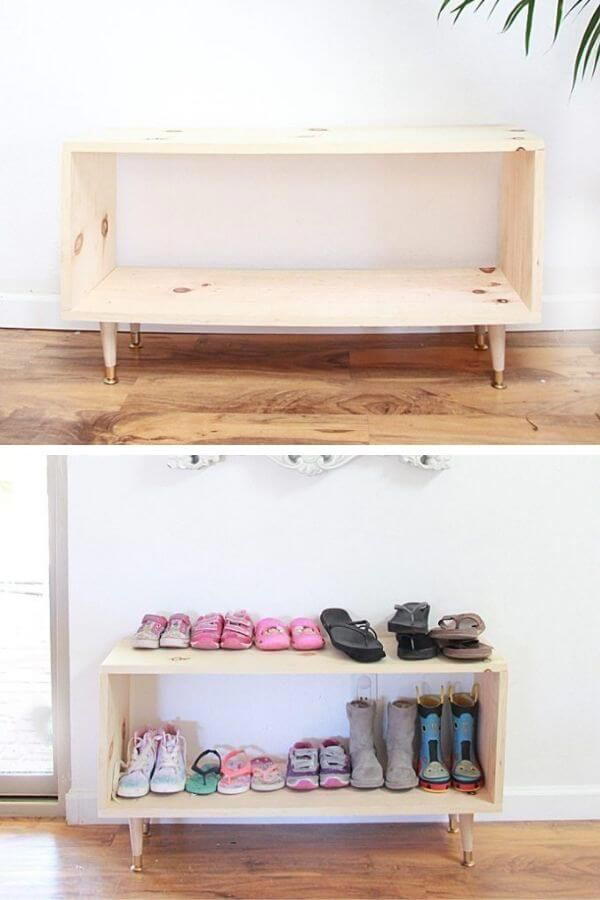 Only taking some hours on the weekend, you can have this Wooden Shoe Rack to keep your shoes neat and tidy. The shoe rack is easy to be constructed by yourself even if you're a beginner in DIY. It would be an ideal solution if you want to organize the hanging items in your hallway. Don't hesitate to bring the wooden shoe rack home! You're tired of having shoes, toys, and clothes all over your home. It's time to have a wood shoe rack erected in your entranceway to keep everything under control.
Project details: abubblylife.com
Wood Tool Box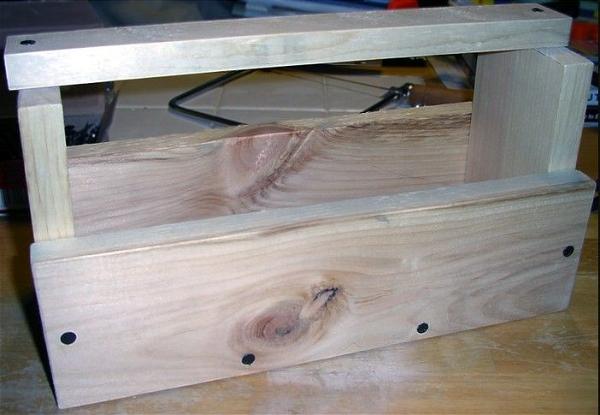 Whether you are a beginner trying to acquaint yourself with the tools and techniques of woodworking, or someone looking to build a simple but attractive piece of furniture. This is a fantastic way to start doing so. The wood toolbox that we will be constructing will only include the rudimentary elements for beginning your project, and as such will be a very inexpensive endeavor with few materials needed. Open the box, take out the wood pieces, and try your hand at using a hammer, wood glue, finishing nails, and a sanding block to build a tool storage box. You can make many different styles of boxes and experiment with multiple designs.
Project details: instructables.com
Stool Tutorial
Whether you are a newbie woodworker or just looking for a challenge and inspiration for a weekend project, this stool tutorial is just what you need. Woodworking projects don't always have to be complicated! Let us show you how to make a simple yet sturdy stool using basic carpentry techniques and material that you can reuse—a recycled pallet! Woodworking seems hard to do at first. As soon as you get started, it is not hard at all. The important thing is to take your time, learn and apply the techniques we're discussing; then before you know it you will be at ease working with wood and making anything you want.
Project details: beyondthepicket-fence.com
Easy Peasy Cutting Board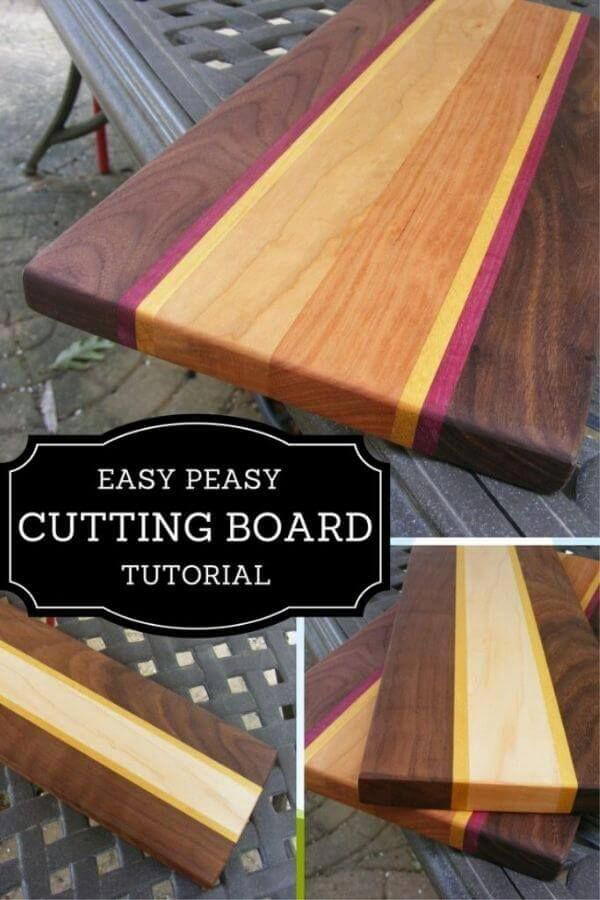 The easy peasy cutting board is a special project suitable for those on a budget and doesn't have much space or woodworking tools. You can now easily cut your produce into uniform pieces with the Easy Peasy cutting board. This special project requires only three simple tools and space and can be easily built in an afternoon. With this board, you can prepare fresh veggies for a delicious home-cooked meal. If you are frustrated with a wobbly cutting board, Easy Peasy Cutting Board is the solution. It is easy to make and works perfectly. This cutting board stays flat and wobble-free. The secret of success lies in the way it is constructed with a double dovetail joint. You can make this board by using just three simple tools: a jigsaw, drill, and sandpaper.
Project details: fouroakscrafts.com
DIY Nightstand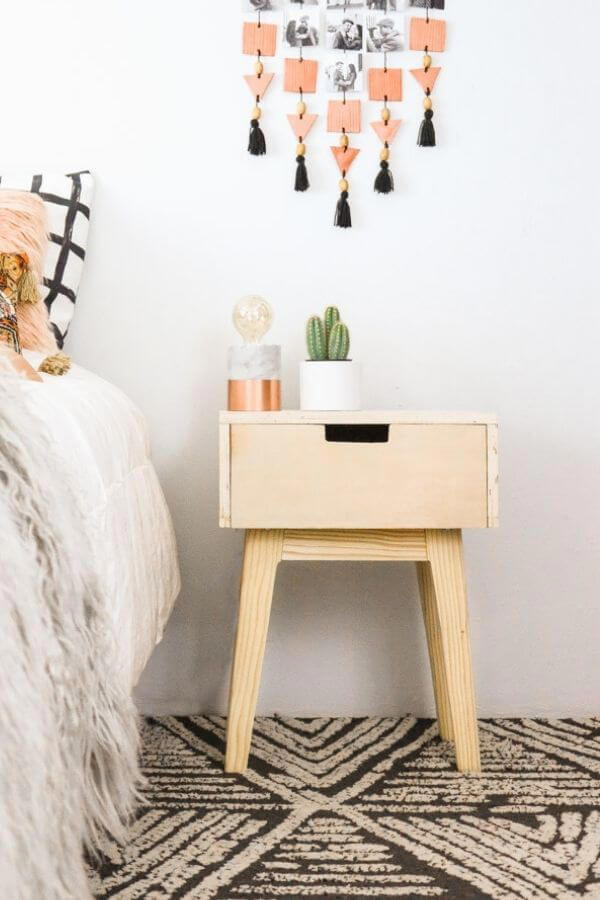 DIY Nightstand is a great DIY project, and a fantastic way to apply your crafting skills to create a gift that they will be able to enjoy for years. A functional piece of furniture is an affordable gift for someone whom you care about. It would be a lovely DIY project to build a nightstand for your beloved ones, but sometimes it could be challenging, so here we will share some tips on how to make one. If you are still in doubt, then better see them crossing over this article or just try it by yourself.
Project details: lilyardor.com
Wooden Sheath For Cook's Knife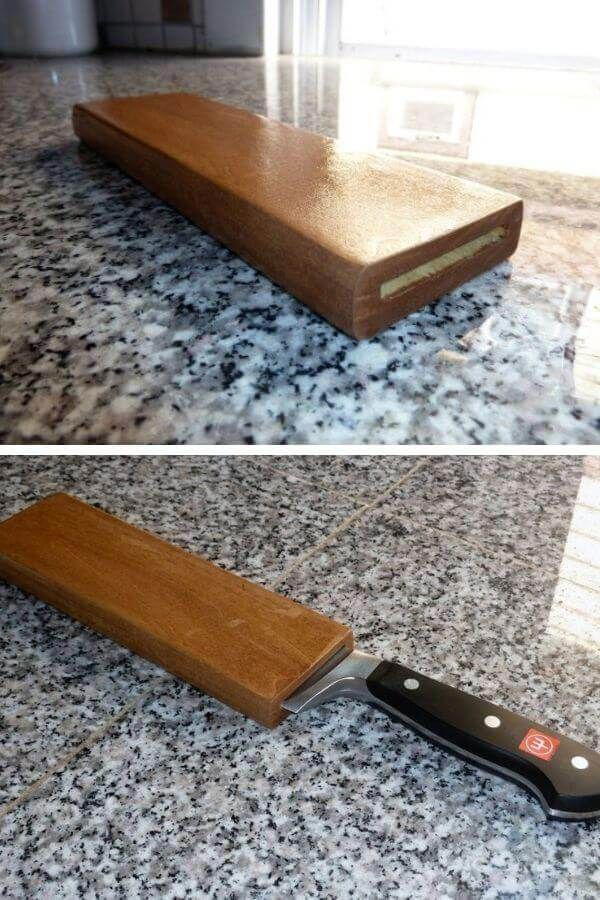 A wooden sheath is a very good way to protect your kitchen knives and it's easier to make than you might think. All you need is some scrap wood and the necessary tools, including a sharp knife, drill, screwdriver, and ruler. Even a beginner can make this sheath in just a few hours. We'll show you how to use the pieces of wood, as well as where to drill holes for all the parts and screws. In no time at all, you'll have made your own sheath in keeping with your kitchenware or decor, and put an end to pesky accidents!
Project details: instructables.com
DIY Rustic Wooden Headboard
Recycle your old bed frame and turn it into a handmade wooden headboard. This DIY project makes a beautiful addition to any bedroom. The design uses a few wooden planks as the base, with sturdy rope as the handles, so you can simply hang it on the wall. With one trip to the woodworking store, you can get all the materials you need to make this easy-to-do project. Indeed, no longer would you need to get rid of your old bed frame to replace it with a chic headboard. Luckily, you can craft one by yourself! All you need are a few wooden bar stools and some nails.
Project details: thecraftingnook.com
DIY Potting Bench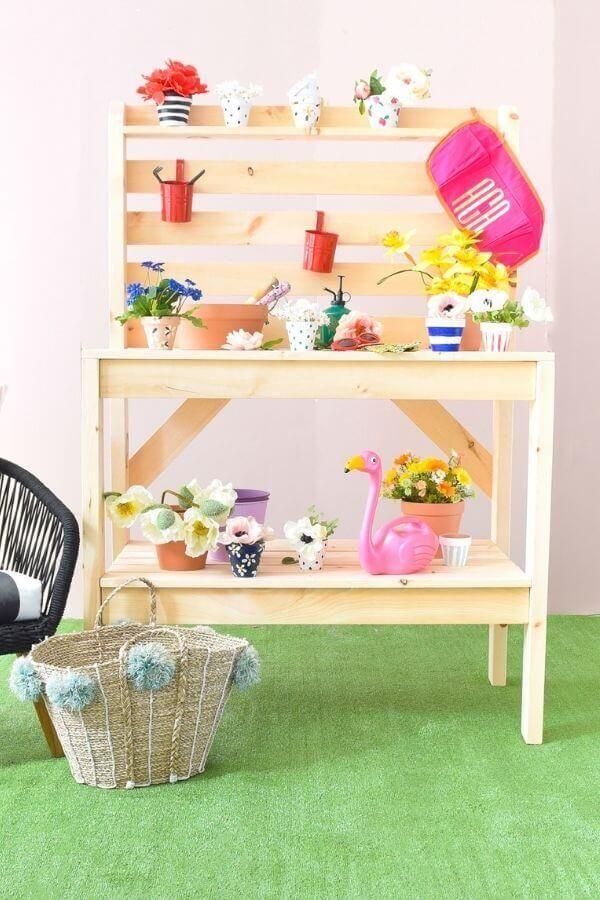 The DIY potting bench is around this time to help you display your ceramic and clay flower pots. It's not a difficult project to make, just needs some inexpensive materials and follows the steps. Just create a special place for you to enjoy your beloved flower pots with friends, family, or even with a single self. Do you have a garden but don't have anywhere to store your potting tools? Or maybe you have a shelving system but don't feel like hanging it on a wall. Well, we've got the solution for you! A DIY potting bench. The DIY potting bench is a concept that makes the best use of space and provides the greatest practicality. A potting bench can be made just out of ordinary materials for very low cost, with a lot of imagination and creativity.
Project details: pmqfortwo.com
DIY Build A Bookshelf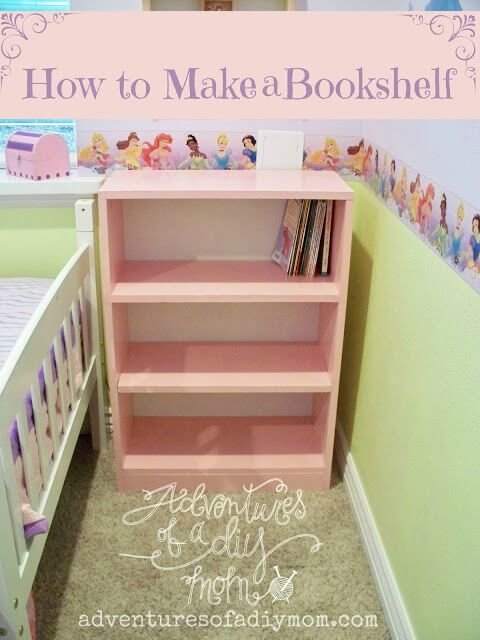 Are you a creative type who likes to make things? There's nothing wrong with the desire to craft some of your own furniture. In fact, there are many advantages to doing so. A bookcase is certainly one of the best projects a DIY maker could undertake and this guide will help you through the process. Cut together the parts you will use for your DIY bookshelf with the necessary tools. Be sure that you have all the parts necessary before you begin. Wood glue can be used to help maintain the structural stability of each piece, and finish nails should be used to hold each shelf in place as you create this project. Browse through our other designs.
Project details: adventuresofadiymom.com
DIY Floating Shelf For Newbies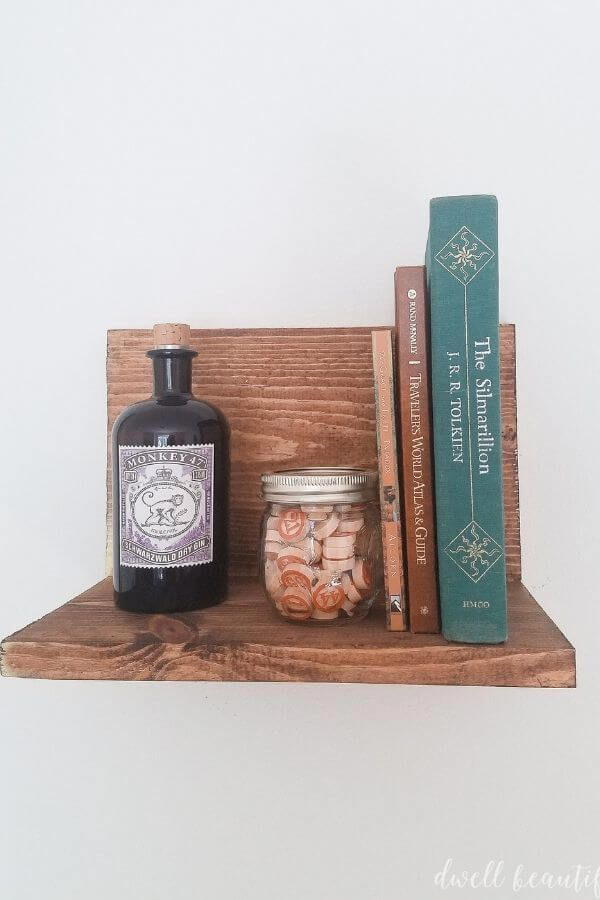 You don't need to be a professional carpenter to create a floating shelf – all you need is this simple-to-follow DIY kit from Adjustable Shelf Solutions. Some people like designing rooms and some others want to actually build their home from scratch. A floating shelf is a common but important element that has its own charm. But if you don't have enough experience with the tools it might become difficult for you to make one on your own. That's why we recommend our DIY floating shelf for newbies. With the waterproof sealant that comes with the shelf and simple instructions, you can turn your old books, tea box, and jars into a delightful DIY modern floating shelf
Project details: dwellbeautiful.com
Bathroom Refresh & DIY Towel Ladder
Any bathroom belongs to guests and kids, in addition to its owners. The cleanliness of your bathroom is a must to keep your family healthy, but cleaning up all those soap dispensers and tumblers isn't an easy task either. So why not place a towel ladder near the wall? What makes us change up our bathroom space isn't a new paint or a different set of soaps. We tell ourselves that we need a new bathroom "thrown" – a bathroom thrown into the wastebasket is never the same again. So, we want something different, a towel curtain perhaps? But then we remember that we don't really like curtains, even in college when they were "so in fashion" and everything. Well, then it gets really complicated because you are thinking out loud about what to do with your bathroom problem.
Project details: sarahshermansamuel.com
111. DIY Light Sconce Corbel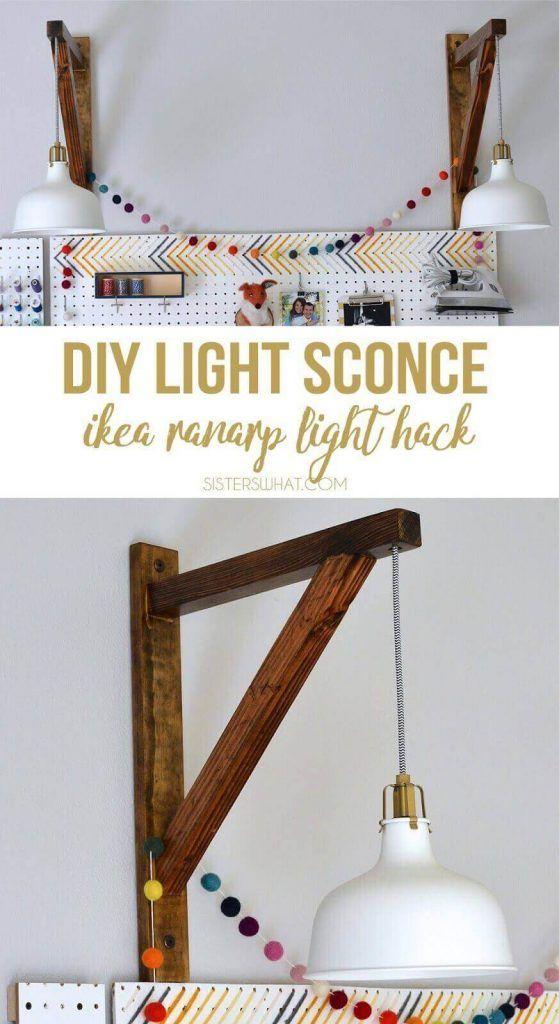 We think that you don't want a standing lamp near your table, as you can recklessly knock it over constantly. So a light sconce corbel comes in handy there. We want to share a DIY project that comes in handy for everybody. A light sconce corbel made from hardwood will not only look beautiful but will help in the interior design of your kitchen, office, or other rooms. It is easy to make! The light sconce corbel is a comfortable, functional, and charming way to add a little more light to your working space. It's easy to assemble, and all materials can be bought at any hardware store.
Project details: sisterswhat.com
DIY Shop Stool Plans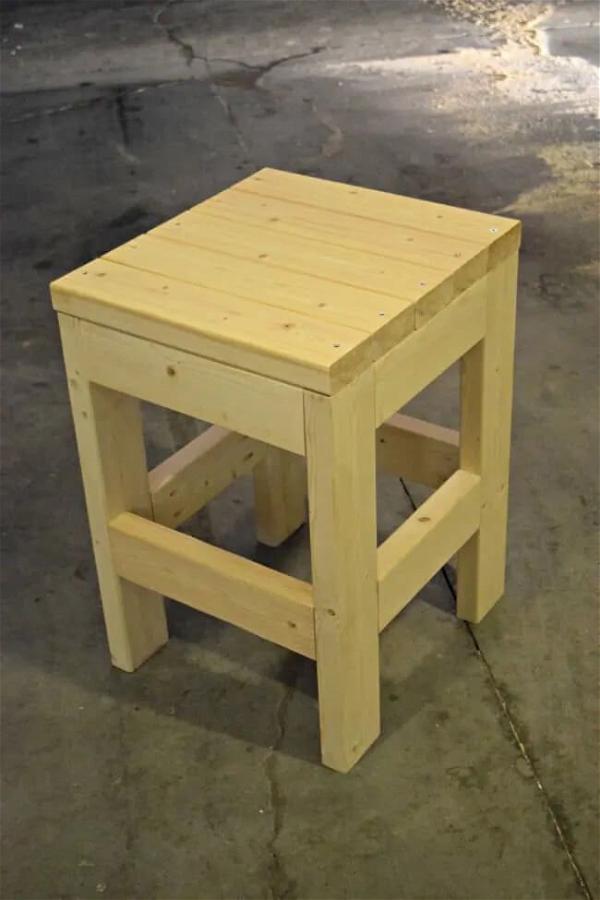 Do you wish to make a wonderful appearance for the unused space in your kitchen? Here is a free DIY plant stand plan for you! Now, use this plan on your own easily and follow the instructions below! You can plan easily to make DIY Shop Stool Plans thanks to stepping by step woodworking building guide. The stool plans will show you how we made it from drawings and pictures. You can look at them in close, as well as examine each figure. Following the instructions are reliable and give you an end that comes out looking exactly like the one we made.
Project details: todayscreativeideas.com
DIY Bowling Lane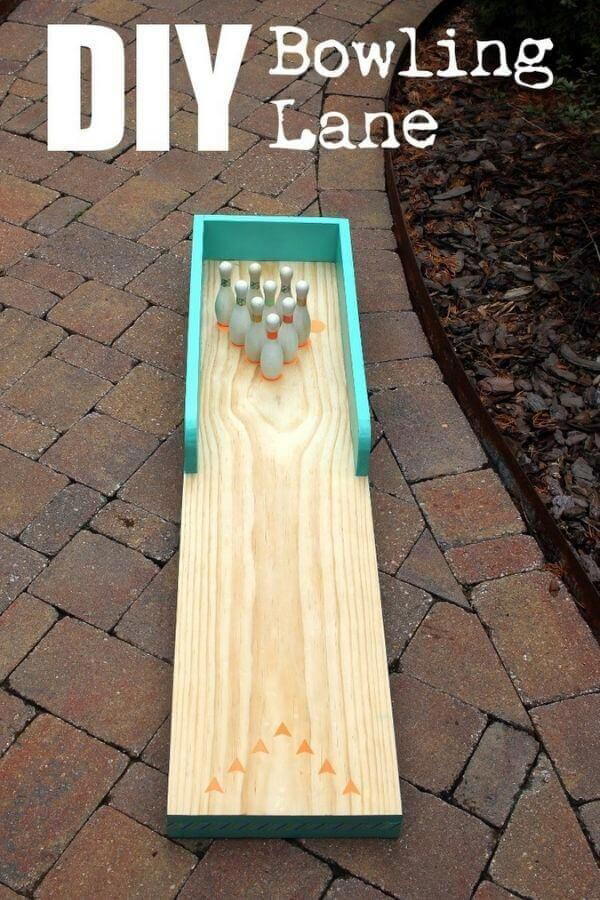 If you enjoy playing bowling but don't have enough time to visit a facility, why don't you make one? You won't need any professional skills. All the materials are easy-to-find and you can create this lane by yourself or with your friends. Just take an afternoon of free time, collect the materials, and get started, and this DIY bowling lane would help you have fun in your basement or backyard. You have lots of time left this summer for making your own homemade bowling lane. It's easy to render a full-size recreation when you use simple tools and materials. This miniature bowling lane is made out of scrap lumber and it takes only a few working hours.
Project details: ashleygrenon.com
DIY Couch Cup Holder And Remote Caddy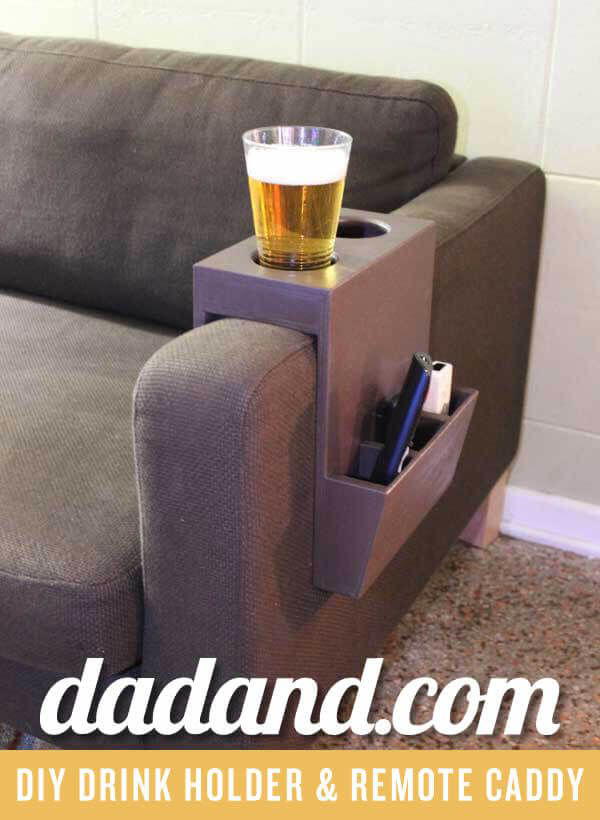 If you were to upgrade the couch, you can simply make a DIY Couch Cup Holder and Remote Caddy. It would be especially frustrating and annoying to go pick up your beverage while watching your favorite movies! And the idea of a coach cup holder and remote caddy will surely blow your mind! Do you love to sit and relax on your couch, watch movies, or enjoy your favorite television shows? When you're sitting there with a bowl of popcorn (or let's just assume it's popcorn in this case), you ordinarily don't have many options for holding your beverage or watching your show. Well, the DIY couch cup holder and remote caddy will allow you to do just that!
Project details: dadand.com
DIY Bar Stools With Metal Bar Accents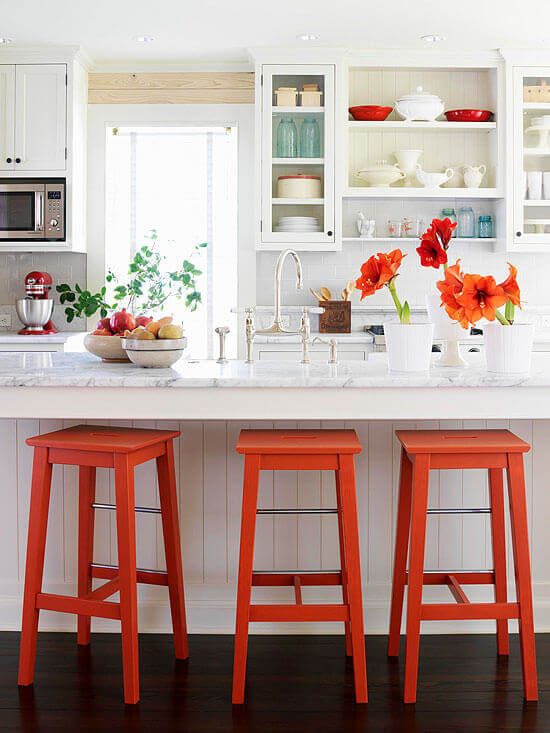 Do you want to make a stunning statement in your kitchen? With this project, you'll be able to. Wood and metal bar stools look terrific around your kitchen island. You can also have them in a dining room or at any other place of your home since they are so versatile. It's as simple as ripping some wood and hammering down some nails to get these cool DIY bar stools with built-in metal bar accents. These bar stools will be a perfect addition to your kitchen island, whether you are using them at home or hosting a party at your place.
Project details: remodelaholic.com
Hammer Coat Rack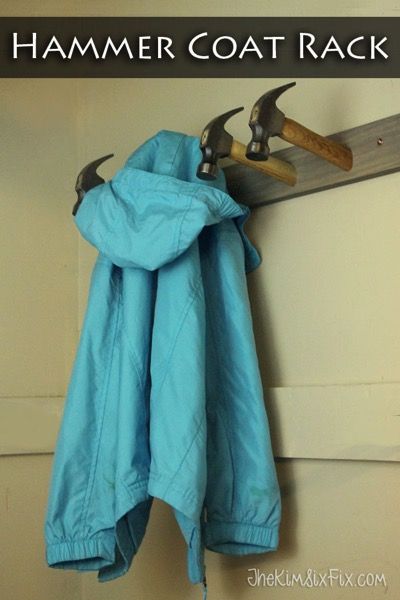 Do you like to hang your coats with wooden pegs? In this case, you might fall in love with the idea of a coat rack made from hammers! Even if you are not a craftsman, this project is easy to be finished. No matter what items and tools you use for it, everything seems to go smoothly. After all, the whole design can be put together perfectly with some glue and your old table saw. Add some lovely brackets for its arms to give them great support and your coat rack is ready!
Project details: thekimsixfix.com
DIY Wine Caddy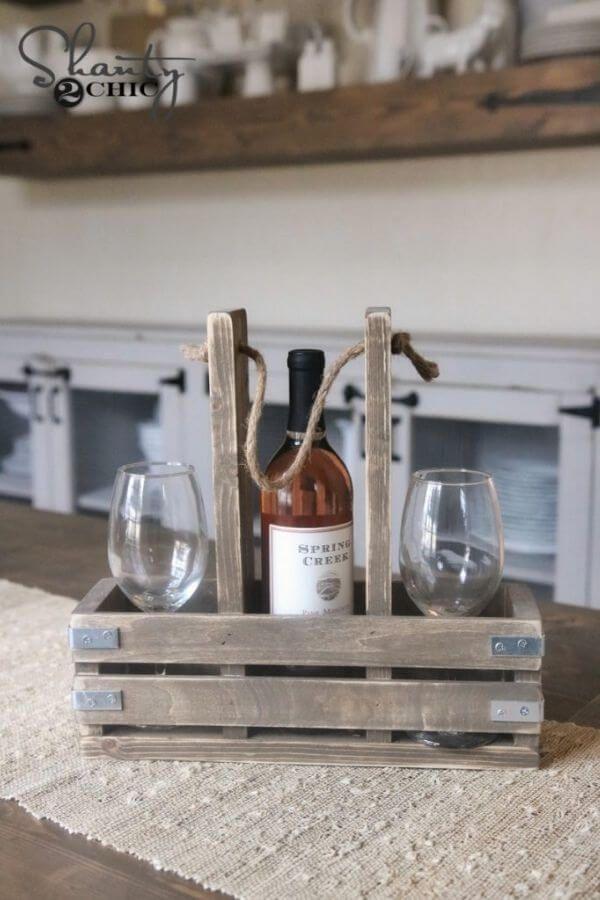 When you store your wine bottles in the kitchen or dining room, they take up a lot of valuable space. Whether you have one bottle or twenty, you need a wine caddy to keep them organized and at your fingertips. But why spend money on a pricey contraption that occupies valuable counter space? Make your own DIY wine caddy using a simple pine board and these easy-to-follow instructions. This DIY wine caddy is made from a rusty metal box, scrap wood, and a few screws. We can easily turn this ugly rusted box into a handy storage unit – perfect for any corner of the home.
Project details: shanty-2-chic.com
DIY Danish Modern Coffee Table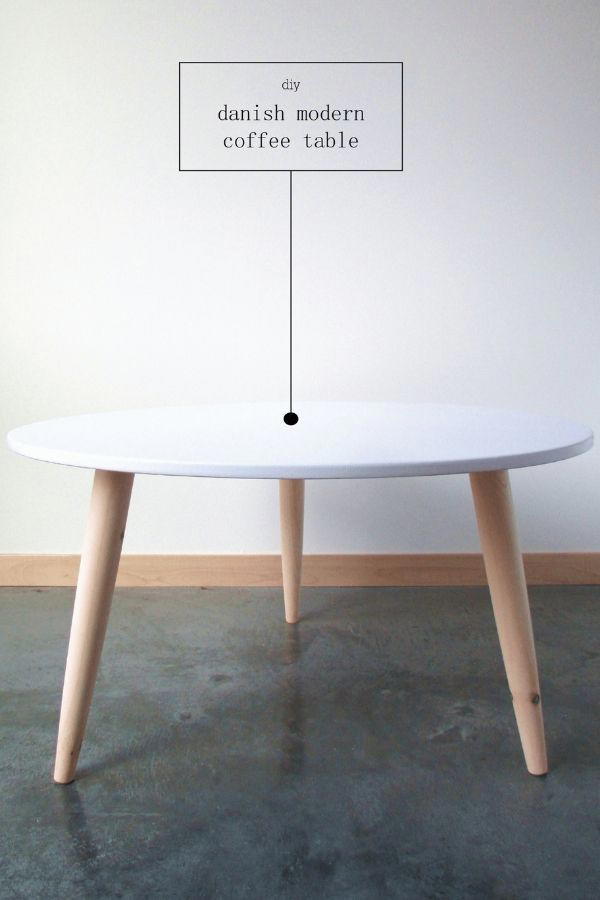 The DIY Danish Modern Coffee Table is practical furniture in your home which can be used to rest the cup, or simply as a table in the living room. You only need to have some wood boards, several nails, and a head for figures, and then you can realize the DIY idea from your heart.
Bring life to your living room with this beautifully designed DIY Dhttps://www.mintdesignblog.com/diy-board-game-ideas/essert Table project that lets you transform a few wood boards and two cheap pine filing cabinets into a modern-looking coffee table for watching the family movie or playing board games.
Project details: francoisetmoi.com
Fireplace Insert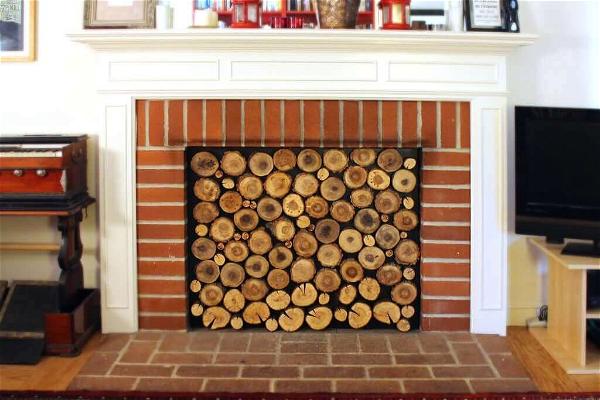 Build your own fireplace insert with the Stove Buddy. It's inexpensive, easy to install, and requires no permits or special tools. The kit contains everything you need for a clean, quick, and cost-effective installation. A fireplace wood log insert integrates an efficient firebox into a familiar, nostalgic home-style. This handsome faceplate effectively eliminates gaps and makes it easier to care for a modern fireplace while enhancing your home's appearance.
Project details: instructables.com
DIY Glass Bottle & Vase Holder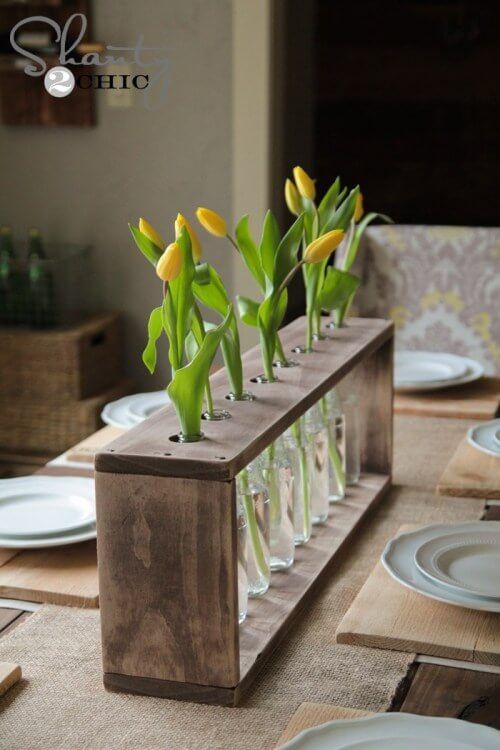 Make your own beautiful and functional home decor piece with this glass bottle and vase holder. Showcase the decorative side of your green thumb, then take the opportunity to display the lovely bouquet from your garden or a selection of dried flowers from your mantle. Make these ideal accents for now, or keep them on display all year round! A glass bottle and vase holder make a perfect gift, as well. Perfect to make all by yourself, this project is easy and budget-friendly and will take no more than an hour to get it done.
Project details: shanty-2-chic.com
Scrap Wood Side Table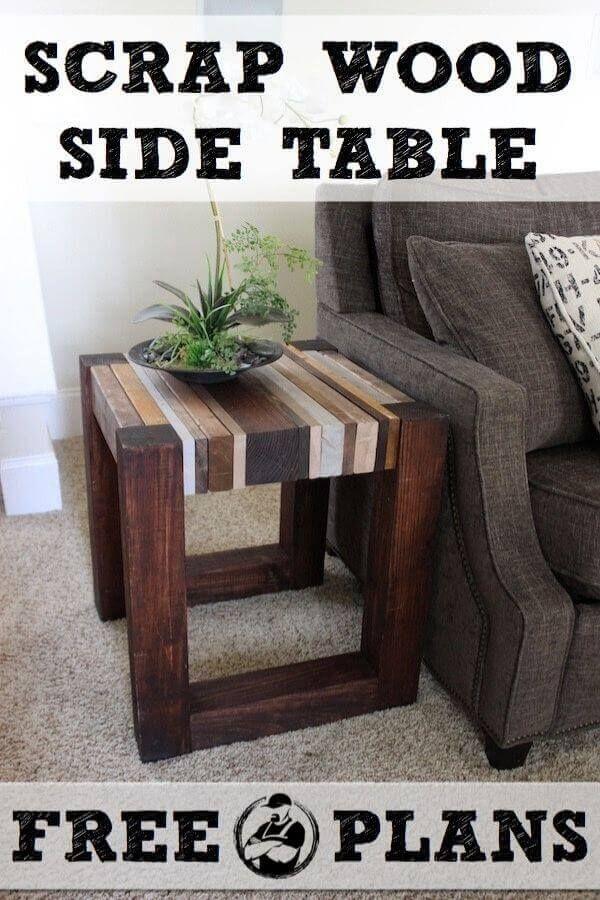 The Scrap Wood Side Table is a great project for a beginner to intermediate-level DIY fans. A Weathered side table is a perfect addition for any space that needs a leg or two to set or display any decorative knick-knacks or coffee cups. It comes with easy instructions and all necessary materials to have you building in no time!
If you have a few blocks of wood lying around, then this is the project for you. Never throw away scrap wood again! With Scrap Wood Side Table, you can create your own side table with it. The instructions included making the process simple and easy to follow. You will have a customized table in no time—perfect for any room of the house!
Project details: rogueengineer.com
Wine Rack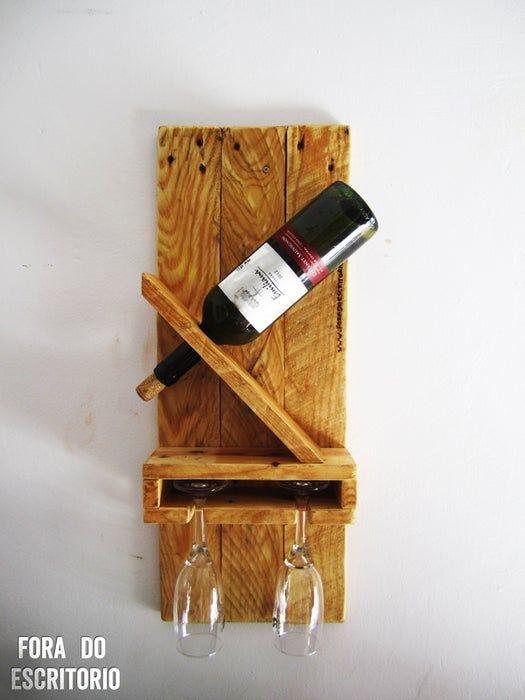 A wine rack is an indispensable furniture appliance in every family who loves drinking and entertaining guests at home. It can hold a single bottle of your favorite wine, and two cups. Whether you are alone with your beloved one or enjoying a night with friends, it will be an excellent way to get in touch with each other.
Make your own wine rack! It's a terrific small and unique piece of furniture that can be mounted on any wall in your home. The colorful and romantic wine rack will last for a lifetime if you choose to make it out of solid wood, and the addition of a bottle and two cups completes the romance. Everything can be saved from your scrap lumber pile. Scoop up some wood scraps now and have your own wine rack in no time!
Project details: instructables.com
Step Stool Plans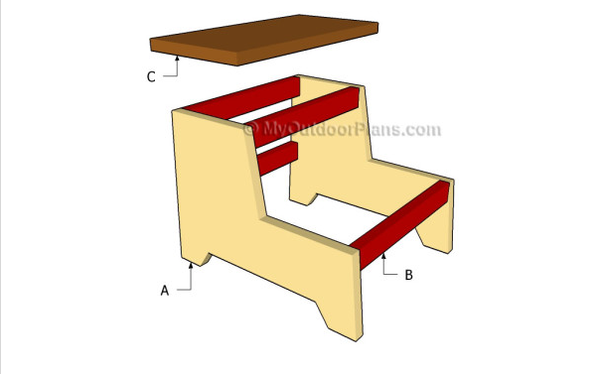 The first step to becoming a great carpenter is having confidence in your abilities. This step stool is one of the easiest woodworking projects for any beginner, so mastering this project is the first step for you to take up more complicated ones later on.
The detailed step stool plans in this guide will help you easily build a flawless, sturdy, and safe step stool. Start with a pre-drawn plan and research the best techniques, then learn how to choose the right lumber and pick the right tools. With these lessons and plans, even beginners can make a successful step stool.
Project details: myoutdoorplans.com
DIY Outdoor Chalkboard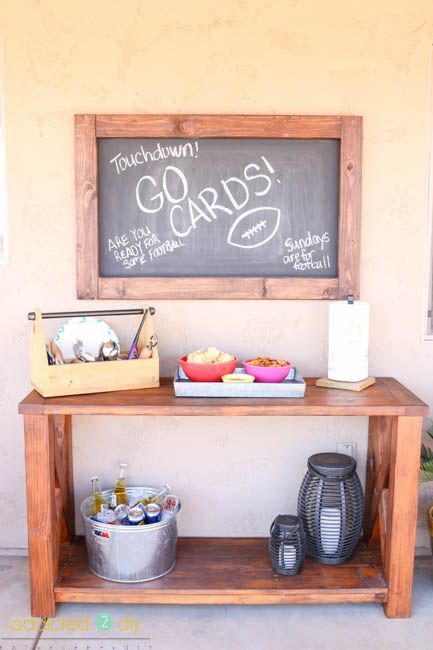 Chalkboards are not only intended for the classroom but also functional in the garden. Save money and build your own outdoor chalkboard with a stylish frame that you can paint. Are you in need of a simple and inexpensive chalkboard? In just a couple of hours and for a couple of bucks you can easily turn an old wood pallet into your own DIY Outdoor Chalkboard. If you don't have old pallets at home but would still like to make a chalkboard, take a look at our article with ideas on how to do so.
Project details: addicted2diy.com
DIY Pet Bed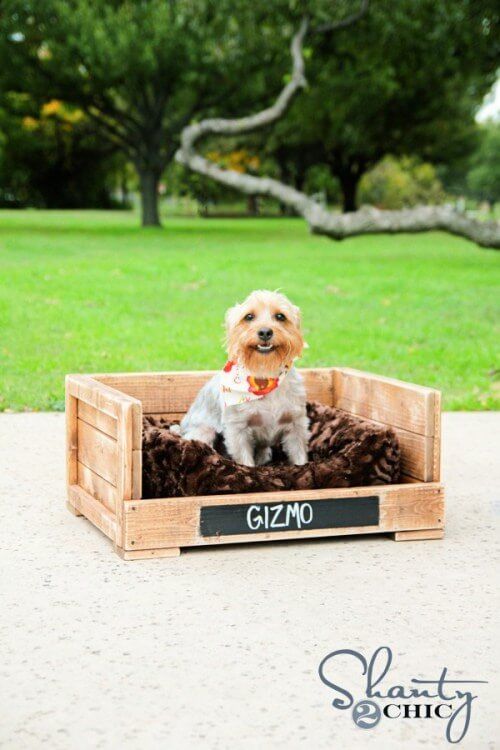 Dog houses are essential for dogs.   We wanted to give a new look to the pet house, so we created this amazing DIY wooden pet bed!   It's not only cozy and warm for your little friend, but functional as well.   The furring strips that serve this purpose are affordable and easy to cut to the desired size.
You know that a pet is not only a beloved animal but also a real family member. Meanwhile, a cozy bed for your little pet is an essential factor both for its comfort and your peace of mind. The DIY pet bed from furring strip materials can be made in no time at all. You can also take care of your loved goats by following our series of goat Milking Stands to make their life easier.
Project details: shanty-2-chic.com
DIY Tiered Planter Box Plans
If you love flowers but have no space for your plants, DIY Tiered Planter Box would be the best solution. You may build it yourself in a very short time and do not need to be an expert in woodworking. This is also a wonderful decoration for your front porch, patio, or even for windows.
So, if you feel the same way about your wooden tiered planter and want to do something about it, then the plans that we offer here will help you a lot. With these detailed and illustrated plans you will be able to make your own tiered planter that will reinforce your porch's beauty in no time at all.
Project details: anikasdiylife.com
Pallet Wood Over-The-Sink Window Shelf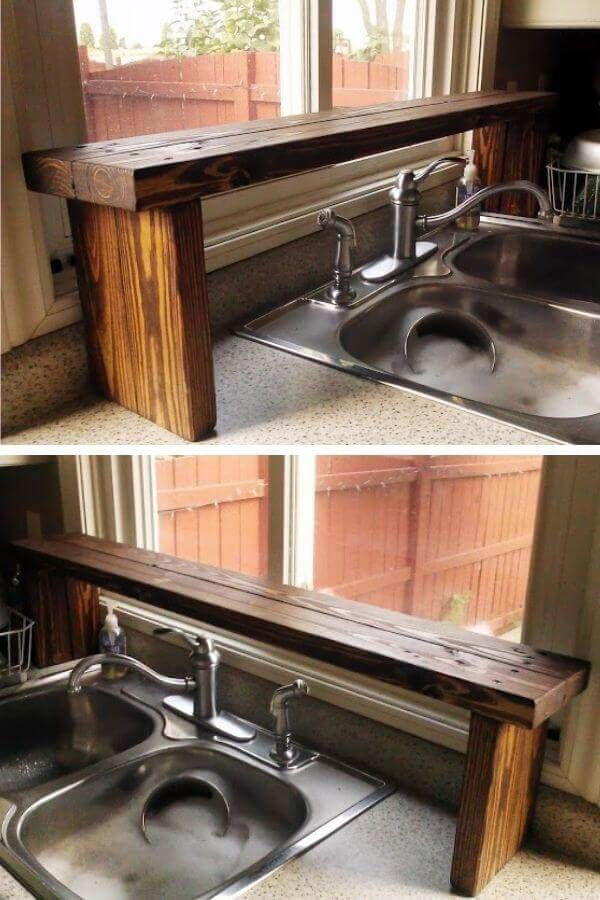 This window shelf will be a wonderful addition to your kitchen. It not only saves you from a messy kitchen corner but also adds beauty and decoration to the wall. It looks amazing in both urban and country kitchens, especially with flowers or plants on it. And it is not difficult to make it by yourself.
The fact that you probably have a ton of unused pallets in your property should be a definite sign that you might as well use them to build some useful household items. This window shelf fits over your sink, providing easy access to your pots and pans. Making them is easy, but it takes a bit of time and a bit of effort. However, your best reward will be the feeling of satisfaction once you finish the job.
Project details: stowandtellu.com
Ironing Board Holder & Organizer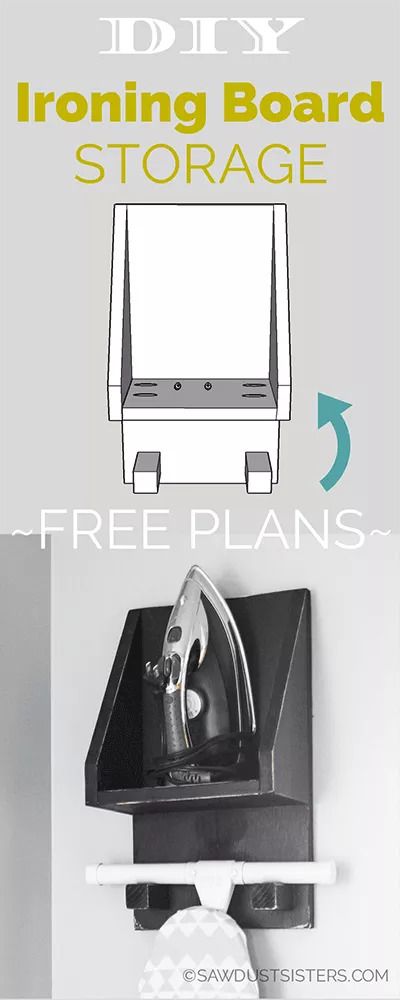 Do you need an ironing board holder? An ironing board holder is a great and useful product to store your clothes perfectly for whenever you want to iron them. The shelf holds standard-size ironing boards, which makes it simple and easy to store.
The ironing board holder and organizer is a great piece of furniture, compact and convenient enough to store a standard-size iron and ironing board to avoid reckless use and breakage. The materials are durable enough to handle heavy stainless steel objects, providing a safer environment for your guests to iron.
Project details: sawdustsisters.com
Wood Stars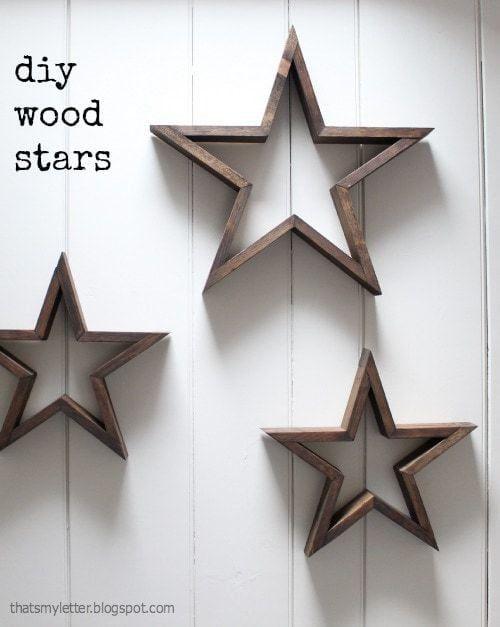 These little wood stars will absolutely bring a cheerful and lively atmosphere to your home, which could be a perfect DIY project when you have an unoccupied wall corner. These pretty-looking stars are designed in simple but elegant lines, which you can easily cut out and do with a few simple tools. Since they are all made by using other wood scraps, they count as a recycling project. You may also design them with cute fabrics or papers if you want to make them look prettier.
These wall decorations are made of all scrap woodpiles, appear on your empty space, and add an ambiance to your home corner. Not only will they help make your home more beautiful, they also can be used as a gift if you want to give it to someone. If you like DIY craftwork, try it!
Project details: jaimecostiglio.com
DIY Bike Rack
Do you want to get the kids to practice bike safety and build up the responsibility of caring for personal belongings? Why not make them a DIY bike rack! The rack is solid, quite space-saving, and easy to install. Made from wood, it is also easier for you to make than metal racks. You can be a cool dad and mom by making this for your kids quickly!
This mini bike rack is perfectly designed to fit on two to three bikes, and it won't take up too much space in your garden or front yard. With woodworking tools and wood pieces, you can easily have fun with your kids planning out the model, making it, and decorating it!
Project details: heatherednest.com
Rustic Bench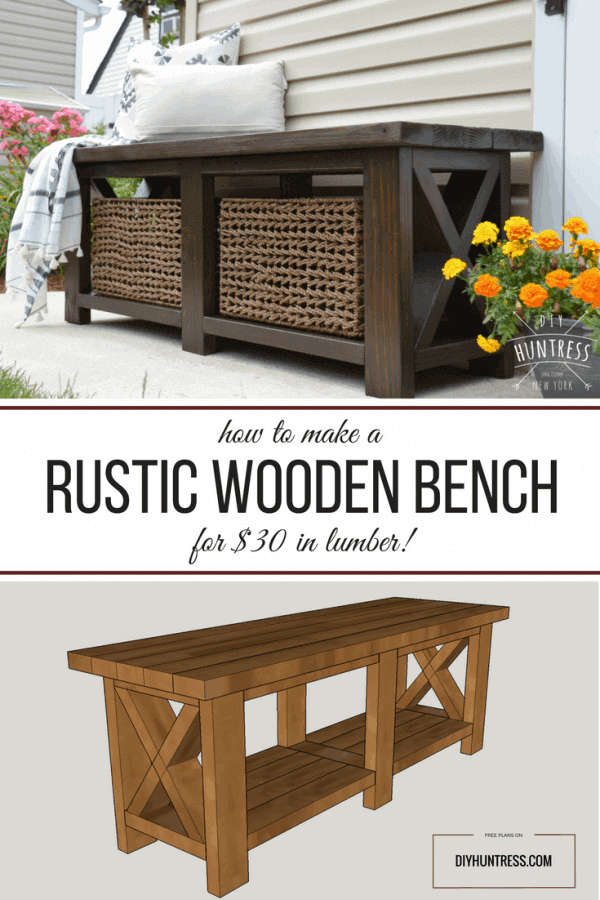 Sitting is one of the easiest ways to relax, yet it's something we rarely do. This rustic bench offers you a simple place to sit and will make a stunning addition to your garden or front yard. You'll be amazed at how simple it is to make. And as an added bonus, it's made using only a handful of tools. You may even want two benches once you see how great they look, making them the ideal gift for home or garden lovers. Imagine sitting on a comfortable rustic bench in your front yard or garden. Now, here's a great idea for this – this rustic bench is easy to make with simple shapes and just a few cuts.
Project details: diyhuntress.com
DIY Outdoor Chair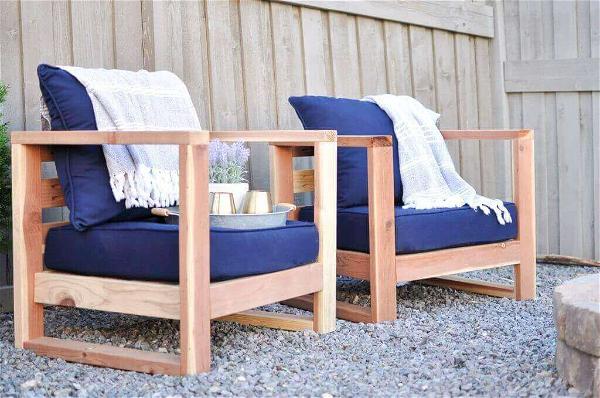 Do it yourself. Save money. Look great. Come to the workshop and make your very own outdoor chair. We have all the detailed plans and step-by-step instructions to help you build your own outdoor chair. This project will get you out of the house and give you practical hobbies for leisure time as well as saving you money by not having to buy a new one from the store. Our site also provides detailed video tutorials with written steps, so there's no need for too much prior experience with carpentry.
You'll need to get a few supplies together if you want to successfully make this chair into your peace of mind. You'll need: - A screwdriver, or drill (make sure it's compatible with the screws you are using) - Wood glue and wood filler - Paints (pink and white mixed together should work well for this project)
Project details: cherishedbliss.com
Wooden Squat Rack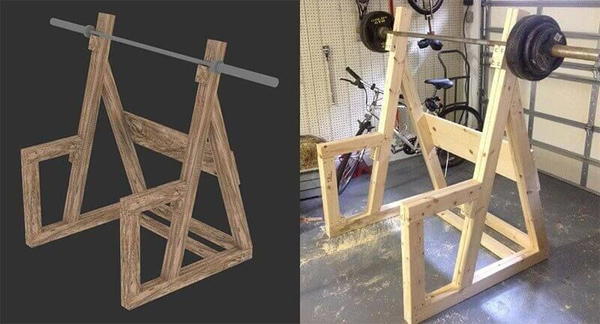 Are you a gym enthusiast? Then this gym squat rack will serve you very well! When you own the Wood Workout Gym Rat, you'll have the freedom to workout wherever you want. Made from strong, weather-resistant oak and durable purple heart, the Wood Workout Gym Rat is poised to maintain its firmness and stability in any environment. Don't let anything stand in your way of getting huge!
The squat rack is not only a great addition to your home gym, but it lets you do things that gym's just can't offer. You won't have the nice little weights on the bar so you can add as much weight as you want to.
Project details: allthingsgym.com
Designer Wood Table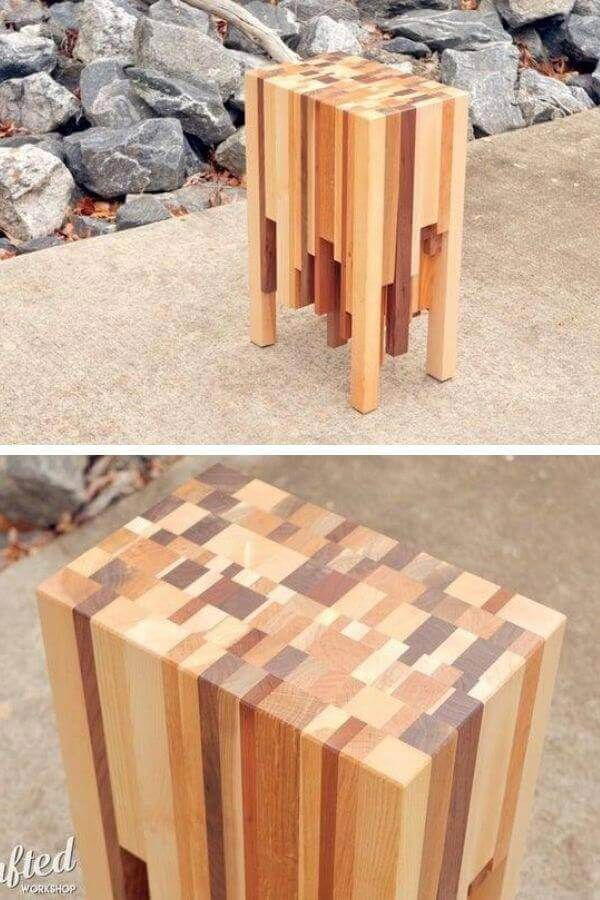 The Designer Wood Table took a bit of elbow grease and glue to put together, but it looks great in the finished project photos. This small table can be made out of any kind of wood you wish. The plans only specify wooden pieces, not hardwood or softwood.
If you're looking for a relatively easy project to earn some serious style points, this designer wood table with its simple, clean lines and colorful squares is exactly what you're going to want. This small table is great for adding a pop of crisp modernity to your breakfast nook or kitchen counter. It also makes a thoughtful housewarming gift when paired with brightly colored napkins, plates, and balloons.
Project details: instructables.com
Bluebird House
Help your little birds survive the harsh weather outside with the Bluebird House. This is an easy project that even kids can take on without problems. This Bluebird House is so easy. Young kids and young adults can even do it. It has a useful purpose but is still just for fun. You can even greatly personalize your birdhouse with any colors that you want to use. It really brings about the beauty of nature, and gives the birds a place to stay and a new home.
Project details: joybileefarm.com
DIY Industrial Step Stool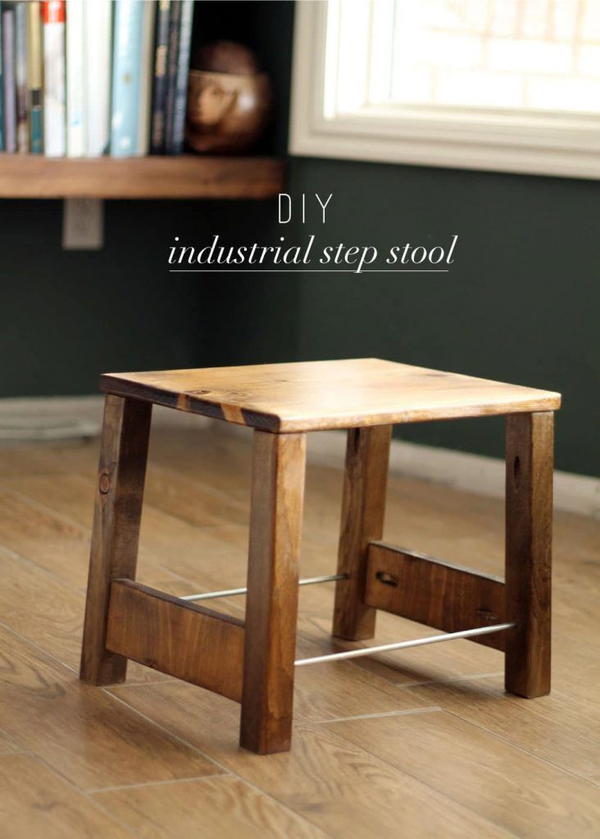 Step stools are used in many places: in the garage, at work, or even in a kitchen. They help when you need to get something from a higher place and make it easier to reach something out of your height reach. In terms of small woodworking projects, you can easily create a step stool by yourself! This step stool is not only simple but also inexpensive and it will definitely decorate your home. Don't waste money buying a tacky and expensive step stool, make one instead! This step stool is compact enough to fit in any room and sturdy enough to hold up to 250lbs of weight.
Project details: chrislovesjulia.com
DIY Wooden Business Card Holder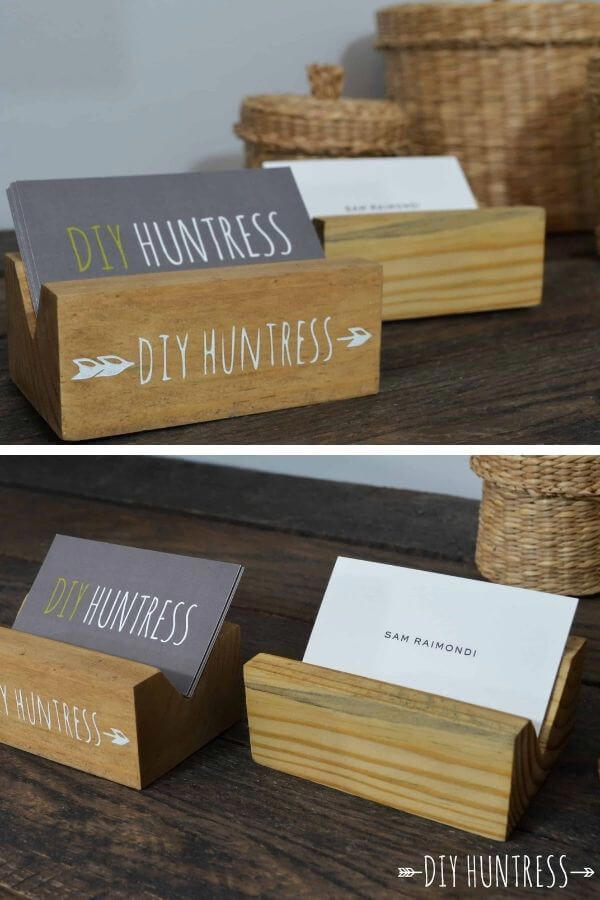 A wooden business card holder is an excellent add-on for your workplace So here is a thoughtful DIY that you can do at home to keep your cards in order and make your business or workplace look much more attractive. It will make your business cards look fabulous and it is also a great way to keep them together. Making one by yourself would help if you have some scrap wood blocks, wood putty, and other woodworking tools like a measuring tape, some sandpapers, a saw, and a pencil. Don't forget to stain and paint it on your preference. Display your business cards on this piece of art! This is an inexpensive and elegant business card holder that makes a great self-made business gift.
Project details: diyhuntress.com
DIY Cell Phone Stand And Accessory Holder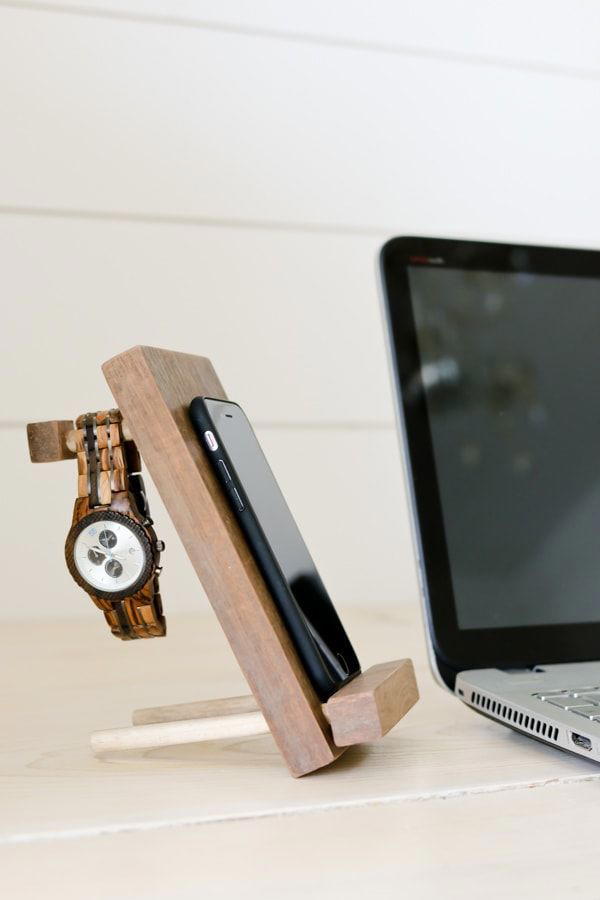 There really is nothing worse than having to search the bedroom floor at night for your phone that flew off the nightstand. You can avoid this mishap with a DIY cell phone stand and accessory holder by simply printing one out. It holds your smartphone, wristwatch, and even your glasses, while also providing an elegant centerpiece to your bedside area.
These wonderfully streamlined stands will add perky energy to any and all of your décor projects. A natural fit into a work or study space and an elegant gift to present to loved ones or colleagues.
Project details: tidbits-cami.com