A napkin holder is a simple thing to have around when setting the table for dinner or even just enjoying some snacks on the sofa. It keeps your napkins organized, and you don't have to worry about them flying away with a gust of wind from a fan or the door opening. The great thing about these 25 DIY Napkin Holder Projects is that they are so simple to make but will look like something you bought in a store. They are also inexpensive, and most of the time, you can use items you already have around the house. These work great if you need to give someone a small gift!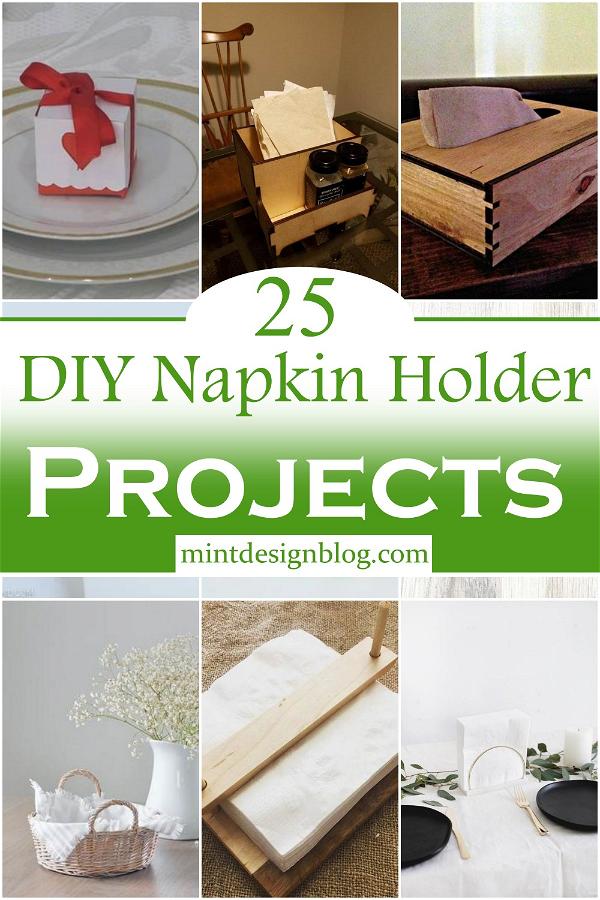 Napkin holders are a staple at any table setting. Napkin holders can be as simple as a piece of wood or plastic that sits flat on the table with a small slit to hold a napkin. More decorative napkin holders may have an antique look or an ornate design and are used to enhance the table's look. They can be made from wood, plastic, metal, and glass. DIY napkin holder projects are a way to add personalization to your table setting, and they can also make a great gift idea for friends or family. If you're looking for ideas on making your napkin holder, we've got 25 DIY napkin holder projects that are easy enough for beginners!
Make your napkin holder with these 25 DIY napkin holder projects the perfect addition to your tableware and decor.
Materials Needed For DIY Napkin Holder
Make sure you have all of the necessary materials before you get started. You will need:
Cardstock paper
Glue gun
Ribbon
Jute twine
Burlap
Fabric scraps
Wood napkin holders (available at craft stores and online)
Sandpaper
Wood stain or paint
Clearcoat spray
Paintbrushes
Mod Podge (optional)
How To Make A DIY Napkin Holder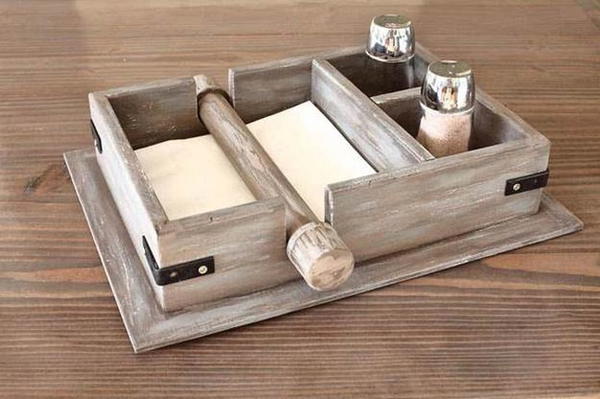 There is a way to use your old napkin holder that you are planning to throw out. Add some extra features to it and use it on your dinner table. The creator has also added a section for placing pepper and salt with this napkin holder. Making a napkin holder is a perfect first project for anyone starting in woodworking. We'll show you how to make this beautiful DIY napkin holder with a helpful step-by-step video and a list of materials. Add a section for pepper and salt to the dinner table to make it extra special.
SKILL LEVEL: ADVANCED
DIY Napkin Holder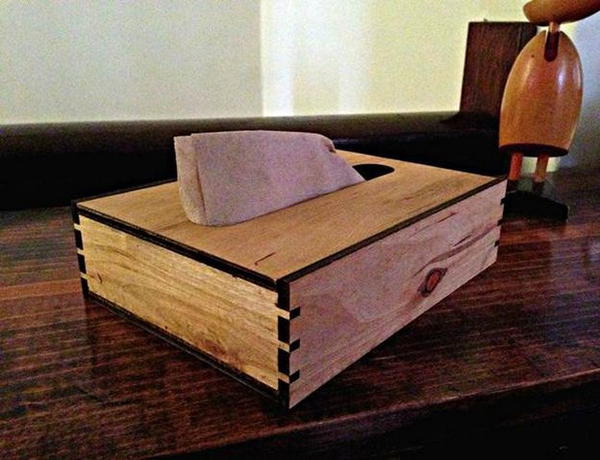 Looking for an easy project you can use to beautify your backyard? Then this DIY napkin holder is perfect for you. It won't take much time to put together, and the step-by-step instructions make it easy to follow. So what are you waiting for? Get out your tools and start building this beautiful napkin holder today! You can make this napkin holder just in time for the holidays to use for your Thanksgiving dinner decors and Christmas parties. This DIY napkin holder is made out of a log and a few other things. The hard part about this project is finding a good log for the project. However, if you can find a log, you will be able to finish it in no time.
SKILL LEVEL: BEGINNER
Simple Napkin Holder DIY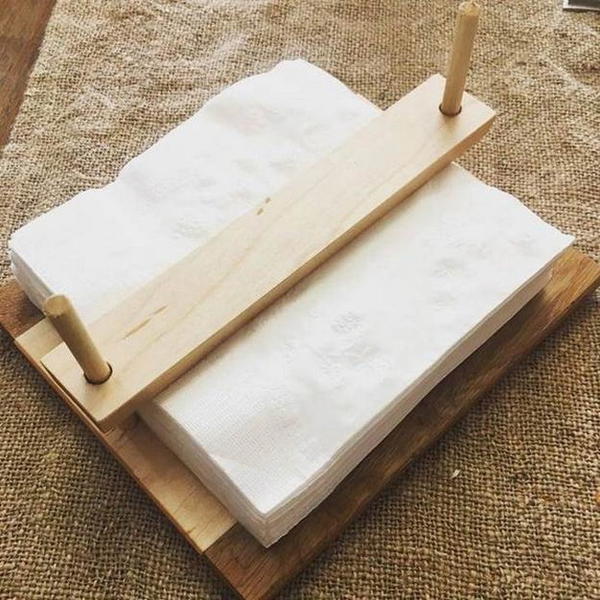 This DIY Napkin Holder is a surprisingly quick and easy woodworking project. It's a perfect beginner woodworking project, and with just a few supplies, you can make this elegant napkin holder in just minutes! One of the beautiful things about woodworking is that it doesn't have to take a lot of time. Woodworking skills are not the only thing you're going to need. You'll need some wood, a measuring tool, a pencil, a drill, screws, and a screwdriver. This DIY project can be completed in 30 minutes and will leave you with a classy and functional napkin holder that doubles as a great centerpiece for your dinner table.
SKILL LEVEL: BEGINNER
DIY Heart-Shaped Napkin Holder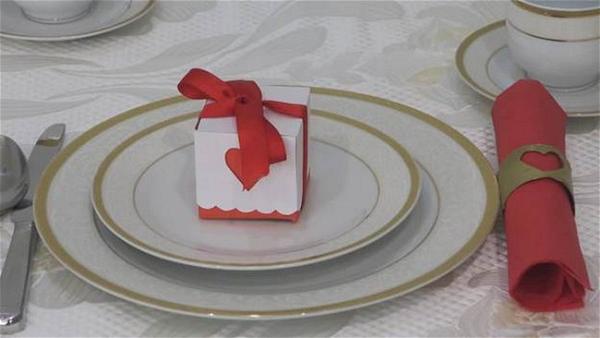 This is the easiest napkin holder you will ever make. Love heart-shaped furniture? Be it valentine's day, or any other day of the year, celebrate love by learning how to build a DIY napkin holder. You will learn how to bend wood and how to incorporate other materials into this project. You can always use this napkin holder during the valentine's season. If you are hosting a group of people, especially couples, you can put this napkin holder on the tables. However, if you do not have any particular occasion, you can also make them for your dining table. You will love it! This Napkin Holder makes a great feature for any dinner table and would look fantastic as a valentine's day gift.
SKILL LEVEL: BEGINNER
DIY Napkin Holder Basket
Give your paper napkins a beautiful touch with this one-of-a-kind DIY basket. It's a great way to upgrade your cafeteria, dining room, and garden – a decorative piece that can also be used as storage for kitchen utensils! Why buy the same old design in the mall when you can do it yourself? If you're an adventurist who loves to explore arts and crafts, you'll love this one! This napkin holder basket is decorative and stylish for your kitchen or dining room table. It will keep unruly napkins in place and add a bit of chic to your table setting. You won't believe how easy it is to make!
SKILL LEVEL: ADVANCED
DIY Wooden Napkin Holder
Make your own classy wooden napkin holder. This project is suitable for experienced woodworkers who understand how to use a full range of woodworking tools and can follow complex instructions. The provided hardware ensures that your wooden napkin holder will last for years and years. This DIY napkin holder will liven up your dinner table. It's a good project to start with if you're looking to get into woodworking, although you'll need basic tools like a miter saw and circular saw.
SKILL LEVEL: ADVANCED
DIY Napkin Holder From Sticks
If you're looking for a unique and practical napkin holder, you are in the right place. You can take on a majority of the DIY projects located here on this site, and this is one of them. It is easy to make using it gives a beautiful yet simple touch to wherever you place it. It is a simple project that can be completed in less than an hour. This simple DIY napkin holder is perfect for the cottage home or cabin. All you need is a bunch of sticks from around the property and glue to hold them together! Add some nature to your dinner table with this hand-crafted craft.
SKILL LEVEL: BEGINNER
How To Make A Napkin Holder With CDs
Wouldn't you want to join in on the fun and make a CD napkin holder? Making a napkin holder is not hard with CDs. The steps are very simple, and most of the time, you will only use one CD. This makes it very cheap, and you can make many as gifts for your friends. It's perfect for parties, get-togethers, or everyday use! And, best of all, it's a great reuse idea for those outdated CDs that are taking up space.
SKILL LEVEL: BEGINNER
DIY Laser Cut Napkin Holder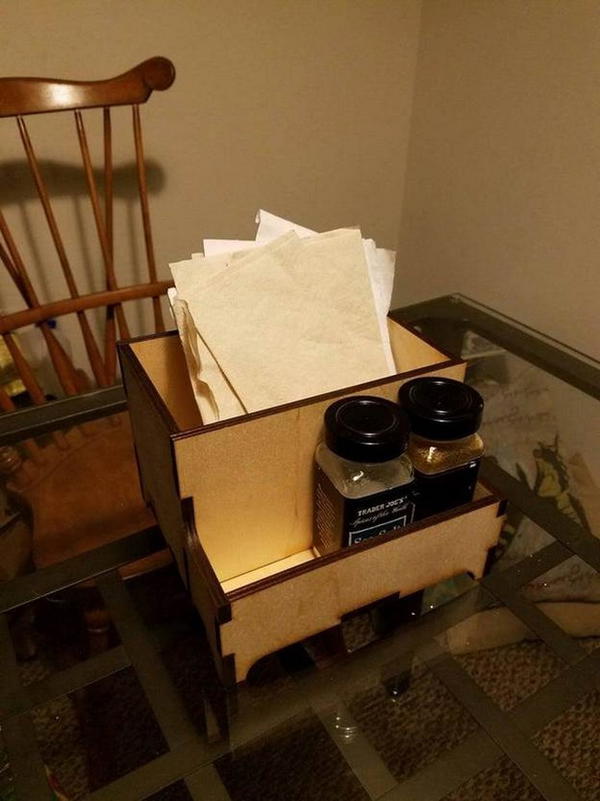 If you love playing with laser-cutting machines, this is the perfect project. This simple wooden napkin holder can be made in no time, proving that laser cutting machine projects don't need to be complicated. It just takes a couple of hours and some basic tools. Make any dinner even fancier with this DIY laser-cut napkin holder. It would be a perfect gift for newlyweds or anyone who appreciates thoughtful homemade gifts. Make your next family meal a conversation starter with this fun and easy-to-make napkin holder. Great for family time and more formal meals, charming addition to your home.
SKILL LEVEL: ADVANCED
Modern DIY Napkin Holder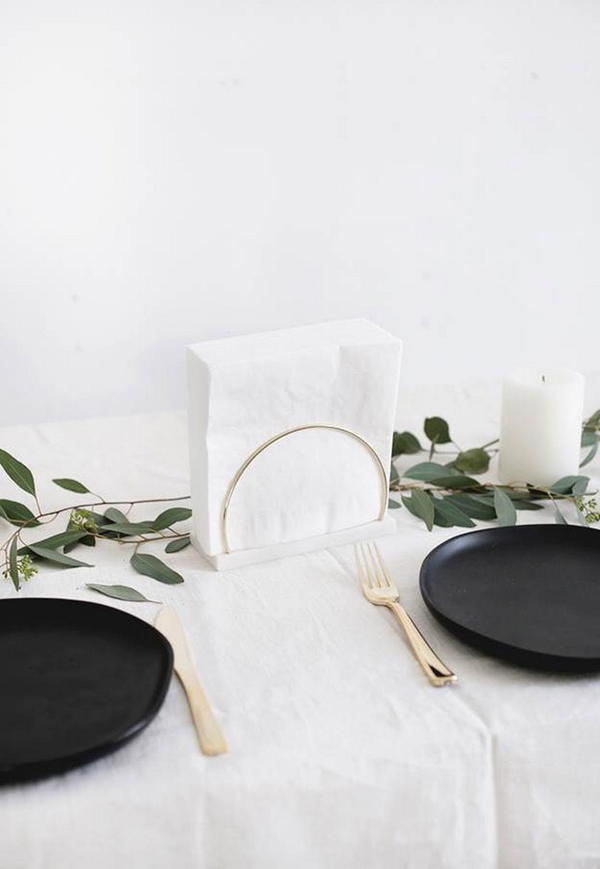 It is time for a change. Toss out your boring and dated napkin holder and make this modern DIY napkin holder for the kitchen. The Modern DIY Napkin Holder is an excellent addition to anyone's kitchen. You will have your friends and family members asking where you got it. It uses the same classic ideas from our grandparent's time with a modern twist to them. Using a few simple tools and supplies, you could be well on your way to making this napkin holder today.
SKILL LEVEL: ADVANCED
Funky Wire Napkin Holder DIY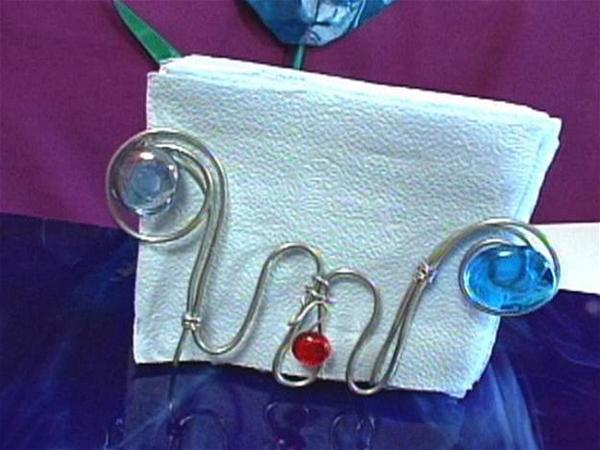 Funky Wire Napkin Holder DIY - If you are a fan of the rustic look, this is your project. Add your unique touch by using different colors and types of wire. You're just a few twists away from a funky wire napkin holder that would make an excellent statement piece on your dining table. The hard work is well worth it because, in the end, you are left with a unique handmade creation. Create a unique and fun napkin holder for your dining table with just a few items from the hardware store. This DIY tutorial is the perfect addition to any home's decor.
SKILL LEVEL: ADVANCED
DIY Napkin Holder Centerpiece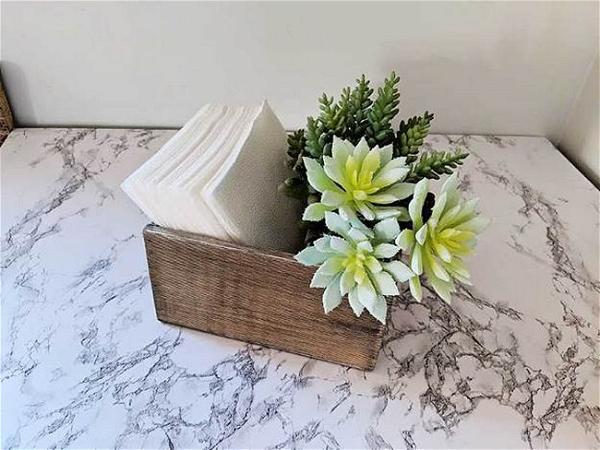 The DIY napkin holder centerpiece is a hands-on tutorial that allows you to create your design using various materials. It serves as a table centerpiece and is perfect for indoor or outdoor events due to its functionality and structure. This tutorial will learn how to make this napkin holder centerpiece yourself, saving time and money. This DIY napkin ring centerpiece is made in minutes but is perfect for a larger gathering. Fill the Napkin Holder with flowers, or simply use it to hold paper napkins so your guests can help themselves. It's great for casual meetings or when you want to add a rustic touch to a formal occasion.
SKILL LEVEL: BEGINNER
DIY Napkin Holder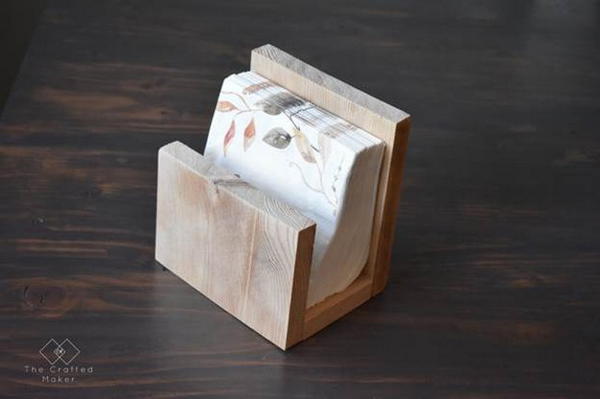 This simple project will make your dining table look beautiful. Although it is a very simple craft, it looks amazing and elegant. Ensure that all dimensions are correct so that the napkin holder will function properly when you use it. You will have to use the Block Plane to smooth out the angular edges of the wood after you cut it. You can easily make this napkin holder for any occasion. It is a beginner-level project that does not require power tools.
SKILL LEVEL: BEGINNER
DIY Clothespin Napkin Holder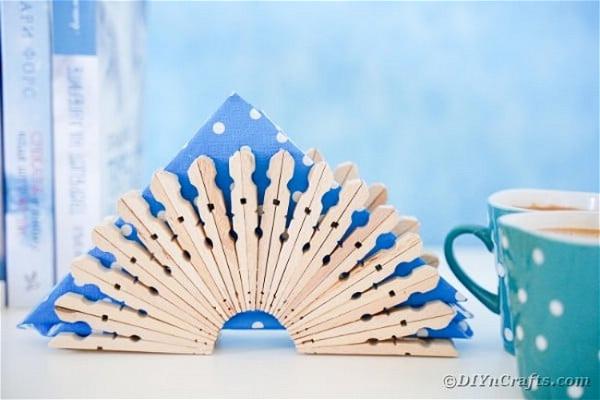 Want to add a personal touch to your dining table? Why not try your hand at making this DIY napkin holder using a couple of clothespins! Take a couple of clothespins and some wood stains. That's all you need to create this nifty little napkin holder for your dining room table. One can never have enough napkin holders, and you'll love how versatile these are! You can even paint them in bright colors for an added fun touch. You will be the talk of the table when serving the best tasting food out of all the tables when you use this napkin. This is a creative idea that could change your life.
SKILL LEVEL: ADVANCED
3. Easy DIY Napkin Holder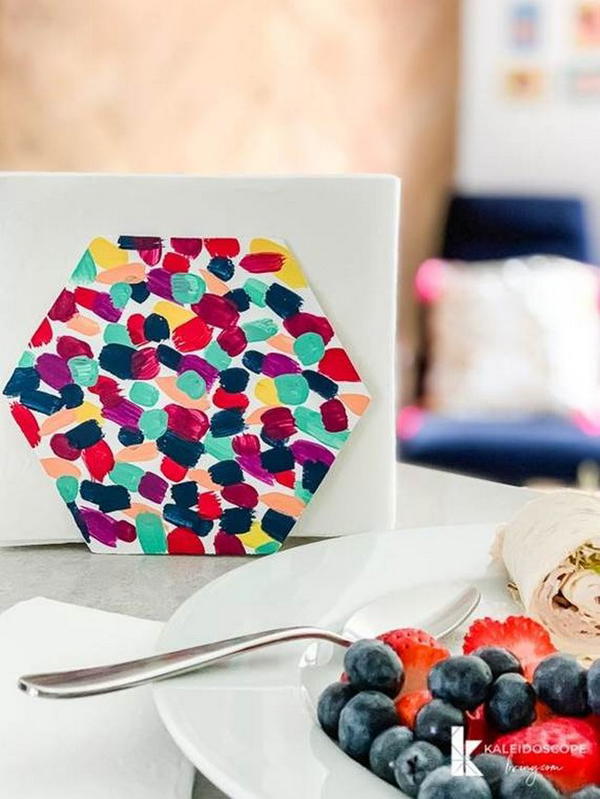 Make your entertaining space pop with this colorful and easy-to-make napkin holder. Ideal for painting with acrylics, it takes less than 5 minutes to paint and under 24 hours to dry. This DIY napkin holder is a great project to start on. You can make it as simple or fancy as possible, so let your imagination run wild. Use it to hold whatever you'd like, pencils, crayons, even toothpicks! The first step is to head over to your store and pick up everything you need for this easy project. This solid wood base is perfect for holding your favorite napkins, making it ideal for your home-cooked meals or big family gatherings.
SKILL LEVEL: ADVANCED
Modern Napkin Holder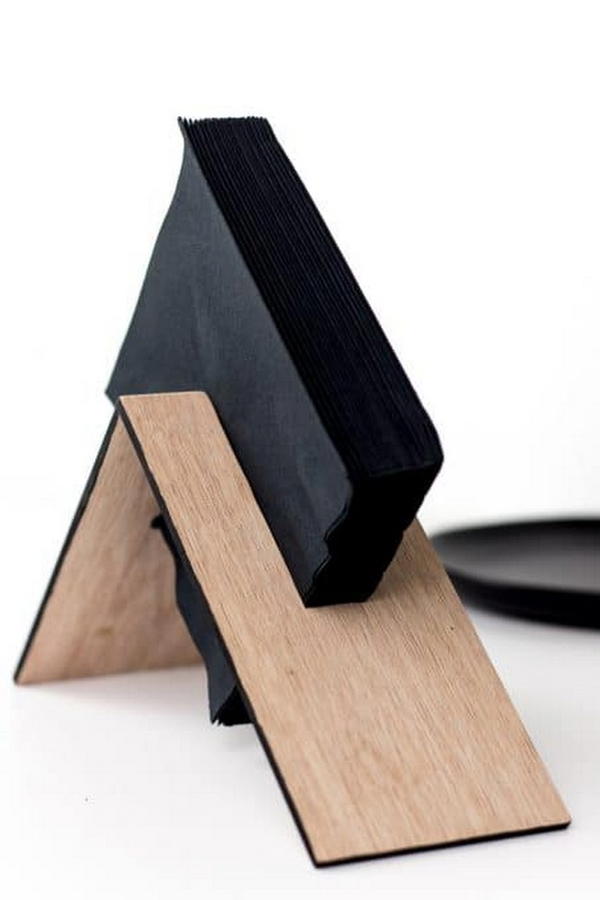 This modern DIY guide will show you how to create a napkin holder that is easy to make and can suit all of your needs. Whether you´re hosting an event or simply want to add a personal touch to your home by making something useful, this napkin holder is perfect! With this easy, modern DIY Napkin Holder guide, prepare for your next dinner party. You can make a stylish napkin holder for your next occasion with a few basic materials. This DIY project is good for people working with a tight budget but would like to have an occasion.
SKILL LEVEL: ADVANCED
Popsicle Stick Napkin Holder DIY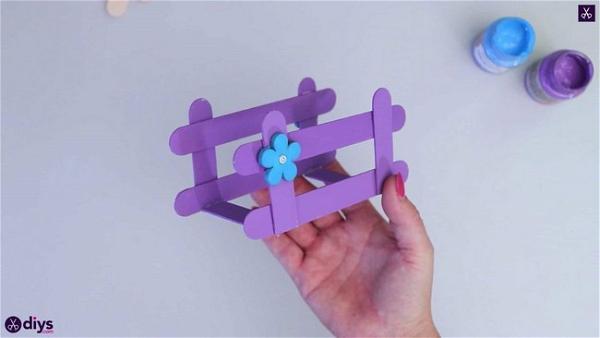 See how easy it is to make a popsicle stick napkin holder. You will just need a few materials and some time. Popsicle Stick Napkin Holder DIY is a simple and fun way to manage your paper napkins. It will keep the napkins from rolling off the dinner table. You can make it in different colors to match your dining room's theme. This cute popsicle stick napkin holder can brighten up your kitchen table. Popsicle sticks are easy to find and cheap. You can use them to make fun objects for your home or give them gifts.
SKILL LEVEL: BEGINNER
DIY Scandinavian Nye Napkin Holder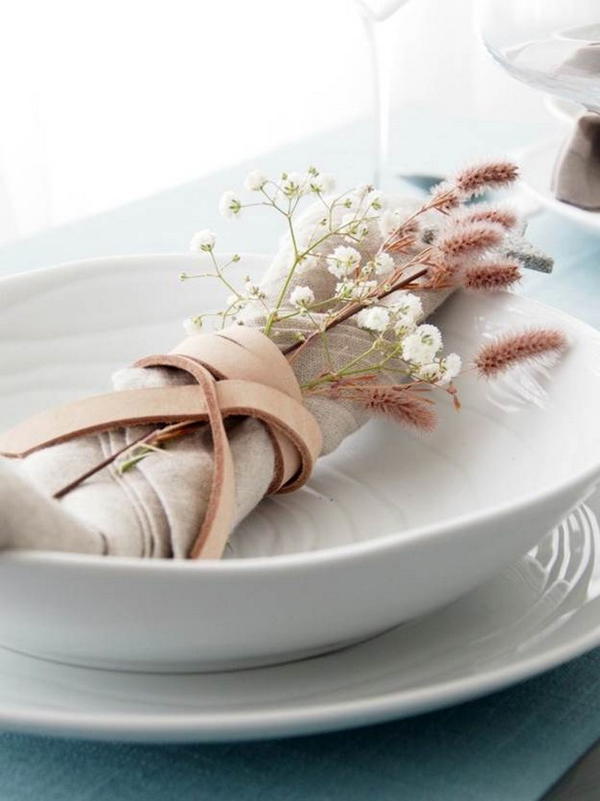 Scandinavian Nye is simple yet elegant and easy to make, but don't be fooled by the simplicity of this project because there are a few pitfalls along the way that if overlooked, can create quite a headache. However, the creator was able to craft this beautiful piece effortlessly. These festive napkin holders are an easy way to elevate your holiday table and make great gifts. Just cut strips of leather with a knife, layer with ribbon, and finish with glitter stars. Trust us, and it couldn't be easier.
SKILL LEVEL: BEGINNER
You can also see: DIY Ribbon Craft Ideas
DIY Cardboard Napkin Holder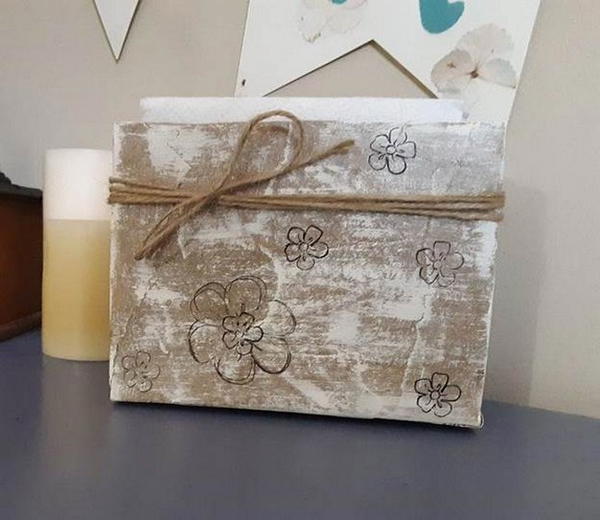 If you love the look of all-wood napkin holders but either don't have the time to make one or perhaps you aren't a fan of working with wood, don't worry---there is an alternative. You can easily create a napkin holder out of cardboard, and because it uses such an inexpensive material, it's also very budget-friendly. Make your napkin holder from cardboard! It's easy, fun, and great for the environment. It's also an excellent way to get your kids involved in a craft project. The best part about it? Your new napkin holder is outdoors or on your kitchen table right at home.
SKILL LEVEL: BEGINNER
Simple DIY Napkin Holder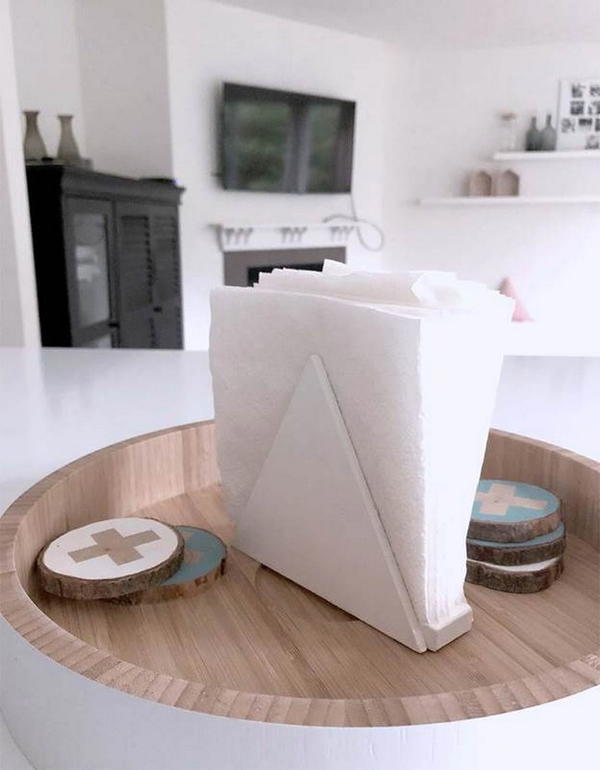 This simple DIY napkin holder brings style and originality to any dinnerware set. Add decorative finishing touches, such as paint, gold leaf, or decoupage. Pop it in a gift basket and other homemade goodies for friends, family, or newlyweds. Put away those napkins in this stylish napkin holder. A simple project that is perfect for beginner woodworkers, this DIY napkin holder can make a great gift to someone who loves to cook. Make it more unique by personalizing it with your initials or the initials of a friend.
SKILL LEVEL: BEGINNER
How To Make A Wooden Napkin Holder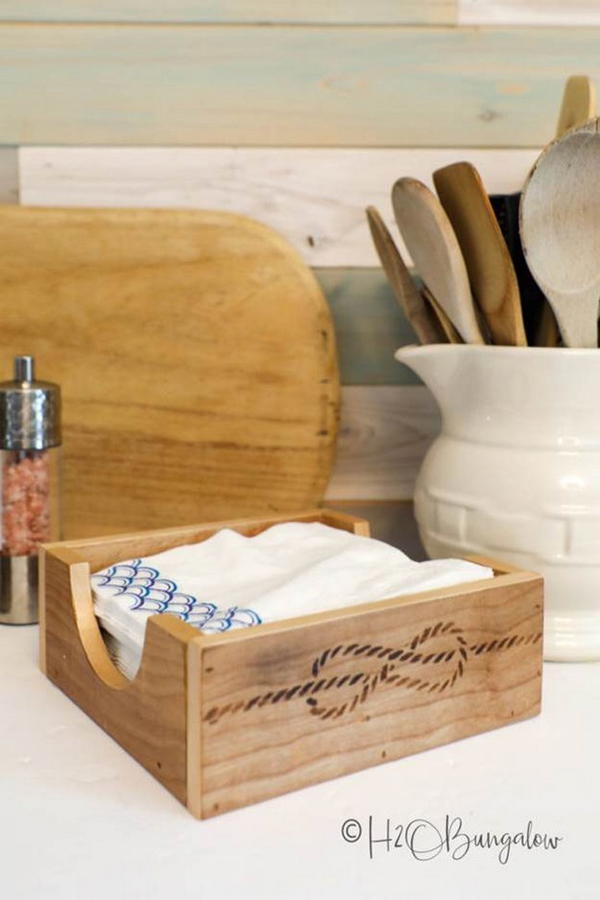 With a bit of woodworking experience, you can make this wooden napkin holder on your own. It's perfect for adding some elegance to your next dinner party. Making a wooden napkin holder might seem an ambitious project, but it is easy if you follow the proper steps. All you need to do is gather all the materials and tools and prepare your workspace. Cut the wood boards in half to fit the desired length of your napkin holder, and then cut out two identical pieces into squares that will serve as the pedestal for your napkin holder.
SKILL LEVEL: BEGINNER
How To Make A Simple Napkin Holder
This simple napkin holder is a great DIY project for some people, but not all. This DIY project, which can be made with woodworking tools and basic woodworking skills, will show you how to make a simple napkin holder. Woodworking skills are required to make a simple napkin holder like this but with the help of simple woodworking tools, use wood glue and dowels to make one of these. If you know how to glue together pieces of wood, then you can make it yourself. You might be surprised to learn that you don't even have to have woodworking skills or any skill level to make one of these decorative items.
SKILL LEVEL: BEGINNER
Napkin Holder Out Of Waste Newspaper
Do you want to make a low-budget napkin holder using recycled materials? This DIY napkin holder lets you piece together old newspapers and use the outcome as a neat holder for your napkins. The making process is fun and easy to follow and might even be fun to introduce to your kids. It is an excellent choice for a project that focuses on reducing waste and producing something useful. It uses items that can easily be found in the household, like old newspapers, glue, and scissors. Once you decide what type of coverings you want to use – it will be an easy way to match another decor in your house.
SKILL LEVEL: BEGINNER
DIY Coffee Mug Napkin Holder
This is a coffee mug napkin holder! A perfect way to keep your coffee and napkins nearby! Simply place a coffee mug in the center and use the napkins around it to minimize messy clean-up. It also serves as a great accent piece. You'll see a lot of "easy-to-make" ideas online these days, but without fail, this coffee mug napkin holder is one of the easiest! It's a fun DIY project to make with your kids or grandkids—or just for yourself. With just a few simple steps, you can have a new fixture in your home that will delight guests for years. (And you don't need to be particularly handy or crafty to make it.)
SKILL LEVEL: BEGINNER
DIY Oak Napkin Holder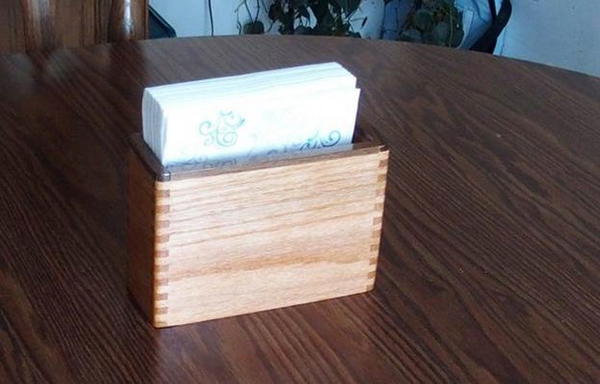 Get that natural rustic look in any room of your home with this DIY oak napkin holder. Great for adding a cozy cabin vibe to the kitchen or dining room or holding mail and envelopes on a well-organized desk. This DIY craft kit is perfect for big kids and adults who like to make something with their hands. With a little bit of patience, you can make a beautiful napkin holder from natural oak. It'll look lovely on your table! Problem solvers make life easier – making this easy assembly project ideal for any skill level. It makes a perfect gift for those who love handmade items.
SKILL LEVEL: BEGINNER
CONCLUSION
Napkin holders are great for a BBQ or casual get-together, but some napkin holders can be too bright for the more formal holiday dinners. If you love crafting, you will love these 25 DIY Napkin Holder Projects. They make great housewarming gifts, and they can add a personal touch to your table setting. Choose from many adorable designs and let your creativity flow. These DIY napkin holders will get you thinking outside the box and make you look like a fancy hostess!
See Other Projects