If you're making Thanksgiving dinner, there's no question that the centerpiece on your Thanksgiving table will be full of seasonal fall flowers and gorgeous pumpkins. But what about all the candlesticks, cake stands, and vases scattered around? Let us help you turn these household items into unique centerpieces so your whole Thanksgiving table is decked out in one breathtaking look! From a simple cornucopia centerpiece to an elaborate harvest display, we've got the perfect DIY Thanksgiving centerpieces for every budget. Plus, we'll show you how to create each piece using supplies from your favorite craft stores!
DIY Thanksgiving Centerpieces Ideas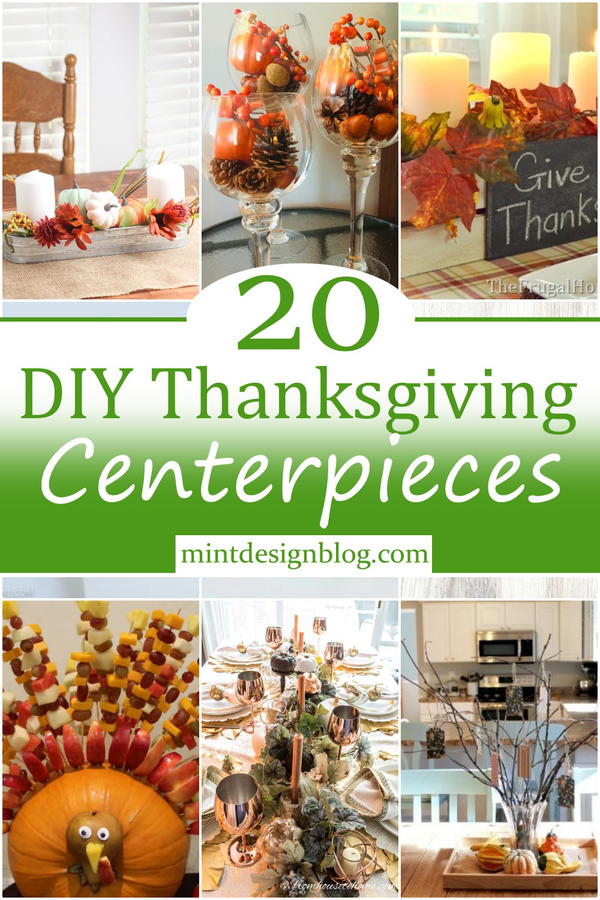 Make your Thanksgiving table special. Add touches of rustic warmth with a centerpiece that speaks to the season. Our DIY Thanksgiving Centerpieces are the perfect way to outfit your dining table and make a lasting impression. These floral-inspired arrangements create a beautiful focal point for your gathering and can be customized based on your unique style. Or carry out your taste and creativity with floral arrangements in vivid colors. With our DIY Guide, you can create a centerpiece that will make everyone at the table say, "Wow!"
Advantages Of DIY Thanksgiving Centerpieces
Thanksgiving is a big holiday, not just about food. It's also about creating a festive atmosphere and making your home look beautiful for those visiting. To do this, you'll need some incredible Thanksgiving decorations that can be used in multiple ways. If you're looking for something that will last, DIY Thanksgiving centerpieces are the way to go. Here are three reasons why this is the best option:
1. They will be cheap! You can make these yourself with items from around the house or stores like Michael's or Hobby Lobby. The supplies don't cost much, so you can save money without sacrificing quality or style.
2. They're easy to make! As long as you have some basic sewing skills, sewing together felt leaves should be easy enough for anyone to do in their own time frame (or with help from friends). If you don't have any sewing experience but want to create a DIY centerpiece that looks amazing, try using hot glue instead of threading needles and sewing by hand.
3. They're versatile! You don't just get one centerpiece out of this idea — you get many different designs depending on how many leaves (or other shapes) you use.
Thanksgiving Fruit Centerpiece Idea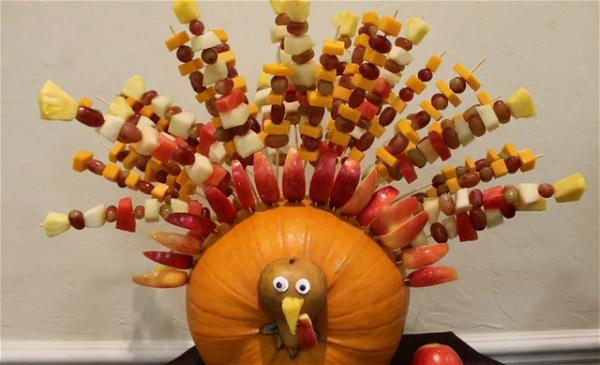 A festive centerpiece with a fall twist! Create a Thanksgiving centerpiece that reflects your style and makes a statement at your party. This Thanksgiving Fruit Centerpiece idea is perfect for a fall party or family gathering. Whether you're having a cheerful holiday feast or a casual get-together to celebrate the season, this colorful centerpiece will make your table look extra special. Professional floral designers Johnny and Molly share tips for creating a DIY fall fruit centerpiece that's easy to execute, cost-effective, and sure to impress guests.
Thanksgiving Centerpieces For Dining Table
Bring fall home for Thanksgiving with this easy DIY centerpiece for your dining table. Autumnal plaid and antique silver create an inviting setting for guests to gather around this holiday. Stenciled napkins add an extra style while matching stemware and candles add to the cozy ambiance. Fall-themed flowers and leaves are festive and will make a hot addition to an autumnal table. You can fill any space with warmth and comfort if you have the correct elements, like wine glasses and silverware.
Homemade Thanksgiving Decorations With Table Setting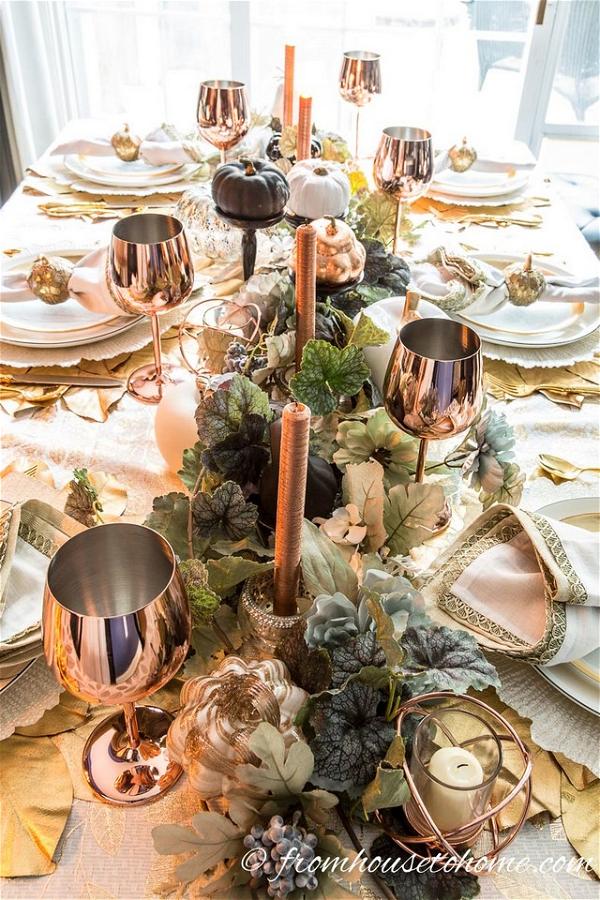 No matter what your holiday table setting style, this easy DIY should be incorporated somewhere. Celebrate the fall season with this DIY Thanksgiving decor and table setting. Perfect for your brunch, dinner party, or Thanksgiving celebration! There's no better way to get into the fall spirit than a good table setting. Transform your dining room into a gorgeous and festive space in just a few steps. Try this simple DIY with gold and copper elements to add some flair to your holiday festivities.
Thanksgiving Centerpieces With Pumpkins And Eucalyptus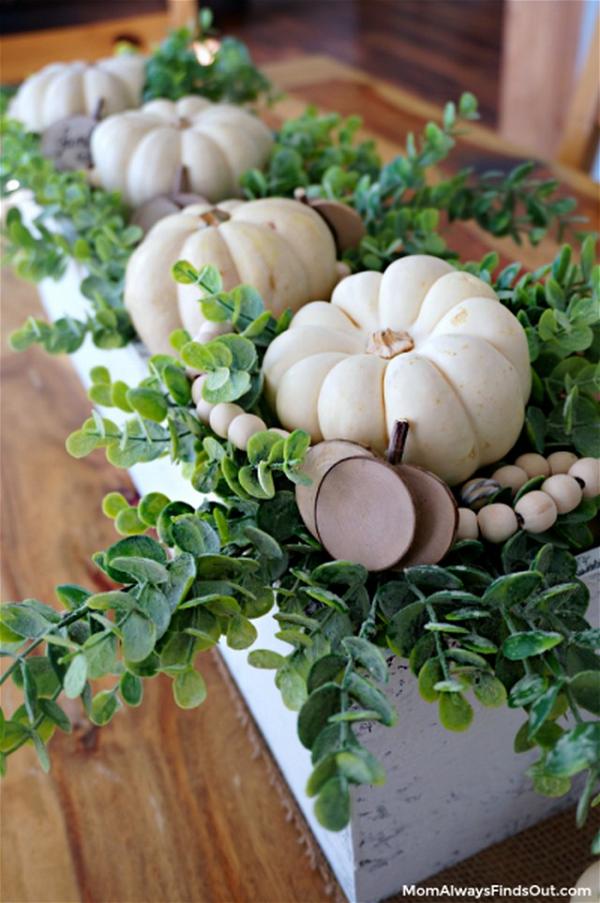 Fall is a beautiful time of year, but Thanksgiving is special. And it doesn't have to be limited to the big day! This one-of-a-kind centerpiece brings together eucalyptus leaves, pumpkins, and a few things you might already have on hand in your kitchen. A table centerpiece can be a great way to add a little something special to your Thanksgiving celebration, so why not make these DIY Thanksgiving Centerpieces With Pumpkins And Eucalyptus? They're easy and inexpensive to make, but they'll add a wonderful touch of beauty.
DIY Floral Thanksgiving Centerpieces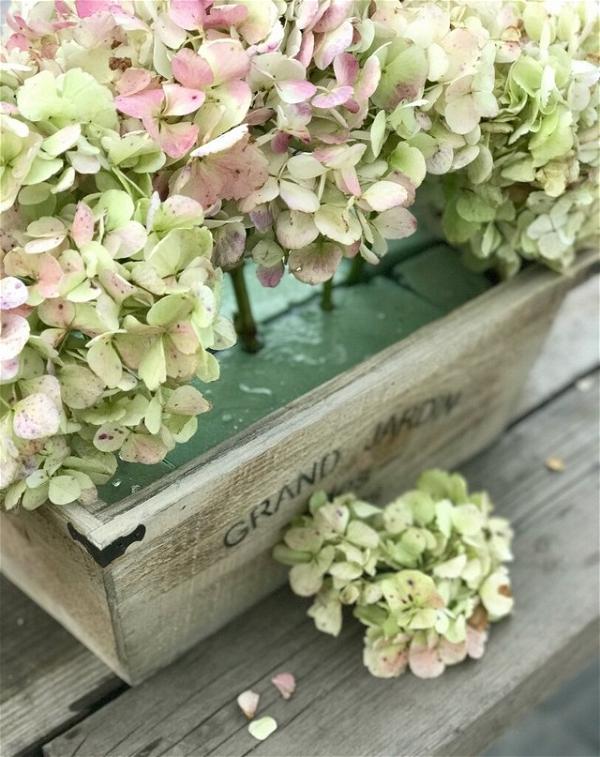 This DIY Floral Thanksgiving Centerpiece is the perfect centerpiece for your table this holiday season. The best part about this project? It's super easy and almost impossible to mess up! Add a festive touch to your Thanksgiving tablescape with this easy-to-make fall centerpiece. These DIY floral centerpieces are the perfect way to add color, texture, and height to any dining table. With just a few dollars in supplies, you can have an adorable centerpiece to add to your Thanksgiving table that will coordinate perfectly with your Thanksgiving decor and color scheme.
Farmhouse Thanksgiving Centerpiece Idea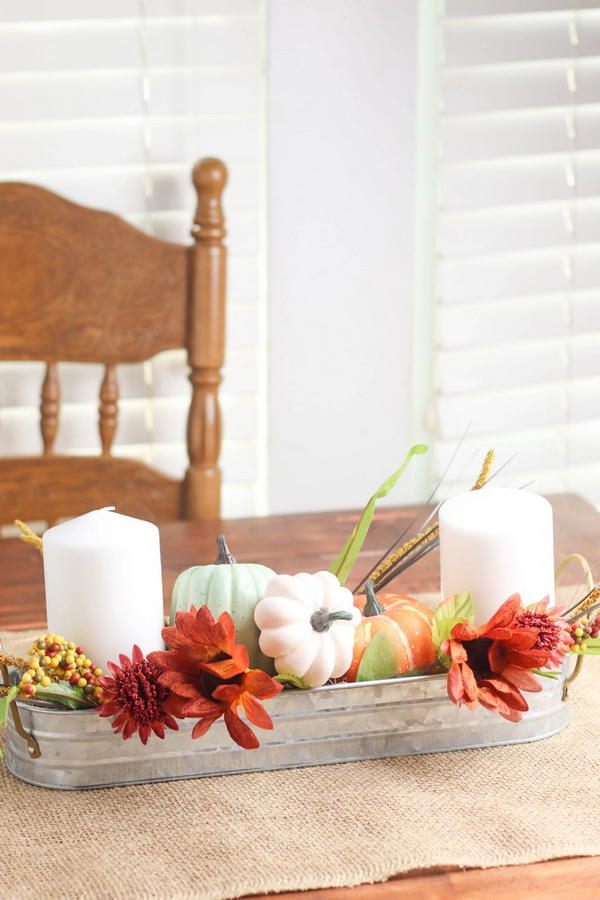 If you're looking for a creative and inexpensive centerpiece to dress up your dining room table this fall, this Farmhouse Thanksgiving Centerpiece Idea is perfect! This beautiful Thanksgiving centerpiece is a simple DIY project that will look beautiful on your dining room table throughout the season. You can create this easy fall centerpiece with just a few items to make your home feel festive and inviting. Add a seasonal centerpiece to your table this Thanksgiving with this Farmhouse Centerpiece. It's easy to do and involves just a few extra steps to add structure and design to your table.
Easy To DIY Fall Thanksgiving Centerpiece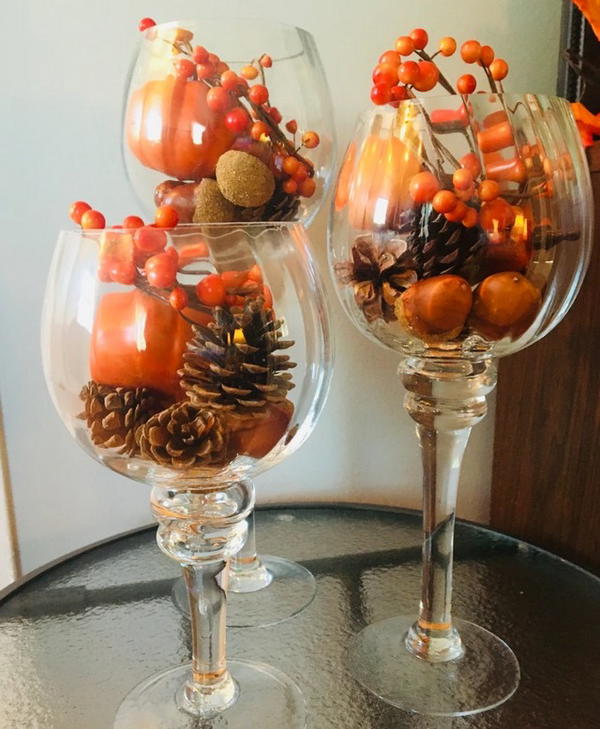 Create a festive centerpiece with this easy-to-DIY Fall Thanksgiving Centerpiece. Fall decor is a favorite for many, especially for those who love the colors red and orange. These fall centerpieces are simple to put together. The supplies are easy to find, making this a quick and easy DIY project. This easy fall centerpiece is a must-have for your Thanksgiving decor. With a little effort, you can easily create your fall centerpiece that will bring a beautiful touch to any gathering!
DIY Elegant Thanksgiving Centerpiece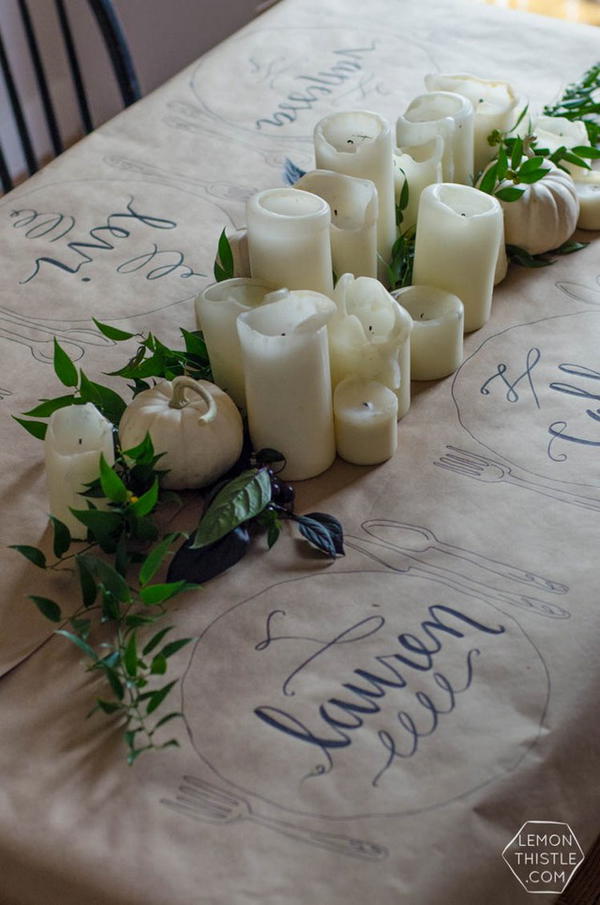 If you're still looking for a simple centerpiece to pull off your Thanksgiving dinner table without a lot of fuss and cost, this is the project for you… This centerpiece idea is super easy to create, and the result is beautiful. It is an elegant decoration for any table or buffet. It's the most beautiful time of the year! And this centerpiece is perfect for Thanksgiving dinner. It's a quick DIY project that only takes a couple of hours, and you can have it look like this one at home.
Easy Painted Centerpiece Box For Fall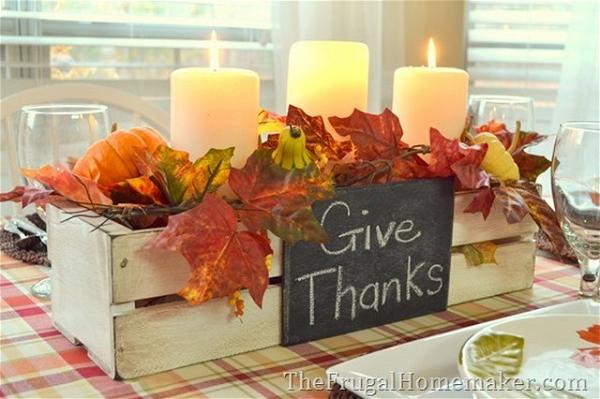 This centerpiece box is excellent for fall. Paint the box in beautiful fall color, like red or orange. Add beans or fill with pretty rocks and some floral stems for a rustic look! This is an easy project you can do in less than 30 minutes with the materials you already have.  It's also a great project to take out with you on car trips or to keep in your craft closet, so when guests or family stop by, you have something easy ready to go. This colorful fall centerpiece is a quick project and an excellent addition to any table at this time of year. It features wood, paint, stickers, and fabric accents.
Simple Thanksgiving Centerpiece In 5 Minutes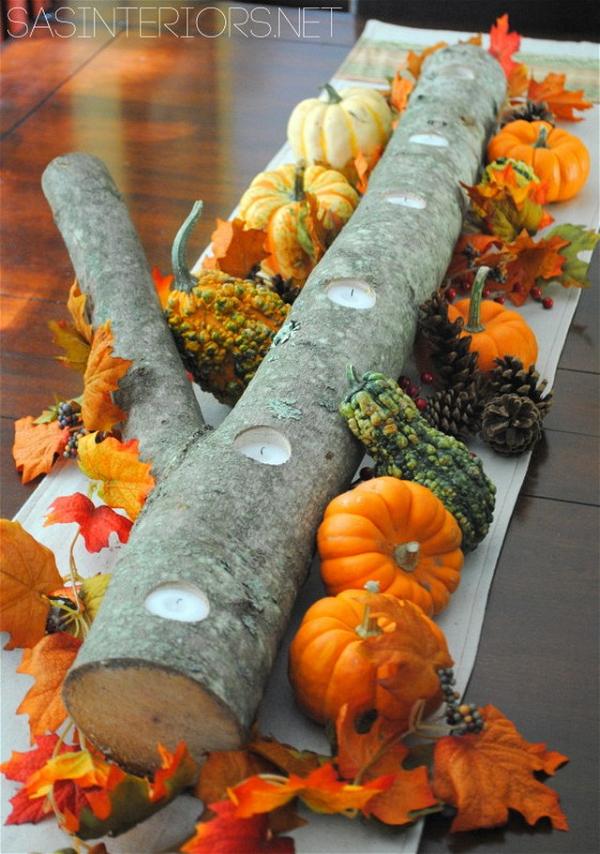 Tired of the same old Thanksgiving decor? So am I! Check out this simple Thanksgiving centerpiece for a fresh start to your holiday table. If you love a good DIY, this one's for you! With just 5 minutes and a few dollars (or free from the recycling bin), creating this beautiful centerpiece for your Thanksgiving table is easy. This easy-to-create centerpiece is the perfect way to decorate for Thanksgiving or any fall event! The whole thing takes about five minutes, and you can use many of your household items and some inexpensive craft supplies.
Cute Thanksgiving Centerpiece With Printable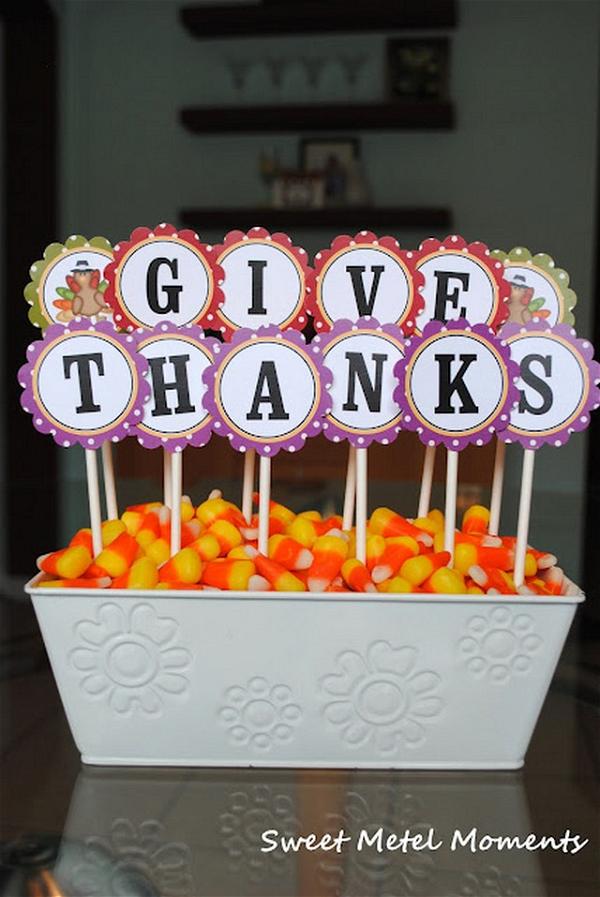 What a sweet and timely project to make for Thanksgiving.  It's Thanksgiving time and what better way to celebrate this special holiday than to make a cute centerpiece with your family?  A simple template will allow you to create this fun project in no time. It's such a great way to express gratitude and brings in a fun touch of fall decor while spreading holiday cheer! Perfect for displaying over Thanksgiving in your home or leaving out on your dining room table.
Homemade Thanksgiving Centerpieces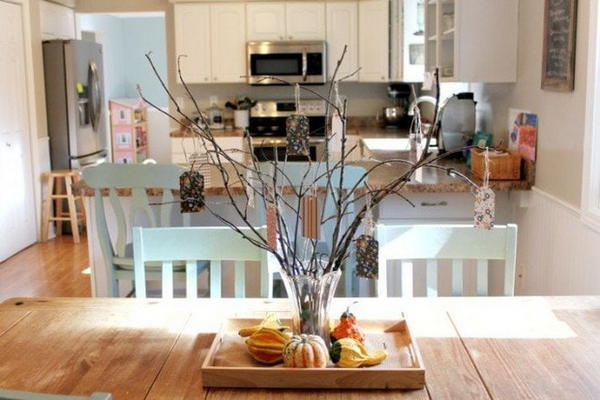 Create a festive centerpiece with items you have laying around your home. This is one of the easiest centerpieces you can make, and they look great! You can create beautiful centerpieces for your Thanksgiving table with items around the house. Start by finding a large bucket or vase, then fill it with small pumpkins, gourds, and mini cornstalks – any items in season at this time of year. When complete, drape an old piece of burlap over the top and add your festive fall flowers to complete the look! You will love how easy and inexpensive it is to create this traditional centerpiece.
Homemade Decoration For Thanksgiving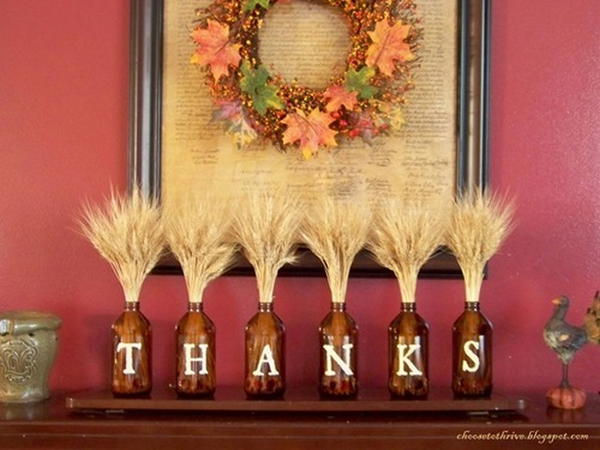 This is a perfect solution to make your Thanksgiving table more special, festive, and beautiful. Thanksgiving is great for making homemade decorations and displaying them in your home. You can use this idea to create something special for your Thanksgiving table, or you can use it as inspiration to make something unique that suits your style. This is a fun way to get the kids involved, and the kids will love having homemade decorations. The good news is that you can make these fun decorations with items around your house.
Thanksgiving Centerpiece Starter Idea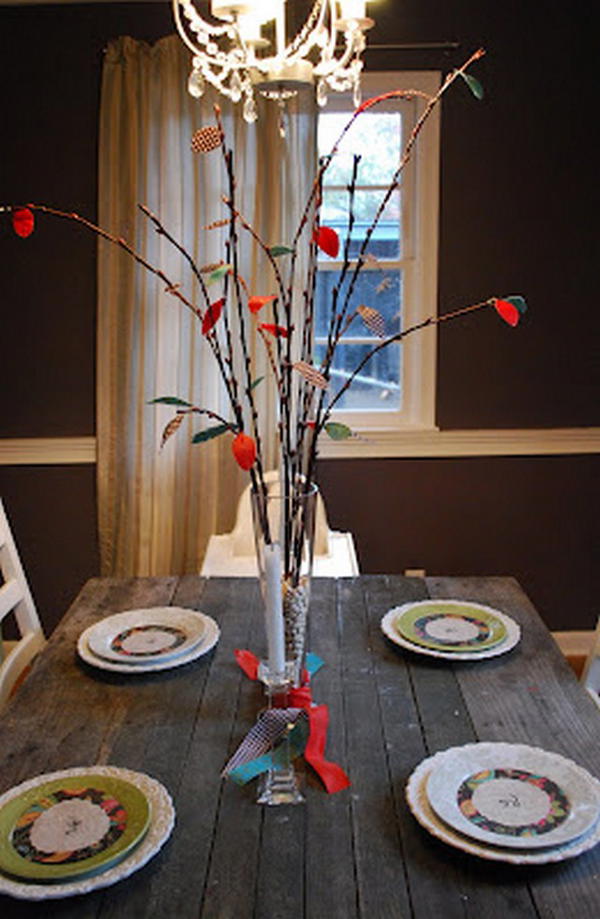 A beautiful centerpiece is the perfect way to welcome guests to your Thanksgiving dinner table. This centerpiece is a fun and easy DIY project that can be made in just minutes. Once you have the supplies, you will be well on your way to creating a beautiful centerpiece for your Thanksgiving table or to enjoy in your home for the holiday season.This DIY Thanksgiving centerpiece is simple to make and can easily be assembled in minutes. Once you have the supplies, you will be well on your way to creating a beautiful centerpiece for your Thanksgiving table or to enjoy in your home for the holiday season.
Dollar Tree Thanksgiving Centerpiece Tutorial
Want to make a DIY Thanksgiving centerpiece that looks amazing but doesn't want to spend a lot? You won't believe this is easy with just one Dollar Tree trip. This DIY Dollar Tree Thanksgiving Centerpiece Tutorial makes your Thanksgiving table even more festive. This centerpiece is simple and elegant and can be customized to match your holiday decor easily. This Thanksgiving centerpiece tutorial is easy to make and looks great. You can create this beautiful look for your Thanksgiving table with just a few supplies.
Easy Thanksgiving Centerpieces For Table Decor
A centerpiece is the centerpiece of any Thanksgiving table, and it should be just as lovely and festive as the food you serve. With these easy-to-make DIY ideas...Create the centerpieces or Halloween with these easy DIY Halloween Crafts. These Halloween decorations will make your holiday party special. Whether hosting Thanksgiving at home or bringing a dish to share, these DIY easy Thanksgiving centerpieces impress and wow your guests. The best part? They don't take much time at all!
DIY Thanksgiving Centerpiece Decor Idea
Make this DIY Thanksgiving Centerpiece! It's easy to make and you have everything you need in your closet. Get this easy centerpiece decoration idea for your Thanksgiving feast! This is a great way to add color to your Thanksgiving table. Wish your holiday gathering a warm welcome and let it know that you are ready to celebrate with an easy centerpiece decor idea that features plenty of autumn leaves collected by you. If you're in search of Thanksgiving decorations that are handmade and simple, then this DIY centerpiece might be just what you're looking for!
Sunflower Thanksgiving Centerpiece to DIY
Are you looking for a unique centerpiece to serve up some fall flair at the Thanksgiving table? This Sunflower Thanksgiving Centerpiece to DIY is the perfect way to add beautiful fall colors, rustic charm, and something extra-special to your centerpiece creations! The sunflower centerpiece, with its bright yellow petals and bold center, is the perfect addition to a table filled with fall decorations. This sunflower centerpiece to DIY comes with easy-to-follow instructions and a pre-cut foam base, so all you have to do is decorate.
Dollar Store Thanksgiving Centerpiece
What's better than a beautiful Thanksgiving centerpiece? One that you can create from the dollar store! This is an easy DIY project, and when you're done decorating with it, it's easy to store in the off-season. This easy dollar-store Thanksgiving centerpiece is a great way to add festive decor to your table this holiday season. Using only items from the dollar store, this centerpiece is highly budget friendly and easy to make--perfect for someone short on time or money this season!
 DIY Thanksgiving Centerpieces Craft
Sweeten up your Thanksgiving table with these adorable DIY centerpieces! These DIY Thanksgiving Centerpieces are a simple yet elegant way to add a special touch to your holiday dinner table. Make these easy craft ideas out of pumpkins and florals that you can find at your local supermarket. Make your Thanksgiving dinner table glow this year with these beautiful DIY centerpiece ideas made with golden pumpkins. These designs are easy to replicate and provide a pop of metallic color to any fall dinner table.