Napkins are a staple of any meal, but they can get boring and old quickly; It's easy to fall into the trap of buying packs of multi-colored or themed napkins and using them repeatedly, but there are so many ways to make the crafty alternatives of it! There are so many different DIY homemade napkin ideas that it's hard to narrow them down. You can go with a simple washcloth or towel and sew a few stitches on it. You can even sew on buttons or rickrack for a fun look or go with other endless options up to your will!
One of the best things about DIY napkins is that they're easy to make. Add a little texture to your next dinner party with easy DIY homemade napkin ideas provided here; they're perfect for any occasion! Bring an elegant touch to your kitchen decor and everyday dining with these creative homemade napkin ideas.
DIY Homemade Napkin Ideas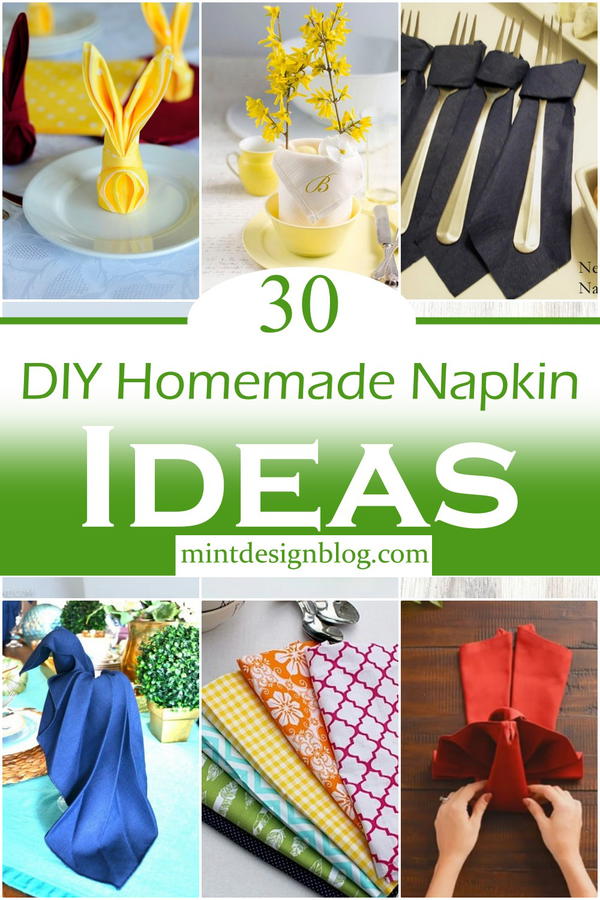 If you are in the mood to search for a way to make your following meal special, producing your own napkins is the solution. These DIY napkin ideas are easy and fun to do, and they don't take very long! You can use any material you like - old t-shirts, towels, washcloths, etc. If you're looking for something that's less work and still looks great, check out the tutorial below on how to make a napkin ring with beads.
The best part about these DIY napkin ideas? They're just as easy as using regular store-bought napkins. And because they're so cheap (or free!), there's no reason not to try them out! With these easy DIY homemade napkin ideas, you're on your way to making a more chic and stylish dining table setting without any fuss.
How To Make DIY Rose napkin
Arranging flowers on napkins is a simple yet romantic way to make everyday dinner more special. This rose napkin idea is a great way to make a table look amazing. It's not only a romantic touch, but it makes any table setting beautiful and elegant. You can choose your favorite color combination or mix them up for a modern effect. The easiest way to create one of these beautiful arrangements is to fold a napkin into a triangle and then place the petals inside in a way that looks pleasing. This rose napkin is a great way to make a table look amazing. It's not only a romantic touch, but it makes any table setting beautiful and elegant.
DIY Napkin bouquet
No need to buy an expensive bouquet when you can make them yourself. With some napkins around the house and a rubber band, you can put together a lovely set of these napkin bouquets. You can make a beautiful napkin bouquet out of cloth napkins! Knotted in the center and paired with a single flower, this sweet centerpiece makes an easy and elegant choice for any hostess. These napkins will make a perfect decoration for your special occasion. This bouquet can be a small gift for someone very dear to you or an excellent way to start the feast and surprise your guests.
DIY Turkey Napkin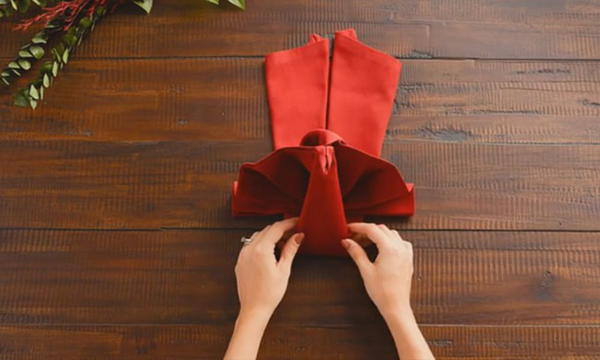 Making DIY Turkey Napkin is surprisingly easy even if you're not a great expert in sewing. You need three to five napkins and some optional materials to make your own Turkey Napkin. If you are in the mood, you can use aluminum foil to make it more comfortable. This project is functional as well as creative. You can surprise your friends with a napkin decoration when they come over for dinner. It's perfect for Thanksgiving or any other special occasion! So grab a snack, grab some napkins, and dive into this fun activity! It is much quicker and effortless than it seems at first glance.
DIY Envelope napkin
DIY Envelope napkin is a great and simple DIY project, so easy to make that it will give you some extra time to create more favor for your guests and family members. There's so much you can do with napkins. You could serve them at the buffet table, use them as coasters, fold them up into lucky bags, or decorate your party tables by placing them beautifully in small envelopes. Eating noodles with chopsticks wouldn't be the same without them! These envelopes can be used as a napkin for your wedding or another party. Or bring them to use in everyday life. Made from high-quality cotton, these envelopes are the perfect gift for lovers and friends.
DIY Necktie Napkin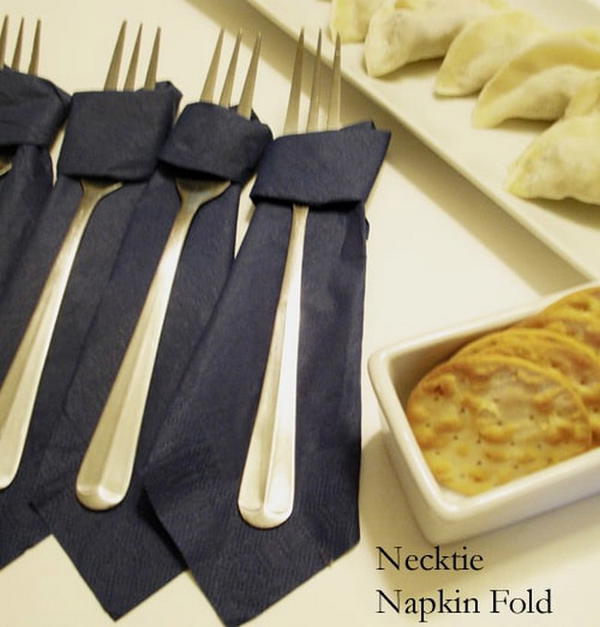 If you don't have enough time for craft but Love it? Then DIY Necktie Napkin is a perfect idea for you. It's an original, unique, and inexpensive gift that you can make for your husband, daddy, or boyfriend for an anniversary or birthday. This DIY is all about the remarkable man in your life and his special day. Make him a napkin Necktie to surprise him on his birthday or other special occasions. It's easy to make and only takes a few minutes of your time. This is a creative and easy way to spruce up a dinner table for the holidays. It does not require any sewing or crafting. The magic will happen when you start folding them into neckties in different colors and patterns.
DIY T-shirt napkin
It's a perfect decoration for your family and friends to use at the table. It is very fashionable and modern, but also very easy to make! T-shirt napkins are a great way to add flair and fun to your dinner table. These napkins are made from T-shirts, so each one is unique! This project is super simple and inexpensive, but you'll love the look it adds to your dining room or kitchen. It's perfect for date nights at home, girls' nights out, and other special occasions that deserve something more than paper!
DIY Pinwheel napkin
You can use this napkin to keep your kids away from tossing the food on the floor. A pretty and fun way to decorate your table, this DIY pinwheel napkin fold is a great way to add shine and sparkle to your gathering. Whether you want to be original and elegant or just let your creativity fly, the Pinwheel napkin will help your dreams come true. You are making the perfect centerpiece for any occasion. It is an exquisite way to fold and make a fun decoration simultaneously. You can change the color according to the season or occasion. The folding is simple, but you don't need any experience in origami to create this stunning decoration.
DIY Breadbasket Napkin
Decorating with napkins is a great way to add a little bit of beauty to your table. This is especially true if you require disposable table decorations that can be used again. Make a stylish homemade breadbasket for your holidays and special events. This is an original, simple, and inexpensive way to decorate your tablecloth with something useful. Using colorful napkins as bread baskets to hold crackers, chips, and other snacks makes a unique accent on your table and protect foods from becoming soggy or falling on the floor.
DIY Elf hat napkin
Want a festive napkin for your Christmas table? DIY Elf hat napkins from stiff linen napkins and a little patience are perfect for your house in that regard. They can be handmade by everyone or bought pre-made to decorate your dinner table. These napkins make your Christmas table more festive. You need green linen napkins, some felt, and a bit of patience. They are easy to make, and in the end, you can add name cards to the cuffs if you want to make them even more special. The easiest way is to prepare polyester napkins and sew a tiny filament into the cuff. That will make your little elves stand on their own.
DIY Christmas tree napkin
Turn your regular old napkins into this season's hottest holiday decoration. These DIY Christmas tree napkin holders are easy to make and reusable year after year. Cover your dinner tables with simple white cloth napkins, and let the magic begin! Creativity is the essence of design. Creativity is the basis of creativity. Remember that you can not do without imagination, so it is essential to find an idea in your head, develop it and finally implement it. The basis for the Christmas tree napkin is straightforward - only a pair of napkins, paper cones, and glue. You can help your guests get into the holiday spirit by making these adorable napkin trees.
DIY Peacock Napkin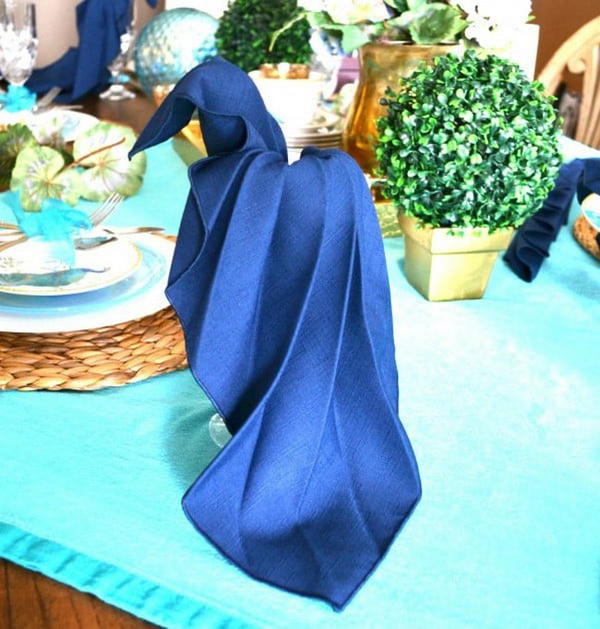 Every room needs the right ambiance to be set right; many people like to decorate their rooms using different decorations and accessories. And nothing would be a better addition to your room than adding some colorful napkins as a centerpiece. This DIY peacock napkin is a beautiful thing that you can easily make on your own. Bring a fabulous touch to your dinner table with this DIY peacock napkin. It's so easy to make, and it will be the perfect touch for any dinner party or holiday gathering.
DIY Swan napkin
What's better than a simple, pure white napkin? A gorgeous origami swan, of course! This is the ultimate napkin folding technique for those who want to impress with their table setting. You can make a fabulous impression at your next dinner party by presenting a perfectly folded napkin. It will be the centerpiece of your table, and everyone will be impressed with your skill. This elegant napkin origami tutorial will guide you step by step through the process of creating a beautiful swan.
DIY Triple pocket napkin
A napkin arranged in a triple-pocket design is the easiest way to put cutlery on your table. Use this design to change the appearance of your table, or save yourself time and effort with just one napkin for every guest. This simple and easy idea allows you to arrange your cutlery beautifully and uniquely. You will need enough linen napkins in your favorite color, which should be soft and pleasant to touch. Bend them the way to make identical triple pockets on both sides of each napkin. This efficient trick can save you a lot of time during dinner preparations and be used regularly once you learn how to make such a pretty holder.
DIY Fillable Pouch Napkin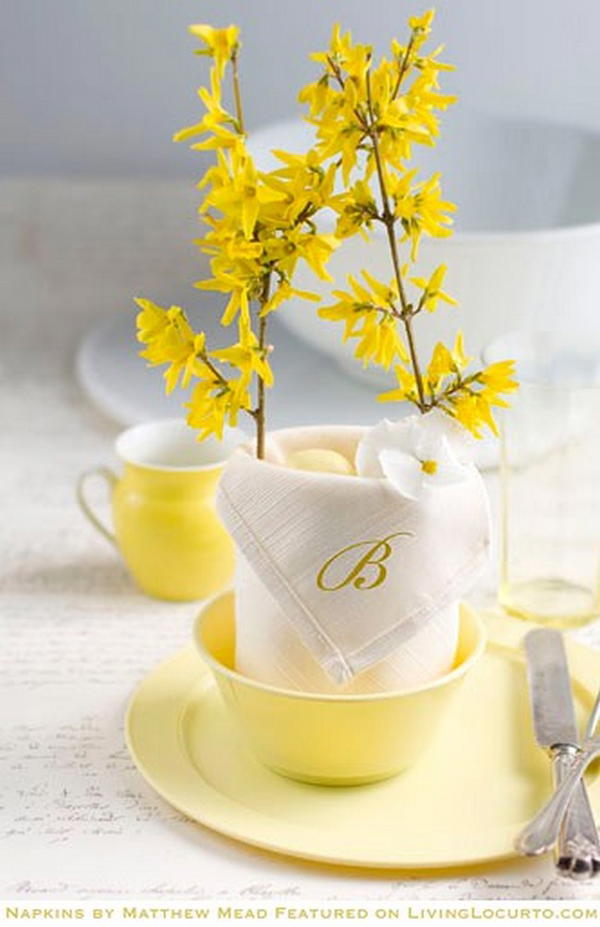 Celebrate the spring holidays using this DIY Fillable Pouch Napkin. This is a great way to add a personal touch to your breakfast or brunch with family and friends. Embellished with lovely paper flowers and colorful hand-made beads, this fold-flat pouch can be filled with small treats or gifts for your loved ones during the Easter season. Use these foldable napkins, create a purse, or add unique decorating. They're great for your home, place of business, church, or party.
DIY Sailboat napkin
If you are fond of boats, these napkins will be a terrific addition to your kitchen decor. You can purchase nautical striped paper napkins or make them yourself with the help of your children. The folds on these napkins are very easy to perform and give an excellent feeling throughout the day. Sailboat napkins make a great gift, especially for kids who love boats and sailing. These napkins are easy to make and are so fun to look at—the perfect party favor for guests who want to take home a little something special.
DIY Rosebud Napkin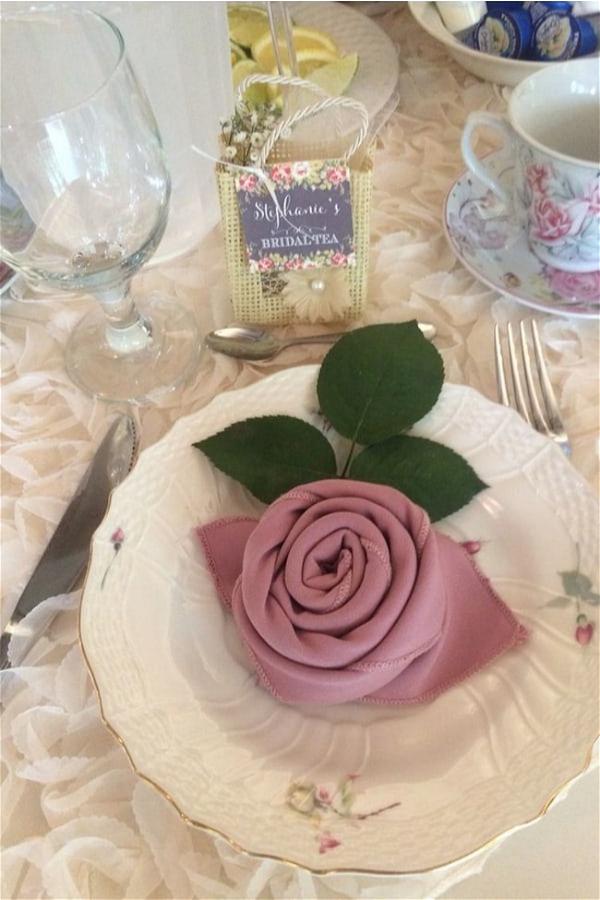 Napkins in rosebuds instantly give every table a warm romantic look. Add a touch of romance with the Rosebud Napkin for a special occasion! This DIY guide will show you how to create beautiful red rosebuds from your everyday napkins. These napkins can be made to fit any event, no matter how big or small! The nice thing is that even if you don't have many artistic skills, you can still manage to create these flowers. The main thing is to use red washable serviettes because it makes no sense to waste expensive lace handkerchiefs. Plus: you can easily make more than one such napkin at once.
Homemade Cloth Napkins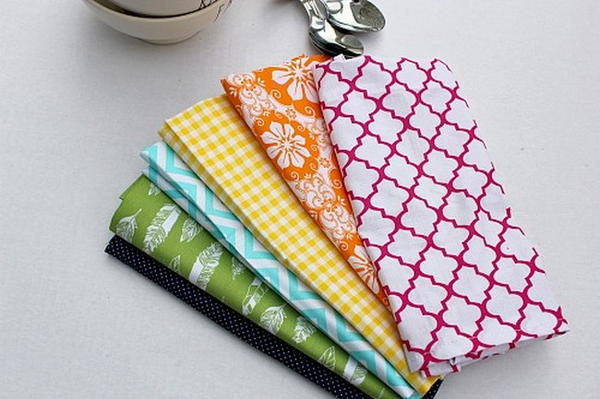 These Homemade Cloth Napkins are a must-have for everyone who wants to reduce the number of paper napkins they use. Made of cotton fabric; they add an unexpected element to any kitchen task. If you've never made cloth napkins before, don't worry - it is super easy and fast. No sewing or hemming is involved at all! These homemade cloth napkins are a great way to save money, reduce waste and lessen your carbon footprint. They don't take up too much space in your linen closet. They're made from natural and renewable resources, so you can feel good about using them repeatedly.
DIY Bunny Napkin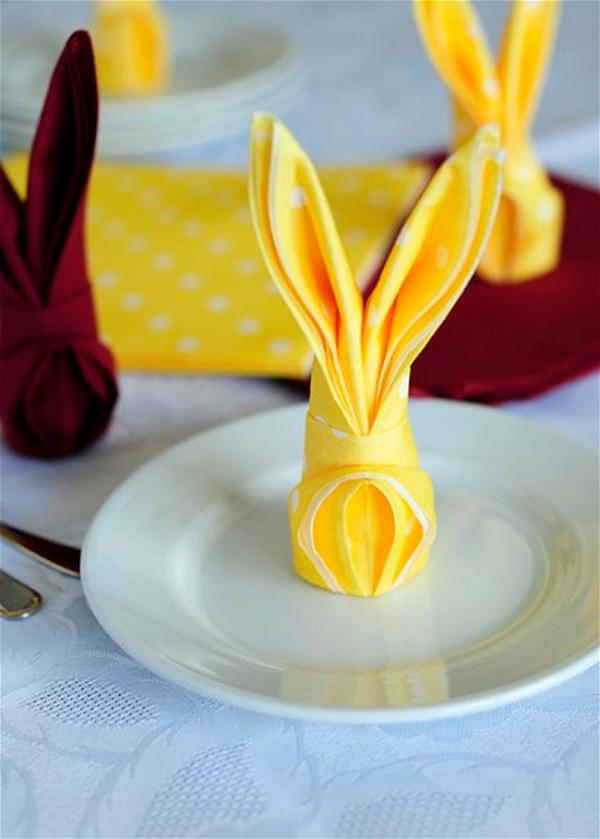 Easter is just around the corner, and you know what that means – bunnies! What better way to decorate your table than with these DIY bunny napkins? It's easy to do, it won't take long, and your kids will love them! A table is not complete without a napkin on every plate. An ordinary cloth napkin will do, but you could make a more favorable impression with some colorful and cute bunnies. It's pretty easy to make bunny napkins. This is a great Easter craft project for kids and school-age children, but anybody can do it.
DIY Carrot napkin
The carrot napkins are not only cheap and easy to make but also perfect for your kid's birthday table. The kids will be delighted to see these little rabbits who are eating carrots. These carrot napkins will be a hit with the kids at your next birthday party. These darling orange napkins are rolled around green plastic cutlery, or green crepe-paper leaves to resemble carrots and make a fun addition to any table. Make these DIY carrot napkin holders for a cute centerpiece. They're a simple way to bring some springtime cheer to the table on Easter, Passover, or any other year-round celebration.
DIY Watermelon napkin
Why don't you make a watermelon napkin for the children's table? It's easy! All you need is a red and green napkin, which you can buy or use your old ones. It's not difficult to make beautiful watermelon napkins; you need red and green napkins, fold them into triangles and have fun with your children while creating something beautiful. Layer them on top of each other, fold them into triangles, and place them on the plate. Use a black marker and draw seeds on top of the red parts. They can help you while developing their taste in arts and crafts.
DIY Atrium lily napkin
Are you looking for something that will give your dinner table a flare? How about trying this lily napkin? The Atrium Lily Napkin is a unique centerpiece idea and can be used for any celebration. The easy-to-follow instructions will have you making this beautiful arrangement from one napkin in no time! It's an easy DIY and can be done with the help of a friend. This DIY atrium lily napkin arrangement is an elegant table decoration. You will need enough linen napkins and some patience to make one of the most beautiful arrangements for your festive table. The result will amaze you in more ways than one!
DIY Holiday Crown Napkin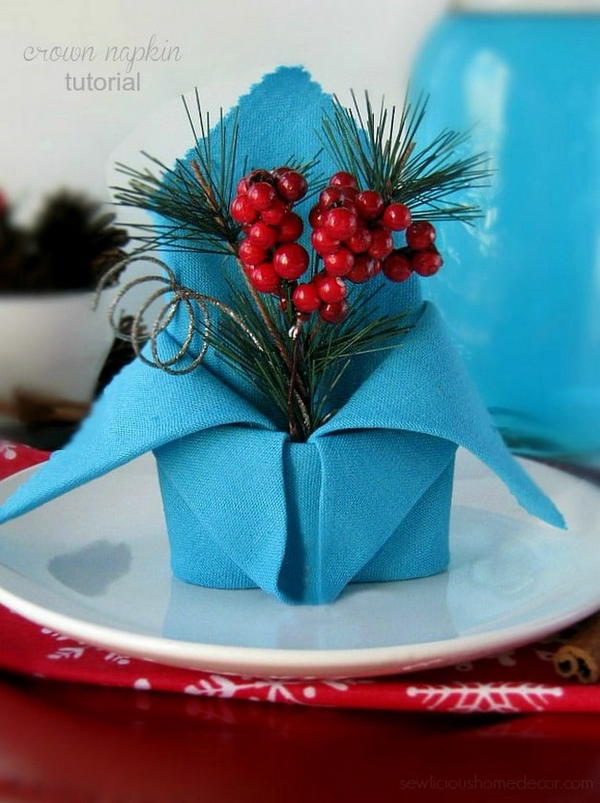 Bring a little bit of glamor and high-class elegance to your home this Christmas with DIY Holiday Crown Napkin. You can turn holiday napkins into festive table decorations perfect for any party or holiday buffet with just a few materials. This is a decent craft project for beginners, and it doesn't cost much. You need a couple of napkins, some glue, and red or golden yarn. Make one for every member of your family and put them on the table when you celebrate Christmas or New Year's Eve as a part of your festive decoration!
DIY Heart Napkin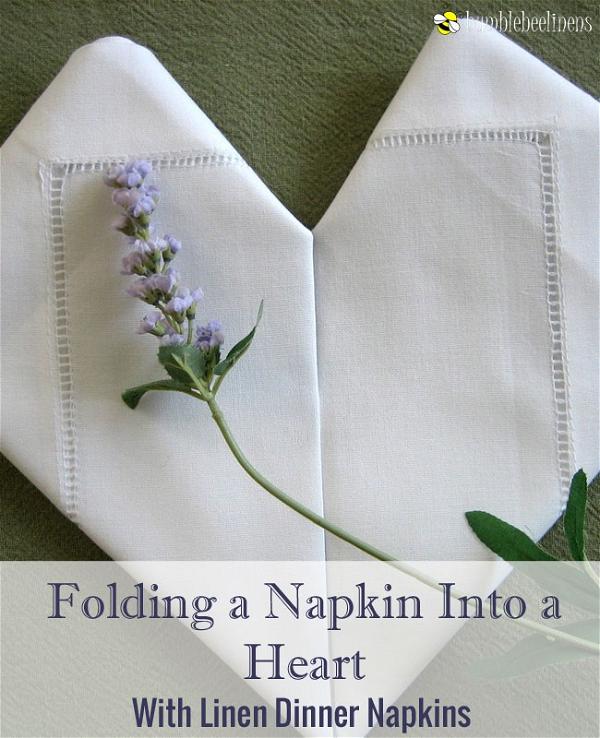 You will be surprised to easily make this heart napkin using a simple kitchen knife and scissors. These DIY Heart Napkins are a great way to add color and romance to your table. They are also impressive, so it's perfect if you don't have linens made of soft materials! For example, you can use them during Valentine's day or any other romantic celebration. You can even make it to a wedding with your significant other on their wedding day. It is effortless to make with few supplies needed; get ready for some DIY fun!
DIY Fish napkin
These DIY napkin fish are so easy to make, and they will look lovely on any table. Your guests will love them, and they'll think that you spent a lot of time making them when it was just a few minutes out of your busy schedule. You can use different colors and patterns or shades of one color scheme. These napkins are super cute and easy to make. They can be used for many other holidays or everyday dinners. Kids will love this craft idea!
DIY Flowers Napkin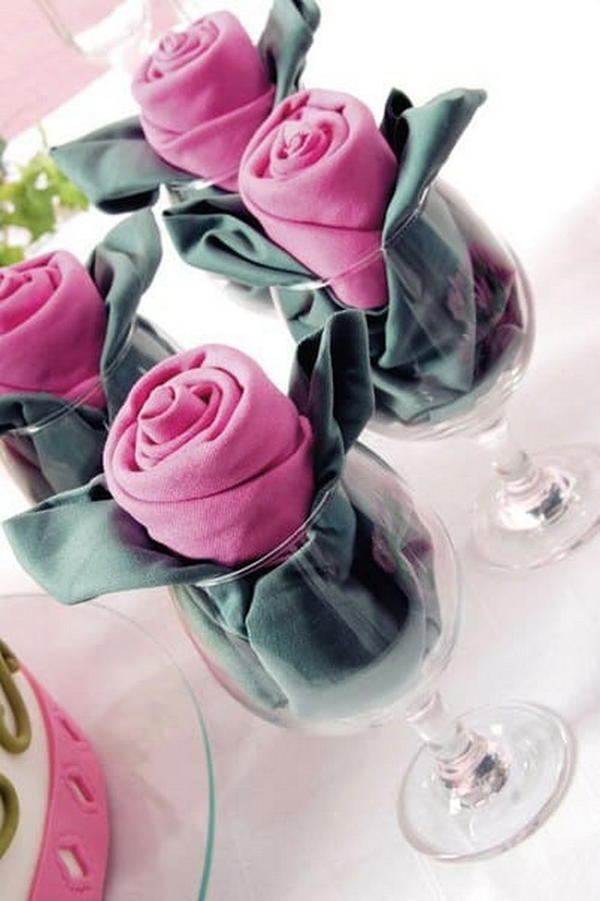 A napkin flower is one of the most simple and beautiful decorations to make. Made using just a paper napkin, some glue, and ribbon, it makes an attractive decoration for any table. Making flowers from paper napkins is a very creative idea. It's easy and fun to create beautiful bouquets or flower arrangements. You can use different fabrics, ribbons, beads, and other decorations to decorate your flowers. Just follow the simple instruction, and you will see the result is beautiful! The flowers can be placed on your room or garden table or hung on a wall or door which you think is gorgeous.
DIY Lotus napkin
One of the most visually stunning ways to bring a little something extra to your dinner table is with a decorative napkin. Give your dinner party an elegant touch with these beautiful napkins designed to look like lotus flowers. They will surely impress your guests and make them feel fancy. A lotus-shaped napkin is a perfect item to add a beautiful and elegant touch to your table settings. This napkin template is easy to make and can be used repeatedly. The petals are folded accordion-style, so they can easily fall into place. The base of the flower is also separate so that you can adjust its size as needed and even use it as an accent on other projects if desired.
DIY Daffodil Napkin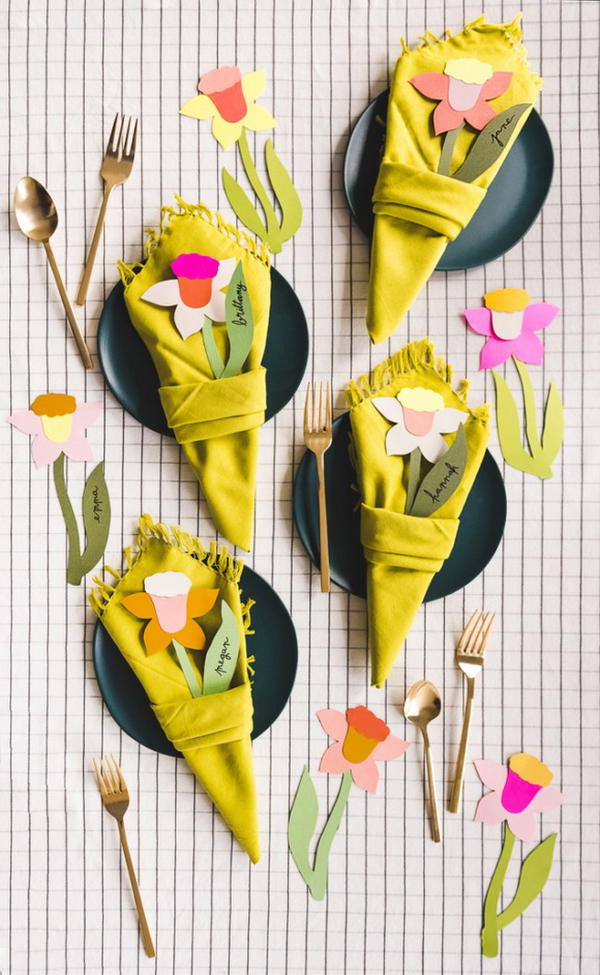 A napkin with a daffodil is an excellent decor for every spring table. If you want to make it yourself, there is no need to worry. It is pretty simple to make, and the materials are cheap, so you will not have to spend much money. You need colorful cardstock cut into flower petals and napkins with tulle (one from each). Cut the fabric into strips and make sure they are longer than the width of the cardstock petals. Use pinbacks for attaching them and securing them with glue or tape. Now you can combine everything and enjoy your handiwork!
DIY Place card napkin
Napkins can be used as place cardholders. It would help if you had napkins, markers, and chairs. Napkin Place Cards are practical, inexpensive, and easy to prepare. You can use them at every home party or just when you want to write down your guests' names to make sure that they find their seats. These napkin place cards can be changed according to your taste; with chalk pastel and markers, you can spice up the design. Put this napkin on the table, so everyone will know where his seat is.
DIY Pocket napkin
This simple arrangement can be easily made at home and looks gorgeous on the plate. It is lovely to bend a napkin in a pocket shape and place cutlery, candy, or sweet-smelling herb such as a sprig of rosemary into the creases. The best of all is that you can harmonize tablecloths and the napkins' color as desired. Having a pocket napkin makes it easy to put cutlery, candies, or herbs like rosemary in the creases of the napkin. You can harmonize tablecloths' and napkins' colors as desired by changing the color of the pocket's lining.
DIY Bow tie napkin
Making your own Bow tie napkin is a great chance to decorate and make the holiday table more festive. You can create a beautiful and elegant decoration for your festive table with one easy trick. This project will take less than ten minutes, but the result will be phenomenal. Take lovely linen napkins in your favorite color and an adequate ribbon to get fantastic bow ties. You can choose any color and any kind of linen to create an elegant, stylish and comfortable result. These bow tie napkins will make a great addition to your table decorations. Take a look at the tutorial to learn more about making these fantastic bows on napkins that can be used during special occasions or as gifts for your friends!